Back in the early days of gaming, there weren't really any controller options. You could use the controller that came with your system, and that was about it. For a traditional console, that can be frustrating, but it's not downright terrible. After all, the included controller is presumably ergonomic. The same thing isn't true for smartphones. After all, phones have to perform a variety of functions, and they have to be pocket sized. If your phone were shaped like a game controller, it would be hard to carry and use. Unfortunately, a phone isn't an ideal shape or configuration for gaming. So why not use an external controller instead?
Meanwhile, third-party controllers have been a staple of PC gaming for years. The reason for this is obvious. While a mouse and keyboard are ideal for some genres, such as strategy games, they aren't always perfect. For instance, many people prefer a controller for platformers or shooters. In that case, you've got plenty of options.
Today, we're going to be reviewing the GameSir G4 Pro. GameSir specializes in third-party controllers, and we've liked several of their past offerings. As a result, we were excited to get an early look at the G4 Pro. While this controller is only available for pre-order, it's slated to ship by December. Barring disaster, it should arrive in time for the holidays.
But is it actually worth your money, or should you take a hard pass? To find out, we'll need to take a closer look. We'll talk about the overall design, the grip, and the quality of construction. Next, we'll talk about the battery and how you connect the controller. Finally, we'll look at other features, and how the interface works. After that, we'll know everything we need to know to render our final verdict. Let's get started!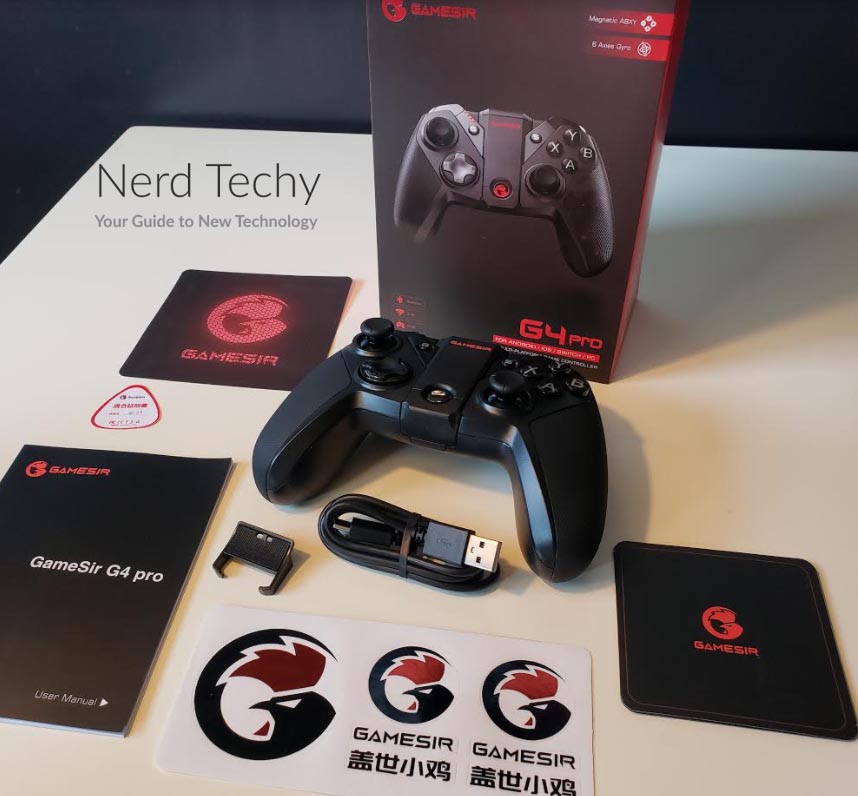 Design and Durability
The GameSir G4 Pro has a wing-shaped, Xbox-style design, complete with offset thumb sticks. These thumb sticks are designed to be ergonomic, for easy access of the ABXY buttons. Whether or not this is the case is just a matter of personal preference. Some folks like their thumb sticks offset, and some like them level, PlayStation-style. Regardless, much like an Xbox controller, there are two thumb sticks, a D-pad, and a set of ABXY buttons. However, the center of the controller has additional buttons. In addition to the start and back buttons, there are also two more. The bullet button activates the customizable turbo function, while the square button takes a screenshot. Beneath, there's a bright red power button.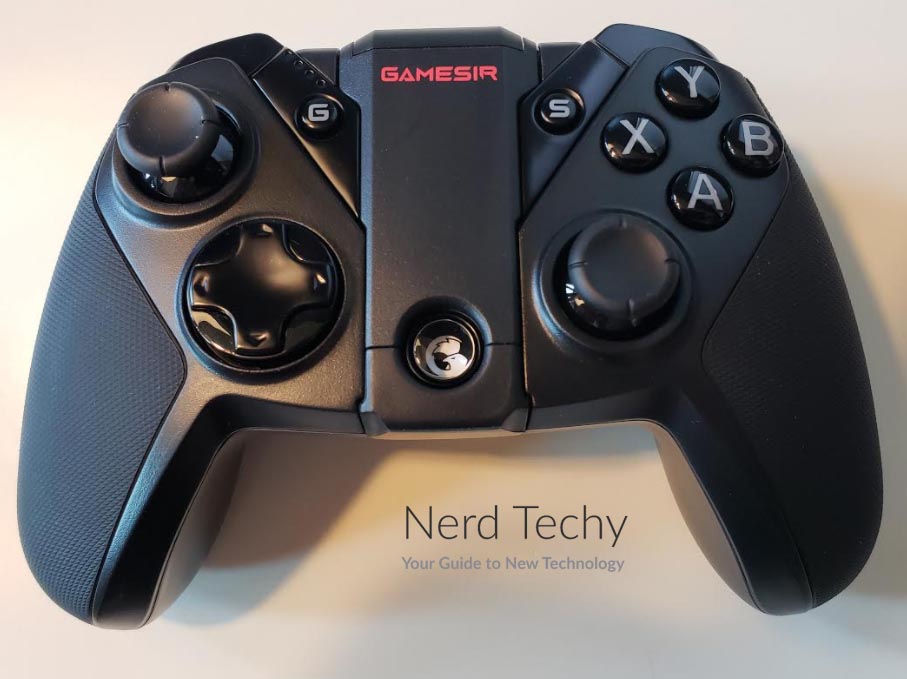 Here's where the design gets a bit funky. The center buttons are covered by a flip-up bracket that holds your smartphone. If you're on a PC or Nintendo Switch, this bracket can stay down. However, it's spring-loaded, well-padded, and perfectly-sized for most modern smartphones. You can hold your phone while you're playing, without the need to set it on a table and prop it up somewhere. If you like this concept but don't like the G4 Pro design, consider the GameSir X2. It's designed to hold your smartphone like a Switch screen, but it only works with Android phones.
In the advertising material, the GameSir G4 Pro looks big and beefy. However, it's actually a bit small, more on the order of an older PlayStation controller. This isn't a big deal if you've got small hands. However, if you've got a big set of paws, you might prefer a beefier controller. Regardless, the G4 Pro is comfortable to grip. The handles are coated with rubber, so sweat is a non-issue. Not only that, but the rubber is fairly thick. This makes it nice and squishy, reducing fatigue during longer gaming sessions.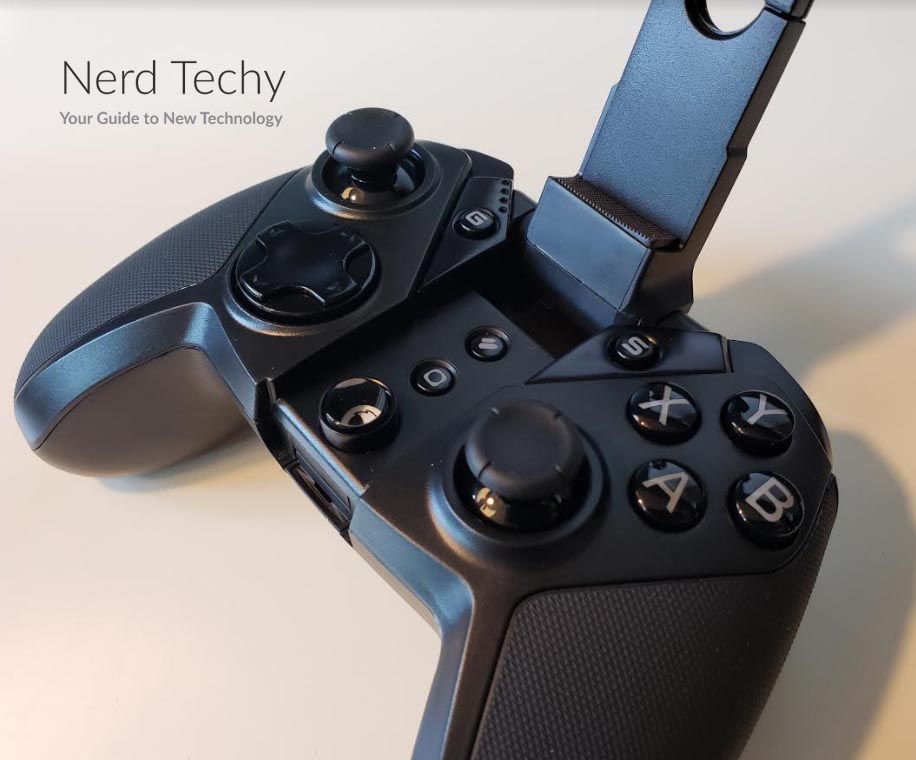 There have been some additional upgrades to the controls themselves. To start with, the shoulder buttons are aluminum rather than plastic. This makes them less prone to wear, and more resistant to sweat. They won't corrode, and we really liked the firm, constant pressure they provide. The A, B, X, and Y buttons have also been upgraded. No, they're not metal. But they're affixed with magnets instead of being fixed in the case. This means that you can switch them around. The main purpose of this is to work with the Nintendo Switch, which has a non-standard ABXY configuration.
Along with the GameSir G4 Pro, you also get a tiny USB fob. This is designed for connecting to your computer. There are other ways to connect, which we'll discuss in the next section. That said, the fob consumes significantly less power than the Bluetooth chip. If you're playing on a PC, try not to lose it.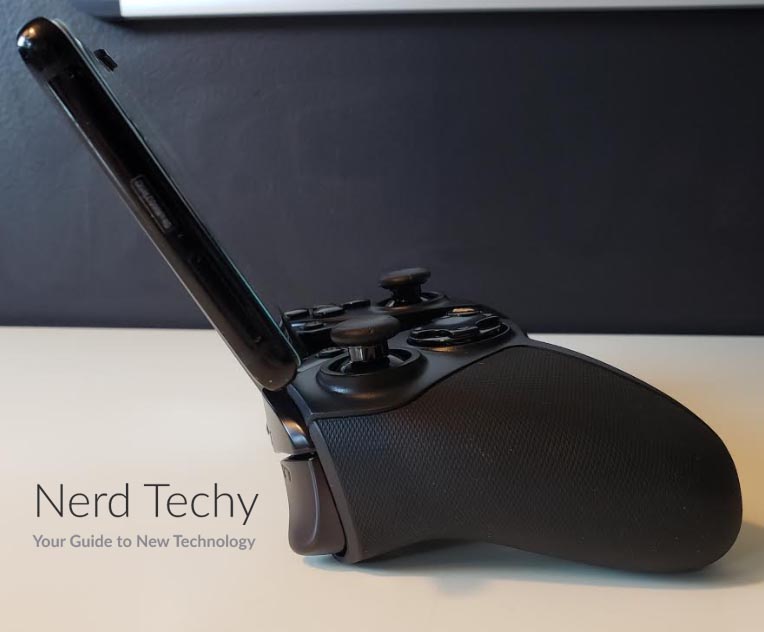 Power and Connectivity
The GameSir G4 Pro has an 800mAh internal battery that supplies about 40 hours of total charge. This is absolutely phenomenal, better than almost any other controller on the market. That said, keep in mind what we said about connection method. If you use the USB fob, you'll get more. If you use Bluetooth, you'll get a bit less. Moreover, a lot depends on the kinds of games you're playing. If you're playing a low-key role-playing game, your batteries will last longer. If you're playing Warzone nonstop, you can expect correspondingly shorter battery life. Alternatively, if you use a USB connection, you don't have to worry about your battery at all. Of course, that means you're tethered to your PC or game system.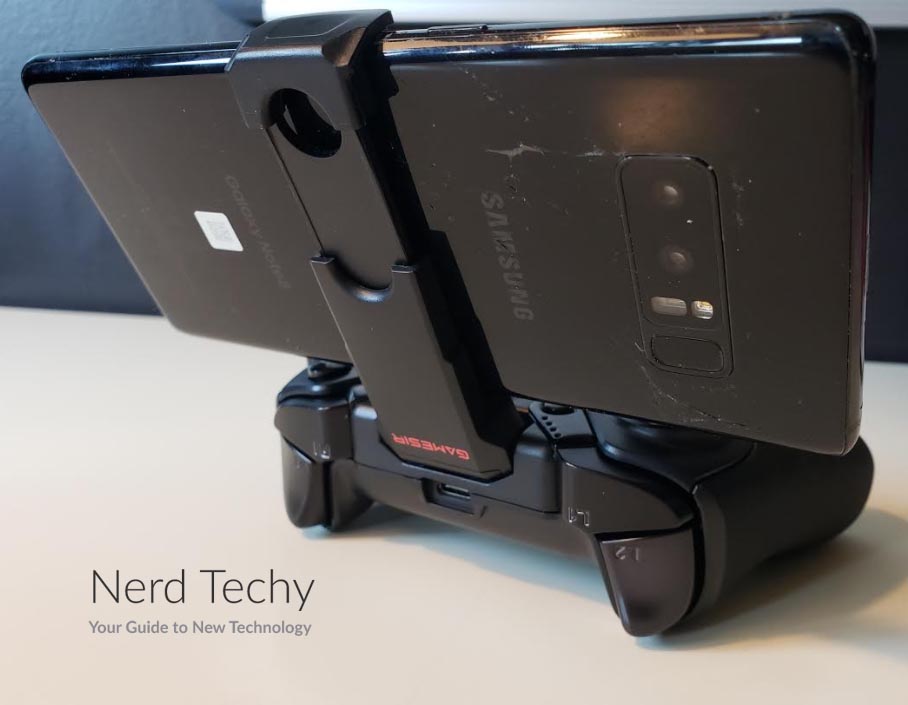 The G4 Pro charges via USB Type-C. A USB Type-C able is included in the kit, but it's only one meter (about 3.3 feet) long. This can be limiting if you want to play and charge simultaneously. On the other hand, there are plenty of longer cables on the market for cheap. Moreover, the internal battery takes only about an hour to charge. As long as you plug it in every night, it should theoretically never run out of juice.
As we mentioned, there are a few different ways of connecting to your device. The first, and most basic option is a wired USB connection. This has the advantage of not draining your battery. On the downside, you're tethered to your device, and it only works with a PC. For wider compatibility, you can use the 2.4G wireless fob. Not only does this work with PC, it also works with Android. It draws less battery than Bluetooth, and also offers lower latency. That said, Bluetooth offers you the most versatility. You can connect to a PC, Android device, iOS device, or even a Nintendo Switch. This makes it an excellent choice if you want an alternative controller for the Switch.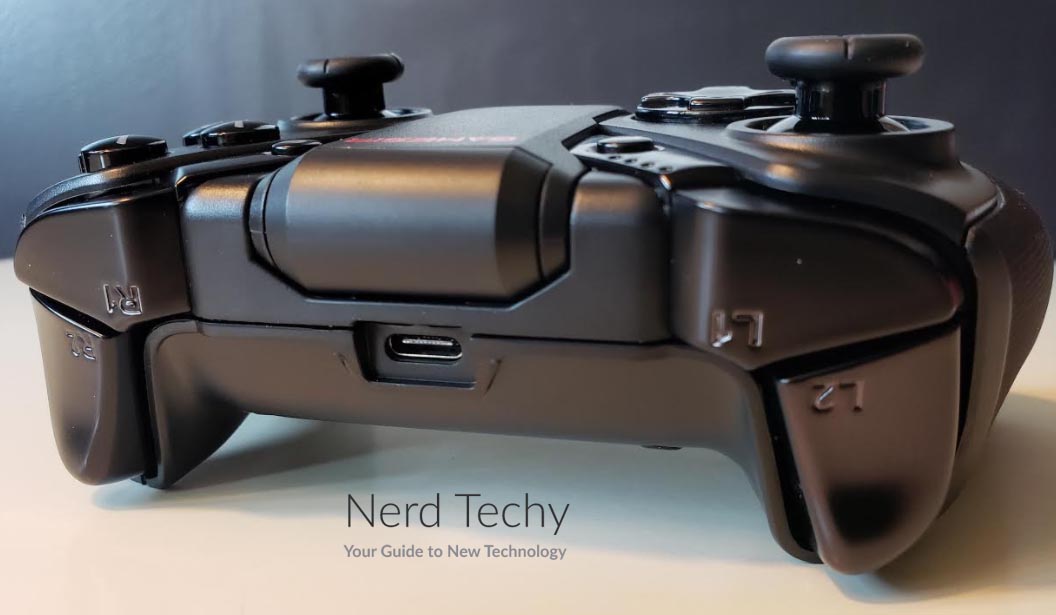 If you like the G4 Pro design, but only need a smartphone controller, check out the GameSir T4 Pro. It has a similar build, complete with a built-in smartphone bracket. That said, the construction feels a bit light and flimsy in the hand.
Features and Functionality
So, besides the basics we've already gone over, what else can the GameSir G4 Pro do? For one thing, it's designed to play Apple Arcade games. It even supports MiFi certified games. This means you can use it with virtually any iOS game, no matter how tied into the Apple "walled garden" it is. As a result, the G4 Pro stands head and shoulders above most third-party controllers in this regard.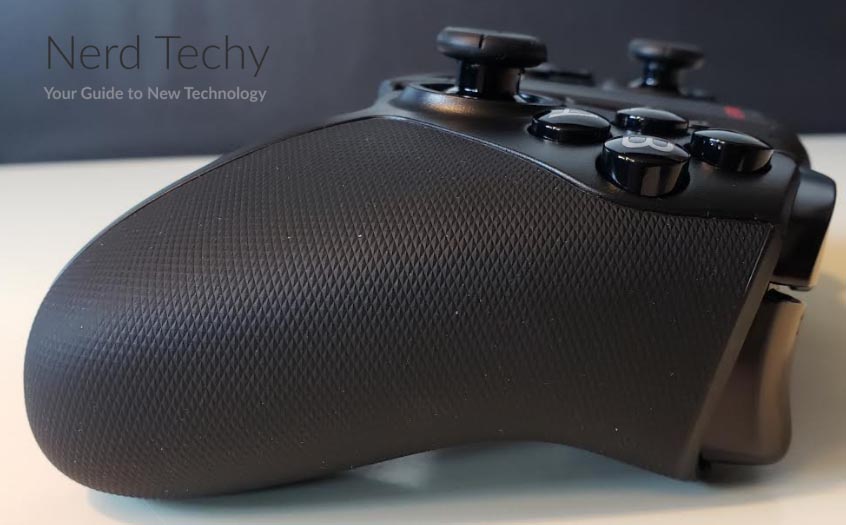 In addition to all the buttons, the GameSir G4 Pro has a six-axis internal gyroscope. This allows it to support motion controls, similar to those on the PlayStation 4. Let's be clear; the G4 Pro won't work with the PlayStation 4 or Xbox One. The gyroscope just works like a PS4 gyroscope. This is mostly useful for Switch games, where motion controls are commonplace. However, it can also be used with smartphone games that rely on a gyroscope.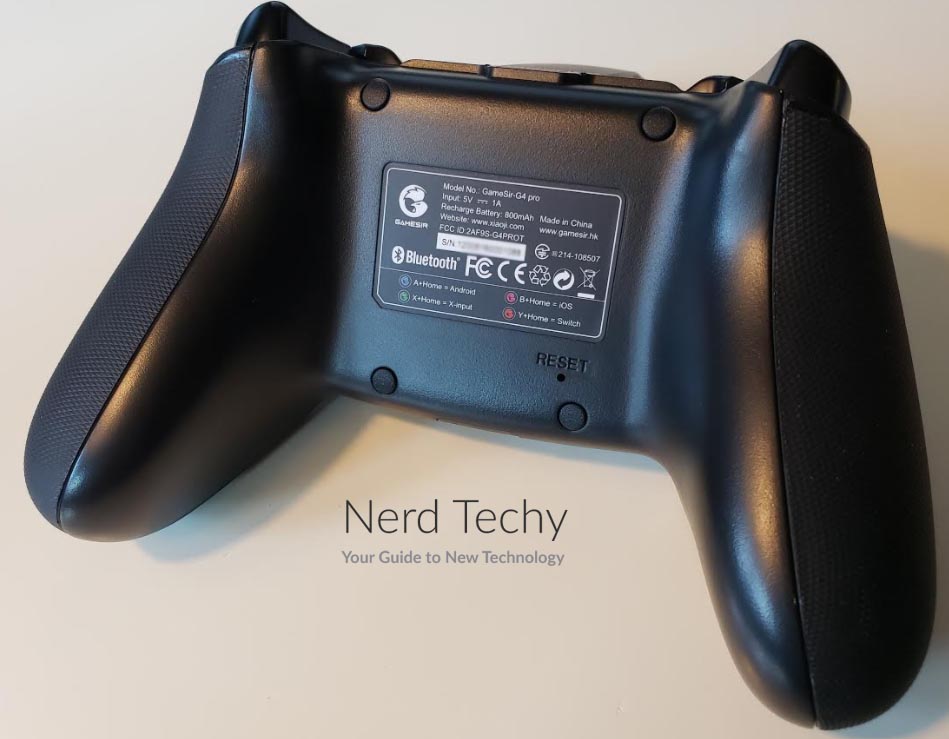 We also mentioned the turbo button. This turbo button needs to be programmed, following GameSir's instructions. Otherwise, it's not going to work correctly. Once programmed, it will press the button thousands of times per second. This is even faster than the turbo function on old-school NES turbo controllers!
Finally, the GameSir G4 Pro has a pair of internal motors for driving the vibration function. With a separate motor in each grip, it's as full-featured as a Switch controller. The different motors can operate with different intensity, creating a realistic, immersive feel. This is by no means out of the ordinary for a quality third-party controller. But it's certainly good to see that it's been included.
With all of this being said, what if you want a portable controller? Sure, the G4 Pro will fit in a backpack easily enough. But the GameSir Falcon F4 will fit in your pocket. It's collapsible, so even though it's easy to carry, it will still fill your hands. On the downside, it only works with smartphones, and can't be used with a PC or game console.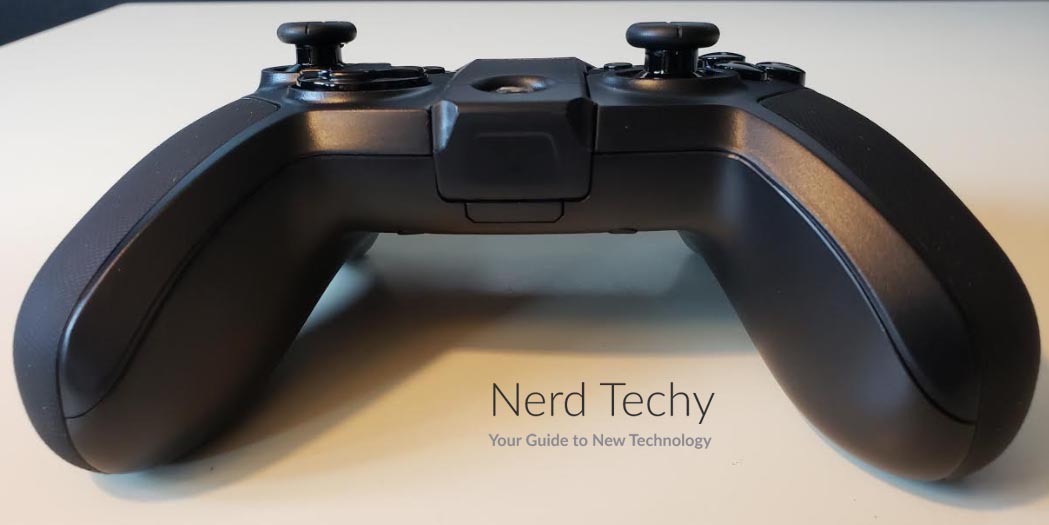 Final Verdict
The GameSir G4 Pro is a fully-functional game controller that's designed for modern smartphones. It's also an excellent choice for PC or Switch players. Sorry, Xbox and PlayStation owners. You'll need a different controller that's compatible with your system. That said, if you're playing on a compatible system, there's a lot to like. To begin with, smartphone players get a nifty phone bracket. PC players get the option to play in wired mode, for effectively limitless battery life. Even Switch players get an internal gyroscope and reconfigurable ABXY buttons.
To be fair, the G4 Pro isn't perfect. Most notably, it's a bit small and light if you've got bigger hands. But for small to medium hands, it's very comfortable. We particularly appreciated the rubbery grips. Not only did they have plenty of texture, but they were also squishy enough for comfort. Furthermore, the metal triggers are a great touch, much higher quality than even mainstream console controllers. Finally, the screenshot button is a great added bonus for smartphone gamers. You don't have to take your hands off the controller to grab a screenshot!