If you're an automotive professional, an electrician, or a plumber, you already know the importance of a good endoscope. It's an essential tool for the job. Not only that, but endoscope are frequently used by HVAC technicians, computer techs, and others. Basically, if you want to see a location that's out of your direct view, they're great tools. But what makes a good endoscope?
To begin with, length is important, and "longer" doesn't necessarily mean "better". If you're trying to scope out a long HVAC line, a longer cable is definitely the way to go. But what if you just need to peek inside your wall, or scope out the inside of an engine? In that case, you might want a shorter, more manageable cable. There are other important features as well. For example, long battery life, a semi-rigid cable, and good lighting are all desirable.
Moreover, technology has been changing. In the past, your endoscope had a display screen on it. Many still do. This makes them easy to manage, but they take up more room in your toolbox. Moreover, if you break the screen, the entire scope is done for. With a WiFi endoscope, you just need a cable and a small controller. Your smartphone or tablet works as the screen instead. Since you're carrying your phone anyway, this is very convenient.
Today, we're going to review three different options, and see how they compare. We'll begin by looking at the DEPSTECH WiFi Endoscope. This one boasts a long, 16.5-foot cable, along with a built-in flashlight and a long-lasting battery. Next, we'll check out the HJSHI Wireless Endoscope Camera. It boasts a slender, 5.5mm cable that can reach just about anywhere. Finally, we'll examine the KZYEE Dual-Lens Endoscope. It sports a unique two-camera design that makes it easy to scope a wide space. Now, let's take a closer look at each of them!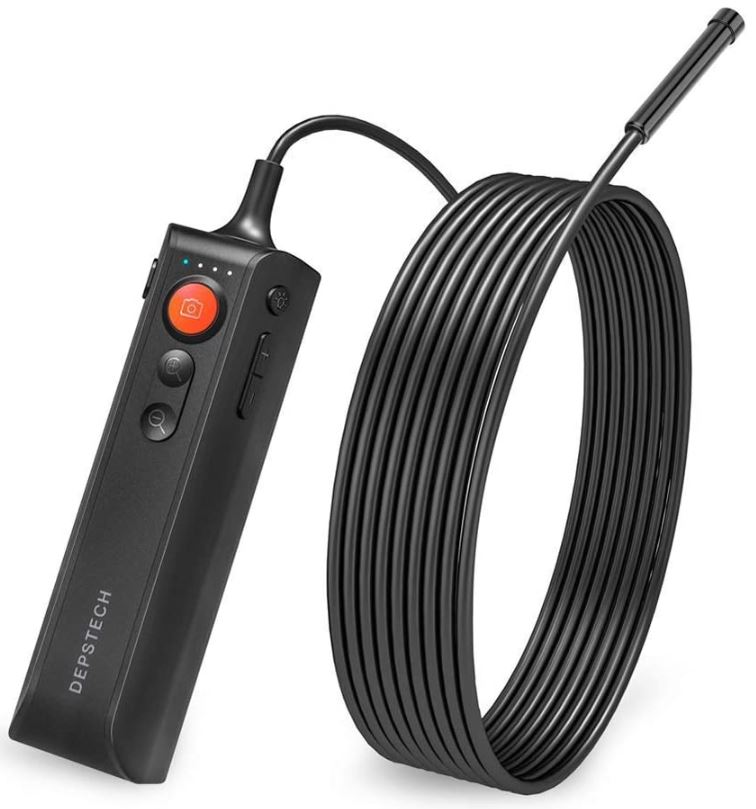 DEPSTECH WiFi Endoscope
The DEPSTECH WiFi Endoscope has a small, handheld control unit that performs all the functions you need. On the front face, there's a bright red camera button to capture a screenshot. Beneath that, you'll see a pair of buttons to operate the zoom function. Above these buttons, there are four LED lights. A blue LED light indicates when the WiFi signal is active. The other three indicate the status of the battery. On the right, there are three additional buttons. One turns the LED lights on and off, and the others adjust the intensity. On the left side, there's a power button, as well as a small reset button in case anything goes wrong.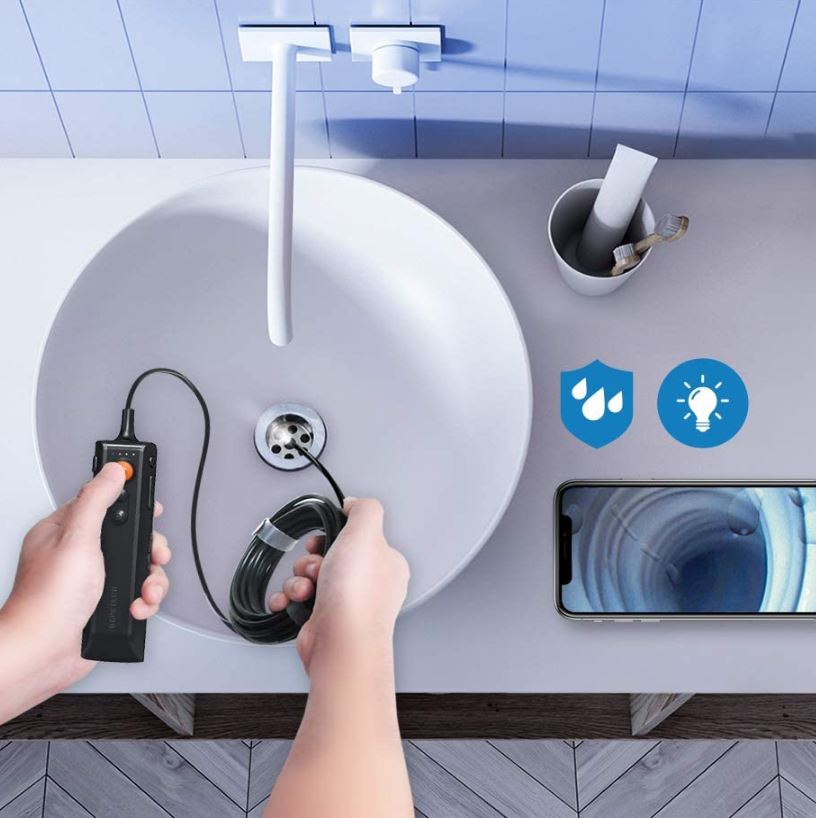 The DEPSTECH borescope's most impressive feature is its cable. It sports an impressive 16.5-foot cable that's among the longest in the business. The cable is semi-rigid, which makes it easy to navigate corners without sacrificing stiffness. The outer sheath is a flexible carbon fiber weave, supported by a stiff internal wire. It's 8.5mm in diameter, sufficient to navigate most places. It's also submersible, with a water-resistance rating of IP67. So it's perfectly suitable for plumbing applications.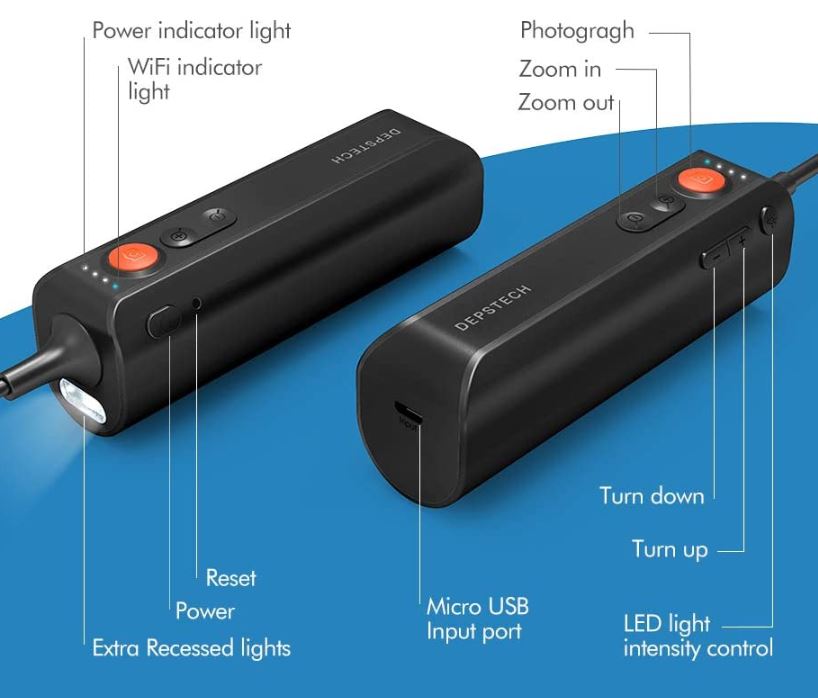 The WiFi function is easy to use. First, download DEPSTECH's app to your phone or tablet. It's available for free on both Apple and Android systems. Next, turn on the power on the endoscope and wait for the WiFi light to come on. At that point, turn off your phone's data function, open the WiFi menu, and connect to the network. Open up the app, and you'll instantly see what the camera is showing you. Keep in mind that the borescope's WiFi network has a limited range, about nine feet. So if you step away to take a break, you're going to lose your WiFi connection.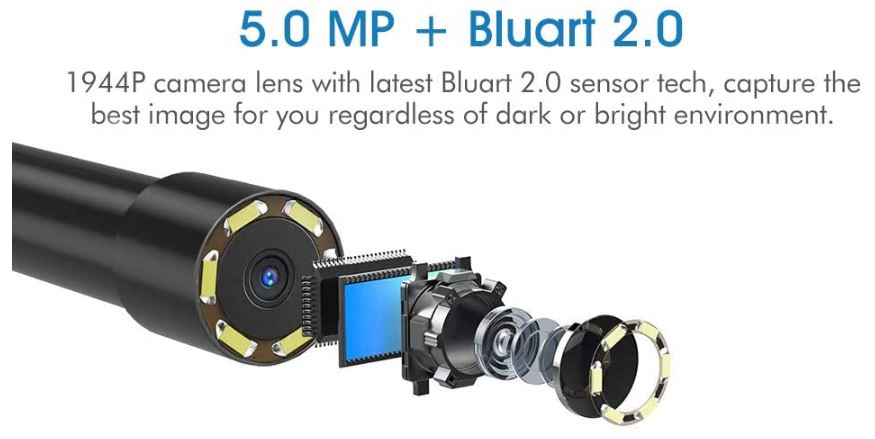 Image Quality and Lighting
The DEPSTECH WiFi endoscope captures pictures and video in 1944p. This is an impressive level of detail for such a compact little camera. The image quality is very good, without any blurring or distortion. Obviously, if the camera is underwater, you may still see some distortion from the water. The focal distance has also been upgraded from DEPSTECH's older endoscope. Instead of a one to three inch focal distance, you can now see clearly from 2.76 to 15.7 inches. And everything is easy to see. The six adjustable LED lights are more than bright enough for any conditions.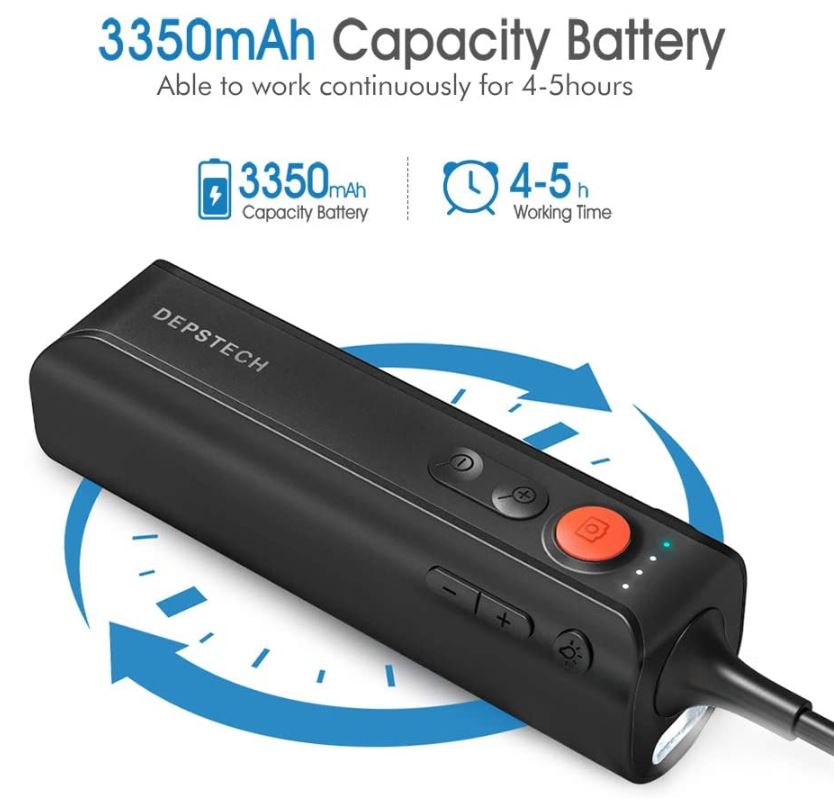 Battery and Extras
The DEPSTECH endoscope has a 3.350mAh battery, which is sufficient for four to five hours of work. The exact time will depend on the LED brightness, which has some impact on the battery. It charges easily via Micro USB in about two hours.
On the front of the handheld unit, there's a built-in recessed flashlight. This can be useful if you need to work in a dark area and don't want to carry a flashlight. In addition, you get mirror, magnet, and hook attachments for the tip. This makes it easy to snag lost objects or peek around a corner.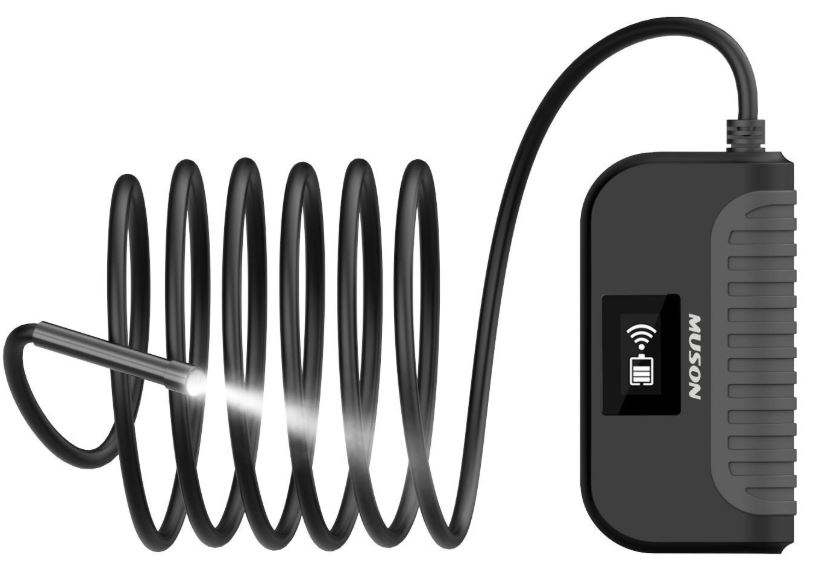 HJSHI Wireless Endoscope Camera
The HJSHI Wireless Endoscope Camera has a somewhat different look than the DEPSTECH unit. The handheld unit is a bit beefier, with a rubberized grip that makes it easy to keep hold of. On one side, there's an LED battery meter, as well as a WiFi indicator. On the front, there's a simple power button. That's about it. Everything else is controlled directly from the app.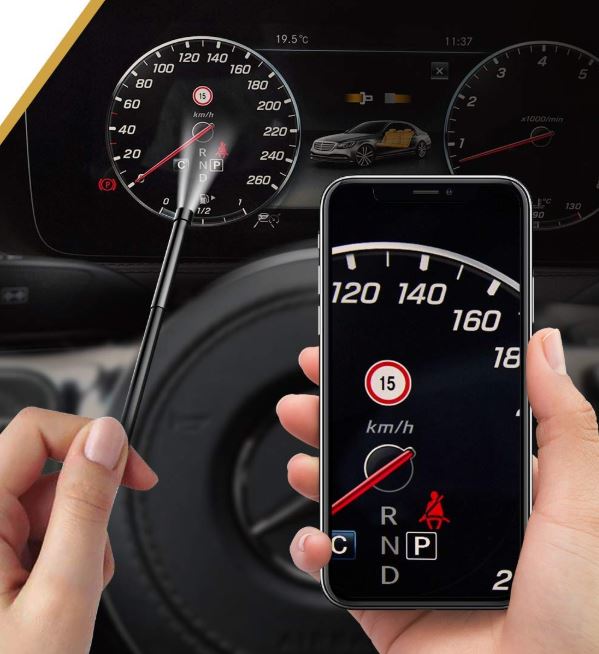 The cable measures 16.5 feet in length, enough for most jobs. It's also semi-rigid. Many semi-rigid cables have a gooseneck design, which creates little ridges that can get snagged. The HJSHI borescope's cable, on the other hand, has an outer rubber casing that's nice and smooth. It has an internal wire that creates the stiffness. It also carries an IP67 water-resistance rating, so it can handle just about any situations. The most impressive feature, though, is that it has a 5.5mm diameter. This is one of the slimmest cables you'll find on the market, less than a quarter inch. It will go just about anywhere imaginable. If you're scoping out the inside of an electrical conduit or other tight space, you're going to love it.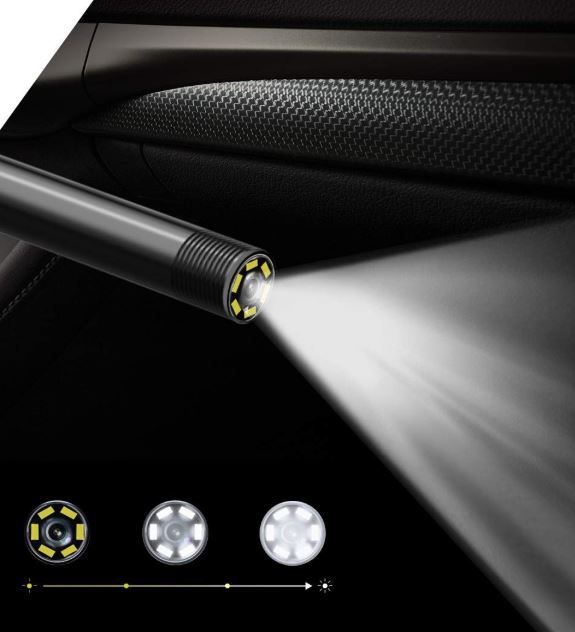 Like the DEPSTECH borescope, the HJSHI borescope requires an app for operation. Before you do anything else, you'll want to install the Inksam app. It's available for free in the Apple Store and on Google Play. Once it's installed, turn on the borescope. Then turn of your phone's data, turn on the WiFi, and connect to the HJSHI network. Similar to other WiFi-connected options, you'll need to keep in mind that the signal has a limited range. The app is compatible with any modern smartphone. All you need is Android 4.4 or newer, or iOS 8.0 or newer.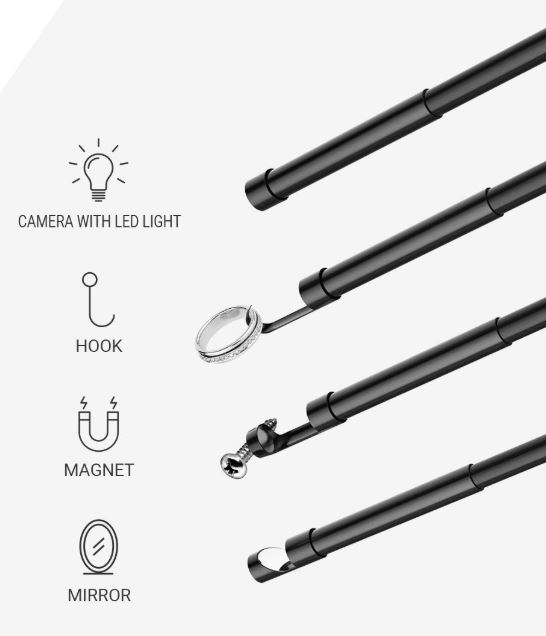 Image Quality and Lighting
The image quality of the HJSHI Wireless Endoscope is a bit unique. For still pictures, you'll get a resolution of 2 megapixels in JPG format. For video, you get a range of options. You can choose 320 x 240, 640 x 480, 1280 x 720, or 1600 x 1200 resolution. The advantage here is that you can adjust the resolution to fit your phone's screen. This dramatically improves your visibility. With six LED lights on the tip, you'll be able to see even in the darkest of environments. And if the lights are too bright for your liking, they're fully adjustable. And with a focal distance of 2 to 20 inches, blurriness should never be a problem.
Battery and Extras
The HJSHI's internal battery holds a charge of 2,600mAh. This will get you roughly two to three hours of performance, depending on LED brightness. It recharges with a Micro USB cable, and takes about two hours to fully charge. Like the DEPSTECH borescope, the HJSHI borescope comes with a mirror, a magnet, and a hook attachment. In addition to these nifty tools, you also get a lens protector. This is a great feature if you carry it in a tool chest with other tools.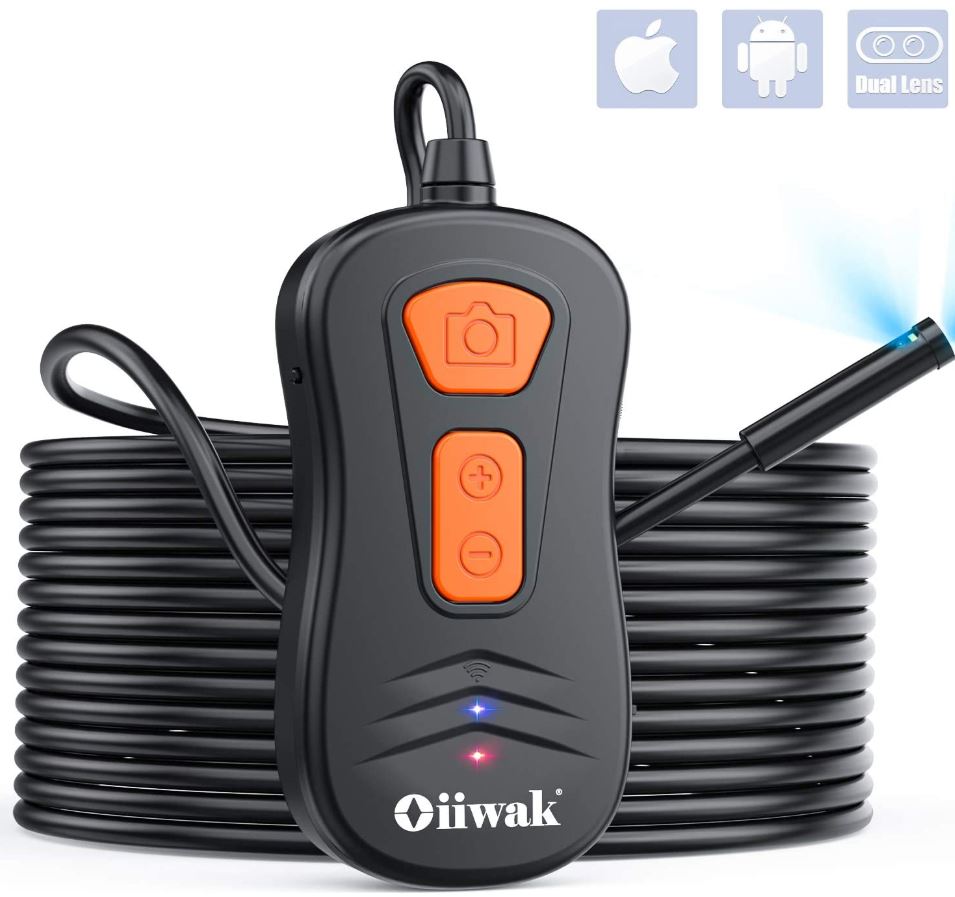 KZYEE Dual-Lens Endoscope
The KZYEE Dual-Lens Endoscope has a beefy, no-nonsense design. The control unit is constructed from black ABS plastic, with a few buttons on the front. The top button is used to snap pictures, while the bottom two control the zoom level. Underneath, there are blue and red LEDs that indicate the WiFi and power status respectively. On the left side of the unit, there's a tiny pinhole with a reset button. On the right, there's a scroll wheel that's used to adjust the LED lights. There's also a simple toggle switch to turn the unit on and off.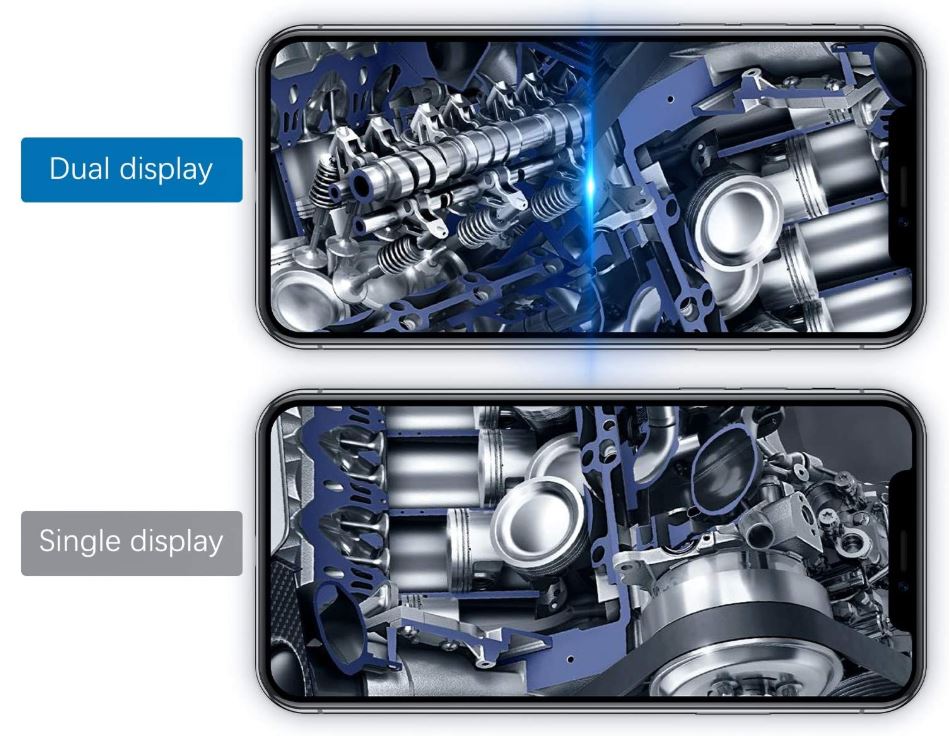 The borescope snake is available in three different sizes – 11.5, 16.5 or 33 feet in length, and has a slick rubber outer sheath. Regardless, a stiff inner wire keeps it semi-rigid. It measures 8mm in diameter, or right about average for a borescope cable. This should be sufficient to handle most applications. It's IP67 water-resistant, so it can withstand submersion and use in water pipes. The LEDs are plenty bright, and you can easily dim them if you so desire. You can zoom in up to three times, so you'll be able to see more than enough detail.
The KZYEE's WiFi connection works in much the same way as the last two borescopes we looked at. You install the Mo-View app, turn on the unit, and connect your phone to the "jetion" network. It's compatible with iPhones and Android phones, so anyone can use it.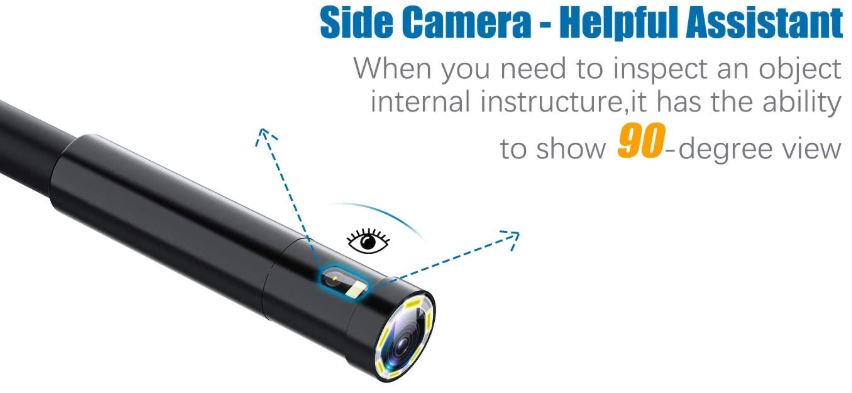 Image Quality and Lighting
The KZYEE's most unique feature is in the name. It has not one, but two cameras. The main camera records out the front, while the secondary camera records out the side. As a result, you get a 270-degree view, which is outstanding. Peek around corners, or simply view a larger area at a single time. Both cameras record in 1080p, which is the same as than the last two borescopes. However, you're talking about viewing objects at relatively close ranges. If you need more than 1080p, you're likely using it for a very unusual application.
Both lenses have their own LED lights. The front camera has a six-light LED ring, while the side camera has a single diode. Even better, the app shows you both cameras at once. Alternatively, you can switch to single-camera mode to get a bigger picture.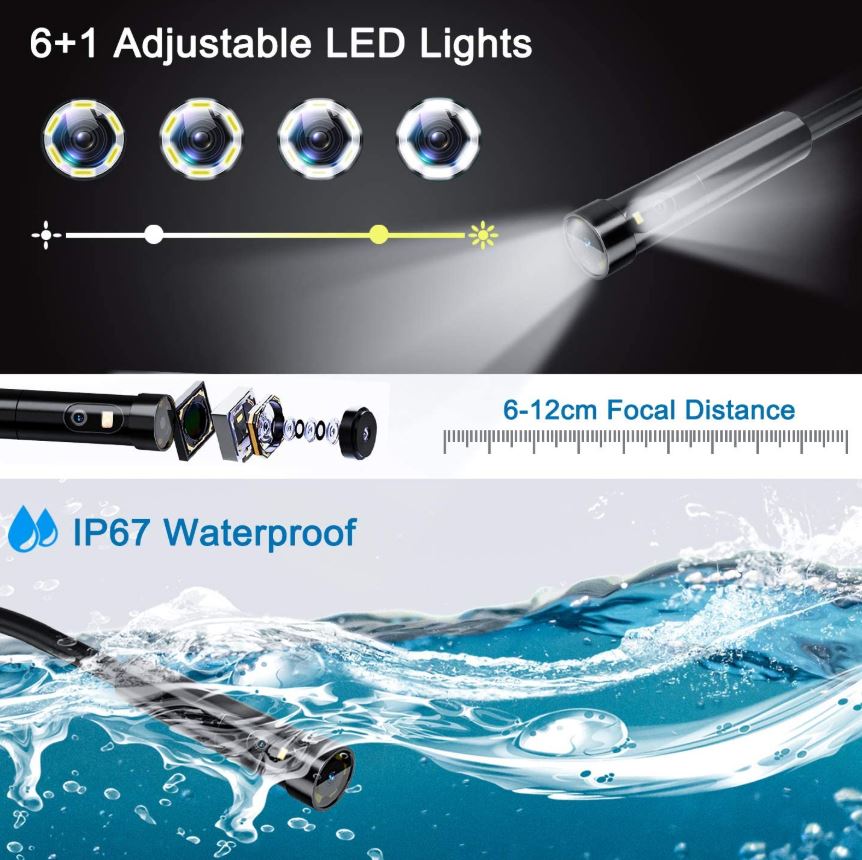 Battery and Extras
The KZYEE borescope houses an 2,200 mAh battery. At first, this might not seem like enough. It's certainly less than our other choices. That said, the internal circuitry is more efficient than most. As a result, you get three to four hours of use from a single charge. It will recharge in about 90 minutes via Micro USB. The attachments are less varied than those you get with the other units. You get a hook and a magnet, but no mirror. Nonetheless, that should be good enough for most everyday purposes. Besides which, a mirror shouldn't be necessary to peek around corners. The side camera will get the job done, no problem.
Final Verdict
Each of these endoscopes has its own costs and benefits. To begin with, the DEPSTECH WiFi Endoscope has the highest resolution. It also sports a full array of tools, along with an extra-long cable. If you need to scope out a long run, it's an excellent choice. On the other hand, a very long cable might be too bulky for some individuals.
The HJSHI Wireless Endoscope Camera is the best when it comes to app features. You can adjust the screen resolution through the app, as well as operate all the controls. However, if you like manual controls, you're going to be out of luck. On the plus side, you do get a lens cap, which provides excellent protection.
The KZYEE Dual-Lens Endoscope sports the best manual controls. You get big, beefy buttons that are easy to operate. You also get the unique dual-lens design. If you want a very wide field of view, it's tough to beat this one, especially for the price.
Meet Derek, "TechGuru," a 34-year-old technology enthusiast with a deep passion for tech innovations. With extensive experience, he specializes in gaming hardware and software, and has expertise in gadgets, custom PCs, and audio.
Besides writing about tech and reviewing new products, Derek enjoys traveling, hiking, and photography. Committed to keeping up with the latest industry trends, he aims to guide readers in making informed tech decisions.