Zigma Aerio-300
Pros
Covers up to 1,580 square feet.
Built-in ionizer and UV sanitizer.
Convenient app and voice assistant controls.
Quiet operation.
Cons
App control only works via 2.4GHz WiFi.
Ionizer is not ideal for all individuals.
If you're concerned about the quality of your home's air, you aren't the only one. In fact, air purifiers have been growing in popularity for decades. This has been driven in part by the way we insulate our homes. With energy efficiency standards going higher and higher, our homes are receiving less and less ventilation. In most respects, this is a good thing. We spend less on our energy bills, and we pollute less while we heat and cool our homes. But reduced airflow also has a downside. Allergens and other airborne contaminants have no way of clearing out. Instead of getting cycled out with fresh air, they build up, making allergies, asthma, and COPD worse.
The past year and a half has given people even more reason to think about our indoor air. A global pandemic has a way of doing that. Now, many are asking themselves whether or not we should be more careful about other germs. Because of this demand, we're starting to see more and more air purifiers with built-in sanitizers.
We're about to review one of those, the Zigma Aerio-300 Smart WiFi Air Purifier. This is a mid-sized, rectangular air purifier that can cover a small home – up to 1,580 square feet. Considering that most purifiers cover 500 square feet or less, it's easy to understand that we were impressed. But there's a lot more to an air purifier than just good coverage. It also needs to be easy to use. The filter needs to be easy to change, and it shouldn't be so loud it keeps you up at night. Not only that, but it actually needs to do the job! Cycling a lot of air doesn't do much good if you're not actually filtering it. So, how well does the Aerio-300 perform? Let's take a closer look, and find out!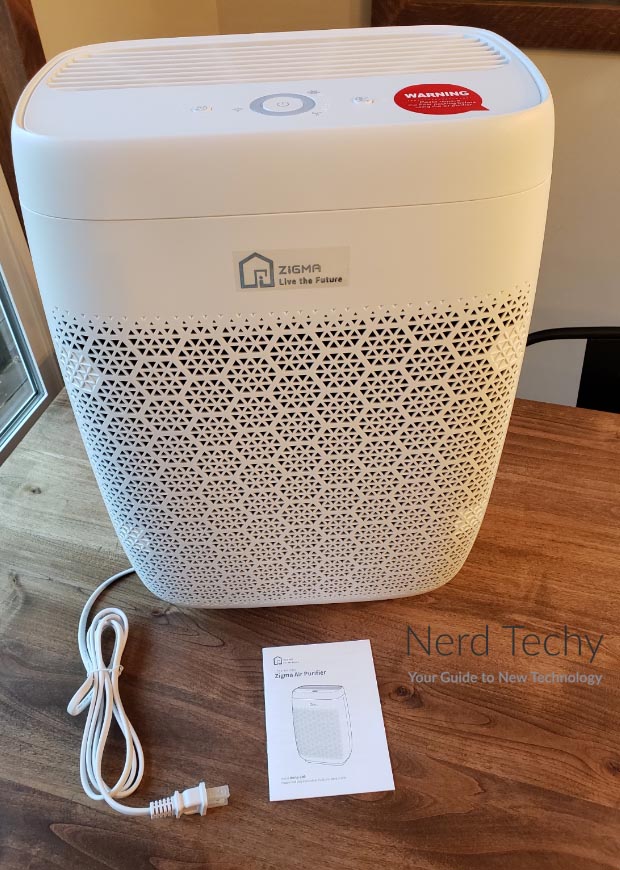 Overall Design
The Zigma Aero-300 is a roughly-rectangular air purifier with bowed sides that give it an attractive profile. It measures 13.78 inches wide at the widest point, 8.66 inches deep, and 19.4 inches high. This makes it medium to medium-large as air purifiers go, albeit still compact enough for most rooms. The housing is constructed from matte white plastic, which is easy to keep clean.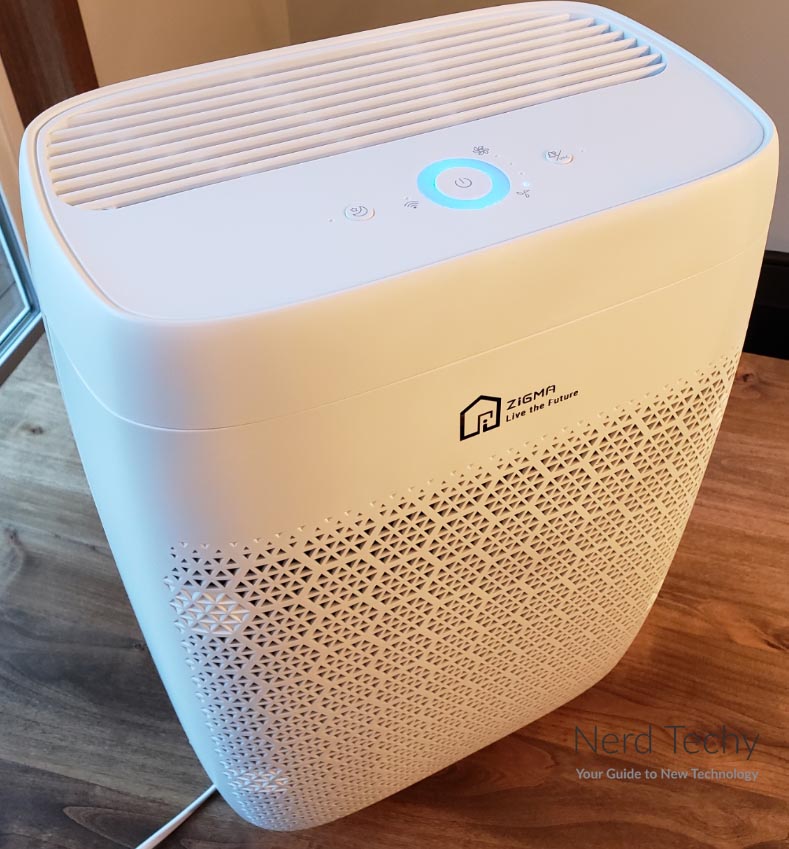 Air is sucked in through the front, where the intake grille forms a pleasant snowflake pattern. The outflow vent is located on the top, through a more staid, horizontal set of louvers. By blowing the air out the top, the Aero-300 does a good job of distributing clean air throughout your room. Keep in mind, though, that it will only work effectively if the front grille is unobstructed. You can block the sides and the back to need be. But the front should have at least a couple feet of clearance – the more, the better.
If you like the rectangular profile but want a smaller filter, there are plenty of similar-looking options. One good choice is the Air Choice AP-528. It looks like a miniature version of the Aerio-300, and it's a bit more affordable. That said, it also provides less power, cleaning a maximum of around 500 square feet.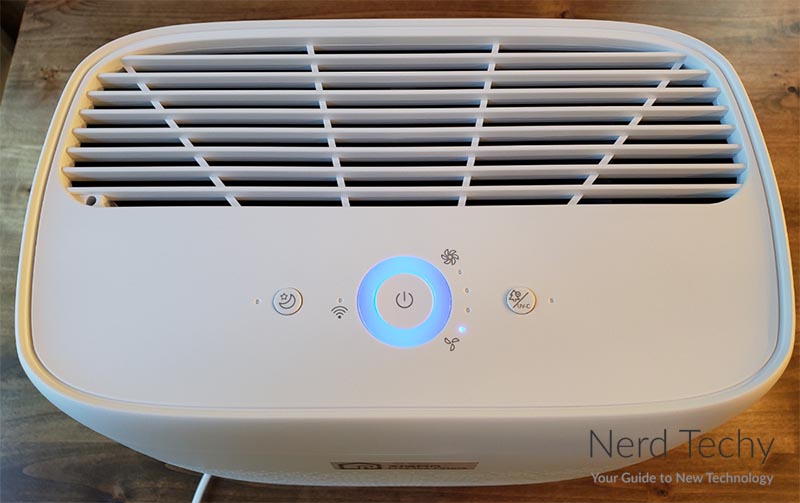 The controls are located on the top, and consist of three easy-to-understand buttons. The largest, the power button, is directly in the center. It's surrounded by an LED ring which illuminates when the filter is turned on. The color of the ring will change based on the quality of your air. Blue light indicates excellent while green indicates good quality. Orange indicates that the air is dirty, while red means it's very dirty. If the light is red, you're either kicking up huge clouds of dust, or you're burning something in the kitchen.
There are three additional, small LED lights to the right of the power button. These indicate the current fan speed. As you tap the power button, more lights will illuminate until the fan reaches maximum speed. Press it again, and the purifier will turn off altogether.
The small button to the left is the sleep mode button. This locks the fan to the lowest, quietest setting, and deactivates the LED light. The same button also doubles as a child lock. Hold it down for three seconds to lock out the control panel, and hold again to unlock it. The small button to the right activates and deactivates the ionizer function. We'll talk more about that in a minute.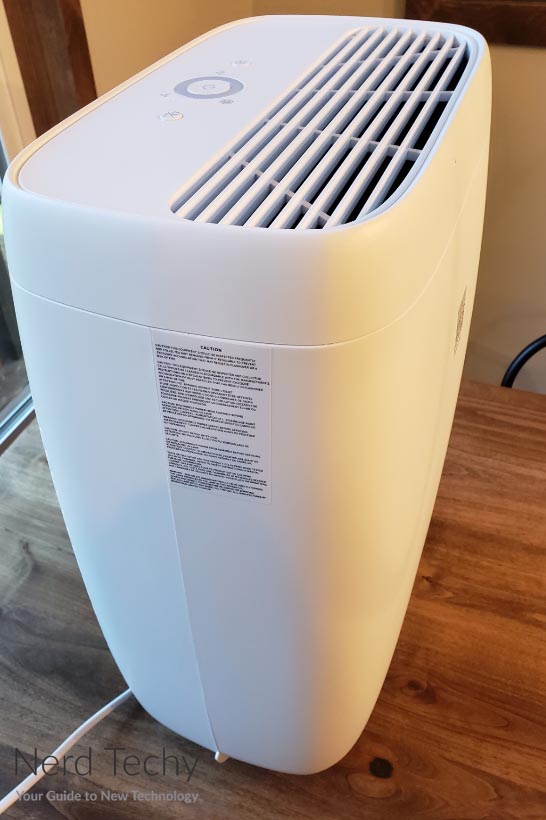 Everyday Operation
The Zigma Aerio-300 has three different power settings, which can be adjusted based on your needs. On the highest setting, it's capable of purifying the air in a 1,580 square foot area. This assumes standard 8-foot residential ceilings. If you have cathedral ceilings or lowered ceilings, you'll have correspondingly less or more total coverage.
That said, the maximum setting is fairly loud. It's not table saw loud, but it's loud enough that you have to raise your voice to be heard over it. This means if you're going to use the Aerio-300 for the whole home, you'll want it in a little-used room. Otherwise, you'll probably find the noise to be a bit much. That said, you can get much lower volumes at lower settings. At the lowest setting, the fan produces only 25dB of noise. That's literally whisper-quiet, and more than soft enough for you to sleep through.
Of course, if you don't have to filter a large space, you don't need such a large filter. To cover a small apartment or just a few rooms, consider the Afloia Air Purifier. Although it only covers about 500 square feet, it's more affordable and has a smaller footprint.
The Aero-300's physical controls will provide you with the functions we've already mentioned. However, with the free Zigma smartphone app, you can get a whole lot more use out of your purifier. Through the app, you can activate voice controls through Siri, Alexa, and Google Assistant. You can also use your phone as a remote, run your purifier on a schedule, or activate auto mode. In auto mode, the fan will automatically run at higher speeds when the air quality is poor. When the air quality is good, it will run at lower speeds to maintain quality. Finally, you can use the app to view your filter's status from anywhere. This includes the estimated remaining life on your filter. That said, you need to have a 2.4GHz WiFi signal to connect the purifier. If your router only uses the 5GHz channel, it's not going to work.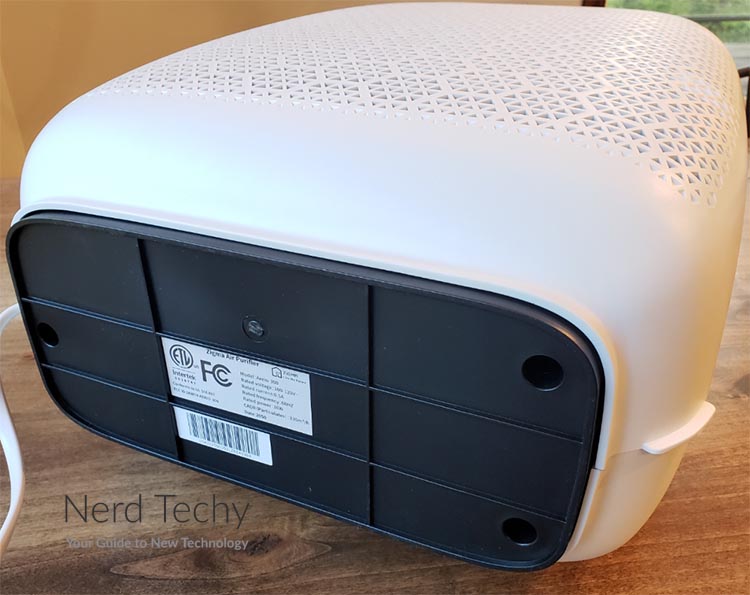 The filter element itself needs to be changed roughly every six to eight months, depending on usage. The rated number of hours is 2,400, but that's also just an approximation. Ultimately, your filter life will depend on how long it takes for it to get clogged up with particulates. The dirtier your air is, the sooner that will happen. When the time comes, a warning light will illuminate on top of the filter. If you've got the app set up, you'll also get a notification on your phone. To change the filter, just pop open the front panel, remove the old filter, and put in the new one. It takes less than a minute.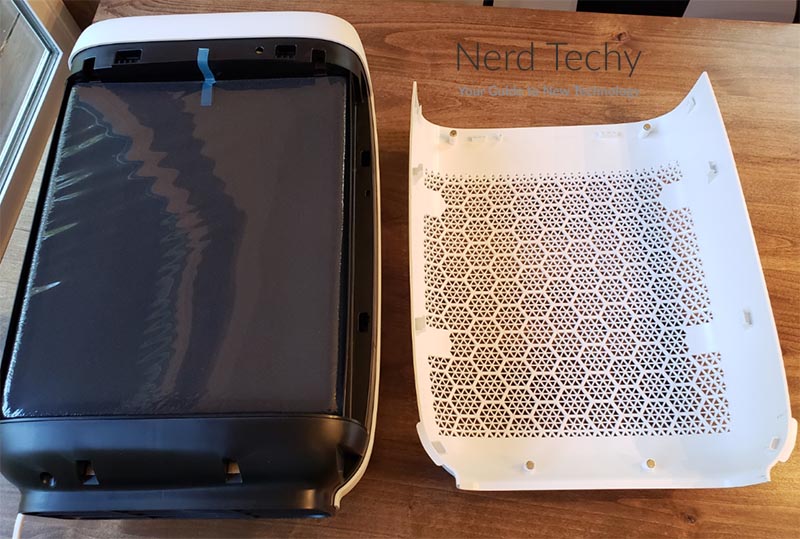 Filtration System
The Aerio-300's filter system consists of five different layers, not counting the outer grille. The first is a washable pre-filter designed to remove larger contaminants. This catches big pieces of dust, pet hair, and other debris that could quickly clog the main filter.
The next layer is the H13 HEPA filter. The H13 standard is slightly better than True HEPA, but not quite as high as H14, which is medical grade. This filter will remove 99.97 percent of particles as small as 0.3 microns. This includes pollen, mold spores, smoke, and even most bacteria. If you're allergic to mold or pollen, this is the part of the purifier where the real magic happens. An H14 replacement filter is "coming soon," but we haven't been able to find an actual release date.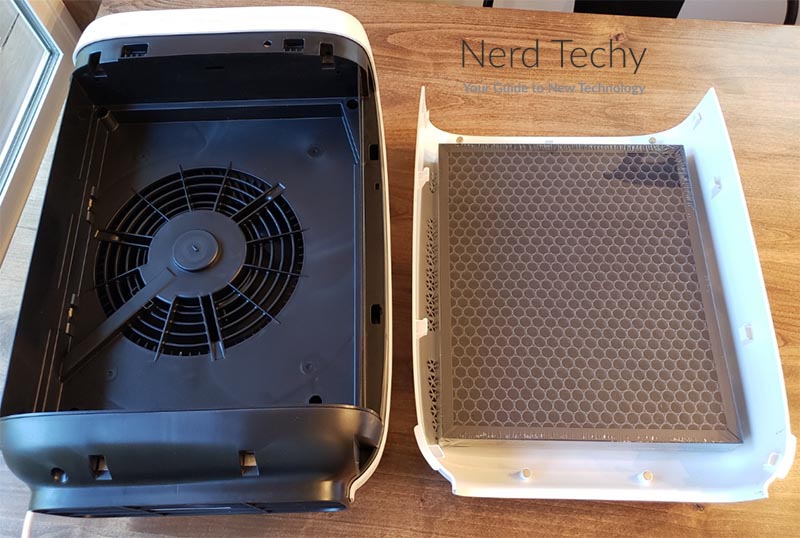 The third layer is a carbon filter, which consists of activated charcoal. This layer will capture odors and chemicals rather than particles. If you have odors from a litter box, cooking, or a recent fire, the carbon filter will help to mitigate them. It will also help remove some harmful fumes, such as the gas given off by new synthetic furniture padding.
The fourth part of the filter system is an ionizer. This is a simple charged panel that applies a negative charge to any particles that pass by. When they become charged, or "ionized," these particles drop out of the air. Ionized air molecules are also created, and help remove debris later on. Keep in mind that while ionizers are effective, they also generate ozone. As a result, their use has become controversial in settings where people are physically present. If you're concerned about ozone, just turn the ionizer off and leave it off. You'll get all the other benefits of the Aerio-300 without the ozone.
However, do not be alarmed, Zigma has conducted professional safety testing regarding its Ozone feature and have published the results on their website. The Aerio-300 has passed the highest ozone test. The data shows that the highest eight-hour average ozone concentration produced by it is 0.003 parts per million, which is lower than the minimum industry and federal standards set by the FDA, OSHA, and FDA. In addition, they've conducted UV-C radiation and ozone release testing and have obtained several relevant certifications.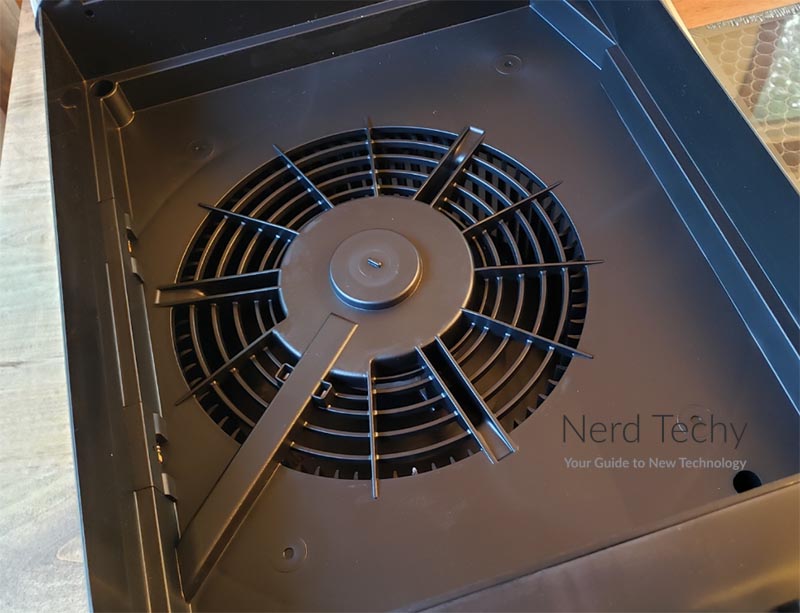 The last section of the air purifier consists of a chamber that's lit with ultraviolet light. This light, called UVC light, is highly effective at killing viruses and bacteria. Obviously, no sanitizing system is 100 percent effective. But the vast majority of germs are going to be dead before they leave your filter.
Another, alternative filter for removing germs is the Proscenic A9. It can accept multiple replacement filters, including one with antimicrobial properties and another that absorbs toxins. However, there's no UV sterilization or ionizer.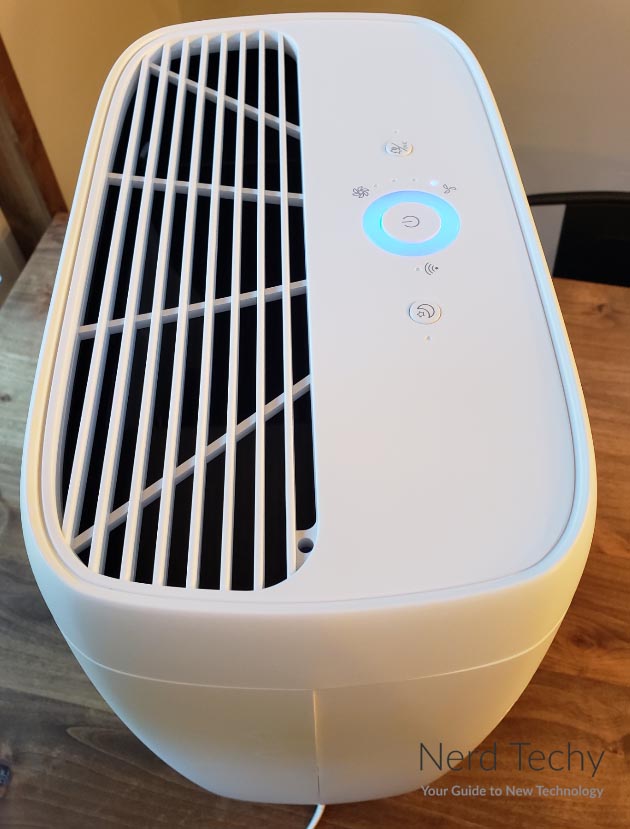 Final Verdict
The Zigma Aerio-300 is one of the better air purifiers we've looked at. It covers a massive area, and it kills germs as well as filtering your air. Not only that, but operation is simple and straightforward. Our complaints, by comparison, were relatively minor. If you need to filter the air for a larger space, the Aerio-300 is an excellent choice.