Proscenic A9
Pros
Effective HEPA filter with antimicrobial layer.
Very large coverage area.
Multiple replacement filter options available.
Supports app and voice controls.
Cons
App doesn't do anything you can't do on the front panel.
Anti-microbial silver layer is not medical-grade.
These days, it's normal to be concerned about your home's air quality. Yes, a worldwide pandemic has brought cleanliness to the forefront of everyone's mind. But even before Covid, there were significant issues with many people's indoor air. This seems odd at first. After all, homes are far cleaner than industrial businesses, or even crowded, busy office buildings. Aren't we safer at home than anywhere else we go in our everyday lives? In fact, we may not be.
Ironically, the problem is that our homes are very well-insulated. If you sleep a night in a very old house, you'll notice a big difference between that and a modern home. It's drafty! In our efforts to save energy and protect the environment, we've added all kinds of flashing, sealant, and home wrap. This keeps warm air inside in the winter, and cool air inside in the summer. Unfortunately, the same drafts that cause inefficiency also ensure that fresh air is constantly cycled through. In a modern home, mold, pet dander, and other irritants can build up and remain trapped inside. This is a nightmare for allergy sufferers, or for anyone who is sensitive to contaminated air.
Today, we're going to review the Proscenic A9 Air Purifier. This is a mid-sized air purifier that treats nearly 1,000 square feet of space. It's app-controlled, and even comes with multiple filter options. But those features are just part of a larger picture. To see whether the A9 is worth owning, we'll need to take a closer look at all of its features. We'll start with the physical design, and the basic physical controls. We'll move on to the various functions, and how the purifier is operated. Last, we'll look at the filtration system, what it removes, and your other filter options. Let's begin!
Design & Controls
The Proscenic A9 Air Purifier is a mid-sized, rectangular device with a square footprint. It stands 20.47 inches tall, with 10.24-inch sides, and curved corners to prevent any sharp edges. The overall weight is 11 pounds, which isn't too heavy, especially considering the size. That said, there are no handles to make carrying it any easier. The housing is white in color, with a matte finish that's easy to keep clean. Both the front and the back sides consist of a grid-shaped vent, which allows for air intake from all directions. The air outflow vent is located on the top, with a black, slotted design that contrasts with the main body.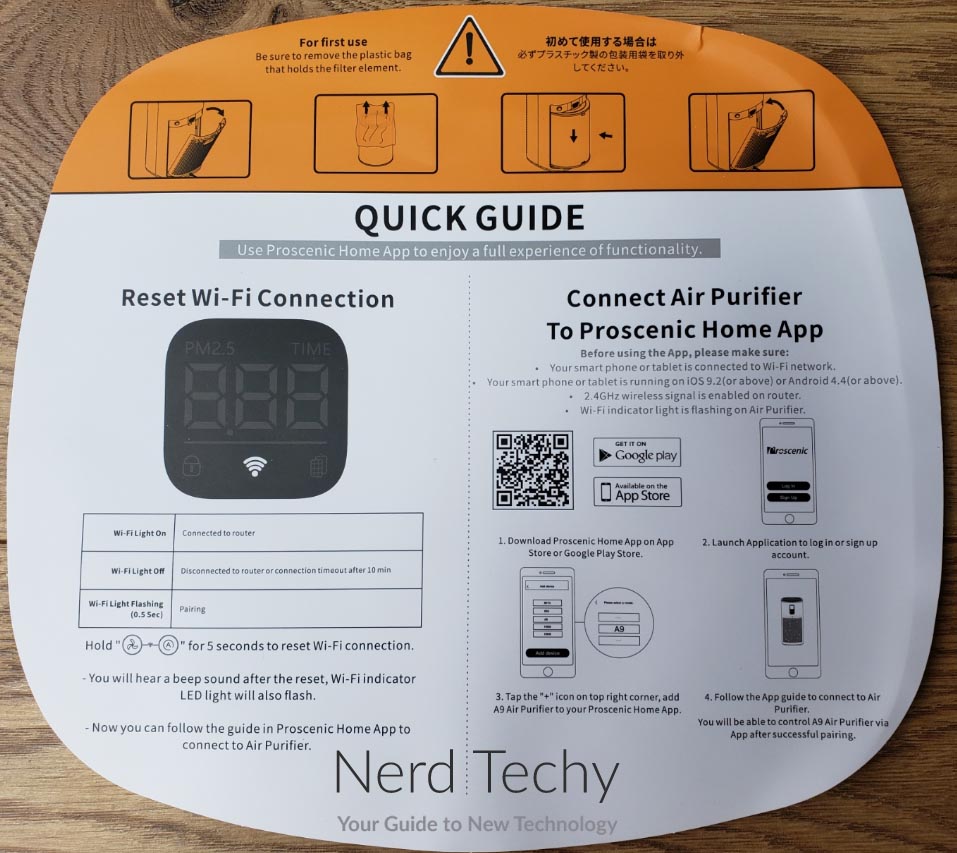 If you prefer a filter with a smaller profile, the AirMax 10L is a solid choice. It has a broad, rectangular design and a slim build that's designed to fit neatly against a wall. It's also medical-grade, although it only filters about half the air volume of the A9.
The A9's controls are located on an attractive LCD display on the front of the unit. It's positioned towards the top, with a surrounding black panel that makes it stand out. When the purifier is turned on, it will show you the current status of all your various settings. You'll see the status of the child lock, the WiFi connection, and any sleep timer you have running. You'll also see an approximation of the remaining filter life.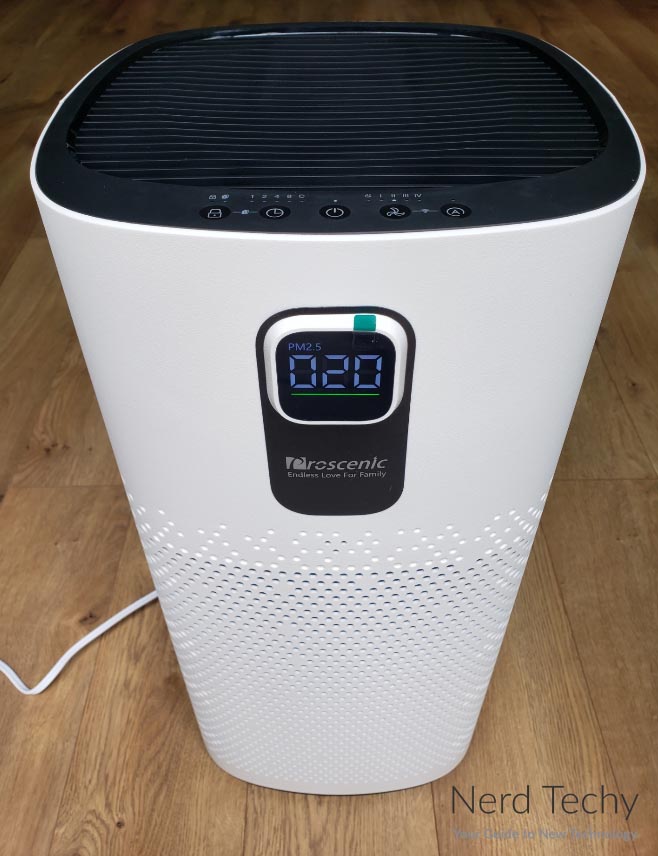 The best feature, though, is the infrared air quality monitor. As air passes into the filter housing, the monitor checks it for contamination, and lets you know the current status. A green light indicates excellent air quality, yellow is good, orange is lightly polluted, and red is heavily polluted. This allows you to see how contaminated your air is, so you can judge how well your filter is doing.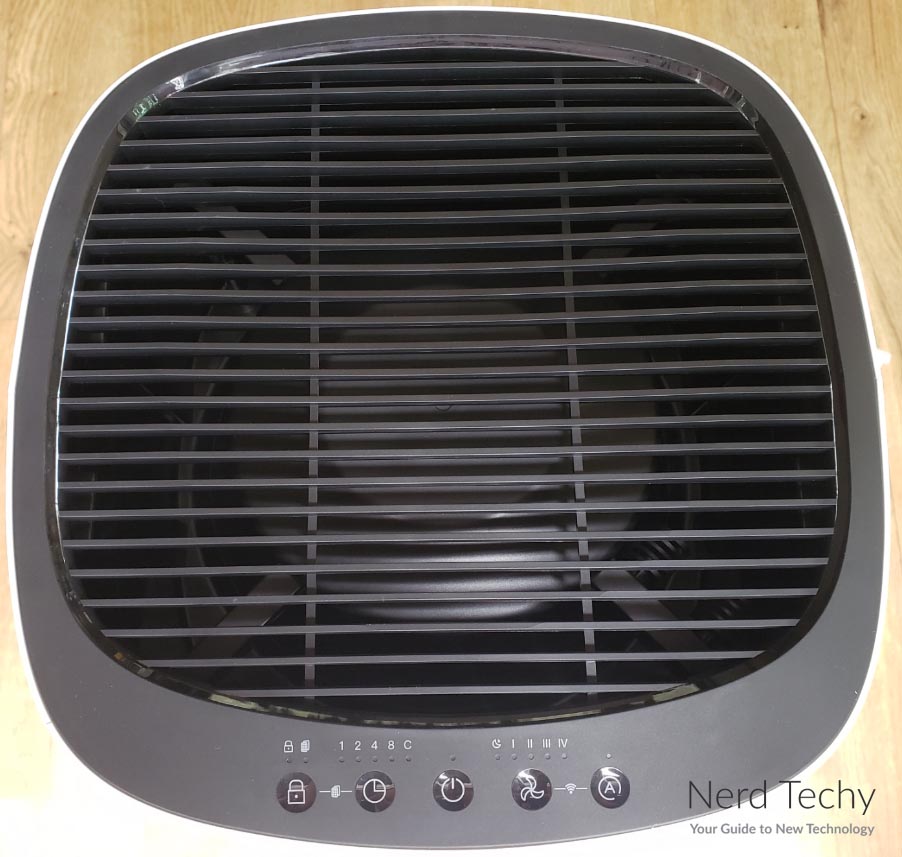 Everyday Use
The Proscenic A9 is capable of treating up to 968 square feet of space on its highest setting. This works out to about half of a typical four-bedroom home. However, you'll need to keep in mind that a filter treats a volume of air, not an area. For the 968-square foot rating, Proscenic is assuming ordinary, eight-foot ceilings. If your ceilings are higher or lower, you'll be able to cover less or more area respectively. But eight-foot ceilings are so common that 968 square feet is a good estimate for most people.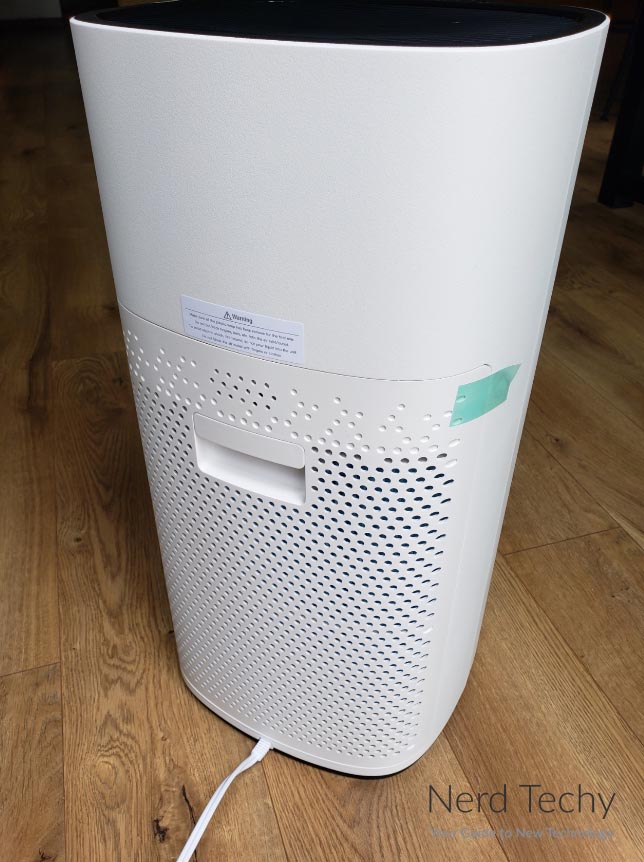 For normal operation, you can switch between five different modes. The first four are ordinary speeds, ranging from 1 through 4. You'll find similar functions on many air purifiers, so this doesn't bear discussing further. Below the first speed, there's also a sleep mode. This mode is exactly what it sounds like: an ultra-quiet mode that allows you to sleep peacefully. In sleep mode, the total volume of the purifier will drop to 25dB, literally whisper-quiet. Sleep mode will also switch off the LCDs, so the display panel won't spoil your dark room.
The last mode is auto mode, and it works in concert with the infrared air quality sensor. In auto mode, the purifier will adjust its speed based on how dirty the air is. If the air is green, it will run on speed one, if the air is yellow, it will run on speed two, and so on. This ensures that your air remains as clean as possible, without requiring you to waste energy on re-filtering pristine air.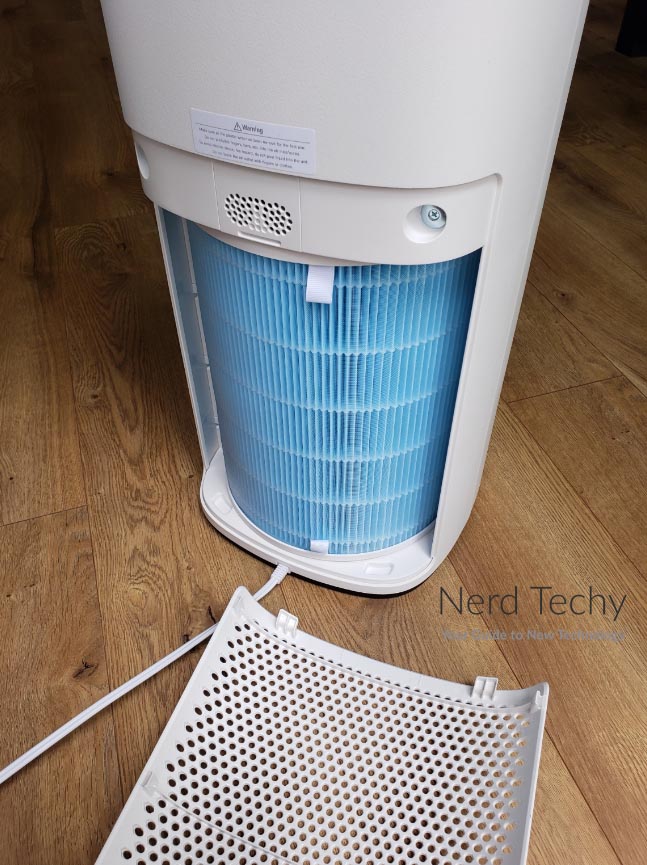 In addition to the various filtration modes, you also have a couple of additional options. The first is a simple child lock. Hold the button down for five seconds to lock out the display, and hold it again to unlock. This will keep small children and pets from inadvertently messing with your filter settings. The second added option is a timer. By pressing a single button, you can set the time for one, two, four, or eight hours, or even set a custom timer.
If you want to operate your air purifier remotely, you can install the Proscenic smartphone app. It's free on iOS and Android, and takes just a few minutes to pair with the A9. Once that's done, you'll be able to do anything you can do from your front panel. That said, there are no metrics or other advanced features in the smartphone app. For most purposes, you may as well use a simple remote control. Perhaps more useful is the ability to pair your air purifier with Alexa and Google Home. With this done, you can control the A9 from anywhere in the home by using only your voice.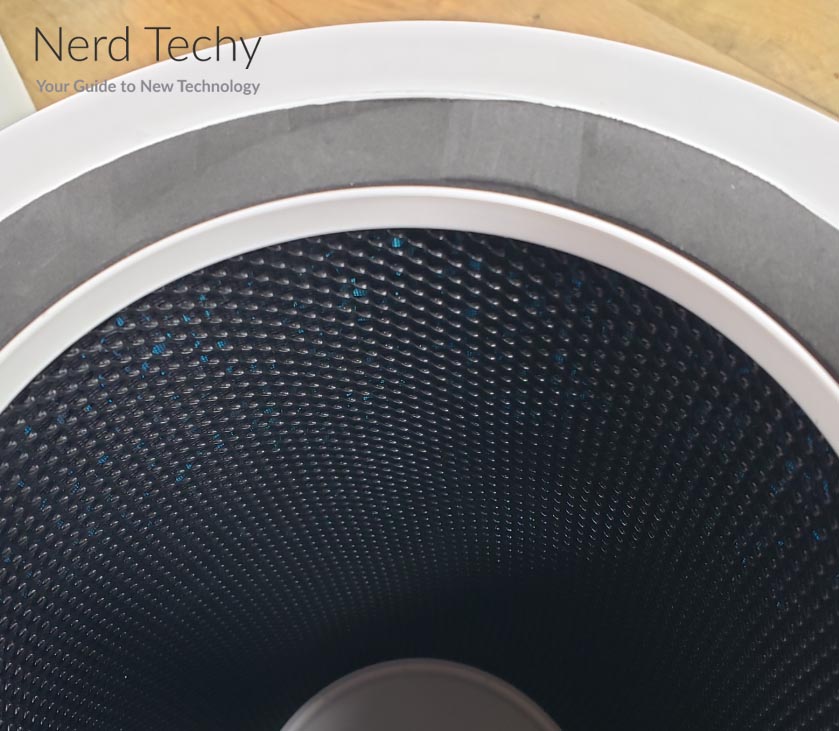 Filtration System
The A9 utilizes a single, large filter cartridge that contains four different layers of filtration. This all-in-one approach has both its benefits and its downsides. On the one hand, it's easy to change. You open up the main housing, pop out the old filter, and pop the new one in. It's almost absurdly simple. On the other hand, you can't replace individual filter layers individually. Suppose you have an oven mishap, and the house gets flooded with smoke. That will wreck your HEPA filter in a hurry, but the outer pre-filter may be just fine.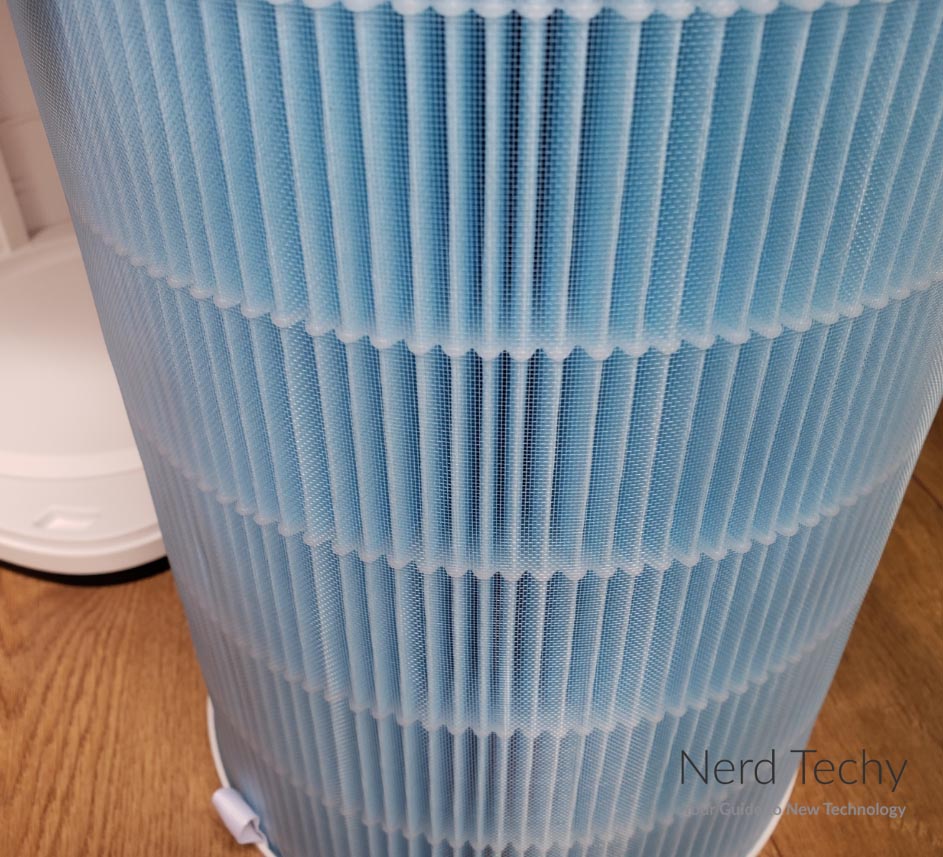 In total, there are four different filter layers. The outer layer is a simple mesh pre-filter, while the next is the H13 HEPA filter. This is the part that removes the majority of particulates from the air. Next, there's an activated carbon filter for removing odors and chemical vapors. Finally, the air passes through a nano-silver weave that helps kill bacteria. Let's be clear: this is not a true, medical-grade filter. It's not suitable for hospitals or other medical applications. But for killing household airborne bacteria, it's more effective than a filter with no silver.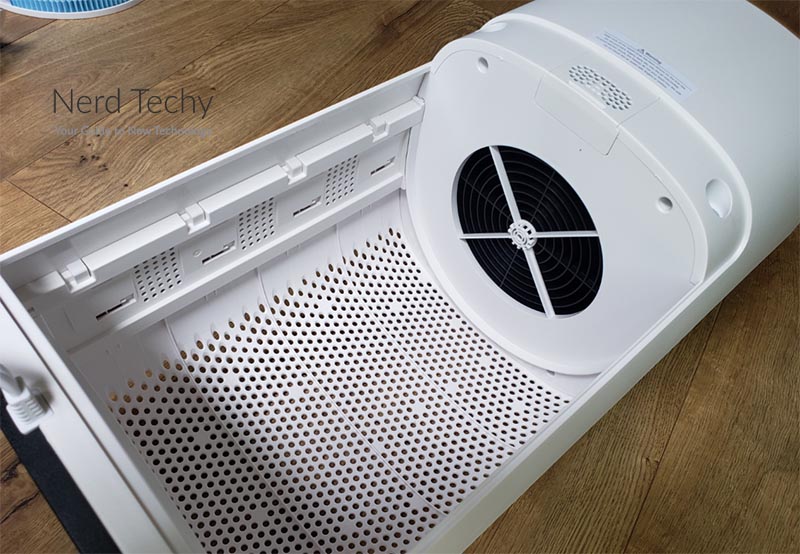 If you're specifically looking for a medical-grade air purifier, consider the Airthereal AGH380. This is a true HEPA filter with a built-in UV sanitizer that kills both viruses and bacteria. However, because this requires a sanitization chamber, the housing is a bit bulky.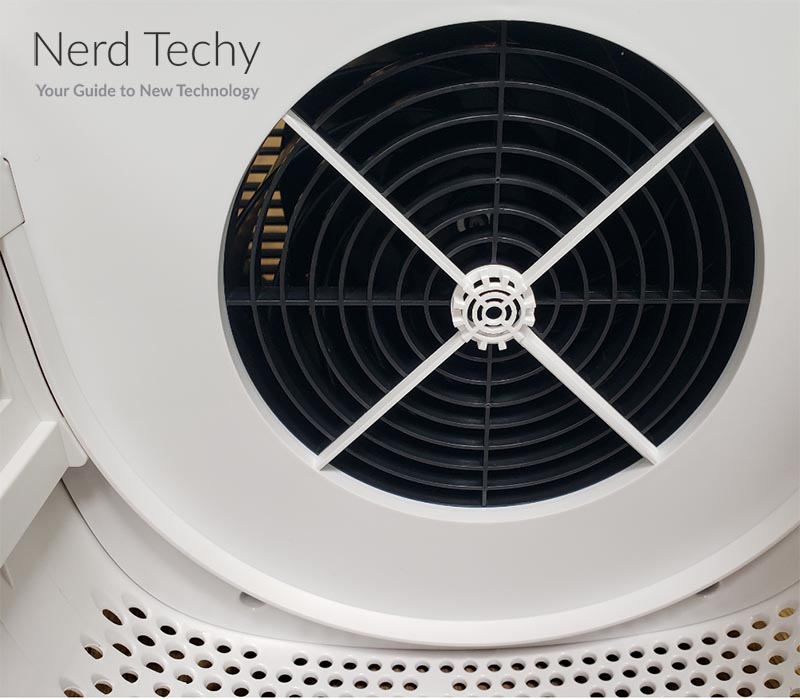 What Does the Proscenic A9 Air Purifier Remove?
The Proscenic A9 Air Purifier is a true HEPA filter, and meets all the requisite standards. This means it will eliminate 99.97 percent of airborne particles as small as 0.3 microns. This includes mold spores pollen, smoke particles, and most bacteria. The inner charcoal filter is also an essential part of the system. It removes chemicals and odors that can be just as irritating as particulate contaminants.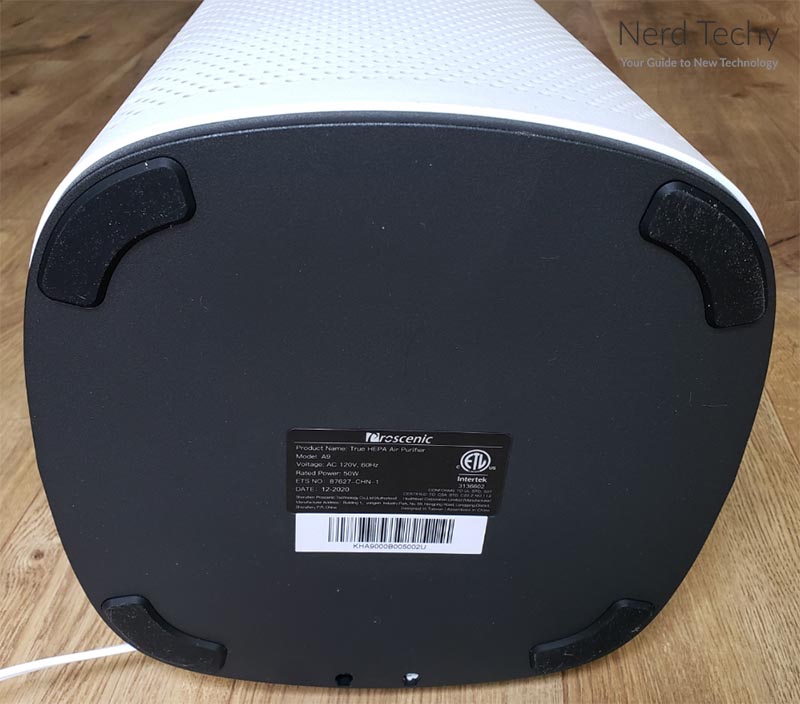 One neat thing about the filter cartridge is that there are multiple variants available. In addition to the original cartridge, there are four additional options. The first is an antibacterial filter, which is treated specifically to kill bacteria. The second is a pet allergy filter. This, again, is exactly what it sounds like, and is engineered specifically for dander. The toxin absorber is a bit different. The HEPA filter element is slimmer, and the charcoal filter is beefed up for better removal of chemical contaminants. The lat option is a four-in-one enhanced filter. This is better all-around for all purposes, with enhanced performance in all four layers.
On the other end of the spectrum, you might want a lighter-duty filter that's easier to maintain. In this case, the AirDog X3 is a good choice. It contains a single, dishwasher-safe filter element, along with an ionizer for removing dust. That said, it's essentially just that; an ionizer. There's no HEPA filter, and no antimicrobial treatment.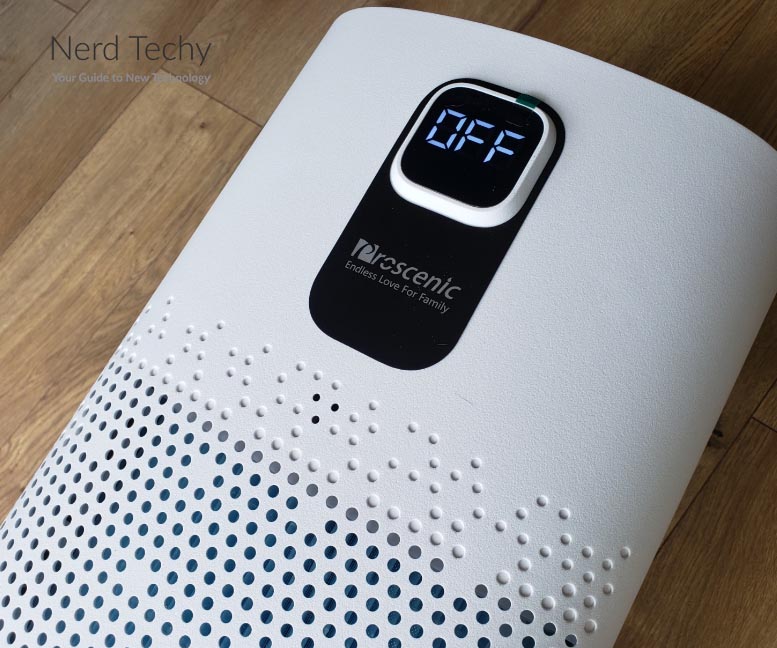 Final Verdict
As you can see, the Proscenic A9 Air Purifier is a good all-around purifier that's effective for most homes. It's not medical grade, and it doesn't have any advanced app options. But it does have an antimicrobial layer, as well as a reliable HEPA filter. Perhaps our favorite feature, though, is the coverage area. At nearly 1,000 square feet, it covers far more space than most mid-sized air purifiers. Not only that, but the sleep mode is very quiet, and the infrared sensor seems to work quite well. Long story short, there's a lot to like here, and very little to complain about.