Quick Analysis
Pros
5-stage medical-grade filter.
Quiet operation (~30-50 dB).
Simple touch controls.
Smart sensors adjust fan speed .
Auto-shutoff is energy efficient.
Cons
HEPA filters can be expensive to replace.
No remote operation features.
Air purifiers are the new game around town. If you suffer from allergies and other air sensitivities, then an air purifier can greatly improve your conditions. Air purifiers pull air through their filter mechanism to remove dust and other harmful allergens and particles. There are a lot of air purifiers so finding the right one might be a bit difficult.
However, getting through the details is important so you can find the right kind of air purifier for your needs. Here are a few reasons why you should consider buying an air purifier. First off, if you suffer from allergies, an air purifier can greatly reduce your symptoms. Second, air purifiers can help remove moisture and debris from the air, things which can settle and damage structures in your house. Moisture and dirt, for example, can settle and cause long-lasting problems. Third, air purifiers are very energy efficient and you can run an air purifier for hours at a time for relatively little cost.
So today we are going to take a look at the Okaysou AirMax 10L Pro Smart Air Purifier and give it a full accounting. This air purifier is top of the class and has a ton of great features that will make it fit in well in your home. We will cover its main features, price, pros, and cons. We will then give our verdict on whether you should consider buying the it. Without any further ado, let's get to it.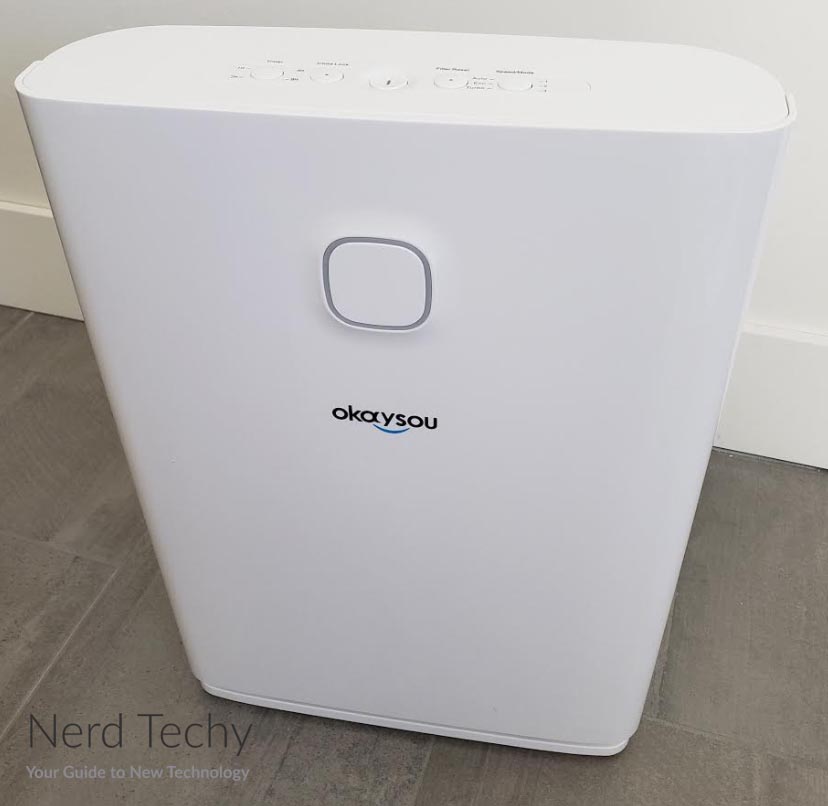 Design & Controls
Let's get down to the brass tax. The AirMax 10L has some impressive specs for an air purifier. It can circulate up to 500 sq feet of air per hour and has a medical-grade filtration system that captures up to 99.7% of air pollutants such as dirt, allergens, pet dander, and more. The filter itself is made from a special carbon material that breaks down toxic gases so it also does a good job filtering out smoke so it can be useful if you are cooking in the kitchen and do not have a kitchen hood.
It's also fairly compact. The sleek design and rectangular profile mean that it can sit in the corner unobtrusively so you can enjoy your fresh clean air. It runs very quietly at only around 50 dB which is about the sound of a whispered conversation. So you can run it for hours at a time without worrying about disturbing people from the sound.
The AirMax 10L has 3 fan speeds for different intensities. It also has a special turbo mode that is designed for filtering out high levels of pollutants and an auto mode that changes the fan speed based on the current air condition. If it senses a lot of pollutants in the air, then it will switch to a faster speed to improve filtration. These kinds of smart features are one of the reasons why it's become so popular.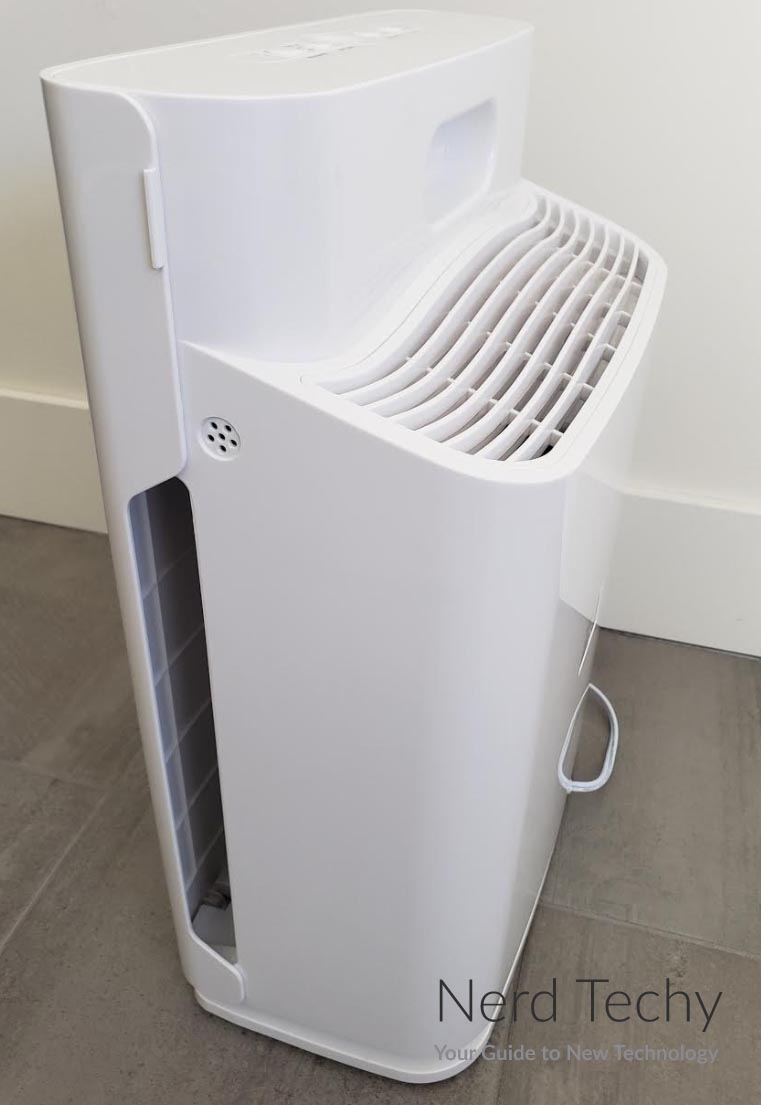 As far as physical design goes, the it has its air intake on the back of the machine instead of the side. This placement of the filter means that it can cover more area and move more air than a purifier that has the intake on the sides. Since the intake section is larger, it is also much quieter and does not make the characteristic "whoosh" sound that many air purifiers are known for. It runs quietly and does not produce much vibration. You could probably turn it on for a few hours and forget it's even there, honestly.
As far as physical design goes, the AirMax 10L seems to be going with the minimalist, stripped-down aesthetic that was made popular by tech brands like Apple and Google. The entire machine is a soft white color and it has a rounded geometric design. This stripped-down design means that it will mesh well with whatever furniture you have. The stripped-down design is also good because it means they can spend less money on the aesthetics and keep the price point fairly low. If you want something with a bit more of a presented display, then you should check out the Levoit Core 300 HEPA Air Purifier.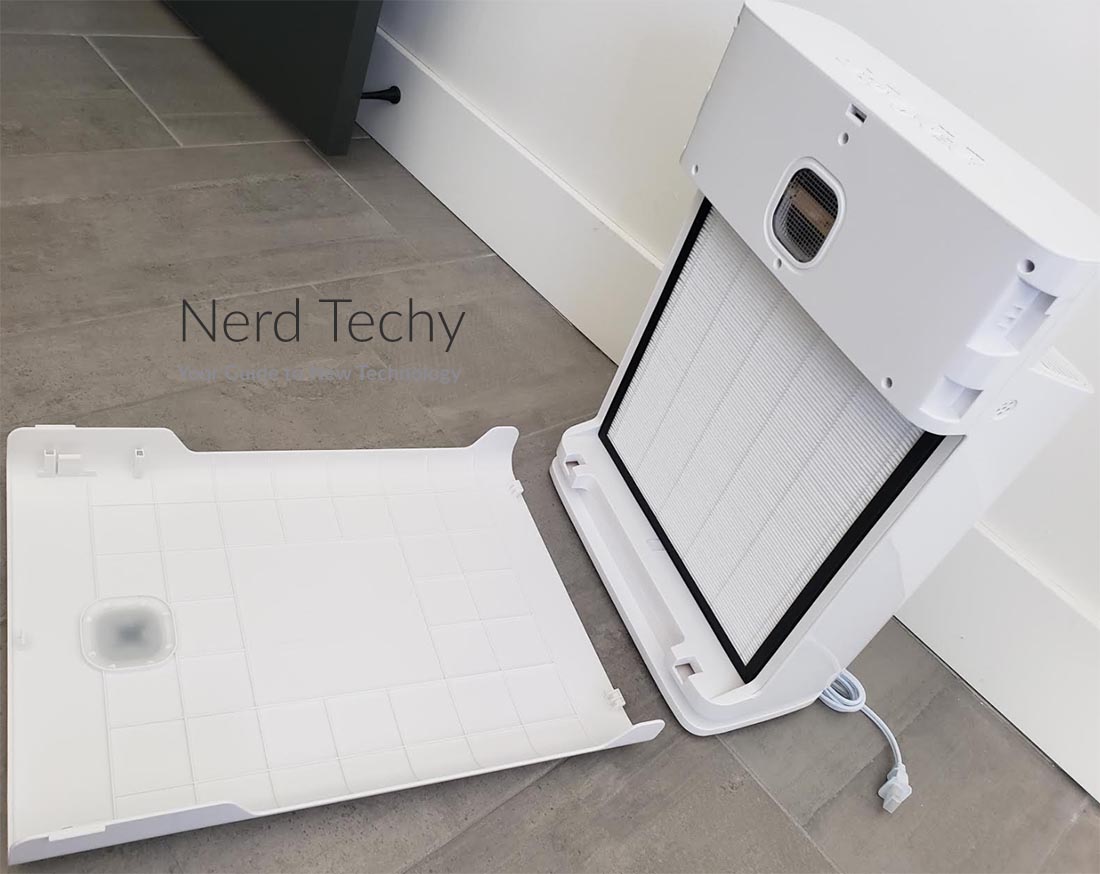 5-Stage Filtration System
Let's talk more about the filter system. The AirMax 10L has a medical-grade filter which has a "clean air delivery rating" (CADR) of 210, meaning that it cleans approximately 210 cubic feet of air per minute. CADR is one of the most important ratings for an air purifier and is essentially a measure of how pure it can get the air. It also has an H13 HEPA filter, which uses a slightly ionized top layer to pull charger particles and pollutants out of the air. HEPA filters are used for industrial purposes so they are incredibly effective at filtering air. The lone problem is that they can be pretty expensive so if you ever need to replace the filter, it might be more expensive than you would anticipate.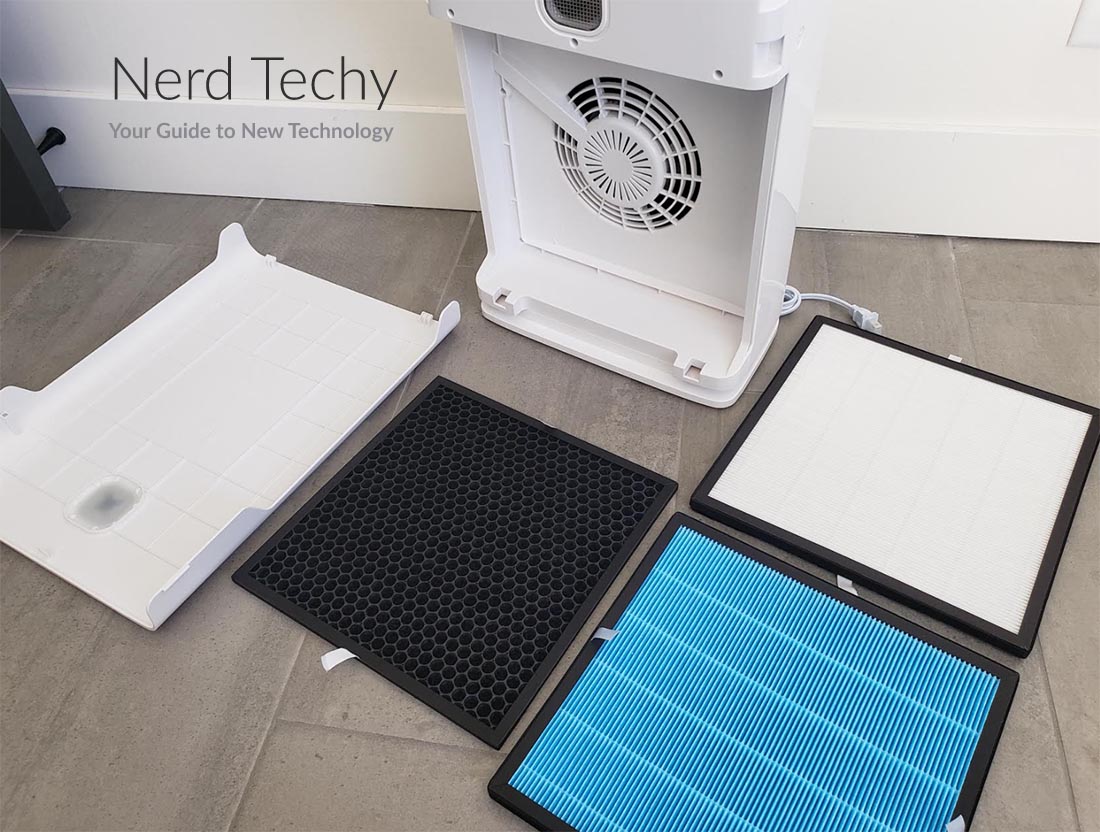 The 5-stage filter has 5 distinct layers. A beginning pre-filter later that removes any large particles. The air then passes to the HEPA filter which uses electromagnetism to pull out smaller particles like dust from the air. Next, it passes through an antibacterial filter that kills harmful microbes. The antibacterial filter can filter out particles as little as one micron (0.001mm). The last two layers include a "honeycomb activated" carbon filter and a cold catalyst filter that remove any other kinds of pollutants from the air. The 5-stage filter is a lot more involved than several other types of air purifiers. You can also remove the pre-filter to wash and reuse so it does not need to be replaced.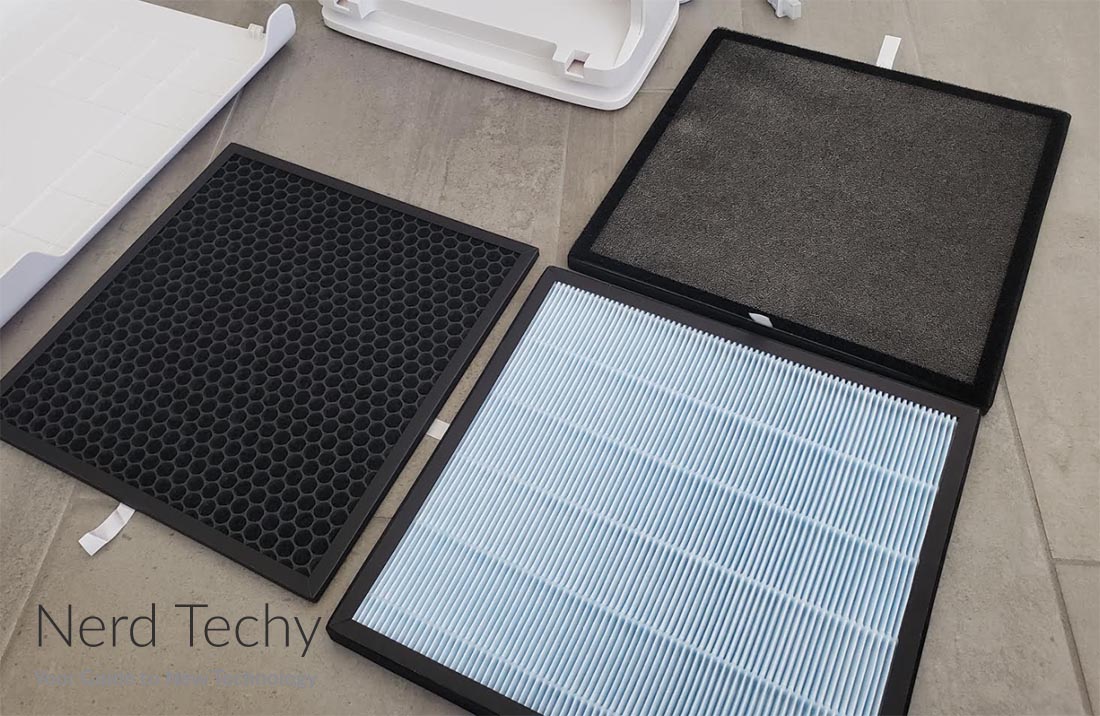 In addition to the powerful filter, it has a neat air quality smart sensor. The square sensor on the front will glow blue, yellow, or red depending on if the air quality is good, moderate, or unhealthy, respectively. This sensor is a good feature because it tells you exactly which setting you should put the filter on for maximum efficiency.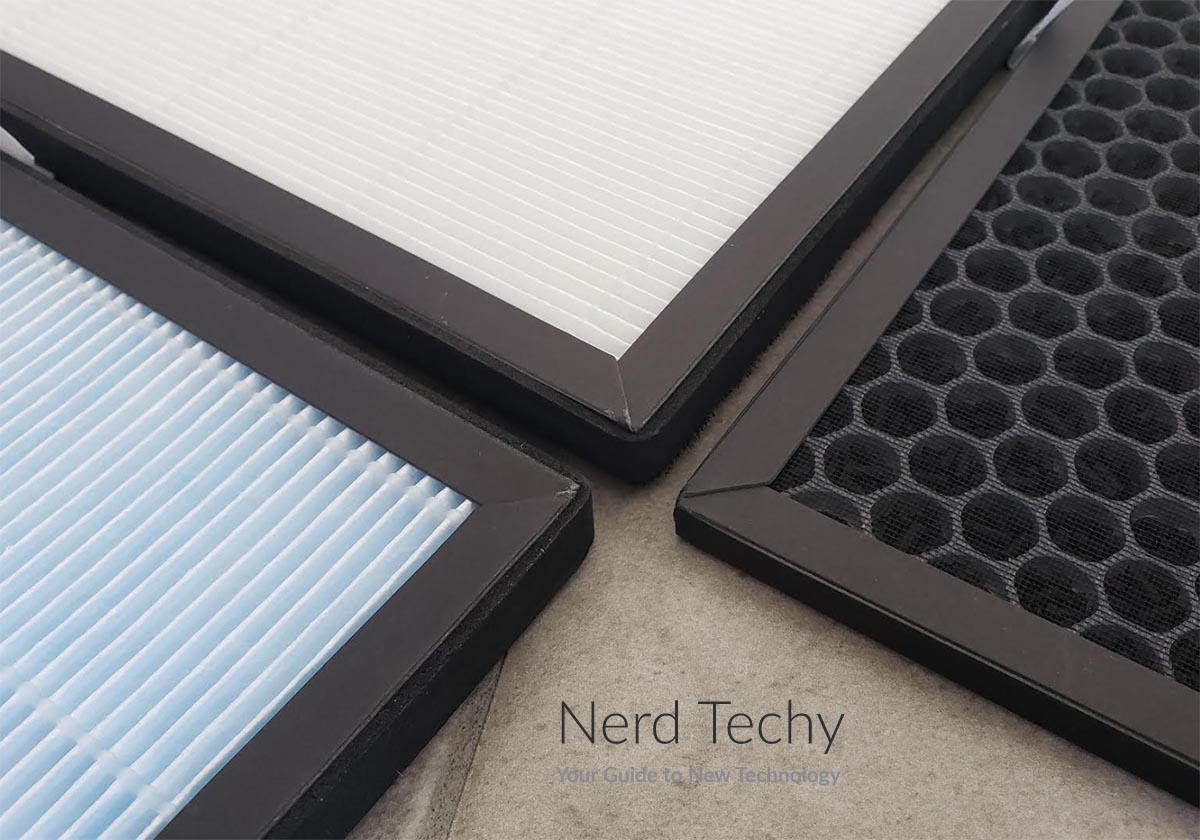 We really cannot emphasize how important the HEPA filter is. HEPA filters not only can pull more pollutants out of the aid but also can break down materials like noxious gases, volatile organic compounds (VOCs), formaldehyde, ammonia, and more. It's a medical and industrial grade filter that could even be used in a science lab it's so thorough.
Okaysou Brand
Okaysou is a relatively new brand in the air purifier market and they are not as well known as some other brands. Compared to other top-line brands such as Dyson or Allen, Okaysou purifiers are not as good quality. Specifically, many people note that some of the plastic components on the interior and exterior seem a bit flimsy. Most likely, Okaysou uses lower-grade materials to lower production costs. That's why the it's not exorbitantly expensive compared to a lot of other brands and models.
The real question is whether the use of mid-grade materials significantly affects functioning and effectiveness. From our analysis, no, it does not seem to decrease performance. In fact, if you look at most reviews of this air purifier online, most customers seem extremely satisfied with the product. The same is true of other models from the Okaysou brand. Some major positive comments found were how quiet their machines are and how effective the 5-stage filtration system is. An appreciable amount of reviewers also praise the smart features like the aid quality sensor and auto-shutoff feature. Parents mentioned it was a good pick because the child-lock mechanisms keep their kids from messing with the colorful buttons.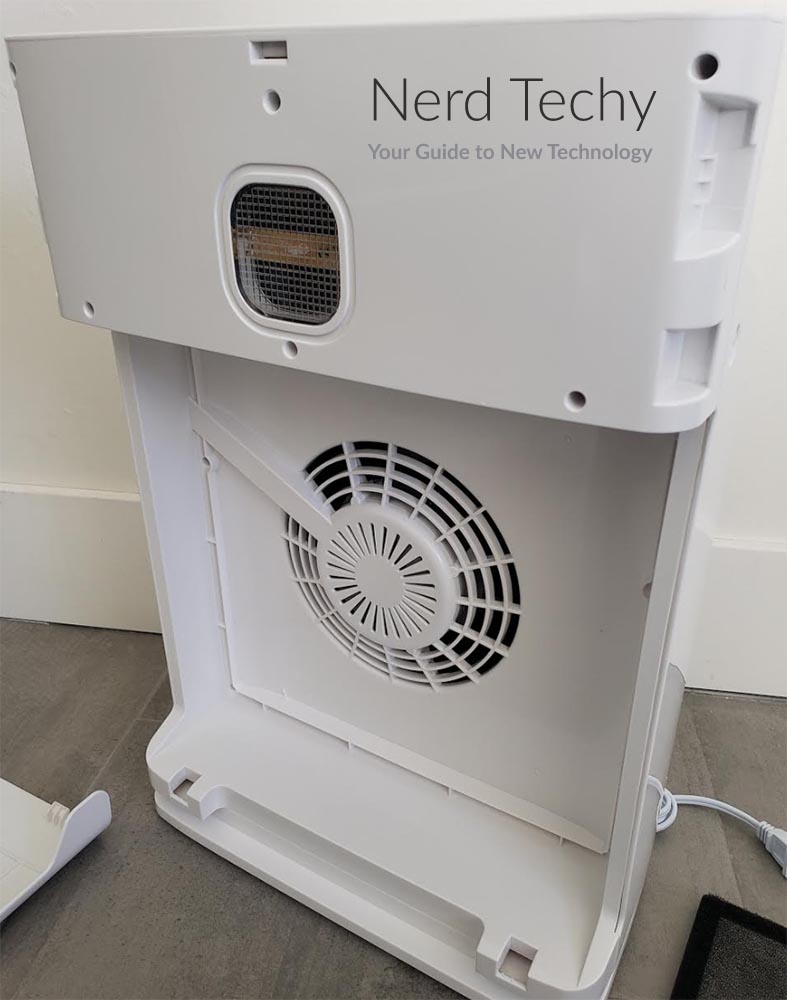 Energy Efficiency
The AirMax 10L is also EnergyStar, CARB, ETL, CE, and FCC certified meaning that it meets several industry standards for energy efficiency. The inclusion of the HEPA filter lowers energy costs because it can rely on the ionized filter to remove some particles instead of only the fan. All materials used are eco-friendly, including the filters which, except for the HEPA filter, are biodegradable. For example, one of the filters is made with charcoal, an organic material that is environmentally friendly and non-toxic.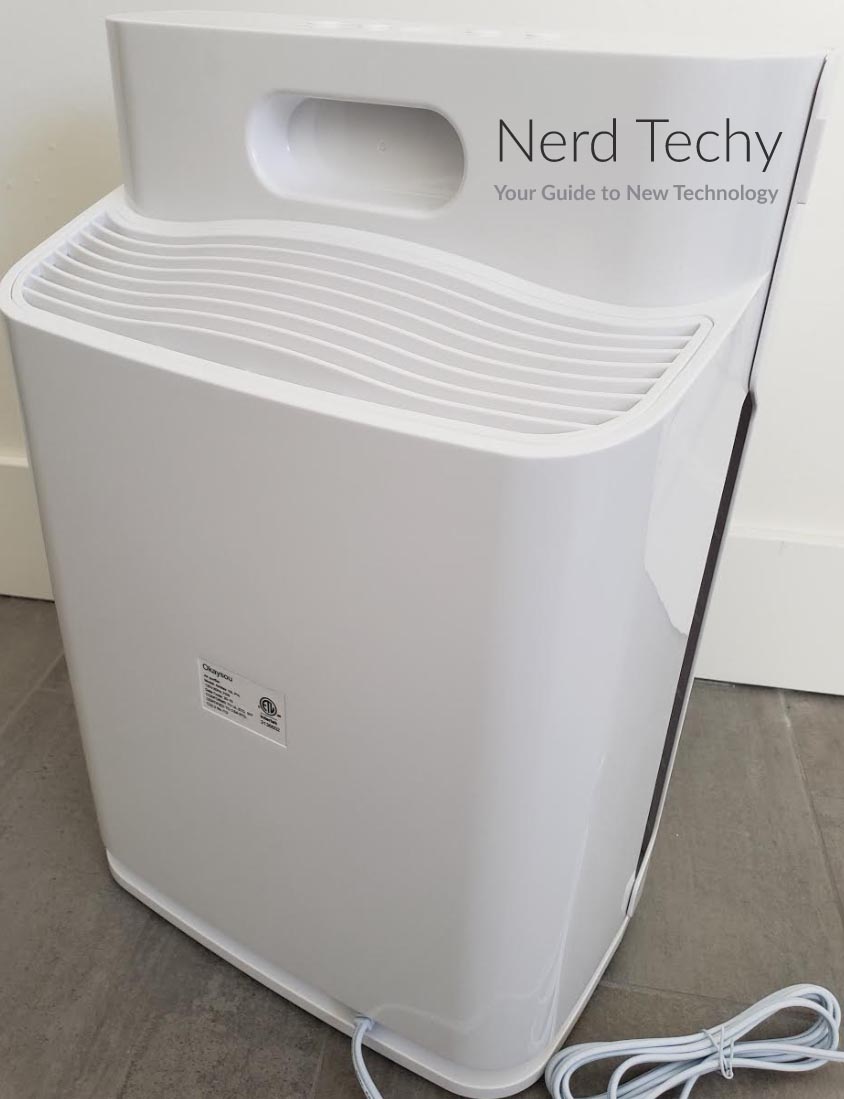 Safety and Extra Features
Lastly, we want to talk about some safety features. The AirMax 10L has a gate turn-off mechanism in the motor that automatically shuts things down when the amperage gets too high. This feature helps avoid electrical shorting and electrical damage. The back of the machine has a filter indicator that changes color when it's time to switch out the filter. Running a purifier with a dirty filter makes it less efficient and essentially wastes energy so this is a good addition.
One last major feature is the timer. You can program the purifier to run to 1, 2, 4, or 8 hours, after which it will automatically shut off. This is a good feature if you want to leave the air purifier running for a few hours while you go do errands but do not want to keep it on all day and waste energy.
There is one thing we wish that it did have though. We wish that it came with a remote control so you can adjust settings without having to go up to the machine. Ultimately, it's not a huge con but a lot of air purifiers have this and it's something that is very easy to integrate into the design.
The AirMax 10L comes with an extremely generous 5-year warranty and lifetime customer support in the USA. 5-years is a great warranty considering a lot of other tech products only come with a 1 or 2-year warranty.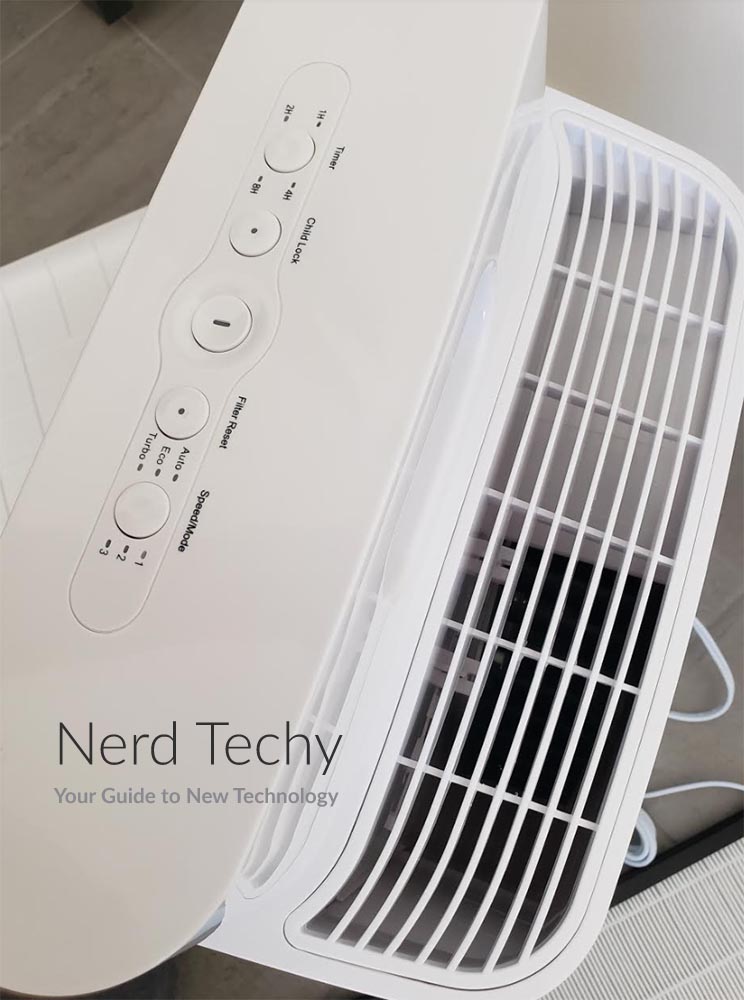 Final Worlds
Overall, the Okaysou AirMax 10L Pro Smart Air Purifiers is an excellent quality air purifier that is not incredibly expensive. The filter mechanism is sophisticated, it has a lot of adjustment features, and it has some neat smart features like the auto sensor, turbo mode, and air quality display. The few downsides we found were the expensive replacement filters and the lack of any remote control options. Otherwise, it's a very good filter and definitely worth the money.
Meet Derek, "TechGuru," a 34-year-old technology enthusiast with a deep passion for tech innovations. With extensive experience, he specializes in gaming hardware and software, and has expertise in gadgets, custom PCs, and audio.
Besides writing about tech and reviewing new products, Derek enjoys traveling, hiking, and photography. Committed to keeping up with the latest industry trends, he aims to guide readers in making informed tech decisions.