If you are a fan of racing games, then you know that playing with a controller is not the way to go. The only true way to experience a racing sim is with a racing wheel setup. Racing simulation tech goes a long way back and was first used in video games during the arcade era. If you remember going to the arcade as a kid and playing Cruis'n USA then you know what I'm talking about. Racing games are all about the experience of driving flashy cars, so every time you have to press a keyboard button or move a controller stick to turn, you get tossed out of the immersion and are reminded that you are just playing a game.
Racing sim tech has made its way to home consoles in the present day. These racing wheels are designed to give the most authentic experience possible when playing a racing sim game like Forza or Need for Speed. Racing wheels open up an entirely new experience with racing games and are much more involved and immersive than a dinky controller.
So today we're going to talk about the PXN V9 Racing Wheel bundle for PS3, PS4, Xbox, and Nintendo Switch. This multi-functional racing wheel is USB compatible with all modern systems and has some high tech features that elevate the racing game experience to the next level. We will cover its features, specs, performance, pros, and cons. Then we will give our final verdict on whether it's worth buying.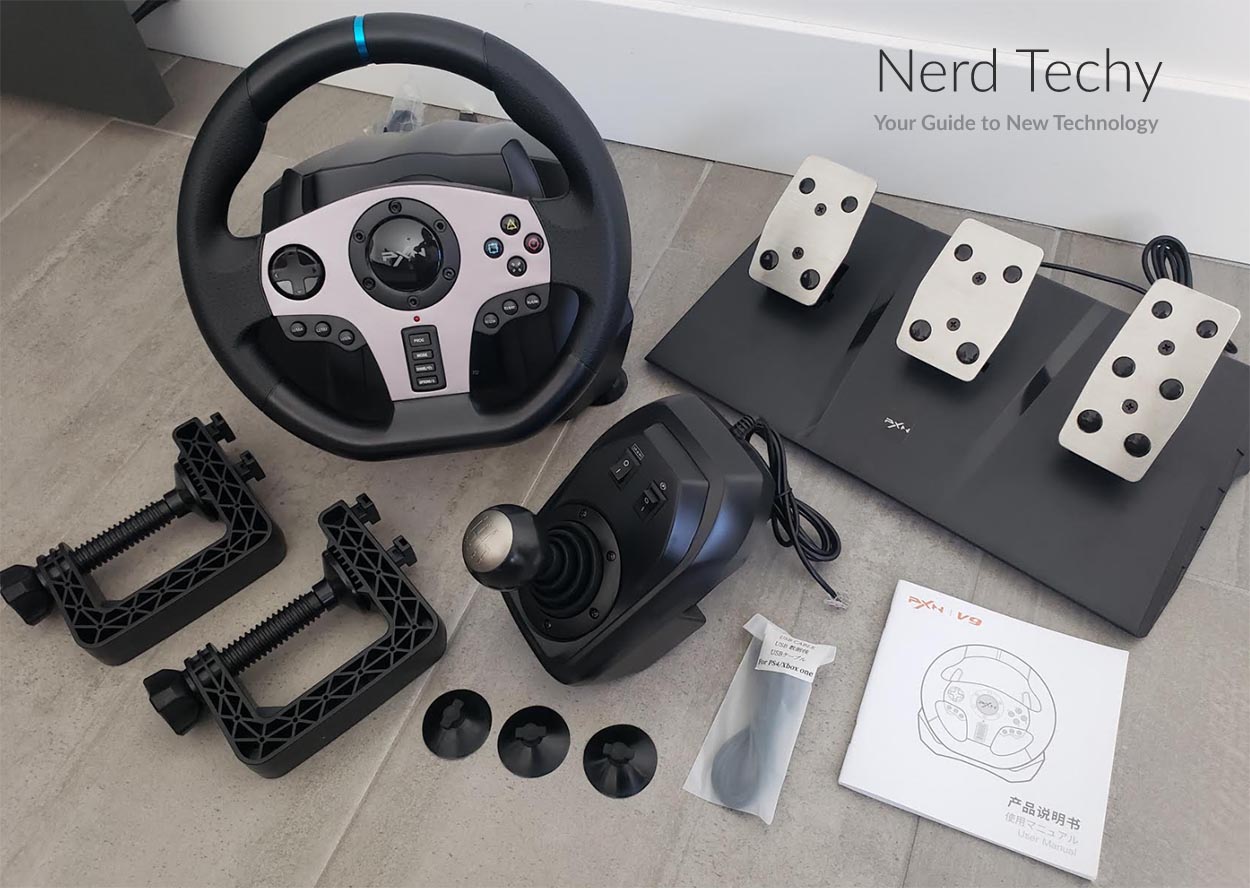 Wheel
The PXN V9 comes with three main parts: the steering wheel apparatus, shift stick, and pedal set. These three components feed into the wheel which then has a USB connection to the console or PC in question.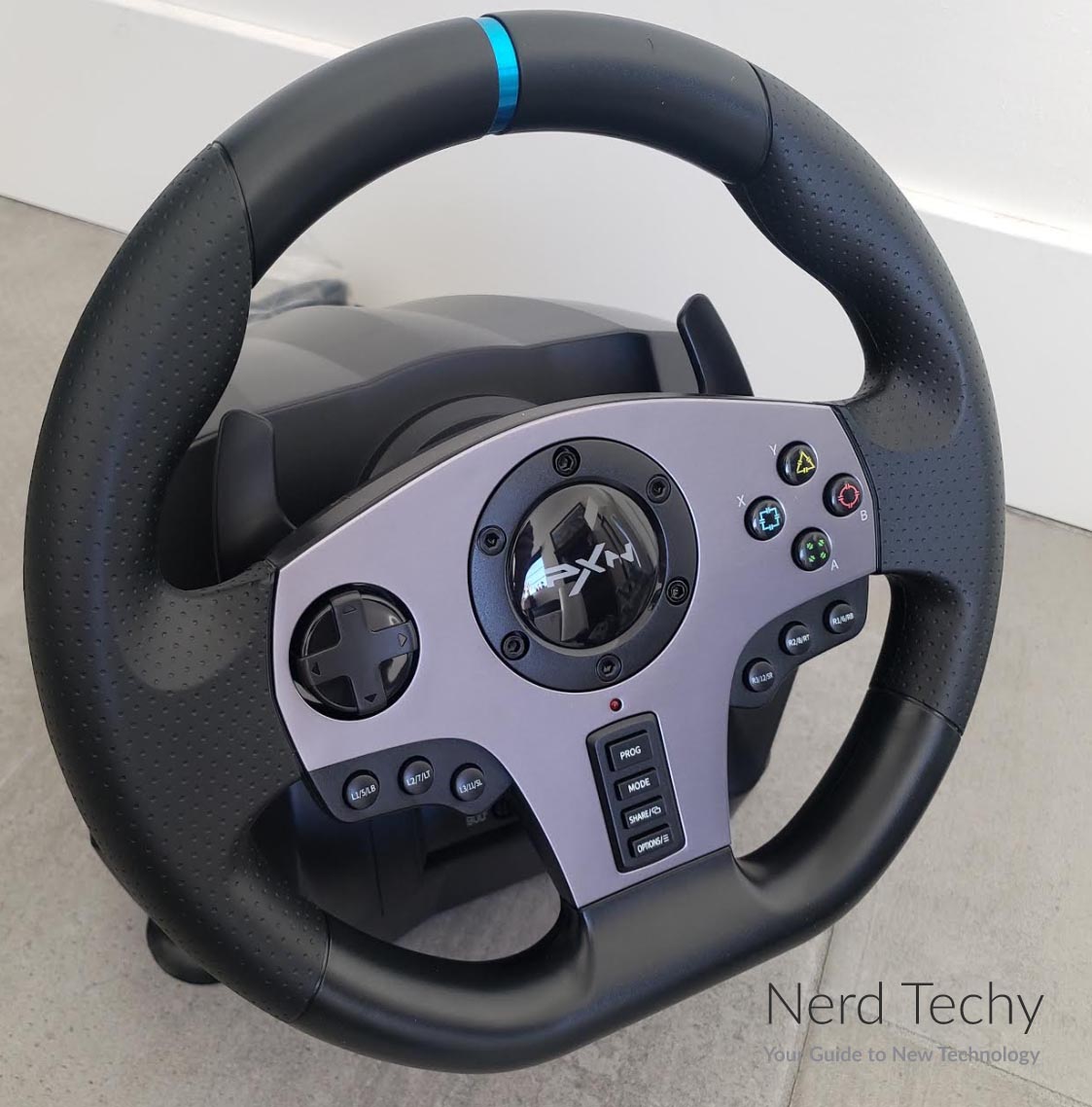 Let's start with the wheel. The racing wheel itself has a realistic "competition" design that incorporates dual-feedback motors to give a more authentic experience; these motors provide traction and resistance to the wheel which emulates the feeling of friction when turning a car wheel. Haptic feedback is a very important part of gaming controllers and integrating haptic feedback with a resistance mechanism is a perfect fit for racing games. The face of the wheel has the traditional gaming pad setup, complete with the 4 cardinal buttons on the right, a D-pad on the left for navigating menus, and L and R triggers on the sides. The steering wheel also has the function bar down the middle and a red LED indicator that lets you know when the controller is connected to the system. There are also 6 buttons across the face that can be programmed with macros, although these buttons will not do you much if you are playing on a console.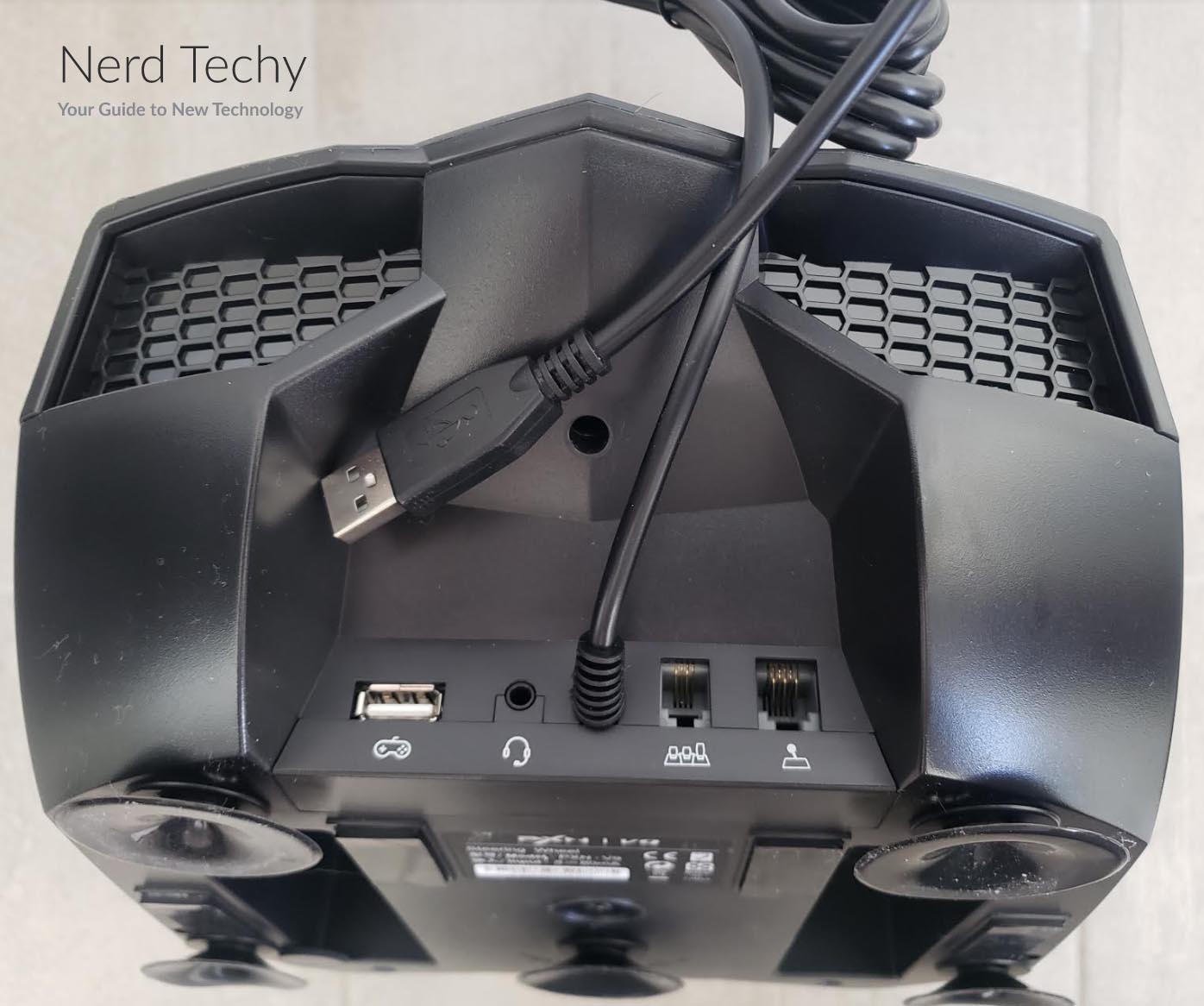 The steering wheel is set up on a 900-degree turning radius meaning that you can fully turn it 2 and a half times, mimicking the movement of a real car steering wheel. You can also flip a switch to change to 270-degree turning if that feels more natural. The point of these kinds of controllers is to make driving games feel as realistic as possible and the steering function does exactly that. The V9 gives a little bit more steering options and flexibility than its cousin the PXN V3II although the V3II.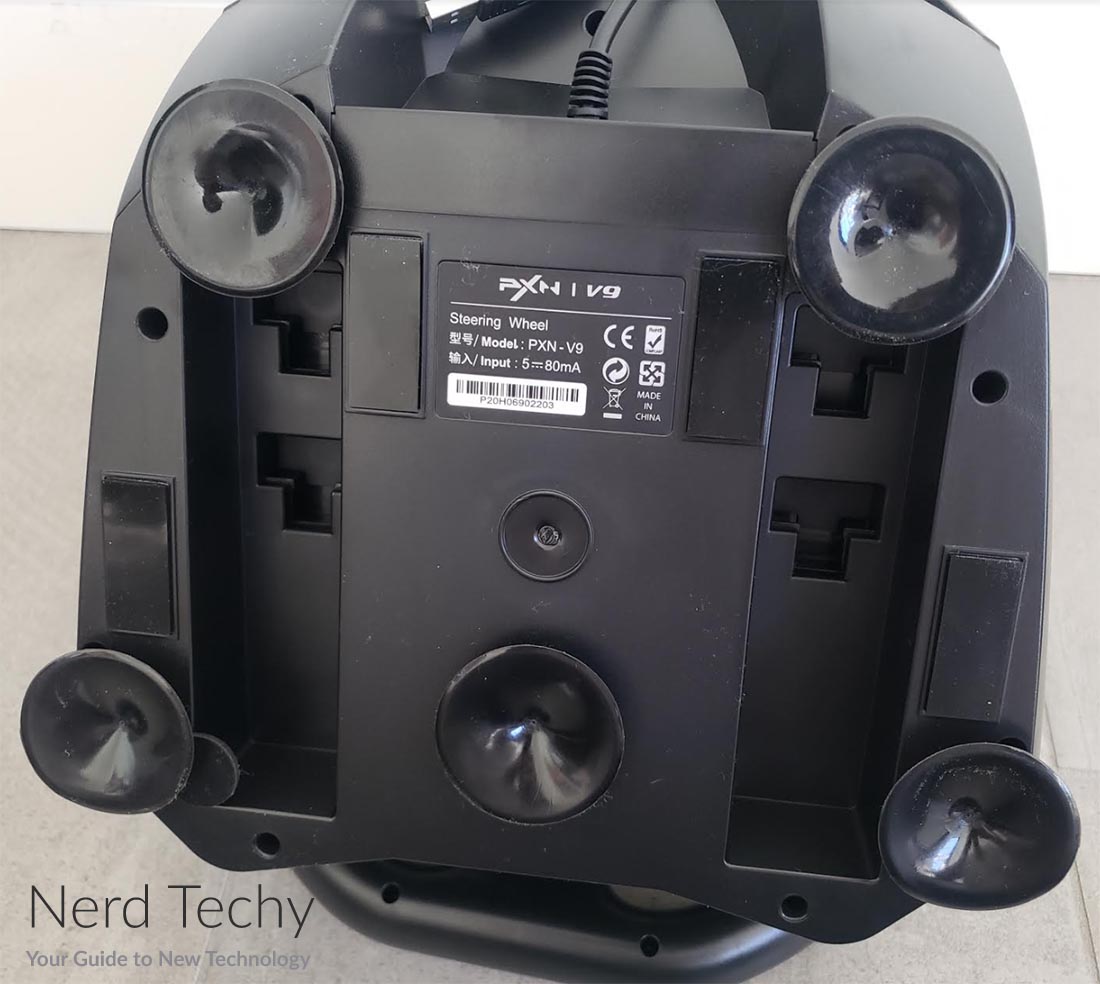 The wheel has a built-in USB-A cable located on the back for connectivity. Right next to it is an auxiliary port for connecting headphones and two RJ-11 phone jack connections for attaching the shifter and pedals. In addition, there's a USB-A port for connecting your wired gaming controller (if you desire).
Overall, the PXN V9 wheel peripheral is pretty darn good. If you want to look at more steering wheels, check out our list of the best racing wheels for gaming to learn more and get a wider selection.
Pedals
Now onto the pedals. The 3-pedal system is set up just like it would be in a real racing car. The leftmost is the clutch, followed by the brake and gas. All pedals are designed to respond dynamically to foot pressure, which gives the feeling that you are stepping on actual pedals. One problem we did notice with the pedal system though is that the panel itself is pretty light, so there is the risk of accidentally pushing the entire pedal system if you press down too hard and too quickly. This problem can be avoided by placing the pedals on a surface with good grip like a carpet or a mat. It will be harder to keep it stationary on wood and tile surfaces.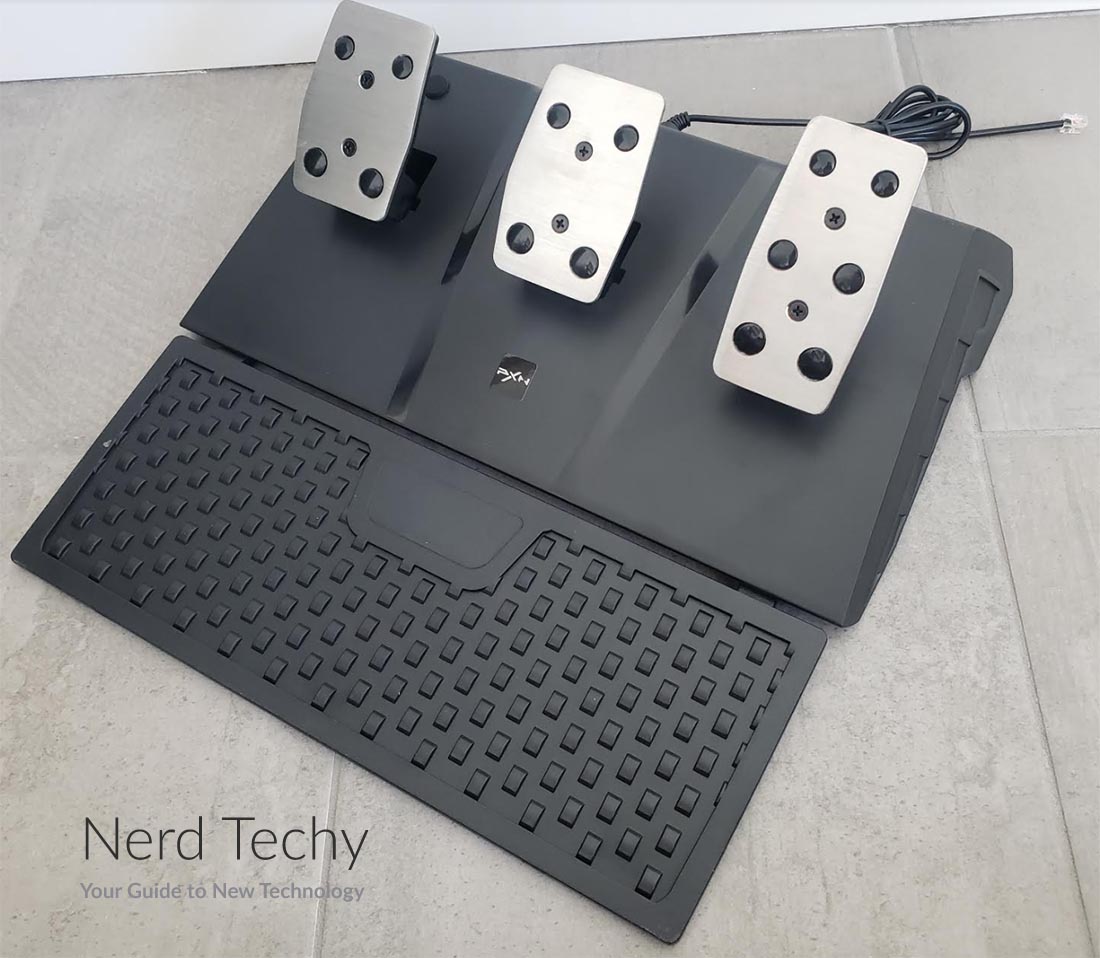 The bottom of the plastic frame does have rubber strips/suction cups to prevent slipping but they do not do that good of a job. While you could replace these with more effective feet pretty easily, it's somewhat annoying that the stock strips are not very good quality. It also comes with frames to secure the mount, but these are a bit disappointing. The clamps are made out of plastic which feels fairly flimsy.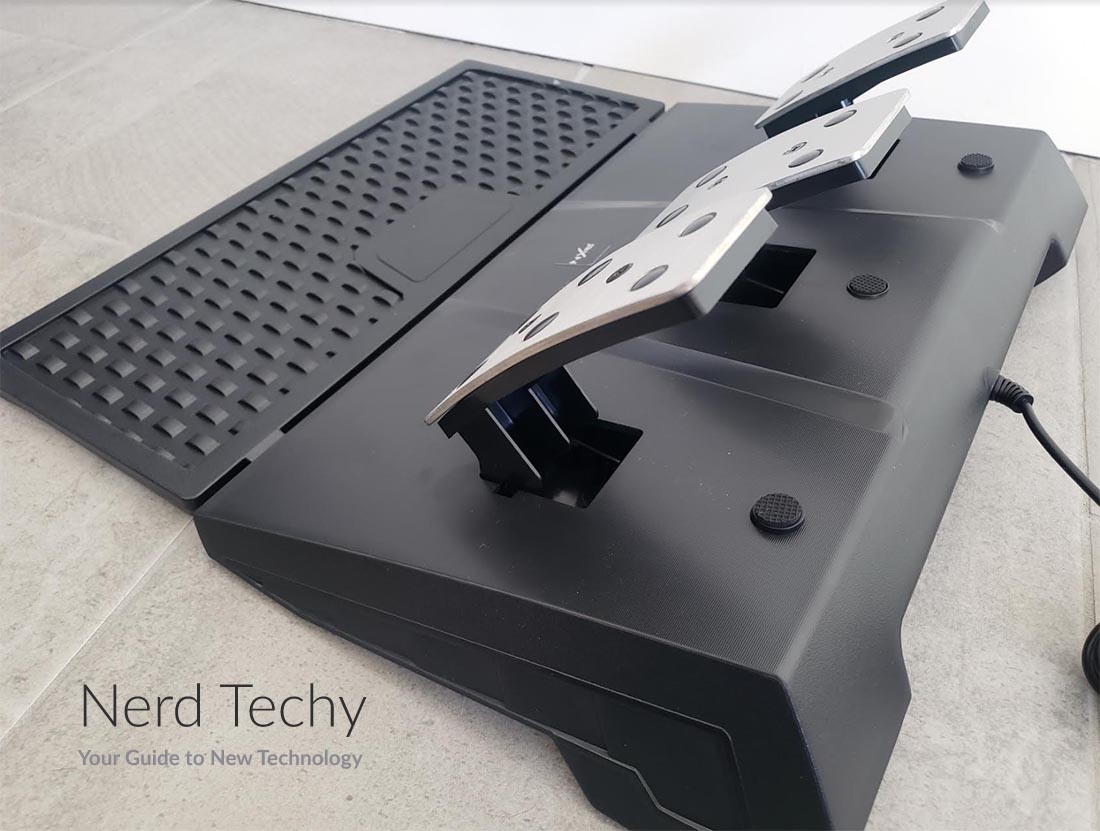 One other thing we noticed is that the pedal frame is pretty thin and seems a bit flimsy. We found some reviewers who said that they actually managed to crack the plastic frame by pushing it down too fast and hard. So the slightly flimsy design is definitely something to keep in mind when considering the PXN V9. If you want something that has a bit more heft and body, then we would recommend the ThrustMaster T-LCM Pedals. This model has large hefty pedals made entirely from metal and are extremely sturdy.
The pedals are not all bad though. They have a smooth ABS plastic finish with a nice sheen to it and they go well with the wheel setup. The base is slightly angled so the pedals somewhat face you, which makes them easier to press from a sitting down position. They are not adjustable though, so you might have to fiddle with the pedal placement before you find a setup that is comfortable for you.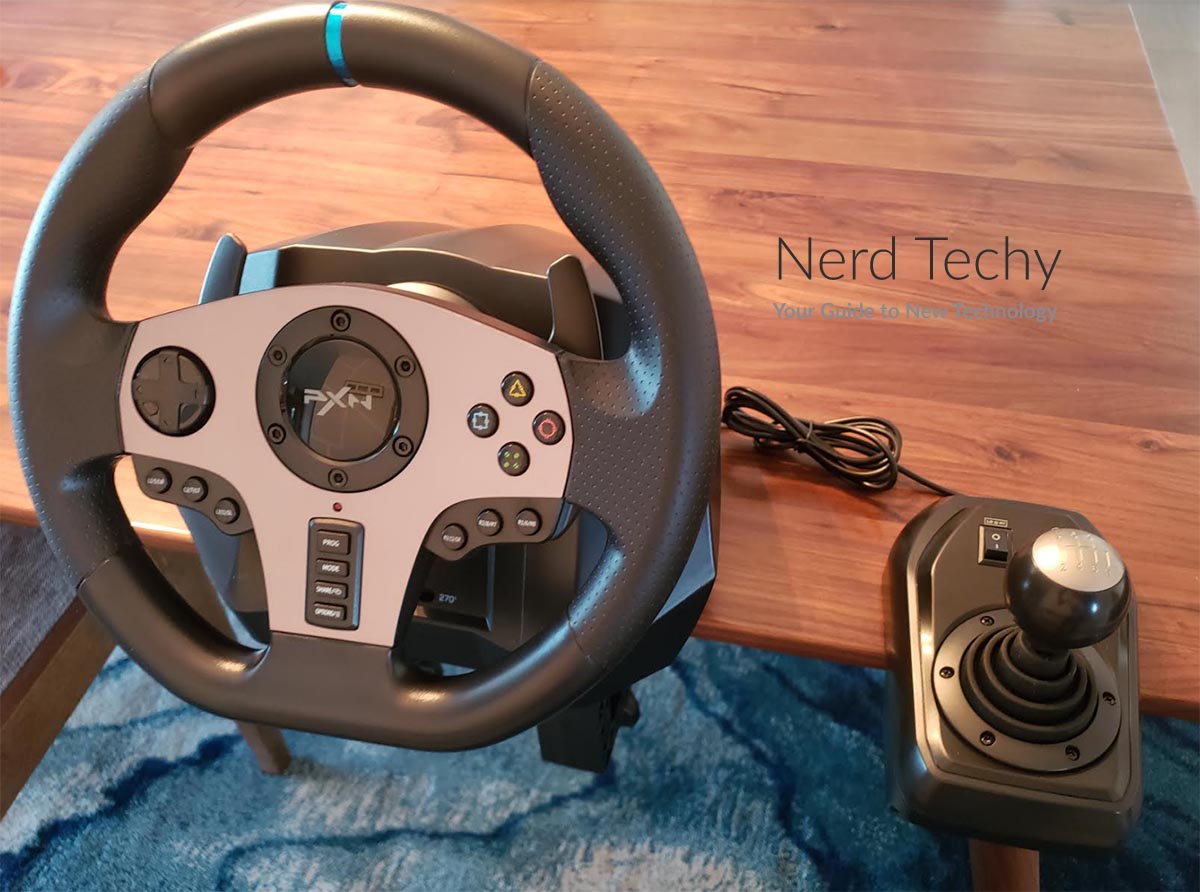 The pedals do come with a mat, but it's not incredibly good. The mat can be used to raise the pedals by about half an inch so it could be useful if you need some extra adjustment. If you don't want to use the mat you can just fold it up under the panel for storage.
The pedals are shaped like you would expect. The gas pedal is on the right and is taller and slimmer. The brake pedal has a simple squarish shape and is located on the left. Each pedal has small rubber circles for grip. One thing the pedals do very well is resistance. The gas pedal is a bit softer and easier to press but gives more resistance the harder you press it. The brake pedal is similarly sturdy and feels like you are pressing an actual brake pedal.
The clutch pedal is an interesting addition. A lot of racing sim gear does not come with a clutch pedal so it's a neat addition. The clutch works as well as you would expect. You need to press the clutch while you are moving the stick shift. Other steering wheel models make you switch gears using triggers on the wheel so including a clutch and stick shift mechanism only adds to the immersion. Fortunately, most racing games let you switch between auto and manual transmission so you don't have to use the clutch and stick shift if you don't want to.
The pedals connect to the main steering wheel with an RJ-11 cable that's built into the back of the pedal base. Simply plug it in and that's all you need to do.
As far as the stick shift goes, it's not really anything special, but that does not mean that it's bad. The grip is pretty solid and the stick has some good resistance. It locks into place well so you won't really have to worry about any jiggling or loose transitions. The stick shift part is pretty small so you can place it wherever you need to make driving more ergonomic and comfortable.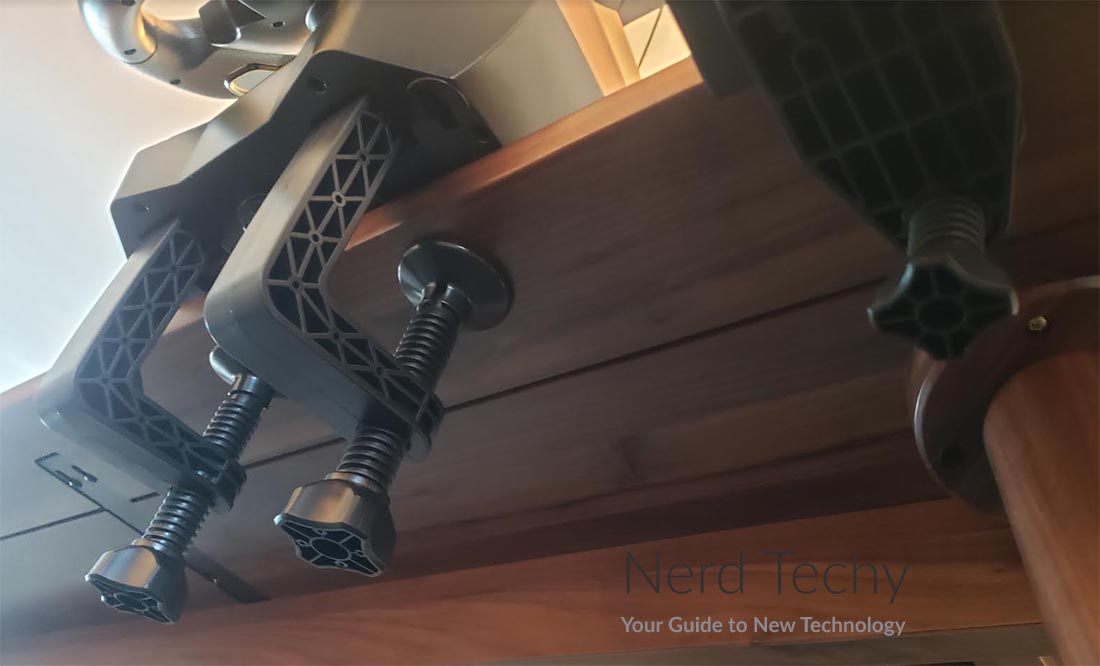 The Shifter
The shifter has a nice look to it with a realistic feel. It's a 6+1 shifter with a pleather material towards the base, hiding the hinge mechanism. On the top, there's two rocker switches for Lo/Hi and the handbrake. The joystick style shifter is a 6 in 1 H pattern gear box that offers smooth and quick shifting on the fly.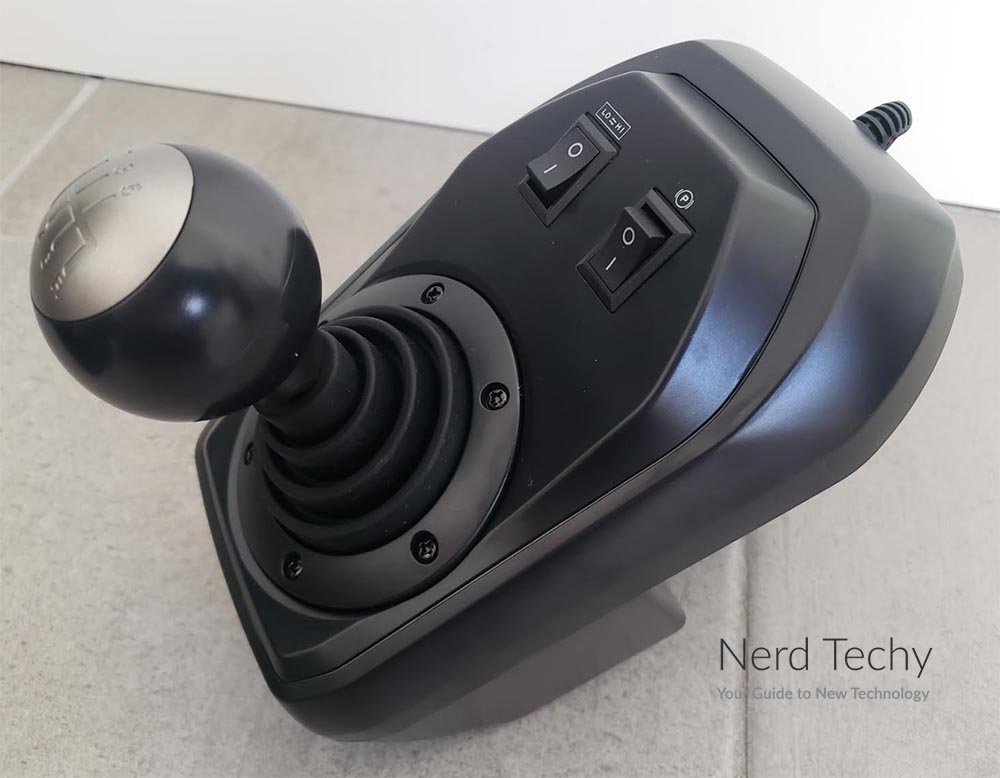 Just like the pedals, there's an RJ-11 (standard phone jack) connection for attaching it to the main wheel unit. Just plug it in and you're good to go.
Compatible Systems
One of the best things about the PXN V9 is its compatibility options. It's compatible with all existing console generations, including the Nintendo Switch, and PC. You connect the wheel setup to your system the same way you would any controller. Connect the USB ports and press the center console button. If you do have any connection issues then it might be a problem with the controller. Thankfully, PXN offers a fairly generous 12-month warranty so you can get a full replacement if anything is broken. We could not find many people complaining about manufacturer issues
It also comes with controller software that lets you customize inputs. Most people probably won't use this issue too much because most racing games allow you to customize joypad layouts in-game, but it can be used if you want to do some assignments that games won't allow you to do.
Final Words
Overall, the PXN V9 Racing Wheel is a fantastic racing sim wheel and can make your racing games an entirely new experience. It's designed to emulate the feeling of a real steering wheel and does more than a passable job. It has a nice black ABS plastic finish and good haptic feedback mechanisms that stimulate the friction and drag of driving a real car. Additionally, there's a clutch pedal which adds to the immersion and a linear pedal system that gives realistic resistance. All of these features make it an excellent choice for virtually any racing game. Best of all, you can also just use the gamepad on the wheel like a regular controller if you do not want to worry about switching controllers when switching games. Pretty cool!
Meet Derek, "TechGuru," a 34-year-old technology enthusiast with a deep passion for tech innovations. With extensive experience, he specializes in gaming hardware and software, and has expertise in gadgets, custom PCs, and audio.
Besides writing about tech and reviewing new products, Derek enjoys traveling, hiking, and photography. Committed to keeping up with the latest industry trends, he aims to guide readers in making informed tech decisions.