Quick Analysis
Pros
Durable, versatile design.
Sensitive wheel, with small range of movement for racing games.
Easy, plug-and-play operation.
Compatible with PC and all major consoles.
Cons
No clutch pedal.
Small range of movement is not ideal for trucking sims.
If you're a racing game enthusiast, you know the difference a good set of controls makes. A mouse and keyboard will get the job done, but they don't provide an immersive experience. Most racing games are, at their heart, simulators, which means you want maximum immersion. And every time you have to move your mouse, or click a hotkey, it sucks you out of the action. Handheld controllers are a little bit better. At least the controls are at your fingertips, and the thumbsticks aren't as bad as a mouse or WASD controls.
If you want a truly immersive racing experience, you need a racing wheel and pedals. It's the only way to feel like you're in the driver's seat of a Formula One car or dragster. But not all racing wheels or pedals are equally well-engineered. Some are more durable than others, and some have more buttons and features. To find a good set, it helps to choose a trustworthy manufacturer. For instance PXN is known for their quality controllers, from racing accessories to smartphone gaming controllers.
Note: At no extra cost to you, we may earn a commission for purchases using our links. Learn more.
Because of their reputation for quality, we were excited to review the PXN V3II Racing Wheel. This is a complete set, with both a wheel and some pedals. It's built primarily for racing games, as its name implies, but it can handle other sims as well. We're going to look at all its features starting with the ergonomics and basic controls. Next, we'll talk about the pedals, and how they function. Finally, we'll talk about what systems you can use it with, and how it's connected. Let's get started!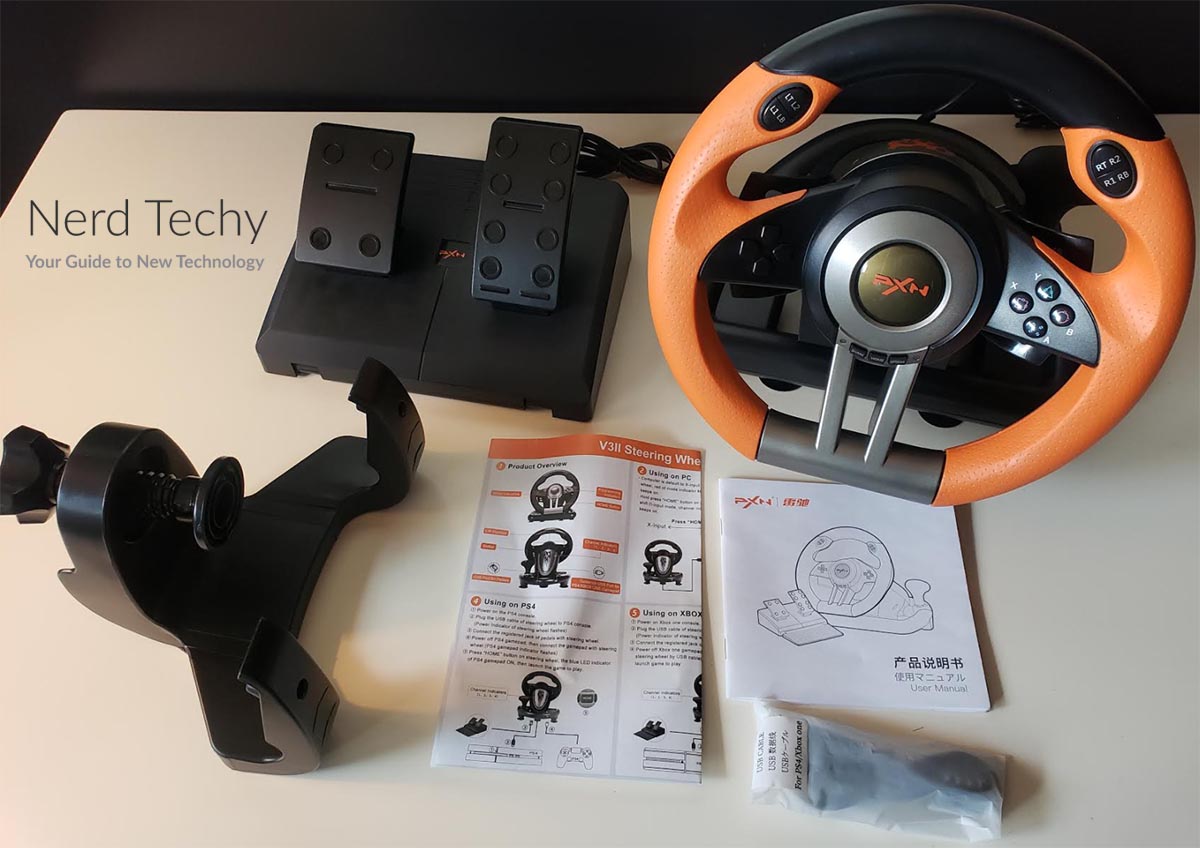 Steering Wheel Look and Feel
The PXN V3II Racing Wheel is a small, Formula One-style racing wheel designed for gamers. It's built from black plastic, with a sturdy ABS frame. The bulk of the wheel consists of rubberized grips, located at the 10 and 2 o'clock positions. Where both of your thumbs sit, you'll find a pair of buttons. These are equivalent to the triggers and bumpers on console controllers, or can be customized on PC. The grips are nice and comfortable, and won't let your hands slip even after hours of continuous racing. They also do an excellent job of transmitting motion from the two built-in vibration motors.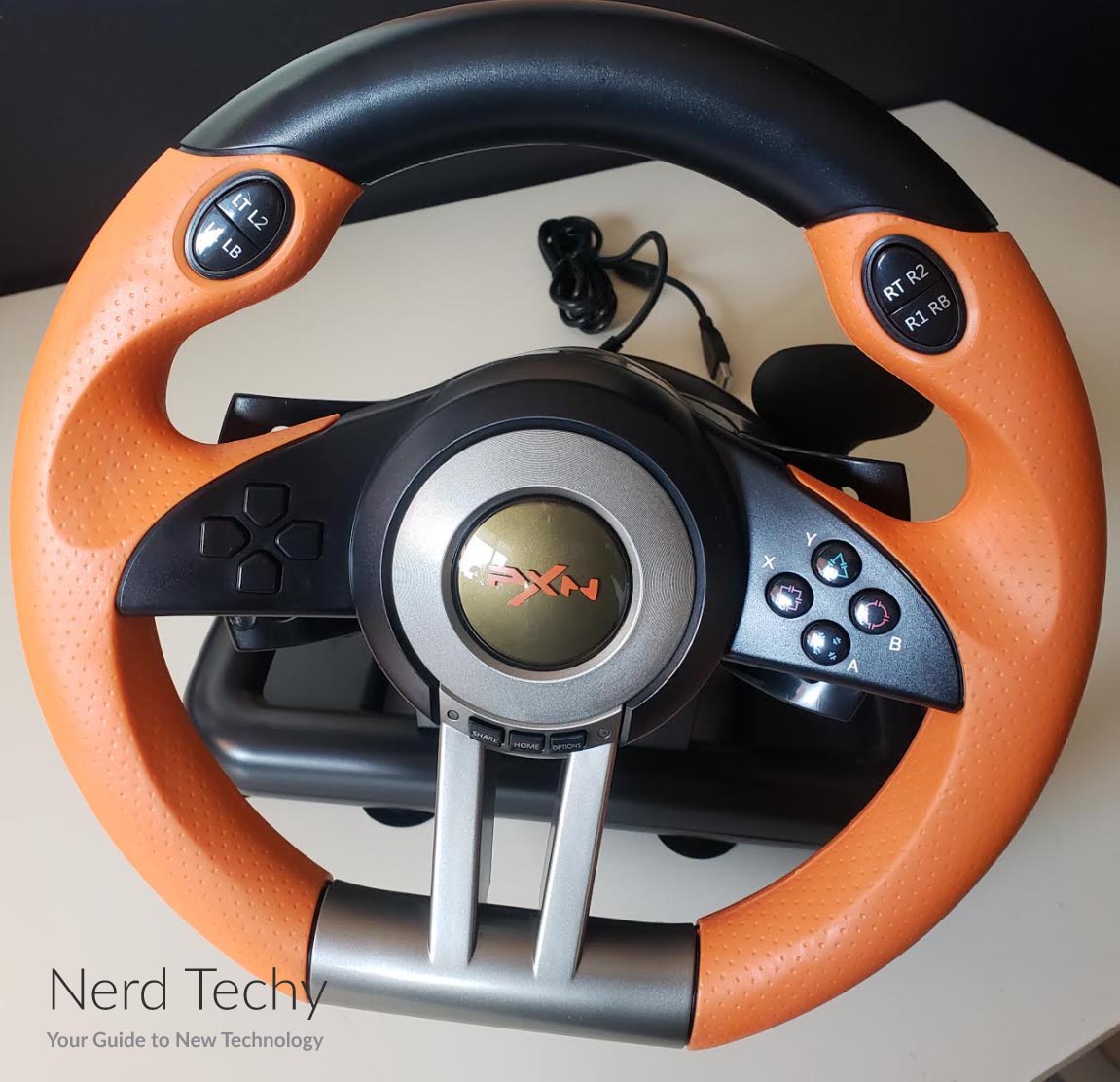 On the back of the wheel, you'll find a pair of paddles, which you can flip with your fingers. These function as shifters, although, again, they can be customized on PC. The rest of the buttons are located on the center part of the wheel. To the left, you'll find a D-pad, with a set of ABXY buttons to the right. Along the bottom of the center panel, you'll find three additional buttons. These correspond to the center buttons on console controllers, or can be customized on PC.
The wheel itself has a range of movement of 180 degrees. This is more than enough for racing sims, which favor short movements at high sensitivity. However, it doesn't provide good immersion on trucking sims, where you want a looser wheel. That said, there's a little bit of wiggle room here. You can adjust the V3II between three different sensitivity levels. This won't affect the range of travel, but it allows you to somewhat customize the feel.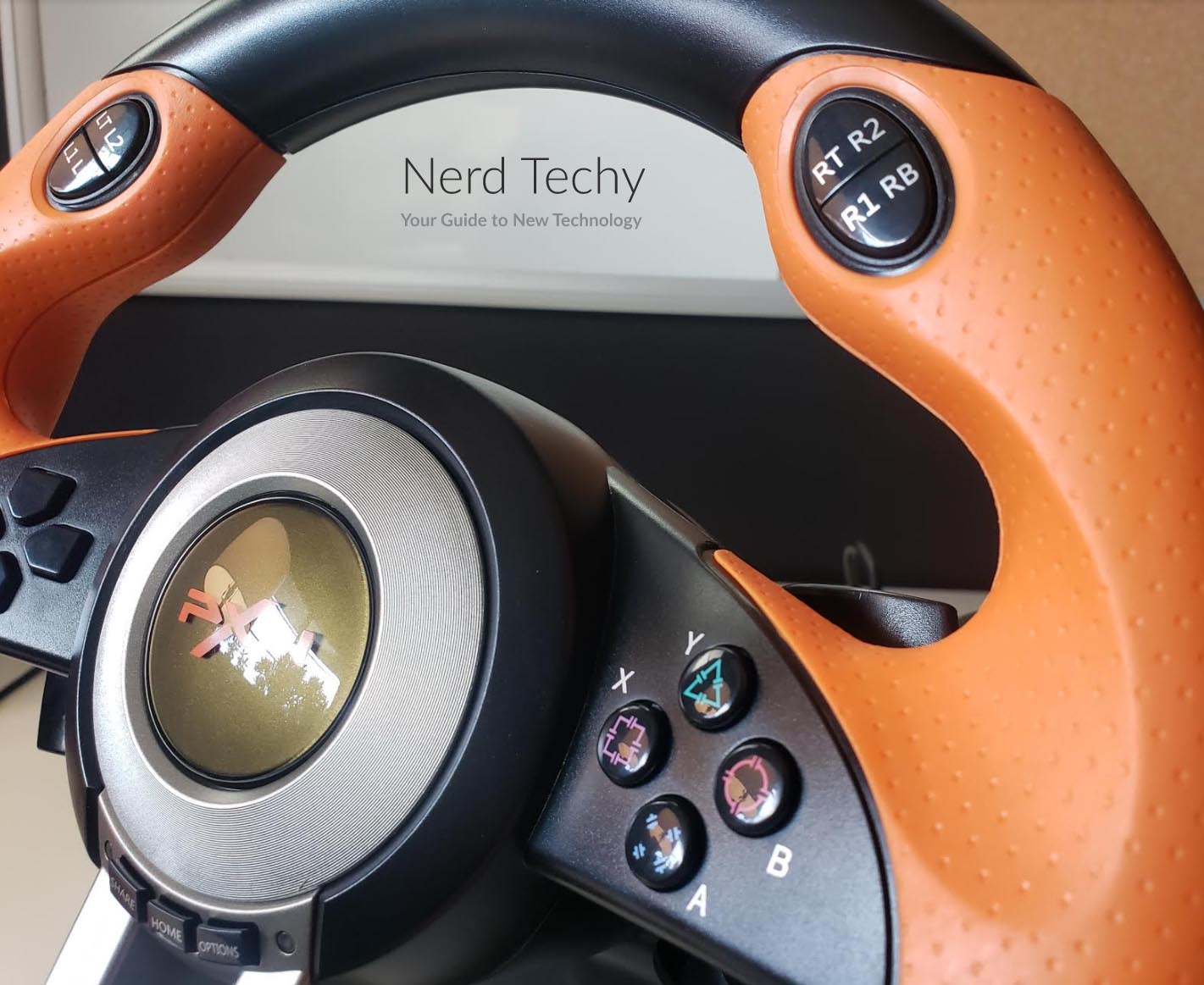 This isn't PXN's first racing wheel. In the past, we reviewed the PXN V900. In many respects, the design is largely similar. However, the PXN V900 has the buttons all clustered in the center. Some people find this layout less convenient, while others appreciate the better performance for ambidextrous operation.
The V3II wheel is built into a housing that looks like a vehicle console. There's a knob to the right that looks like a shifter at first glance. However, it's not actually functional, only decorative. Remember, the shifter function is operated by paddles on the wheel.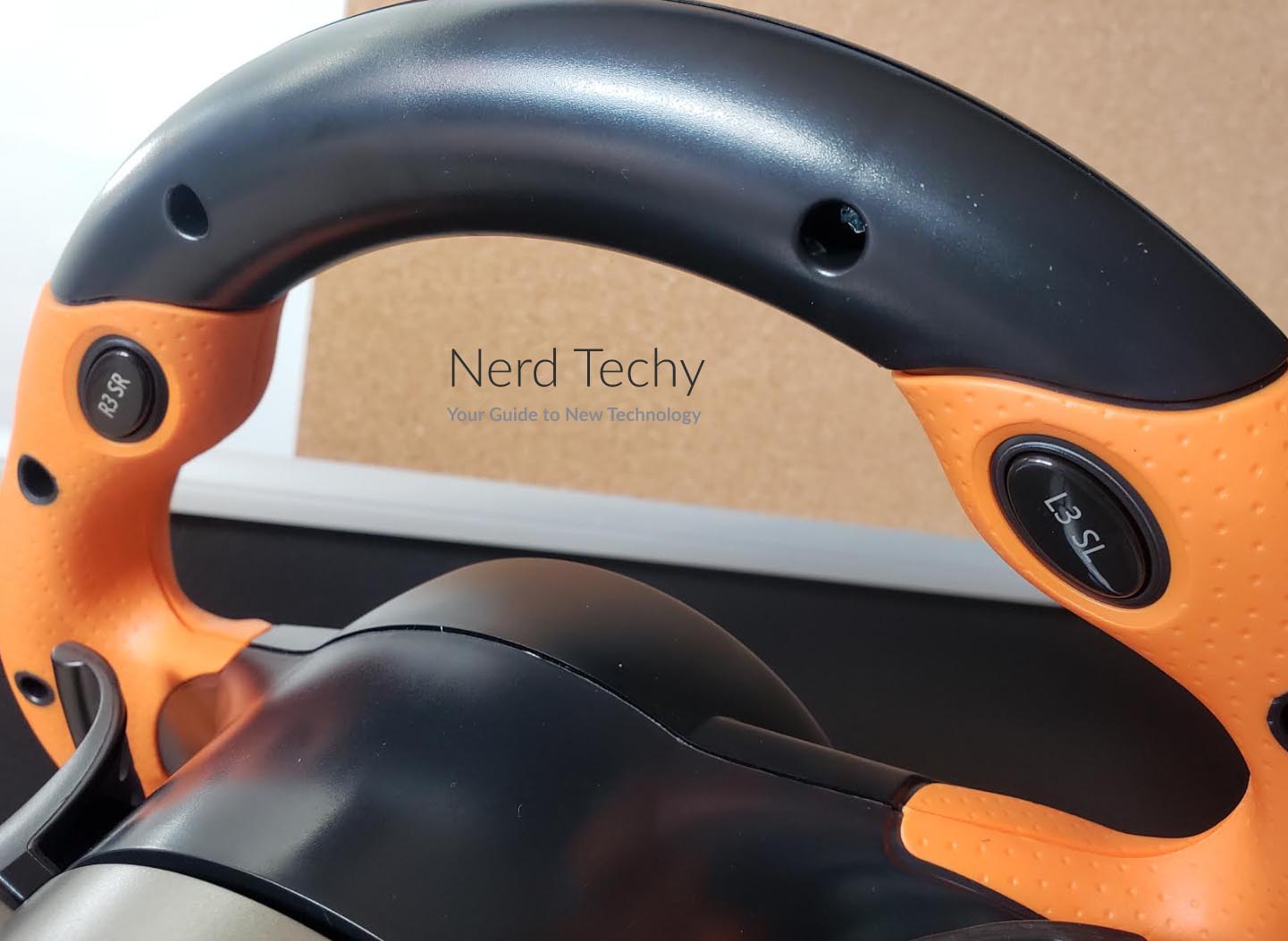 The base is only slightly wider than the wheel, giving it a small profile. It can be affixed to your desk or table in two ways. First, you could use the powerful suction cups on the bottom. This will work on most surfaces. However, if the surface is too textured for the suction cups to grip, there's also a clamp. The clamp is made of plastic, so it won't mar wood surfaces. In practice, you'll get the best stability by using both the suction cups and the clamp. But either method on its own is more than sturdy enough.
The V3II connects to your computer via a six-foot USB cable. This gives you enough range for most applications, without being too much cable to manage. That said, it could be a bit short for console players, who might want to use an extension cable.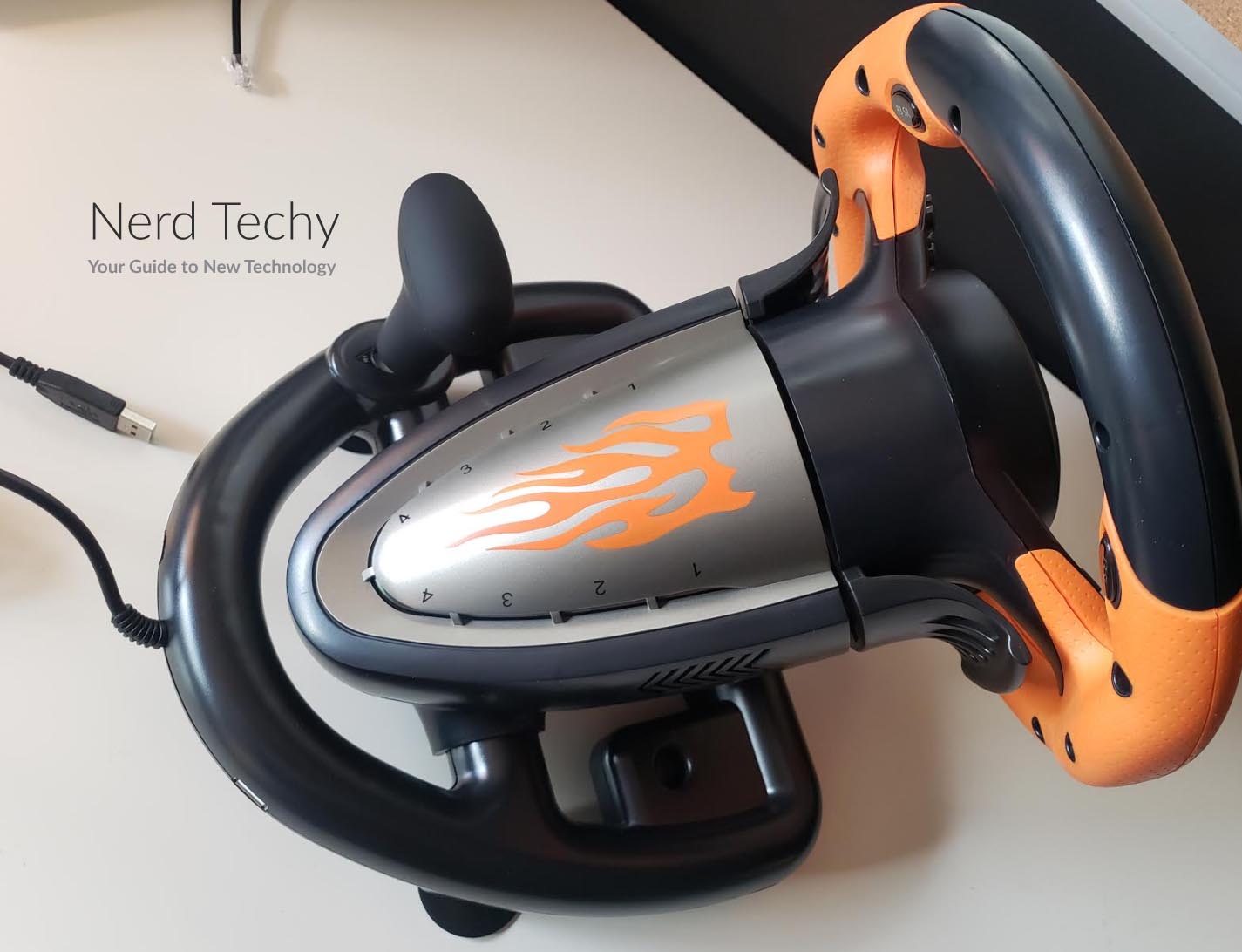 Pedals Look and Feel
The V3II pedals are constructed from a similar black plastic to the steering wheel. They have an arched design, which makes them easy to operate for people with any sized foot. No matter what angle you hit them from, they're going to be comfortable to operate. They also provide excellent feedback for both of their purposes. The right gas pedal has continuous, light resistance throughout, with a sudden stop at the bottom. In other words, it feels like a real gas pedal. Similarly, the left brake pedal gets considerably firmer the harder you apply it, like a real brake pedal.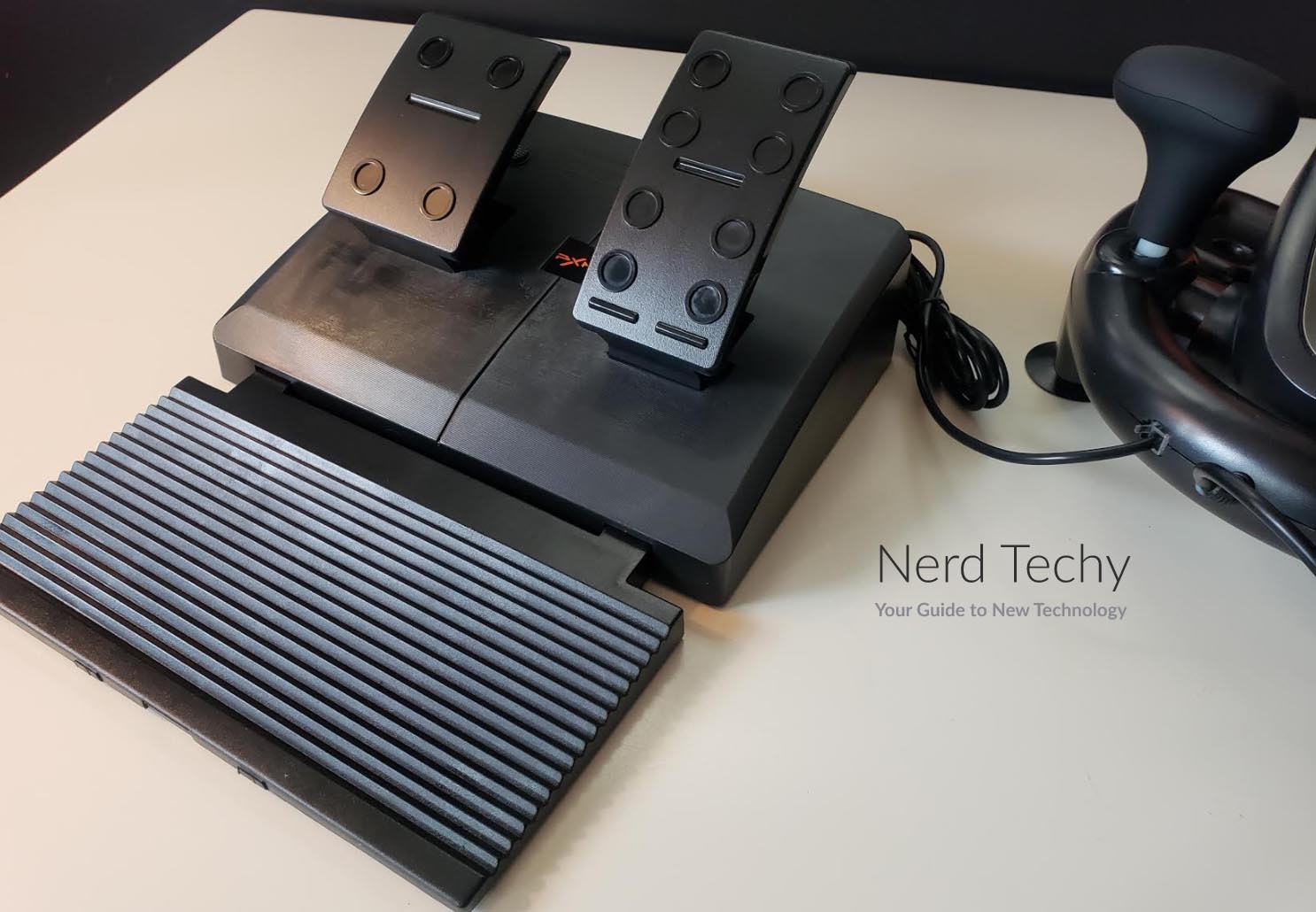 The pedal housing has a similar narrow profile to the wheel housing, and is barely wider than the pedals. It has a rubberized base, which keeps it from scratching hardwood or tile, or sliding around. There's also a detachable, ribbed, plastic platform just behind the pedals. It's designed for you to balance your heels so they don't slip around while you're playing. The pedals attach to the steering wheel with a phone-style cable that's built into the unit. It doesn't connect directly to your PC or game console.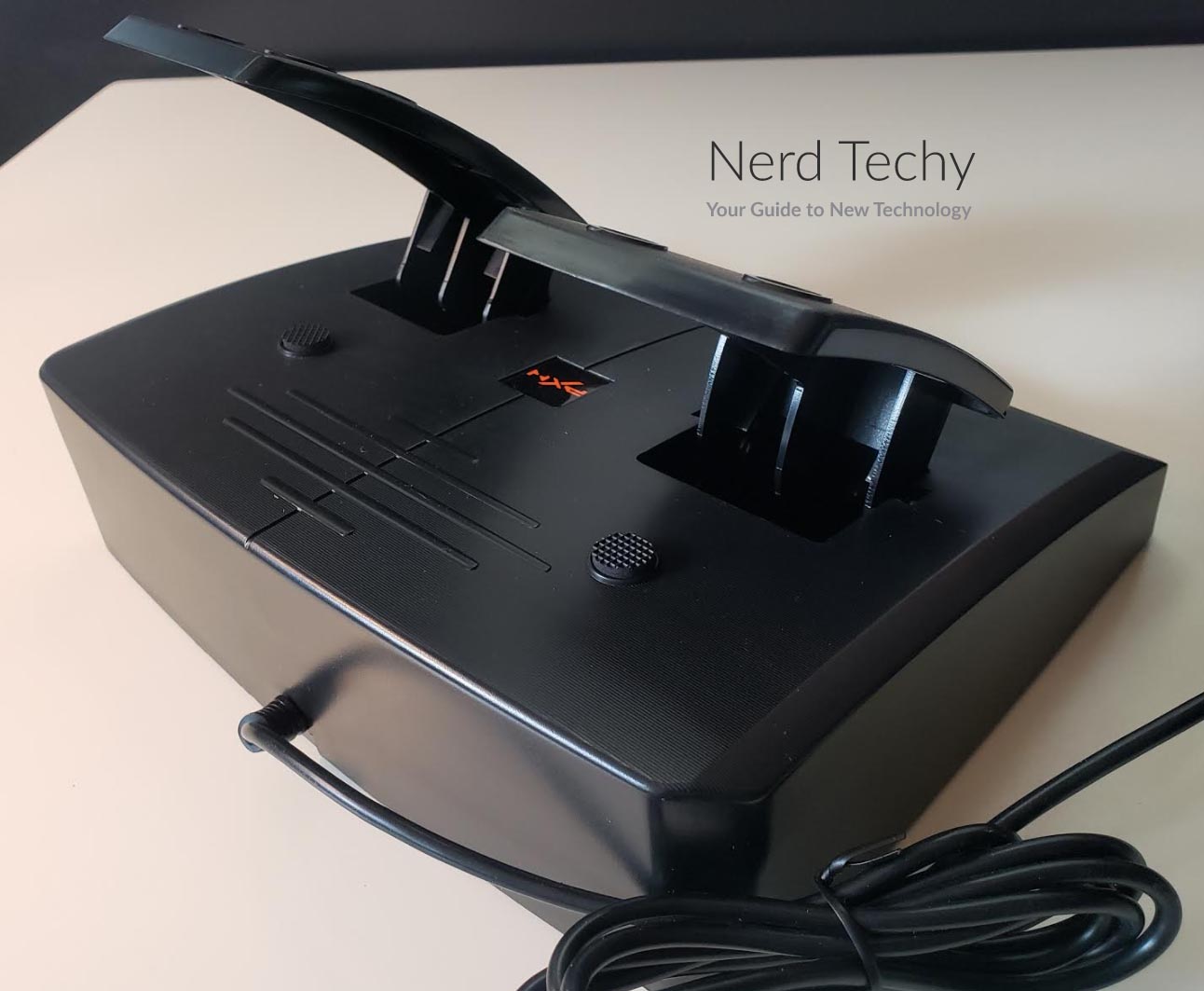 There are two noticeable drawbacks to the V3II pedals. For one thing, there's no clutch. This is a disappointment if you like the realistic feel of a three-pedal layout. On the other hand, you can still play manual transmission games by using the paddles on the wheel. Second, the plastic construction isn't as tough as we'd have liked for something you operate with your feet. At the very least, we would have liked to see some kind of metal reinforcement in the pedals and support stems. If you want a beefier set of pedals, consider the Logitech G920. Not only does it have metal construction, but it has a clutch pedal.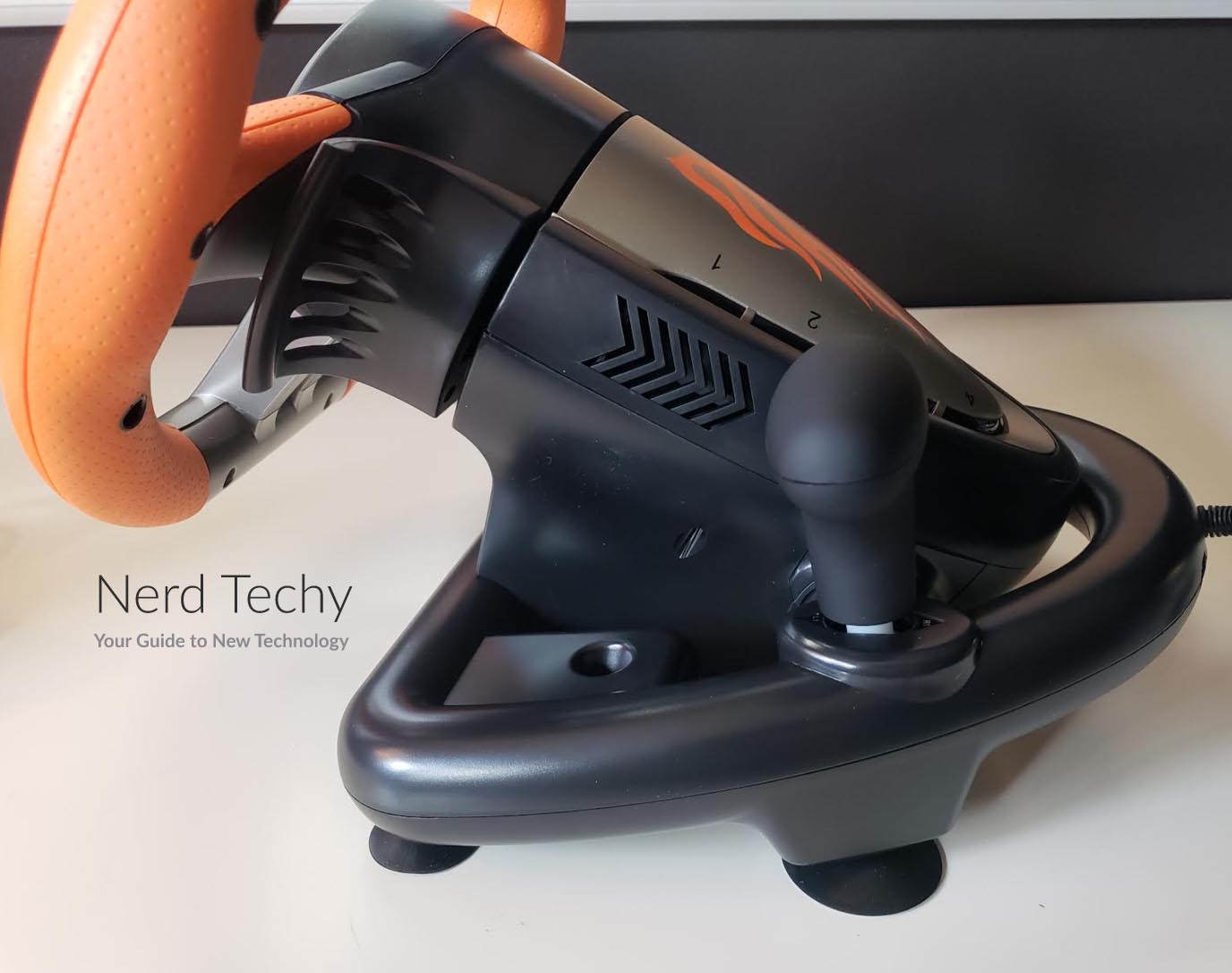 Compatibility & Extras
The PXN V3II Racing Wheel is a fully cross-platform steering wheel. On PC, it's plug and play with USB. Without any modifications, you're ready to go on most racing games. This includes Forza, Need for Speed, Forza, Grand Theft Auto, and American and Euro Truck Simulators. That said, the companion software is really useful if you want to customize your controls. To be fair, you can already use in-game customization on most of those titles. But if you want options that aren't offered in your game, you can make changes in PXN's software.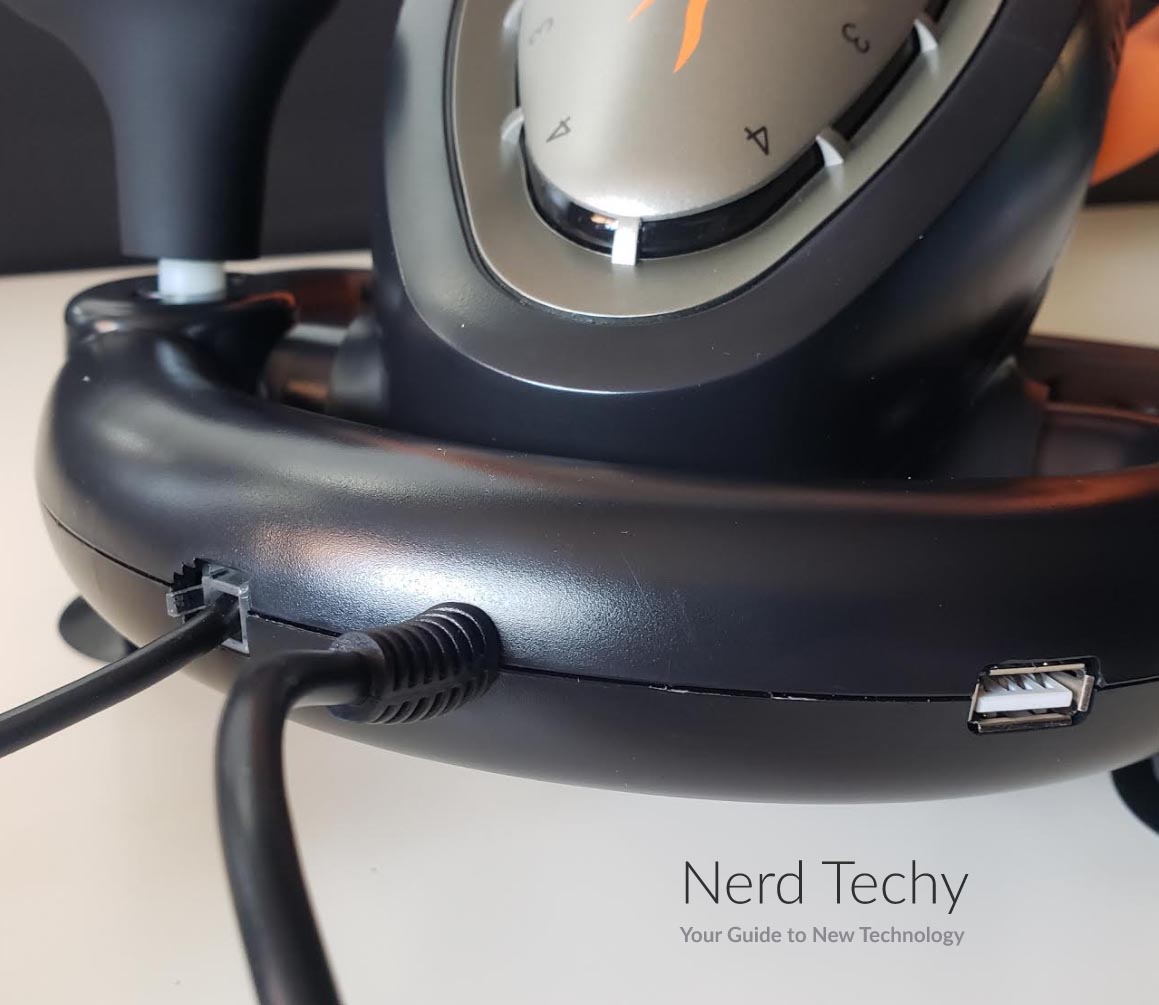 The V3II supports both X-input and D-input modes. X-input is ideal for most modern games, and is the easiest to use. However, the trigger functions can get twitchy with older games. In this case, switch to D-input. You won't get to feel any controller vibration, but the triggers will work as they should.
On consoles, you'll need to plug in via USB, then start the console with your controller as normal. Once that's done, you can launch your game and start playing. One important thing to point out is that the V3II will not show up as a steering wheel in game menus. Instead, it will show up as an ordinary console controller. The buttons on the center correspond to standard console buttons, so they can still be remapped. Instead of remapping them as you would a steering wheel, remap the controller buttons instead. It's a roundabout solution, but it works well enough in most games.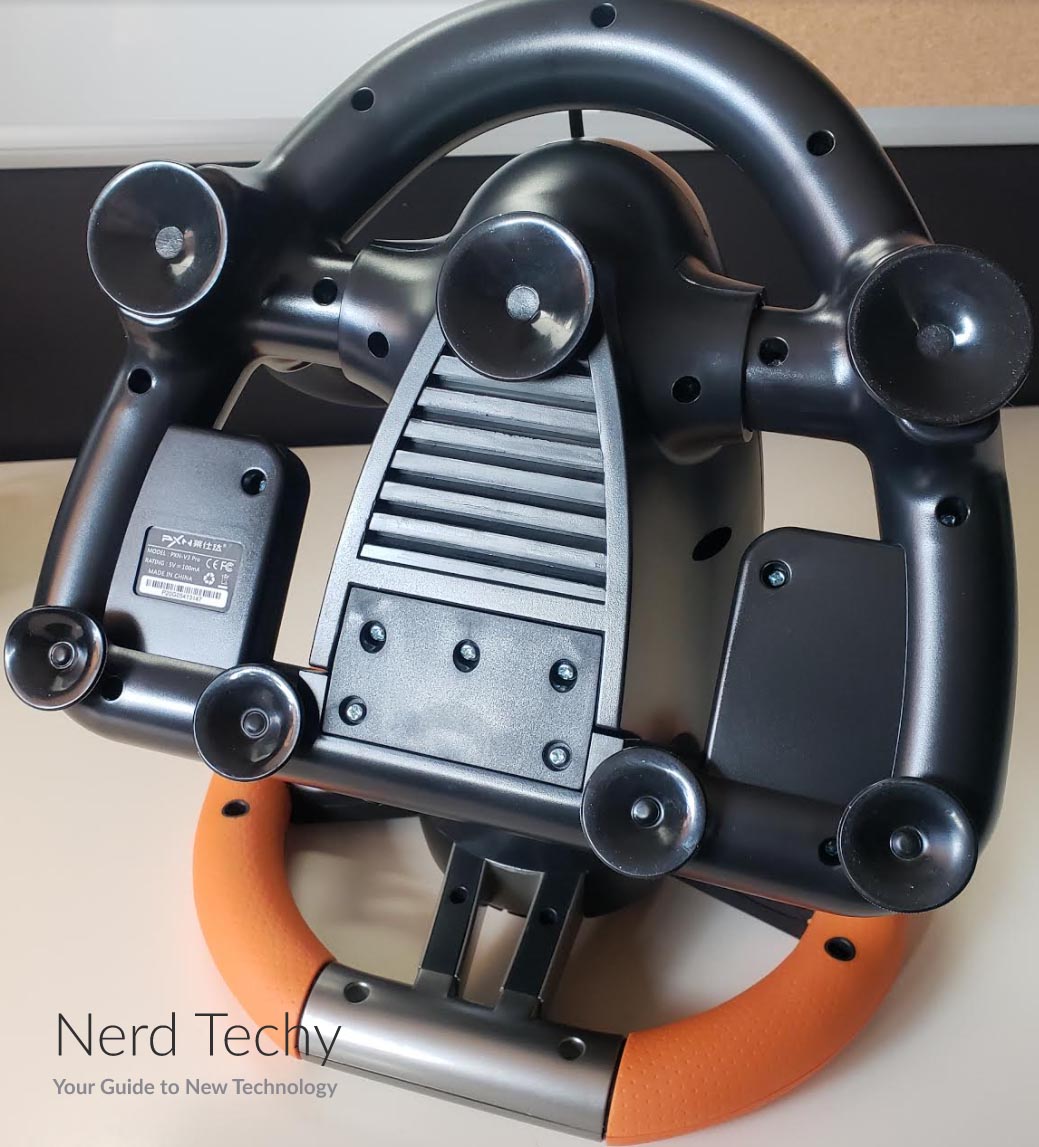 The PXN V3II is available with most modern consoles. It's compatible with the Xbox One, Xbox 360, PlayStation 3, and all versions of the PlayStation 4. It's also compatible with next-gen PlayStation 5 and Xbox Series X consoles, and even the Nintendo Switch. We weren't able to test it with an Xbox One S or One X, but it should work just fine. They use the same controllers as the base Xbox One, so there shouldn't be any compatibility issues.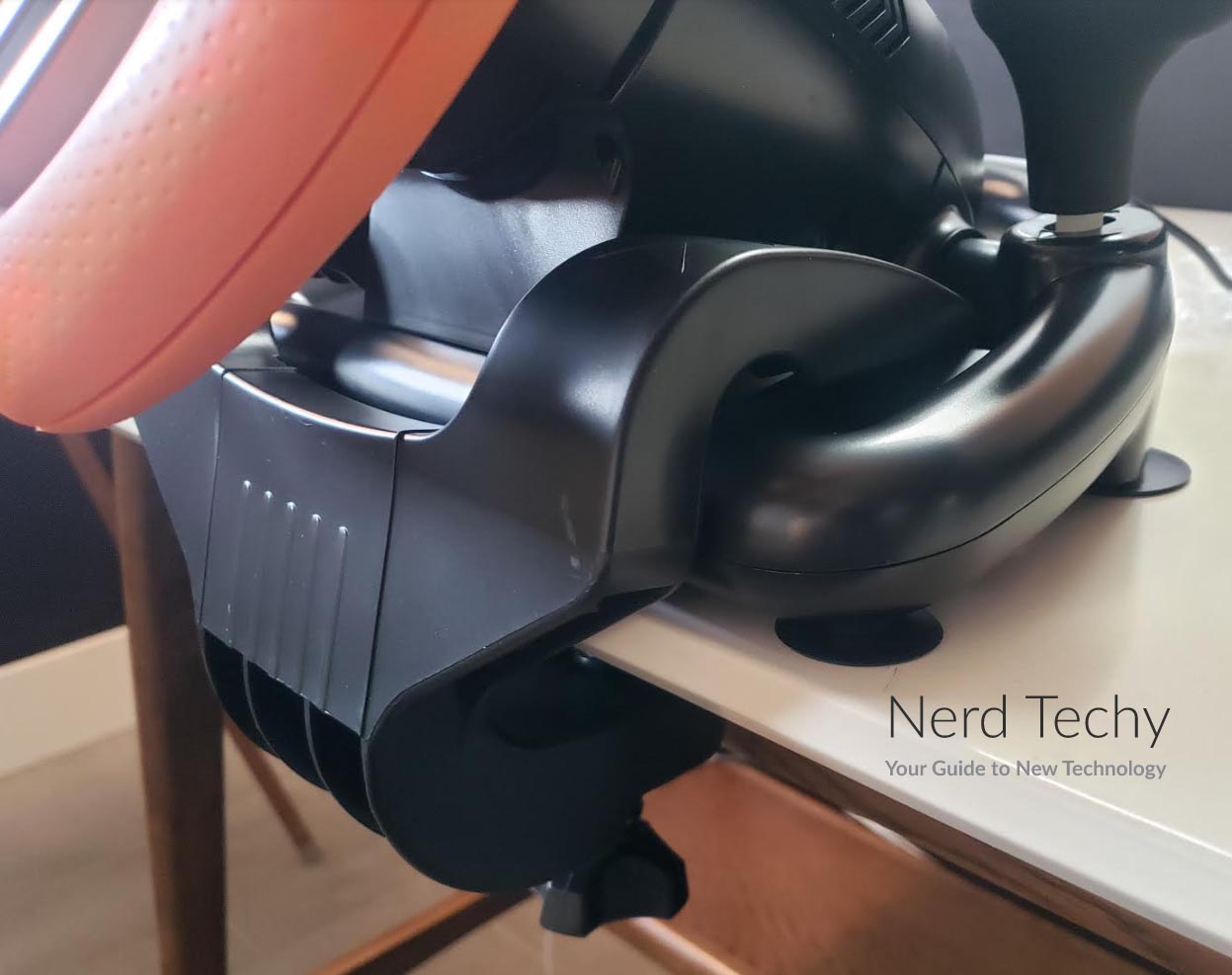 Finally, the wheel and pedals are both protected by a 12-month manufacturer's warranty. This warranty protects you from any defects in materials or workmanship. If something goes wrong, simply file a claim to get a full refund or a replacement.
Final Verdict
The PXN V3II is one of the better racing wheels on the market. First and foremost, this is due to its versatility. With support for PC as well as all major consoles, you can play just about any game on any system. This makes it an excellent choice for gamers who have more than one game system. You can play Grand Theft Auto on your Xbox, then play Forza on your PC and use the same control setup. Similarly, compatibility is even good for old games, thanks to the D-input option. We were disappointed by the lack of a clutch pedal, and by the plastic design of the pedals in general. However, they're still going to work just fine provided you don't abuse them.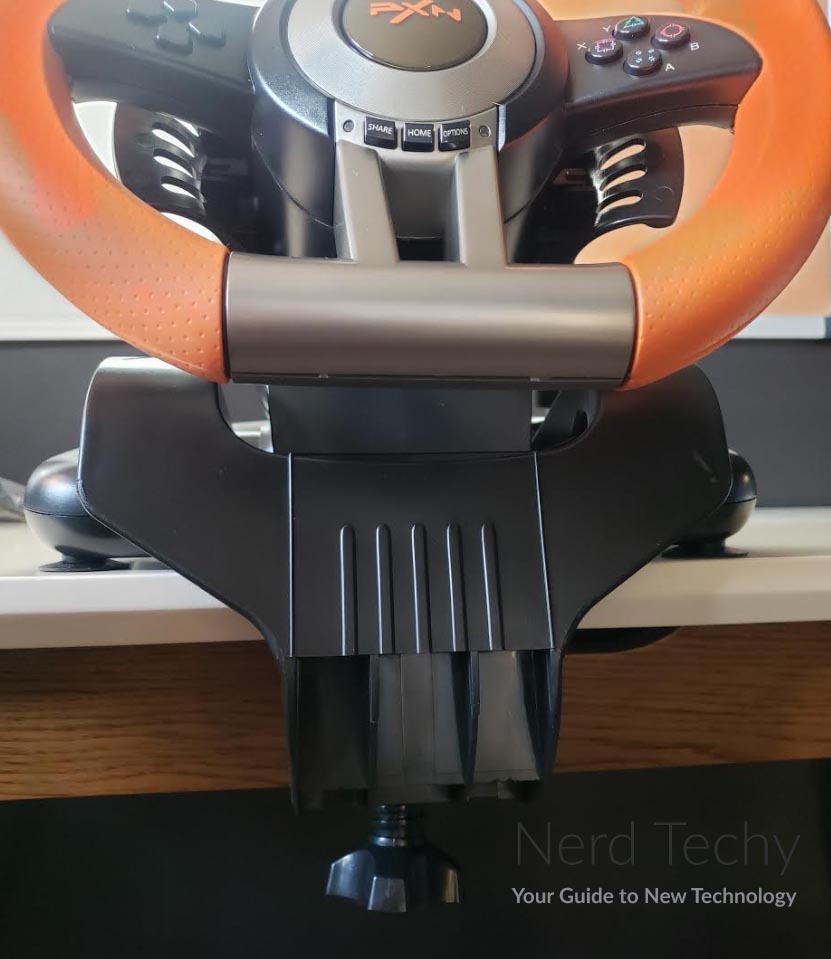 The wheel itself is well-engineered, with an ergonomic design and comfortable grips. The buttons are all conveniently located and easy to operate, as are the shifter paddles. Not only that, but the large array of suction cups holds it securely in place even under heavy use. If you need a compact, tight-steering racing wheel, the V3II is a solid choice.
Please consider sharing:
Note: At no extra cost to you, we may earn a commission for purchases using our links. Learn more.