If you're a racing game enthusiast, you know that a controller is no way to play. And if you're on a PC, a mouse and keyboard are virtually impossible to play with. You don't drive your car with a thumbstick or a mouse, and using those controls breaks your sense of immersion. Furthermore, traditional controls aren't able to offer the same kind of feedback as a wheel or pedals. Instead, you're limited to standard controller vibrations. There's no two ways about it; you need a steering wheel and pedals. But not all steering wheels are created equal. Some are clearly better than others.
Today, we'll be looking at the PXN V900 Gaming Racing Steering Wheel. This name really doesn't do the product justice. For one thing, it's not just for PCs. It's also compatible with most modern consoles. For another thing, it's not just a steering wheel. It also includes a set of pedals, so it gives you the entire package. You get everything you need to play your favorite racing games. But does the quality live up to expectations? We'll look at the design, as well as all the features. Then we'll tell you what we think.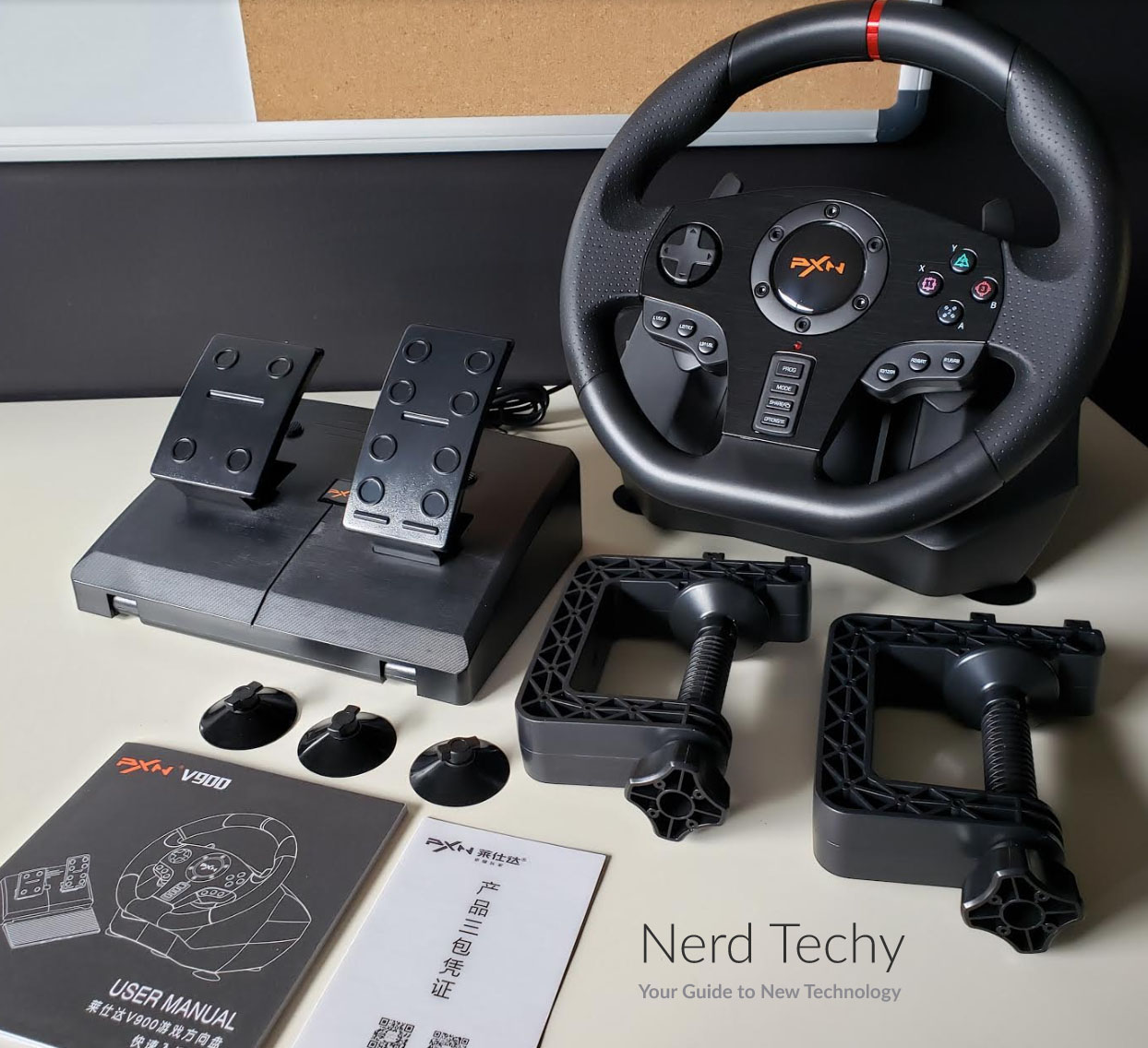 Steering Wheel Look & Feel
As the PXN V900's name implies, the steering wheel is the main attraction. It measures 11 inches in diameter, or about the same as a standard racing wheel. The wheel is constructed from black ABS plastic, but features rubberized grips. This makes it comfortable to hold, and prevents slippage during operation. It has two different modes, depending on the type of game you're playing. In the first mode, it will rotate 270 degrees. This is designed for racing games, such as Forza or Need for Speed. In the second mode, it will rotate 900 degrees. In this mode, you can turn the wheel almost 1 ½ times in either direction. This is primarily designed for truck simulators, but can also be used for other driving games.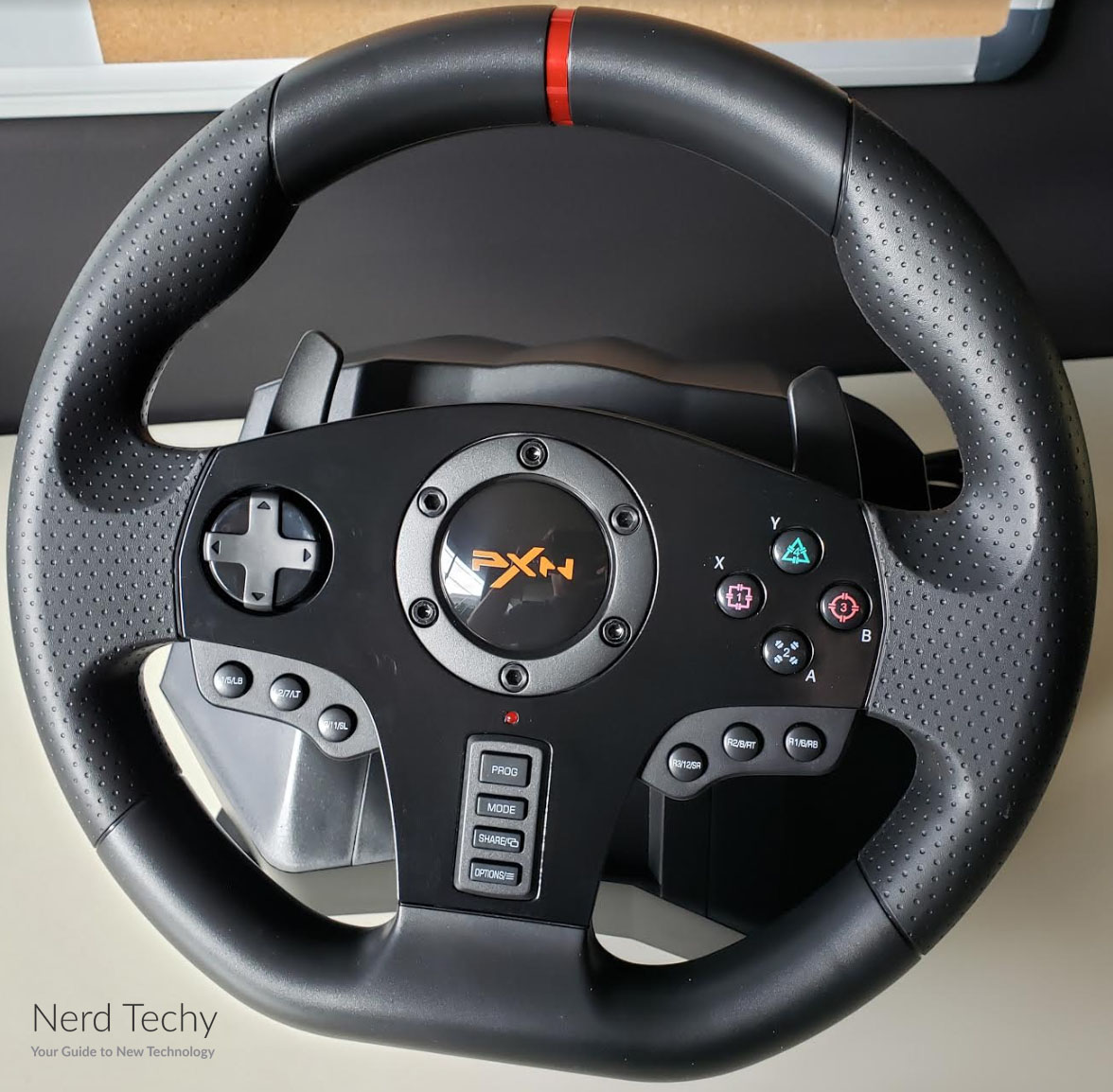 On the front of the wheel, you'll see a full set of standard console controls. These include your A, B, X, and Y buttons (or X, O, square, and triangle on PlayStation) on the right. On the left side, there's a standard D-pad. There are six programmable buttons across the middle of the wheel. These won't do you much good on a console. However, for PC games, they can be used to perform additional functions. Towards the bottom, there are four buttons, including the menu, start, and settings buttons. By your fingers, there are two paddles, which function as gear shifters.
In addition to all the controls, there are three adjustable sensitivity levels. Depending on your preferences, you can have a highly sensitive wheel, or a looser feel. This will vary based on your driving style as well as the game you're playing. For tactile feedback, there are built-in vibrating motors on both sides of the wheel. They're located directly under the grips, which means you get plenty of sensation.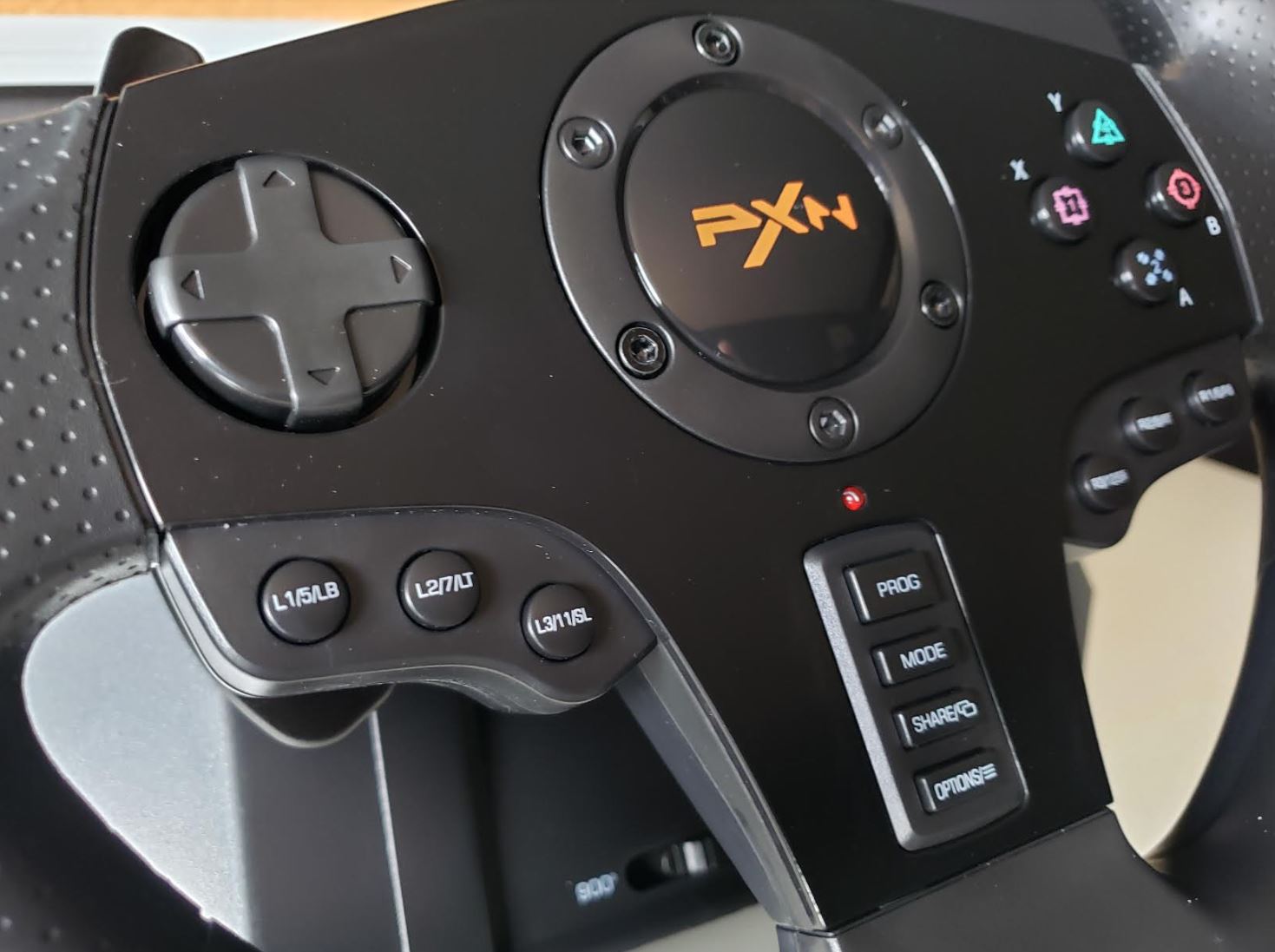 The bottom of the V900 steering wheel is flat, with rubberized strips to prevent slippage. There are also five removable suction cups. The suction cups might not stop the steering wheel from slipping, depending on the surface. However, they stop it from tilting back and forth. When combined with the rubber strips, they form an effective temporary mounting system. For a more long-lasting mount, there's also a pair of mounting clamps. To be honest, these were a bit disappointing. They're made of plastic, not metal, and they're a bit flimsy. Still, unless you're incredibly rough on your steering wheel, you shouldn't have any issues.
For connectivity, there's a USB port on the back. There's no cable included in the kit, but this only makes sense. To connect to a PC, you'll need a USB Type-A to Type-A cable. For consoles, you'll need a USB Type-A to Micro USB cable. Make sure the cable is capable of transferring data, not just a power cable. Otherwise, you're going to be disappointed.
If you're looking for an alternative racing wheel, there are plenty available on the market. Consider, for instance, our list of the best racing wheels for gaming. All three of those options are well worth your investment, and will work with most racing games.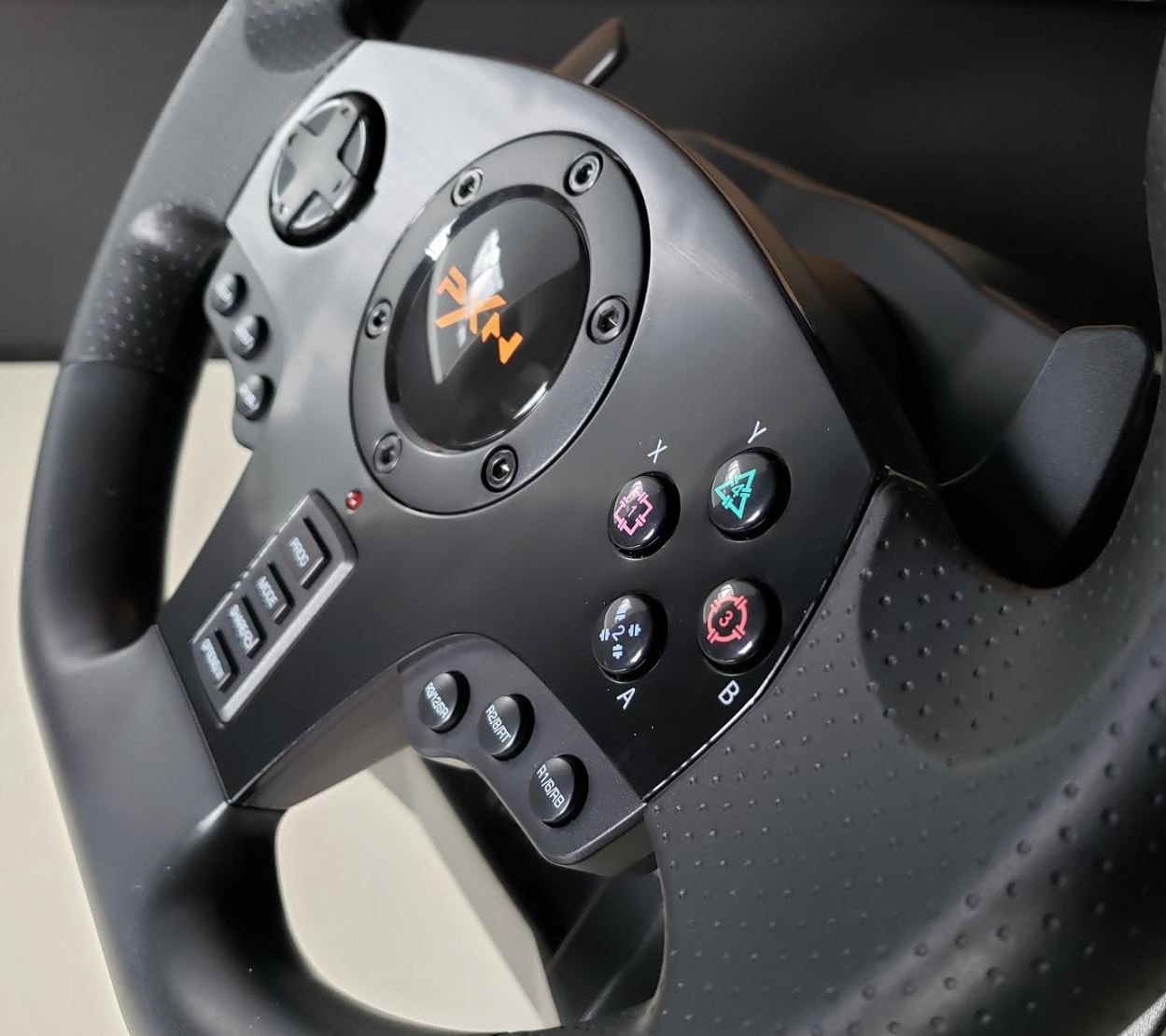 Pedals Look & Feel
The PXN V900's pedals are designed primarily for automatic transmissions. They have a brake and a gas pedal, but not a clutch. You can still shift gears with the paddles on the steering wheel. That said, some gamers might be disappointed by the lack of a clutch. If you want a more realistic feel, you might want to choose an alternative set of racing pedals. Consider, for example, the ThrustMaster T-LCM Pedals. They're big and beefy, with an all-metal construction that ensures they'll last forever. Oh, and they also have a clutch.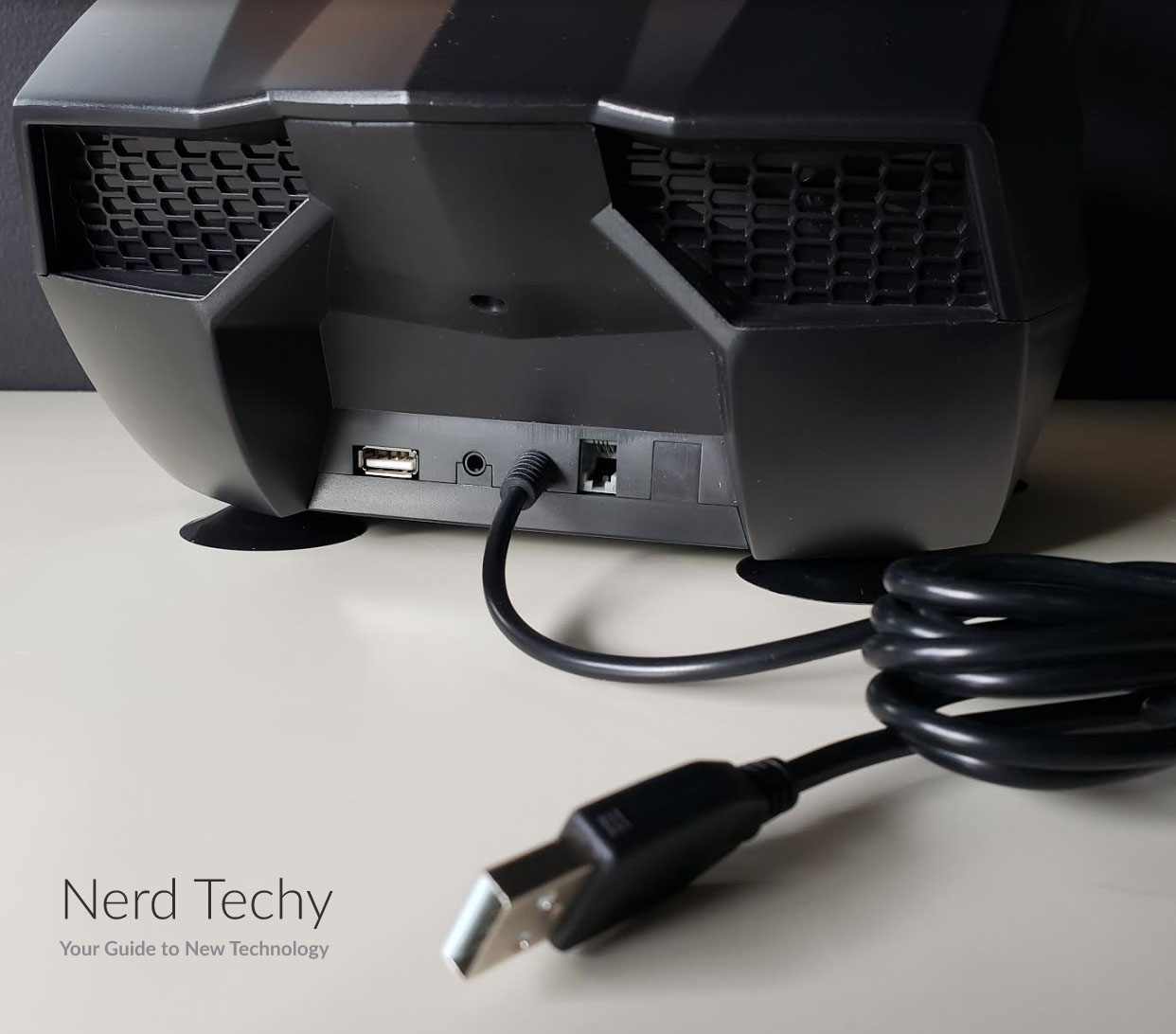 That said, there's plenty to like about the V900's pedals. The housing is constructed from a matte black ABS plastic that matches the construction of the steering wheel. The base measures 10 inches wide, and is angled towards you for comfortable operation. The design is a good compromise between an upright and a laid-back seating position. That said, the pedals themselves are not adjustable. As a result, you might find that a medium seating position puts you at the best angle for comfort. Between the pedals, you'll see an attractive orange PXN logo. This logo matches the logo on the center of the steering wheel, and ties the whole set together.
The bottom of the base is rubberized, which prevents it from slipping around on your floor. In addition, it prevents damage to hardwoods and tile floors. You don't need to worry about scratching your floor's finish with these pedals. There's also a pad to go under your feet to prevent them from slipping. This gives you the feel of a rubber floor mat, just as you'd find in a car. If you don't want to use this pad, it can be folded up under the unit. This can also be used to raise the pedal height by about half an inch. If you prefer a taller set of pedals, this is a good option. That said, you obviously won't get the anti-slip benefit when the pad is folded in this fashion.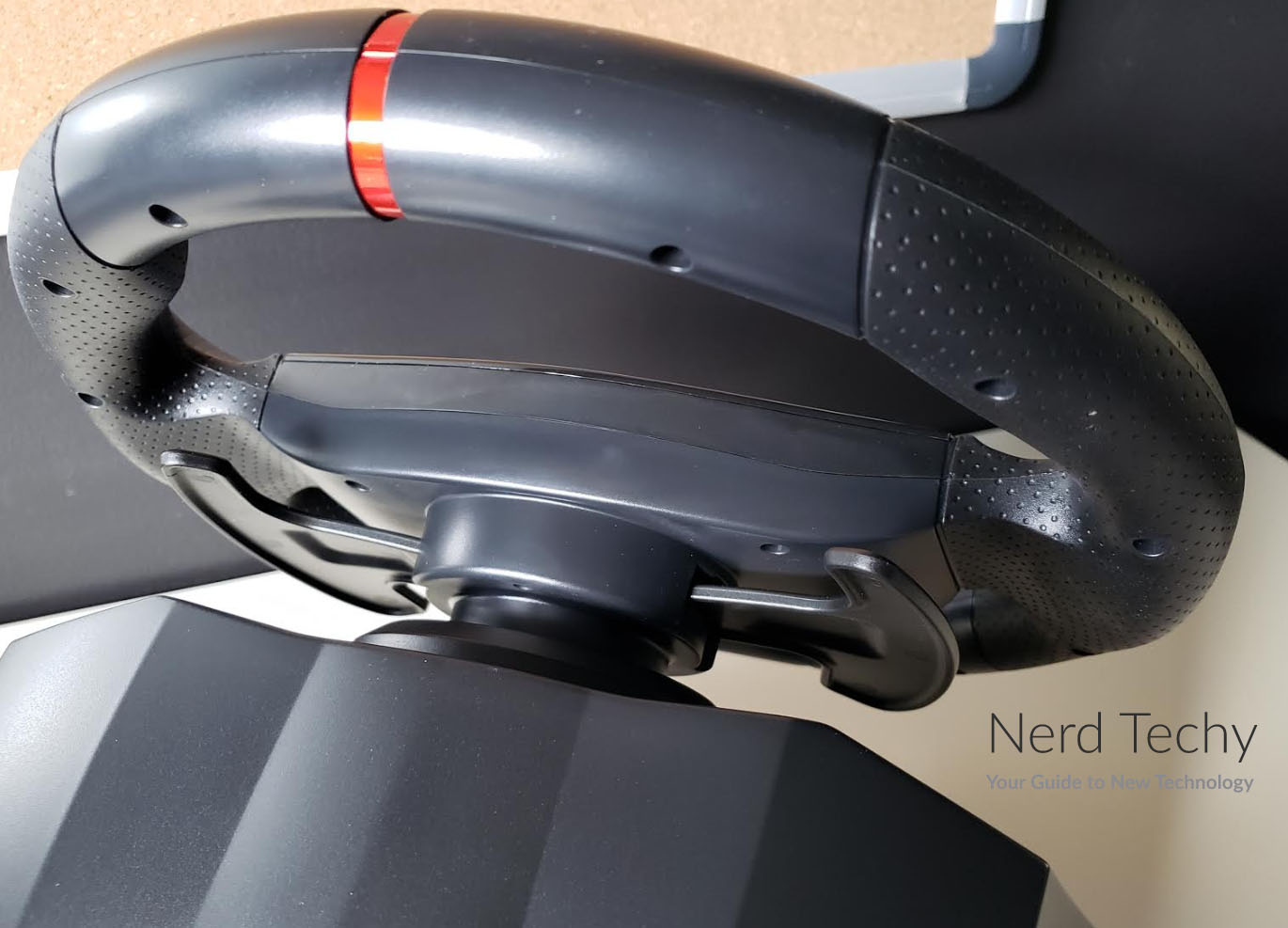 The pedals themselves are plastic, not metal, so they're not quite as tough as some others on the market. That said, they're relatively comfortable on your feet. As you'd expect, the gas pedal is longer and slimmer, and is located on the right. The brake is square-shaped, and is located on the left. The gas pedal has six small rubber discs that help provide traction. There are four similar discs located on the brake pedal. Both pedals are pressure-sensitive. As a result, you'll get plenty of response to your inputs. The harder you press, the more the pedal will respond. The gas has a loose, springy feel, and it's easy to press down all the way without a lot of resistance. The brake pedal offers more resistance, just as you'd expect.
Just like the steering wheel, the V900 pedal assembly has a USB port on the back. This allows for easy connection to your PC or console. There's a single 6-foot USB Type-A to Type-A cable included in the kit.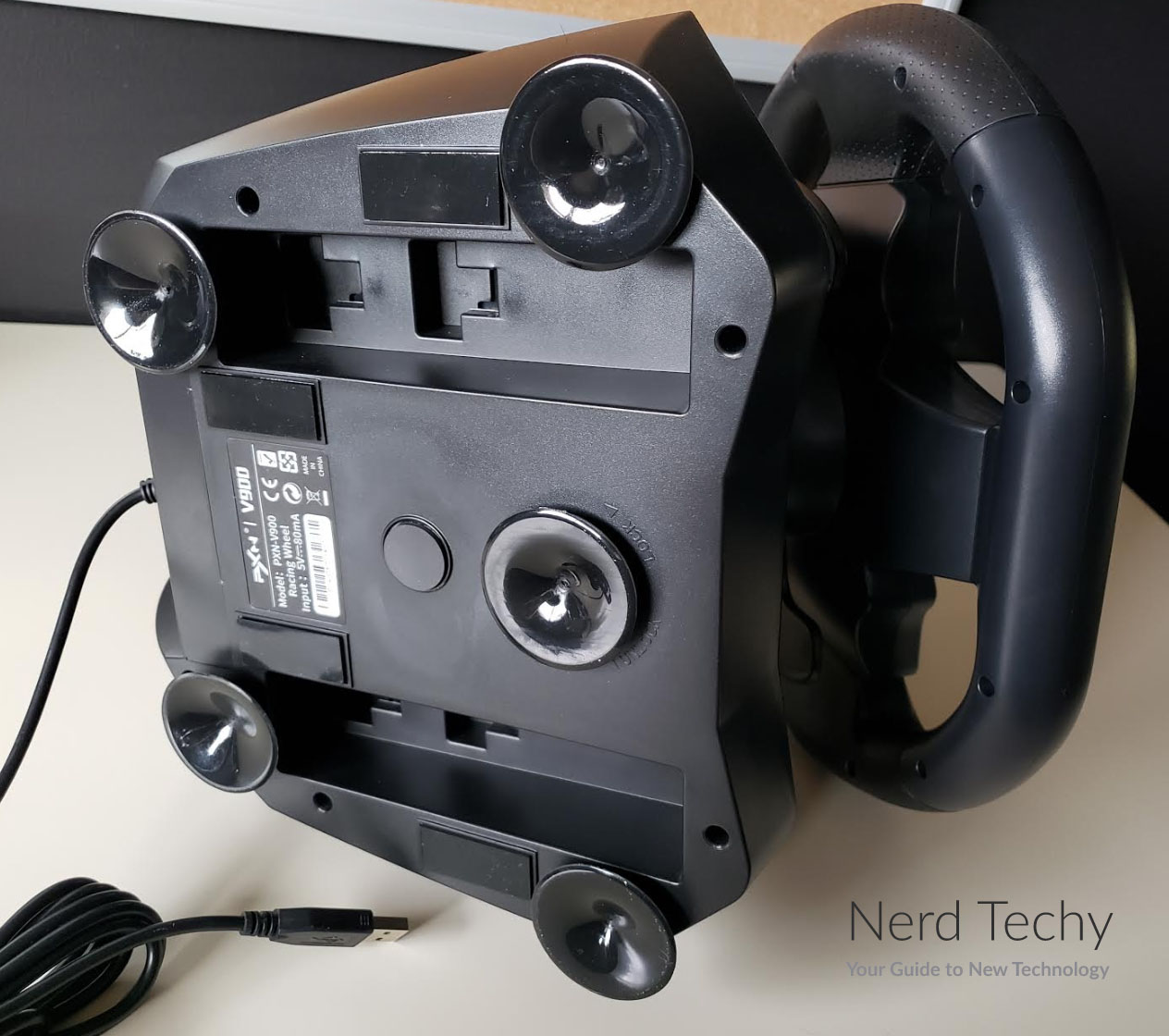 Compatibility & Extras
One thing we liked about the PXN V900 is that it's compatible with just about any gaming system. In addition to PC, it's compatible with the PlayStation 4, PlayStation 3, Xbox One, and Nintendo Switch. When connecting to a PlayStation or Xbox One, you'll need to plug the steering wheel directly into the console's controller. If you do happen to have any issues, you don't have to end up stuck with a dud. PXN offers a 12-month warranty, so you'll be covered if anything goes sideways.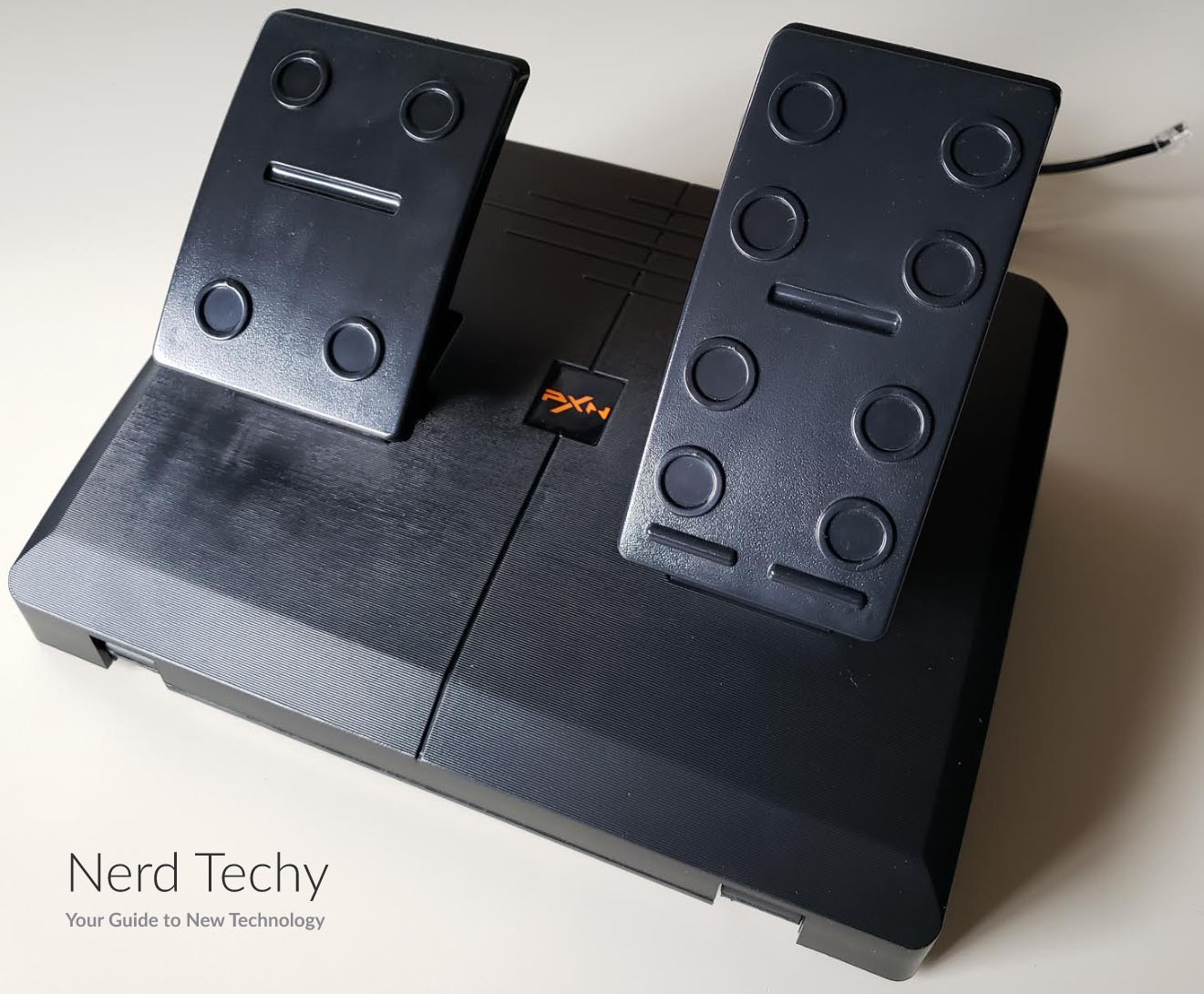 In addition to its tactile features, the V900 also comes with audio communication. This won't work with PCs or a Nintendo Switch, but it works automatically on an Xbox One or PlayStation 4. The audio quality isn't the best. However, it's more than good enough for two-way communication and in-game chat. You can talk to your teammates without needing to use an external headset.
One thing the PXN V900 doesn't include is a gear shifter. As we said, you can always use the paddles on the steering wheel. But if you want a more authentic racing experience, you're going to want a dedicated gear shifter. To find the best, why not read our list of the best gearbox shifters for racing games? There are plenty of excellent options available.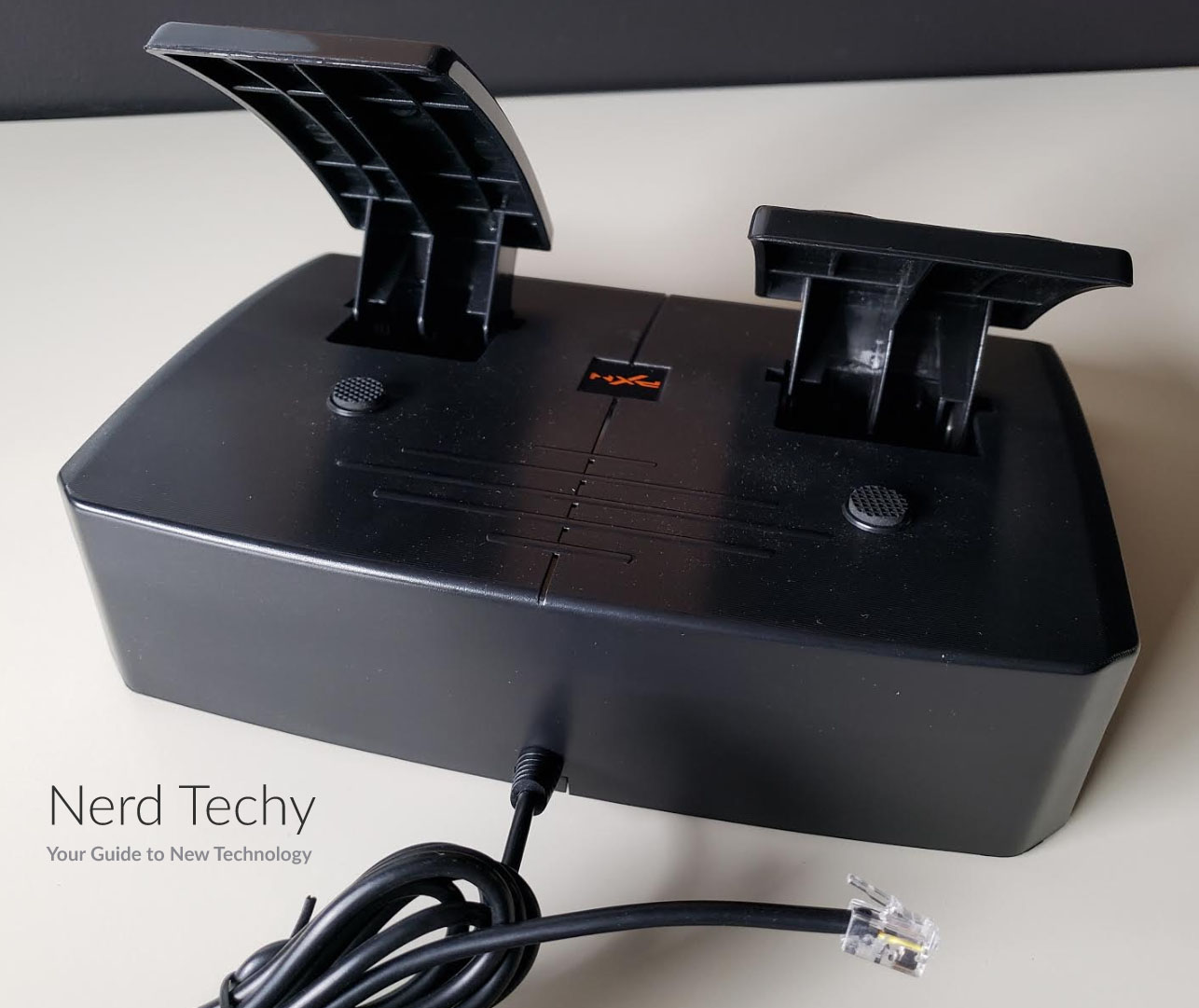 Final Verdict
So, how does the PXN V900 Gaming Racing Steering Wheel stack up to the competition? It's a bit of a mixed bag. Let's start with the steering wheel itself. It's not as sturdy as some other options, but at this price point it's more than good enough. That said, it's very well-designed, particularly for console gamers. In addition to the steering wheel itself, you get all of your standard console gaming inputs. For PC gamers, you also get the benefit of six programmable buttons. The tactile response is great, with a realistic feel and plenty of vibration. The wheel is also easy to handle, with rubberized grips that prevent slippage. The included voice chat feature is just icing on the cake.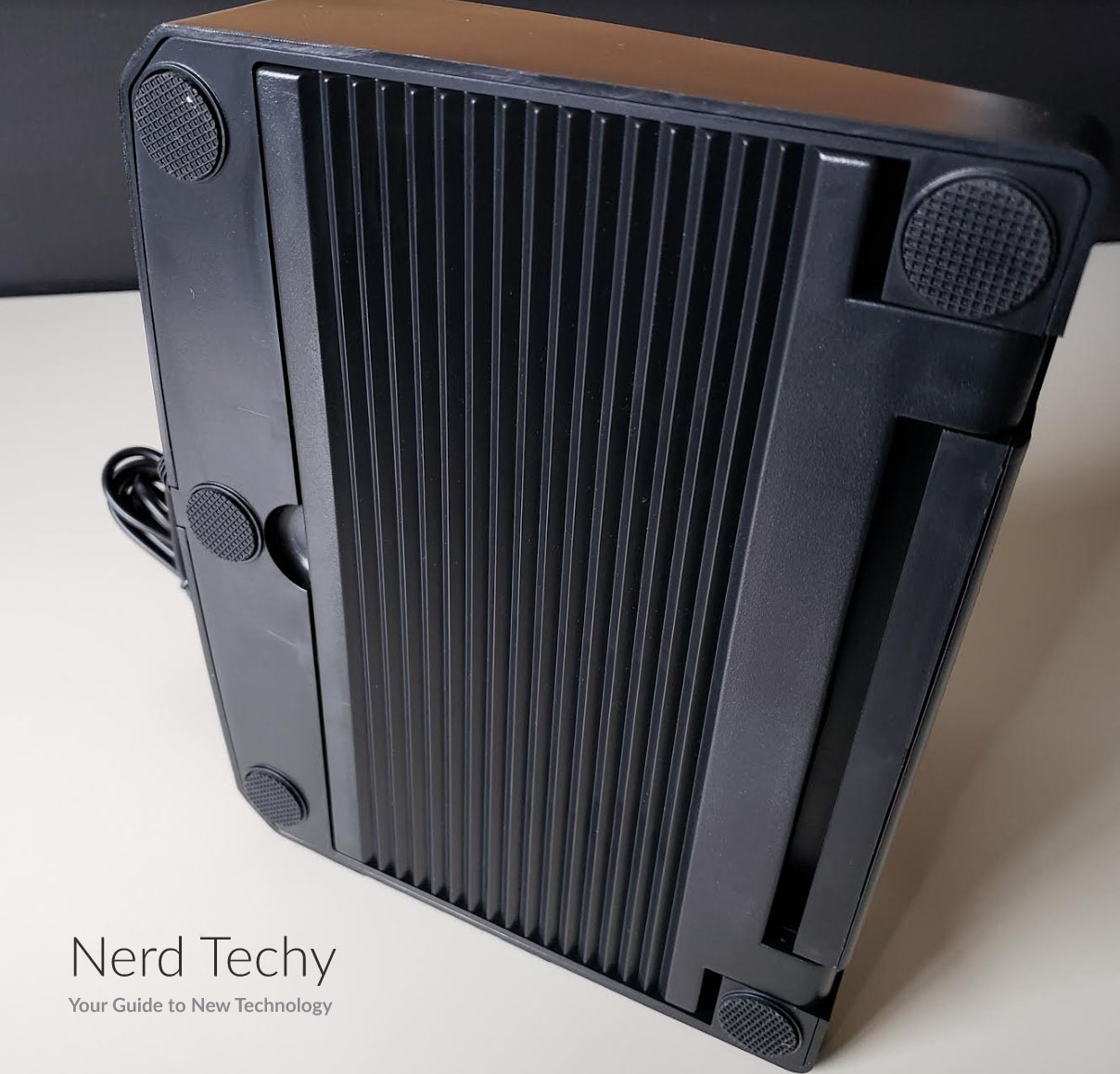 When it came to the pedals, we were less impressed. The construction just isn't very durable. And while it's reasonable to make a steering wheel from ABS plastic, pedals need to be tougher. That said, they have a good feel, with the right amount of resistance. The rubber padding underneath is a nice touch, since it keeps your floor from getting scratched. However, the lack of a clutch was disappointing. If you prefer a manual transmission and gearbox, this makes the V900 a nonstarter. That said, if you don't mind an automatic transmission, it's a non-issue.