Quick Analysis
Pros
Compatible with most consoles, smartphones, and PC's.
Comfortable, ergonomic design.
Includes a removable phone clip.
Long-lasting battery.
Cons
Not compatible with Nintendo consoles or Android devices.
Glossy black finish shows fingerprints and dust.
These days, mobile gaming is bigger than ever. This is a result of a variety of factors. First is the increased processing power of modern smartphones. If you go back 20 years, people still played games on their phone. But let's face it. An old-school game of Snake doesn't hold a candle to the console or PC games of the time. On a modern phone, though, you can play current games like Fortnite, Call of Duty, or Minecraft. This is also a result of better screens with good color and high resolution.
Another factor is the ubiquity of smartphones. Not everybody owns a game console or even a home PC, but everybody owns a smartphone. As a result, you can enjoy a quality gaming experience without investing extra cash in a dedicated gaming machine. This has led to an explosion in the mobile gaming market.
That said, smartphones have their own drawbacks as a gaming platform. Perhaps their greatest drawback is that you don't have the same controls as you do on a console. There's only so much you can do with a touchscreen. Moreover, a touchscreen isn't terribly ergonomic. If you want to spend several hours on a long gaming session, you're going to end up with a cramp.
Today, we'll be reviewing the PXN 6603 "Speedy" Wireless Bluetooth Gamepad. PXN is known for their innovative controllers, such as the PXN V900 Gaming Racing Steering Wheel. Now, they've brought their innovative approach to the mobile gaming market. We'll take a close look at everything the 6603 gamepad has to offer. We'll look at the overall design, the ergonomics, the battery, and the compatibility. Then, we'll be able to render a final verdict. Let's get started!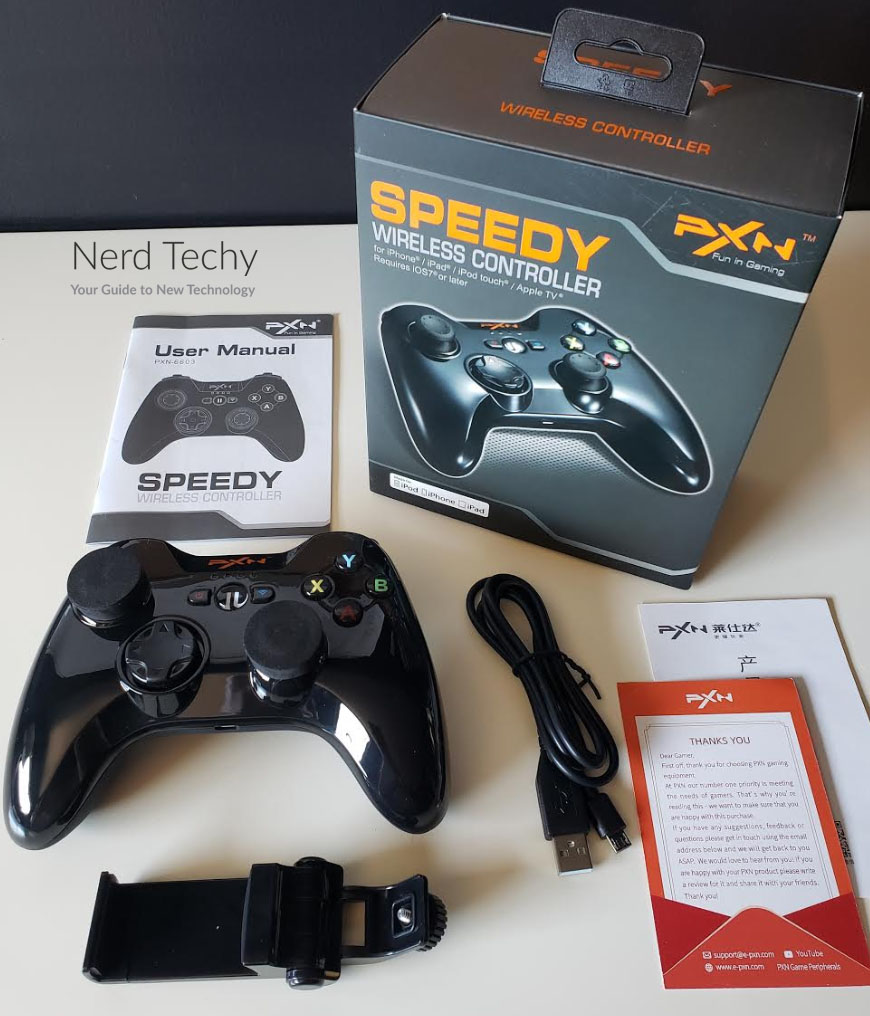 Design
At first glance, the PXN 6603 "Speedy" Wireless Bluetooth Gamepad looks similar to an Xbox One controller. In a way, this only makes sense. Both major console developers, PlayStation and Xbox, have essentially agreed on a similar design. You have two sets of triggers, two thumb sticks, a 4-axis D-pad, and six buttons. That pretty much keeps all of your fingers occupied. The only significant difference between the Xbox and PlayStation controllers is the form factor. Xbox uses a fatter profile, while PlayStation is a bit slimmer. Which one is better is just a matter of what you're used to and how big your hands are. PXN has opted for a fatter profile, but it's not so big that it's uncomfortable for smaller hands.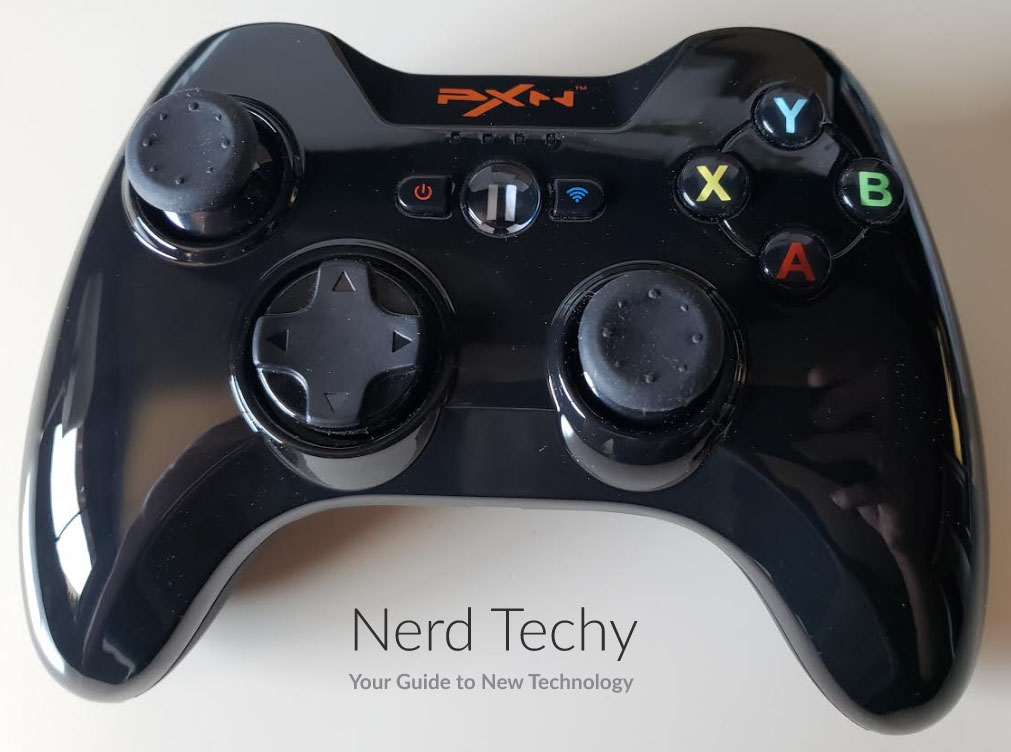 That said, as befits their reputation for quality, PXN uses better material than console manufacturers. Instead of ABS plastic, the 6603 is constructed from durable oil rubber. This is less liable to get damaged than ABS plastic. It also provides a better grip. The glossy finish looks like it would be slippery, but it's not. It's actually a bit sticky, which makes it easy to hold even if your hands are sweaty from intense gaming.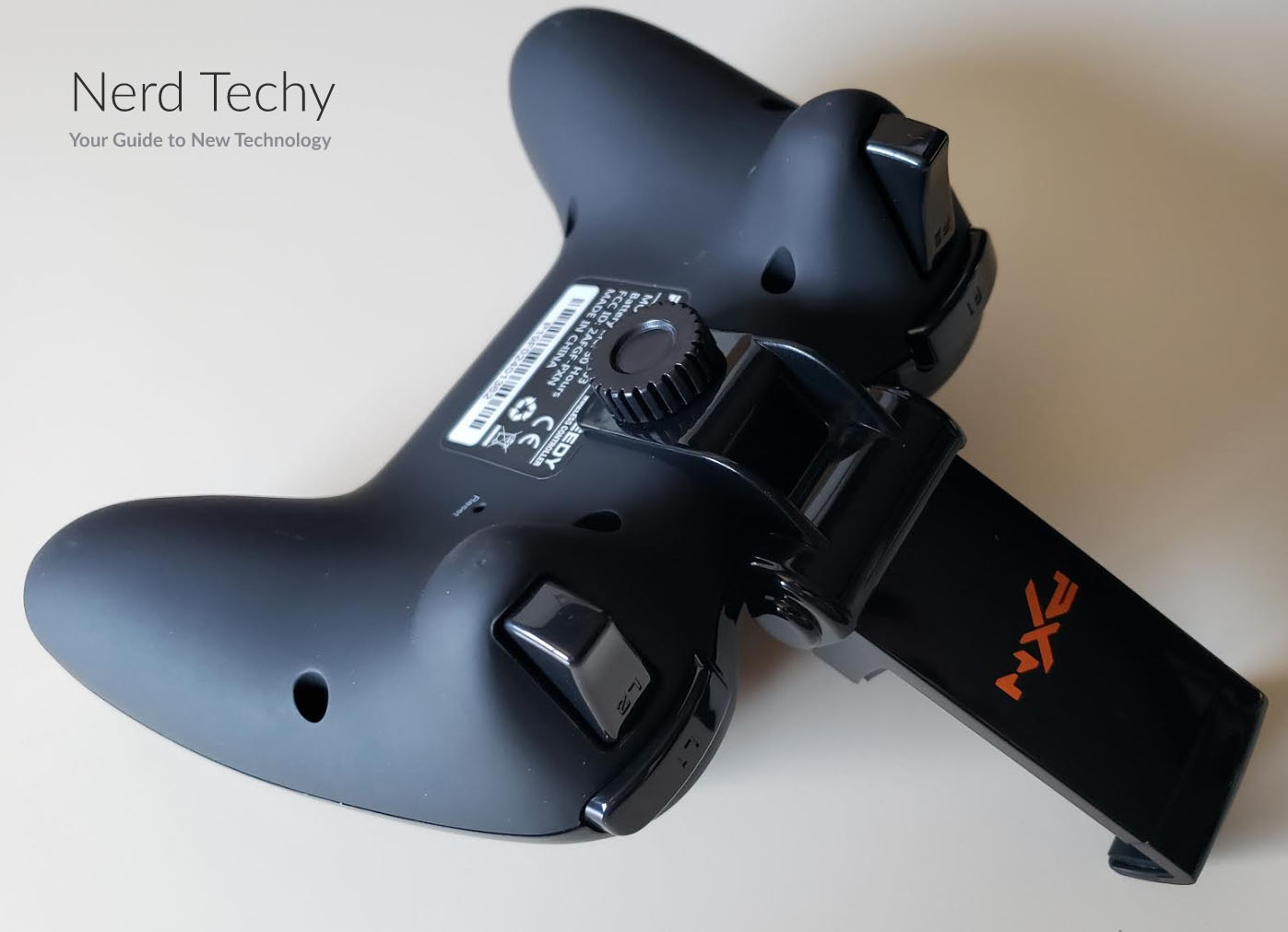 The controls themselves are intuitive and easy to use. The triggers are precise and easy to press, and the lower triggers have a similar resistance to Xbox triggers. The thumb sticks are easy to operate, with a grey rubber finish that provides plenty of grip. They're very sensitive, which makes quick shooting a snap in a game like Fortnite. The D-pad has a slightly stiffer construction, because it's a simple 4-axis control. The X, Y, A, and B buttons are brightly colored, and provide good tactile feedback. Finally, in the center, there's a standard set of buttons for power and menus. Basically, if you're familiar with existing console controllers, you won't have to learn a whole new scheme.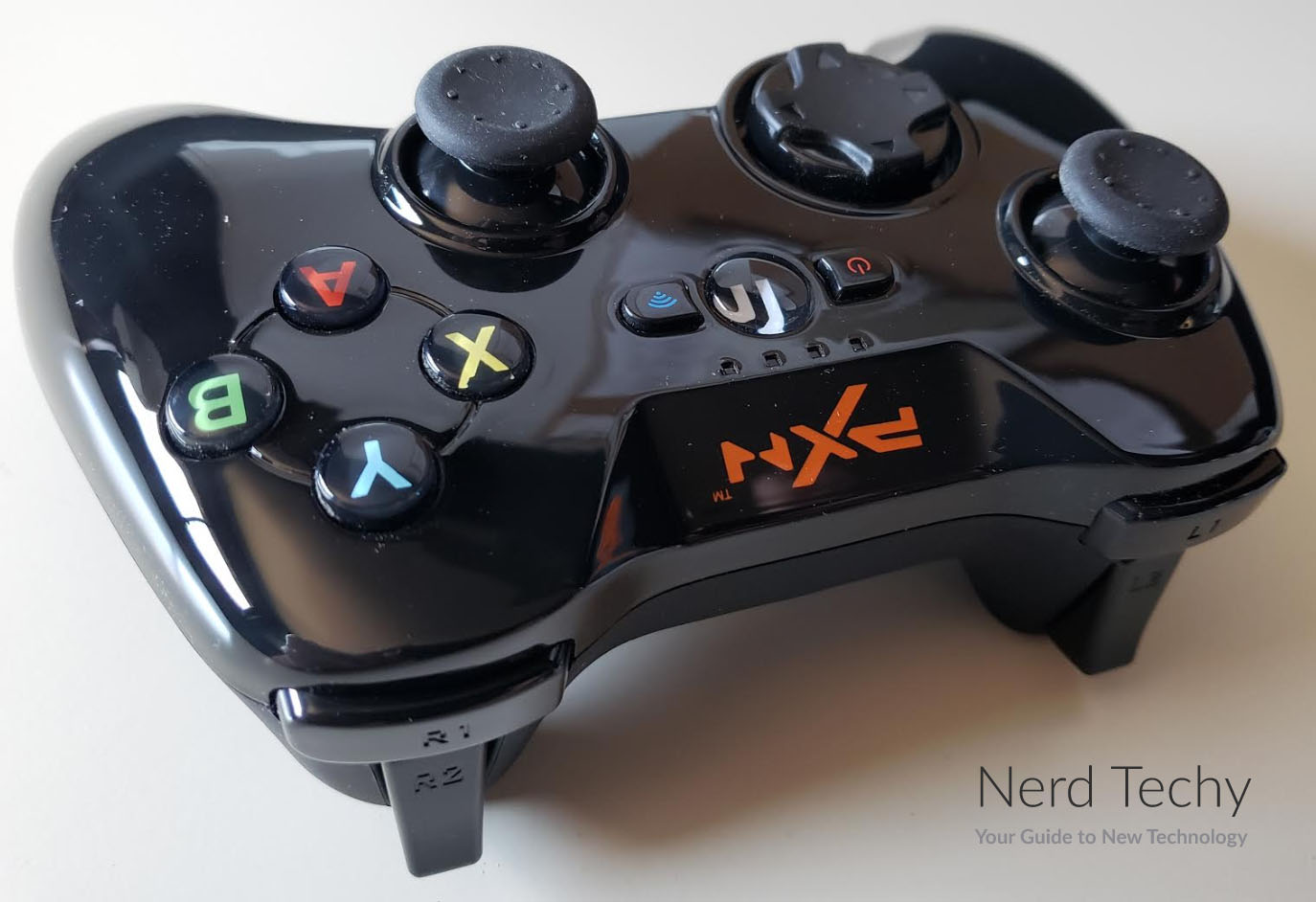 The thing that sets the PXN 6603 apart from a basic console controller is the removable phone clip. This makes it easy to keep your phone in place while you're playing. It adjusts from 1.9 to 3.54 inches, so you can support the majority of smartphones, including the smartphone case. When you use the phone clip, it feels like you're playing on a handheld gaming system.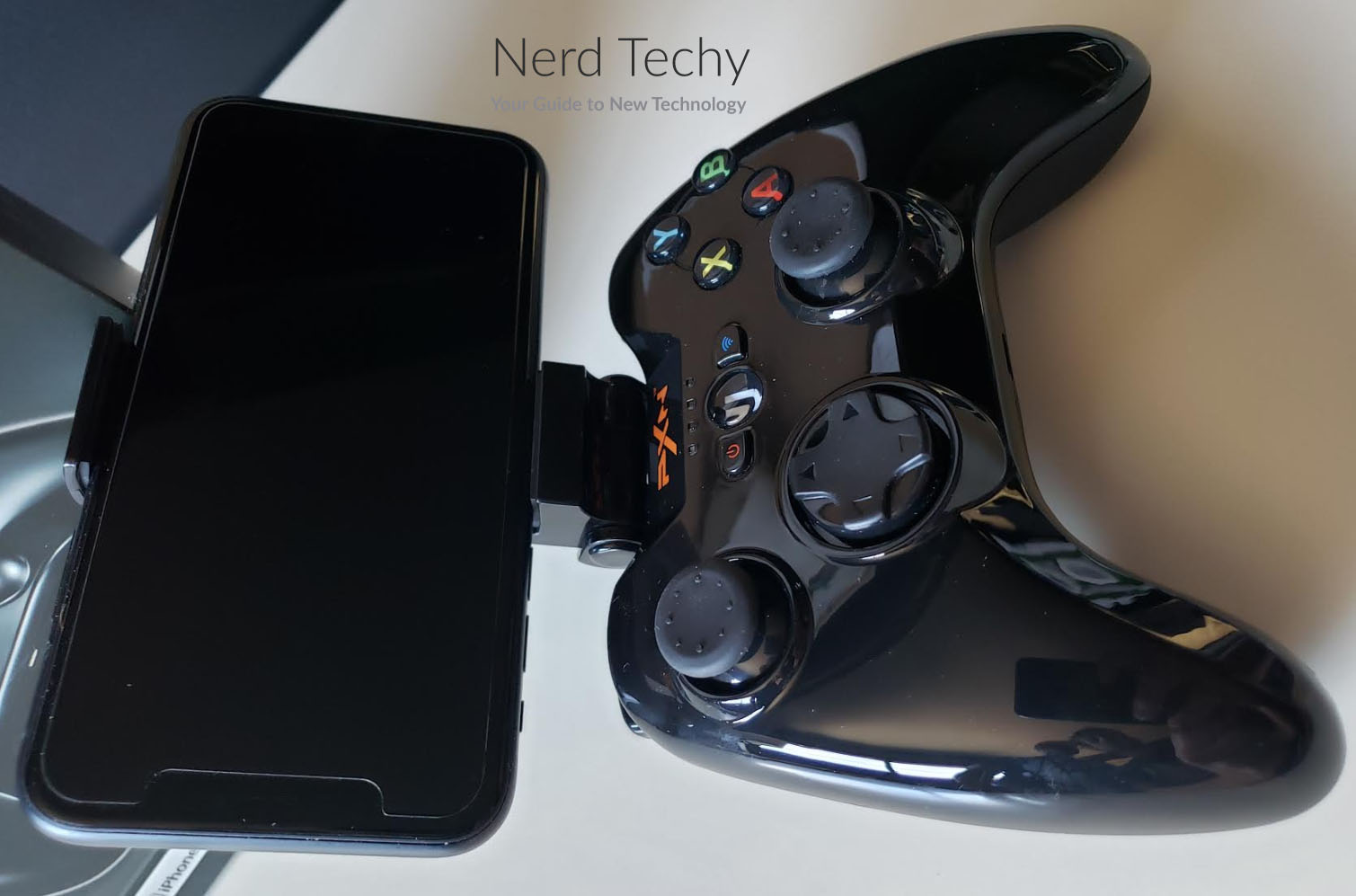 Not only can the clip adjust, but it can also pivot. So regardless of your posture and viewing angle, you'll be able to see clearly. Best of all, it doesn't obscure your screen. So if you have to answer a text, you won't have to take your phone out of the clip. The clip mounts on the bottom of the controller and extends out the front. It attaches with a plastic screw, so removal and attachment is easy.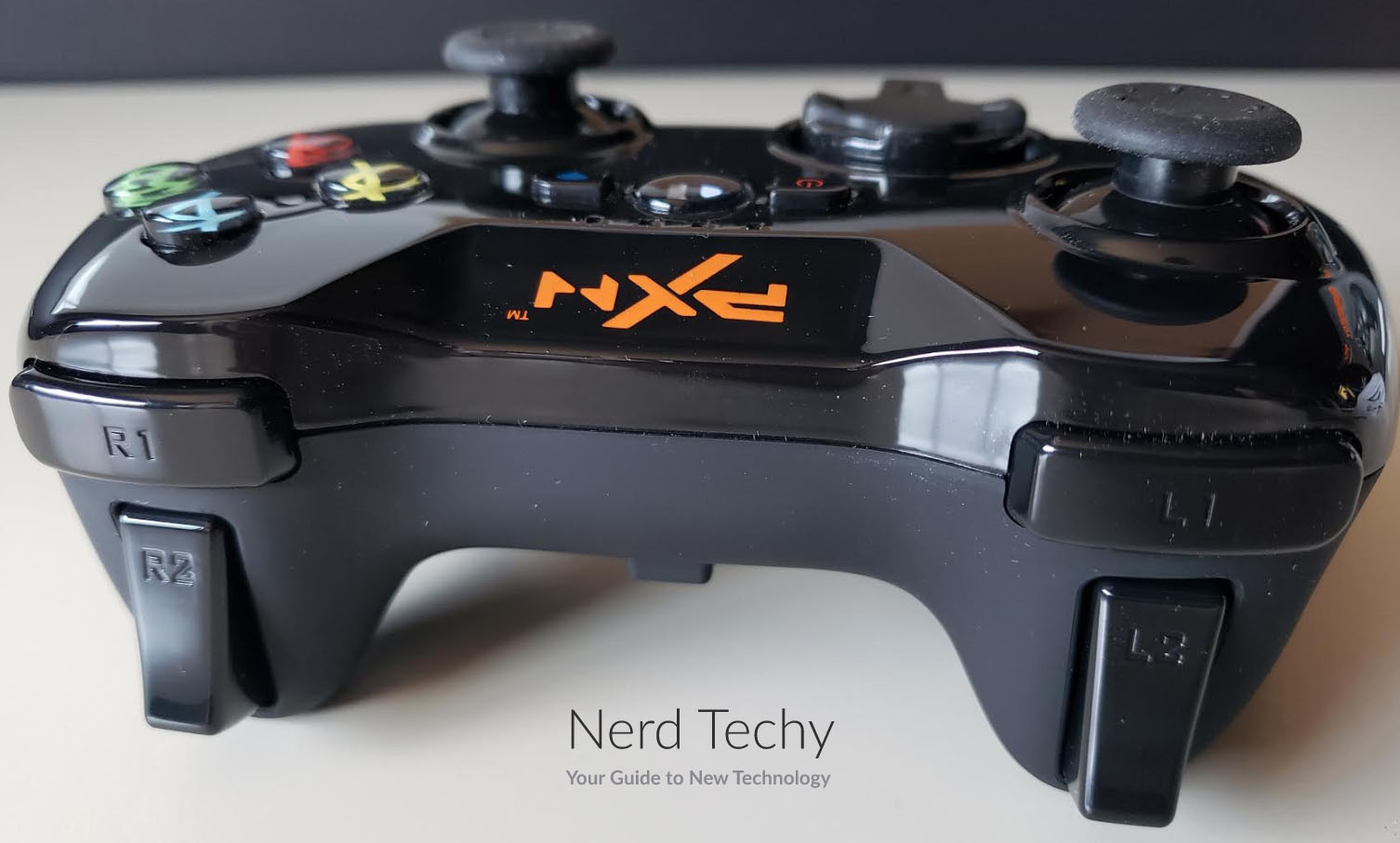 Battery and Connectivity
If you're older than a certain age, your first video game memories probably involve controllers with short wires. But for the last few console generations, controllers have been wireless by default. This has a few different advantages. First off, you can sit farther from your TV that ever before. Secondly, for mobile devices, you can game on the go. After all, a wired smartphone controller wouldn't make much sense.
To that end, the PXN 6603 has an internal 550mAh rechargeable Lithium-polymer battery. Lithium-polymer is one of the newest battery technologies on the market. It's significantly lighter than older Lithium-ion cells. Moreover, it has a significantly larger capacity for the size. With the 6603's battery, you can game for 30 hours without recharging. Recharging takes about 2 hours with a Micro USB cable, which is included in the box.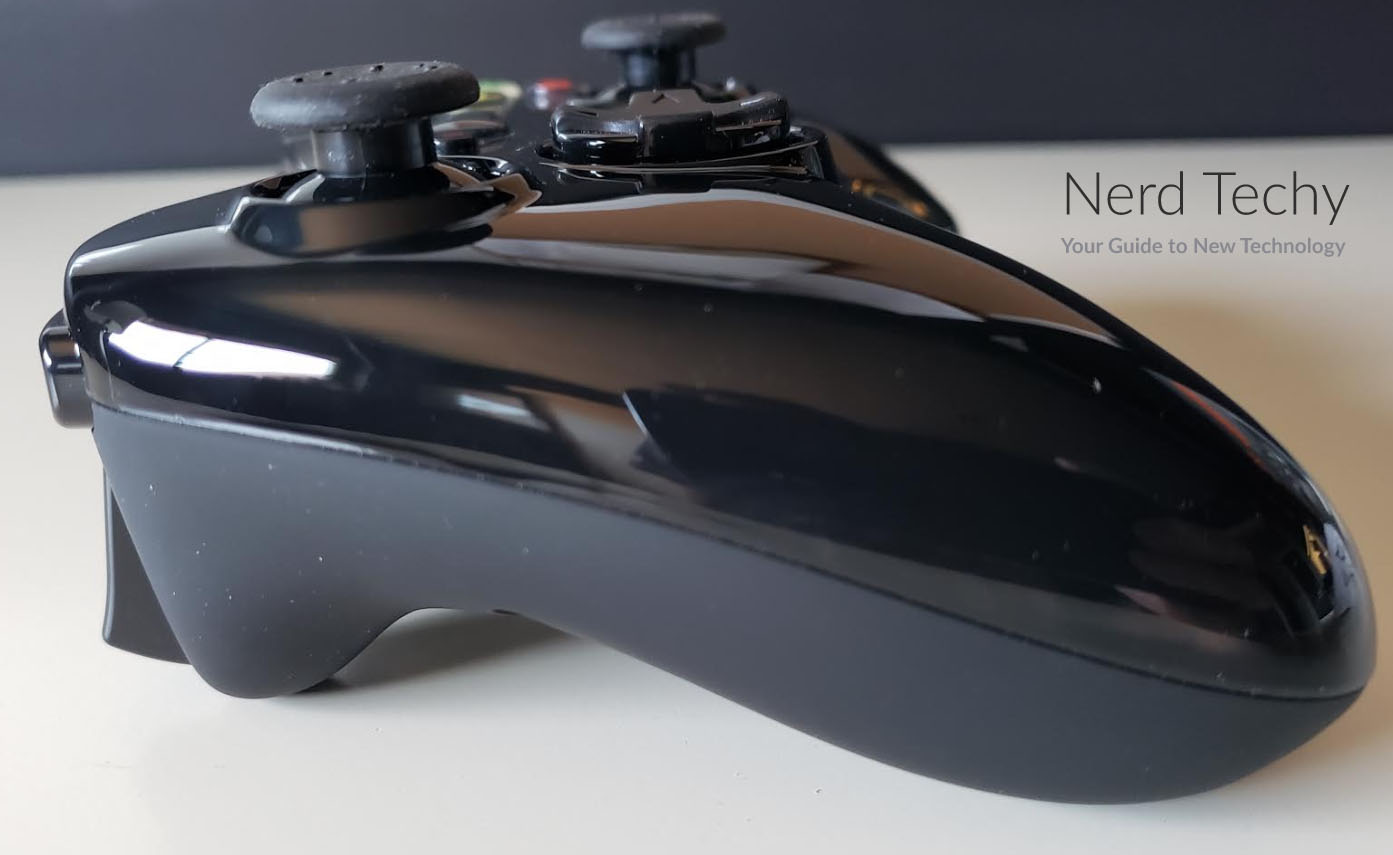 The controller also supports play and charge technology. So if you want to keep gaming, just plug the controller in and keep on going. The battery will charge a bit slower in the mode, but it will get the job done. The Micro USB port is located on the front of the controller, so it won't get obstructed by the cell phone clip.
The PXN Speedy connects to your phone via Bluetooth 5.0. This gives it a significant edge over older Bluetooth 4.2 controllers, due to the reduced latency. At only 1-2 milliseconds, you're essentially getting the same performance you'd get from a console controller. So if you're playing against console players on a cross-platform game, you won't be at a disadvantage. Connecting is very easy. With Bluetooth 5.0, once you've paired the controller for the first time, it will pair automatically afterwards. Once again, this is comparable to modern game console controllers, which automatically pair after initial syncing.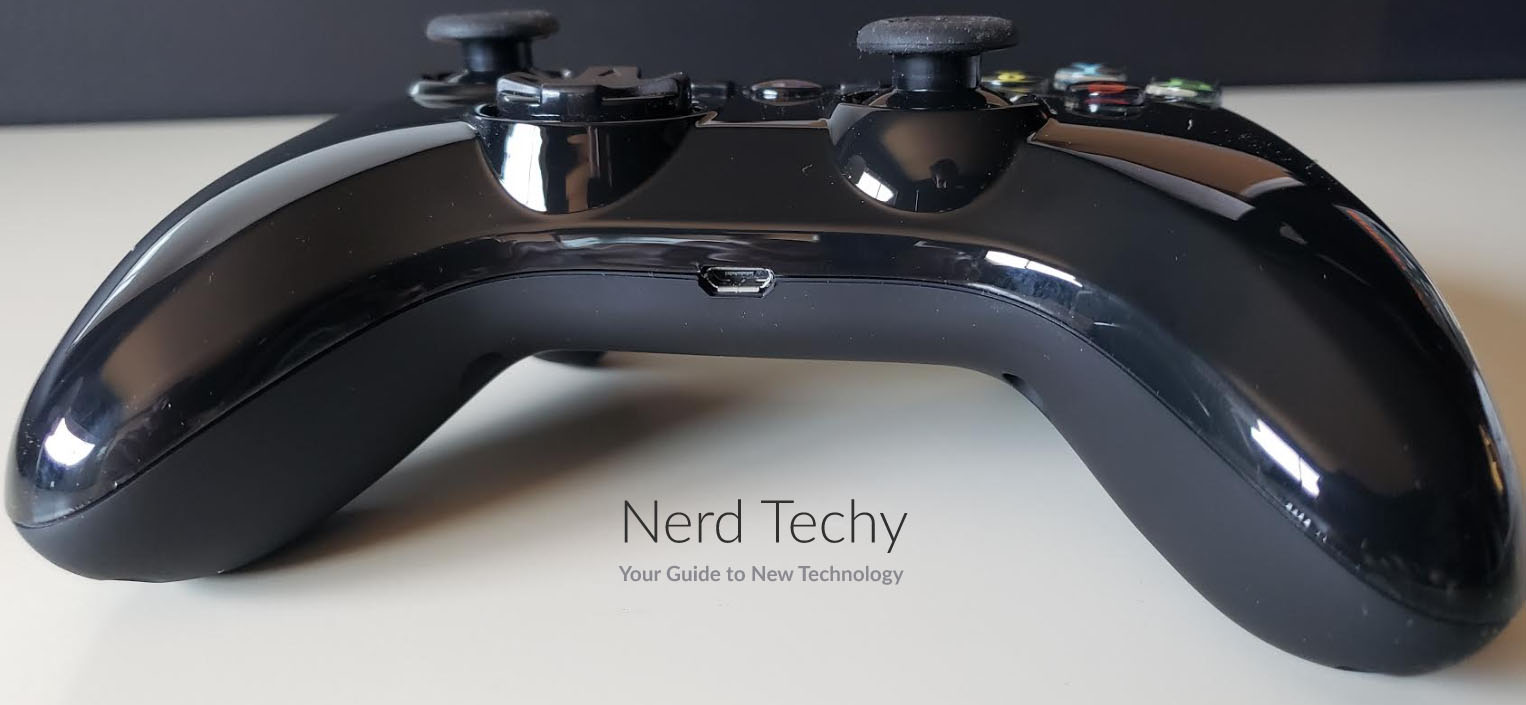 One great feature of the Speedy is that it's designed specifically for iOS devices. With some other controllers, you need to install an emulator or jailbreak your phone. This can cause serious problems down the line, even as bad as bricking your smartphone. The 6603 will connect via Bluetooth through normal pairing, with no tampering required. You won't void your phone's warranty, and you won't have to worry about installing any malware. On the other hand, the Speedy is not compatible with Android devices. So if you want a controller for your Samsung phone, you're going to have to look elsewhere.
Compatibility
So, what Apple devices can you use the PXN 6603 Speedy with? The answer is just about anything. You can use it with any iPhone from the iPhone 5 forward. So unless you're using a truly ancient iPhone, you're going to be able to connect with no issues. In addition, you can connect with the iPad, the iPad Air, the iPad Mini, and the iPad Pro. You can even connect to the iPod Touch 5 to play older games. Regardless of the device, the 6603 requires iOS version 10.2 or later. If you're having any compatibility issues, make sure your operating system is up to date. A small side benefit is that you can also use the 6603 to control your Apple TV. Admittedly, this isn't a make or break feature, but it's a nice touch.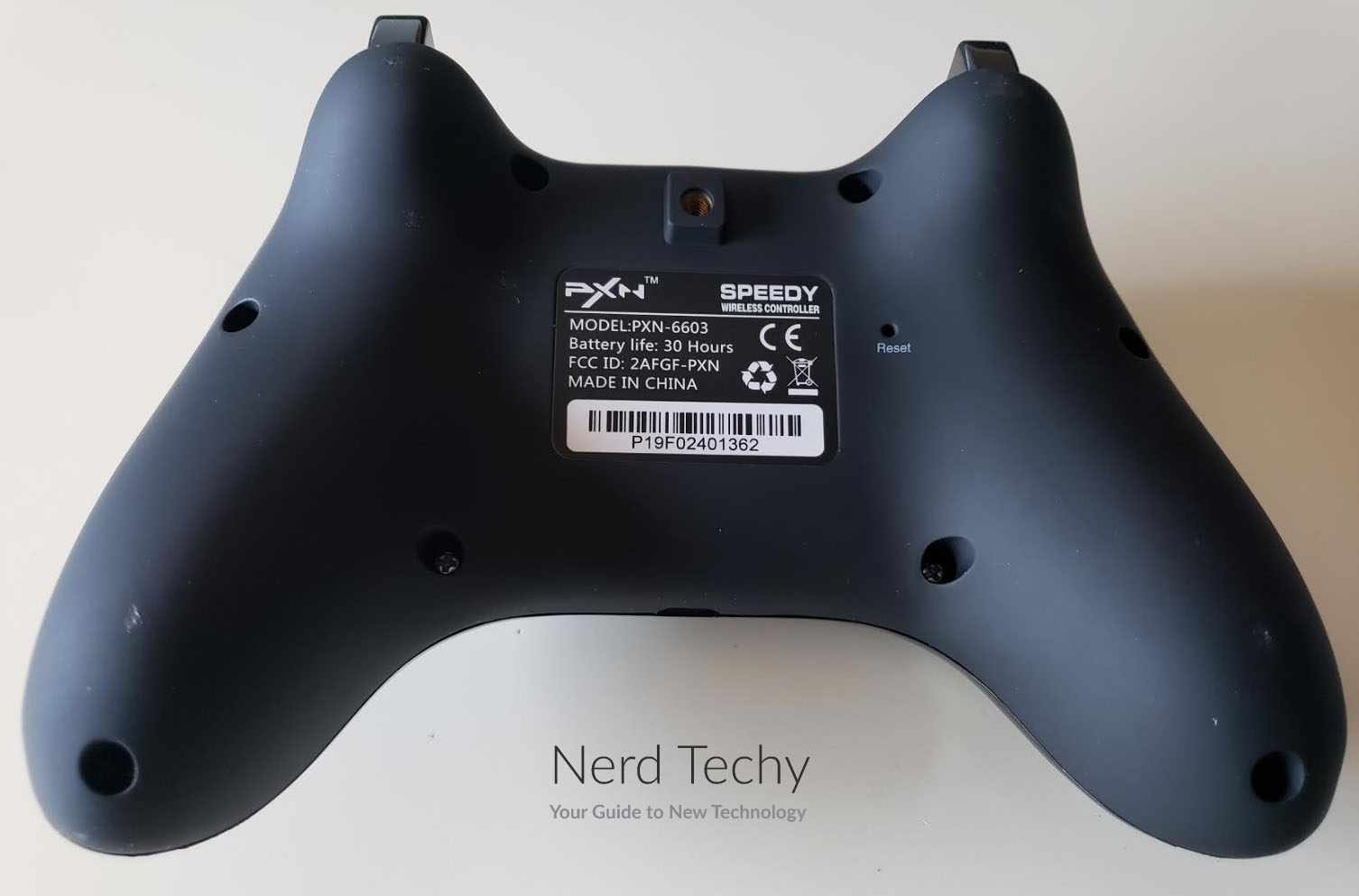 If you're looking for an upgraded controller for your game console, the 6603 will also get the job done. You can connect to the PlayStation 4 or the Xbox One, but not the Nintendo Switch or Wii. To do this, you'll first need to install the Remote Play app, which is available on both platforms for free. You can also connect to PCs, as well as to boxes running Steam Link. Oddly enough, the PXN 6603 can be used to control a Tello Drone. So if you want an upgraded drone controller, it will get the job done.
The PXN 6603 is compatible with the vast majority of App Store games. It's primarily designed for shooters like Call of Duty or Fortnite. However, it will also work with other cross-platform games like Minecraft. On PlayStation 4 or Xbox One, it's compatible with every game on the platform, so no issues there. For PC or Steam Link games, your mileage may vary. That said, if your game supports controller re-mapping, you shouldn't have any issues there either.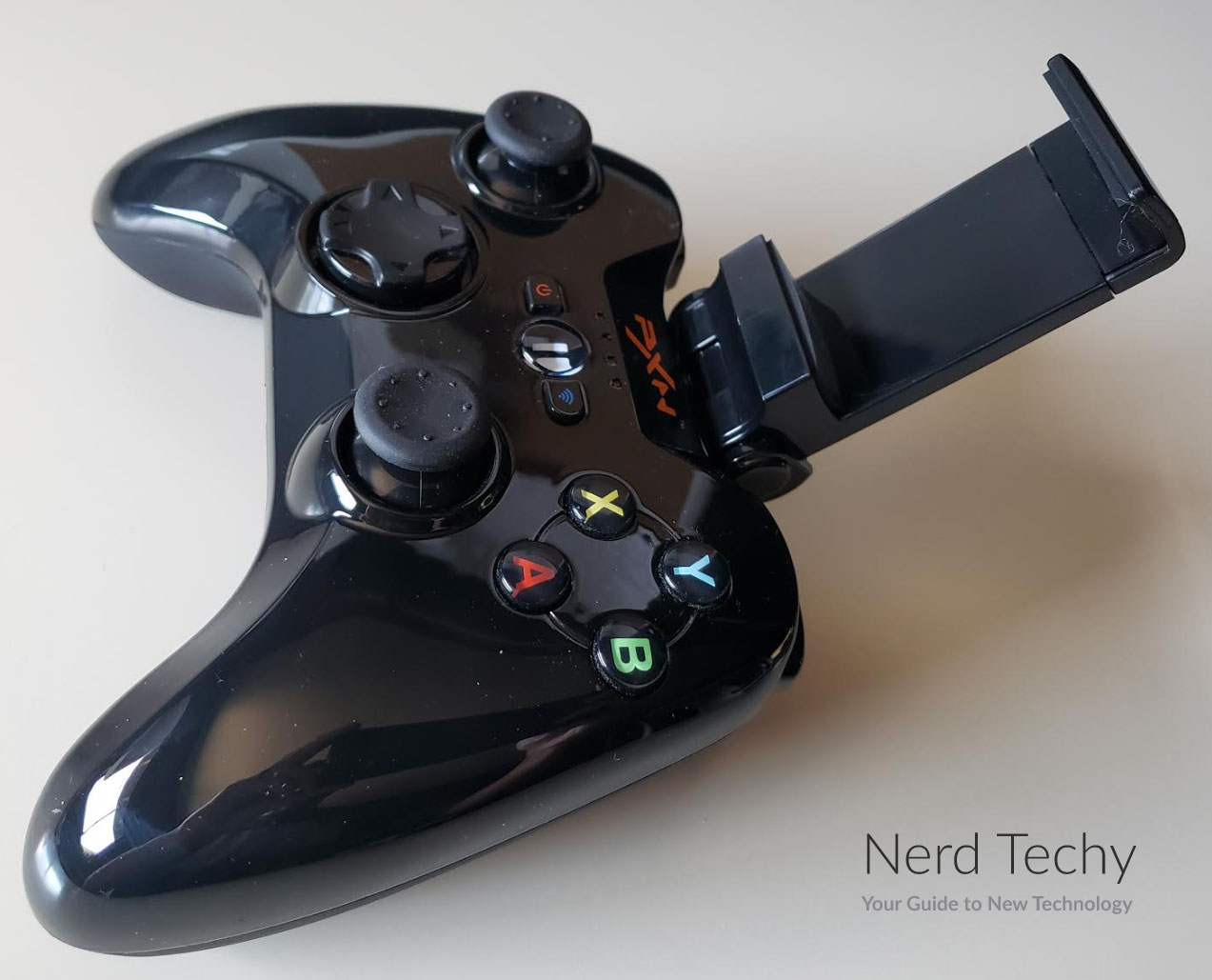 Final Verdict
So, is the PXN 6603 "Speedy" Wireless Bluetooth Gamepad worth investing in? If you have an Apple device, absolutely! Since it's compatible with just about every Apple phone or tablet, you're ready to sync and start playing. In addition, the compatibility with PlayStation 4 and Xbox One is a great added value. It's not a reason to buy the 6603 in and of itself. And if you need an Android or Nintendo controller, you'll need to look elsewhere. But if you want a solid cross-platform controller for most machines, you're looking at a solid option.
Speaking of solid, the physical construction of the 6603 is very durable. The oil rubber case is nice and sturdy, and won't get damaged by everyday drops. To be honest, a drop will damage your phone before it damages your controller. And the finish on the case makes it tough to drop in the first place. The ergonomics are also excellent. Unless you have very large or very small hands, it's going to be comfortable to grip. Finally, the controls themselves are easy-to-use and responsive. You'll be able to play any game without your thumbstick ghosting or your buttons getting stuck.