Just a few years ago, the words "good" and "wireless earbuds" didn't belong in the same sentence. They only supported low-bitrate music, and you could only listen to it in mono. At best, you could listen to tinny, low-quality sound without any audible soundstage. But that changed with the invention of True Wireless Stereo (TWS). TWS, as its name implies, allows for actual stereo audio on your wireless buds. It also allows for a higher bitrate, so you can enjoy better audio quality. And when the iPhone 7 was released without a 3.5mm jack, wireless audio became mandatory for iPhone users. Now, Android users and others are also getting in on the game.
Of course, this isn't to say that all modern wireless earbuds are magically good. Frankly, some of them are downright awful. No worries. We're here to help you sort out which ones are worth your money. Today, we're going to review the Tranya "Deep Bass" Rimor Wireless Earbuds. These buds are designed for maximum comfort and powerful bass. But how well do they live up to expectations? Are they worth your investment, or should you move on to another option? We'll go over all their features and benefits, from the design to the sound quality. Let's get started!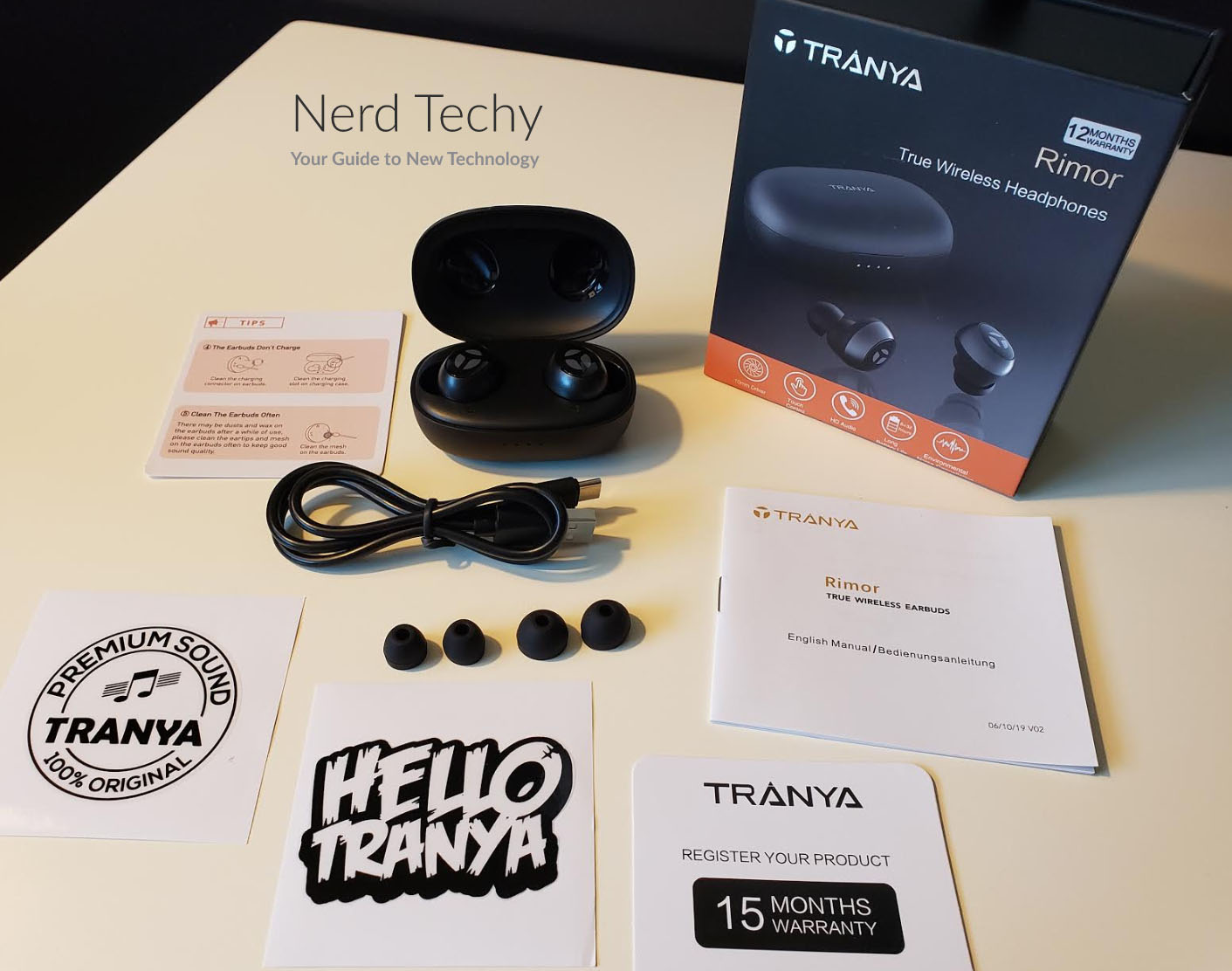 Overall Design
The Tranya "Deep Bass" Rimor Wireless Earbuds have a compact, minimalist design that lends them a very low profile. They're constructed primarily from black ABS plastic, which has a matte finish that doesn't show fingerprints. The ear tips are designed to remain seated in your ear canal. This ensures very good passive noise isolation, minimizing outside noise without the need for active noise cancellation. In practice, this is going to depend on how well-fitted the ear tips are.
Use code ZR78CJYD for a 30% DISCOUNT when you order from Amazon or Tranya's Website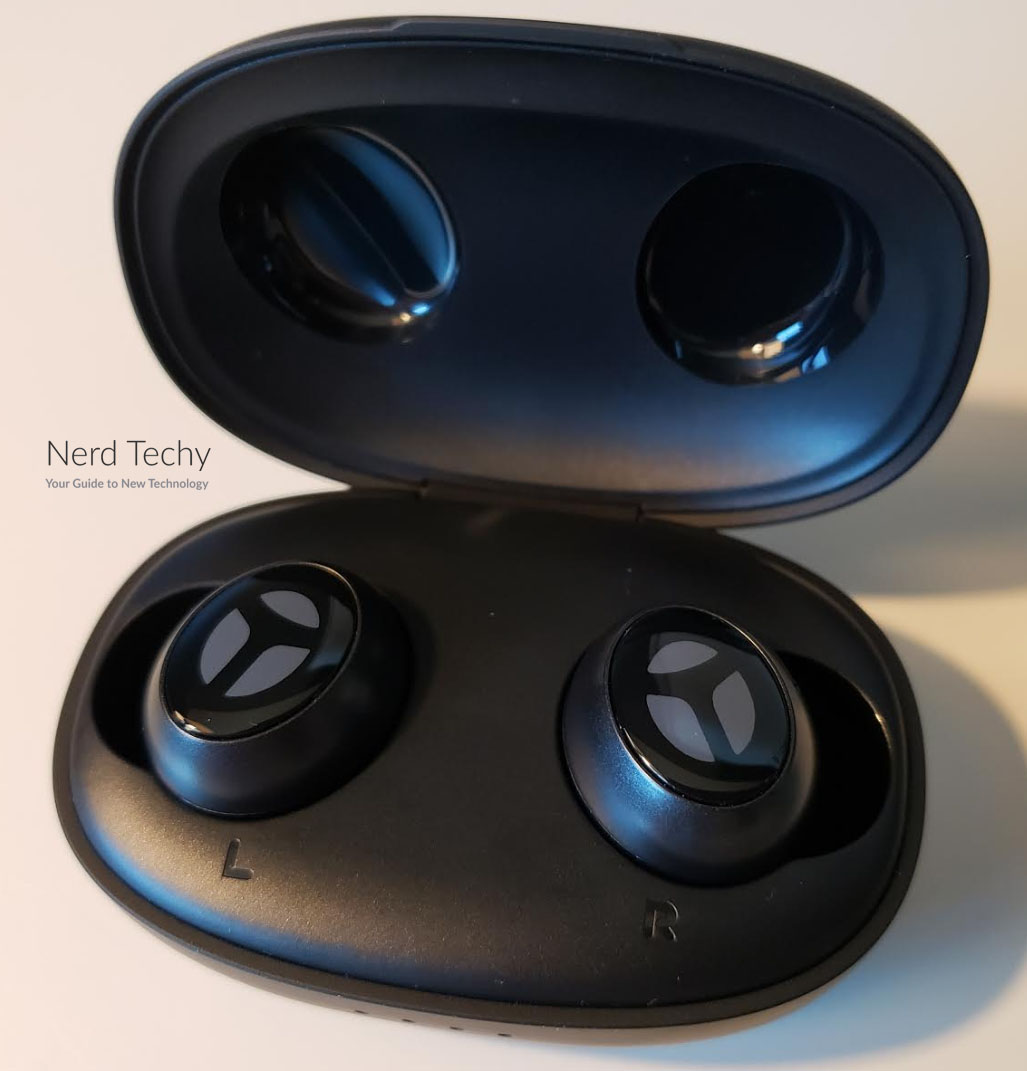 Thankfully, the kit includes three different sets of tips in different sizes. If you don't get a good fit at first, try going larger or smaller. Not only will this block out noise, it will also help prevent your earbuds from falling out. When well-fitted, the Tranya buds are exceptionally comfortable. You'll barely notice you're wearing them, even if you have sensitive ear canals.
On the back of the buds, there's a pair of grey, soft touch buttons. These controls allow you to operate all of the earbuds' basic functions. You can skip tracks, play or pause music, adjust the volume, or answer and end phone calls. Because there are only two buttons, it can take some practice. You have to get used to which functions are a single, double, or triple-tap. Then again, this is more or less par for the course for a pair of wireless buds.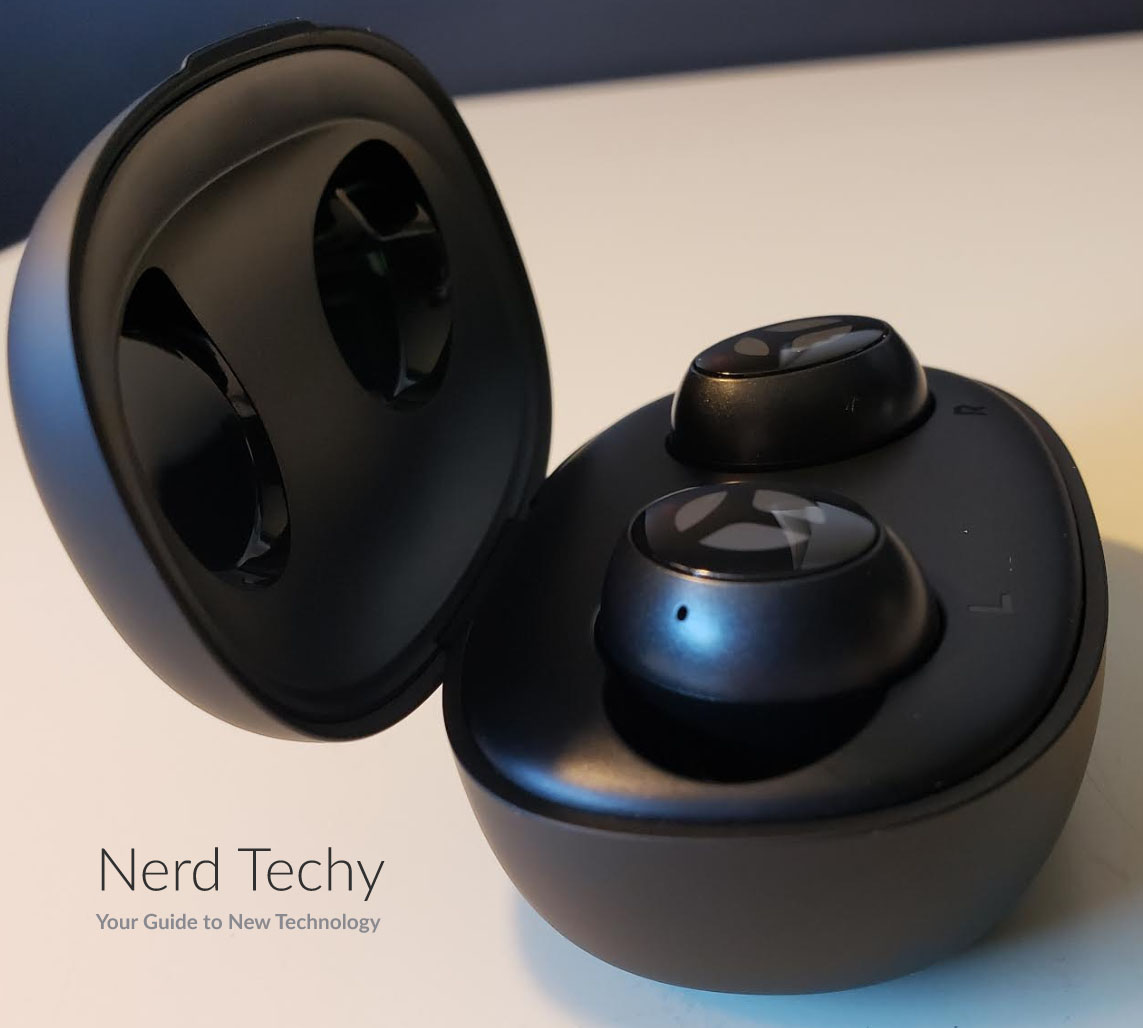 The Tranya earbuds are sweat-resistant. Unfortunately, Tranya has not actually sought or provided a specific IP rating. As a result, it's hard to say exactly how much water exposure is too much. That said, we've seen reports of people dropping them in water, and the earbuds still worked. Still, it's smart to use caution, but you should be fine for sweaty workouts or runs in the rain.
The Tranya buds' small profile is one of their major selling points. That said, many people prefer an AirPod-style design that sits a little more loosely in your ear. In that case, consider the Tronsmart Onyx Ace. They have excellent sound quality, but unfortunately, they're not currently available for delivery in the US.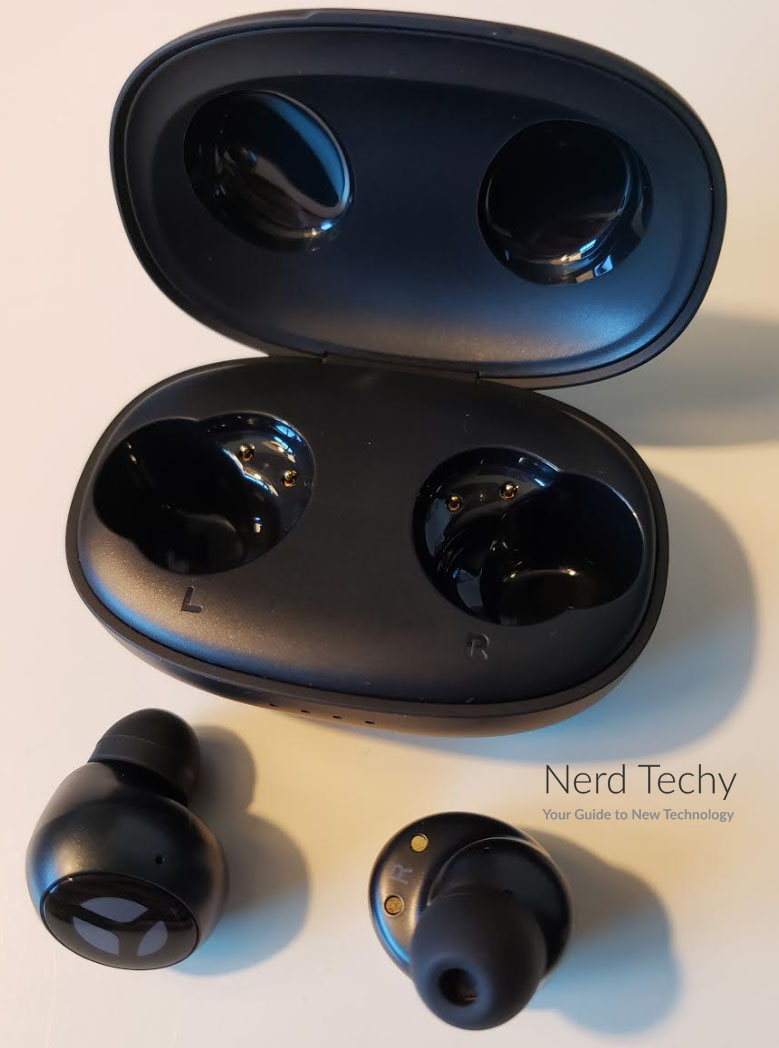 Tranya's charging case has a wider design than most, presumably to accommodate the large battery. It measures 4.8 inches in width, 3.94 inches in depth, and 1.73 inches thick. This makes it a bit large to carry in your pocket. On the other hand, it weighs only 3.52 ounces. This makes it easy to carry in a backpack, laptop bag, or carry-on bag. It's not going to weigh you down.
The case is constructed from a similar black ABS plastic to the earbuds themselves. It has a rounded design, with no sharp edges that will gouge other objects in your bag. It opens like a clamshell, with a small flange at the bottom of the lid. This flange makes it easy to open with one hand if you need to. And with a spring-loaded design, it won't pop open by accident in your bag. Under the opening flange, there's a row of four LEDs that indicates the current battery status. The charging port is located discreetly on the back, underneath the hinge. A USB Type-C cable is included in the package, so you have everything you need to get started.
Battery and Connectivity
The Tranya "Deep Bass" earbuds have a comfortable, stylish design. So far, so good. But what about the battery? In this regard, they're about average, comparable to other earbuds in their class. The built-in batteries provide up to five hours of playtime. This is enough for any workout or commute, so you won't have any issues here. If you don't have access to a power outlet, no worries. You can recharge up to four full times from the charging case, for a total battery life of 25 hours. The case also offers quick charging if you forgot to charge your buds and need them in a hurry. You can get 90 minutes of playtime from just 10 minutes of charging. A full charge requires only one hour, and the 500mAh case charges fully in two hours.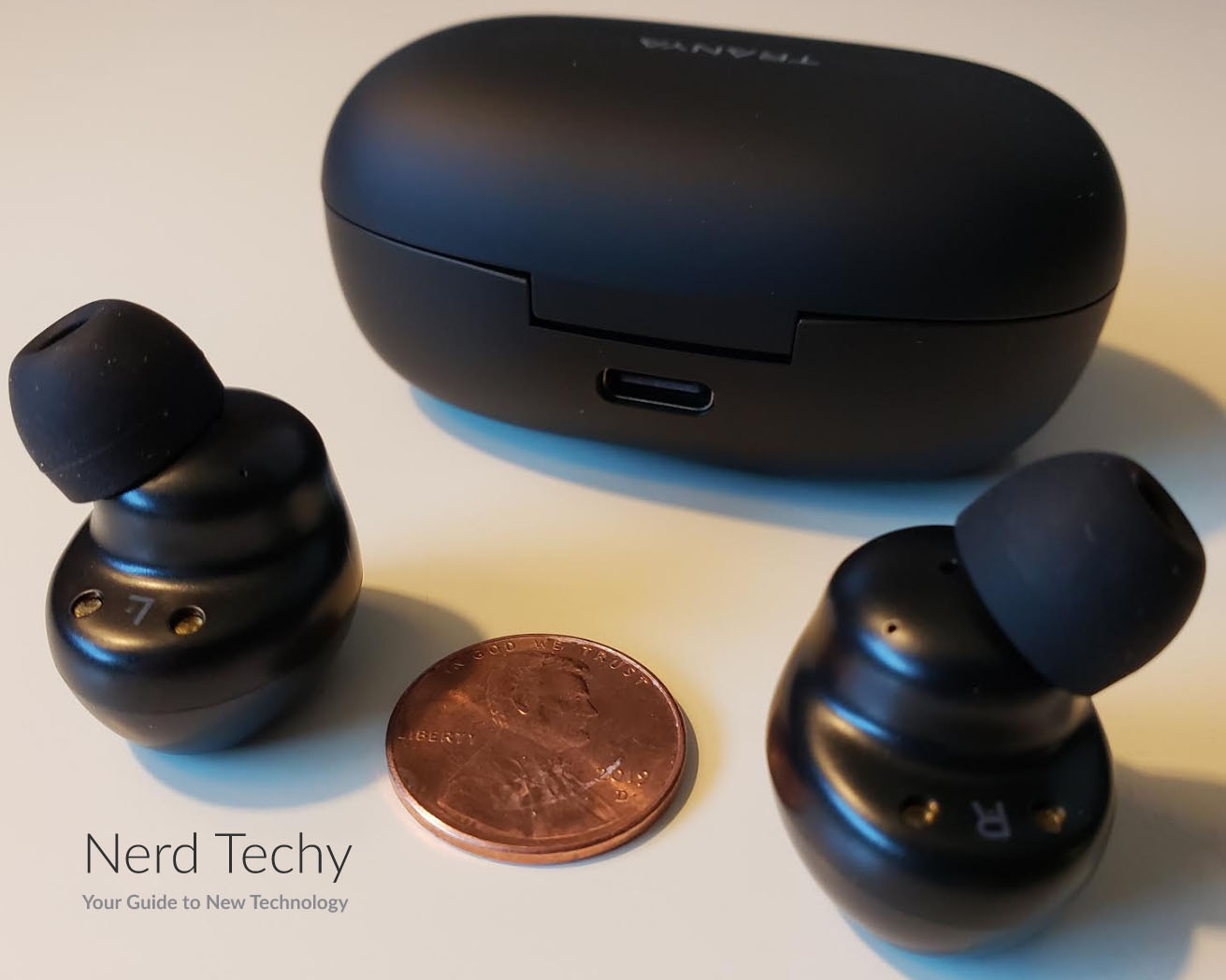 As we said, the battery life is average, and we certainly weren't disappointed. But suppose you need the best battery life on the market? If that's what you need, check out the Linsoul KZ-S2 True Wireless Earbuds. They offer Samsung levels of sound and 48 hours of battery life. They're not yet available, but you can pre-order them for a very affordable early-bird price!
The Tranya "Deep Bass" earbuds utilize the Bluetooth 5.0 protocol. This is a significant upgrade from the older Bluetooth 4.2 protocol, with several major improvements. First off, you can enjoy higher-bitrate audio than ever before, even .wav files. Second, you get a more stable signal. As long as you're within 33 feet of your phone, there will be no stuttering music or dropped phone calls. Finally, you get virtually zero latency. So unlike with older wireless earbuds, you can watch videos without the audio being out of sync.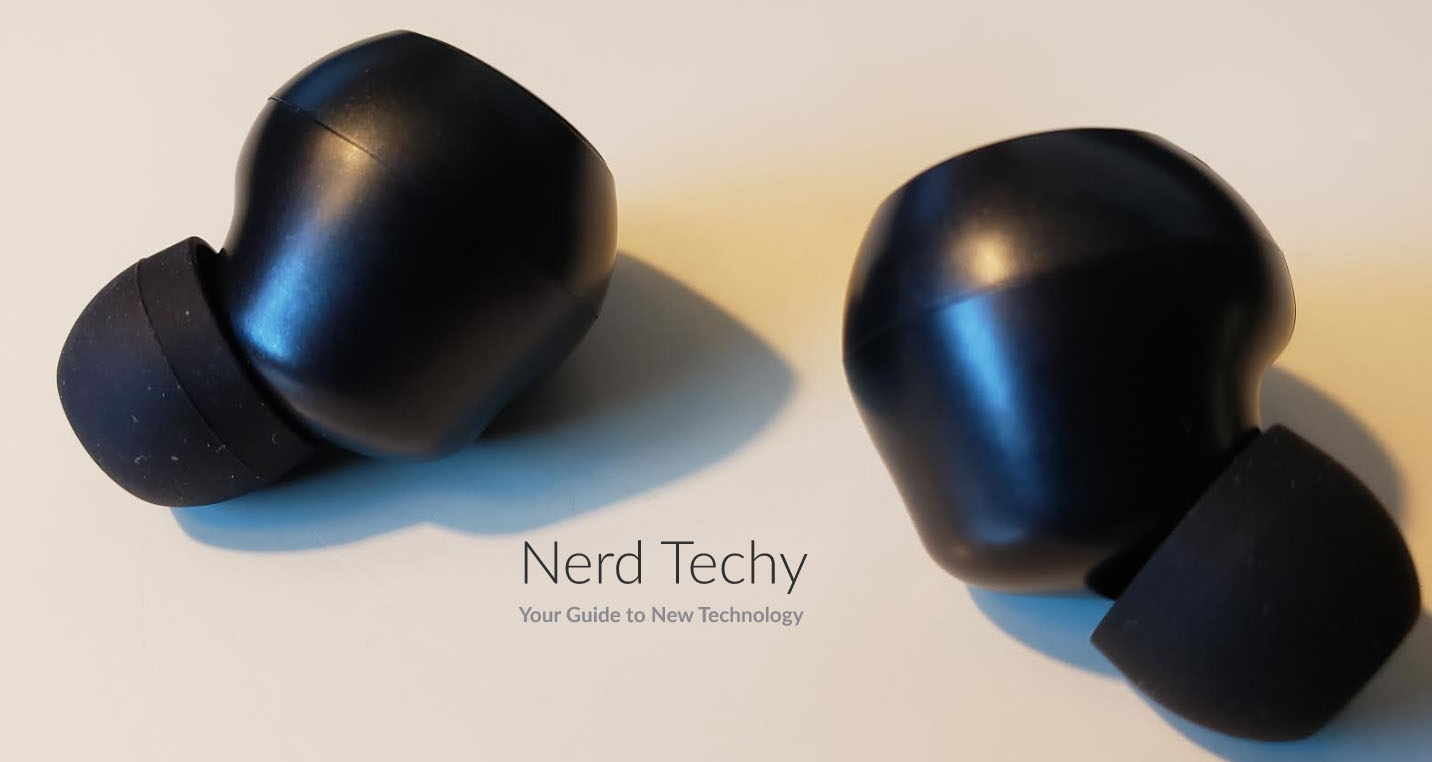 In addition, the Tranya buds can be paired individually as well as together. Obviously, this isn't ideal for listening to music. However, it's a great feature if you want situational awareness while you're on a hands-free call. It's particularly useful if you spend a lot of time in the car. Simply take a single earbud out of the case, and it will automatically pair in mono mode. As a bonus, you're effectively doubling your battery life by using one bud at a time.
Use code ZR78CJYD for a 30% DISCOUNT when you order from Amazon or Tranya's Website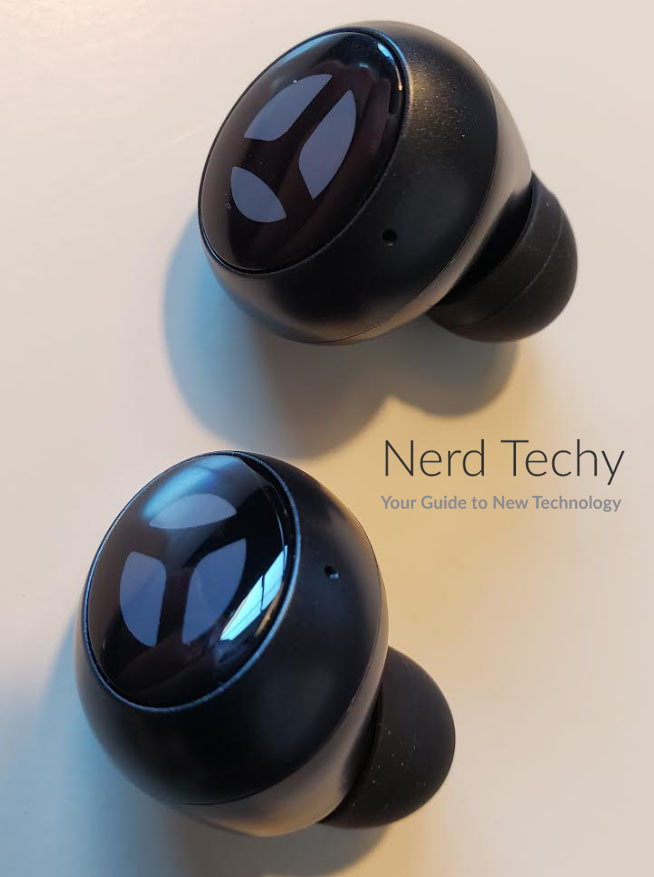 Sound Quality
Of course, the main selling point of any pair of earbuds is going to be their sound quality. It doesn't matter how comfortable they are or how long they last if your favorite tunes sound like garbage. So, how do the Tranya "Deep Bass" buds stack up?
To begin with, the soundstage is excellent. It's very wide, with plenty of separation between instruments. Drums, synths, and vocals will all come across distinctly, without any crossover. And with the Realtek audio codec, you'll be able to listen to high-bitrate audio without significant quality loss.
In terms of frequency, the Tranya buds offer an unusually wide range for wireless earbuds. They utilize 10mm nano-titanium-coated drivers, which can produce sounds from 20Hz to 20,000Hz. This encompasses every frequency the human ear can hear, with room to spare. In other words, you're not going to lose any frequencies. Moreover, the 10mm drivers are larger than your average 6mm drivers, so they can put out plenty of volume.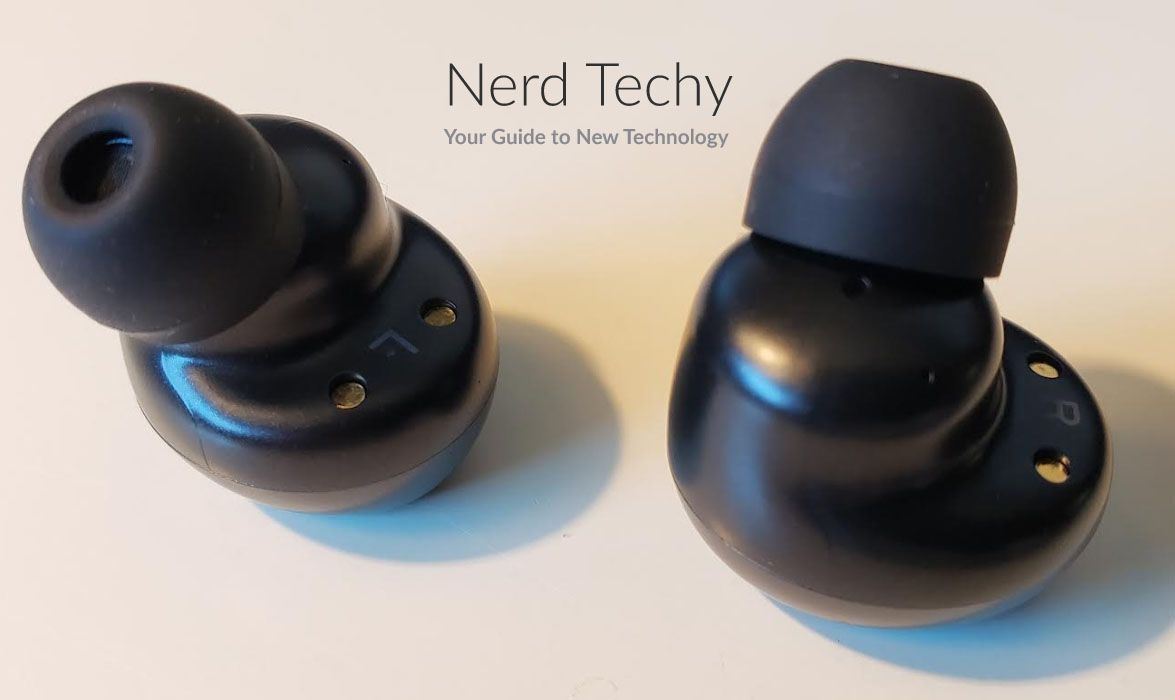 High frequencies are clean, clear, and shimmery. You won't have any issues with cymbals, strings, or brass instruments. Middle frequencies are similarly clear. Vocals come across just fine, without any distortion from the bass or the treble. Genres like country music really shine here. Unfortunately, the "Deep Bass" buds don't actually offer deep bass. Don't get us wrong, the bass is definitely present, and comes through just fine. But if you're looking for strong, punchy bass, you're not going to find it here. Despite the earbuds' name, the EQ is actually fairly flat. Depending on what you're listening to, this can be a good thing or a bad thing.
So, what do you do if you want more powerful bass? Check out a different pair of earbuds. The Tranya B530 offer superior bass performance and longer battery life. That said, they only charge via Micro USB, so they take longer to charge than many other comparable buds.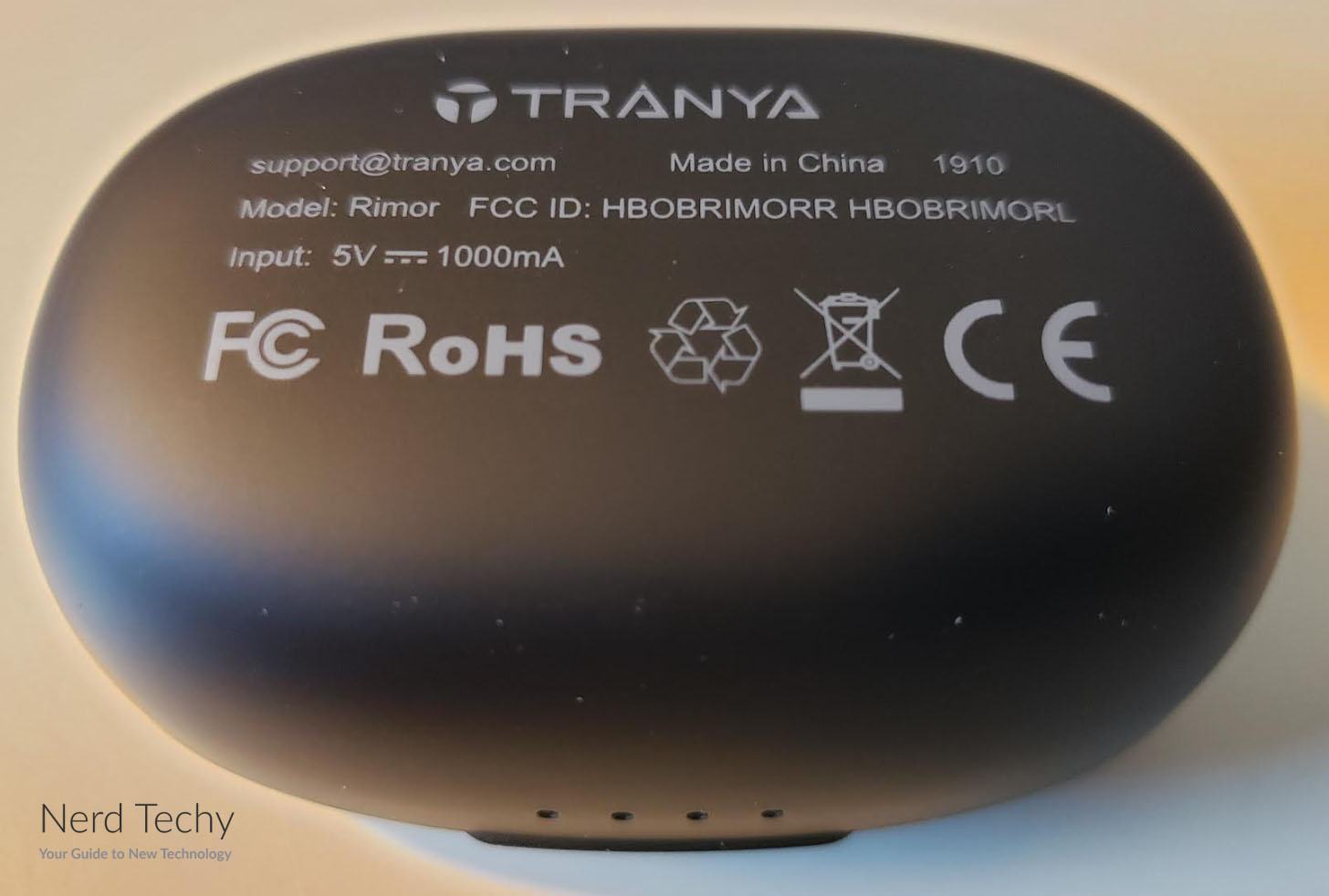 On the other hand, the Tranya "Deep Bass" Rimor buds are exceptionally well designed for hands-free calling. As we already mentioned, you can pair a single earbud individually. In addition, they also incorporate CVC 8.0 noise cancelling technology. This technology is designed to eliminate background noise, so your voice comes through clearly. Even in loud environments, the other person won't have any trouble hearing you. When it comes to how well you hear them, that's going to depend on their own microphone.
Final Thoughts
So, should you buy the Tranya "Deep Bass" Rimor Wireless Earbuds? As long as you're not actually looking for deep bass, absolutely. The flat EQ still allows for plenty of clarity. And the wide soundstage is better than you'll hear from most wireless buds. The battery life, as we said, is average. But at five hours to a charge and 25 hours overall, you won't have any issues. Most of all, we liked the overall design. The ear tips are exceptionally comfortable, and don't put a lot of pressure on your ear canal. If you've got sensitive ears, you'll definitely appreciate the fit. Not only that, but they're a great choice for hands-free calling. So if you're looking for multi-function buds, you're looking at a solid choice.