In the past decade, wireless earbuds have almost entirely taken over the market. This is especially true when it comes to high-end audio equipment. It's also a big contrast to the way the market worked in the 2000s, when wireless buds were low-quality. The reason for this is the invention of True Wireless Stereo technology. Before TWS, there was no way to get high-bitrate, stereo sound on a pair of wireless earbuds. The sound quality was tinny at best, and the bitrate was low. Nowadays, the market has become flooded with all sorts of wireless buds. These range from relatively cheap options to high-performance, pricey buds.
So how do you know which ones are worth investigating? One good rule of thumb is to choose a brand that has a track record of success. Some of these brands, like Samsung and AUKEY, have a long history in the market. One of these, Linsoul, is relatively new, but has already found success with several earbuds. But they've decided to up their game with their most recent Indiegogo campaign. There, they launched the KZ-S2 True Wireless Earbuds, which are expected to hit store shelves by the end of the year. There's no official release date yet, most likely due to current global events disrupting supply chains. But are they worth the pre-order, regardless? Let's look closer, and see what we find!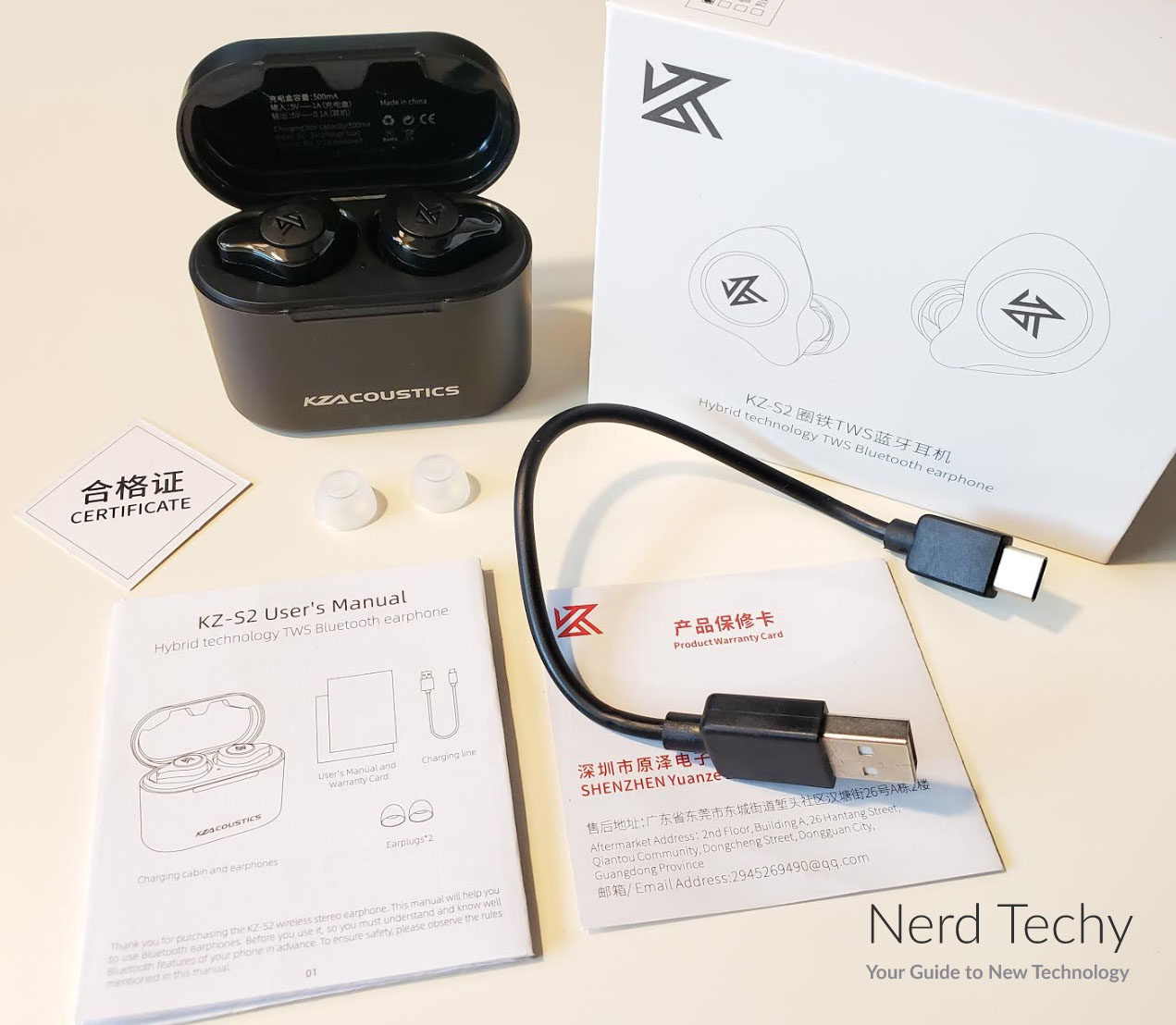 Overall Design
Like most wireless earbuds, the Linsoul KZ-S2 True Wireless Earbuds have a two-part design. The earbuds themselves are one part, and the charging case is another. The KZ-S2 earbuds have a small, compact form factor. They're constructed from an attractive, glossy ABS plastic that's easy to keep clean. The ear tips extend out relatively far, which means they seat deep in your ear canals. This makes them very secure, far more so than most wireless buds. As a result, you don't have to worry about them falling out when you're jogging, jumping or performing other exercises. Of course, this depends on getting a good, secure fit. If the buds don't seat well, swap out the ear tips for a different size and find the fit that's right for you.
If a secure fit is one of the most important features for you, that's understandable. Many people use their earbuds during workouts, where they can easily jiggle free. For an excellent, secure fit, consider the Axloie Goin G2 Wireless Earbuds. They have an over-the-ear design that prevents them from coming loose. On the other hand, they're not as comfortable to wear.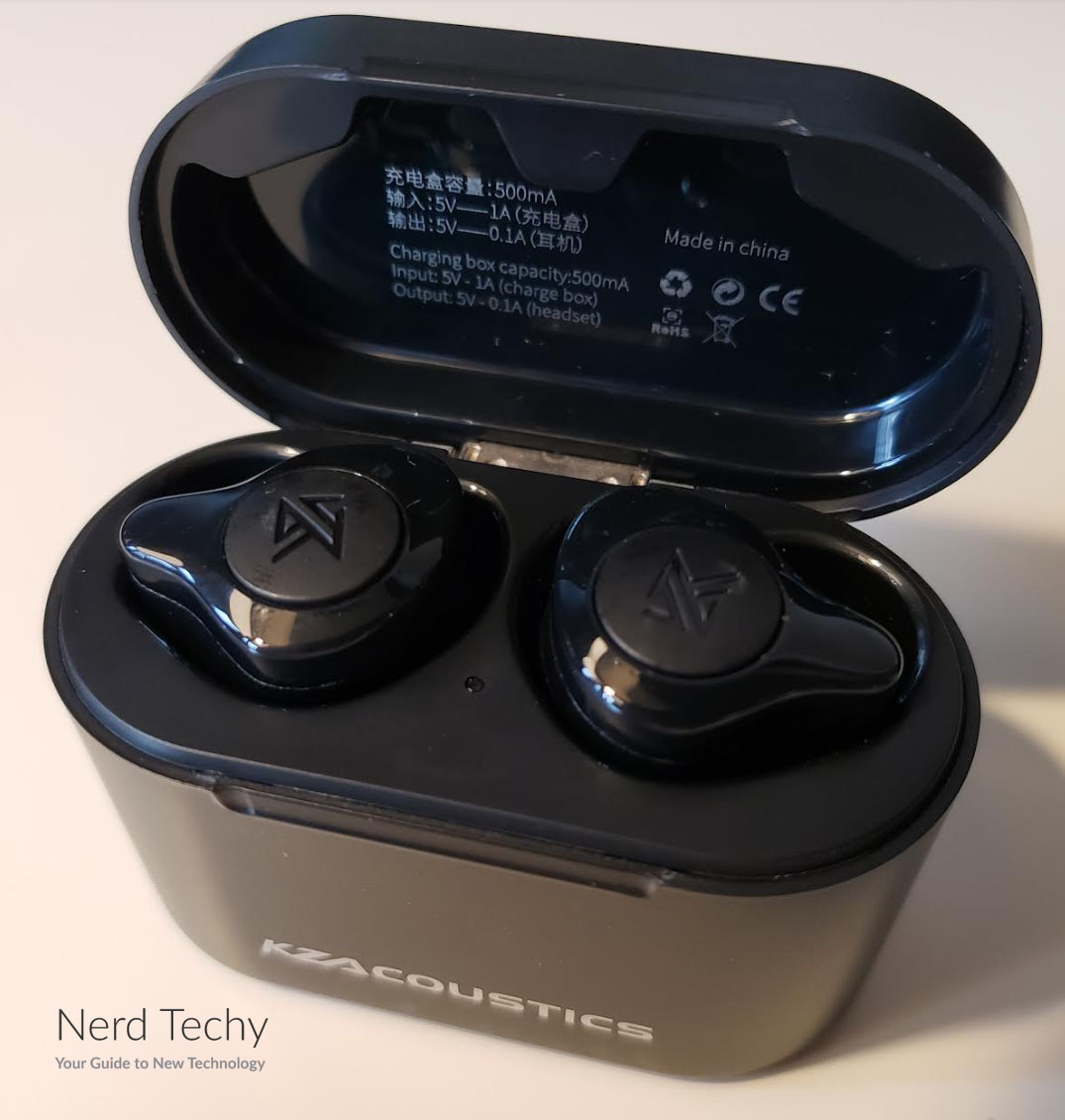 On the back of each earbud, there's a soft, touch-sensitive button with a Linsoul logo. These buttons allow you to perform a wide variety of functions. You can play or pause music. You can skip tracks, activate your voice assistant, and even answer and end calls. And because the buttons are soft touch, you won't have to press hard to operate them. This makes them comfortable for your ears, even if they're fairly sensitive. Finally, the KZ-S2 buds are splash-proof. Linsoul doesn't provide an actual IP rating, which is disappointing. On the other hand, this may just be a function of the fact that they're still in development. Regardless, they should be just fine for a sweaty workout, or for running in the rain.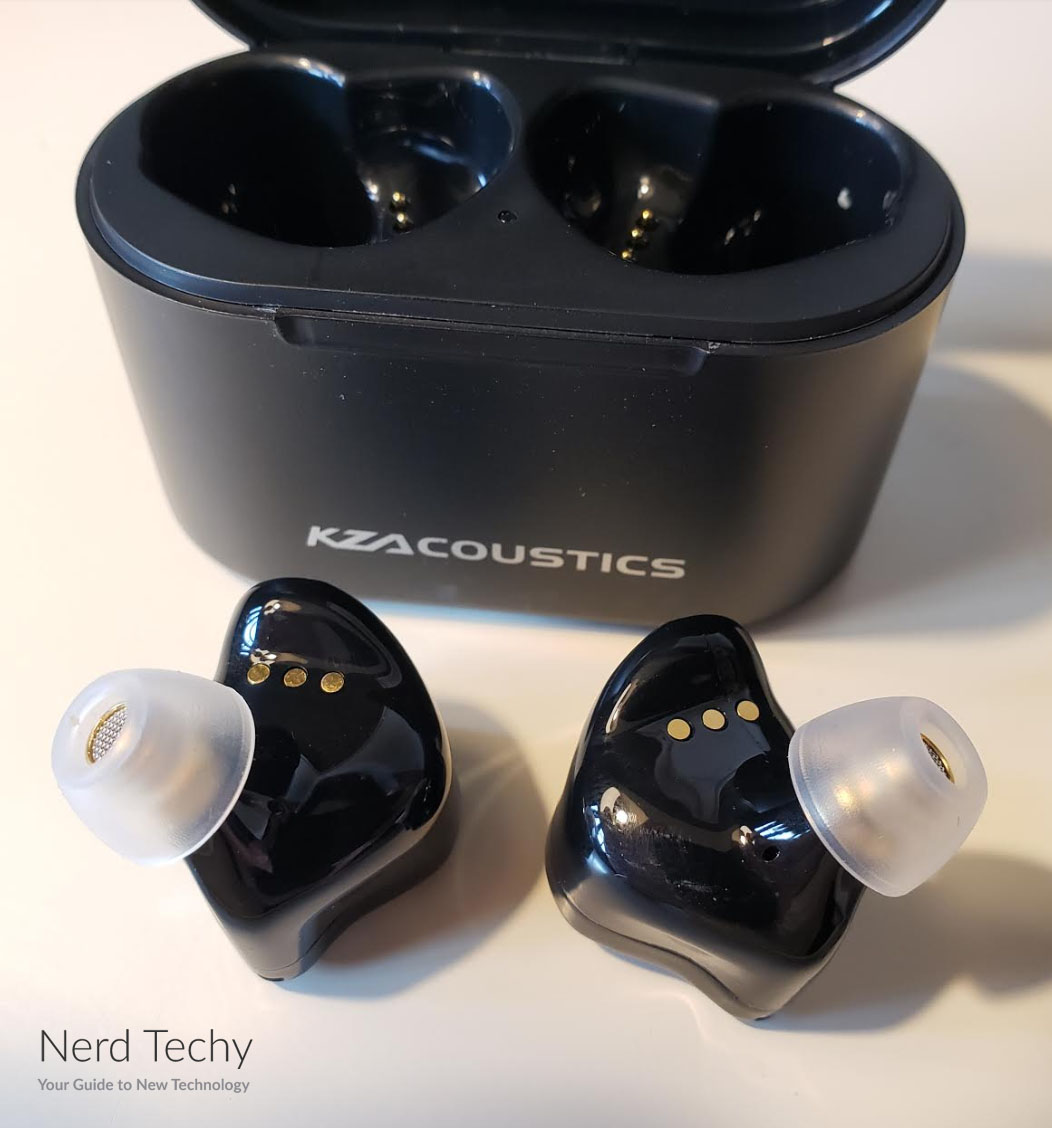 The KZ-S2 case is very well engineered. It has a tall, AirPod-style design, which is larger than you'd expect from a case for small buds. The reason for this large size is the large battery capacity, which we'll discuss in detail momentarily. The case is constructed from a similar black ABS plastic to the earbuds, with a similar glossy finish. On the front, you'll see a grey KZAcoustics logo, but the case is otherwise totally plain. There are no LED lights to indicate the current battery status. But the spring-loaded lid is easy to operate, with a slot underneath that allows for one-handed operation. The USB Type-C charging port is located discreetly on the back.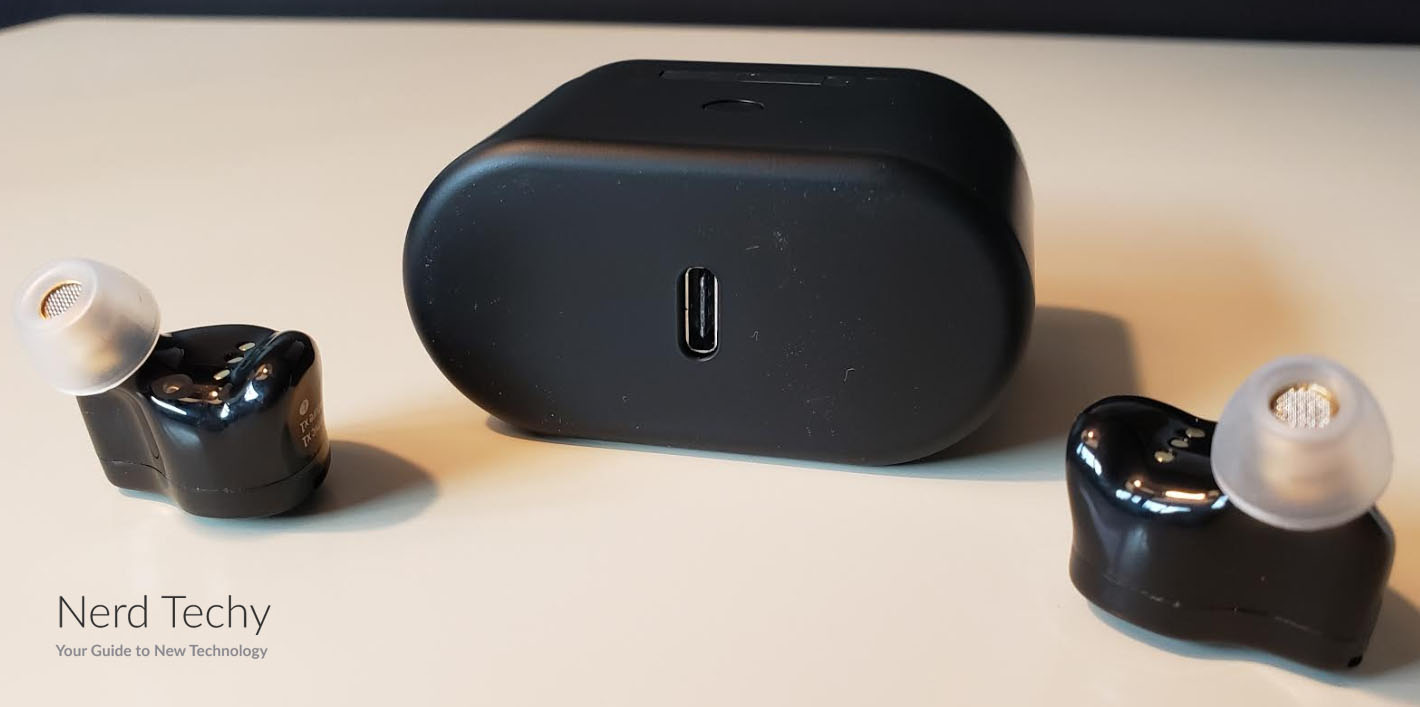 If you prefer a pair of earbuds without a charging case, there are plenty of options available. This type of design generally allows for more battery life from a single charge. However, it also means you don't have a backup power supply that allows for off-grid recharging. We recently reviewed the Strauss & Wagner SPW301 Wireless Sport Earbuds, which have a convenient, tethered design. That said, the sound quality leaves something to be desired.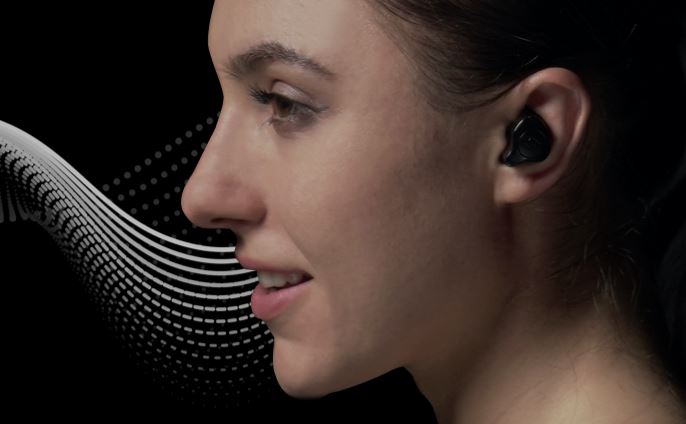 Battery & Connectivity
The battery life on the KZ-S2 earbuds is a bit of a mystery, because they haven't been released yet. However, we can extrapolate from the manufacturer's specs and the performance of other comparable earbuds. The KZ-S2 earbuds each have a 20mAh battery, or 40mAh in total. This is about 80 percent of the battery on first-gen AirPods, which have similar quality drivers. First-gen AirPods got about five hours to a charge. From this, we can assume that the KZ-S2 earbuds should get about four hours of use on a single charge. This assumes moderate volume, moderate temperatures, and a 128Kbps bitrate. In practice, your mileage may vary wildly.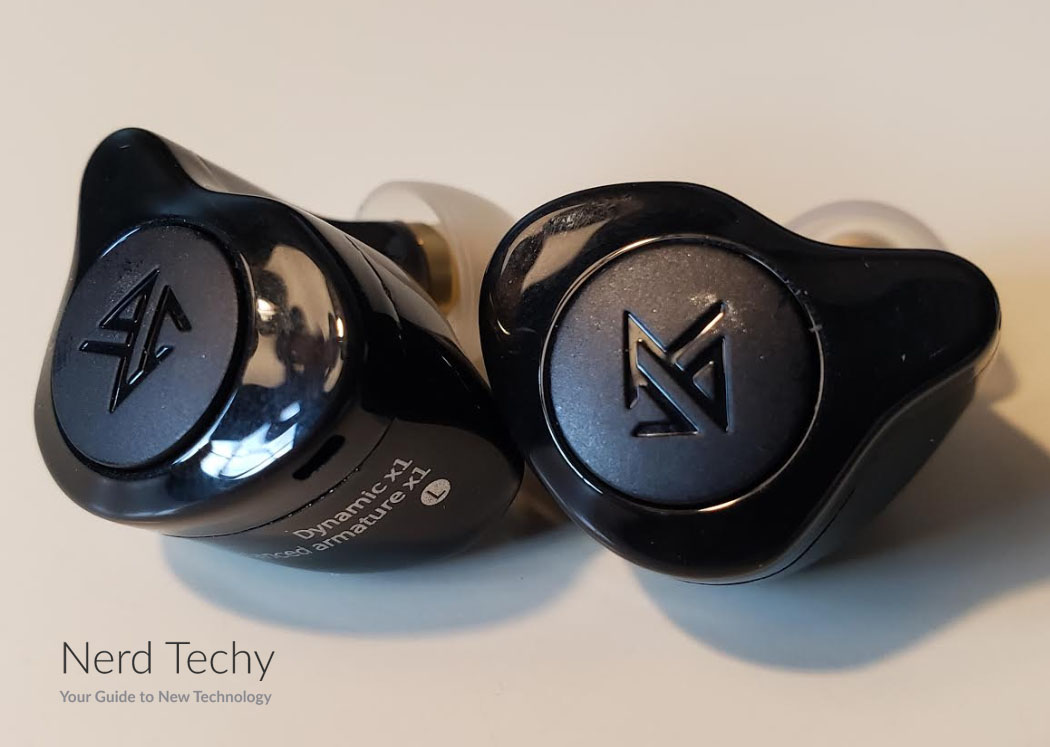 The KZ-S2 case itself provides 500mAh of backup power. Assuming a power reserve of 10 percent, this leaves us with 450 usable mAh of power. In other words, you can recharge the KZ-S2 True Wireless Earbuds about 11 times without recharging the case. This equates to 48 hours of total battery life. Not bad! Not bad at all! With a standard USB Type-C connection, you should be able to recharge the case in less than an hour. Once again, this is pretty impressive, considering the amount of total battery life you're looking at.
If you want even longer playtime, that's hard to come by. Very few wireless earbuds offer this type of performance. That said, the TRANYA B530 True Wireless Earbuds offer an impressive 64 hours of total battery life. On the other hand, they take several hours to recharge, since they're limited to a Micro USB connection.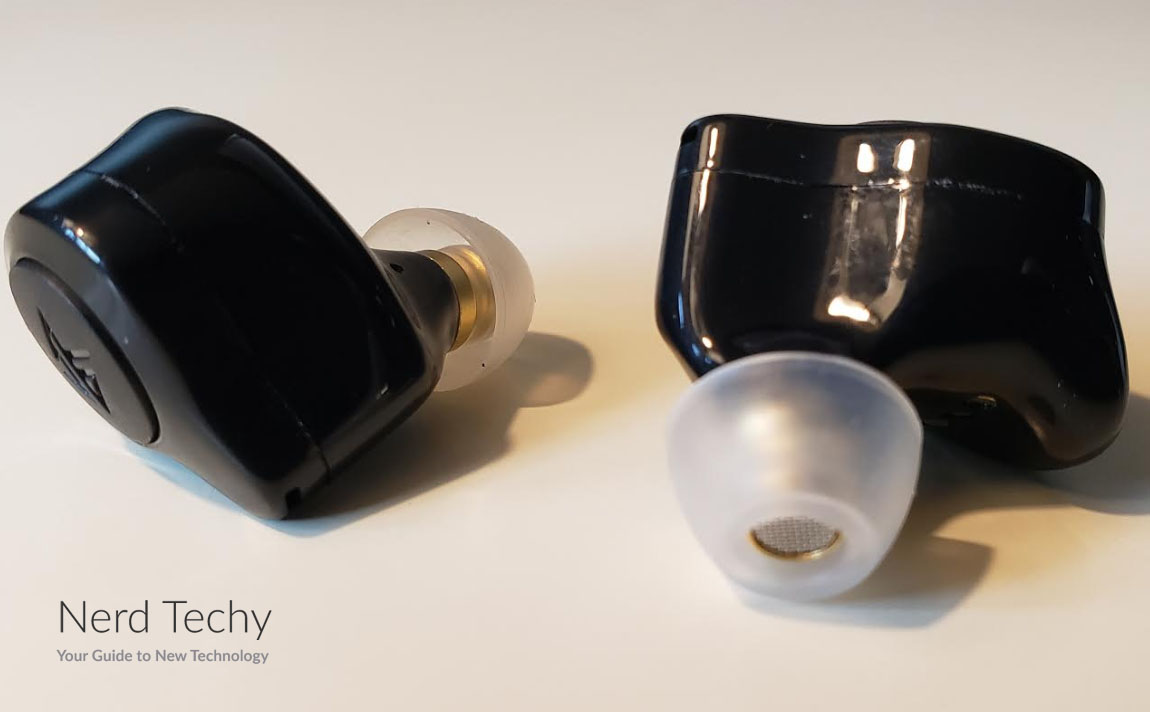 The KZ-S2 True Wireless Earbuds utilize the Bluetooth 5.0 protocol. This is the latest version of the protocol, with all of the best new features. Most Bluetooth 5.0 earbuds are limited to a range of 33 feet. But the KZ-S2 buds have enhanced receivers that extend this range up to 66 feet. This is more than sufficient for almost any purpose. You can even leave your phone on the porch while you mow your lawn. In addition, the Bluetooth 5.0 connections is exceptionally stable. Dropped calls or choppy music will not be a problem with this connection type. You'll also be able to enjoy high-bitrate audio without any issues.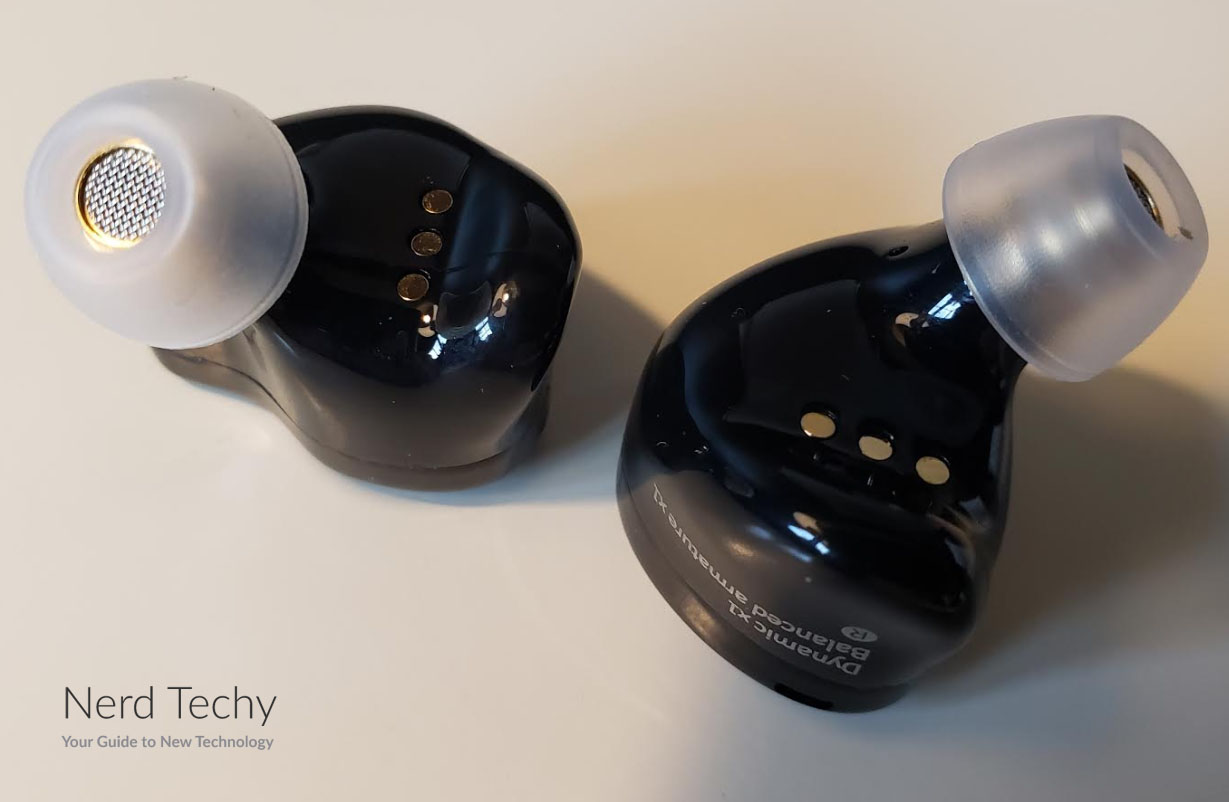 Not only do these earbuds use the latest Bluetooth protocol, but they also have an advanced chipset. They use the RealTek 8763 chipset, which supports AAC audio. This audio format supports lossless quality if you so desire. It also further improves the stability. Finally, it's virtually lag-free. When combined with the low-lag Bluetooth 5.0 connection, your lag will be no worse than a pair of wired earbuds. This means that the KZ-S2 buds are useful for far more than just listening to music. They're also an excellent choice for watching movies or playing video games. With these earbuds, you'll be able to watch Netflix in bed without sacrificing quality, and without waking anybody up.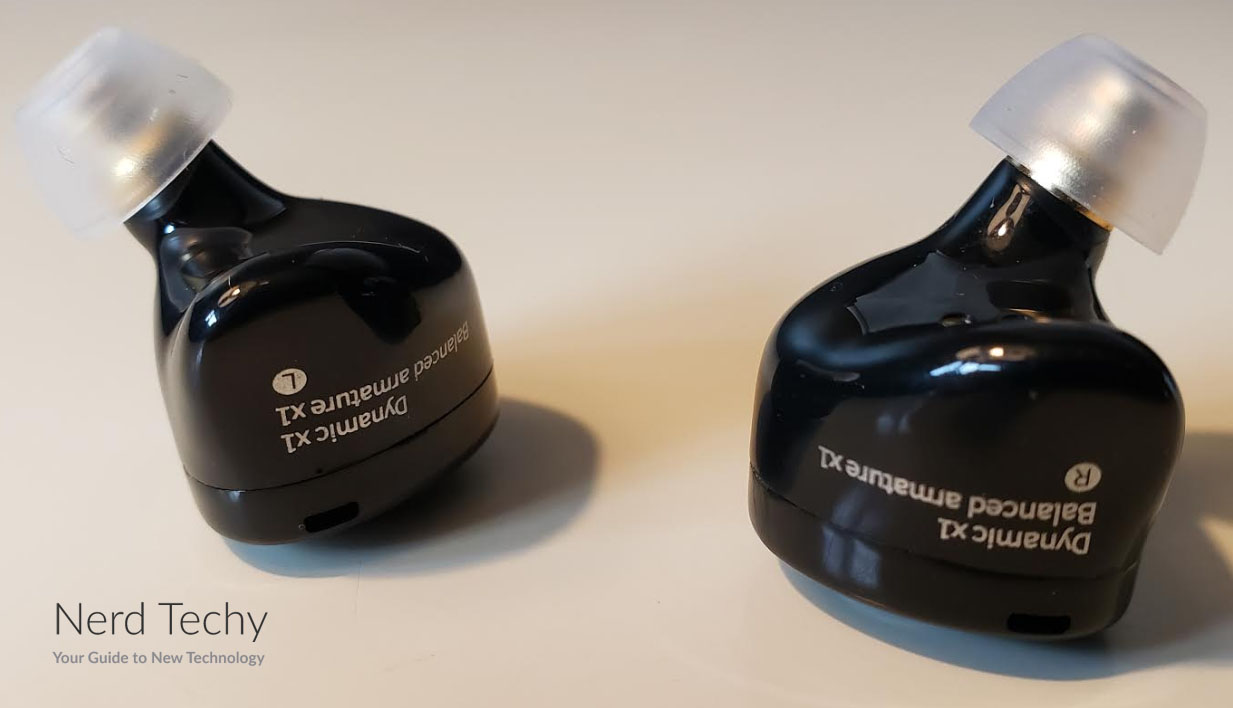 Sound Quality
The KZ-S2 True Wireless Earbuds use a set of dynamic drivers with double magnetic flux. This provides much more depth and richness than you'll typically get from wireless buds. In addition, they have a set of balanced armatures. These armatures provide excellent stability, which provides lots of detail and prevents buzzing or rattling.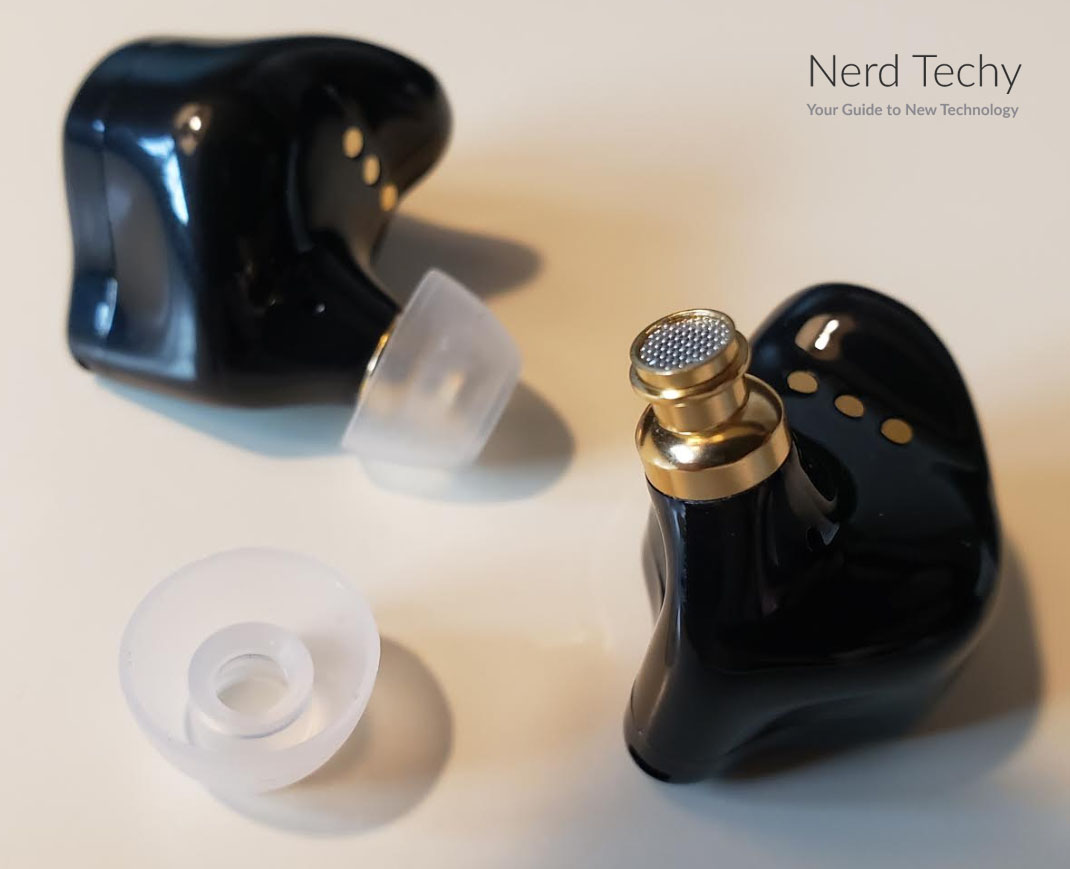 The overall design of the KZ-S2 sound system is similar to that found in the Samsung Galaxy Buds Plus. This means you'll get fantastic audio quality at just a fraction of the price. You'll get a treble boost as well as a bass boost. Trebles will be smooth and crisp, while the bass will still have plenty of punch. Best of all, the balanced armatures keep the middle frequencies clear of interference. You won't have any issues listening to vocal-heavy genres like rap, hip-hop, or country. Tie all of this together, and you're looking at some of the best earbuds on the market for audio quality.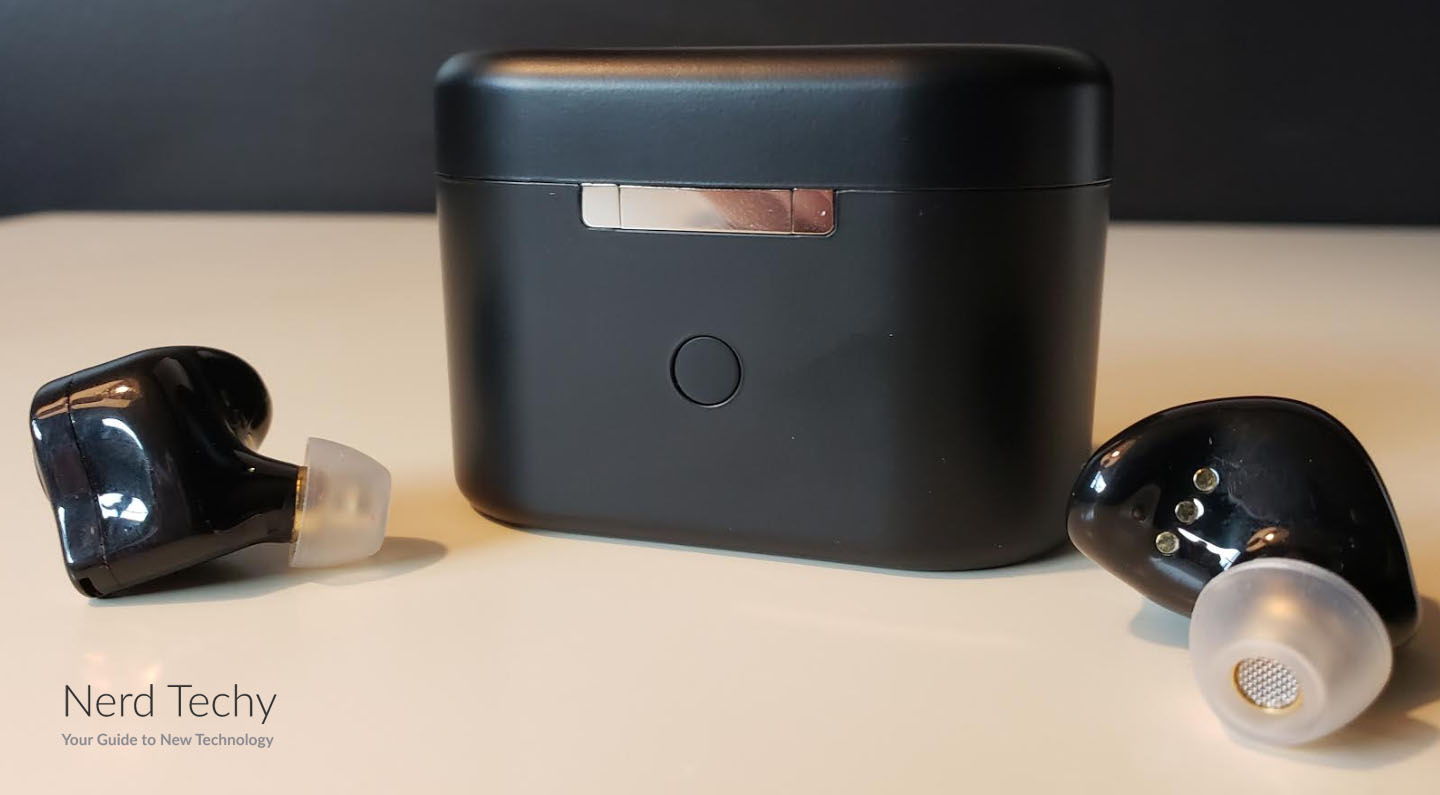 Call quality will also be excellent. The KZ-S2 earbuds use the CVC 8.0 noise-cancelling technology. This won't help on your end. But it will block background noise out from your microphones. This ensures that the person on the other end will be able to hear you very clearly. Obviously, quality on your end will depend to some extent on the other person's microphone. But the secure seal provided by the KZ-S2's ear tips will go a long way to preventing interference.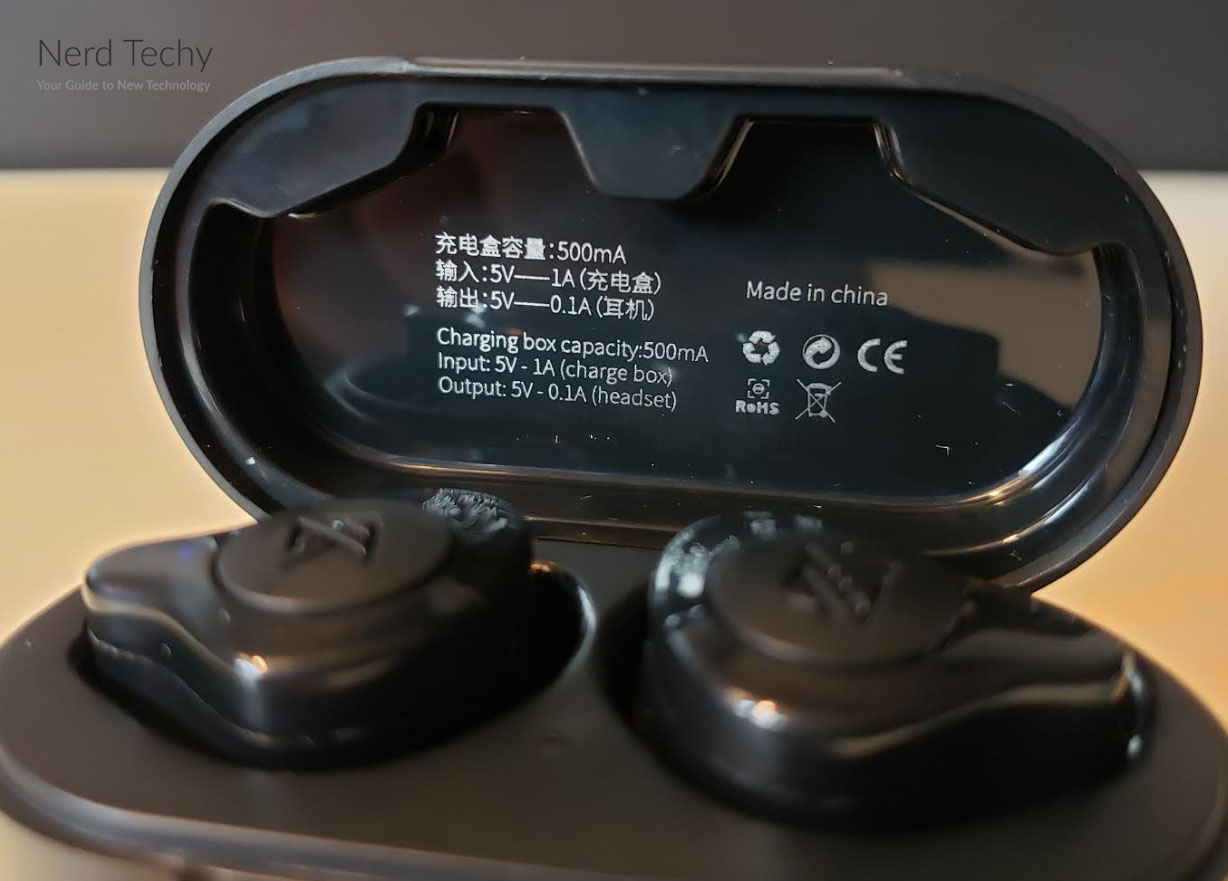 Final Verdict
So, are the KZ-S2 True Wireless Earbuds worth pre-ordering? As with any pre-order, this is a difficult question. It's especially difficult since no release date has yet been announced. But based on what we know, we're leaning strongly towards "yes". To begin with, let's look at the sound quality. We're looking at a driver and armature system that's basically identical to that found on the Samsung Galaxy Buds Plus. Those are some of the most expensive, premium earbuds on the market. Getting a similar system at a fraction of the price is an exceptional value. Audiophiles should be very pleased with these earbuds.
But the KZ-S2's features go well beyond sound quality. The battery life is also exceptional. With 48 hours of total charge, you can go without a power outlet for days at a time. Furthermore, the physical design is excellent. The compact design has an ideal form factor for most people's ears. And the extended ear tips provide an excellent, secure seal. For one thing, this seal will keep your buds from falling out. For another thing, it will provide excellent passive protection against outside noise. Throw in a splash-resistant design, and you've got the complete package.