Not too long ago, getting your car jumped meant finding a generous stranger. Even if you traveled with jumper cables and remained fully prepared, you needed another car to provide some juice. In recent years, portable jump starters have changed that. But many of these jump starters are large and unwieldly. Moreover, they generally don't offer a lot of functions. At best, you might find a 12-volt outlet or AC outlet for powering other devices. Needless to say, if you're going to carry around a device the side of a backpack, you expect more. And with newer battery technology, you can now get even more functions in a much smaller package.
Today, we'll be looking at a new, innovative jump starter, the Jumpi 3 in 1 Car Jumpstarter, Vacuum & Powerbank. As its name implies, it performs three basic functions. First off, it's a jump starter, which is self-explanatory. Secondly, it's an automotive vacuum, so you can keep your car clean. Finally, it functions as a power bank for your smartphone or tablet. Jumpi is a Kickstarter product, and has already quadrupled its goal. The campaign will end on April 29th, at which point the units will start to ship. So, is it worth getting in on the ground floor and contributing to the campaign? Let's take a closer look, and see what the Jumpi has to offer.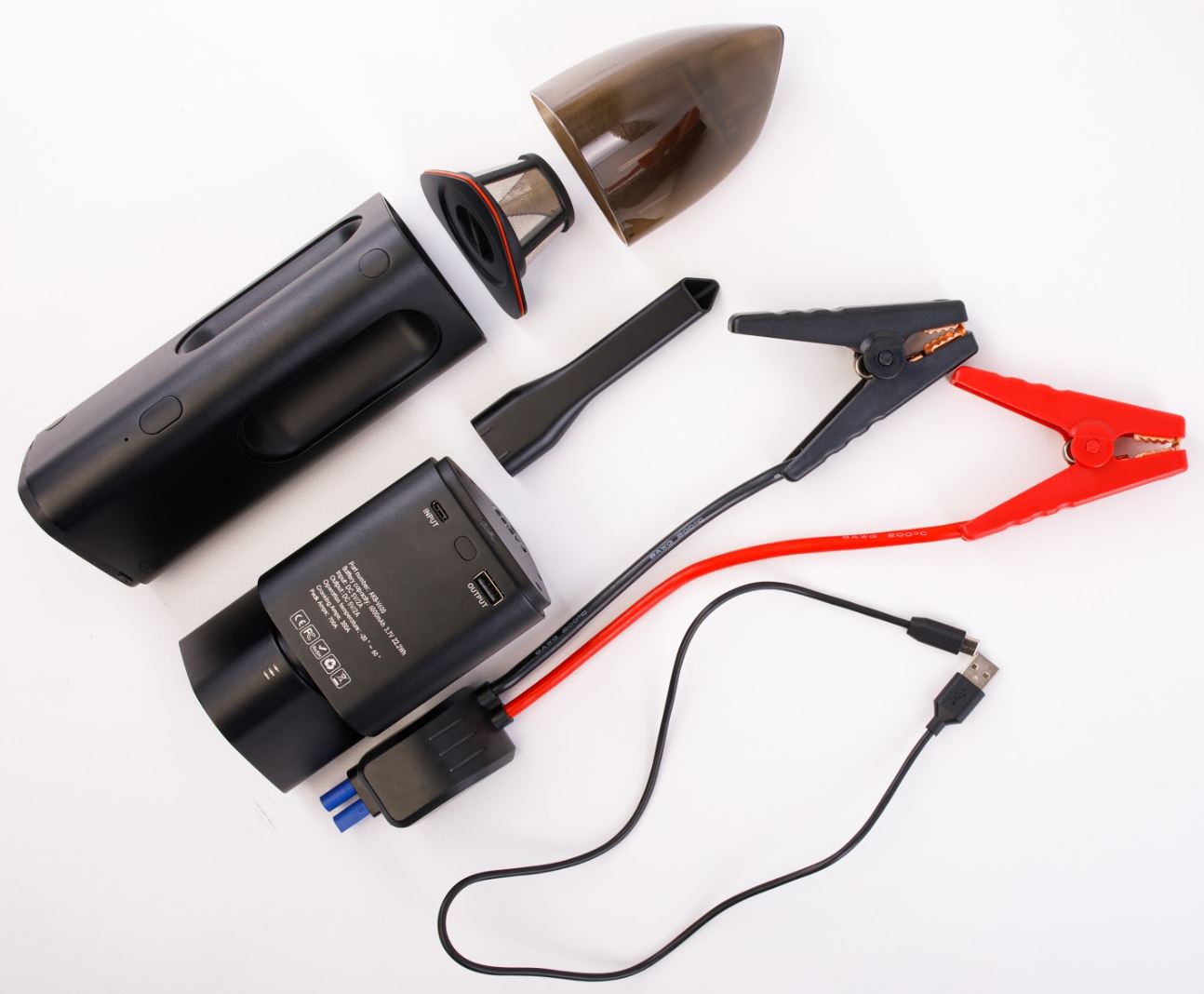 Overall Design
The Jumpi 3 in 1 Car Jumpstarter, Vacuum & Powerbank has a compact, lightweight design. It measures 14.2 inches long, 3.1 inches wide, and 2.95 inches thick. At this size, you don't even need a trunk to store it. It will fit in most glove boxes, and even under most seats. Even if you drive a pickup or a tiny compact car without much storage, you should be just fine. The overall weight of the unit is 1 pound, 11.75 ounces, which makes it easy to carry. If you have difficulty handling heavy objects, that simply isn't a concern here. The total weight is only about twice the weight of an iPhone.

The case is constructed from black ABS plastic, with a matte finish that's easy to keep clean. The main body of the unit functions as a handle. It's got a nice, wide grip, with enough space underneath to accommodate even large hands. On the front of the unit, there's a vacuum tip that doubles as a canister. It's a semi-transparent amber in color, so you can see when the canister is getting full. Inside, there's a filter, just as you'd expect to see on a normal vacuum cleaner. Outflow vents are located on the bottom of the Jumpi, directing air away from your hands and body.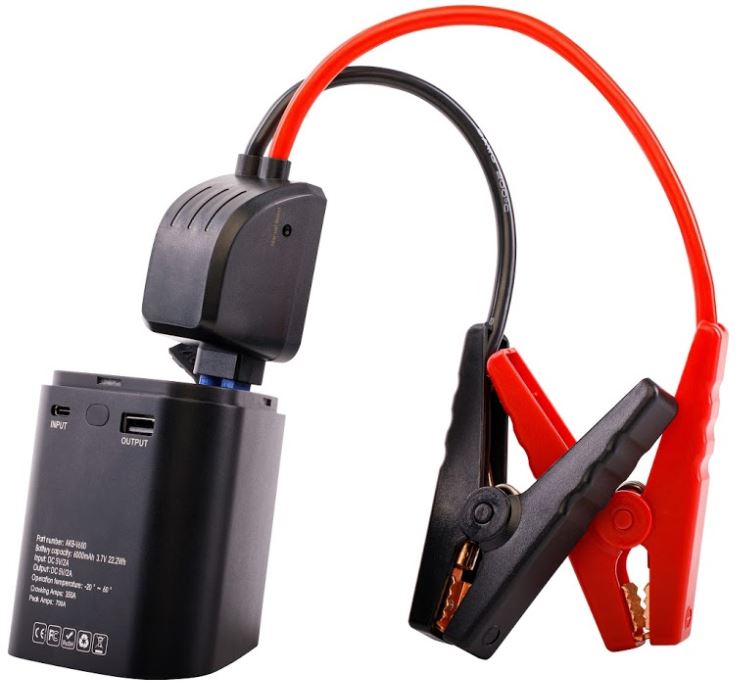 The battery pack is located on the back of the unit. It has an identical form factor, and fits seamlessly into the back of the Jumpi. The battery is removable, so it can be used as a power bank. There are USB Type-C and Type-A ports located on the back of the battery pack, which are used for charging. On the front of the battery pack, there's a proprietary port. This port connects both to the vacuum body and to the cable attachment. On the back of the battery, there's a small power button, which is used to activate the jumper cables. Finally, you get a small wand attachment to use with the vacuum.
Vacuum Function
The Jumpi's vacuum function is activated by a small button on the front of the handle. This is easy to operate with your thumb, so activation is simple and effortless. The total power is 10kPa, slightly less than an average household vacuum's 14 kPa suction. At first glance, this might seem disappointing, but this isn't a household vacuum. It's a small automotive vacuum. Considering the class of product we're talking about, it's quite powerful. The Jumpi is advertised as being able to pick up 99.9% of mold spores, pollen, and bacteria. This is just marketing hype. In practice, without a HEPA filter, those materials will just get blown back out.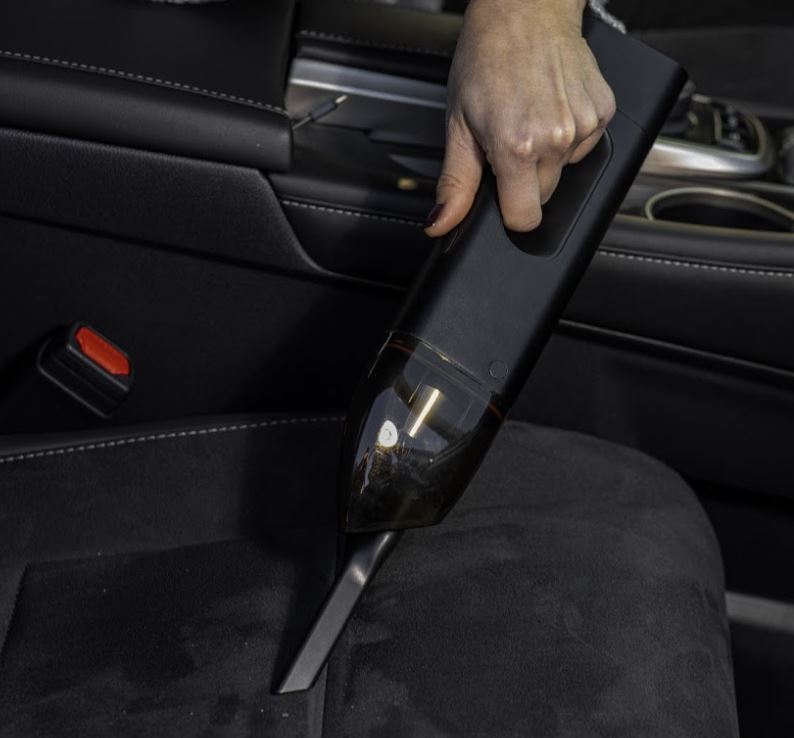 The dust canister itself is small, but it's easy to remove and dump out. It detaches by simply pushing a tab, right along with the filter. Simply pop out the filter, and dump out your dust. The entire process takes just a few seconds, without the need to deal with internal bags or filters. The filter is what you'd typically expect from a handheld vacuum. It's a thin membrane, which blocks larger particles like hair and dust, but not extra-fine particles. It can be easily cleaned simply by running water through it from the back side. Just make sure to let it dry completely before reinstalling it in the vacuum.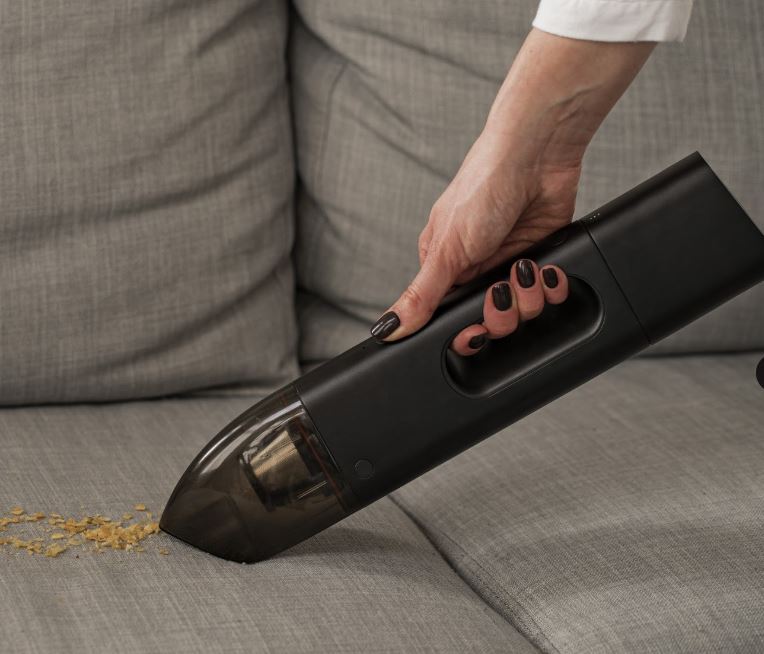 The vacuum comes with a small crevice attachment. This is practically a must for cleaning a car interior, where nooks and crannies are the norm. The attachment is easy to install and remove. It fits directly into the normal vacuum opening, so you don't need to mess with any adapters. In addition, the Jumpi vacuum has an antibacterial coating. Not only will your vacuum not harbor any bacteria, but it's a great bonus feature for shared vehicles.
Power Bank Function
To use the Jumpi as a power bank, you simply remove the battery pack from the back. There's a small button that will release it from the back of the vacuum body. On the front edge, you'll see two ports: a Micro USB port, and a USB Type-C port. With these two ports, you can charge just about any smartphone on the market. Keep in mind that you will only be able to charge a single device at once.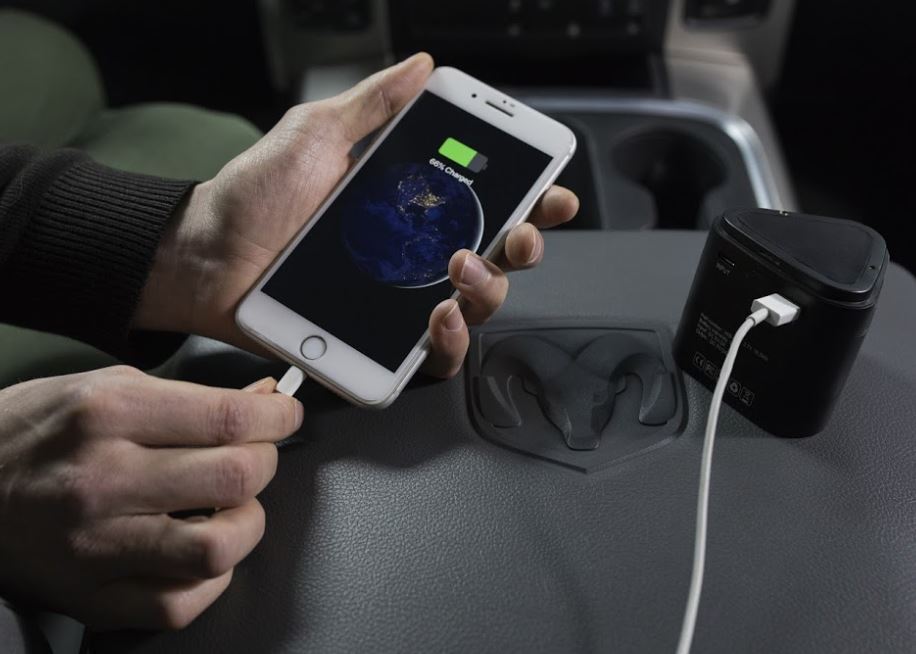 That said, this isn't a major problem. The total capacity is only 6,000mAh. This is sufficient to charge an iPhone X twice, or a Samsung Galaxy S8 about 1.75 times. The manufacturer advertises that you can charge your phone 2.5 times, and this may be true for some smaller phones. In practice, you're looking at about 2 charges for most modern smartphones. In other words, this shouldn't be your go-to charger. Instead, think of it as an emergency backup option in the event that you're stranded on the roadside. It will provide you with enough juice to call for help. If you need a dedicated power bank, consider something larger, such as the Jackery Supercharge 26800.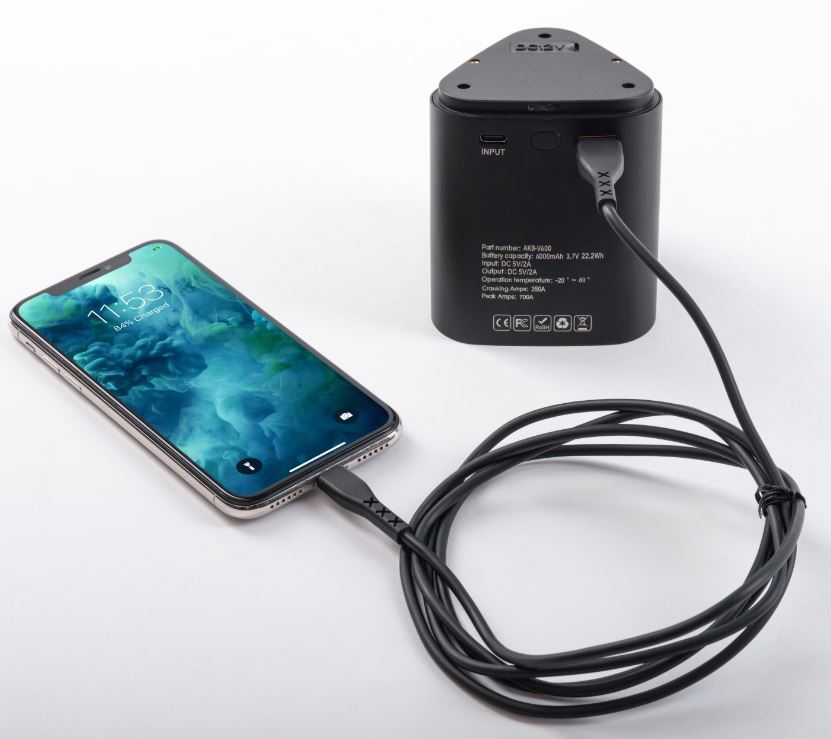 The battery pack itself charges via a USB Type-C cable, which is included in the kit. When used in a properly-powered port, you can get a full charge in just under an hour. While charging your device, the Jumpi power bank is incredibly safe. It provides short-circuit protection so your phone won't get shorted out. It has overload and over-voltage protection, which ensures that it won't burn out your phone's battery. Over-current and overcharge protection prevent the Jumpi itself from getting damaged during charging. As you can see, it's just as safe as any dedicated power bank you'll find on today's market.
Jump Starter Function
We've talked about the Jumpi's vacuum and battery functions, and these are worthwhile. But how well does it work as a jump starter? After all, this is ostensibly its primary purpose. To begin with, it's rated for 10 jumps per charge. This means you'll get to make several attempts to restart your vehicle. In practice, the exact number of jumps you get will depend on how long you turn the key for. Your best bet is to simply connect the charger for a few minutes and let it do its job. This can be frustrating, but it will get you the most reliable results.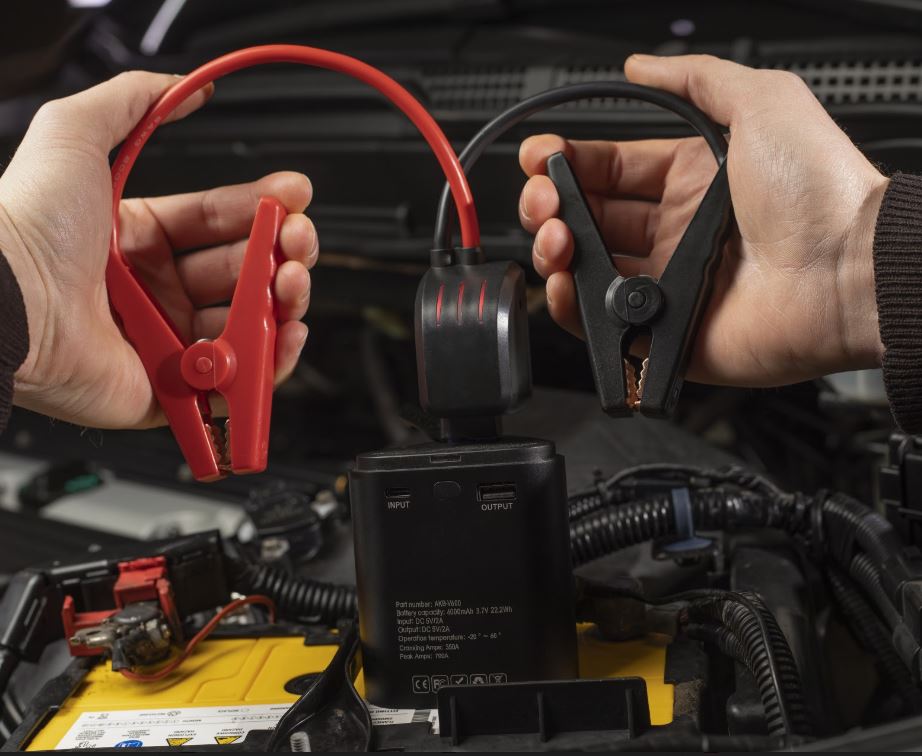 That said, this will only work if your car battery has not been totally drained. If it's dead as a doornail, you'll need to rely on the Jumpi's peak output to get you started. In this case, you're looking at a peak output of 700 amps. This is sufficient for the vast majority of passenger vehicles. Unfortunately, it's not sufficient for some larger pickups and SUVs with powerful engines. For those vehicles, you'll need a more powerful jump starter. If you're in that situation, read our review of the Tacklife KP200 Portable Jump Starter. It has an impressive peak voltage of 2,000 amps, and it's very compact. That said, it doesn't have a vacuum.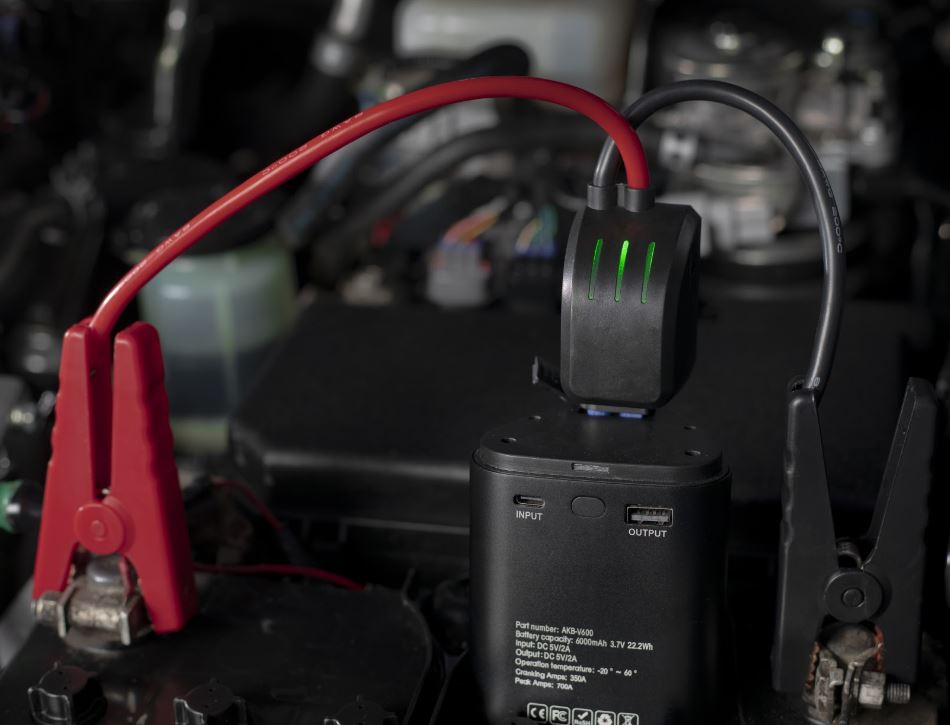 The jumper cables themselves are very well designed. They're relatively short, only about 16 inches long. That said, you don't have to worry about having a ton of reach. You just need to connect the Jumpi to your battery. For this purpose, the cables are more than long enough. The clamps themselves are very well-designed, with wide, comfortable grips that are easy to open. They're also coated, which prevents most accidental sparking.
Final Verdict
So, is it worth investing in the Jumpi 3 in 1 Car Jumpstarter, Vacuum & Powerbank? In most cases, it's very much worth your while. The only people who really shouldn't buy one are people with very large vehicles. The 700-amp peak voltage is less than some engines demand. That said, for most vehicles, it's going to be more than sufficient. The cables and clamps are well designed, effective, and easy to use.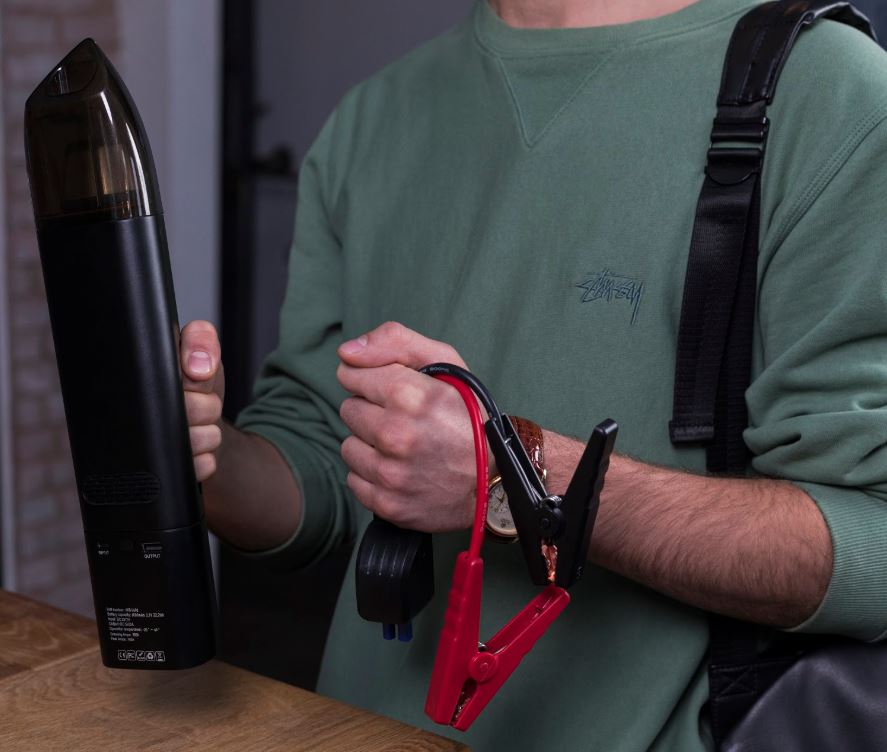 When it comes to the vacuum function, we had no complaints. The advertising is a bit overhyped, but the fact remains that you're looking at a solid vacuum. With 10kPa of suction, you'll get much better performance than you'd expect from most automotive vacuums. It's easy to operate and easy to clean, with a canister that can be emptied in mere seconds. The power bank performance is a bit of a mixed bag. As we said, the total charge is limited, so it should not be used as a go-to option. But that's not what the Jumpi is designed for. It's meant as an emergency backup to get you out of a pickle. In this regard, it gets the job done just fine.
Meet Derek, "TechGuru," a 34-year-old technology enthusiast with a deep passion for tech innovations. With extensive experience, he specializes in gaming hardware and software, and has expertise in gadgets, custom PCs, and audio.
Besides writing about tech and reviewing new products, Derek enjoys traveling, hiking, and photography. Committed to keeping up with the latest industry trends, he aims to guide readers in making informed tech decisions.