Anyone who spends hour after hour staring at a computer screen is subjected to an unnatural array of flickering blue light. You may have wondered why people get a headache from looking at their screen for too long, or can't seem to fall asleep after a day in front of their computer. The reason why goes back to that strange light that you're forcing on your brain all day long.
Over the course of a day, the color temperature of sunlight changes. In the early morning, the sunlight is full of blue light, which helps you wake up and become attentive. As the sun starts to set, the light has to travel through more of the atmosphere to reach you. When that happens, less blue light makes it to your eyes. That's also why sunsets are full of such warm colors – they've been stripped down of their cool blues.
Unhealthy Blue Light
Like all diurnal creatures, humans are adapted to getting light from the sun. Our brains pay attention to that gradual shift from blue to orange light, and it helps us maintain a natural circadian rhythm. As sunlight has less blue in it, our brains start to buildup melatonin, a chemical that helps you feel sleepy at night.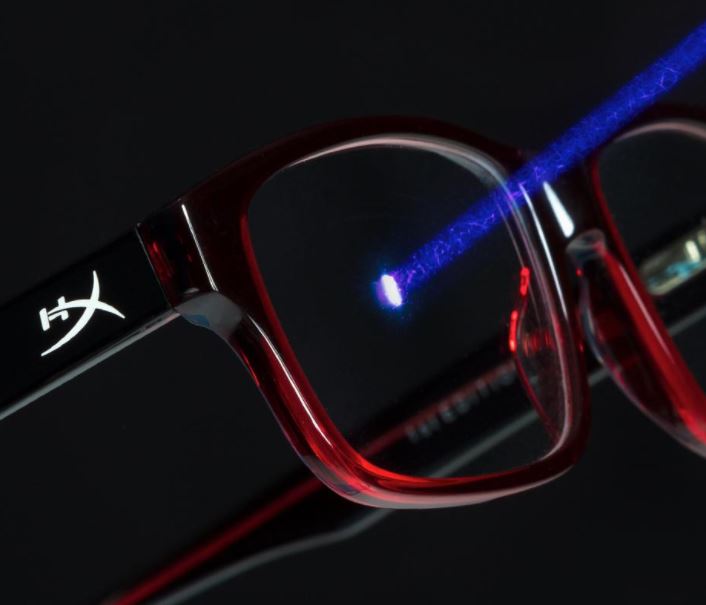 But in the modern world, we don't follow these natural patterns anymore. Our computer monitors, televisions, smartphones, and nearly all our other LCD devices use tons of blue light. As the brain is hammered with blue light, one of the first results is sleep issues, especially being unable to fall asleep. That light is also straining to the eyes, and responsible for eye fatigue.
One 2012 study found 70% of Americans suffer from digital eyestrain, with about half of Americans spending six hours or more looking at a screen regularly. And that study was composed of a general audience – for gamers there is no doubt that the figure is much higher.
The resulting issues aren't just tired eyes and sleepless nights. Blue light has been linked to depression, sleep problems, delayed metabolism, macular degeneration, and even cataracts. The light is as hard on your eyes as it feels. And "stop using your computers" isn't a viable choice for most people, so what else can you do? The solution is gaming glasses, one of the only ways you can avoid blue light without much interference in either your life, or with the visual fidelity of your computer screen.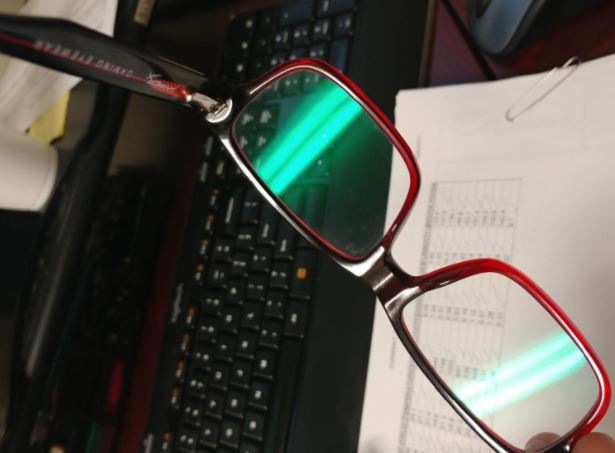 Solving the Problem with Blue-Filtering Glasses
Gaming glasses use an amber-yellow lens to filter out blue light. Even if your eyesight is perfectly fine, a pair of gaming glasses can help protect you from the long-term strain you're exposed to while gaming. That subtle tint also helps sharpen and contrast shapes on the screen. You might also find they provide a competitive edge in your play. All your time in front of a screen can cause your eyes to become tired, which is when you start making mistakes. And for distinguishing enemies between darkness, blur, and glare, the amber tint can be beneficial.
Better still, when the sun comes through the window and starts blasting your monitor with glare, gaming eyewear can help you play-on without being blinded. Gaming glasses render objects in better detail, block blue light, relax eye muscles, reduce air and humidity to your eyes preventing dryness.
As a gamer, you may have heard about problems with blue light before, and you may know blue light filtering is available in many high-end monitors. While those features aren't entirely without merit, they're an inferior option to PC gaming glasses because the glasses won't drastically change the look of your screen, and can protect you from device to device. Blue light filtering on the software level will always result in substantially altered images, which most people want to avoid.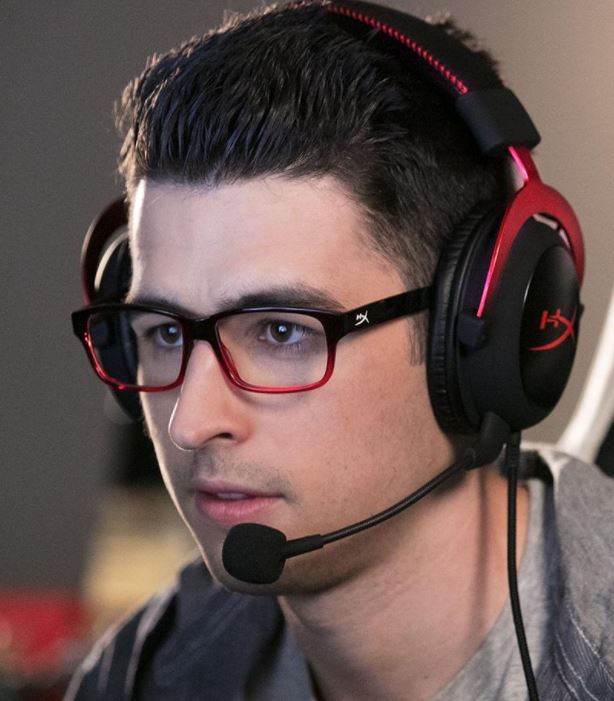 Choosing Gaming Glasses
If you've never worn glasses before, you should know that choosing glasses isn't just about what looks cool. There's a world of difference between a great pair and a lousy pair, not just in the job they perform, but in comfort and durability. Of course, aesthetic isn't something you can ignore either. For an object you're putting directly on your face, it's not unreasonable to expect a particular look from the rim and coloring of the glasses. Most people will want something that resembles an ordinary pair of glasses rather than part of a Halloween costume.
Design & UV Protection
It's difficult to appraise the quality of the build of a pair of glasses without actually holding them, but thinking about the strength of the build is right place to begin. Whether they're made of cheap plastic, a rigid polymer, or stainless steel, you'll want to make sure they don't break the first time they slide off your desk. You'll also want to make sure that becoming sturdy didn't cause them to become weighty or uncomfortable in the process.
The LEDs and CTRs that brighten up your monitor produce a tiny amount of UV light, but not enough to warrant any concern or consideration. Whether or not you'll want UV protection depends entirely on if you plan on wearing the glasses outdoors. One of the more convenient places to store or carry glasses is directly on your face, so if you think you'll end up walking from place to place with them on, it's worth grabbing a pair with UV protection.
Specifications to Ignore
Brands that advertise a specific percent of blue light as being blocked are mostly talking nonsense. Blue light is any light that has a wavelength of 400-450nm. Manufacturers don't have a reference point with how much blue light you're being exposed to, or which specific wavelength that light is primarily composed of. Consequently, claiming glasses remove 50% of blue light is misleading. Fortunately, this marketing tactic isn't a detail you have to worry about because when it comes to blocking blue light, blocking most is more than enough.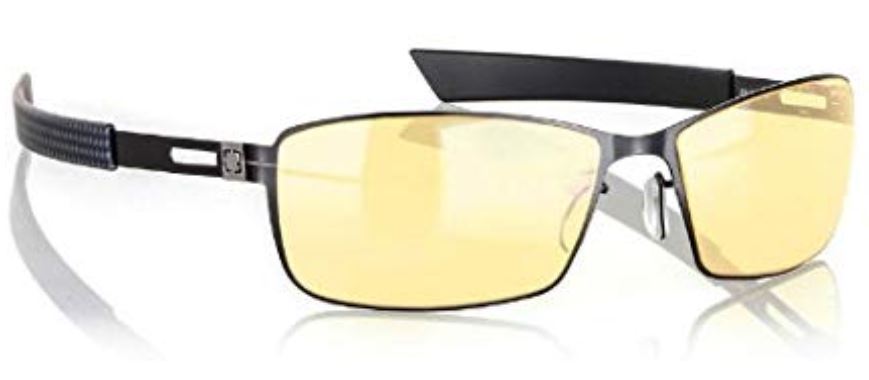 Gunnar Optiks Vayper
Like most people, you probably want a pair of gaming glasses that approximate the design of regular eyeglasses. Vayper rides that line perfectly with a black and orange aesthetic that's professional and straightforward, but still maintains a sense of a gamer-vibe. The lenses make use of a gentle yellow tint that strips the wearer from the burden of blue light, and are crafted by the world-famous Gunnar Optiks, which is a brand widely recommended by eye-care providers.
Special Notes
The manufacturer claims their research has found nearly 80% of wearers claim their lenses increased their productivity and found their eyes were less tired. 100% of people agreed and they improved the ease of viewing a computer screen. In other words, there's no question these glasses are designed to ensure your eyes don't have to work hard in front of digital devices.
Part of that comfort comes from an anti-glare coating, which is especially great for people working in an office with overhead lighting. You won't have to worry about these causing or suffering from any unnecessary distractions. Plus, the lenses are effective at beating UV-B, so you can wear them outside and not worry about missing protection!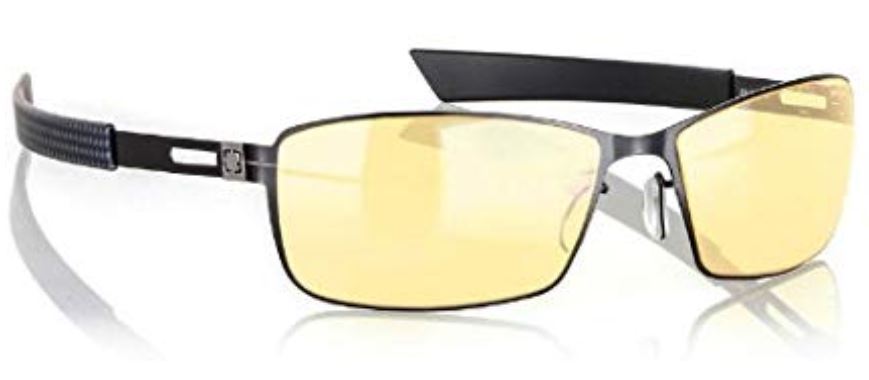 Style and Build
Gunnar has heavily advertised their glasses as blocking 65% of blue light, but that's not a figure you need to compare and contrast. For the purposes of computer screens, that's more than enough to protect your eyes, but not so much that you'll end up with a drastic distortion of the image you're looking at.
The rectangular frames are available in four styles, amber, marble, onyx, tortoise. For these glasses, Vayper has used an ergonomic shape that remaining comfortable even after hours of constant wear. These are on the cheaper end of gamer glasses; the build is strong enough for moderate use. If you plan on wearing your glasses almost every day, you'll want to invest in something a little sturdier.

Gunnar Optiks Intercept
From the same legendary lens-crafters used in the Vayper glasses above, Gunnar Optiks created another pair, the Intercept. They use an aesthetic clearly built to look modern and ordinary, and seem to have gone out of their way to appeal to an everyday audience. The black frame doesn't have any flaming decals that scream "gamer", but the lenses are every bit up to the task of gaming.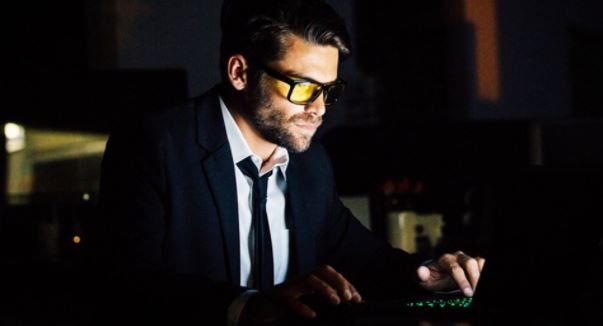 Special Notes
What makes or breaks these glasses is whether or not you want magnification. Intercept makes use of a 0.2 magnification factor, which will increase the size of screen text and other objects by approximately 20%. For someone who needs a slight boost in their visual acuity, you'll love the gentle magnification, especially for text. But if you're not looking for magnification, you'll want to stay away. You'll either love it or you'll hate it with really no in-between.
Like Vayper, the Intercept model includes anti-reflecting coating on the lenses to help fight off glare. The amber tint of the lens will naturally protect you from incursions of blue light assaulting your eyes, and they'll block UV in the process for outdoor wear.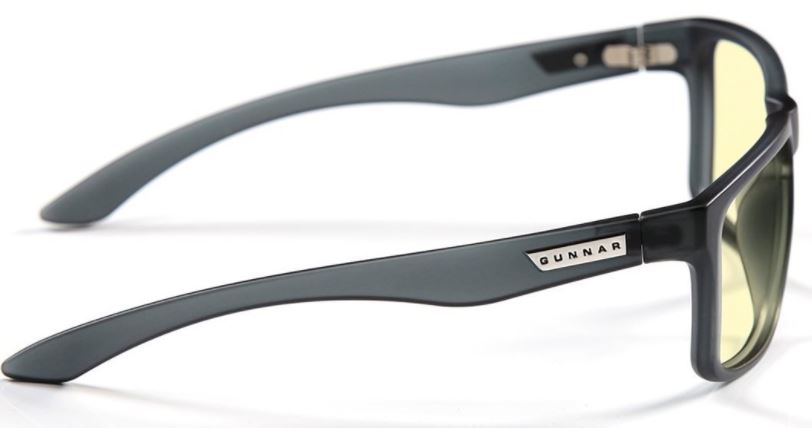 Style and Build
The rectangular frame is a perfect combination of durability and lightweight design. This pair of glasses sits taller on the face to help block air, and the extra wide 55mm lens is ideal for protecting your eyes from dry air circulation.
The frame is composed of engineering quality polymer for strength and stability, resulting in a 35-gram construction that's lightweight on your face, and capable of providing lasting comfort without strain. That lightweight and durable build has been FDA approved, and backed by the Intercept's one-year warranty for manufacturing defects.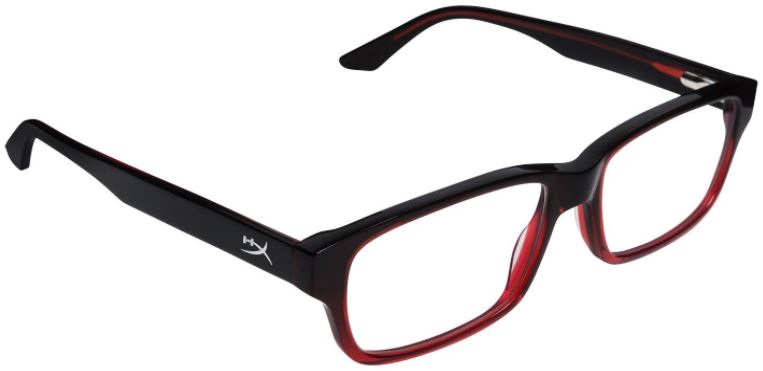 HyperX Gaming Eyewear
One thing you learn quickly when you regularly wear glasses is that they need to be durable. When you're handling and using a pair of glasses regularly, they undergo considerable strain. Deciding to purchase a cheap pair of glasses is really a decision for a temporary fix that will fall apart in your pocket inside of a year.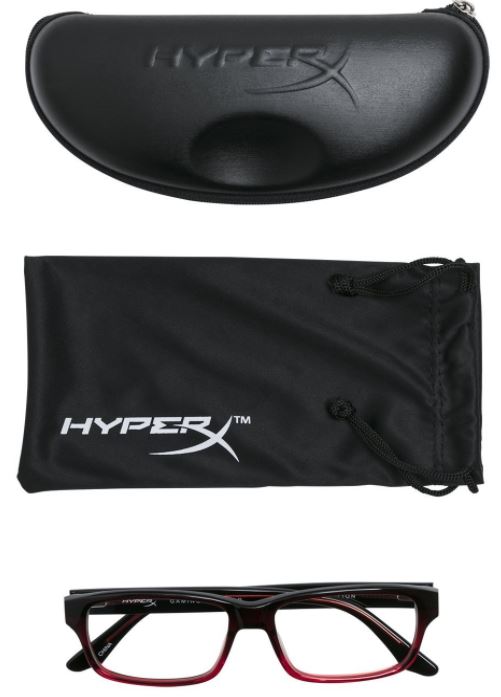 Special Notes
For people who understand quality lenses don't come cheap, HyperX offers a product ready for those who demand excellence. Using special MR-8 construction material, you'll get considerably less color distortion than you will with typical gaming glasses. Both blue light and UV light is covered, and the anti-flare coating helps repel water and dust in the process. There's essentially nothing HyperX gaming eyewear can't handle with grace.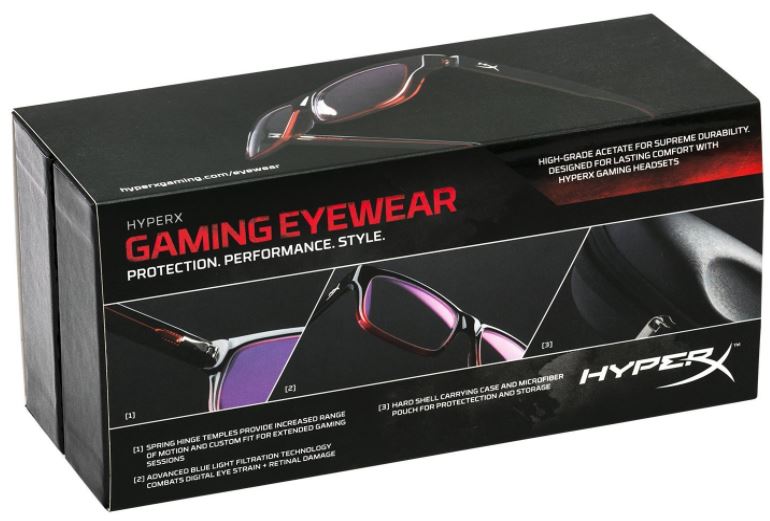 Style and Build
Aesthetically, these glasses use a fashionable black-to-red fade that stands out. The coloring was applied with acetate rather than painted polycarbonate, which means they'll hold on to that aesthetic far longer than most glasses will. The armature is hand-cut, and will also keep its color longer than similar polycarbonate glasses.
And HyperX uses impact resistant material designed to hold up to a beating. The thin, lightweight design was specifically made for people who will also be wearing a headset. As an added bonus, they come with a protective hard-shell case you can use to protect your investment for as long as they protect you.
Choosing Between 3 PC Gaming Glasses
If you're just trying to dip your toe into the world of gaming glasses, you'll be well-served with a basic option like the Vayper glasses. They make use of the same Gunnar Optiks lenses as the other glasses on this list, so you know you're getting a quality. You're not getting the build to hold up to thousands of hours of play, but these are more than enough if you're intending to just throw them on anytime your eyes become tired and you still want to play.
Gunnar Optiks Intercept is your choice if you're looking for magnification. Whether magnification is a draw or a distraction depends entirely on who you are and what you're looking for out of your glasses. Beyond that, you'll find the same essential blue-blocking features of the other glasses on this list, and the same extremely comfortable design.
And finally, HyperX is your choice if you're looking for something you can wear hour after hour, every day. Glasses assigned the task of regular use need to have an ironclad design supported with the right materials, and then crafted into the perfect ergonomic shape. That's exactly what HyperX offers. The construction is built to hold up through the longest gaming sessions, so you'll be replacing your computer long before you're replacing your glasses.
Meet Derek, "TechGuru," a 34-year-old technology enthusiast with a deep passion for tech innovations. With extensive experience, he specializes in gaming hardware and software, and has expertise in gadgets, custom PCs, and audio.
Besides writing about tech and reviewing new products, Derek enjoys traveling, hiking, and photography. Committed to keeping up with the latest industry trends, he aims to guide readers in making informed tech decisions.