As the years go on, it seems that more network devices and electronics are becoming fully wireless – which is great. However, any wireless connection has its limitations, especially when obstructions like walls, appliances and other physical objects are in the way. Additionally, every wireless device still needs a power source, so the inclusion of a power cord still adds limitations on where you can place them – most aren't truly wire-free.
Whether you're installing a few IP cameras or a new access point, there's a much more reliable and hassle-free way to operate and pair them to your network. PoE or "Power Over Ethernet" allows you to use a simple CAT5e or CAT6 network cable to power any supported device without the need to attach an additional power supply, cord or AC adapter.
A PoE Injector (sometimes called PoE switches or adapters) provides an alternative power option to a wide range of devices such as switches, panels, access points, VoIP phones, IP cameras and more. You're given more flexibility on where you can place them, without needing to consider a wireless connection. There are varieties of all sizes, some with more wattage and available ports than others, but they all carry out the same task. The internal power supply of the injector provides wattage through a network cable, but not all are created equal.
Today we're going to be discussing and going over a few of the best Gigabit-speed Power Over Ethernet Injectors for 2017. We'll be reviewing each specific one and providing information about each option that'll ultimately help you determine which specific make and model is best for your precise situation.
TRENDnet (PoE+) Injector, TPE-115GI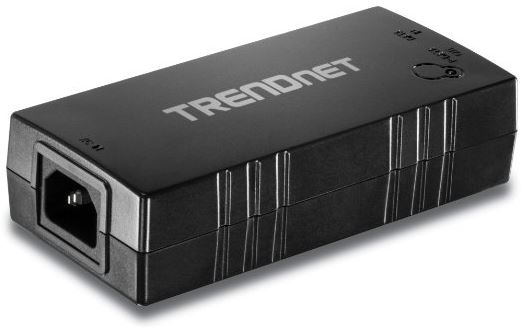 The TRENDnet (PoE+) Injector, model TPE-115GI, is a very popular and highly rated option that's capable of providing full duplex Gigabit speeds while providing up to 30 watts of power to any PoE enabled or capable device.
Utilizing "Auto Sensing Technology", it will automatically power any IEEE 802.3at PoE+ (30 Watt) compliant device, but also remain fully backwards compatible with any IEEE 802.3af PoE (15 Watt) devices as well. There's nothing for you to configure on your end, once you plug it in, it'll determine the appropriate power needed and deliver the precise wattage that's required.
The integrated power supply emits enough power to provide energy to any device for up to 100 meters or 328 feet away.
Simple plug and play installation offers you simplicity since there are no requirements for any drivers or special software. Simply attach a network cable to the Data-In port and connect it to your router or switch. Next, plug a network cable into the Data-Out port and connect your IP camera or other PoE-enabled device. Finally, plug in the AC adapter and you're good to go.
A small LED indicator located near the power port gives you a clear indication as to whether or not the device is currently being powered.
Internally designed with special safeguards in place that prevent any potential short circuits from affecting your equipment and whichever device(s) that you have connected.
Backed by an impressive 3 year limited warranty that assures 36 months of guaranteed functionality.
BV-Tech POE-I100G PoE Injector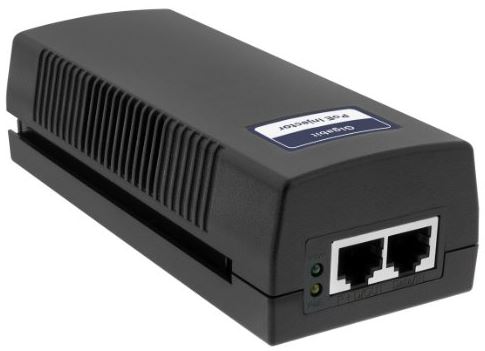 The BV-Tech POE-I100G PoE Injector is very similar to the TRENDnet TPE-115GI since it supports up to 30 watts, but much more inexpensive while remaining quite similar in many regards.
Since it's fully compatible with both IEEE 802.3af and IEEE 802.3at standards, it'll work equally as well for smaller devices as it will with those that require more energy. Nothing is needed on your end to make sure that it'll offer power at a certain level – this is all handled automatically by the injector.
Designed in such a way that allows you to connect multiple injectors if you need to install multiple units. On one side is a small grove, on the other is a small nub that slides into this grove. When placed side by side, it'll securely attach to another unit with its unique parallel slide-in design.
Integrated short circuit protection gives you extra assurance that low powered devices won't be given too much power that could cause potential damage.
Located near the Data-In and Data-Out ports are two small LEDs that indicate power and PoE levels to give you visual assurance that power is properly running through the unit.
The sides of the middle area are vented to allow heat to naturally escape and dissipate away from the internal components. This keeps the injector operating under more-ideal conditions than a completely sealed, closed-in design.
WiFi-Texas WT-GPOE-4-48v48w PoE Injector (4-port)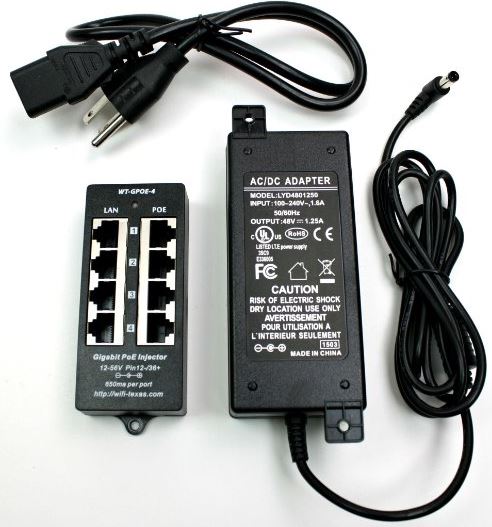 WiFi-Texas is a brand that specializes in network-specific devices, many of which are in the PoE category. One of their most popular products is their 4-port Gigabit injector known as the WT-GPOE-4-48v48w.
Built with 4 individual ports and a total power of 48 watts, it delivers enough "juice" to fully power up to 4 devices simultaneously. The power is passive and requires no auto-negotiation so once it's plugged in, it's always delivering power to each port. It shares power and data on pins 12 and 36 for 802.3af compatible devices.
Backwards compatible with other 10/100 technology. Even though it's technically a Gigabit injector, it'll operate older devices without compromise.
Users have the ability to switch between the power supply they need – 48 or 56 volts.
Equipped with a small LED indicator that gives you visual insight on the current status of the injector and the devices that you have plugged into it.
Built with small eyelets on each end so you're given the ability to easily mount it if needed. Although there aren't any small screws included, it gives you the option to mount the injector on the wall or above your switch to keep it out of the way or out of sight.
WiFi-Texas offers some of the most fantastic customer support that we've seen. They're easily reachable by phone, Skype, or email. They don't hide behind 1-800 numbers and call centers either.
UL, CE and FCC approved to guarantee safety and longevity for the injector itself and any other devices that you plug into it.
Final Thoughts
Power over Ethernet is an exciting technology that opens up the limitations that many network-connected devices can often struggle with. WiFi isn't always the best technology to use. It clearly carries limitations and isn't always available or reliable in specific locations where you're trying to add-on to your network. Whether you're powering cameras, switches or additional access points, PoE opens up limitations and seemingly effortlessly offers wattage at lengths up to 100 meters or 328 feet.
While you may need one port, four or more, there are injectors of a variety of power options and sizes readily available. However, most consumers won't need many ports, so we've covered the best single port and multi-port options above. If you have any questions or need any additional assistance, please don't hesitate to leave us a comment below.