Using a riser for your desktop monitor didn't used to be easy. In the days of CRT monitors, you needed a very heavy-duty stand to hold the weight of the bulky display. This could get pricey, and monitor risers were a niche market. But flatscreen displays have been the norm for well over a decade. With their slimmer profile and lighter weight, a monitor stand is cheap and easy to manufacture. As a result, it shouldn't be surprising that they've become more popular.
Of course, there are plenty of ways to mount a flatscreen monitor or television. For instance, a lockable wall mount provides security and ease of use. But for ordinary office or home computer use, a monitor stand is typically going to be what you want.
Today, we're going to be looking at not one, but three of the top monitor stands on the market. First up is the ATUMTEK Aluminum Monitor Stand/Riser. This is a heavier-duty stand for dual displays or other larger applications. Next, we'll look at the WALI Monitor Stand Riser. This is a more lightweight, affordable stand with simple, spring-loaded adjustable legs. Last but not least, we'll be reviewing the SimpleHouseware Metal Desk Monitor Stand. This is a simple wire stand, with storage for pens, notepads, and other office supplies. Once we've looked at all three, we'll be able to render our final verdict. Let's begin!
Why Use a Monitor Riser?
So, why would you want to use a monitor riser in the first place? There are a few benefits, but the most common reason is for ergonomics. Depending on how tall you are and how tall your desk is, your monitor may be at an uncomfortable height. Sit for too long with your neck at an awkward angle, and you could end up with a repeated stress injury. This is especially true for standing desks, since height differences are magnified when you're standing. If you're taller than average, you might need a monitor riser.
Another reason is to reduce eye strain for dual-monitor displays. When you're switching your eyes from one screen to the other, it helps if they're at the same height. If they're not, you'll have to move your eyes up and down as well as from side to side. With a stand, you can position the monitors at the same height, which is far easier on your eyes.
A monitor riser is also practical in terms of pure organization. Monitors occupy space on your desk, after all. And a wide monitor in particular can block off a lot of otherwise-usable surface. By elevating your monitor, a riser clears this space for use. You can even store supplies directly under the riser, which leaves more room on the rest of your desk. In many cases, risers even come with extra storage for paper, pens, a stapler, and other office supplies. If you're looking for a good way to declutter your desk, a monitor riser is a great way to do it.
For laptops, risers can also offer additional benefits. Because a laptop's keyboard is built-in, the same riser can be used for getting a more comfortable typing angle. If that's what you need, you should really use a dedicated laptop riser. Not only are they more ergonomic for typing, but they offer heat dissipation to keep your computer cool.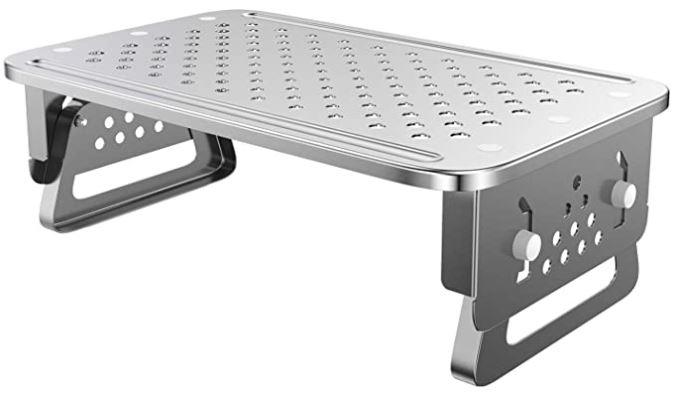 ATUMTEK Aluminum Monitor Stand/Riser
The ATUMTEK Aluminum Monitor Stand/Riser is the first on our list, and it's the beefiest. We started out by talking about how modern monitor stands are lighter-duty than their older counterparts. But the ATUMTEK stand seems determined to prove us wrong. Their monitor riser is built to last, and will support up to 32 pounds. This is very strong, far stronger than you'll ever need for a single-monitor display. In fact, it's best-suited for a dual-monitor display, assuming you can fit two monitors on the surface. It can even be used for printers and other heavier office accessories.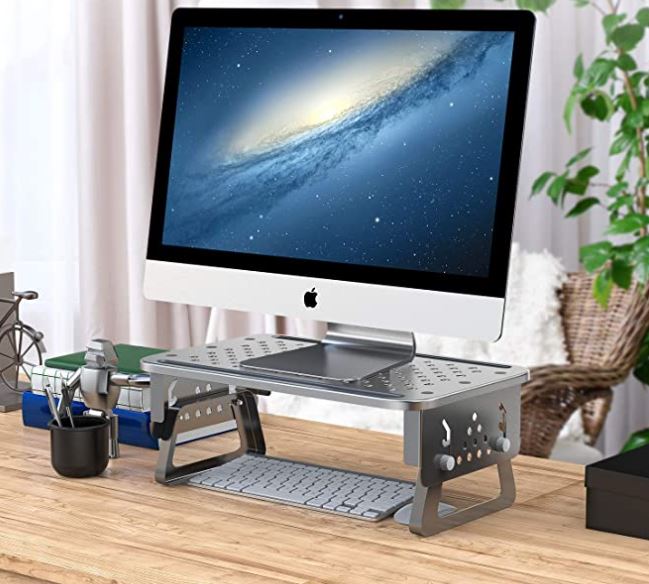 The construction is in two parts: an upper aluminum platform, and a lower stainless steel stand. Both have a matching buff finish, and are available in black or silver. Both variants are available individually, but you can also order the black version in a 2-pack. This gets you a slight discount if you're buying for more than one person.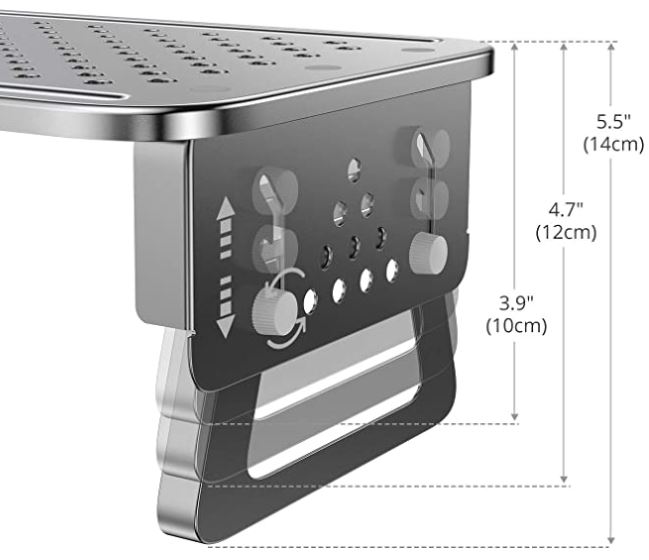 The top platform is vented, with a grid of round holes to allow for plenty of air flow. This won't be necessary for a monitor. However, if you're using it for a laptop or printer, your machine will stay nice and cool. The platform measures 14.6 inches wide and 9 inches deep. This makes it reasonably large, without being so oversized that it takes up your whole desk. The outer edges of the platform are bent downwards, presenting a blunt surface all the way around. This ensures that you won't have to worry about cutting yourself or snagging any clothing.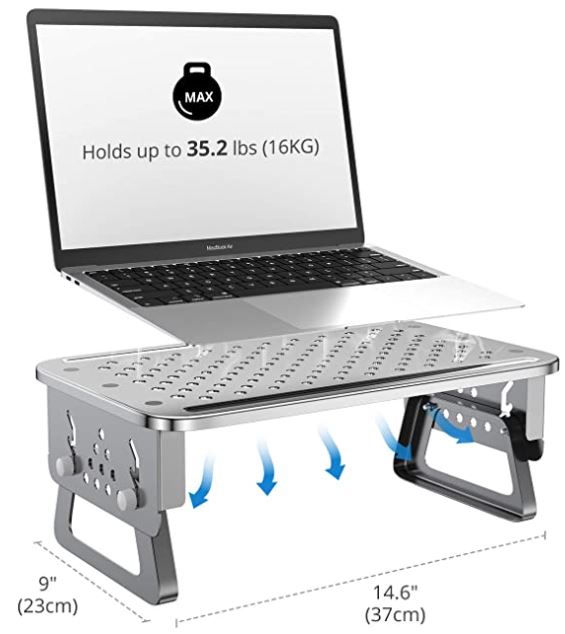 The stand consists of two curved rails, which are actually just bent pieces of metal, like the top platform. However, the rails are steel rather than aluminum. This makes them very sturdy and secure. Not only that, but the sides of the stand aren't entirely hollow in the center. They have a panel covering the top portion, which serves as a cross-brace. This extra support, along with the base's steel construction, is what makes the ATUMTEK riser so strong.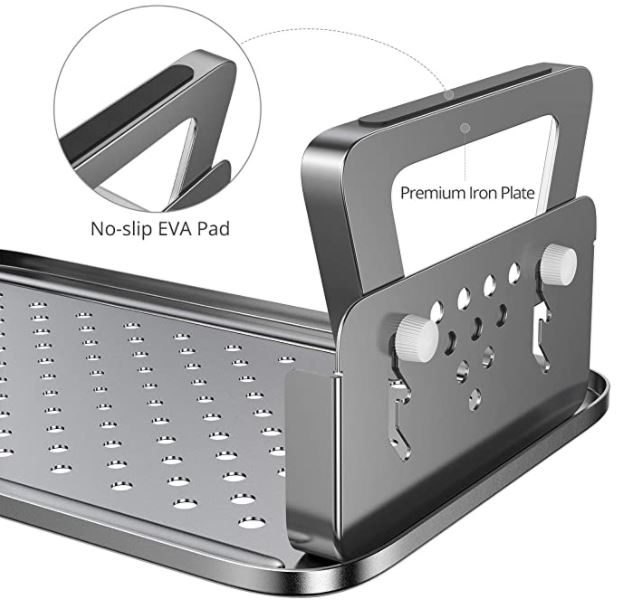 The height of the ATUMTEK stand is adjustable between 3.9, 4.7, and 5.5 inches. This makes it suitable for working at a variety of heights. The rails that attach the platform to the base have two slots in the sides, with notches cut into them. These notches rest on pegs in the base, which allows for secure placement. For even better security, each peg has a screw-down locking cap that holds the platform in place. Once you've found the right height, you can lock the riser so no accidental movement is possible.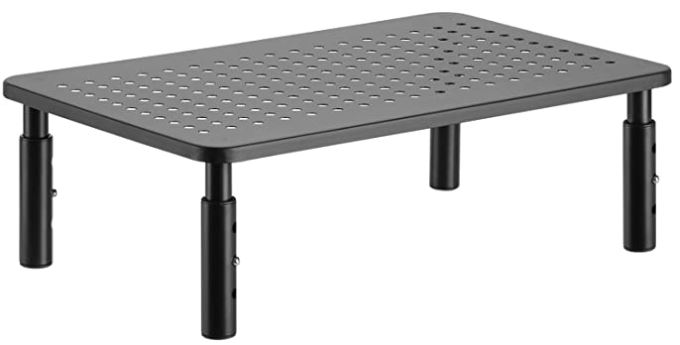 WALI Monitor Stand Riser
WALI is an interesting manufacturer. They make an oddball assortment of office supplies, including fake security cameras. The rest of their product line includes a variety of tools, including the WALI Monitor Stand Riser. It's a bit more lightweight than the ATUMTEK stand, but also more affordable, with an all-aluminum construction. The finish is a powder-coated black, which is attractive to look at and easy to keep clean. It comes as a single unit, and can also be ordered in a two or four-pack.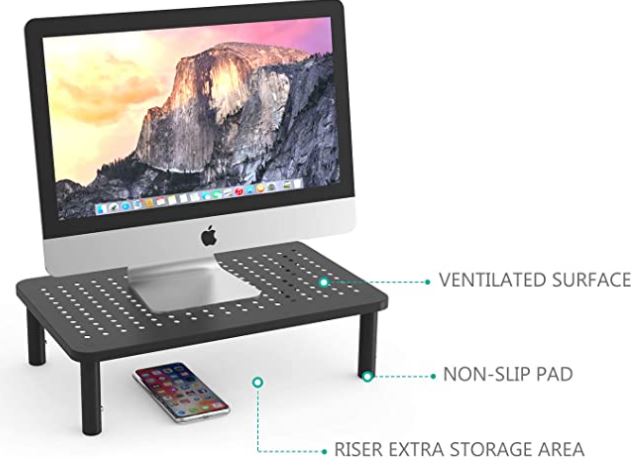 Much like the ATUMTEK stand, it has a vented top platform, with a grid pattern punched in the metal. In fact, the entire top platform is virtually identical to the ATUMTEK's, with the same curved edges and corners. It measures 14.6 inches wide and 9.3 inches deep, so there's plenty of space for a laptop. Also, much like the ATUMTEK, the WALI stand has a large capacity. At 44 pounds, it's only slightly less beefy. Still, it's tough enough for a printer or any other type of heavy device.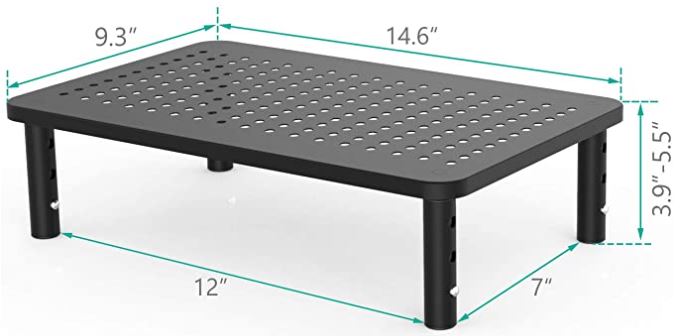 The supports are simple vertical legs, nothing fancy, with the same finish and material as the top platform. They can be extended to raise the platform to a height of 3.9, 4.7, or 5.5 inches. Once again, you're looking at very similar numbers to the ATUMTEK. However, the vertical legs are a different animal entirely. Because they're open on the sides as well as the front and back, they allow for easier storage. Moreover, they're easier to adjust, with spring-loaded push buttons that pop in and out of locking holes. Keep in mind, though, that easy adjustment works both ways. The buttons are easy to actuate, so you need to be careful moving the stand with anything on it.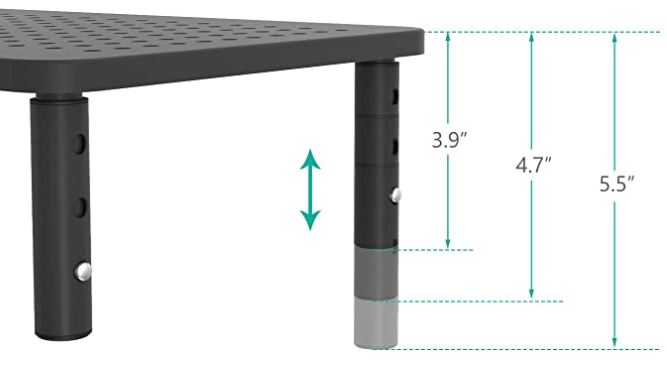 The bottoms of the legs sport rubberized skids, to keep the riser from freely sliding around. As long as the riser is in place, they do a pretty good job. However, they fit loosely in the bottoms of the legs, and they tend to fall out easily. This can be problematic if you frequently relocate your stand.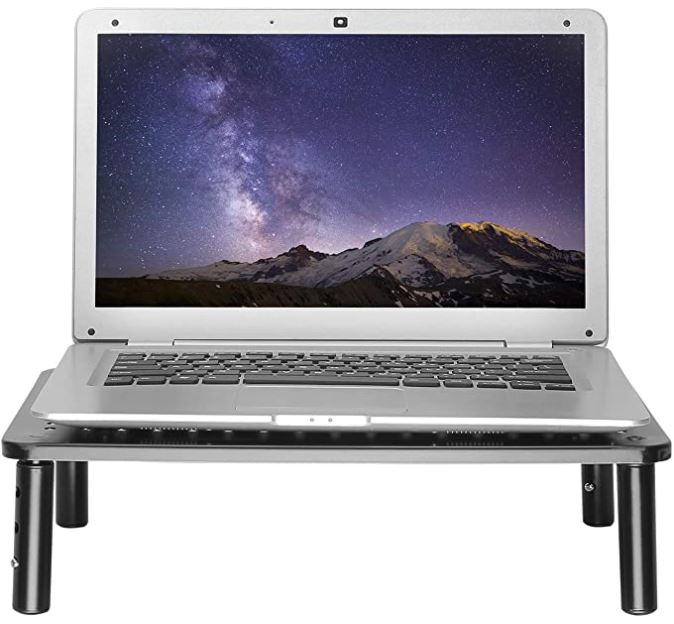 The WALI Monitor Stand Riser is covered by a 10-year manufacturer's warranty. This is virtually unheard-of in the tech space, where one to three-year warranties are the norm. If it fails, you'll receive a full refund or replacement.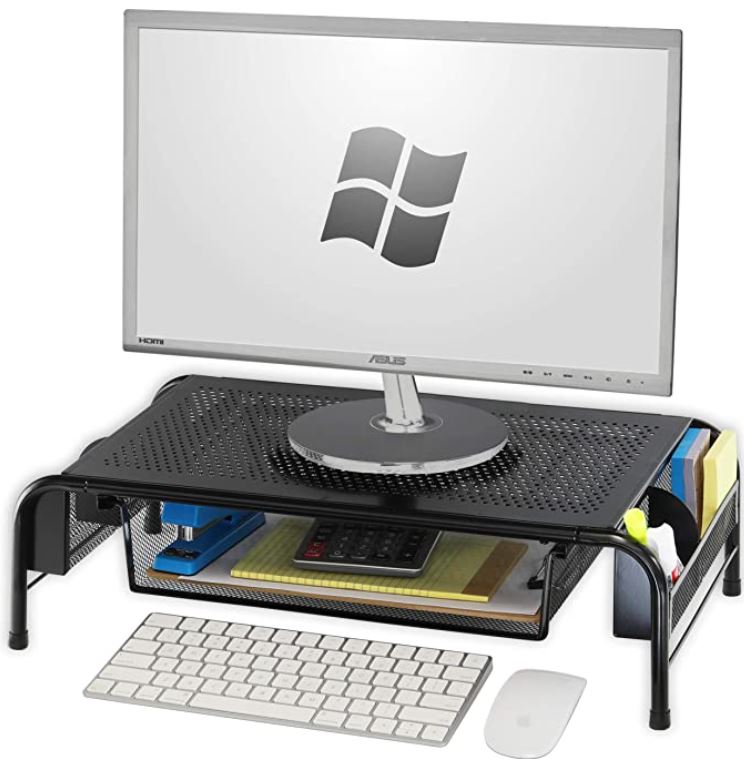 SimpleHouseware Metal Desk Monitor Stand
As its name implies, the SimpleHouseware Metal Desk Monitor Stand is better suited for homes than for offices. It's a lightweight stand with a lightweight top platform, and a glossy black or silver finish. The aluminum construction is reasonably durable, but not terribly strong. It's made for computer monitors, and that's about it. In fact, you'll want to be very careful about overloading it. The edges of the top panel are not curved down, and you're only protected from them by the frame. When the panel is overloaded, the corners can flex upwards, exposing you to their sharp corners. Stick with a lightweight monitor, and you'll be just fine.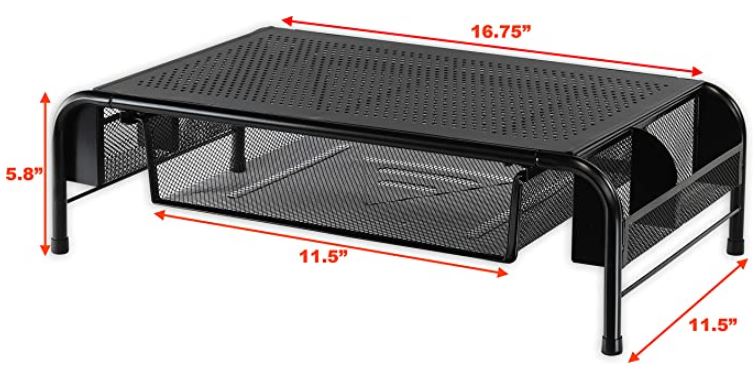 The legs are part of the frame, and are fixed. This gives the platform a height of 5.8 inches, with a width of 20.25 inches and a depth of 5.8 inches. This wide design is needed to support the wire basket drawer, which mounts under the top platform. This drawer provides plenty of storage for all your papers. Again, we're talking about lightweight objects here, not anything heavy. You don't want to overstress the riser. The bottoms of the legs are protected by rubber caps, which keep your desk from getting scratched up.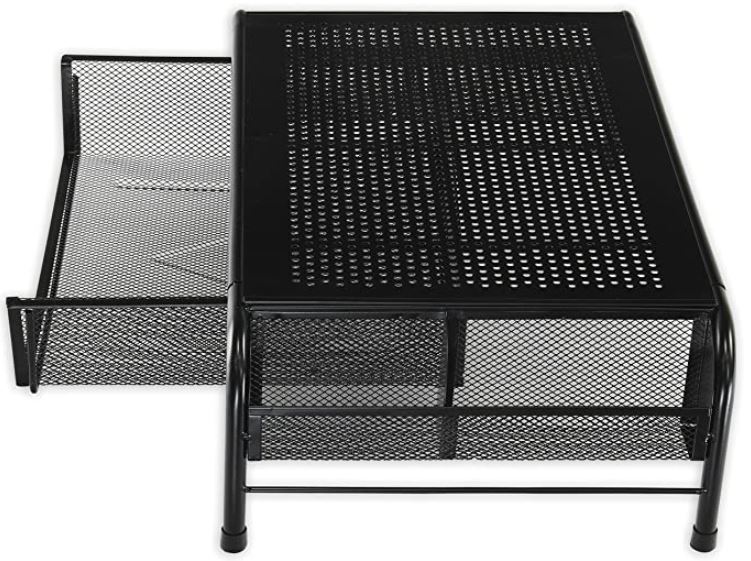 The other reason for the extra-wide dimension is the set of storage compartments in each side. These are built into the frame, and provide a small amount of space for essential supplies. We're not talking about anything massive here. They're about the size of a desktop pen holder. However, they provide plenty of space for all your supplies like pens, your phone, and so on. And of course, there's always the space underneath the drawer for storing a few extra things.
Final Verdict
So, which one of these desktop monitor risers is the best choice for you? As is so often the case, a lot depends on what you need. We started by reviewing the ATUMTEK Aluminum Monitor Stand/Riser. This is the beefiest option on our list, with a capacity of 36 pounds. As such, it's suitable for a lot more than just an ordinary desktop monitor. Printers, towers, and even old-school CRT displays are all fair game here. We also really liked the locking screws on the base. This unparalleled security makes the ATUMTEK stand the safest by far. It's also the priciest. The difference is only a few dollars, but that adds up if you're making a bulk buy.
The WALI Monitor Stand Riser is almost as rugged as the ATUMTEK, with a 44-pound capacity. Not too shabby! The look and feel is almost tactical, with a black anodized aluminum build that doesn't draw a lot of attention. With its perforated top platform, it's well-suited for supporting laptops. And its weight capacity makes it well-suited for printers as well. The legs are both its greatest strength and its greatest weakness. On the one hand, the locking mechanisms are easy to actuate, and the skids could be better engineered. On the other hand, having four vertical legs instead of rails opens up more storage space.
If you want a more lightweight design, the SimpleHouseware Metal Desk Monitor Stand is a good choice. Constructed entirely from aluminum, it's only designed to support small flatscreen monitors. However, it's also chock full of storage. There's a wire basket drawer underneath for your papers, along with side storage cups for other supplies. Most risers will increase available space, but the SimpleHouseware riser actually creates more. For a lightweight, affordable base, that's pretty impressive!