In today's world, you can't really do anything without WiFi. Whether its work, entertainment, or gaming, you practically need a WiFi system to operate in today's technologically dominated world. In the past, WiFi coverage was not really an issue. Devices used to take up very little bandwidth so you could have 2 or 3 devices hooked up to your network and they would operate without much trouble.
However, modern devices are capable of so much more. In the days of live streaming, uploading, and downloading large files, a lot of people run into problems with their WiFi coverage. Pretty much every device requires some kind of internet connectivity these days so your WiFi bandwidth can easily become overloaded. Even things like smoke detectors, light switches, fridges, and other things are connected to the ever growing Internet of Things (IoT).
So for many, a standard, run-of-the-mill WiFi router won't cut it anymore. You need a WiFi system that can reach every point of your home without losing signal strength. That is what mesh WiFi routers do. Mesh WiFi routers let you extend your WiFi signal reach across your entire home. The principle behind mesh routers is basically the same as a WiFi extender, but in the case of mesh routers, each node is a fully functional and enclosed WiFi router.
Today we are going to cover the Meshforce M7 Tri-Band. This WiFi system contains 3 distinct nodes that let you carry more devices and ensure that you have a clear signal all around your house. We will cover the Meshforce's specs, performance, pros, and cons. We will then give our final verdict on whether or not it's worth buying.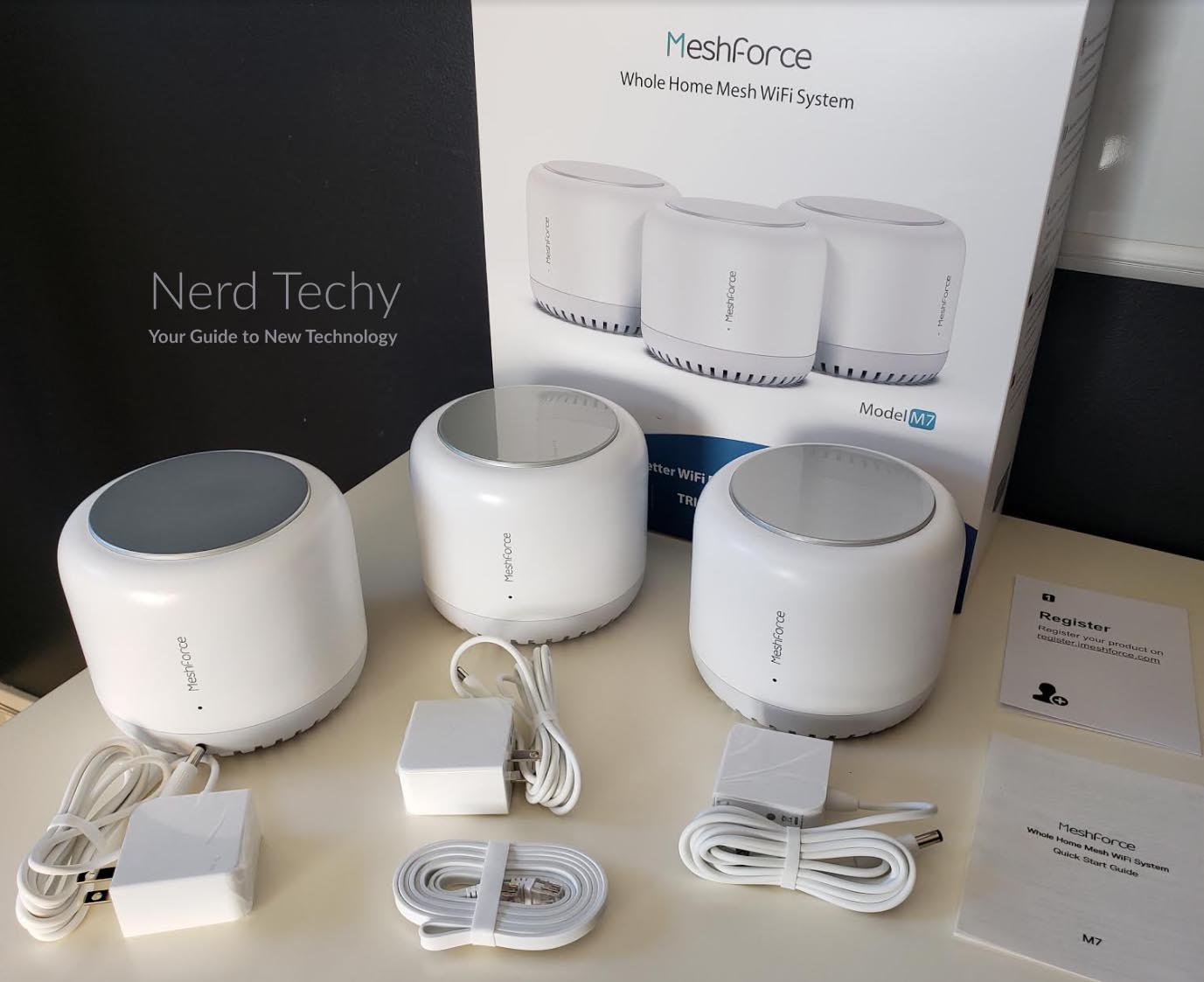 Design & Setup
The Meshforce M7 Tri-Band (10% OFF Code: MQY5MFHQ) is a three-node mesh WiFi system. It's designed to expand Wifi dead zones up to a range of 2000 square feet. The system itself comes with three nodes but can be fitted with up to 6 nodes to extend signal reach to over 6,000 square feet. Each unit has a sleek, functional design that is white, with a studded base on the bottom. The units are small and discreet, so they can be placed wherever you want and not take up too much space. The white satin finish is easy to clean and will mesh well with the other tech in your room.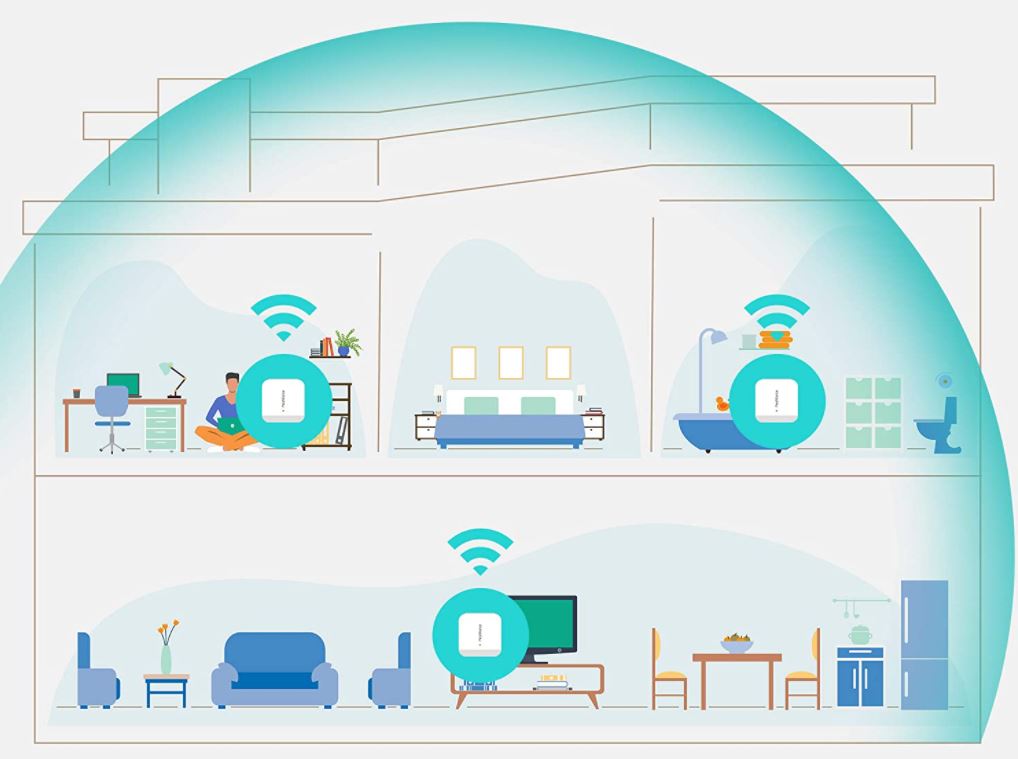 You do not need any other special things to set up your network. All you need is the routers and a working internet plan. Each router node has an LED light on the top that lights up to let you know that it's connected and communicating with the other nodes in the network. Of course, this simplified notification interface could be a downside for tech savvy users who would like a bit more information on the face of each router. You can still do a thorough look at each router status by checking on your computer but it would be nice if they had a few more lights to indicate certain statuses.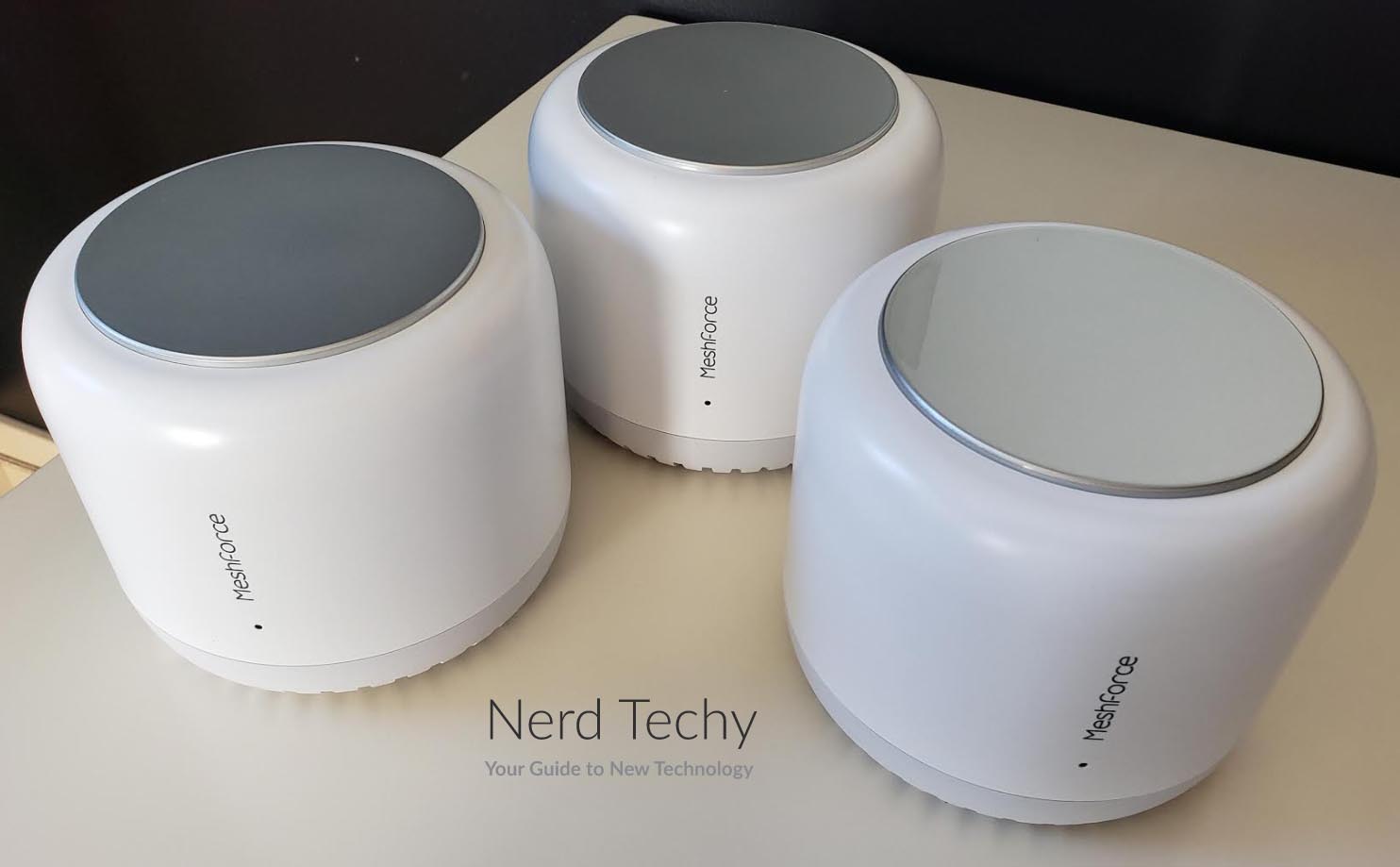 Each unit is circular and measures about 4-5 inches tall. The circular design is small, but makes it so you cannot place them flush against the wall or the corner of a shelf. The units are fairly stout too and not very slim. If you are looking for a mesh WiFi router set that is a bit skinnier and has a narrower profile then we would recommend checking out the GRYPHON Guardian. This mesh WiFi router system has an extremely slight 2 inch profile so it's very space-conscious.
Use code "MQY5MFHQ" for 10% OFF when you order the Meshforce M7 on Amazon.
Each router unit has 3 ethernet ports on the back and a DC power input. Two of the ethernet inputs are for LAN and the other is for WAN/LAN connections. Each unit just needs to be plugged in but only one needs to be connected to the modem. The other two can be placed wherever in your house as long as they have a power supply nearby. The individual units each have a Dual Core 900Mhz CPU so they are fast and efficient. On the bottom of the units is a reset button which can be used to reset the system if the connection gets hung up.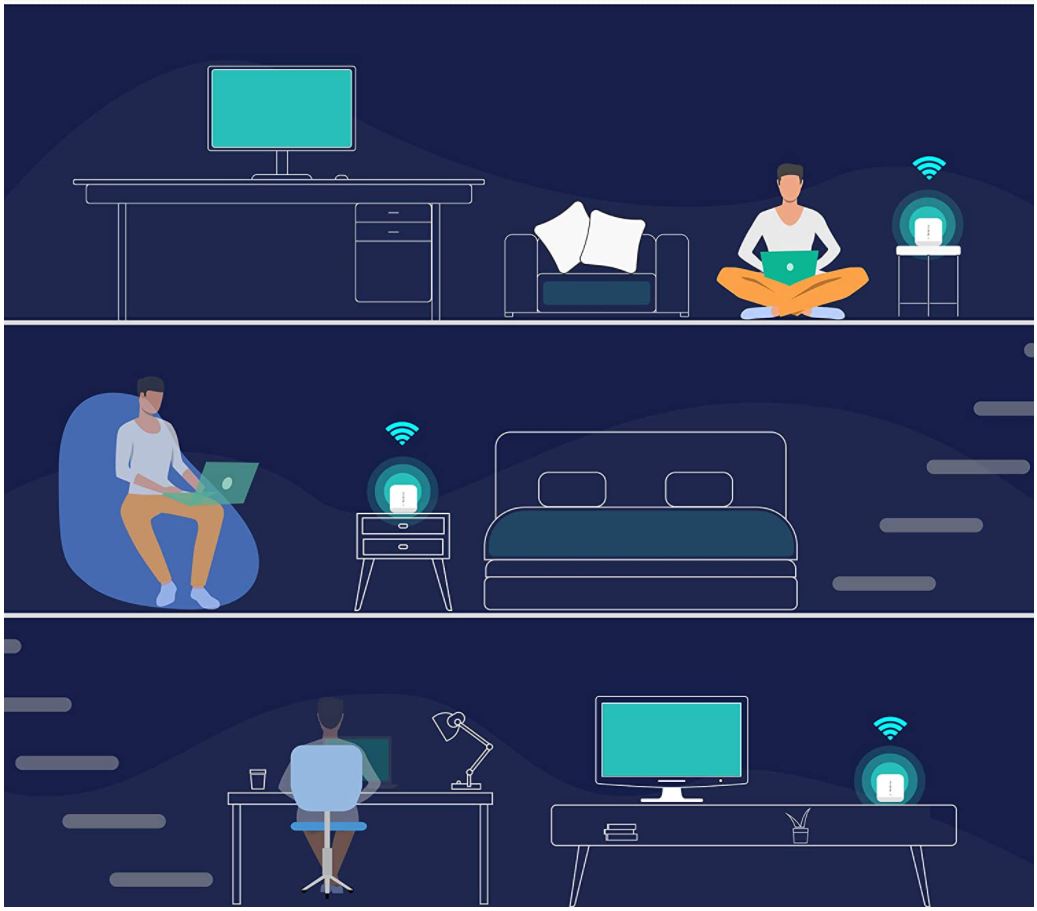 Setup is one of the best features about the Meshforce M7. All you have to do is pick which router you want to be your "main" node and plug it into the modem with an ethernet cable. Then, plug in the other routers wherever you want to place then and then you set up the network with the smartphone app. From the app you can check the status of each router and text connection speeds. You can also change your network name and passwords from the app. Keep in mind that if you change any router credentials such as the name or password, all connected devices will be signed out and you will have to reconnect them to the network.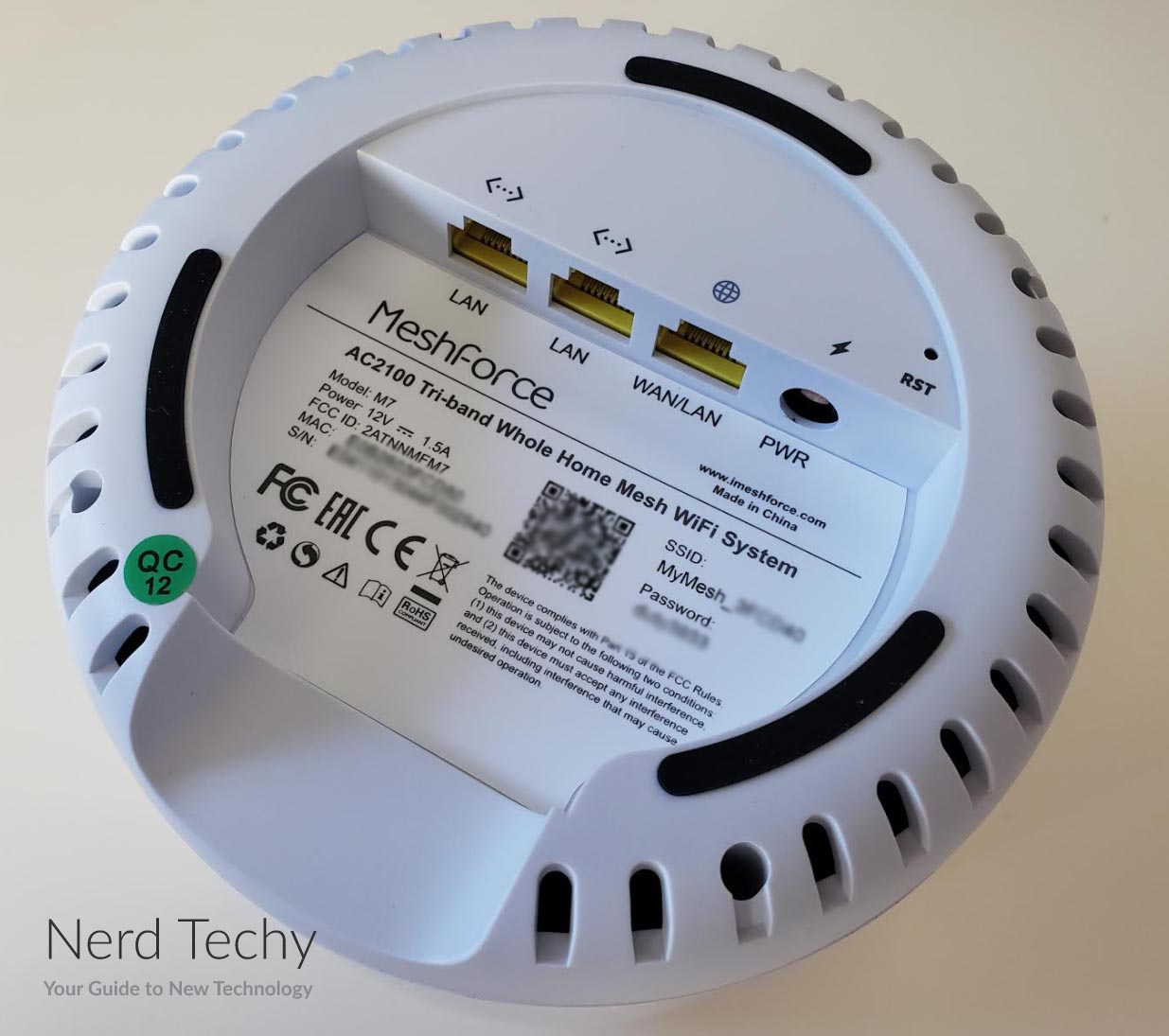 The app is very intuitive to use and you can set up the network with just a few selections and button presses. One important note though is that you need iOS 9.0 or later of Android 4.4 to download the app and use it to set up the network. The app has a simple interface and displays the status of each connected node in the center of the screen, with upload and download speeds on the top-left and top-right parts of the screen, respectively. Using the app, you can manage connections for up to 75 devices simultaneously.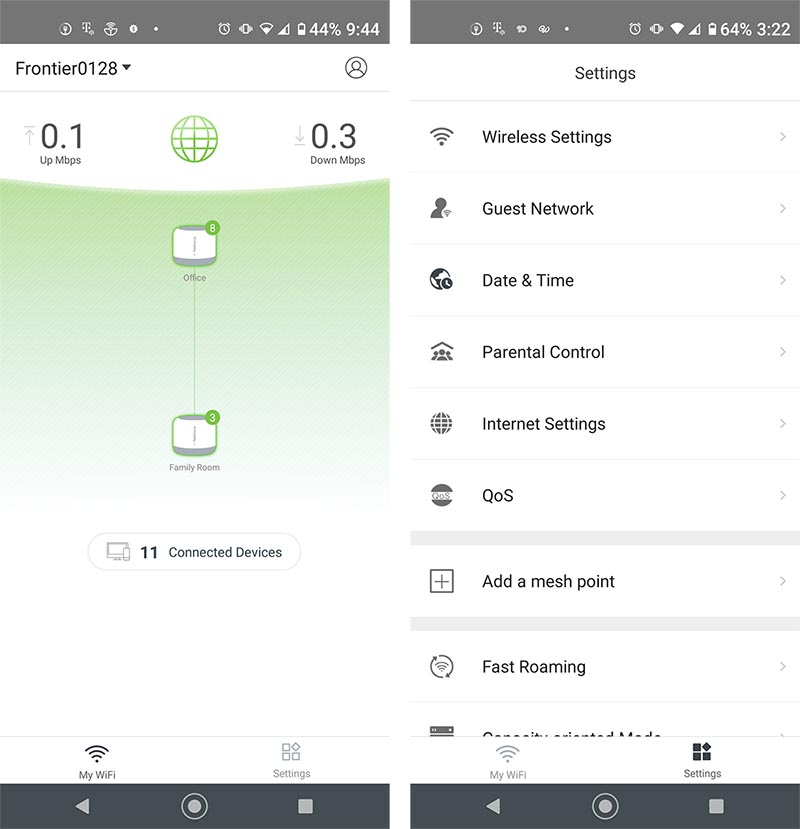 Network Specs & Features
Let's talk a bit about network specs and features. The Meshforce M7 is capable of running dual-band channels, so 5GHz and 2.4GHz. For those who do not know, 5GHz channels are more powerful and provide stronger bandwidth, but they have lower range and are impeded by walls more. 2.4GHz channels, in contrast, have lower bandwidth connection but a longer range.
The good thing about the Meshforce is that the way it extends your WiFi reach means that you can use the faster 5GHz channel anywhere in your house. If you have a 5GHz channel you probably have noticed how the signal will drop when you leave the immediate vicinity of the router. The M7 fixes that problem by spreading the network to your entire house.
As far as features go, the Meshforce M7 offers some good functions for a WiFi network router. First off, there is a parental control function. From the setup app, you can block certain websites and IP addresses so your children don't run into any unsavory content on the web, or you could use these parental controls to set limits on your kids' internet time.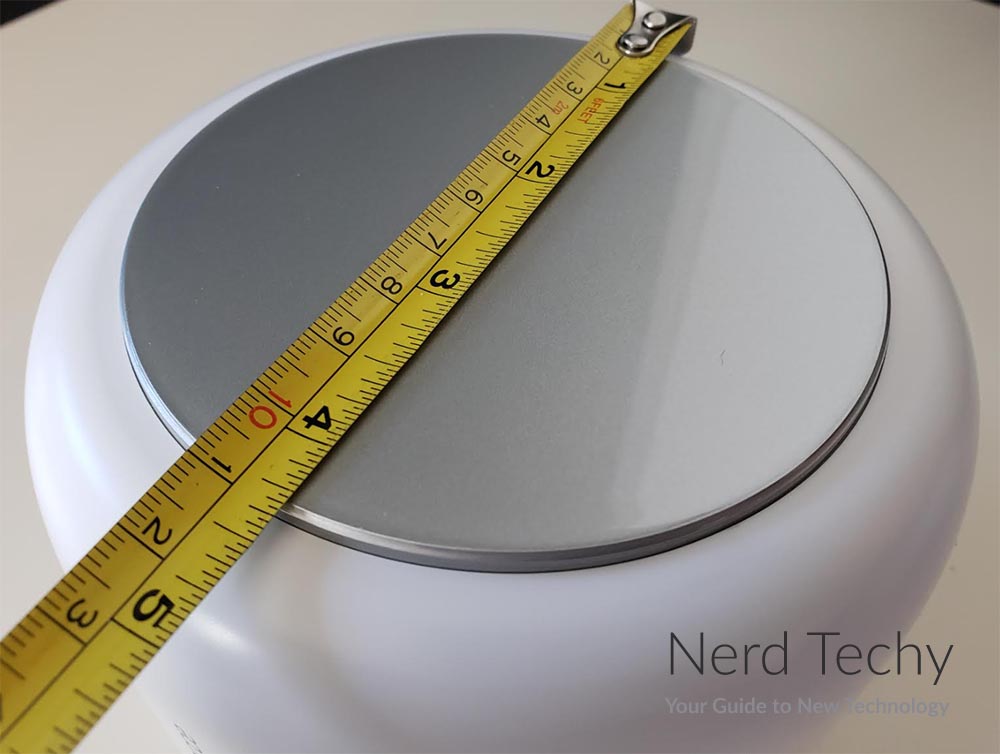 The Tri-Band actually has two 5Ghz channels (hence the name "Tri-Band") so you can take even more advantage of the higher bandwidth. The two 5G channels can have a rate of 867Mbps, which is fairly high. Keep in mind that your internet plan needs to have the bandwidth to make use of these rates. Fortunately, most modern internet plans allow for up to a gig of upload speeds. The 2,4Ghz channel has a rate of 300Mbps, which is not a lot but decent for a 2.4Ghz channel. As you might expect, security is defaulted to WPA2-PSK so it requires a password.
The Meshforce also has a built in firewall program to protect your data and privacy. The security protocols are state of the art and will protect your data, can be used to encrypt data, and protect you from threats on the internet, such as downloading a virus. The Meshforce 7 also lets you set up a guest network for people that you do not want on your private network. This function is not mandatory and can be disabled from the companion setup app.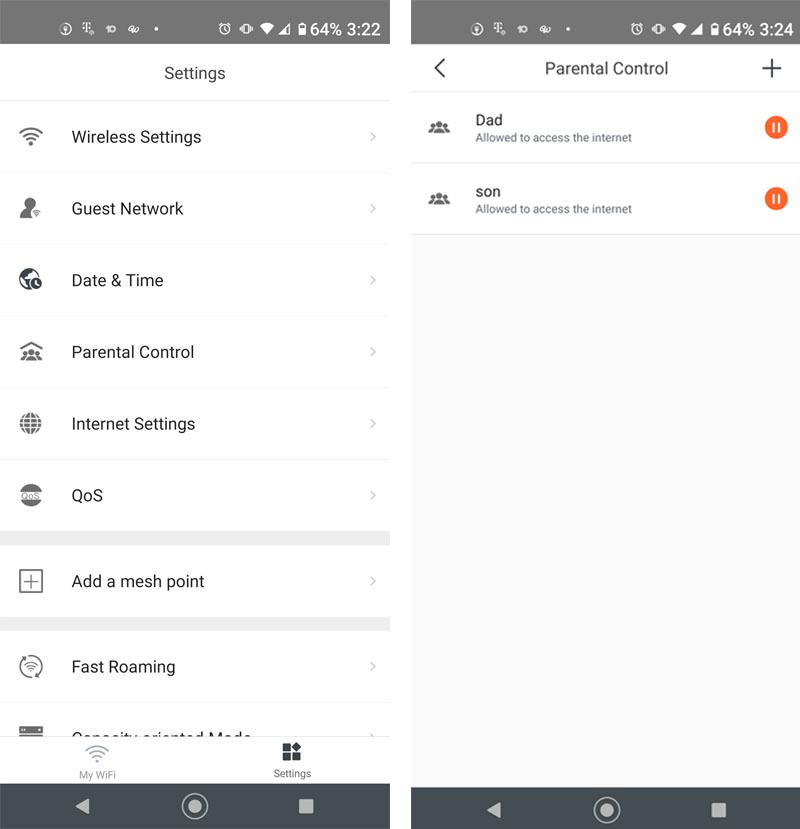 The real cool part of the network is the "tri-band" aspect. The tri-band connection automatically searches for the router that has the least traffic and will switch your signal to that router if one is overwhelmed. In that sense, the Meshforce M7 works a lot like a cloud computing network. Each unit can work entirely on its own but they can also work with each other to route and transfer information to optimize bandwidth, upload, and download speeds. This is a similar feature that is found in a lot of smart routers, such as the Rock Space AC2100.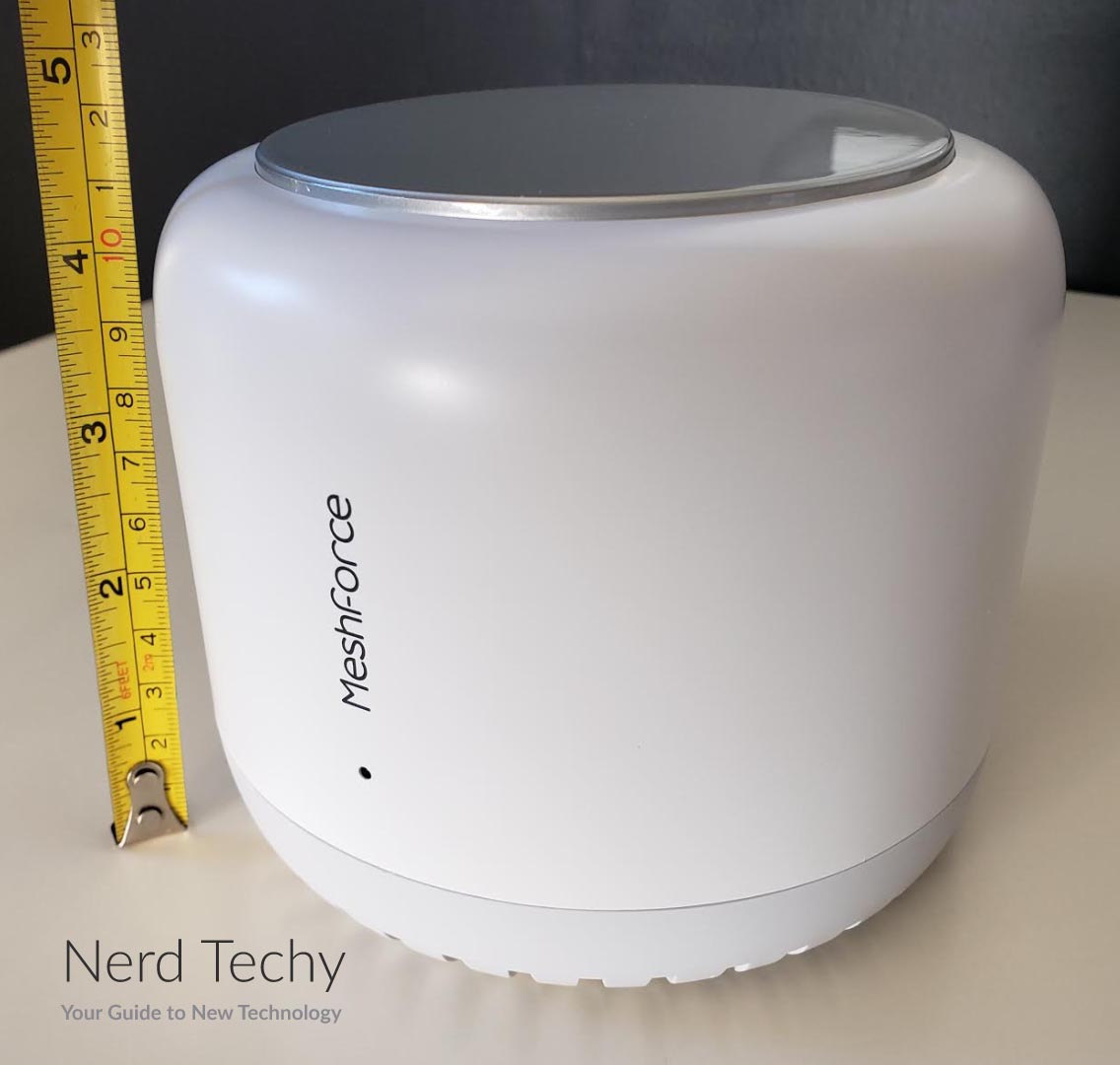 The Meshforce M7 also has what is called Smart QoS which can automatically reroute high bandwidth signals like online gaming and video streaming so you can get the optimum connection. Those who play a lot of online games or stream a lot will really appreciate this feature as it prevents stuttering, lag, and lost connections. In fact, the Meshforce M7 is particularly well-suited for gaming due to its high bandwidth and multi-channel switching features. One problem a lot of gamers run into is being disconnected from the server when hosting because their internet can't handle it.
Final Word
Overall, the Meshforce M7 Tri-Band WiFi System (10% OFF Code: MQY5MFHQ) is an excellent choice if you eat up a lot of internet and need something that can maintain high performance. It's particularly well-suited if you do a lot of online gaming or stream video. The tri-band channel is very effective and has useful protocols that can redirect signals in case one of the nodes is being taxed too much. The security protocols are top-notch and the companion app for installing and setting up the network is intuitive and simple to manage.
The only real "criticisms" we have of the system is the shape and profile of the individual nodes. Otherwise, there are very few negatives. We would highly recommend the Meshforce M7 to anyone who has internet problems and notices there are a lot of dead spots in their home's WiFi coverage.