Laptop computers are the go-to option for most modern professionals. And it's easy to understand why. While a desktop PC ties you to a single location, a laptop allows you to use the same computer everywhere. Whether you're at home, on the road, or at the office, you'll be able to use your own PC. There's also a significant security advantage. If you're not a fan of online storage, you can keep all of your files in local storage.
But laptops also leave a lot to be desired when it comes to ergonomics. Even big laptops can't hold a candle to an ergonomic keyboard and mouse, for example. To help you get the most out of your laptop, why not use a riser desk stand while you're at your desk? This gives you the best of both worlds. You can use your mouse and keyboard at your desk, and quickly take your laptop on the road as needed. Today, we'll be looking at three of the most high-performance desk stands on the market.
Note: At no extra cost to you, we may earn a commission for purchases using our links. Learn more.
If you have to use your laptop in your work vehicle, why not go the whole hog? Not long ago, we reviewed the best car laptop mounts that money can buy. That way, you'll be covered no matter where you are.
Why Use a Laptop Stand?
We've already mentioned that laptops aren't the best option for ergonomics. This isn't just because of the mouse and keyboard options. It also has to do with your posture. For example, if your laptop is on your desk, the monitor may sit too low, and cause you to hunch over. This can cause stress on your back, and create significant discomfort. Over time, it can even lead to repetitive stress injury. But there are several other reasons that a laptop stand can be a good idea.
An adjustable laptop stand will often include risers to keep the laptop slightly elevated from the stand itself. This increases air flow, so your laptop won't get as hot as it will if it's sitting on your desk. In addition, most laptop stands have some cable management features. This can reduce clutter on your desk, by ensuring that your cables don't get tangled.
A laptop stand is also a great choice if you use a standing desk. Since most standing desks are designed for desktop PCs, the added boost from a stand will help you out. Not only that, but they offer significant benefits if you use an external second monitor. Positioning the laptop at the same height as your external monitor reduces neck and eye strain.
If you often work in bed or on the sofa, a laptop desk stand won't be of much help. But there are other ways to get many of the same benefits. If this sounds like you, consider a lap desk. A lap desk will elevate your laptop, and will be comfortable enough to use while you're lying down.
Features to Look For
Now that we've talked about why you should use a laptop stand, let's go over what you should be looking for. Here are a few things you should consider before you pull the trigger on your purchase.
First off, you'll want to find out if the stand is compatible with your laptop. This might sound obvious, but it's easy to overlook if you're not careful. A stand that's too large or too small will only leave you disappointed. Similarly, you'll want to look for a stand that's both sturdy and lightweight. Aluminum is generally the best material for striking this balance, and all of our choices are aluminum.
You'll also want a stand that's easy to use. If it's adjustable or collapsible, this shouldn't require any tools. And finally, you'll want to think about style. This is by no means a deal-breaker. However, an ugly stand can turn an attractive desk into an eyesore. Look for a design that's pleasing to your eye and matches your office.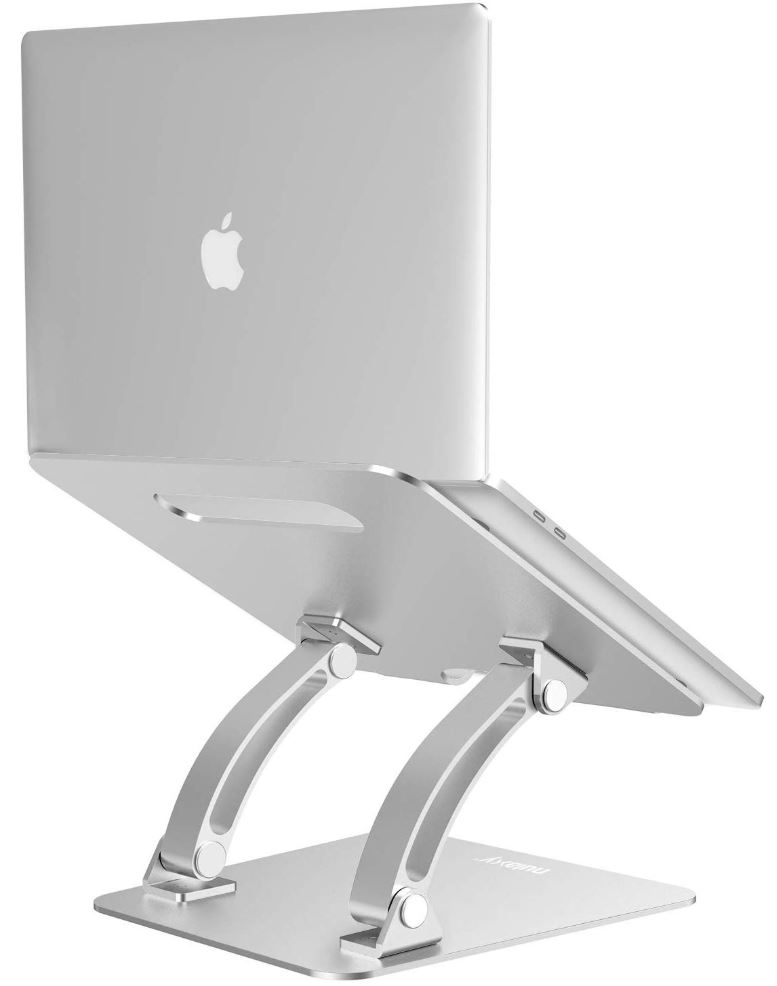 Nulaxy Adjustable Laptop Stand
The Nulaxy Adjustable Laptop Stand is a sturdy aluminum stand that's designed primarily for Macbooks. The platform is 10.2 inches wide and 9.4 inches deep, so it's also well-sized for smaller laptops and Chromebooks. That said, it's stable enough to support larger laptops, up to 17.3 inches. This includes the majority of small to mid-sized laptops on the market. As for the weight limit, you won't have any concerns. This stand can support up to 44 pounds. A small child could sit on it without collapsing it – not that we would recommend this kind of off-label use.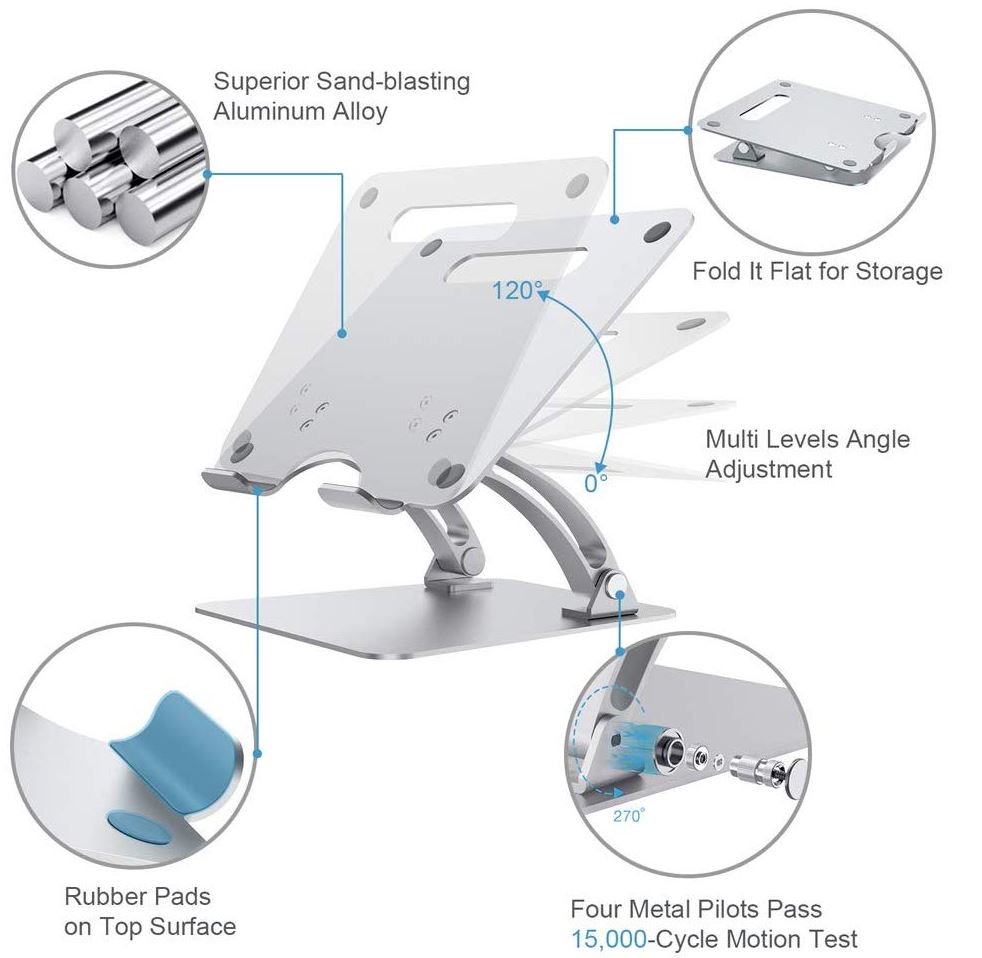 The Nulaxy stand has clean, rounded corners with no sharp edges. The platform is supported by a pair of adjustable arms that are hinged at the top and the bottom. Angling the bottom hinges will raise and lower the laptop, from 3.15 inches all the way up to 10.6 inches. Angling the top hinges will adjust your laptop's angle. This can reduce neck strain and eye strain. And if you're using your laptop's keyboard instead of an external keyboard, you can get a more comfortable angle. Adjustment is easy. All you have to do is grip the top platform and push or pull firmly as needed. The stand is also collapsible for storage and transport. Press the platform down all the way, and it will be slim enough to fit in a backpack or briefcase. It weighs only 2.1 pounds, so it's also lightweight enough for portability.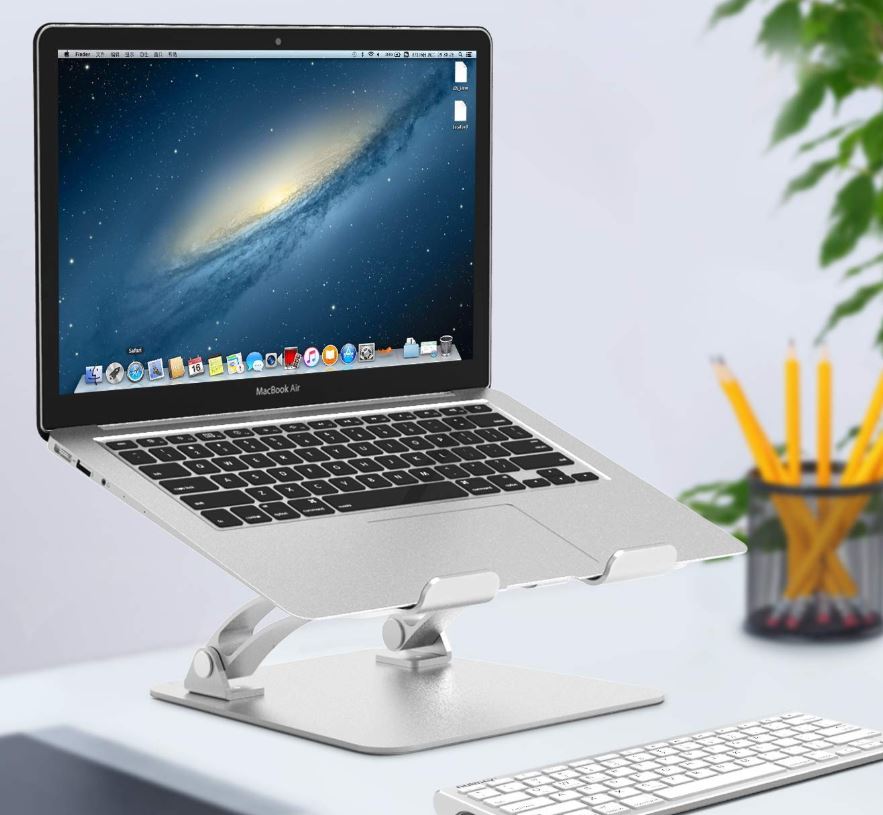 Bonus Features
At the top of the Nulaxy's panel, you'll find a wide, oval hole that allows for better airflow. There are also four rubber pads, which slightly elevate the laptop off of the surface. This allows air to flow underneath the entire machine, keeping it cool while it's operation. The bottom supports are also padded, so they can cradle it without scratching the front of your machine. There's also an 18-month manufacturer's warranty. Nulaxy will offer either a replacement or a refund. However, you need to send in your warranty registration if you want to get coverage.
Lamicall Laptop Riser
The Lamicall Laptop Riser has a deceptively simple design. It's not adjustable, but what it lacks in adjustability it makes up for in overall quality of construction. Both the top platform and the base are 10.2 inches wide and 9.4 inches deep. This accommodates laptops of up to 17 inches, which is enough for all but the largest laptops on the market. It weighs 2.7 pounds, which means it's slightly beefier than the Nulaxy stand. It can support an impressive 132.2 pounds, which is more than you'll ever need. Forget about a small child sitting on it. A petite woman could sit on it.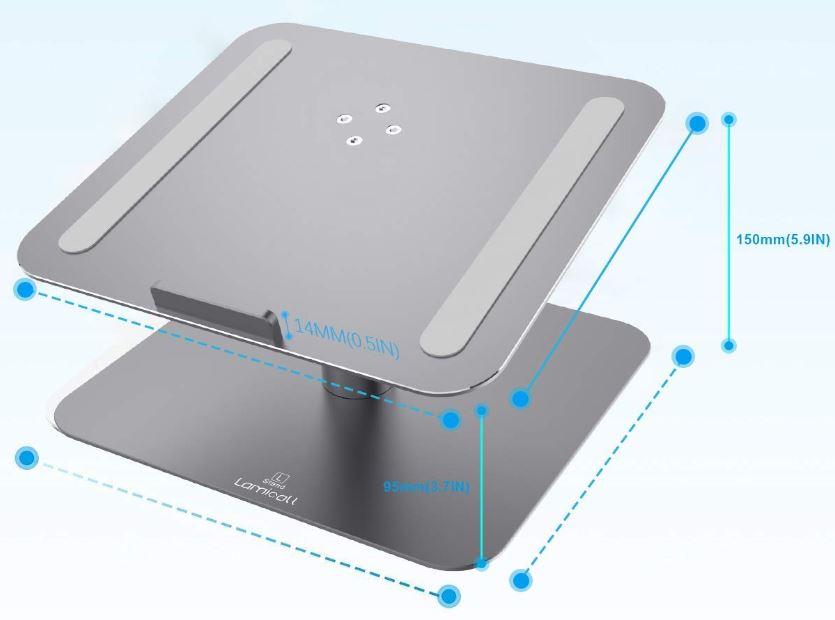 The bottom of the base features rubber pads to keep it from sliding around on your desk. And the single, central support post is very sturdy, mounted with four screws at the top and the bottom. It supports your laptop at a slight angle. The front edge will sit 3.7 inches from your desk, with the back edge at 5.9 inches.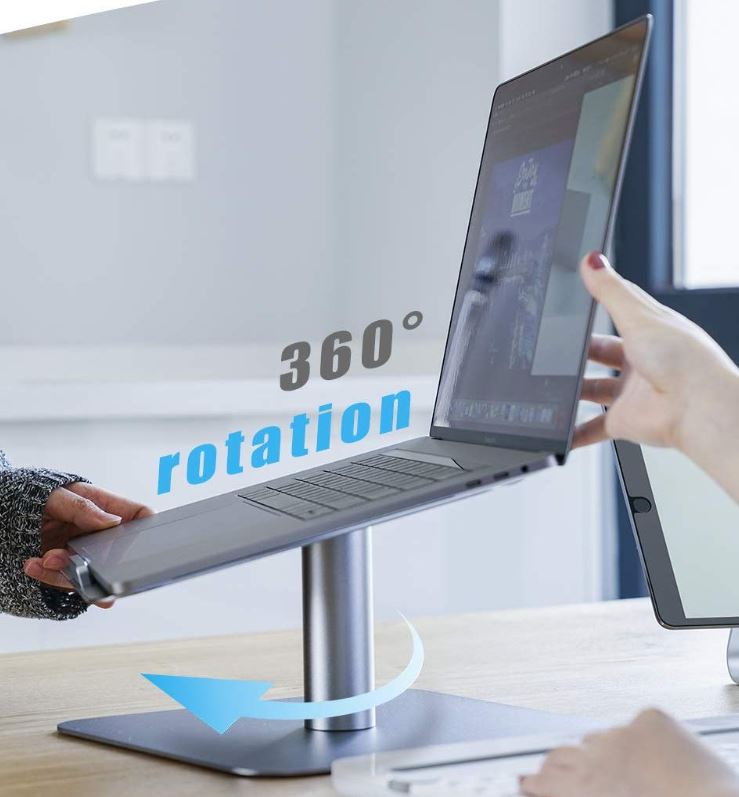 Bonus Features
Like the Nulaxy, the Lamicall features rubber pads on the top surface to elevate your laptop slightly. This allows for enough airflow to keep your laptop cool. There's also padding on the inside of the ½-inch front support lip, which keeps it from scratching your machine. The Lamicall includes a 12-month manufacturer's warranty, as well as 24-hour customer support.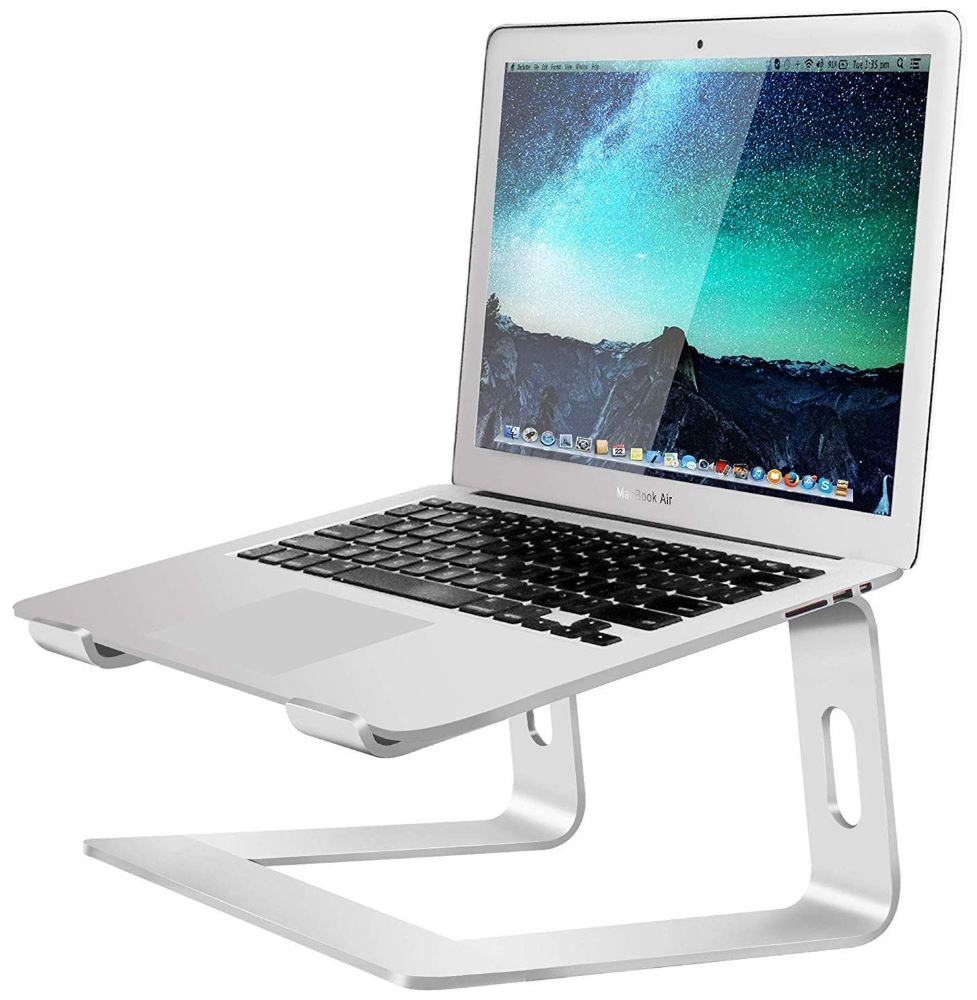 Soundance Laptop Stand
The Soundance Laptop Stand has a unique design. Instead of supporting your laptop on a single platform, it uses two separate support arms. While Soundance did not publish a weight limit, the aluminum construction is quite sturdy. It's certainly strong enough to support any reasonably-sized laptop. It's designed for laptops from 10 to 15.6 inches, which makes it slightly smaller than the others we've looked at. However, it's still big enough for most laptops on the market.
The two top support bars can be detached from the base without any tools. As a result, you can easily take it apart and throw it in a backpack. And at only 2.2 pounds, it's easily portable. When fully assembled, the base of the stand is 10.2 inches in width and 8.9 inches in depth. The backs of the supports rise to 6 inches in in height, and slope forwards to 3.8 inches. This will provide a comfortable viewing angle for most people. And the base has rubber feet on the bottom, which prevents it from sliding.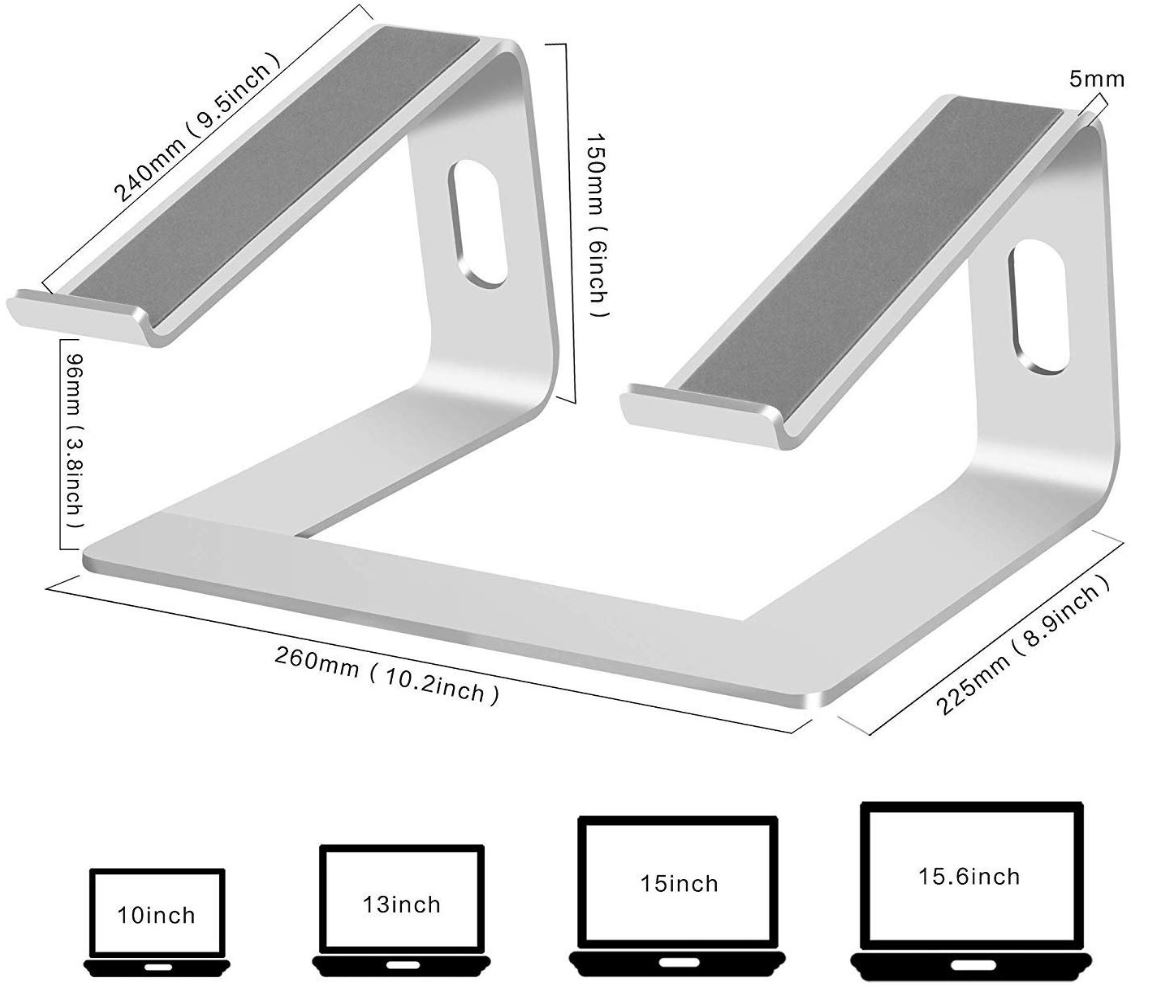 Bonus Features
The Soundance's unique design makes it one of the coolest laptop stands available. Unlike the others we've looked at, the support arms leave most of the bottom exposed. This ensures that your laptop will get the most possible airflow, without the need for holes or padding. That said, the support arms are very well-padded, and won't scratch your machine.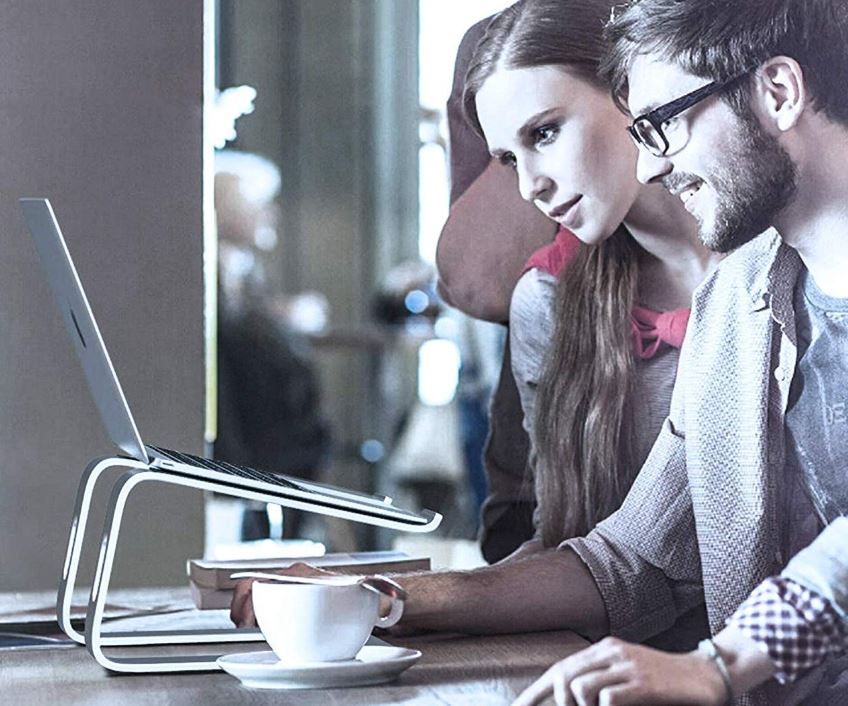 One thing we really liked about this desk stand is that support arms have open holes in the back. These are great for cable management, since you can simply route your cables through the holes. It's also a great choice for storage. Since the bottom is completely open, you can easily stow your mouse and keyboard underneath when they're not in use. And the warranty is excellent. Soundance offers a no-questions-asked 30-day return window. If you don't like it, just send it back. They also offer a 1-year manufacturer's warranty.
Final Verdict
So, which of these laptop stands is the best of the bunch? Each of them offers its own unique benefits. The Nulaxy is the best if you want an adjustable stand. It can sit either very high or very low, so it can work in a wide variety of circumstances. The Lamicall, meanwhile, is our top choice for durability. While it's not terribly portable, it's built like a brick, and can support any imaginable machine. Finally, the Soundance is the best choice for smaller desks. With its open design and cable management system, it keeps your workspace neat and tidy. And while it isn't necessarily the sturdiest stand on the market, it's lightweight and easily portable.
Please consider sharing:
Note: At no extra cost to you, we may earn a commission for purchases using our links. Learn more.