Every year, our laptops get more and more powerful. One of the things that you may not know about notebook computers is that they often use the same powerful hardware as our desktop computers. But Intel and Nvidia, the most popular manufacturers of CPUs and graphics cards, need to make some serious changes to this hardware to make them suitable for use in portable hardware.
Basically, the main issue is heat. The more heat a chip generates, the more power it uses. Plus, laptops are not able to handle the same high temperatures as desktop computers are. They solve this problem using something called throttling. Your fans can only remove so much heat from a chip, so when the heat is too much to bear the chips have to be slowed down. Gamers struggle with throttling the most. They'll often notice that as soon as their games start to get intense, suddenly your computer slows to a crawl.
Note: At no extra cost to you, we may earn a commission for purchases using our links. Learn more.
Fortunately, cooling pads are a solution. Most laptops work by drawing cool air in through the base of the laptop, passing it over the CPU, and exhausting it out the back. When you're using a cooling pad, you can force more air into the system and improve the rate of cooling. But not all cooling pads are alike. The one you choose depends on how much cooling you need, and the design of your laptop. Today, we'll be looking at the three best laptop cooling pads for 2017. We'll help you understand the differences between them, and pick the one that's right for your laptop.
Havit HV-F2056 15.6" to 17" Laptop Cooling Pad
Havit is a large importer of Asian made products. While there are many companies that do the same thing, what sets them apart from others is their quality assurance team. Every product they release goes through a rigorous testing procedure, leading them to be one of the most well reviewed vendors of cooling pads online. Since this model is such a top seller, we had to find out first hand why consumers love their cooling pads so much.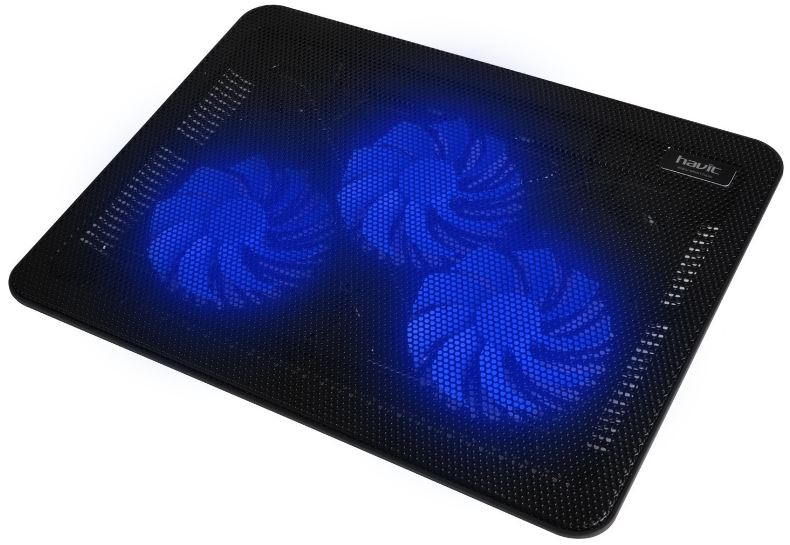 Design
Despite the fact that the Havit HV-F2056 is packing three powerful fans, it's ultra slim design makes it very portable. But that didn't stop them from designing it with an aggressive, powerful look. The mesh top of the cooling pad is embossed with a large X across the face. We're not exactly sure where the X comes from, considering that the product name doesn't contain an X. But the one thing we are sure of is that it looks darn cool.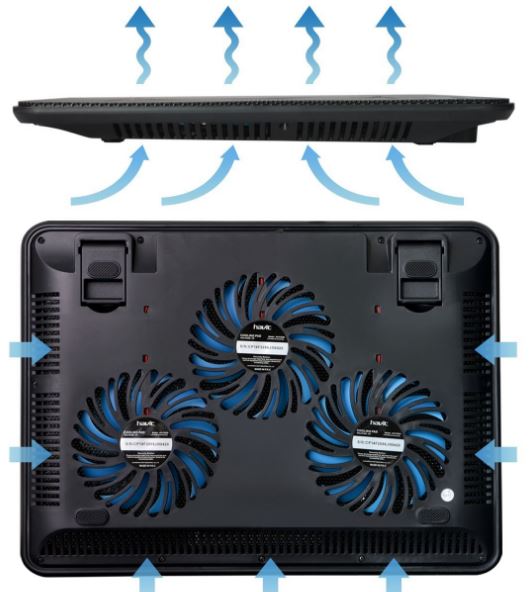 When it's turned off, the Havit logo in the top corner is the only thing to focus on. But once you flip the switch, the fans are illuminated with a bright blue light. Generally, the fans will be covered by your laptop. But this leaves your area with a dim blue atmospheric glow. If you're a gamer, the effect both subtle and yet powerful, the very thing you need to set yourself ahead of the competition.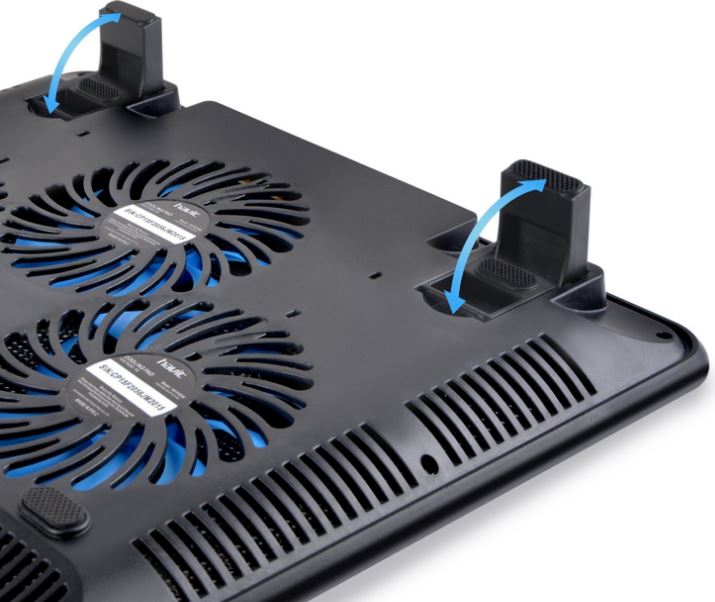 Cooling
How well this pad will cool depends entirely on how your laptop is designed. Fortunately, the three separate cooling fans mean that it's better suited for use with a wider variety of laptops. The first thing you'll want to check is how the fans are arranged on the bottom of your laptop. If you've got a variety of cooling vents (many gaming laptops have one for the CPU, and two for the graphics card) then this cooling pad will work very well for you.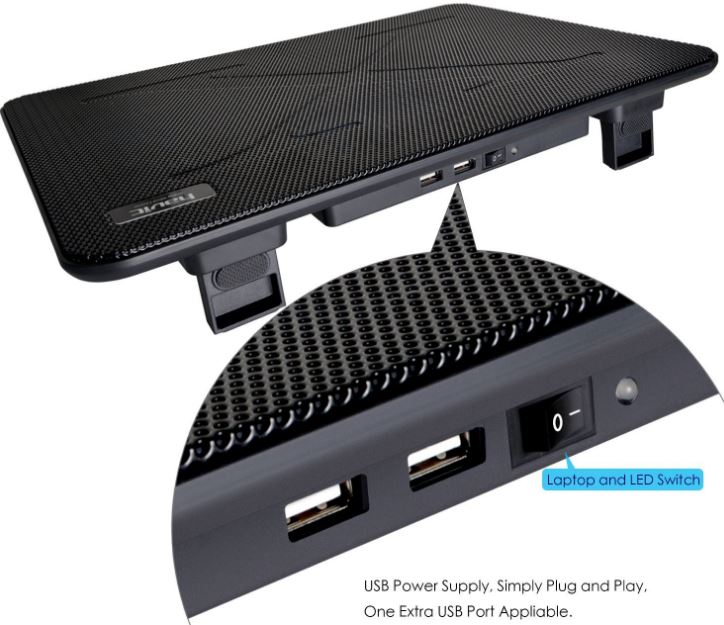 The fans don't put out the largest amount of air pressure, they're designed around even air pressure. When you've got multiple intake fans on the bottom of your laptop, the last thing you want is some cooling pad to try and force extra air in. Instead, this pad just creates a nice blanket of cool air that your existing cooling system can use to pull fresh air over your chipset.
Ergonomics
One of the problems with cooling pads that are low to the ground is that they're not particularly ergonomic to use. Since this model is so thin, our initial concerns would be that there was no ergonomic benefit. Fortunately, there are two fold out tabs on the bottom that allow you to raise it. There are two height settings, both of which make using your laptop much more comfortable.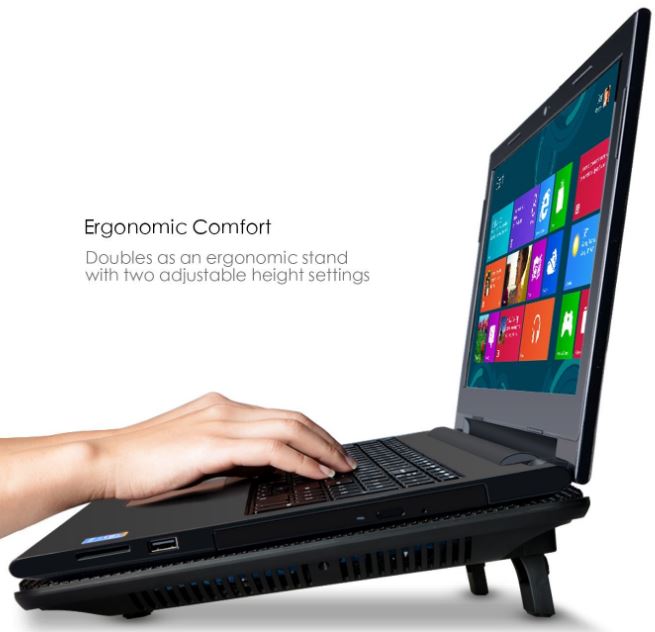 Noise
When you're choosing a laptop cooling pad, unfortunately there are a few trade-offs you need to consider. Obviously, the more air pressure you have the more noise there is. Fortunately, this pad finds a good balance between the two since it uses three low pressure fans to create an environment that is well suited to laptops that already have decent cooling systems. The low pressure, speed, and design of the fan blades make for extremely quiet operation, giving you the best of both worlds.
Cooler Master NotePal X3
Anyone who's into high end desktop computers has heard of cooler master. They're one of the largest manufacturers of PC cases, CPU coolers, and other accessories like power supplies. Their experience in this industry makes them uniquely qualified to create a high-end laptop cooling pad, so we had to give their offering a shot.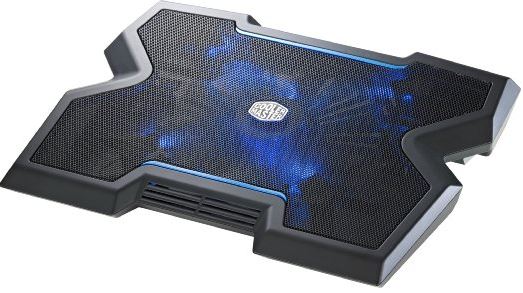 Design
I think that we can safely say that the Cooler Master NotePal X3 is one of the coolest looking notebook cooling pads on the market. Although they could have easily just designed a simple square pad, they used rectangular tapers on the top and bottom and triangular tapers on the side to create a tough-looking X shape. The fan itself is illuminated with blue LEDs, and they've added two plastic LED strips on the top and bottom. Considering the low price of this cooling pad, you might be inclined to think that cooler master took a "form over function" approach with this product. But we found out first hand that this pad's performance is a top notch as its looks.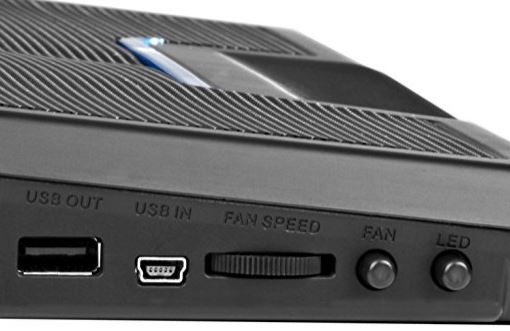 Cooling
Instead of strategically placing inexpensive fans all around the internal area of the pad, cooler master's approach was clearly along the lines of "go big or go home." They used a massive 200mm fan (the largest ones that you can buy) and placed it right in the center of the pad. Generally, a design like this is only suitable for simple cooling systems. But if you look carefully at the fan, you'll notice that the edges of the fan blades are flat.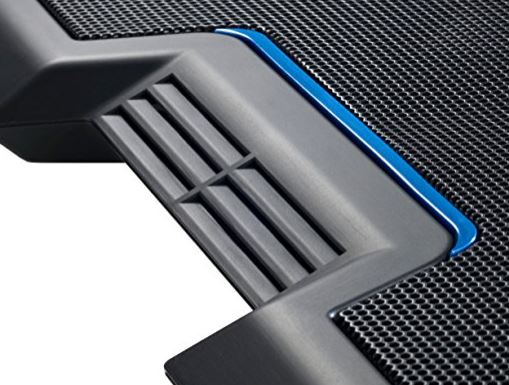 This is because the fan is pushing are outwards (away from it) just as much as it is pushing the air up. The inside of the cooling pad acts a bit like a scoop, taking this extra air and directing it over the entire bottom surface of the laptop. Due to this unique design, the cooling pad is suitable for almost any type of laptop. That being said, there is definitely a preference for airflow in the center of the case. The benefit is that this cooler has slightly higher pressure, so even if the cooling system in your laptop is poor this model will help to improve its functionality.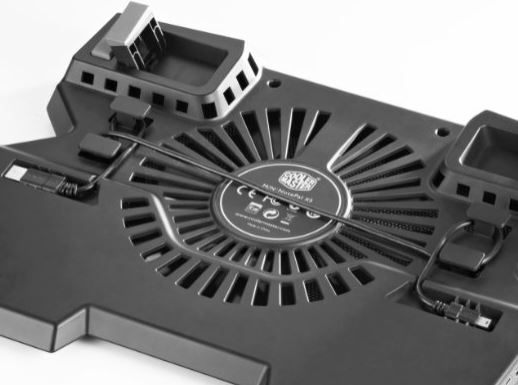 Ergonomics
This laptop pad is a little thicker than most. Even when you've got it laying flat on the table, there is a slight downward taper to it. This taper makes it much more comfortable to type on. It also elevates the screen slightly, preventing your neck from having to crane.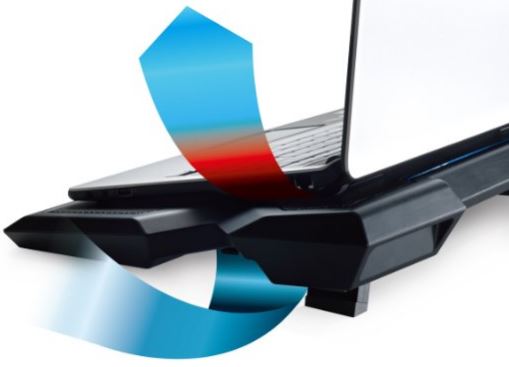 Noise
When you've got this cooling pad running on full blast, it does tend to get a little loud. Fortunately, Cooler Master enables you to control the fan speed via a small dial on the left of the bad. With this in mind, you can set it to operate at a low speed where it's dead silent, or full blast where you'll have to deal with a little white noise. With our laptop, we found that the idea setting wasn't completely silent, but still quiet enough that you'd barely notice it after a moment or two.
Targus Space Saving Lap Chill Mat
Targus is best known for their backpacks, but they're no stranger to designing products to accommodate notebook users. Their laptop cooling pad is extremely affordable, and part of their line of inexpensive PC accessories. It's received several excellent reviews, so we took a look to see how it stacks up against other models.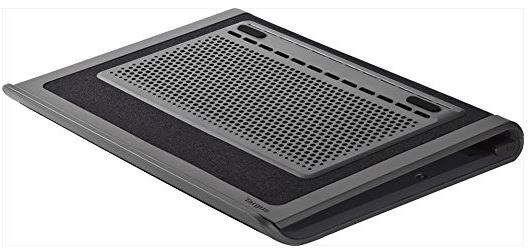 Design
The design of the Targus Space Saving Lap Chill Mat is very simple. They went for a nice gray that complements most mid-level laptops on the market. Around the cooling portion, they installed foam cushioning that helps to secure the base of the laptop against the cooling pad, improving airflow. It's certainly not much in terms of a snazzy design, but this isn't too much of a concern for most people since it will be underneath your laptop most of the time.

Cooling
This particular cooling pad opted for a dual fan design, which is a good balance between the silent triple fan and the high performance single fan. Each of the fans cover a large area, ensuring that there is plenty of airflow available for the built in fans in your laptop. This type of coverage is especially good for laptops that employ passive cooling, like the Macbook Pro. These laptops turn the entire base of the laptop into a heat sync, so any airflow is good in these situations as long as it covers the entire base.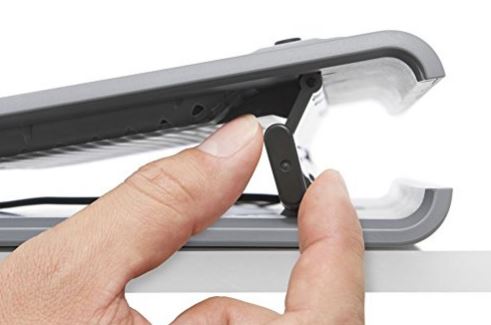 Ergonomics
Usually, the most expensive laptops are the thinnest. This cooler is a little thinner than most, making it suitable for use with thicker laptops. It has a slight incline, giving you the same benefits of other coolers in the way that it raises the laptop.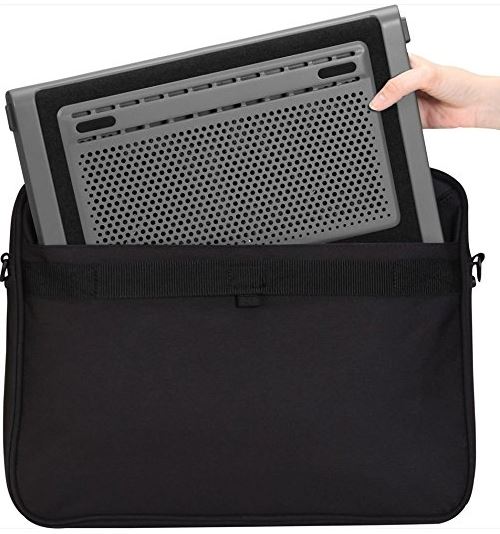 Noise
These fans are very high speed, and have the potential to produce a lot of noise. Targus didn't want to sacrifice any cooling ability by reducing the fan speed, so they took a different approach. What they did was increase the size of the holes in the face of the cooling pad. Because there is less material obstructing the air flow, this cooler still runs very efficiently.
Which Laptop Cooling Pad is Right for Me?
Each of these laptop coolers are great in their own regard, but the one you choose will depend heavily on how your laptop is laid out. First, take a look at the bottom of your laptop. How many cooling vents do you see? Where are they placed? Next, you'll want to consider how effective your cooling system is. Are you constantly battling with high temperatures and throttling issues? If so, check out the Cooler Master NotePal X3. This cooling pad has an adjustable fan speed and a massive fan so that you can dial your cooling system up to 11.
If you're using a larger laptop and are looking to compliment an existing cooling system, the Havit HV-F2056 is a great choice. It's ideal for laptops that have cooling vents on the sides of the laptop, but it works best when your cooling is already effective.
Finally, if you're looking for a basic cooling pad for a smaller laptop, the Targus Space Saving Lap Chill Mat is more than adequate for standard use. When you're not pushing your computer to the limit, there is no sense in spending money where you don't need to.
Please consider sharing:
Note: At no extra cost to you, we may earn a commission for purchases using our links. Learn more.