Laptops are one of the most convenient options out there for computing needs. Whether you're a college student who needs one for class, a gamer who wants to play games on the go, or someone who needs to take work with them on the go, they're a great solution. However, they do have one major drawback, especially with the more powerful models.
As you go up in power, you also typically go up in heat created. This becomes an issue because laptops can only get so big before they lose their benefit of being small enough to take on the go. If there's too much heat, you can experience technical issues, crashing, and even breaking some components. To combat this, one of our favorite devices is a laptop cooling pad.
These are typically powered pads with cooling features that you put your laptop on top of. When in use, they will blow cold air through your laptop and keep all the components at an ideal temperature. When looking for the best option for you, there are a few considerations to keep in mind.
Design and Aesthetics
The overall look of these cooling pads is important because they're going to become a part of your main setup area. If they clash with your overall aesthetic, then you'll never be happy with your choice. Luckily, there are lots of styles to choose from for gamers and minimalists alike.
Cooling Capabilities
The most important feature is how they actually keep your computer cool. Knowing how they work, how many fans they have, and what they're capable of is essential to know before making your decision.
Laptop Compatibility
Not all laptop cooling pads will be compatible with all laptops. You'll need to pay attention to the size of the cooling pad and cross reference that with how big your laptop is. If your laptop is smaller, it should be okay, but you may miss out on some cooling. If your laptop is bigger, then you won't be able to cool every part of it easily.
Power Needs
Many of these laptop cooling pads require extra power. Looking into this beforehand lets you know if you need an entire plug in the wall dedicated to them, a single USB port, or maybe nothing at all if they're rechargeable.
Extra Features
Every device has some extra feature that gives it a boost in quality of life while using it. Laptop cooling pads are no different, so see what extra things they can do before making a final decision on the one that's right for you.
Best Overall: KLIM Mistral Laptop Cooling Pad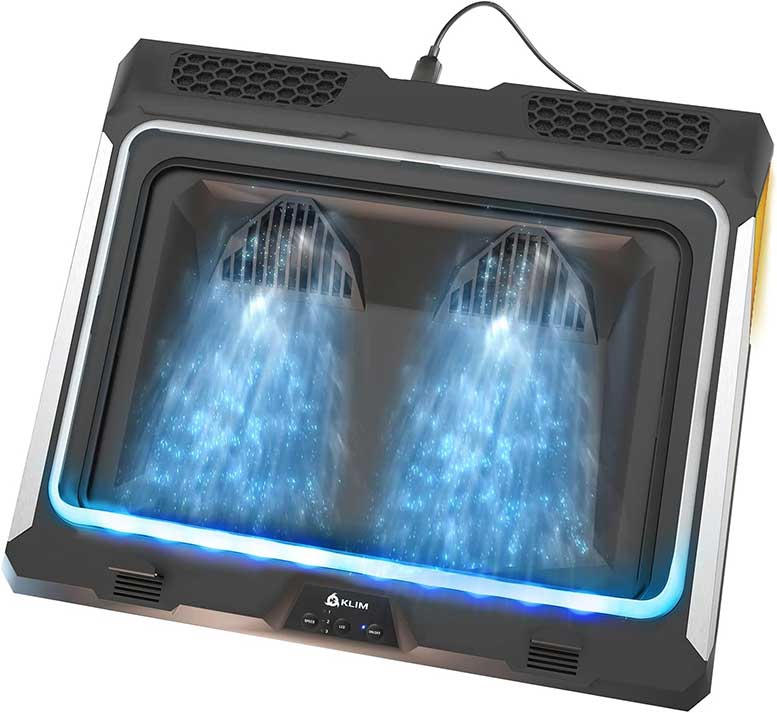 Key Features:
RGB Lighting
Dual Fan Cooling
15.6 – 17.3 Inch Laptop Compatibility
If you're someone who just wants the best overall laptop cooling pad, then go with the KLIM Mistral. This is an amazing looking device made out of ABS plastic. Its body is all black, with lighting components around the edges and sides. These lights are RGB and can be customized to one of 5 preset options.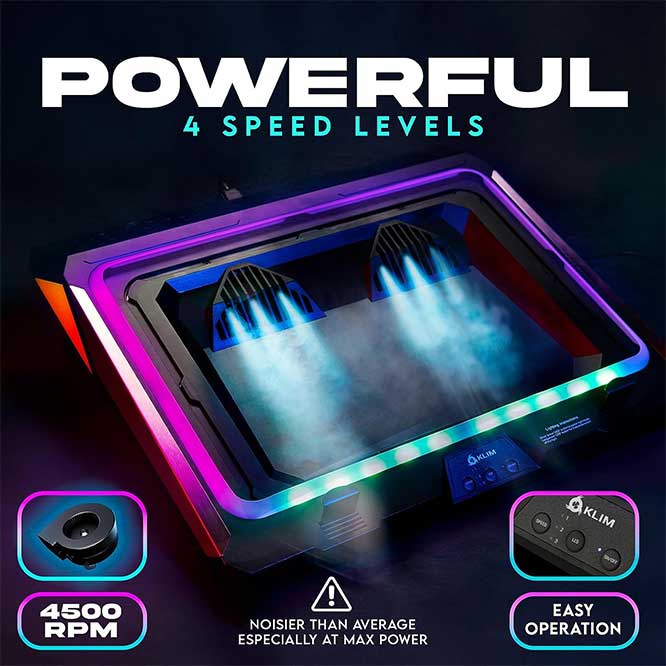 The cooling capabilities of this laptop pad are great. It uses two high-powered fans to blow air directly into the bottom of your laptop. They spin at up to 4500 RPM each and even have anti-dust filters to keep dust from getting in the device in the first place. The front of the pad also has settings for fan speed, so you can customize it to your needs.
As for compatibility, you can use this cooling pad with laptops between 15.6 and 17.3 inches. They also have to have bottom vents. Otherwise, the air won't get at the internal components. While in use, you can choose between one of eight levels of incline, so you can find a comfortable way to use your computer no matter what. This cooling pad is powered via an included power cord.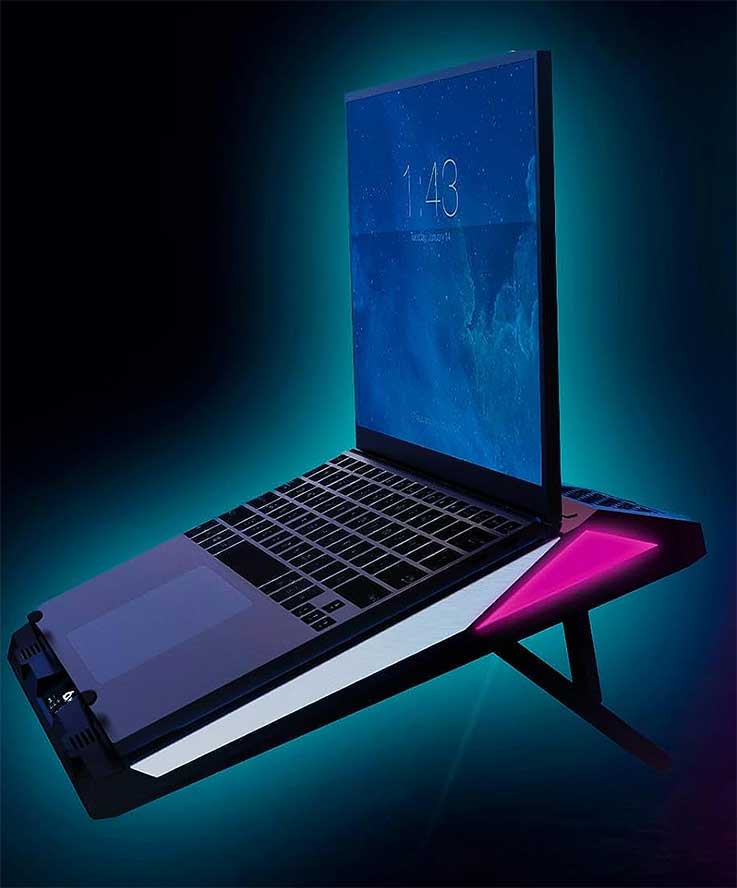 One nice feature is the extra USB ports. On the pad, you'll find two extra ports that are great for powering additional devices like your phone, wireless mouse, and more. Overall, the KLIM Mistral is a great laptop cooling pad.
Pros:
RGB lighting
Two high-powered fans
Two extra USB ports included
Cons:
Some reviewers note it can get pretty loud
Best Runner-Up: havit HV-F2056 15.6″-17″ Laptop Cooler Pad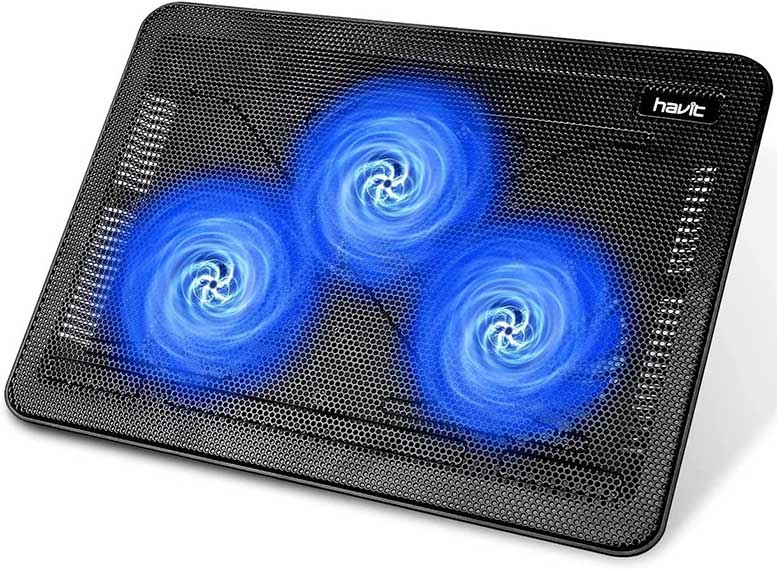 Key Features:
Mesh Front
Three Fans
15.6 – 17 Inch Laptop Compatibility
The best runner-up choice is the habit HV-F2056. This laptop cooler is pretty basic looking, with an all-black or blue body and mesh front to maximize airflow. You do get a couple of options for colors of the backlit fans, however. These choices include blue or red.
Internally, this cooling pad features three cooling fans. Each fan can run at a maximum of 13,000 RPM. However, there doesn't appear to be any way to control the fan speed, so once it's on, that's what you get.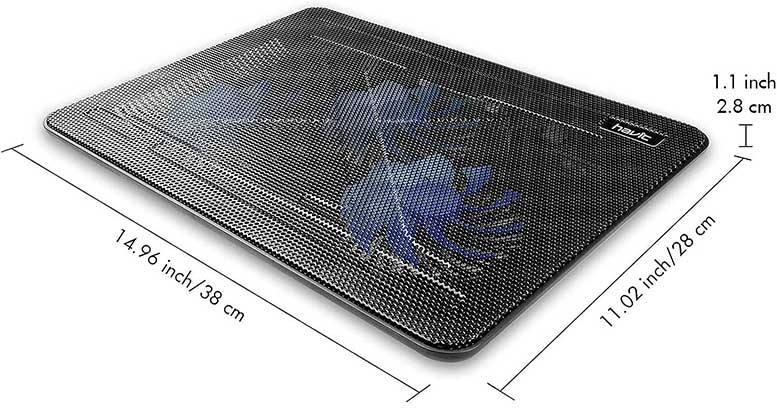 As for compatibility, you can use this cooling pad on laptops between 15.6 and 17 inches. They rest on top and receive cooling from below, so those without bottom vents may struggle. The cooling pad has feet that elevate to give you two options for how it actually sits on your desk. Additionally, there's a power switch on the back to turn it on, and to power it, you use an included USB cord.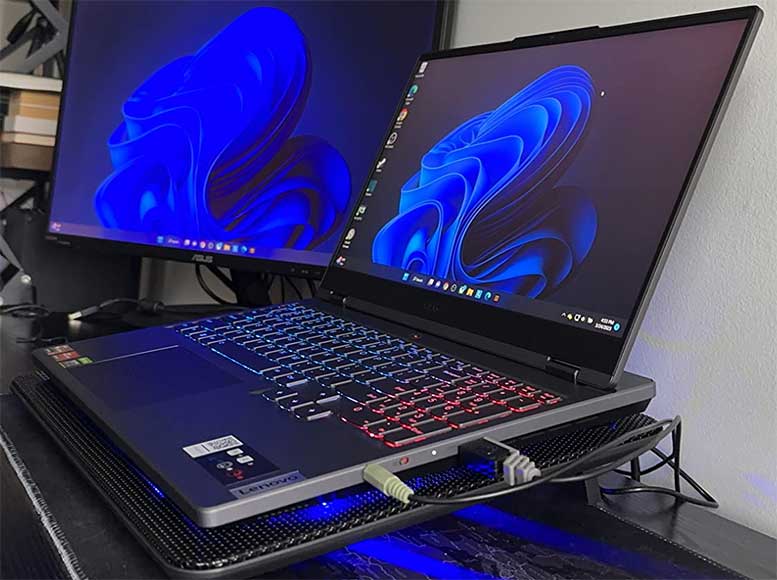 Similar to the KLIM, there are additional USB ports on the back of the havit, perfect for charging up extra devices. This, paired with high-power fans and plenty of choices for looks, makes this another solid choice.
Pros:
Three fans that go up to 13,000 RPM
Three color and lighting combos
Mesh front to help maximize airflow
Cons:
No easy way to control fan speed
Best Alternative: KeiBn Upgraded RGB Laptop Cooling Pad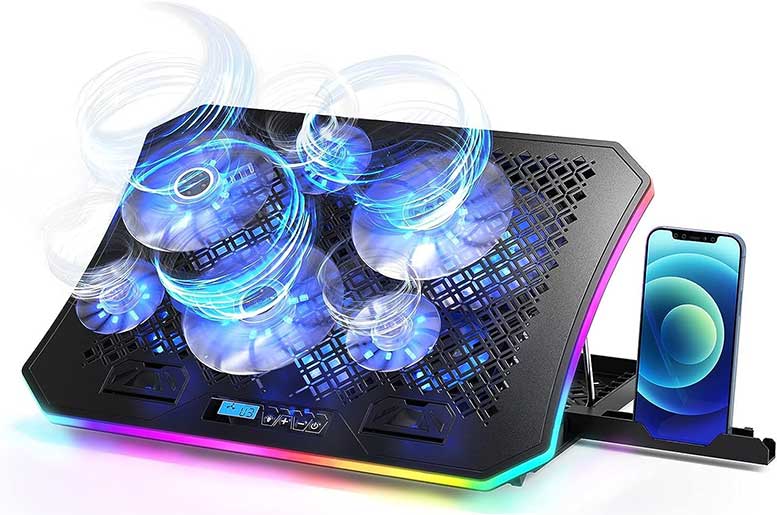 Key Features:
RGB Lighting With 10 Modes
6 Total Fans
15.6 – 17.3 Inch Laptop Compatibility
One of the better alternatives on the market, especially for those who want to use this in a gaming setup, is the KeiBn Upgraded RGB Laptop Cooling Pad. This device has a black plastic and metal body. Along that body, you'll find an RGB light strip. This light strip can be set to one of 10 different lighting modes to truly make it fit in however you want it. Additionally, the fans themselves are backlit in either blue, purple, or red.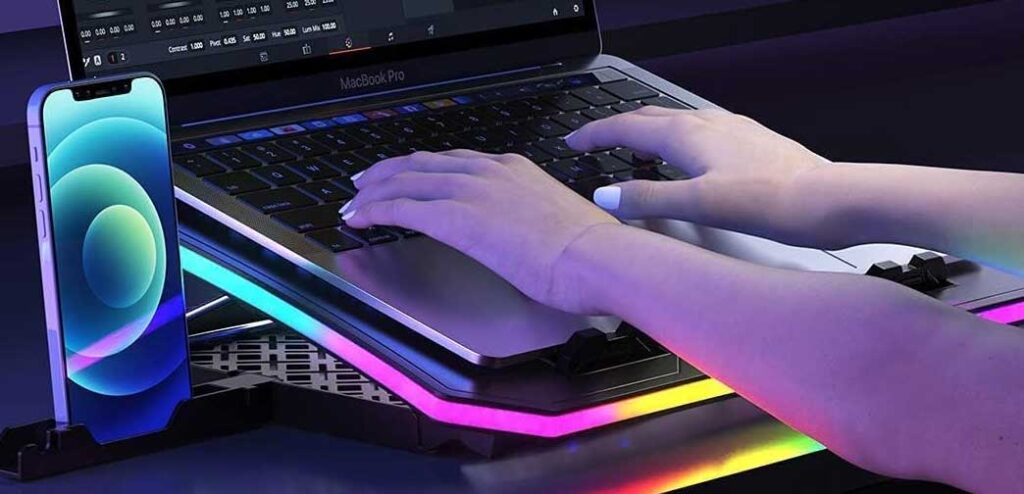 As for cooling capabilities, this cooling pad has six internal fans. Three of them are larger, and three of them are smaller. There are three fan modes pre-programmed, allowing you to have all six fans on, only the large fans on, or only the small fans on. There are also six different fan speeds to choose from, so you can get as much or as little cooling as you need. Best of all, while in use, it will only hit a top sound level of 28 decibels.
This cooling pad is compatible with laptops between 15.6 and 17.3 inches. This is further enhanced by its seven different levels for height adjustment to make sure it's as ergonomic as possible. All you need to power this device is the included USB cable.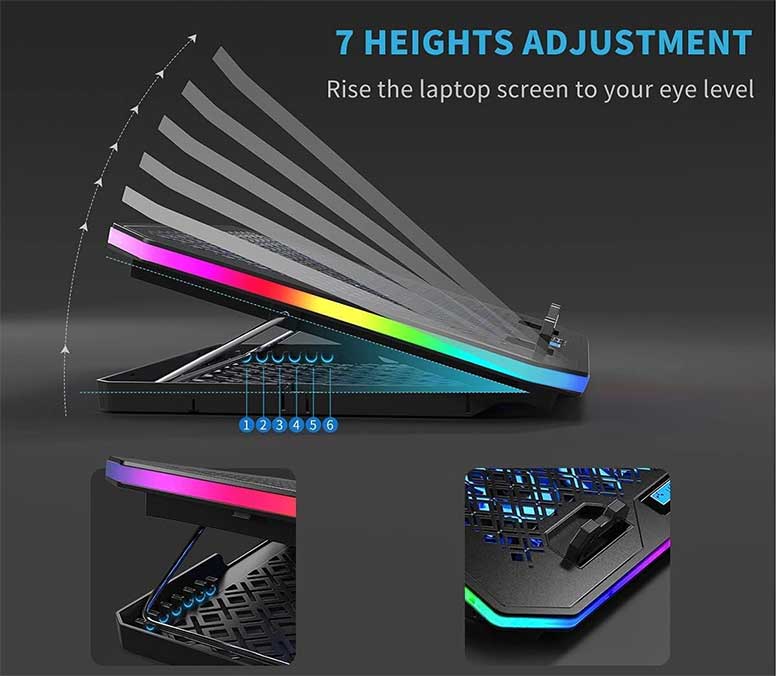 The best extra feature of this laptop cooling pad is the included phone stand. This allows you to keep your phone right next to your laptop while in use. If you prefer to not have it at all, that's fine too, as it's removable.
Pros:
Included phone stand
Multiple fan modes and speeds
RGB lighting
Cons:
Best High-End: IETS GT500 Turbo-Fan RGB Laptop Cooling Pad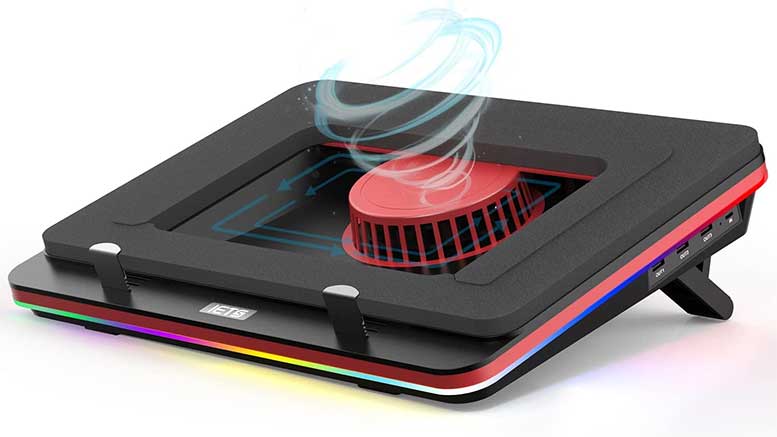 Key Features:
High end design
Turbo fan
13 – 17.3 inch laptop compatibility
If you want a high-end option, then the IETS GT500 Turbo-Fan RGB Laptop Cooling Pad is for you. This is a great-looking device with a primarily black body and red accents. Additionally, there's a small RGB strip along the outside edge for a nice added touch.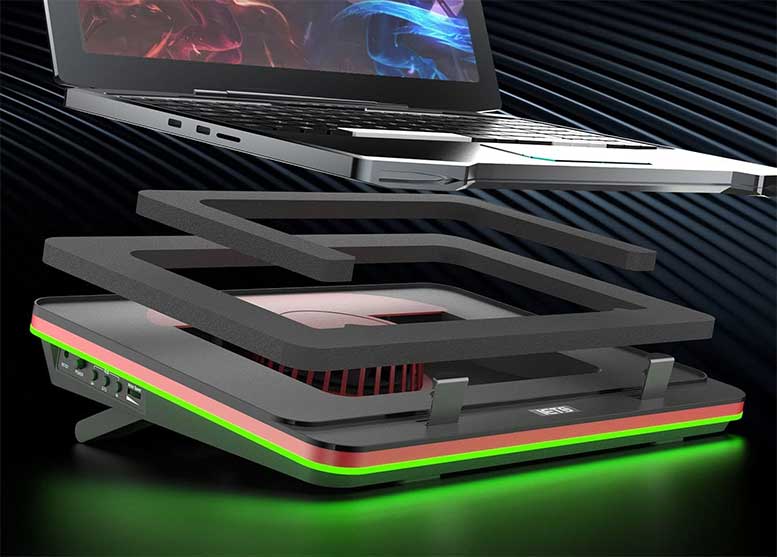 This cooling pad differs from others on this list as it only has one cooling fan. However, this fan happens to be a turbo-speed fan that does an amazing job at cooling. It can reach speeds of 4200 to 5000 RPM. This is great, especially when paired with their specialty sealing foam on the top. This foam is covered by your laptop and creates a tight seal, which ensures all air is blown directly into your computer and not out into the surrounding area.
In order to function properly, this cooling pad must be used with laptops between 13 and 17.3 inches. They also have to have bottom ventilation, as that is the only place air can go. As for power, it uses an included USB cable.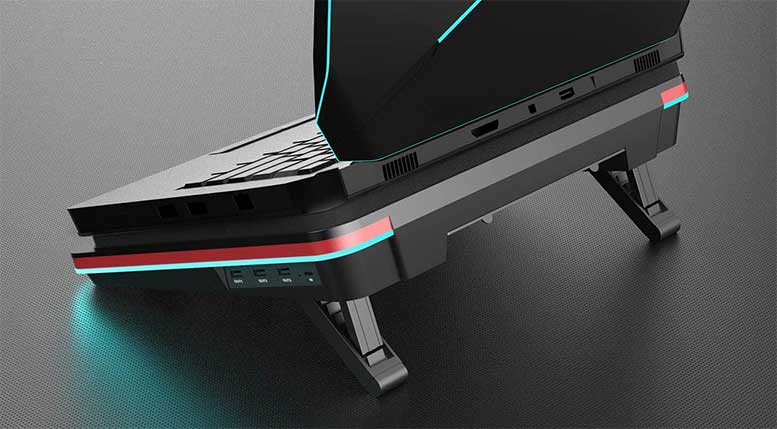 Similar to other options we've covered, the IETS has additional USB ports for powering more devices. However, it has three rather than the traditional two that we've seen. All of these premium features packed into one great device make it a great high-end option.
Pros:
Turbo speed fan
Sealing foam top
Three USB power ports
Cons:
Best for Large Laptops: Targus Portable Chill Mat HD3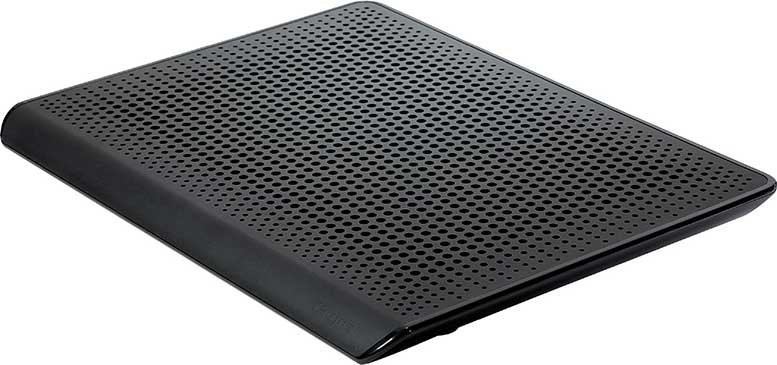 Key Features:
Large design
3 Fans For Cooling
Compatible With Laptops Up To 18 Inches
For users of large laptops, the best option out there for a cooling pad is the Targus Portable Chill Mat HD3. This cooling pad is extremely basic in its design. It's made from an all-black plastic and features no additional lighting like some others we've covered do. It also is made with an almost triangular shape, giving it a fixed height and open area to keep you cool as well. This makes it great for people with more minimalist styles.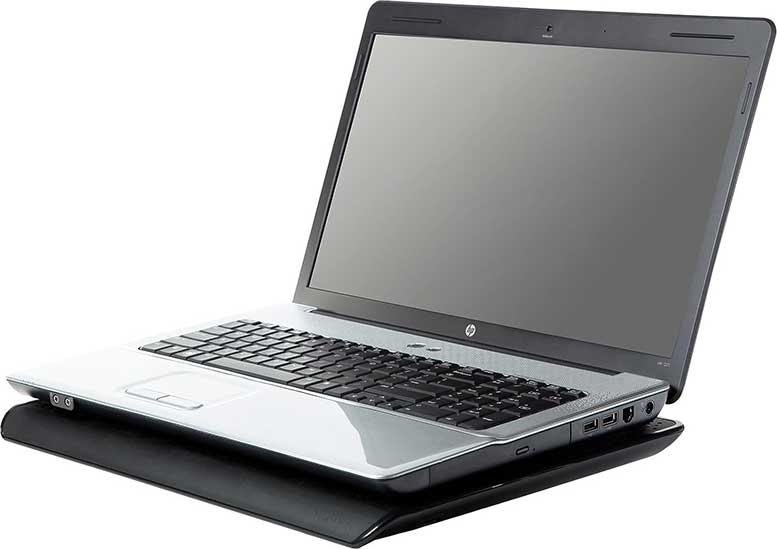 The top of the device is a mesh material, which combines with three ultra-quiet fans to provide cooling. These fans bring air in through the open-air sides and then up into your laptop. Similar to other pads we've covered, you'll want to make sure your laptop has bottom vents to ensure maximum cooling.
This cooling pad works with the largest laptops of any option on our list. It's compatible with anything up to 18 inches, meaning most laptop users out there can comfortably use this without any issues. As for powering it, just plug the included USB cord into your laptop, and you're good to go.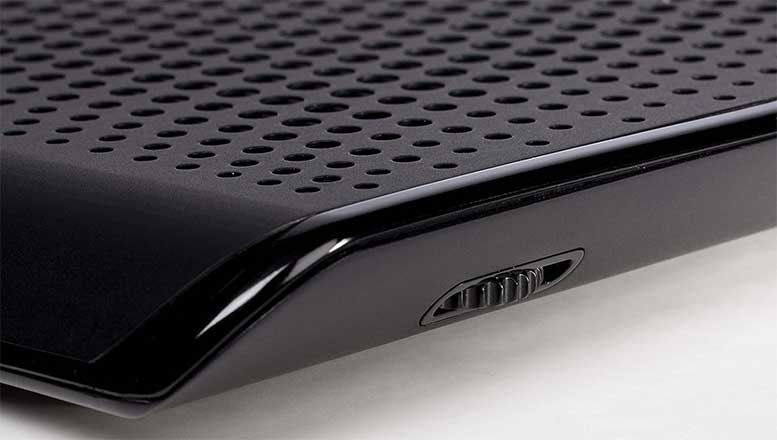 The best part about the Targus is its simplicity. It doesn't have all the extra bells and whistles that you don't need; it's just designed to do its job and do it well. Overall, this is a great choice, especially for those with larger laptops.
Pros:
Works with laptops up to 18 inches
Three ultra-quiet fans
Open air middle for further cooling
Cons:
Some reviewers don't think it's powerful enough for high-end computers
Best Budget: TECKNET Ultra-Slim Laptop Cooling Pad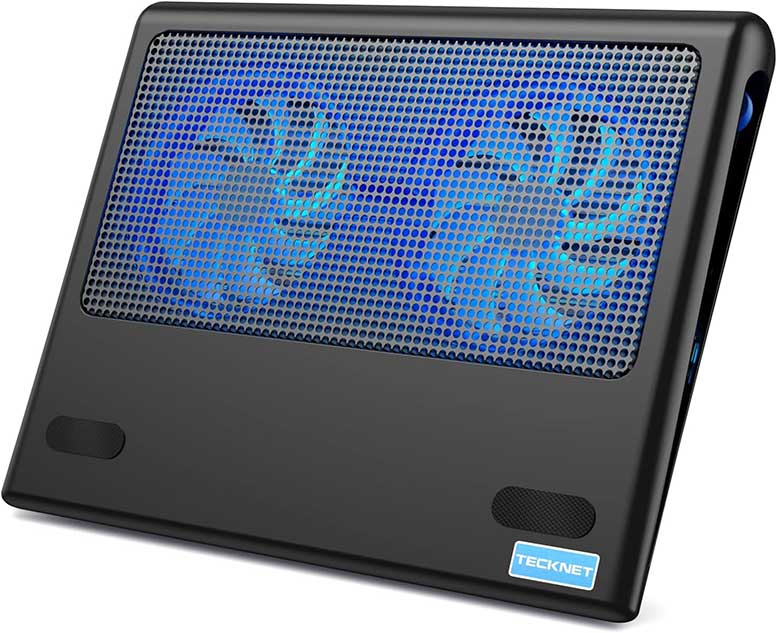 Key Features:
Two Color Choices
Two Fans For Cooling
12 – 16 Inch Laptop Compatibility
If you're looking to try out a laptop cooling pad and want to do so on a budget, then go with the TECKNET Ultra-Slim. This is a very basic device featuring a black metal and plastic body that's folded on itself to provide a hollow middle. You can choose between either red or blue LED fans to add a bit of customization.
As for cooling, this pad has two internal fans. They are each 110mm and can be customized between 1300 and 1800 RPM. This is done via an included wind speed adjuster wheel on the side of the cooling pad.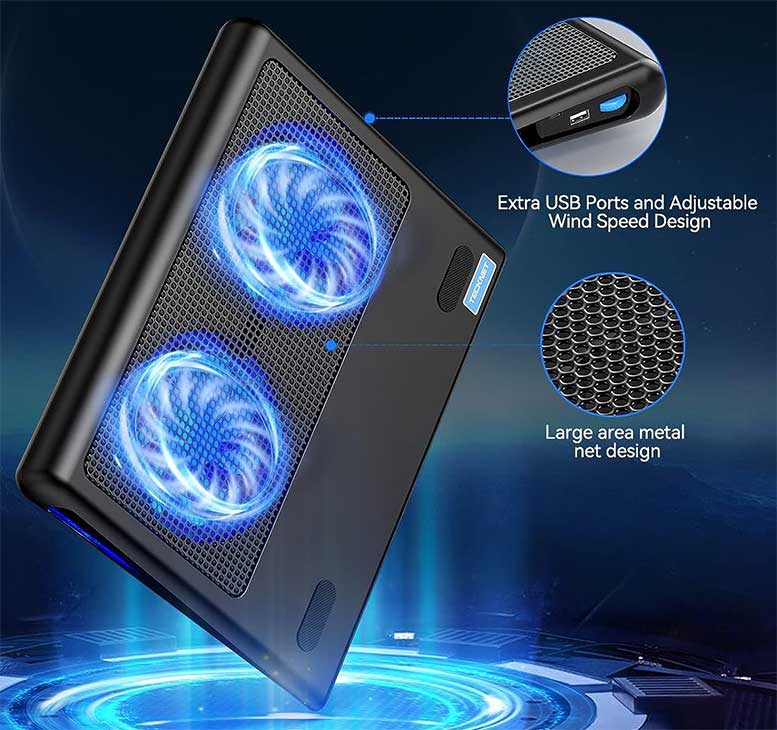 If your laptop is between 12 and 16 inches, this cooling pad will work for you. It's designed to push air up into your computer through the mesh panel on top of the pad. To power it, you simply plug it into your computer as you do with many of the other options we've covered.
One cool feature of the TECKNET Ultra-Slim is the included USB port. However, it isn't a USB-A like the other cooling pads on the list have had. Instead, it's a USB-C. This lets you easily charge most modern devices that have made the switch to those cords. Overall, there are great features and cooling abilities on this budget option.
Pros:
Included USB-C port
Wind speed regulator wheel to control fans
Two color options for fan lighting
Cons:
Somewhat loud for some people