Owners of PCs know how much of a pain dust can be. With the main type of cooling for many people in the community being internal fans, you have to have air intake and exhaust in order to supply your hot components with a fresh supply of cold air. When doing so, dust can make its way in and get stuck inside, which can lead to issues and damage to your expensive PC parts. This is a super annoying issue, but luckily, it can be resolved with computer fan dust filters.
What are computer fan dust filters?
Computer dust fan filters are thin mesh items that you put on your computer in the intake areas. They are an essential part of any computer build, especially if your case doesn't come with any pre-installed.
How do computer fan dust filters work?
They work by creating a barrier between your computer fan and the room your computer is in. As air is drawn in, the dust particles are filtered out and stick to the filter. Then, all that goes onto your components is clean air that can do its job of cooling your PC.
How do they attach?
Fan dust filters can attach in various ways. One is via magnets. These work great for metal cases and are extremely easy to install. Another option is to attach the filter directly to your fan with screws. This gives maximum protection to the fan itself since no air can sneak in before it's pushed through the computer. Additionally, there are some that are designed to simply rest on top of the top vent on your case and don't require any extra attaching.
What different sizes are available?
There are tons of different sizes to choose from. In order to pick the right one, you'll need to know what style you want and how much room you are going to need to cover. Chances are there is a dust cover designed to fit any of your fans or your case.
What happens if I don't use a computer fan dust filter?
In the short term, you may not notice any differences at all. Your computer will still function without issues (probably). However, over time, the dust from your room and surrounding areas will begin to be pulled into your computer. This will lead to build-up on your fans and components, which can directly lead to overheating and your components frying out. That's not something you want to happen.
Are there important factors to check before choosing fan dust filters for your computer?
There are a few that we'd recommend paying attention to. The first is the overall style of the cover as well as its construction. Next is what sizes are available so you know if they'll actually work with your computer. Next, see how many are included in the pack that you buy. Some have multiple, while others are just a simple roll of material that you cut to size. Finally, check for any extra features each option has in order to find hidden gems that you'd want in your setup.
Best Overall: Fuhengli Ultra-Fine Magnetic Case Fan Dust Filter Screens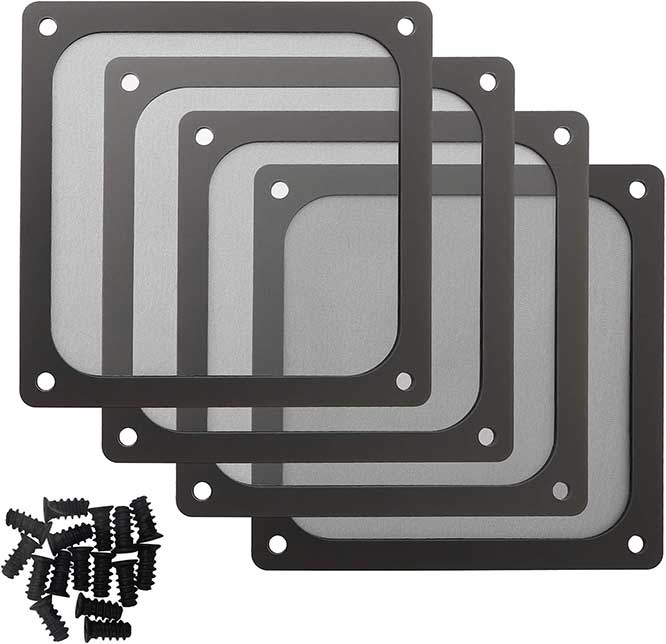 Key Features:
Nylon and Plastic Design
Three Sizes
Two to Four Per Pack
If you're looking for the best overall, then the Fuhengli Ultra-Fine Magnetic Case Fan Dust Filter Screens are the way to go. These fan covers are made from a premium nylon material and have plastic edges to improve durability. The mesh is extremely fine, so most dust will be kept out of your fans.
There are three different sizes available for these fans. They include:
120 x 120mm
140 x 140mm
120 x 240mm
This gives you options for both fans and radiators.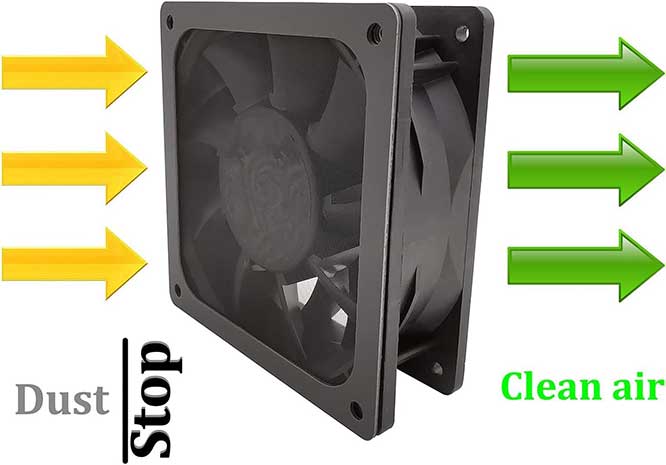 As for the amount included in each of these sizes, you have some variety. The square 120 and 140 mm options both come in packs of four. The 120 x 240 mm cover comes in a two-pack. Each pack is designed to give you a good amount for what most people typically have inside their computer.
To install these covers, each corner has a screw hole. Using the included plastic screws, you can easily attach them to your fans and keep dust from getting in them. Alternatively, the edges also have magnets in them, so they can attach that way as well. Once the dust has built up, simply wipe them off, and they'll last a long time. With their premium construction and ultra-fine mesh, these covers are our favorite option.
Pros:
Three different sizes for fans and radiators alike
Ultra-fine nylon mesh
Durable plastic edges
Cons:
Some reviewers note they inhibit airflow to some degree
Best Versatility: MoKo DIY PC Case Dust Mesh Filters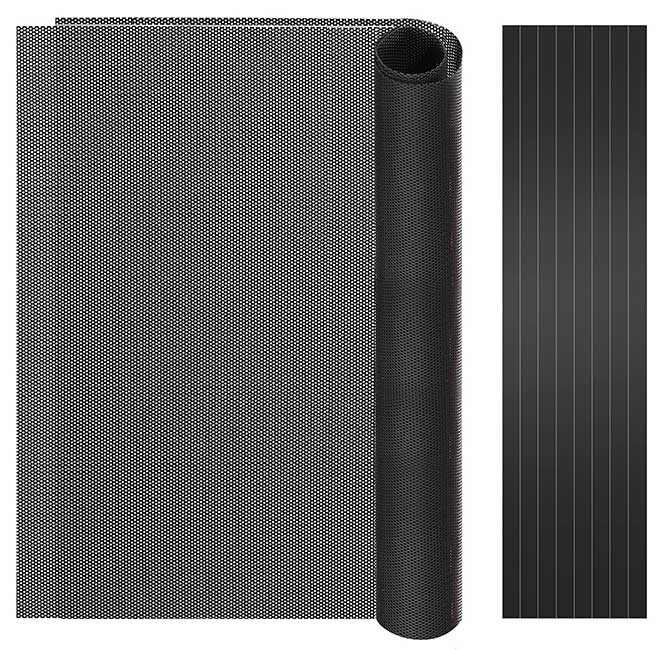 Key Features:
Single Sheet Of Material
Four Sizes To Choose From
Varying Amounts In Each Size
A different approach to a fan dust filter than the premade option is a roll of filter material, like the MoKo DIY PC Case Dust Mesh Filters. This filter is extremely versatile, as it comes in a single sheet of material. The material used is PVC. There are also magnetic strips included in order to stick this to the surface of your fans or your case.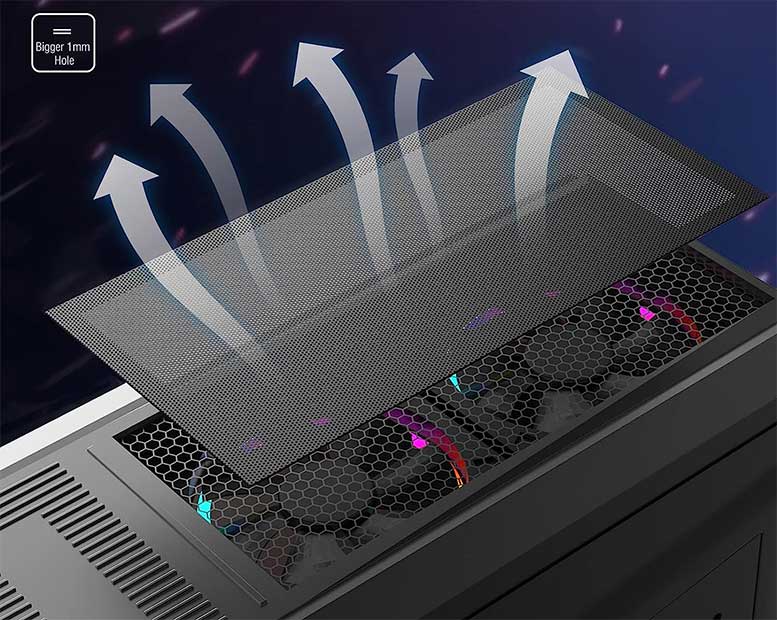 As for sizes, there are four options. They include:
120 x 240mm
400 x 300mm
120 x 240 x .5mm
280 x 140 x .5mm
Each size also comes with a different amount of sheets in the pack. The 120 x 240 mm is available in either two or four sheets. The 400 x 300 mm option comes with two separate sheets. The remaining sizes all come with four sheets. Each option gives you a lot of cover material to work with.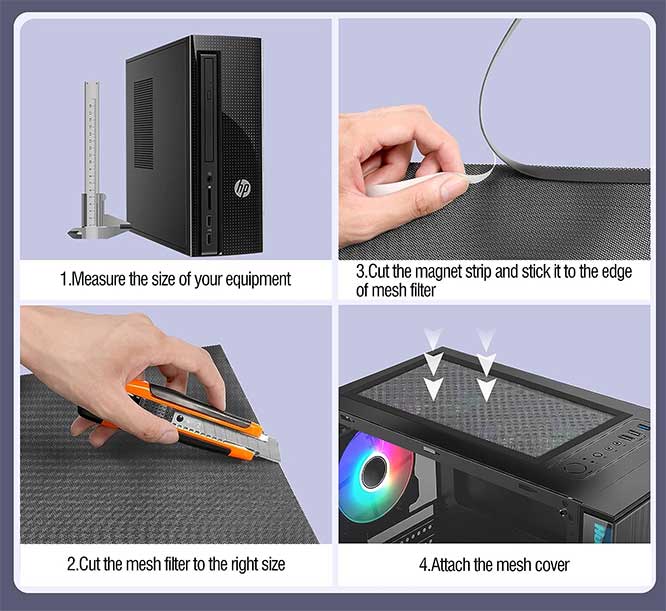 To attach these to your computer, you have a few different options. They are made to be used with included magnetic strips, so that's what will actually make it stick. The variables come into play with where you want to stick them. You can cover radiators, put them on exterior airflow areas on the case, or stick them to your fans if you want to. There are lots of options with this style.
Pros:
Lots of versatility in how to use it
Four different sizes are available
High quality material
Cons:
They are only attachable out of the box with magnets, so you have to find metal to stick them to
Best Alternative: Onwon 120mm PC Cooler Fan Dust Filter (10 Pieces)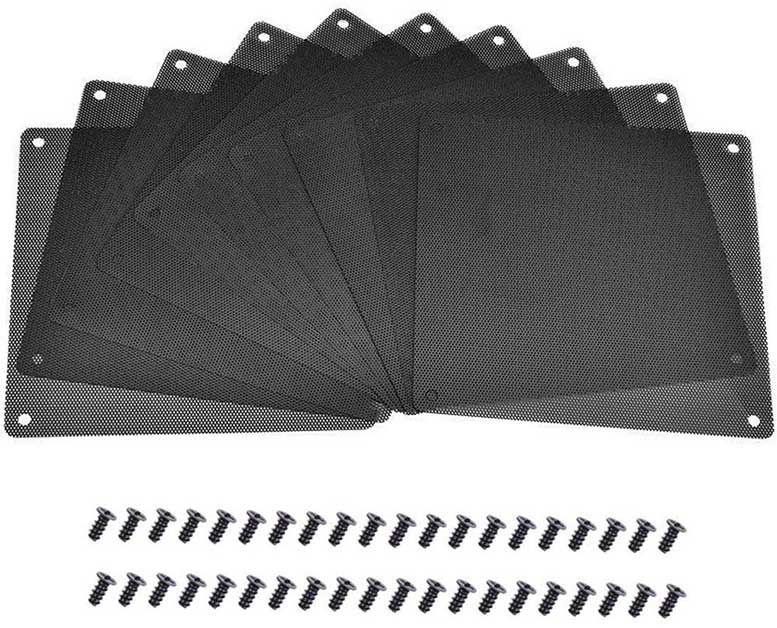 Key Features:
Polyvinyl Chloride Material
One Size Available
One Pack Size Available
A great alternative choice is the Onwon 120mm PC Cooler Fan Dust Filters. These filters are made from a durable and flexible polyvinyl chloride material. The mesh filter is not quite as fine as the Fuhengli, but it should still do an excellent job of filtering out dust.
Size options are extremely limited with this filter. It only comes in 120mm sizes. While this isn't great, it's still able to be used with one of the two main fan sizes on the market.

With only one size, there's also only one option for pack size. However, this cover comes in a ten pack, which is a respectable amount. This likely will let you cover all of the fans you can possibly find in your computer and protect everything from dust.
There is no edge to this dust filter, so they won't have any way to attach magnetically. Instead, you are also given 40 screws that you push through the corners of each filter and screw into your fans. This makes it so you likely have to use them in only one way on your computer.
Pros:
Bulk pack
Plenty of screws are included to attach to fans
Mesh does an excellent job of filtering dust
Cons:
Only one size is available
Best High-End: Wathai 120mm PC Fan Dust Filter (2 Pack)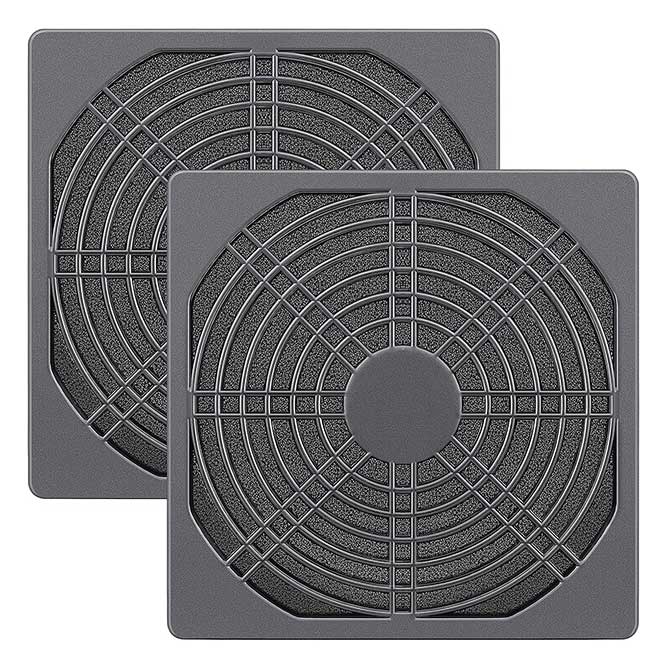 Key Features:
Premium Design
One Size Available
One Pack Size Available
If you want a high-end fan dust filter that functions as good as it looks, then the Wathai 120mm PC Fan Dust Filter should be on your radar. This cover is made from three separate pieces in order to provide a great look, feel, and function. The first part is the front plastic cover with a circular grated look. Next, a dustproof sheet goes inside of the cover to filter out the dust. Finally, a back plastic cover holds everything together, creating one awesome dust filter.
The Wathai has a similar issue as the Onwon; it only comes in one size. You can get this filter in the 120mm size, which will fit 120mm fans. This is a popular fan size, but many people use 140mm fans as well, so you may run into problems if that's something you have.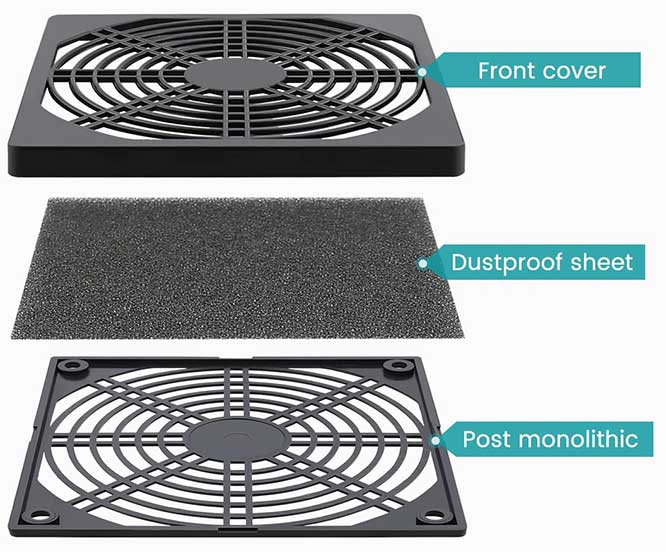 As for pack sizes, this fan dust filter only comes in a two-pack. Most PCs that you'll be putting dust filters like this in are going to have more than just two fans to cover. This means you'll probably have to buy multiple packs of this filter if you decide to add this to your setup.
To attach this to your fans, you'll be using screws, just like some of the others we've talked about. First, you screw on the back plate to your fan. Then, add in the dust filter and pop on the front cover. This makes it easy to pull the cover off and replace or clean the dust filter part over time as dust accumulates.
Pros:
Premium look and function
Easy to replace the dust filter portion
Great for 120 mm fans
Cons:
Only one size is available
Best Budget: HFEIX Computer Fan Filters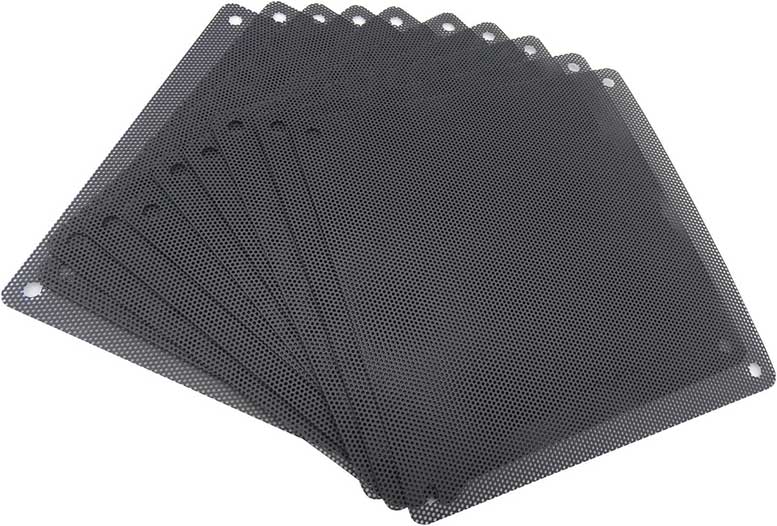 Key Features:
PVC Plastic Construction
Three Sizes Available
One Pack Size Available
If you want some added protection on your fans without spending a ton of money, then the HFEIX Computer Fan Filters are your best bet. This filter is made completely out of PVC plastic and does not feature any hard plastic anywhere. The mesh itself is pretty similar in look and function to the option from Onwon.
As for sizes, you can get this filter in three different options. They include:
140 x 140mm
120 x 120mm
80 x 80mm
This gives you coverage for pretty much all of the main fan sizes that people use in their computers these days, so you likely won't run into any compatibility issues.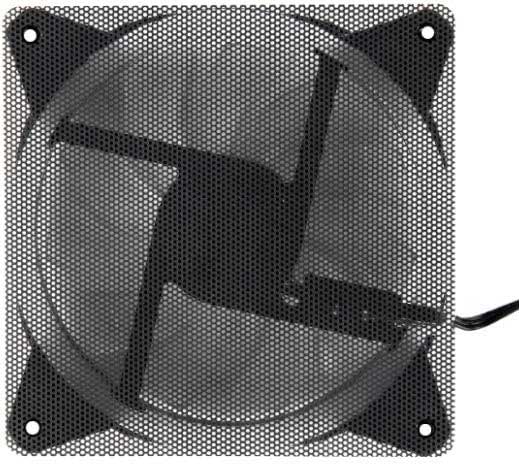 When it comes to pack sizes, there's only one option. However, that option includes ten filters. With a bulk size like this, you can easily cover all the fans you need to, so we aren't too mad about the lack of options. Best of all, if you don't use all of them, then you get extras in case you need to replace one later on.
This filter doesn't have any magnets, so to attach it to your fans, you'll be using screws. However, one issue is that the screws aren't actually included. There are pre-made holes for them that will line up with your fans, but you'll need to buy your own or figure out a way to use the pre-existing fan screws to attach them.
Pros:
Three sizes to cover most fans on the market
Bulk packages
PVC plastic construction
Cons:
No attaching screws included