Tired of the endless battle for desk space with your trusty printer? Ready to end the tyranny of that bulky behemoth gobbling up your legroom? Well, you're in luck, because we're about to dive headfirst into the glorious world of under desk printer stands. These unsung heroes of office organization are here to rescue your workspace from the clutches of chaos.
Imagine a world where you can actually see your desk, where your feet aren't constantly duking it out with your printer for territory. It's a world where your documents, paper, and inky friends are neatly tucked away beneath your desk, just a swivel away.
But not all under desk printer stands are created equal. Some are compact and sleek, while others are versatile multitaskers. We're about to explore the best of the best, the cream of the crop, the printer stands that will make you wonder how you ever lived without them. Strap in, it's time to liberate your workspace with the coolest printer stands for your home or office setup.
Top Reasons to Use an Under Desk Printer Stand
Space Optimization: Under desk printer stands free up valuable desktop space by keeping your printer or other office equipment neatly tucked away beneath your desk. This can help reduce clutter and improve the overall organization of your workspace.
Improved Ergonomics: Placing your printer under the desk can help create a more ergonomic setup. You can keep it at a comfortable height, reducing the need to bend down or reach awkwardly to access your printer, which can contribute to better posture and reduced strain.
Enhanced Mobility: Many come equipped with wheels, making it easy to move your printer around as needed. This mobility is especially useful when you need to access the back of the printer for tasks like changing ink cartridges or clearing paper jams.
Additional Storage: Some feature shelves or storage compartments, providing extra space for storing paper, office supplies, or other items. This can help you keep your workspace organized and efficient.
Aesthetic Appeal: These stands often come in various styles and finishes, allowing you to choose one that complements your office decor. They can add a touch of sophistication and tidiness to your workspace.
Versatility: While primarily designed for printers, they can serve multiple purposes. You can use them for other office equipment like scanners, fax machines, or even as general storage units.
Best Overall: Safco Under Desk Printer Stand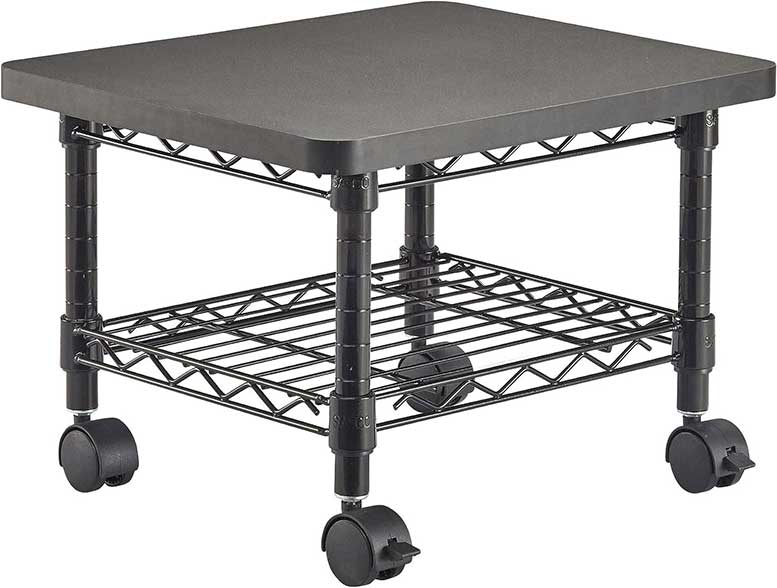 Key Features:
Overall Dimensions: 19″ Width x 16″ Depth x 13.5″ Height
Capacity: 100 lbs. (50 lbs. per shelf)
Steel frame with powder coating
1.25″ thick laminate top
As our best overall option, the Safco Under Desk Printer Stand is a well-made, versatile and space-saving solution for organizing your office equipment. This compact printer stand is designed to hold printers, scanners, fax machines, or other office machines, providing easy access while keeping them off your desktop. Its ability to neatly fit under most desks is a significant advantage, as it helps free up valuable floor space in your workspace.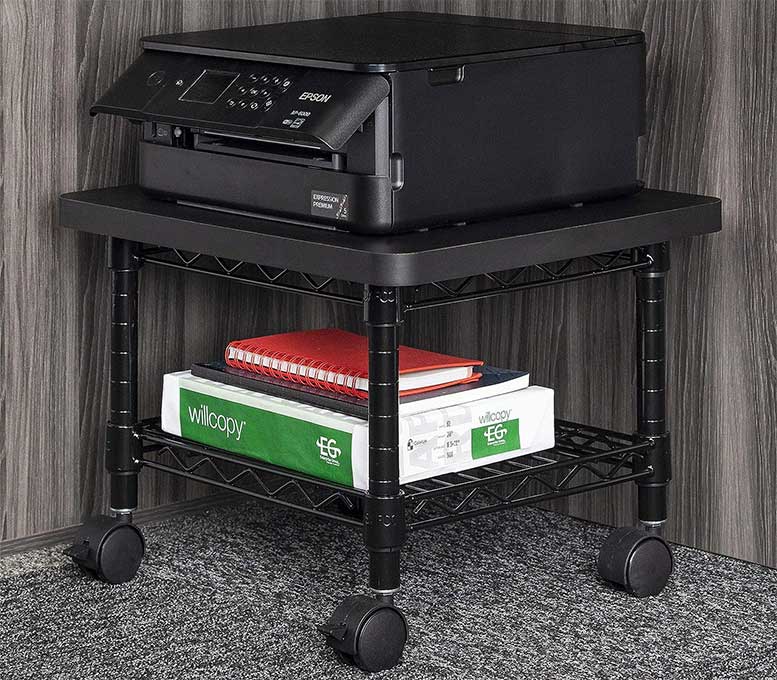 One of the standout features of this printer stand is its durability. The steel frame ensures exceptional stability, making it a sturdy choice for supporting your equipment. In addition, the powder coat finish on the frame helps resist chipping and scratching, maintaining a professional appearance over an extended period. The scratch-resistant laminate top accommodates most office machines, adding to its practicality and longevity. This helps it look nice for both the short and long term.
Mobility is another key benefit of the Safco. It comes equipped with four swivel wheels, allowing for easy movement and positioning within your workspace. Two of these wheels can be locked to keep the stand stable when needed, providing both flexibility and stability in your office setup. Best of all, it seems to glide just as smoothly on carpet as it does with hard floors, even when the stand is loaded with weight.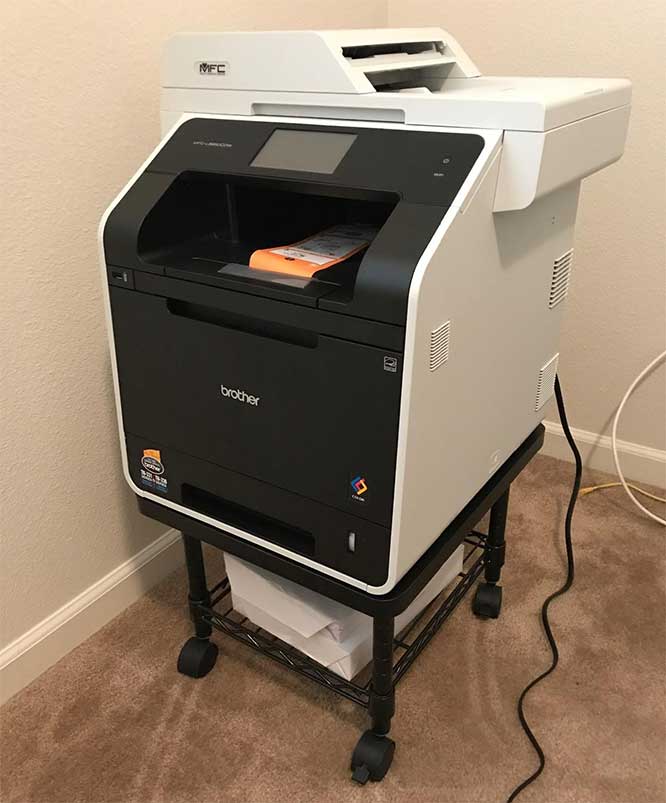 As another benefit, it offers bonus storage space with its bottom shelf. This additional room is ideal for storing paper, toner, folders, catalogs, and various office supplies, helping you keep your workspace organized and clutter-free with all of your accessories within arm's reach.
In terms of dimensions, the Safco Under Desk Printer Stand has an overall size of 19 inches in width, 16 inches in depth, and 13.5 inches in height, making it a compact choice. There shouldn't be any issues stowing it under any desk setup.
While this printer stand boasts numerous advantages, it's essential to consider some potential drawbacks. One potential downside could be that it may not accommodate larger or bulkier office machines. Although the total capacity is 100 lbs. (50 lbs. per each shelf), the sheer size of some larger printers may not be a good fit. And as with any mobile stand, you should be cautious when moving it on uneven surfaces to avoid accidents or damage to your printer.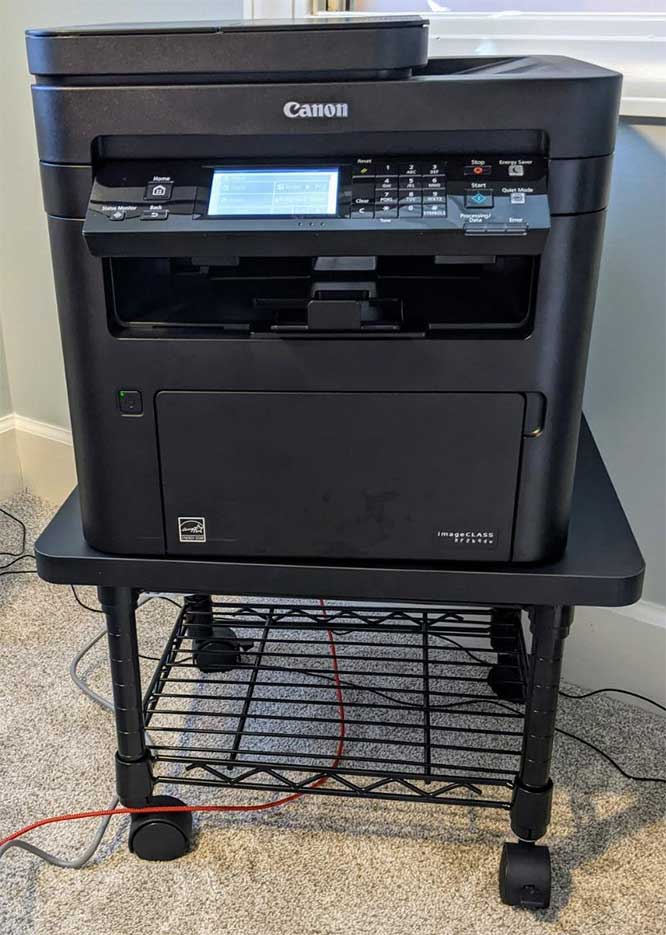 All in all, the Safco Under Desk Stand offers a practical and space-saving solution for keeping your printer easily accessible. Its compact design, massive capacity, durability, mobility, and bonus storage make it a valuable addition to any office space, while its dimensions ensure it can fit comfortably under most desks. Just be mindful of its weight capacity and exercise care when moving it and you'll be good to go.
Pros:
Excellent build quality with a compact form factor.
Multiple color schemes available.
Laminate top-surface seems very durable.
Included caster wheels make mobility easy.
Easy assembly process.
Cons:
May be too small for large printers.
A bit more expensive than some options.
Best Runner-Up: HUANUO Under Desk Printer Stand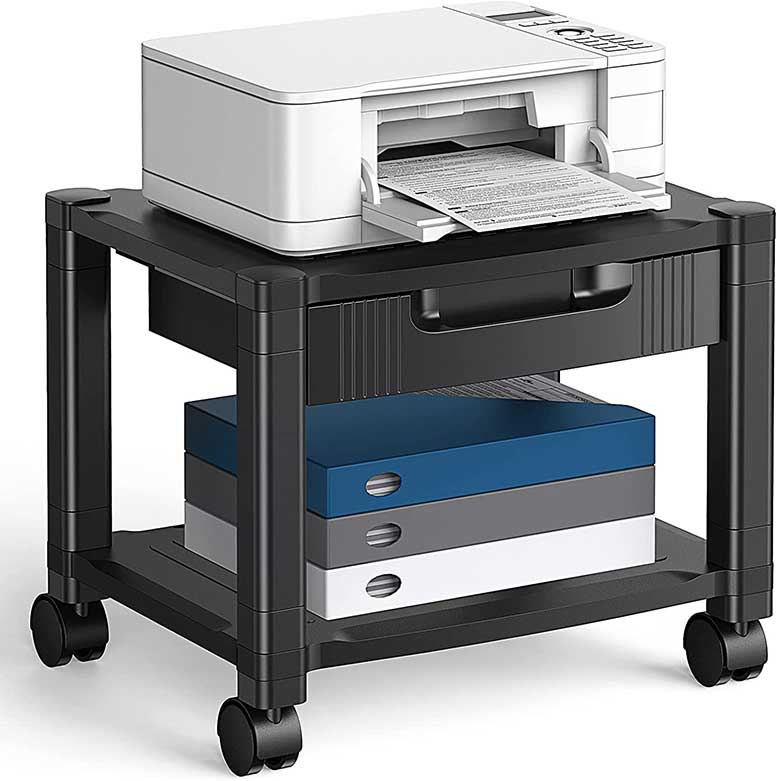 Key Features:
Overall Dimensions: 13.2″ Width x 13.2″ Depth x 14.1″ Height
Capacity: 38.5 lbs.
Plastic construction
Two adjustable heights (during assembly)
Built-in drawer
The HUANUO Printer Stand is another versatile and practical solution. This 2-tier printer cart is specifically designed to help you free up valuable desktop, counter, or shelf space. The top platform, measuring 17.2 inches by 13.2 inches, provides ample room for accommodating both your printer, fax machine and/or scanner, making it a nice addition to your desk space.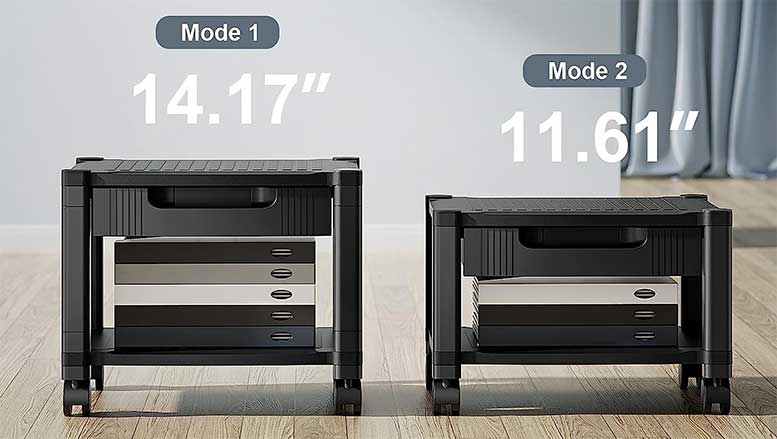 One of the standout features of this printer stand is its role as an ideal office organizer. It includes a storage drawer with dividers, allowing you to neatly store office supplies and accessories. The bottom shelf offers additional space for storing paper, reference books, files, folders, or any other items you need within arm's reach.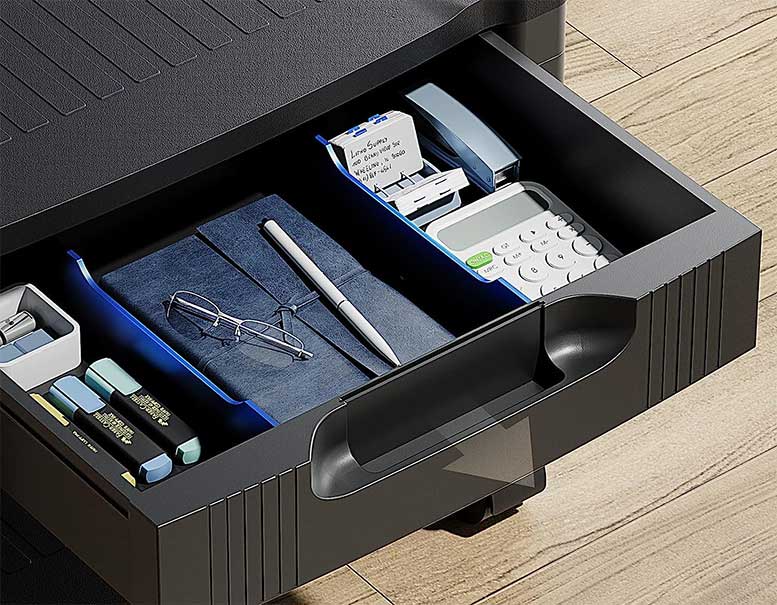 Durability is another advantage of the HUANUO Printer Stand. It can support a substantial weight of up to 38.5 lbs, making it suitable for most home office printers. While this isn't quite as much as the Safco offers, it's plenty for most instances. Moreover, the stackable design of the cart simplifies assembly, eliminating the need for any tools, and ensures quick setup and ease of use.
Adjustability is a key feature that sets this printer stand apart. With a maximum height of 14.1 inches, it's an ideal choice for storing under a desk, table, or counter while keeping your printer conveniently accessible on top. If you require a shorter height, you can easily adjust it by using fewer extensions during assembly to make it 11.6″ tall. This provides flexibility to suit your specific workspace requirements.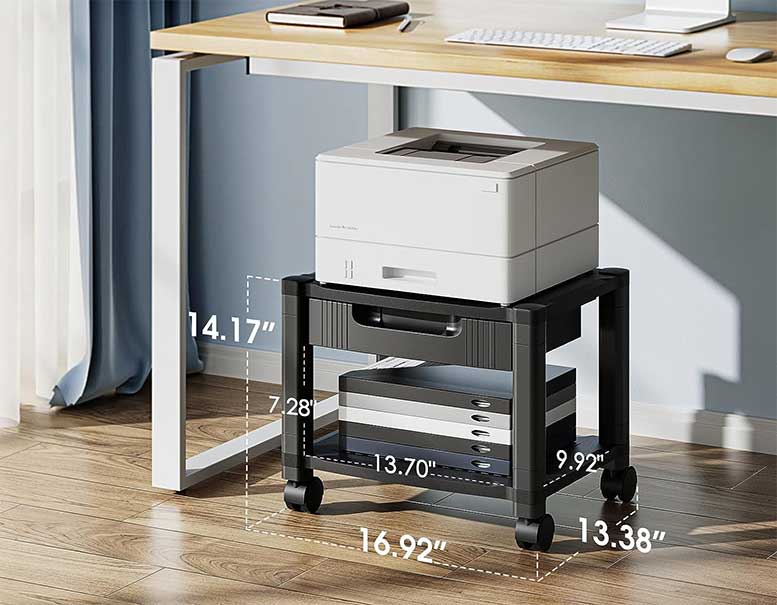 Mobility is enhanced with the inclusion of locking caster wheels. Each smooth-rolling caster wheel is lockable and capable of swiveling 360 degrees, making it effortless to move the printer stand as needed. These wheels are optional, giving you the choice to use the stand on a desktop or shelf instead of on the floor, adding to its versatility. While the wheels may not roll quite as nicely on carpet as the Safco, we found the wheels ideal for hard floors.
While the HUANUO Printer Stand offers many benefits, it's essential to consider some potential drawbacks. One possible limitation is that it may not be suitable for extremely heavy-duty commercial printers, as it has a weight limit of 38.5 lbs. Also, some users may find the assembly process a bit challenging. It's a bit more cumbersome than we would have liked.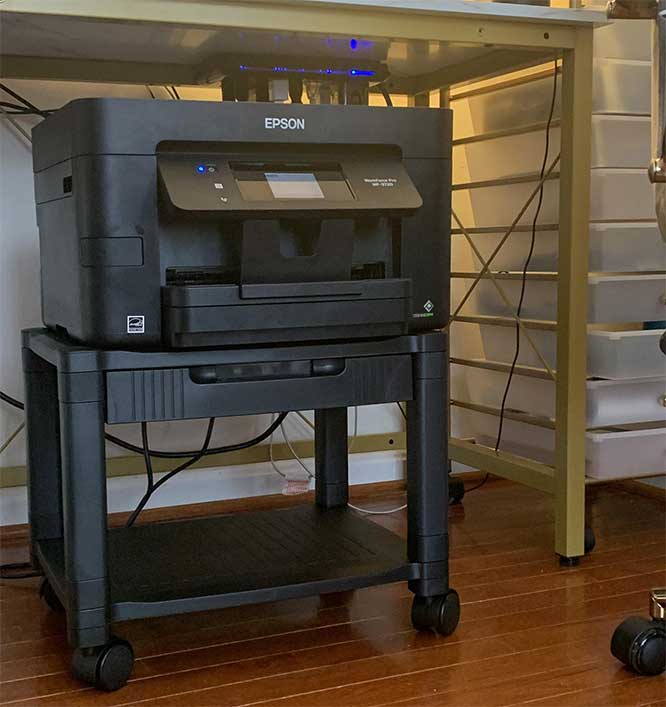 In the end, the HUANUO Printer Stand is a budget-friendly and well-made solution that offers valuable features for organization. Its adjustable height, sturdy construction, storage options, and price point make it a practical choice.
Pros:
Can select between two different heights.
Budget-friendly price point.
Sturdy if put together correctly.
Includes a drawer that slides nicely.
Cons:
All plastic construction may feel cheap to some.
Assembly can be more difficult for inexperienced.
Less capacity than non-plastic options.
Only available in black.
Best Alternative: AMERIERGO Under Desk Printer Stand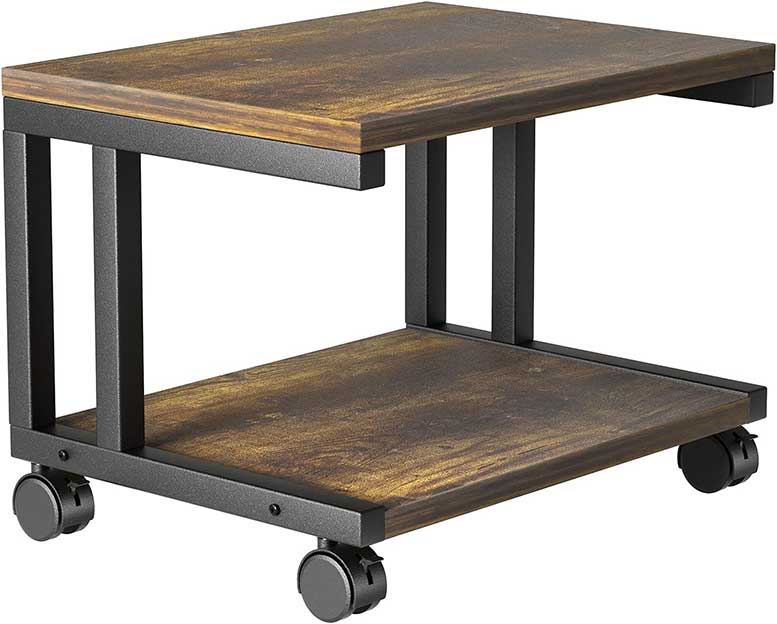 Key Features:
Overall Dimensions: 15.7″ Width x 11.8″ Depth x 11″ Height
Capacity: 88 lbs. (44lbs. each shelf)
Cast metal and MDF wood construction.
Fixed height.
The AMERIERGO Printer Stand is another practical addition to any office or workspace. With a popular 2-tier design, it maximizes storage capacity in many great ways. The top level provides ample space for accommodating a printer with dimensions up to 15.7 inches by 11.8 inches, while the middle tier is perfect for storing documents, books, prints, or other office supplies. The stand's size, measuring 15.7 inches in width, 11.8 inches in depth, and 11 inches in height, is just right for organizing and accessing your essential office items conveniently.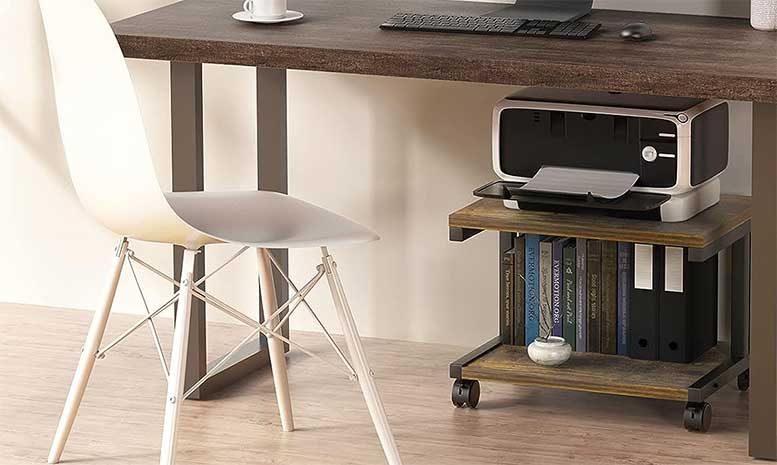 One of the standout features of this printer stand is its stability and support. It is built to be sturdy enough to provide ample support for your printer or other office machines, with a weight capacity of up to 88 lbs (44 lbs each shelf). Best of all, it also features a lock mechanism design that enhances stability, preventing it from moving freely and ensuring your equipment remains secure in place, regardless if it's on a hard floor or carpeted surface.
Assembly is a breeze, taking just 5 minutes or less to set up without the need for additional tools. The inclusion of four wheels makes it highly mobile, allowing you to easily move it to the desired location. Two of these wheels come with brakes, providing the option to either move the stand effortlessly or fix it in place when needed, adding to its convenience.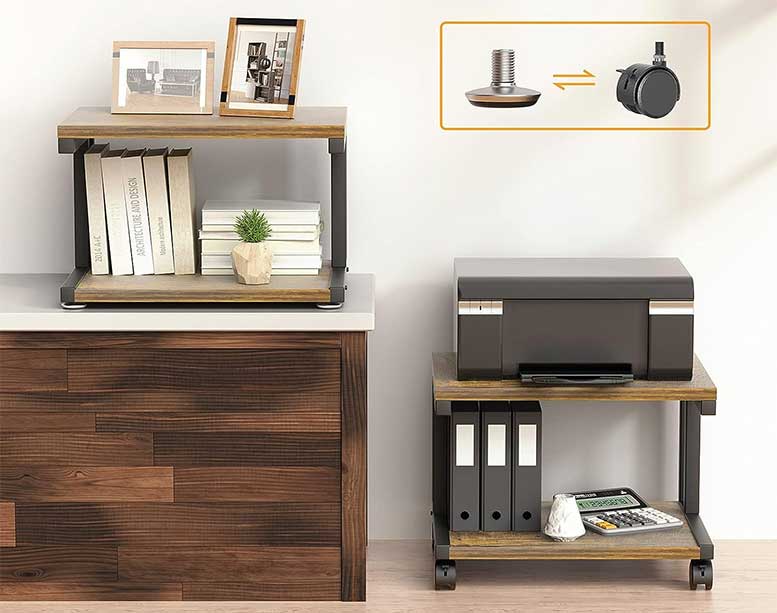 What sets this printer stand apart is its versatility. While it can be used with wheels as a mobile printer stand, it can also be placed on a table or desk without the wheels and used as an under desk printer stand, bookshelf, kitchen storage shelf, simple nightstand, or for various other purposes. Its rustic brown color and the use of durable materials such as MDF board and metal make it a stylish and functional addition to your home office or workspace.
As for potential drawbacks, some users may find that the MDF (particle board) construction feels a bit cheap. While it seems to hold up to normal use just fine, it may scuff and blemish easier than more-quality options. It's appearance is beautiful, but there's only one style to choose from. So if the aesthetics don't appeal to you or your workspace, you're out of luck with the single color style that it comes in.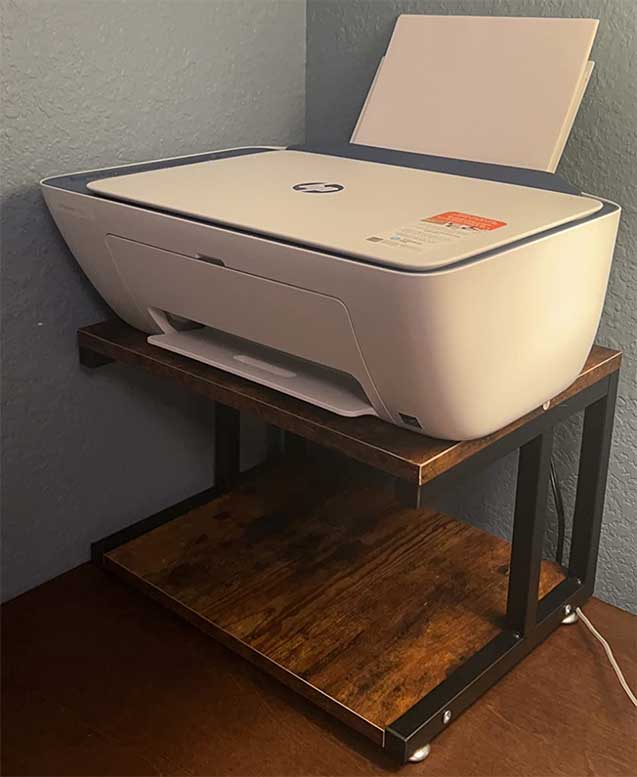 Wrapping up, the AMERIERGO Printer Stand is a sturdy solution for stowing your printer under the desk. Its ease of assembly, stability, and multi-uses make it a practical choice for various applications. In our opinion, it's appearance is sharp, but it truly may not be for everyone.
Pros:
Easy assembly without tools.
Large capacity considering its small size.
Can be used as a general piece of furniture.
Includes four optional wheels for easy maneuvering.
Fairly affordable.
Cons:
Faux wood MDF table-tops seem a bit cheap.
Only available in a single style.
A bit smaller than other options.
Best Simplicity: VASAGLE Industrial Under Desk Printer Stand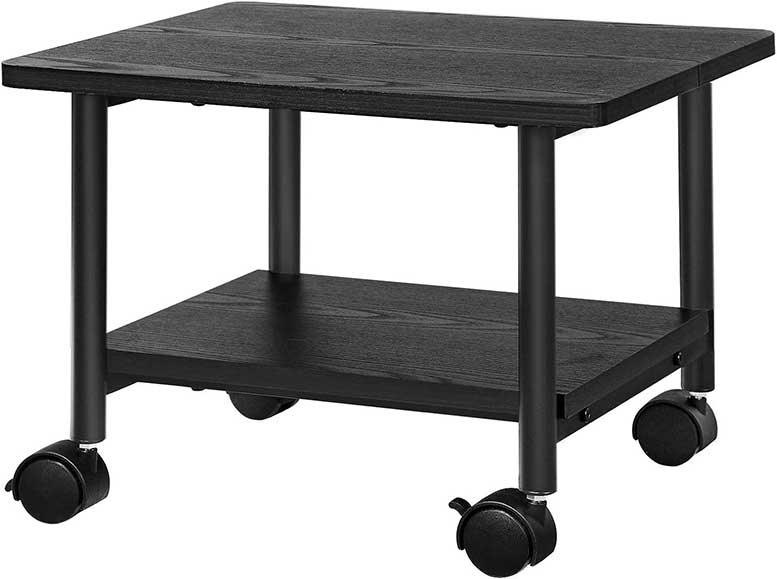 Key Features:
Overall Dimensions: 15.9″ Width x 19.1″ Depth x 14.1″ Height
Capacity: 99 lbs. (33 lbs. lower shelf)
Steel and particle board construction.
Available with 2 or 3 shelves in three colorways.
As one of the most simple-looking options, the VASAGLE Industrial Under Desk Printer Stand is another great choice. It offers an array of features that cater to both functionality and simplicity, making it a valuable addition to any workspace.
One of its standout features is its spacious tabletop, measuring 19.1 inches in length and 15.9 inches in width, providing plenty of space to accommodate most inkjet and laser printers. In addition, it boasts a bottom shelf measuring 15.5 inches by 11.9 inches, offering extra storage for paper reams, ink cartridges, folders, and other office supplies. It's also available in a 3-tier version. While this offers more storage space, it adds considerable height, which may not be ideal for use under a desk.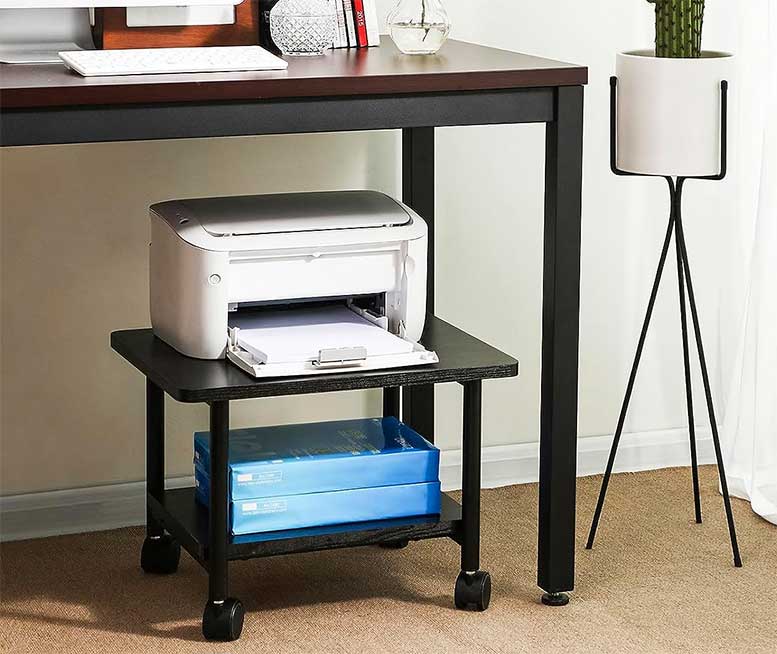 Durability is a key highlight of the VASAGLE printer stand. Constructed with high-quality particleboard and a sturdy steel frame, it offers excellent stability and longevity. The robust build can support up to 99 lbs on the large tabletop and up to 33 lbs on the lower open shelf, making it suitable for various office equipment and supplies. Thankfully, the particle board seems a lot higher quality than other options, such as the AMERIERGO.
Assembly is also a breeze, as it comes with clear instructions and an Allen key, ensuring a hassle-free setup. This thoughtful design saves you time and effort, allowing you to focus on organization rather than struggling with assembly.
The inclusion of four sturdy wheels is another notable, although common feature. Two of these wheels are lockable, providing both mobility and stability. That said, you can easily move the printer stand to the desired location when needed and secure it in place to prevent unintended movement.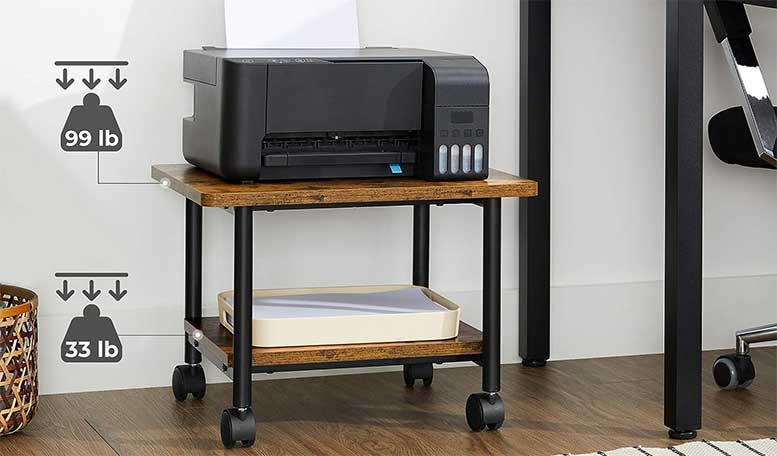 The VASAGLE is available in multiple colors, including black, greige, and rustic brown, allowing you to choose one that complements your office decor. However, it's important to note that while this printer stand offers plenty of advantages, its overly simply, industrial design may not suit all office aesthetics. Users with specific style preferences may find it less appealing.
In conclusion, the VASAGLE Industrial Under Desk Printer Stand is a reliable and practical choice for improving printer organization and convenience. Its spacious tabletop, sturdy construction, ease of assembly, and simple appearance make it a commendable choice.
Pros:
Simple appearance without any bells and whistles.
Massive capacity and larger than normal size for bulky printers.
Affordable price point.
Powder coated steel construction feels solid.
Cons:
Particle board "wood" may seem cheap to some.
3-shelf version is too large for under desk.
FAQ's for Under Desk Printer Stands
Is hiding my printer under the desk a good idea?
Hiding your printer under the desk can be a good idea if you want to save desk space and achieve a cleaner workspace appearance. It can also improve ergonomics by positioning the printer at a comfortable height. Keep in mind that accessibility and cable management may become more challenging. That said, it's essential to consider your specific needs and preferences before making this decision.
Is it safe to sit next to an office printer?
Sitting next to an office printer is generally safe, as they're typically designed to meet safety standards and regulations. However, if it seems to emit excess heat during operation, ensure that it's adequately ventilated and that there is no risk of overheating. In addition, be cautious about noise levels if the printer is particularly loud, as prolonged exposure to high noise levels can be detrimental to hearing.
Should you put things on top of a printer?
It's generally not advisable to put objects on top of a printer. Placing items on a printer can obstruct ventilation and potentially lead to overheating, which may damage it or affect its performance. It's best to keep the top of the printer clear to ensure proper airflow and minimize any potential safety risks.
Should I shut down my printer every night?
Turning off your printer when not in use can save energy and extend its lifespan, but frequent power cycling may also consume more energy than leaving it in sleep or standby mode. If you use your printer frequently and it goes into power-saving mode when idle, leaving it on might be more convenient and energy-efficient, while occasional shutdowns during extended periods of inactivity can help conserve power and reduce wear and tear.