Clogged drains and blocked sewers are problems that often rear their ugly heads, turning an ordinary day into a plumbing nightmare. Professional plumbers and DIY enthusiasts alike need the right tools to handle these tasks, and a sewer jetter kit for pressure washers might be just the solution. So today, we're exploring some of the best kits on the market that can turn your pressure washer into a drain-cleaning dynamo. Take a minute to look over our top picks:
With these promising options at hand, we'll get into the specifics of each kit, evaluating its strengths and weaknesses to help you make the best choice for your plumbing needs. Let's get started.
Best Overall: ZOFINE Sewer Jetter Kit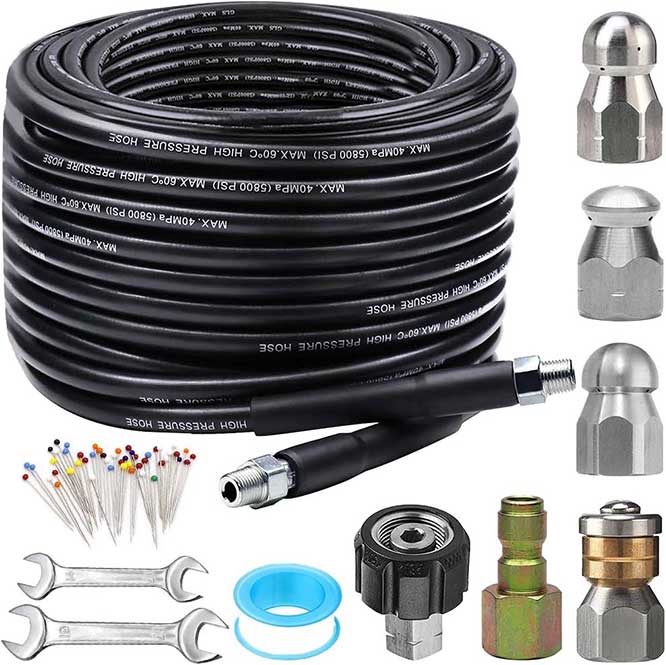 Key features:
100FT reinforcement sewer jetting hose
Efficient 4 sewer jetter nozzles
Quick connect plugs and fittings
Great for families, versatile tools
When it comes to tackling the unglamorous task of cleaning sewers and drains, the Sewer Jetter Kit by ZOFINE certainly proves its mettle. We put it through the wringer, and here's what we found. First off, let's talk about what comes in the package. With a 100-foot sewer jet hose, you get various types of nozzles, waterproof tape, spanners, and even pearl corsage pins. ZOFINE gives you everything that a plumber or DIY enthusiast might need.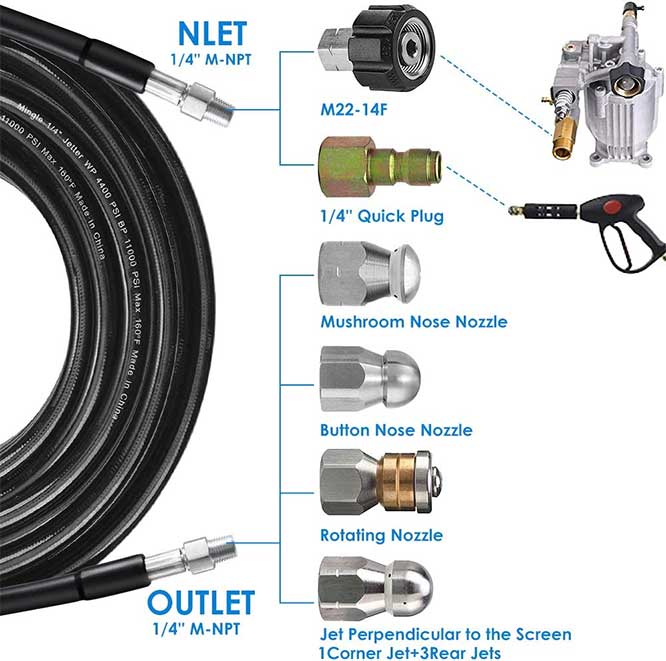 Strength and durability are what you'd expect from a tool designed to deal with sewerage. Rated up to 5,800 PSI, this hose isn't messing around. The chemically bonded ¼-inch high-strength polyester textile weave, coupled with a cover layer resistant to all kinds of daily wear and tear, added to our confidence. Efficiency is a must, and the four jetter nozzles were like an answer to different cleaning prayers. Corners, clogs, even cleaning – we tried them all and found them ready to deliver.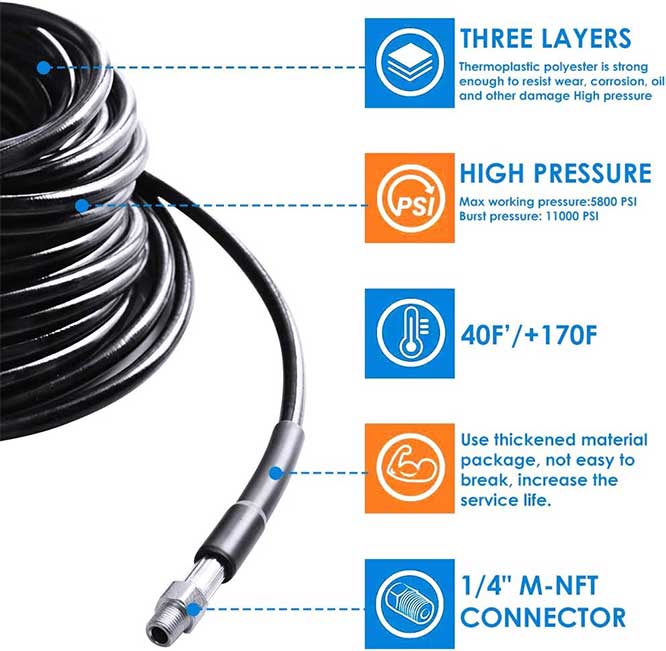 Connecting everything was a breeze, thanks to the quick-connect plugs and metric M22 to ¼-inch female NPT fittings. No fussing, no fuming, just straight to work. It's as professional as it sounds. Given the hose's length (120 x 0.25 inches) and the overall weight of 6.16 pounds, handling it was straightforward enough, never feeling too unwieldy. Our tests spanned various pipe types and clogs. While it devoured straight pipes and flushed out sludge with ease, working around tight corners did present a challenge.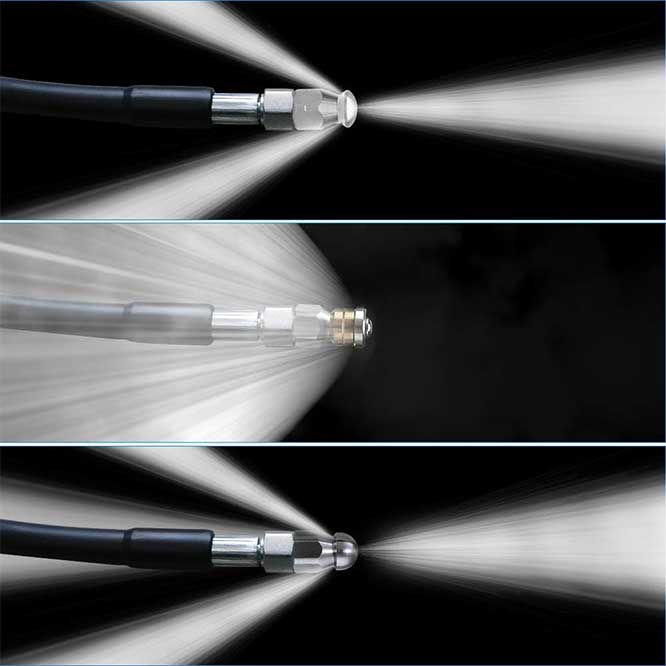 The kit required careful handling in those situations, but it didn't deter us. The Sewer Jetter Kit by ZOFINE proves to be a well-rounded tool for the less-than-lovely task of drain cleaning. With a blend of durability, versatile nozzles, and hassle-free connections, it stands as a reliable choice. Just keep a gentle hand when navigating those tricky corners.
What we liked:
Strong and durable build
Multiple nozzles for precision
Lightweight, flexible design
Comes with useful accessories
What we didn't like:
Not ideal for corners
Requires careful handling
Best for Gas Pressure Washers: The Original JetSnake Sewer Jetter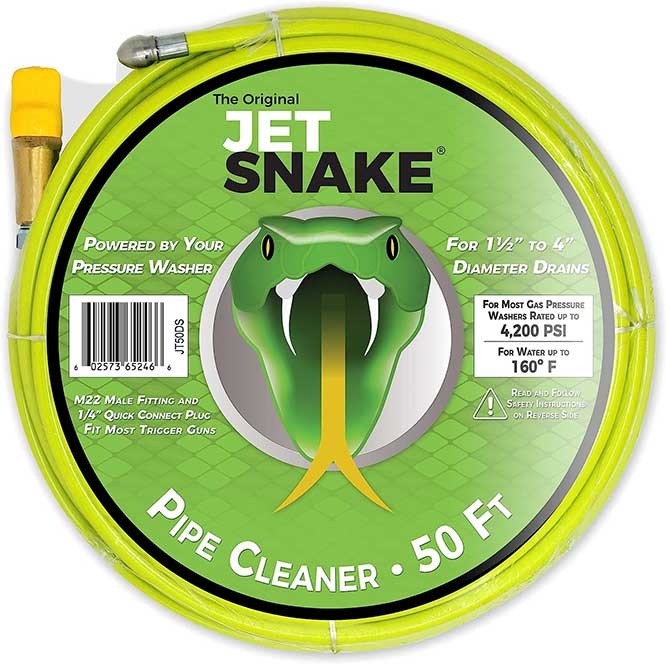 Key features:
50-foot length for indoor and outdoor
Stainless steel and brass construction
Maximum 4,200 PSI pressure compatibility
Compact nozzle for better penetration
The Original JetSnake Sewer Jetter is more than just a simple drain unclogging tool. Designed with stainless steel and brass, this unit holds its own with a 50-foot length suitable for both indoor and outdoor drains. Weighing 3.8 pounds and measuring 12 x 12 x 3 inches, it's a compact tool with robust capabilities.
During our hands-on experience, we found that it fit nicely with gas pressure washers rated between 2.0 to 4.0 GPM and up to 4,200 PSI. The compatibility, specifically with gas pressure washers, ensures that users get the most out of their devices. While maneuvering it around corners and through dense clogs, we could feel its prowess. Its nozzle, 70% more compact than generic poly hose nozzles, allowed maximum cornering and penetration. This is a big plus over models, giving you versatility not always present on sewer jetters.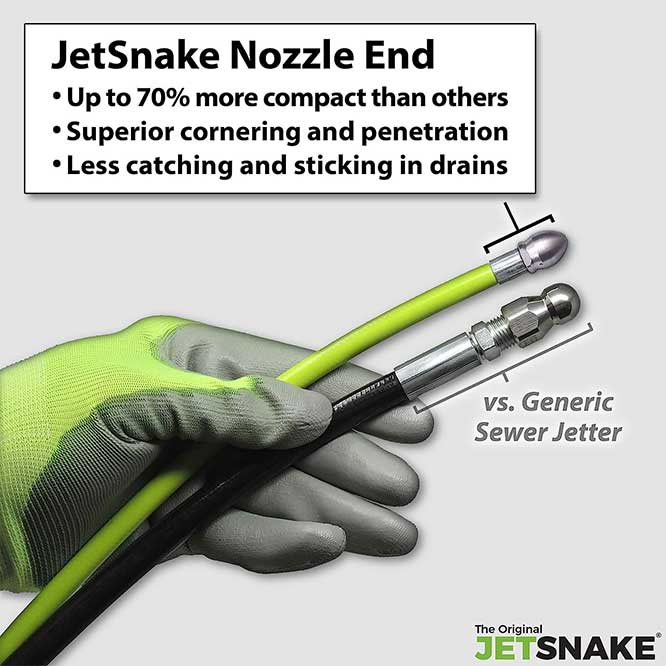 We tested it on a variety of substances, from sewage to sanitary paper, and each time it pulled itself deep into the drain, breaking apart the clogs. Although some skill was required to use it effectively with smaller pipes, we noticed its ability to scrub greasy sludge and flush out dirty debris. The absence of interchangeable heads might hinder some deep cleaning, but that didn't stop the device from giving a more thorough cleanse than an average electric drain snake or plumbers' auger.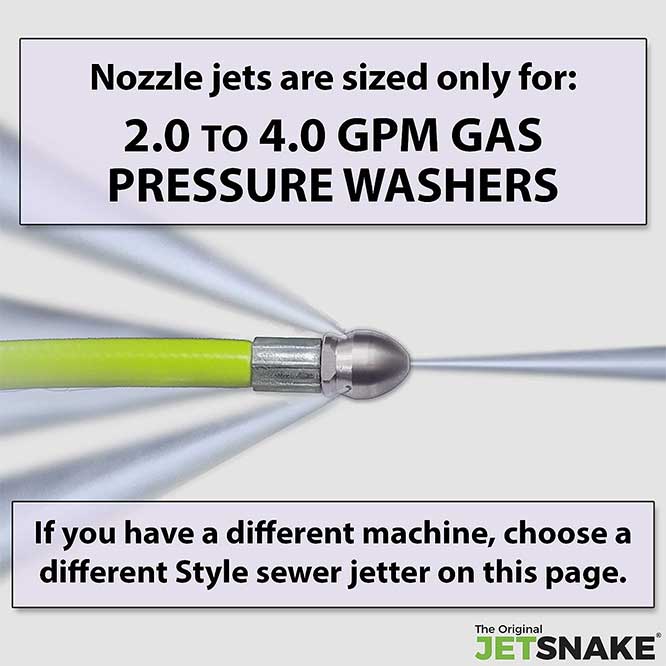 Coming complete and ready to use, it includes a standard M22 adapter, a ¼-inch Quick Connect twist plug adapter, and a cleaning tool. The instructions were clear, and the unit was ready for action within minutes of unboxing. Overall, we're incredibly happy with the Original JetSnake Sewer Jetter. If you can overlook the lack of interchangeable heads, we believe you will find this entry to be a solid contender for all your sewer-jetting needs.
What we liked:
Quick setup and usage
Efficiently breaks apart clogs
Strong material construction
Works with various gas pressure washers
What we didn't like:
Lack of interchangeable heads
Skill required for small pipes
Best Runner Up: Sooprinse Sewer Jetter Kit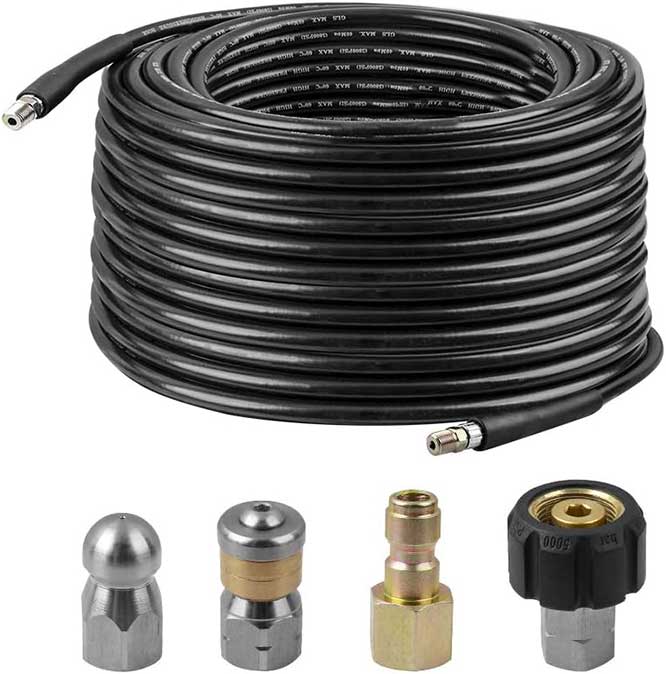 Key features:
Clears blockages without chemicals
Oil, weather, and abrasion-resistant hose
3 specialized jetting nozzles
Durable and solid no-leak connectors
The Sooprinse Sewer Jetter Kit is indeed an innovative solution for those seeking a powerful tool to manage blocked pipes. Boasting an intelligent design, the kit is composed of not only a sewer spray hose but also rotary and button sewer spray nozzles, accompanied by specific couplers that fit both M22-14mm and M22-15mm connectors. What makes it stand out? The device's innovative coupler ensures that connecting the water pipe to various connectors is as easy as pie.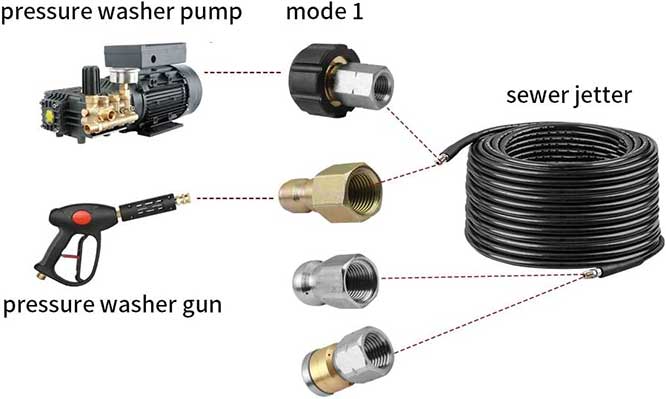 Whether it's an M22-14mm or an M22-15mm connector, the kit has got you covered. And as far as the materials go, it is made of thermoplastic polyester and thermoplastic polyurethane, adding to its robust quality. It's no secret that the inner tube's resistance to oil, weather, ozone, and abrasion has been the talk of the town. Moreover, the chemically bonded ¼-inch high-strength polyester woven fabric gives it an edge over competitors in terms of reinforcement.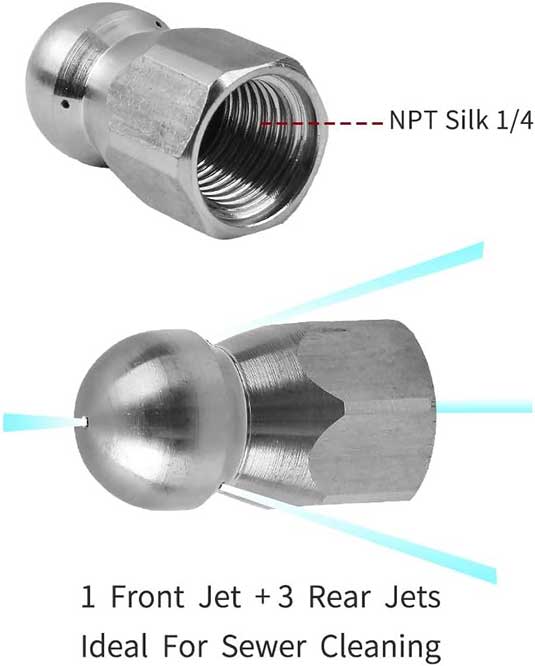 This offers better results when you're down in the trenches working on those pesky blockages. Weighing in at 5.85 pounds, with dimensions of 13.3 x 5.7 x 11.8 inches, it's an optimal choice for someone looking to combine efficiency with convenience. It's capable of handling a maximum pressure of 4,000 PSI, making it suitable for medium and high-pressure jetting applications. Our testing phase involved running it through both straight and curved pipes.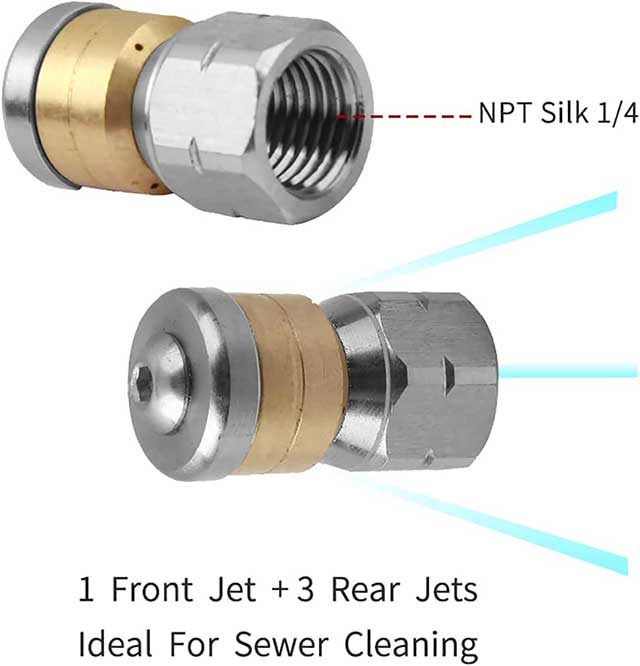 Although it managed straight runs and smooth angles flawlessly, we did find a hiccup when snaking around corners under a 4-inch diameter. The inclusion of a button-type sewer ejector nozzle and rotating sewer nozzle ensures a comprehensive cleaning of blocked pipes. Following our careful uncoiling method, we found no kinking issues, further improving its functionality. Overall, Sooprinse delivers a formidable contender with its Sewer Jetter Kit.
What we liked:
Innovative coupler design
High-quality materials
Easy-to-use nozzles
Complete package
What we didn't like:
Kinks if not handled carefully
Struggles with tight corners
Best Alternative: POHIR Sewer Jetter Kit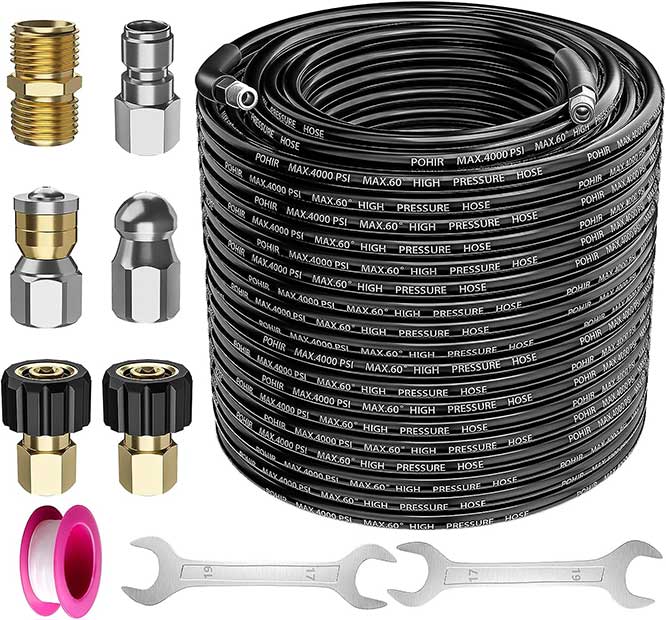 Key features:
4,000 PSI working pressure
Includes 3 different nozzles
Versatile M22 to ¼ NPT conversion
High-temperature resistance
The POHIR Sewer Jetter Kit is more than just a tool; it's an essential companion for those looking to tackle stubborn clogs and maintain drainage systems with ease. From indoors to outdoors, this kit's capabilities are hard to match. Let's talk about the specifics of its components and the remarkable performance we witnessed during our testing. Equipped with a robust 100-foot drain cleaning hose, this kit is designed to handle working pressures up to 4,000 PSI and burst pressures up to 10,000 PSI.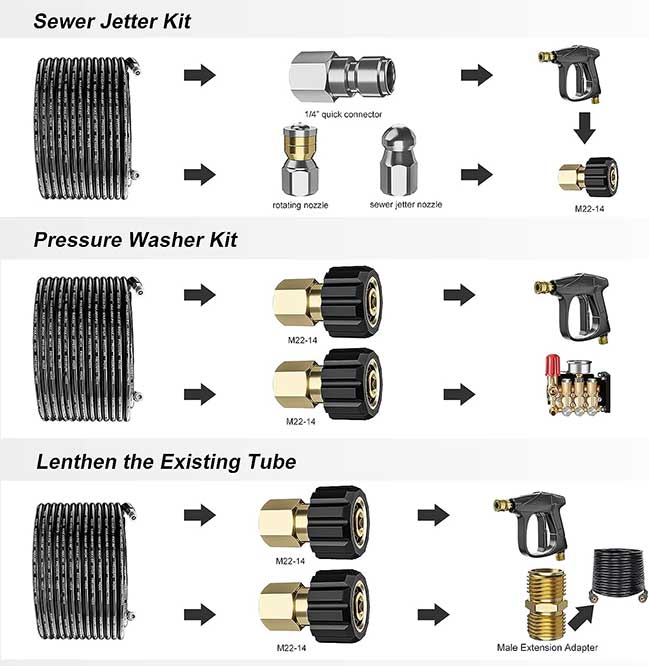 Whether it's indoor sewers, drains, toilets, or sinks, the jetter hose is versatile enough to do the job. The hydrojet drain cleaning offers a distinctive approach to handling the grime in different scenarios. We used it to clean outside drains, and its efficiency was evident as it effortlessly cut through small weeds and dirt. Moreover, the stainless steel nozzles are not just an addition; they are the essence of this kit. With three different-shaped jetter nozzles, including button nose, rotating, and ¼-inch female NPT fitting, the flexibility in performance is impressive.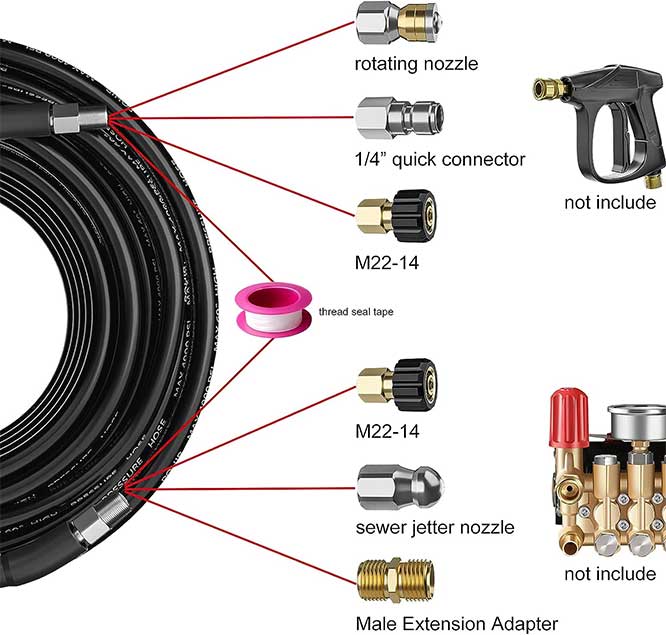 We particularly liked the rotating sewer jet nozzle that rotates and pushes the hose down the drain line. The 2-piece M22 to ¼-NPT, along with a male-to-male adapter, add more than convenience; they define adaptability. These features enable seamless conversion of the drain cleaner hose to a pressure washer hose. The use of solid brass and high-quality stainless steel ensures greater durability and ease of installation.
During our hands-on testing, we were impressed with the heavy-duty bend limiters at both ends and the enhanced protective cover that prevents damage. Even though the hose can be partially flexible, its design is meant to avoid breaking during use. With dimensions of 11.02 x 4.92 x 11.02 inches and weighing in at 6.6 pounds, this unit is compact enough to be practical in various scenarios without being cumbersome.
What we liked:
Heavy-duty reinforced ends
Multiple nozzles for flexibility
Enhanced protective cover
Can be used in all seasons
What we didn't like:
Hose may kink if not straight
Spinner may stop with dirt particles
Sewer Jetter Kit for Pressure Washer FAQs
What is a sewer jetter kit?
A sewer jetter kit includes various accessories like hoses, nozzles, and connectors that attach to a pressure washer, transforming it into a powerful tool for cleaning and unclogging drains and sewers.
Can I use a sewer jetter kit with any pressure washer?
Most sewer jetter kits are designed to fit a range of pressure washers, but it's essential to check compatibility with your specific model and the connectors included in the kit.
Is it safe to use a sewer jetter kit for DIY projects?
Yes, with proper instructions and care, a sewer jetter kit can be used for DIY projects. However, it's advisable to follow the manufacturer's guidelines and take necessary precautions to ensure safe and efficient usage.
How important is the length of the jetter hose?
The length of the jetter hose matters based on the application. Longer hoses are suitable for outdoor or extensive drain systems, while shorter ones may be ideal for indoor use. That said, this isn't always the case, as you may require a longer hose for your indoor project and vice versa.
What precautions should I take while using a sewer jetter kit?
Proper handling of the hose to avoid kinking, wearing protective gear, and following the manufacturer's instructions are essential precautions to ensure safety and effectiveness.
Final Verdict
We looked at several different models, but at the end of the day, only four reigned supreme. First up is ZOFINE's Sewer Jetter Kit. It was chosen for its versatility and strong build, making it suitable for both professional plumbers and home users. The Original JetSnake Sewer Jetter also stood out. It is noticeable for its compact design, ensuring better penetration, particularly with gas pressure washers.
Next up is the Sooprinse Sewer Jetter Kit. This pick impressed us with its innovative coupler and quality materials, offering ease of use and durability. And finally, POHIR's Sewer Jetter Kit was picked for its flexibility in performance and heavy-duty construction, catering to various scenarios, both indoors and outdoors. Each of these kits offers unique features tailored to different requirements, ensuring that whether you're a professional or just tackling a home project, there's a sewer jetter kit that fits your needs.