Rather than relying on your desktop computer to manually copy DVDs one by one, investing in a DVD duplicator is a smarter way to go about things. Since they offer standalone operation, you don't need the use of a computer to make multiple copies of the same disc. This can bring a whole new element of simplicity to a once drawn-out and lengthy process.
When you need copies and you need them fast, DVD duplicators are designed for "on the fly" use when time is an important factor. Whether you're holding a business conference, wedding, seminar, concert or church event, making copies of DVDs needs to be an efficient and simple process. Short production windows and portability allows you to use duplicators to produce and distribute DVDs immediately after important events, meetings or gatherings so you don't need to wait for a later date to make sure that everyone has a copy in their possession.
Today we're going to look at a few of the best rated, most reliable, efficient, and fastest DVD duplicator towers for 2019 that offer a range of 1 to 11 targets. We're going to go over three specific models and outline their core features and give a brief overview of each.
Produplicator DVD Duplicator Tower
Designed for fast, efficient and error-proof copies, the Produplicator DVD Duplicator Tower offers an array of beneficial features that go hand in hand with simplicity and ease of use. Available in a wide range of sizes from 1 to 11 drives, it supports the latest M-disc support to assure that your data is permanently available when you're copying onto M-discs. Although it supports regular CDs and DVDs as well, it's capable of delivering fast 24x speeds for quicker copying and less hassle.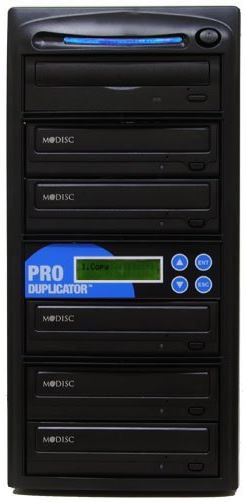 M-Disc Support
As we've already mentioned, M-Disc offers the best assurance that your data is going to last over the years. Rated for a lifespan of over 1000 years, your photos, videos and multimedia will never degrade in quality over the course of time. Whereas some hard drives and regular discs can only last up to 7-10 years, M-Disc assures the most longevity so you can permanently backup your data without any worries.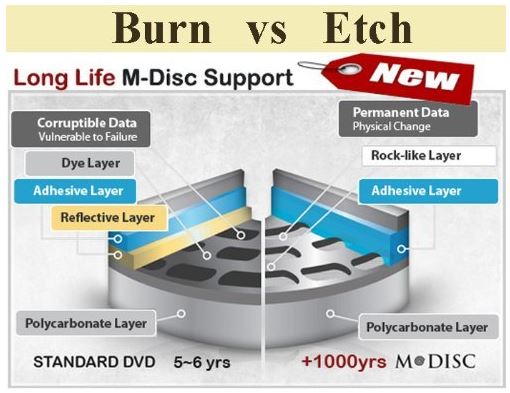 Rather than burning data onto a standard DVD that has layers that have been known vulnerable to failure after just 5 to 6 years, M-Disc actually etches that data onto a rock-like layer that's between an adhesive and polycarbonate layer. There isn't a reflective layer like any standard disc and the result is an improved longevity that can exceed 1000 years of durability.
Multiple Formats
Capable of burning multiple formats, the Produplicator supports the following formats: 4.7GB DVD-R/RW, 4.7GB DVD+R/RW, 8.5GB DL Dual Layer DVD, 80min/700MB CD-R, 74min/650MB CD-RW, 4.7GB M-Disc DVD+R. Each drive is equipped for up to 24x speed which is sufficient enough to duplicate CDs in 2 to 4 minutes, DVDs in 5 to 8 minutes and M-Discs in 12 to 15 minutes. However, do keep in mind that you won't be able to duplicate any protected discs with copyright restrictions.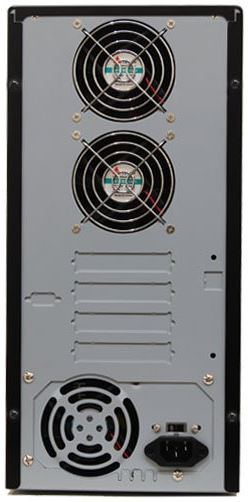 Easy to Use
Available in a wide range of sizes that can copy up to 11 discs simultaneously, most people are surprised to find out how easy it is to use. With a small LCD panel located in the center/front, all you need to do is place the disc that you want copied in the master drive, place the appropriate amount of blank discs in the drives and select how many copies you'd like to make. Once the tower is done doing it's magic, the completed disc trays will automatically open.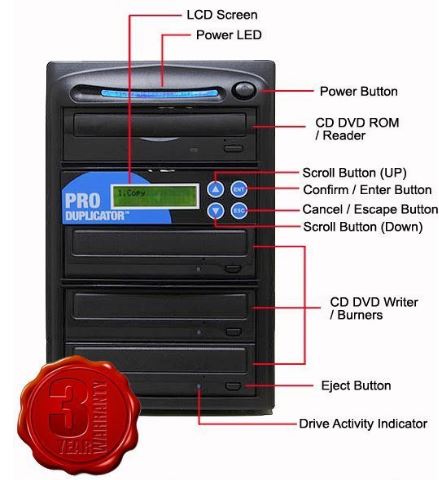 Warranty Period
The Produplicator Tower is backed by one of the more-generous warranties that we've seen. From the date you purchase, you're covered for 3 years on labor and 1 year on the parts. Additionally, lifetime technical support is always available should you ever need it in the future.
Bestduplicator DVD Duplicator
Available in a wide range of sizes from 1 to 11 targets, the Bestduplicator DVD Duplicator is a professional solution for those needing a quick and easy to use option that's built for a wide range of support. Although it doesn't support M-disc etching like the Produplicator, it's equipped with Samsung name brand optical drives to assure long lasting quality with ultimate reliability. In addition, there's a 128 MB integrated controller that assures quick copies without any transitional errors.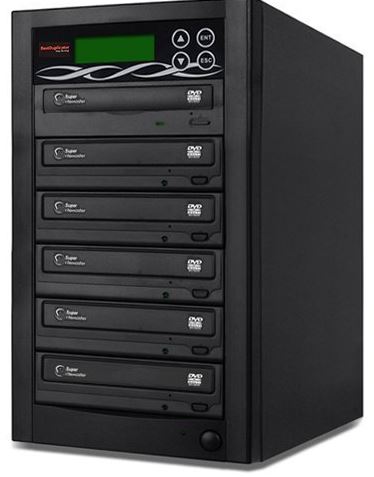 We like to see name brand, well-known manufacturers provide the essential parts since Samsung is well known for quality. They've been known to produce some of the nicest, most-reliable and longest lasting optical drives over the last decade or so.
User Friendly Design
With the integrated LCD located directly above the master drive, you're giving up/down arrow controls with ESC (escape) and ENT (enter) keys for straightforward, easy operation. Simply place the media that you want to duplicate into the master drive and it'll automatically recognize the type of source disc and adjust to the exact specifications on its own. Available in singular increments from 1 to 11 targets, you can opt to own the appropriate size for your needs without going overboard.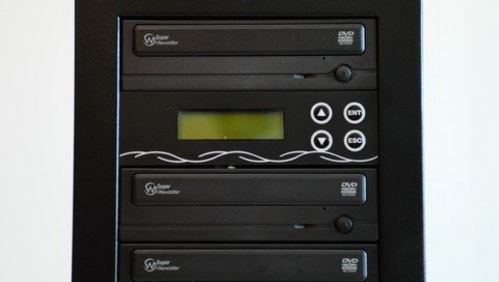 Auto Buffer Speeds
Since the Bestduplicator will automatically detect the specific media that's being copied, it'll adjust each drive to the appropriate buffer speed that's needed for the most efficient burning process possible. Some duplicators will attempt to copy at a preset speed and inheritly make mistakes when inscribing the disc with data. Over time, this can cause more errors and a lower success rate, ultimately wasting both your time and money. Since the buffer speeds are automatic, there's no second-guessing and much more assurance that all copies are a success.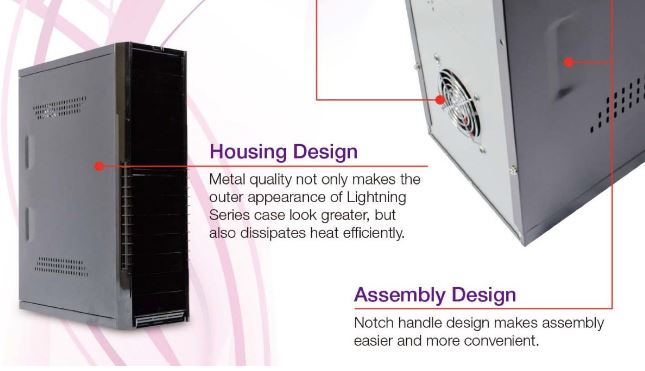 Ample Airflow and Cooling
Whether you're making one or ten copies at once, duplicators are well-known for producing quite a bit of heat in a short period of time. To combat this, the Bestduplicator was designed with proper airflow and ventilation in mind. Equipped with an array of 8 centimeter cooling case fans (depending on which size you opt for), it efficiently solves any overheating issues before they ever become a problem. In addition, the metal housing is ventilated along the side panels to assure that there's always a decent amount of air exchange while it's in operation.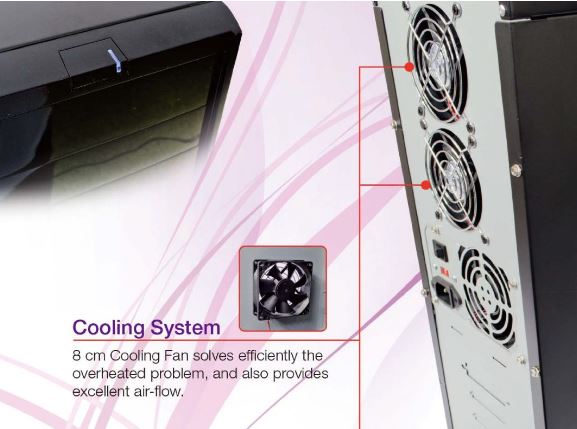 Warranty Period
Although the warranty period is only for one year, parts and labor are both included in addition to lifetime technical support. The warranty isn't quite as generous as the Produplicator, but it still is nice to have some sort of guarantee that it'll be working and performing well for a decent amount of time.
Copystars DVD Duplicator
As another fantastic choice and quite similar to the two previously mentioned, the Copystars DVD Duplicator is an easy to use, reliable and fully standalone unit that never requires a PC or software. Equipped with Asus brand SATA burners, you're assured exceptional quality with extra assurance that your copies will always be a success. With a heavy-duty design, it's the appropriate choice for professionals who are looking for a wide range of support for both single and dual layer CDs, DVDs and DVD RWs.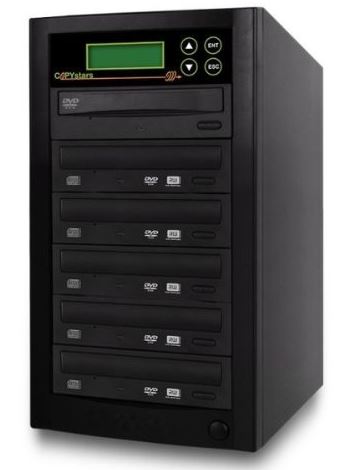 Security
Since a new level of security and encryption has been incorporated into the design, you have the option to password protect the setup and statup of the Copystars DVD Duplicator to protect it from unauthorized use. If you're using it at a public event or you have the need to limit its use among a group of co-workers, you have the freedom to keep out unwanted users and assure that only authorized individuals are using it. Although this may not be necessary for many situations, it can be a drastic benefit for some scenarios.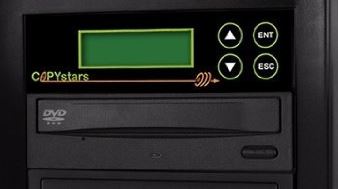 Speed
Offering CD burning speeds up to 52x, DVD burning speeds up to 24x, and dual layer DVD burning speeds up to 8x, it matches the speed of both the Produplicator and Bestduplicator.
Multi-Language Support
Although English is often widely used, there's always a need to support additional languages so that literally anyone can control and operate the duplicator with ease. With the option to select from either English, Spanish, Portugese or Japanese, there's always a way to make sure that whoever is operating it can fully understand how to do so.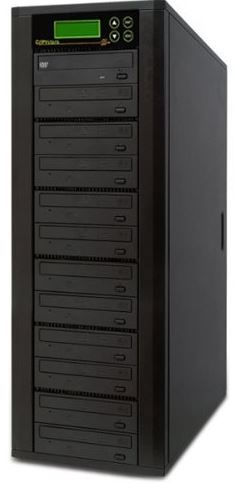 Warranty Period
Just like the Produplicator, the Copystars DVD Duplicator is covered by a 3 year warranty on labor and 1 year warranty on parts. In addition, there's also toll free tech support always readily available should you have any problems operating it in the future.
Final Thoughts
Designed to make copying CDs and DVDs a much quicker and more efficient process, these Duplicator Towers all share quite a bit of similarities. They're all capable of the same speeds, available in a wide range of target sizes, and backed by decent warranty periods.
But if we were to pick one that we recommend over the rest, it would have to be the Produplicator DVD Duplicator Tower. Since it offers M-Disc support, your copies can be guaranteed to last for over 1000 years and never experience any degradation in quality or performance. Although specific M-Discs need to be used when you're copying, they tend to run a bit more expensive so there's that to keep in mind.
However, the Bestduplicator and Copystars Duplicator Towers are still excellent options that utilize Samsung and Asus brand-specific optical drives to assure the best quality and reliability.