Mobile gaming is no longer confined to the small screen of your smartphone; it's a vast world that now includes console-like experiences. Thanks to Xbox controller phone mounts, you can turn your smartphone into a dedicated gaming powerhouse. Whether you're on a budget or looking for the very best, we tested and reviewed these mounts to help you make an informed decision. Here are our top picks that won out over all the rest:
From the versatility of 8Bitdo to the ergonomic prowess of OtterBox, these offerings present an array of features to elevate your mobile gaming experience. Read on for our hands-on reviews and uncover the right match for your gaming style.
Best Overall: 8Bitdo Mobile Gaming Clip for Xbox Controllers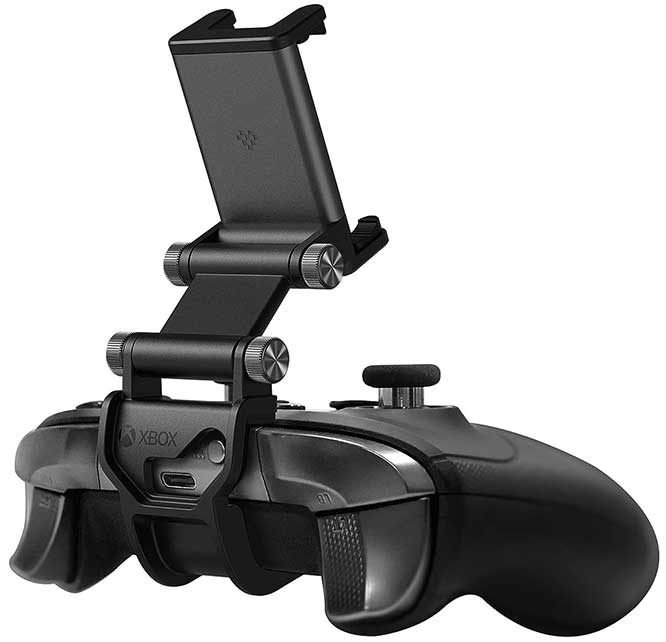 Key features:
Officially licensed by Xbox
Fits smartphones up to 3.38 inches wide
Expandable clip for a snug hold
Adjustable positioning for comfort
When mobile gaming is a passion, having the perfect accessory to play Xbox games on your phone is key. Enter 8Bitdo's Mobile Gaming Clip for Xbox Controllers. We've tested it, twisted it, and took it for a spin, and here's what we found. With dimensions of 4.13 x 2.36 x 4.53 inches and weighing only 1.92 ounces, this unit is compact and lightweight. Its adjustable positioning feature allows for a comfortable viewing angle, whether standing, sitting, or lying down.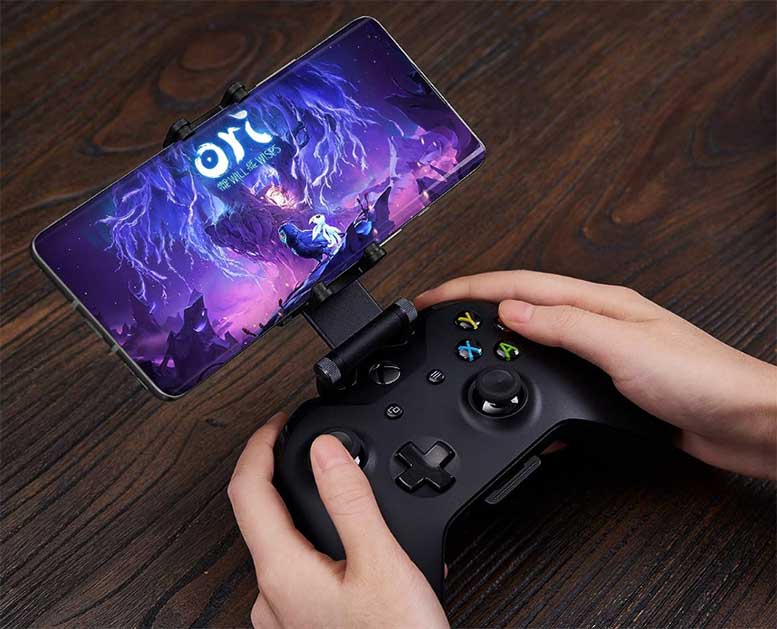 This clip can hold smartphones up to 3.38 inches wide, accommodating a wide variety of models. That said, there are plenty that are simply too big to fit. So be sure to check your device's dimensions before taking the plunge. If it is within range, the clip's expandable design offers a snug fit for your phone. But as a heads up, don't tighten the clip's small metal bolts too tightly, or they might become difficult to turn.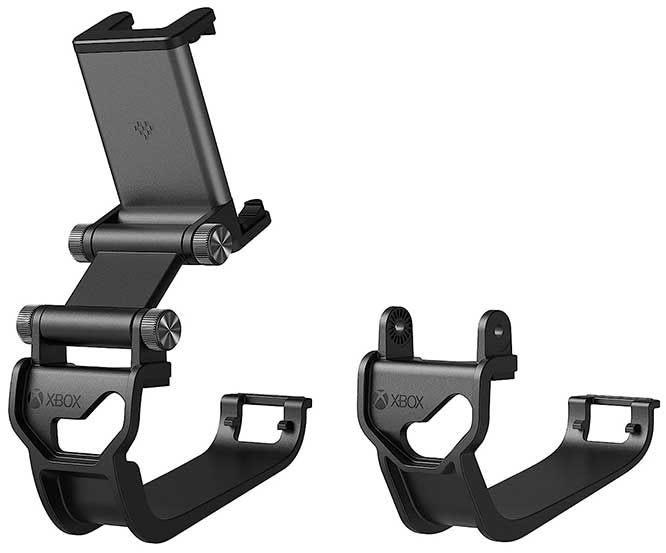 We tested various devices and found that we needed to remove phone cases for a more secure fit in some instances. The hold is otherwise firm and dependable. You can use 8Bitdo's clip with an Xbox Elite controller or other Xbox Controllers. The fit is seamless regardless of which controller you use. As long as it's a Microsoft-branded Xbox pad, you'll be in good shape.
Bottom line, this clip transforms your iPhone or Android phone into a gaming powerhouse. From Remote Play on Xbox to mobile games and emulators, the possibilities are endless. The clip's well-built structure feels secure, turning your phone into a versatile gaming device.
What we liked:
Versatile gaming functionality
Snug fit for different phones
Expandable and adjustable design
Durable, solid construction
What we didn't like:
Small bolts can be difficult
May require case removal
Best Runner-Up: dainslef Xbox Controller Phone Mount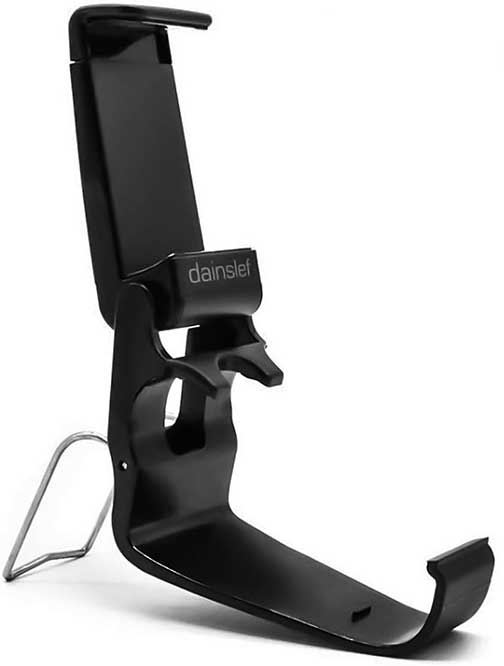 Key features:
Fits a wide variety of phone models
Adjustable angle up to 160 degrees
Retractable design for 6.5-inch phones
Fold-out metal stand for video viewing
Dainslef's Xbox Controller Phone Mount is another handy accessory designed to turn a regular Xbox One controller into a mobile gaming powerhouse. Here's what our hands-on experience unfolded. The clip is adjustable to fit phones ranging from 1.96 inches to 3.46 inches wide. So if you've got a typical 6-inch phone, the clip should fit it effortlessly. Its angle adjustment functionality allows up to 160 degrees of control, letting you find the most ergonomic angle for gaming sessions.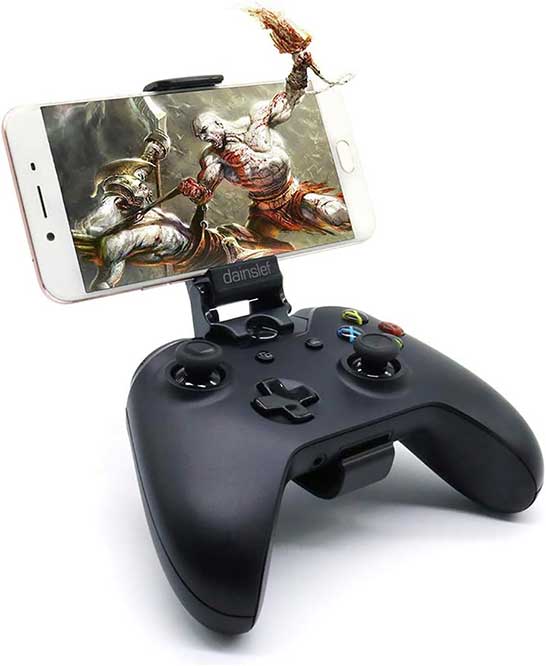 Moreover, the foldable metal stand is a clever feature that enables the clip to double up as a phone stand for video viewing. With dimensions of 4.88 x 2.56 x 2.17 inches and a weight of just 1.58 ounces, you can easily take it with you for gaming on the go. Testing this clip with various Xbox One controllers and smart devices proved it to be strong and secure. However, the performance with heavier phones revealed a flaw.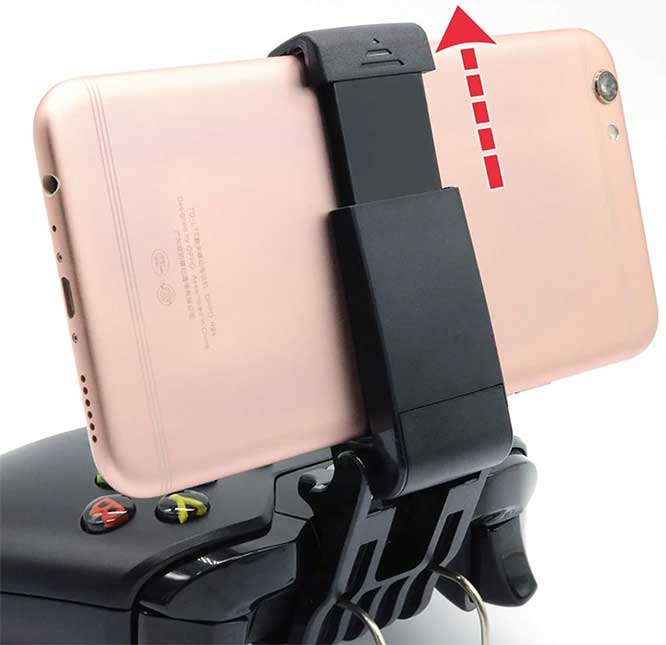 The weight distribution tends to make it top-heavy, putting some strain on the wrists and making extended gaming sessions more taxing. Its retractable design and compatibility with popular iPhone models and Android phones make it an attractive option. But users looking for absolute comfort and durability might need to explore other alternatives. It really comes down to the type of smartphone you have. As an added bonus, two thumb pads are included for more comfortable gaming.
What we liked:
Versatile with different phones
Compact and travel-friendly
Solid mounting platform
Comes with thumb pads
What we didn't like:
Cumbersome with heavy phones
Possible durability concerns
Best Alternative: OtterBox Mobile Gaming Clip for Xbox Controllers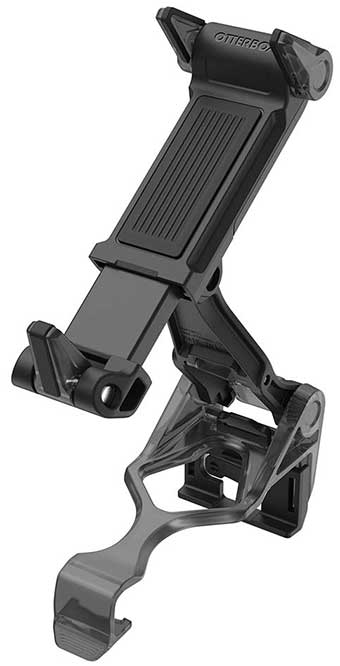 Key features:
Ergonomic design for comfortable gaming
Sturdy and adjustable clip arm
Compatible with various Xbox controllers
Lightweight and portable at 4.2 ounces
OtterBox's Mobile Gaming Clip is crafted with gamers in mind, especially those who are passionate about Xbox gaming on mobile. With the rise of Xbox Cloud and mobile gaming, this device is a thoughtful response to the demand for ergonomic and reliable phone mounts. This clip has undergone hours of meticulous testing to ensure that it securely holds your phone, even under varying circumstances. That said, it's almost too secure. Quite frankly, it's very difficult to remove once on.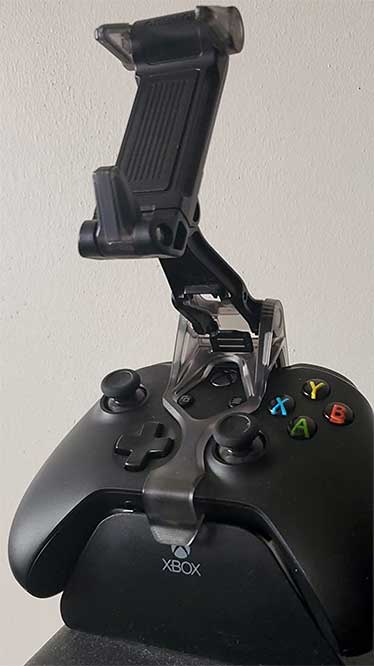 Still, whether you have a sleek Samsung Galaxy S21 or another popular model, the clip is robust enough to hold your phone – even with a case on. The only time we had an issue with phone cases was when using an Xbox Elite Series 2 controller. Otherwise, OtterBox's claim holds true. With dimensions of 4.18 x 1.63 x 2.22 inches and weighing just 4.2 ounces, this gaming clip is compact yet strong.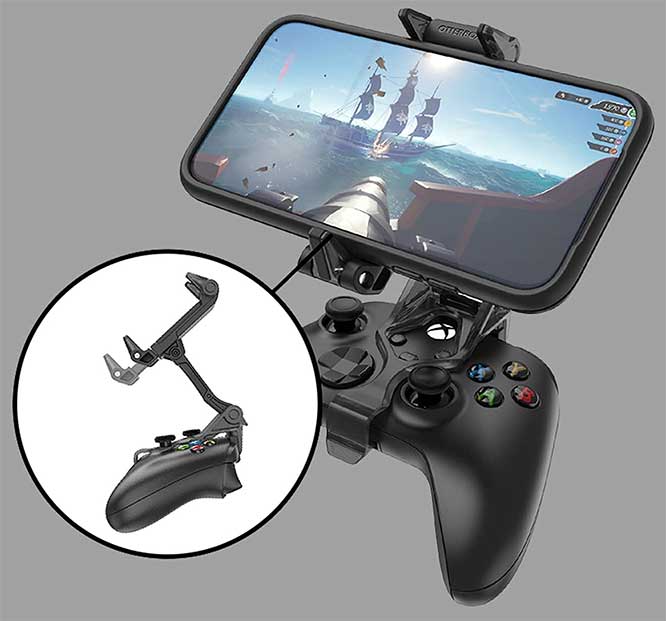 Its design ensures zero interference with the controller's functionality and provides optimal weight balance so your wrists remain comfortable during long gaming sessions. The adjustable arm is another convenient feature, enabling on-the-fly adjustments with one hand. The longer arm design also aids in ergonomics, elevating the phone a little higher and providing more thumb space, thereby alleviating any need to strain your neck.
What we liked:
Robust connection with phone
Multiple adjustment settings
Provides more thumb space
Reduces neck strain
What we didn't like:
Compatibility issue with Elite Series 2 Controller case
Difficult to remove once on
Best 2nd Alternative: Dobe Mobile Gaming Clip for Xbox Controllers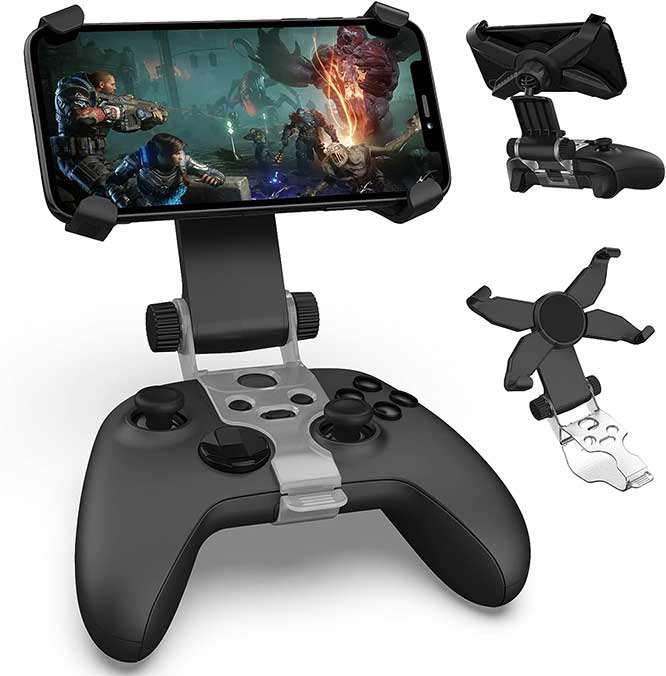 Key features:
Adjustable design for comfort
Completely closed lock system
Durable and lightweight
Compatible with most smartphones
Want to level up your mobile gaming experience? The Dobe Mobile Gaming Clip is designed to fit snugly on Xbox Controllers, transforming them into an ergonomic mobile gaming system. It's a handy accessory that, despite initial appearances, doesn't flinch at the task. Its unique adjustable design lets you tweak the placement to find the most comfortable gaming angle. We tested it on Xbox Cloud and even Steam Link. In both instances, we felt like we had true gaming on the go.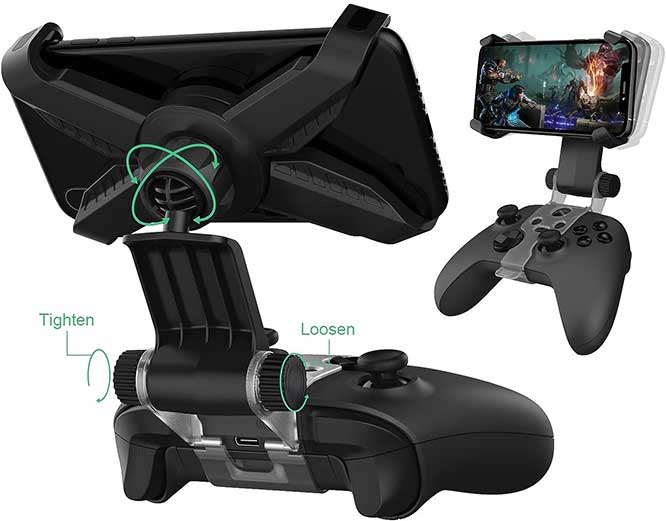 With its completely closed lock structure, this clip ensures both your controller and smartphone stay firmly attached without any wobble. It's worth noting that compatibility isn't 100% universal. And this is where some consumers might run into a deal-breaker. Xbox controllers that don't have batteries in them work just fine. But controllers that do have batteries in place may not fit in the clip. However, phone compatibility is high, accommodating devices measuring up to 4.72 inches wide (or 2.36 inches minimum).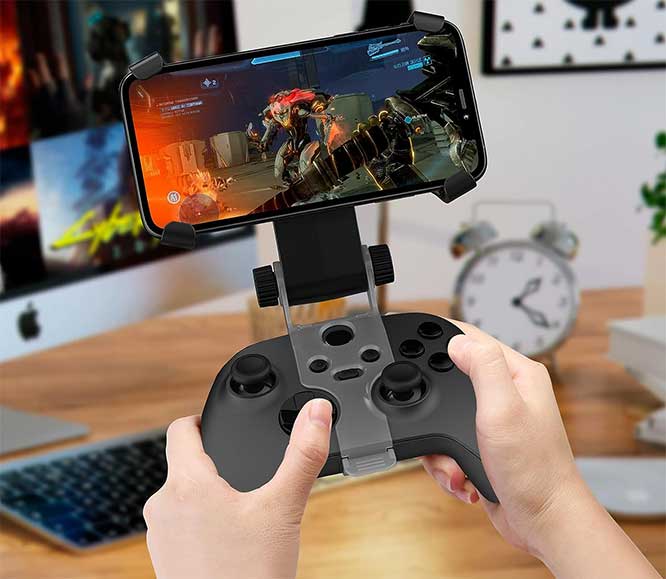 We also need to mention that this clip is compatible with official Xbox controllers. You may have an off-brand gamepad that works, but Dobe only guarantees official ones. So your fit may be hit or miss, depending on the make and model of your controller. Weighing in at 3.84 ounces with dimensions of 7.2 x 4.69 x 2.72 inches, this clip is small and lightweight. And yet, it presents a durable build quality that should provide plenty of use.
What we liked:
Sturdy even with movement
Enhances mobile gaming
Ideal for larger phone models
Sleek black design
What we didn't like:
Doesn't fit some controllers
Limited to 5-inch inside width
Best for iPhone MagSafe: OtterBox Mobile Gaming Clip for MagSafe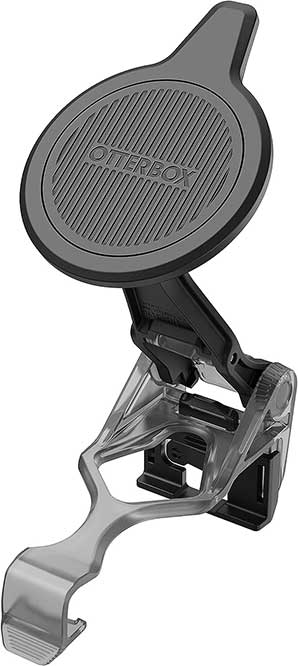 Key features:
Compatible with Xbox controllers
One-handed angle adjustment
Wireless, foldable design
Strong magnetic alignment
OtterBox brings the gaming world to the tips of your thumbs with their Mobile Gaming Clip for MagSafe. Weighing a feather-like 2.31 ounces and boasting dimensions of 2.45 x 4.17 x 1.81 inches, it is a device made for convenience. We put this gaming clip to the test with various Xbox controllers, such as Xbox One and Xbox Series X and S. What caught our attention was the ease of one-handed angle adjustment and tilt, allowing for non-stop gaming comfort.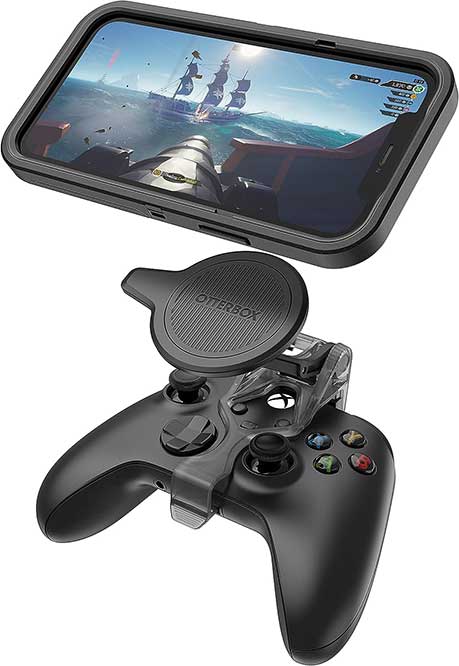 The integration with Apple MagSafe technology ensured zero interference with the Xbox controller functions, creating a user-friendly interface that didn't frustrate our thumbs. It also places this clip in a very small league. More MagSafe clips are sure to follow, but for now, your choices are limited. Thankfully, you can be sure you're buying quality thanks to the OtterBox brand. Our hands-on experience resonated with ease of use. However, the initial setup process did seem somewhat complex.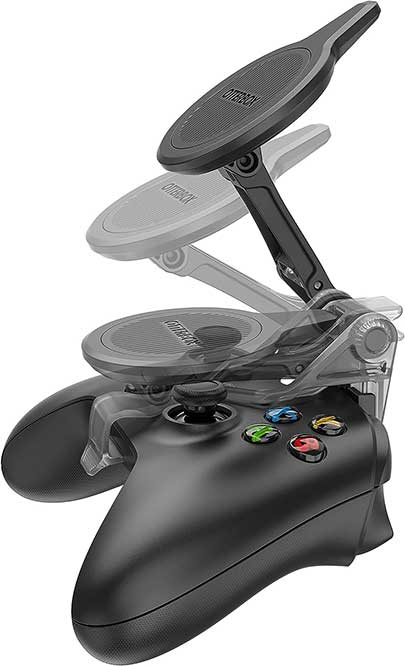 The inclusion of some additional instructions would have come in handy. On a positive note, once attached, the strong magnetic alignment kept our phones secure and stable, and its foldable design made it easy to store and carry. We're also big fans of the optimal controller balance, as it reduces wrist stress. And the fact that it provides OtterBox-level protection means you're getting added peace of mind during your gaming sessions.
What we liked:
Seamless interaction with MagSafe
Optimal controller balance
High build quality
Easy storage
What we didn't like:
Difficult to attach initially
Hard to remove
Best Budget: JOVITEC Phone Clip One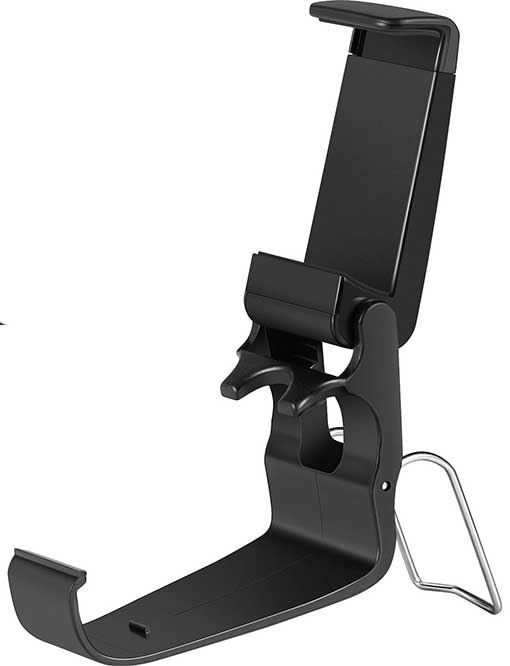 Key features:
Rubber gaskets for safe phone grip
Telescopic arm for various phones
135-degree adjustable angle
3-step installation, no tools needed
When it comes to mobile gaming, control can be everything, and JOVITEC's Phone Clip One offers an intriguing way to up your game. The design, aimed at budget-conscious gamers, combines functionality with ease of use. At first glance, you'd be forgiven for thinking this is dainslef's Xbox Controller Phone Mount. They're virtually identical in every way. Upon closer inspection and use, however, the differences become apparent.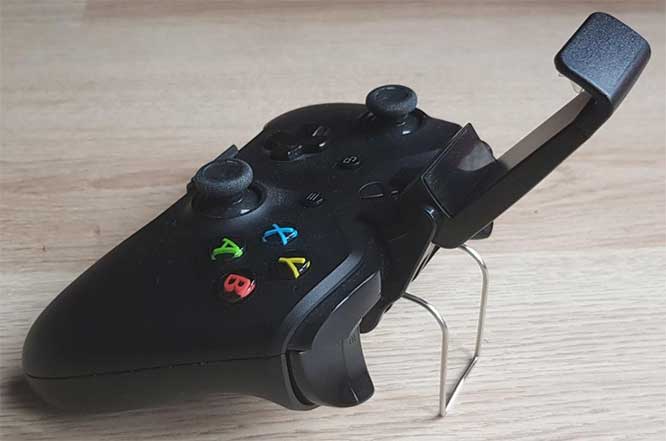 The dimensions measure 3.74 x 1.97 x 1.18 inches, while the weight comes in at 2.39 ounces. It's oddly smaller than dainslef's clip but slightly heavier. In any event, its quality defies the belief that lightweight equals flimsy. Thanks to the use of rubber gaskets, this clip securely grips your phone, letting you maneuver through games without a care. The telescopic arm, with its 135-degree adjustable wide angle, allows flexibility for various phone models.
But be warned – we found the limited range slightly restricting. It's not as giving as other models we reviewed, leaving you restricted to certain positions of play. This probably won't affect most gamers, but we found a few ways in which it doesn't provide enough versatility. As for installation, it's a breeze here. The 3-step process requires no tools, so anyone can lock it onto their device in seconds. Its space-saving design might win over those who need to make every square inch count.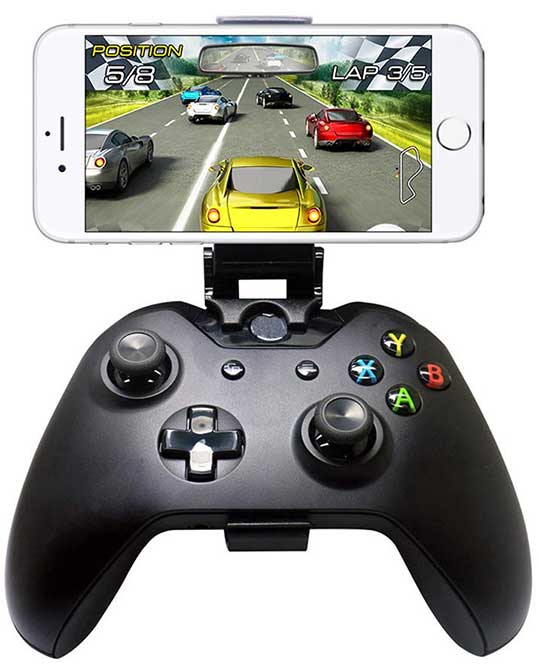 In testing, JOVITEC's Phone Clip One held various phone models without a hitch. It can accommodate phone widths measuring between 2.01 and 3.54 inches. However, the pressure that this clip puts on controllers might give you pause. It's a lot, leaving us to wonder just how long the clip will stay one whole piece before breaking. Time will tell.
What we liked:
Sturdy yet lightweight
Great angle adjustment
Space-saving design
Easy installation
What we didn't like:
Limited range for angles
Questionable longevity
Xbox Controller Phone Mounts for Mobile Gaming FAQs
Can I use these phone mounts with non-Xbox controllers?
Most of these phone mounts are designed specifically for official Xbox controllers. Compatibility with other controllers is not guaranteed, and it's best to consult the product's specifications for details.
Is it difficult to install or remove the phone from these mounts?
While some clips are easier to install and remove than others, most are designed for convenience. However, a few options, like the OtterBox Mobile Gaming Clip, might pose challenges in removal.
Do these phone mounts support all smartphone models?
The phone mounts typically have adjustable clips to fit various phone sizes. Still, it's wise to check the product's details for any specific compatibility requirements to ensure a perfect fit.
Final Verdict
The 8Bitdo Mobile Gaming Clip rose to the top as our Best Overall pick due to its seamless integration with Xbox controllers and an expandable, adjustable design that promises comfort. The dainslef Xbox Controller Phone Mount stands as a solid runner-up, with the appeal of thumb pads and a sturdy mounting platform.
OtterBox's Mobile Gaming Clip offers a thoughtfully designed alternative, while Dobe's Mobile Gaming Clip is a go-to for those wanting an enhanced experience on the move. If you are an iPhone user with MagSafe, OtterBox's variant is the clear choice, providing easy and secure attachment. Finally, JOVITEC's Phone Clip One wins our Best Budget category by combining a sturdy build with easy installation despite some limitations.