Garage door remotes are a staple of modern convenience, ensuring that the simple task of entering and exiting your garage is as smooth as possible. But as time moves on, and technology evolves, it's no surprise that universal garage door remotes are growing in popularity.
These handy devices can work with various brands and models, allowing users the flexibility to control their garage doors seamlessly. Here's a glimpse of some of the best universal garage door remotes:
From the extensive compatibility range to the varied and convenient designs, these remotes offer unique features that cater to different preferences and needs. Let's explore our detailed reviews below to find the perfect universal garage door remote to match your lifestyle.
#1 – Solidremote Visor-Clip Universal Garage Door Remote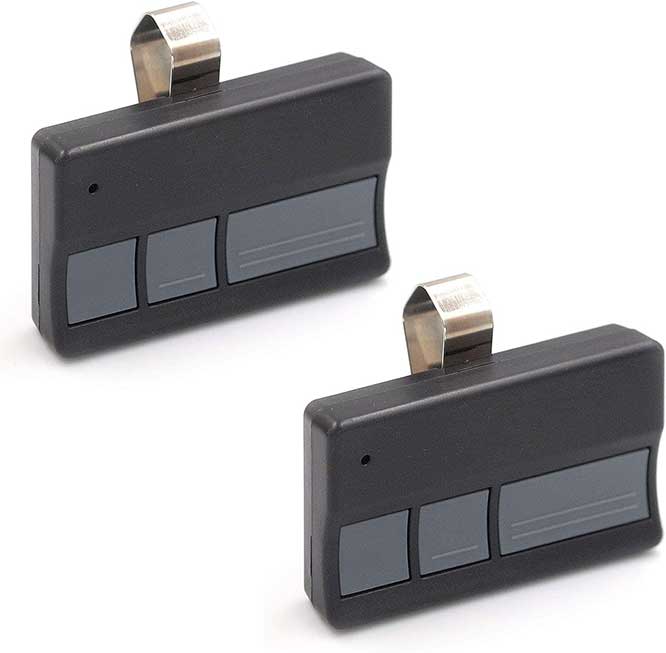 Key features:
Compatible with multiple brands
Modern rectangular design
User-friendly programmability
Pre-installed battery
The Solidremote Visor-Clip Universal Garage Door Remote is designed to provide a simplified and efficient solution to anyone looking to replace or enhance their existing garage door remotes. This clever little device doesn't just work with one brand; it offers compatibility with a range of well-known garage door openers. This universal remote has been crafted to work specifically with LiftMaster, Chamberlain, Sears Craftsman, Raynor, and AccessMaster brand garage door openers made from 1993 to the present day.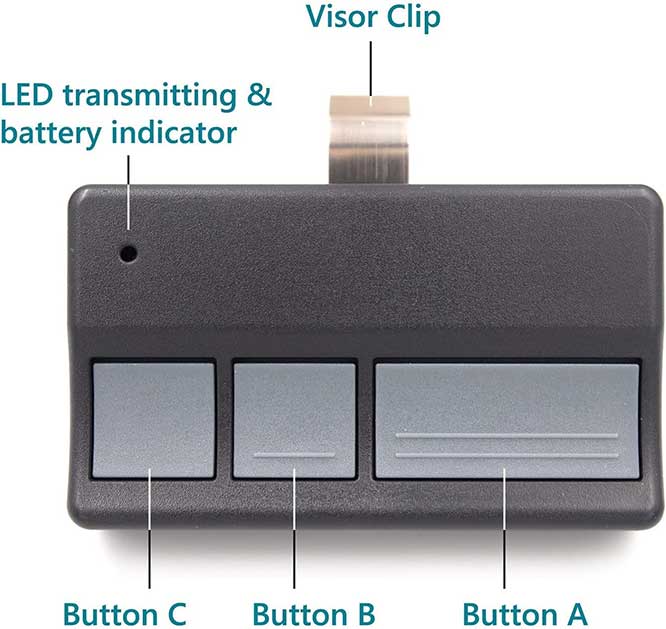 So what's the catch? It's tailored to the Security+ 315 MHz, 390 MHz, Security+ 2.0 MyQ, or Billion Code technology. So if your remote control's model number is among those listed, you're good to go. Encased in uninspiring black and gray plastic, the Solidremote has a modern and rectangular design that should serve as a perfect fit for the visor of your car. You've likely seen similar designs. In fact, there's a good chance your current garage door opener looks like this one. It's nothing fancy by any means, but it gets the job done. It has modest dimensions of 2.99 x 1.73 x 0.63 inches and a weight of just 2.88 ounces. It's a featherweight in the world of remote technology.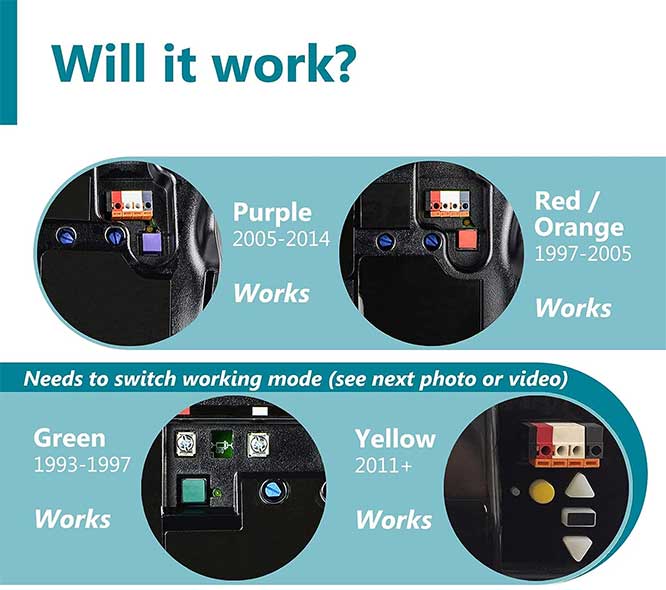 How did it fare when put to the test? For starters, we found it easy to install. We also appreciate the accidental button press protection – it's a nice touch that provides peace of mind. Just know that there is the potential for compatibility and setup issues if you're not careful. It's very important to double-check the specifics of your garage door before purchase. As for battery life, it clocks in at an average of 2 years, provided you are using the standard 3V CR2032 batteries.
Though the Solidremote Visor-Clip Universal Garage Door Remote offers a considerable range of compatibility, it's not quite universal in the literal sense. Ensuring that it's suited for your garage door system is key. Overall, it's a practical, non-fragile, and well-designed solution for those looking to upgrade or replace their current garage door remotes. If you can navigate the small instructions, it could be a solid addition to your tech arsenal.
What we liked:
Extensive compatibility range
Easy to install
Not fragile
Good range
What we didn't like:
Instructions may be too small
Not universally compatible
#2 – Genie Universal Garage Door Opener Remote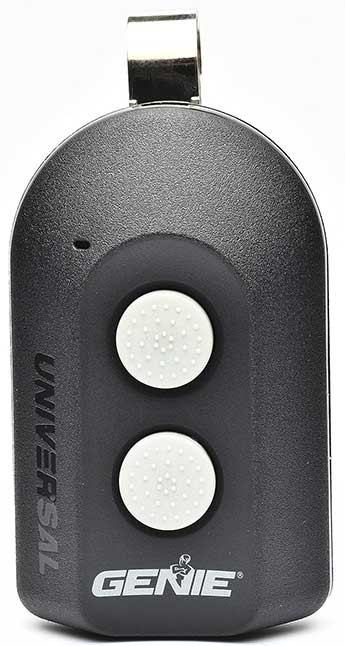 Key features:
Universal compatibility across major brands
Utilizes Intellicode or rolling code technology
Compact and lightweight design
2 buttons for controlling two different systems
Next up is the Genie Universal Garage Door Opener Remote. With this one, you know you're getting a quality product from a quality brand. Genie's been in the game for over 100 years, so it's evident they're doing something right. And that shines through this their Universal Garage Door Opener Remote. With its two buttons, it allows control of two different garage door systems, even if they are from different brands. Now that's a big deal. Maybe you have two different properties and need to control both via the same remote. This one has you covered.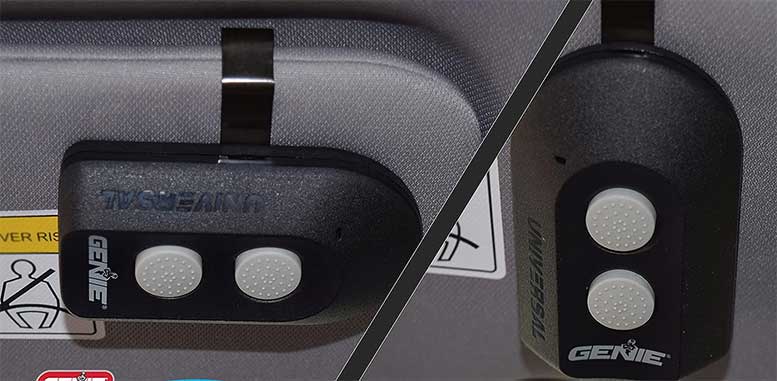 Aside from obviously being compatible with Genie garage doors, it also works with Overhead Door, Sommer, Chamberlain, LiftMaster, Wayne Dalton, Craftsman, and many more, making it a truly versatile option for users with multiple systems. Curious about how the device can be universally compatible? There's no magic here, just solid technology. It operates exclusively with garage door systems that use Intellicode or Rolling Code technology. If you happen to have an older system employing switches or punch holes, this remote won't work.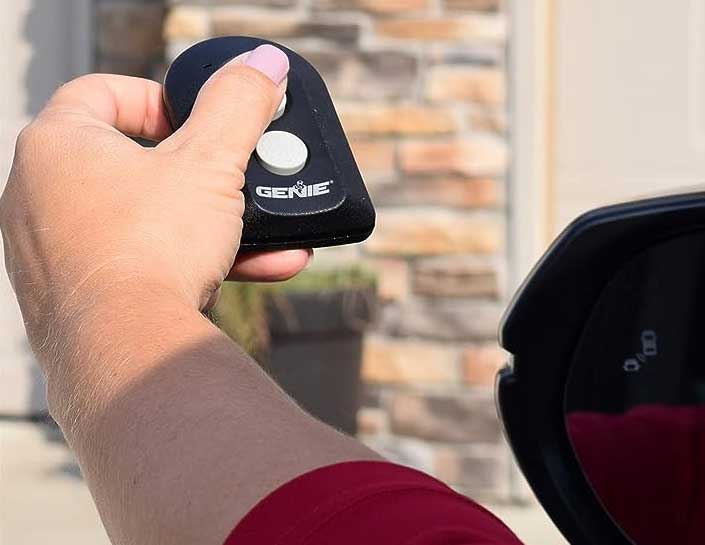 As a small and compact unit, it has dimensions of 2 x 0.75 x 3.25 inches and a weight of 5.3 ounces. So it's neither too big nor too small. During our testing, we found that the Genie remote performed admirably, though the range was a little shy compared to some original remotes. It needs to be within 75 feet to operate the opener, as opposed to 150 feet in some cases. Also, we're not crazy about the buttons. They're just a tad too mushy, and they only worsen as time goes on. It's certainly not a deal-breaker, as this is a solid garage door remote. And it's one of the most universal models available.
What we liked:
Easy to program
Versatile with different brands
Compact and convenient
Reputable brand
What we didn't like:
Shorter range than some originals
Not compatible with older systems without Intellicode technology
#3 – GONAT Universal Garage Door Opener Remote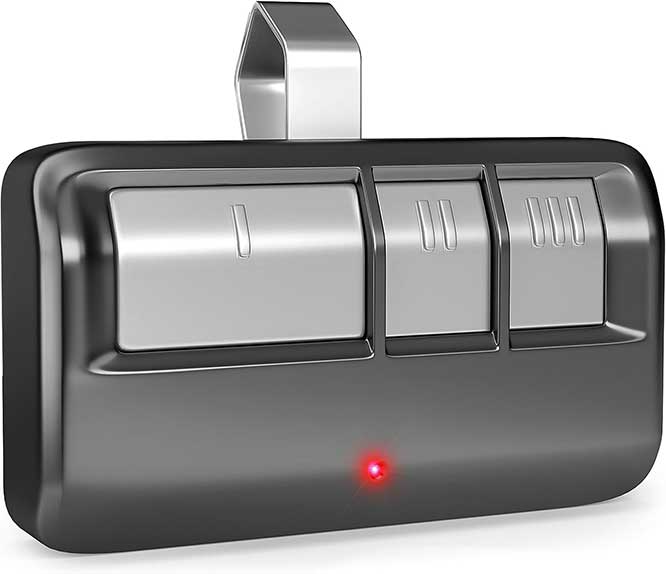 Key features:
Multi-device control
Hands-free visor clip
Broad compatibility range
Easy setup instructions
The GONAT Universal Garage Door Opener Remote comes in a gray color and is shaped like a compact rectangle. Measuring 4.37 x 2.17 x 0.67 inches and weighing just 1.44 ounces, this remote is designed for practicality. Its plastic construction may not feel as premium, but it serves its purpose. Setting up the remote is not a big deal, thanks to the inclusion of various formats like images, videos, and written instructions.
Though some might find it tricky to program at first, we found that a close follow-up with the instructions can make the process smooth. The included visor clip also allows for hands-free control, a thoughtful touch for those who fancy multitasking. Perhaps what makes this unit shine is its ability to control up to three motor units with just a single device. Each button on the remote is a gateway to a different opener, making it a real game-changer for those with multiple garage doors.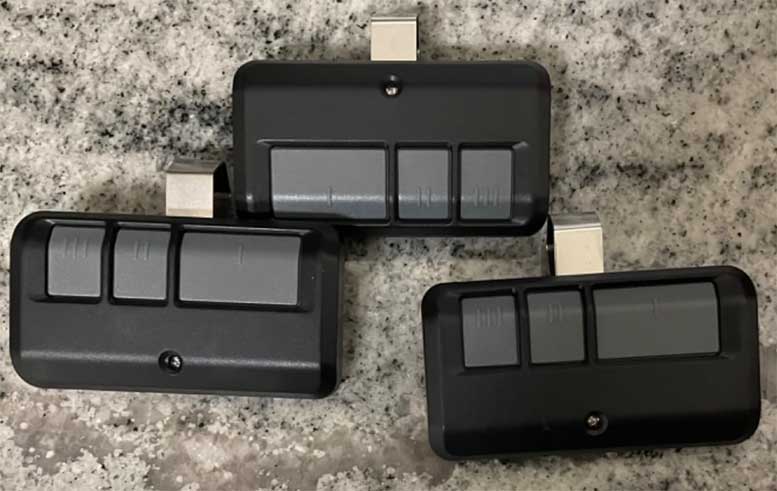 Working with most LiftMaster, Chamberlain, and Craftsman door openers from 1997 to present, the remote has a broad compatibility range. However, it's good to consult the compatibility table. It's available via GONAT and shows you everything you need to know concerning whether your door is compatible with this remote. Moving on, a lithium metal battery operates this opener, and it's ready to roll right out of the box.
Overall, this is a winner. Although the GONAT feels a little cheap, and there's always the possibility of compatibility issues, this remote should serve as a convenient companion for your garage door needs. We also like that you can get this remote in either gray or purple. For those who prefer not to follow the norm, the purple variant is a stylish way to go.
What we liked:
Controls up to three doors
Light and portable
Comprehensive instructions included
Two color variations to choose from
What we didn't like:
Feels a bit cheap
Some compatibility issues
#4 – Garage Stop Universal Garage Door Opener Remote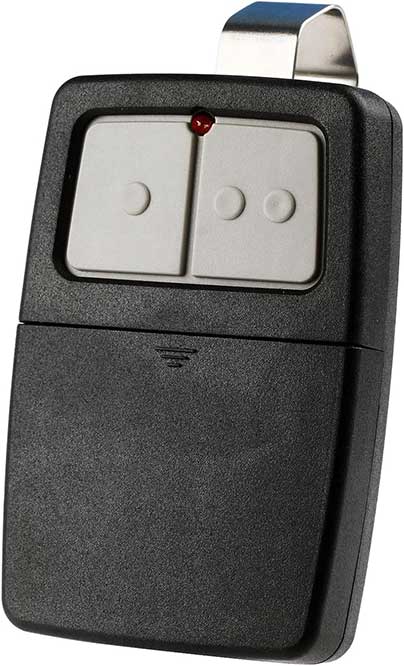 Key features:
Wide compatibility with various brands
Video installation instructions included
Visor clip for convenient car placement
FCC Registered in the USA
The Garage Stop Universal Garage Door Opener Remote stands out for its ease of programming. Though it requires a few steps, including the necessity to access the garage door opener and push a button on it, the installation process is straightforward for most users. The accompanying video installation instructions are a valuable guide that we appreciated seeing. They're a nice addition in assisting with getting set up.
The unit's design is conventional and in line with similar products in the market. The remote is also made of plastic, like most others. It's definitely not going to win any awards for creativity. But as long as you don't mind the boring design, it's a remote worth investing in. And with dimensions of 6.57 x 4.45 x 0.79 inches and a weight of 1.76 ounces, it's a pretty standard size. But again, some users might crave a sleeker and less plastic-like appearance.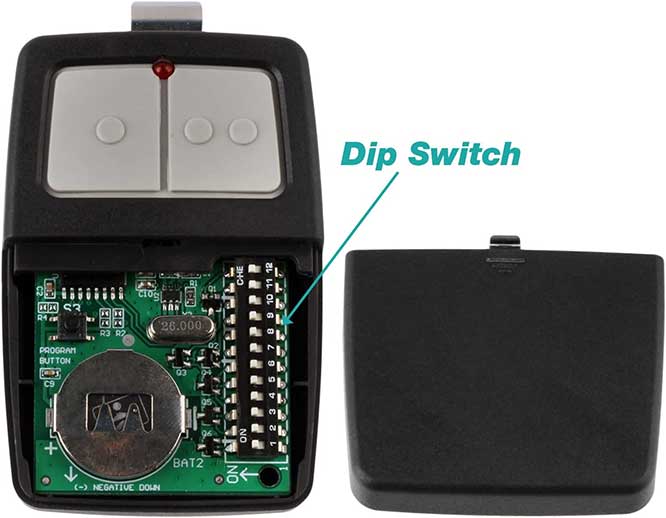 Bland looks aside, this is a handy aftermarket part for garage openers. More importantly, it boasts wide compatibility with many brands. But it's vital that we point out that it does not work with Allstar, Marantec, Hormann, or LiftMaster MyQ type openers. Users seeking to replace or add another remote to their collection will find it working just fine for their needs. The inclusion of a visor clip ensures it can be conveniently placed in your car, always at the ready.
The remote is powered by 1 lithium metal battery, which is included in the package. The FCC registration in the USA adds a layer of trust to the product. On the downside, some users may find the print in the instructions for programming too tiny, potentially complicating the installation process. Like Solidremote's opener, the instructions are a pain to navigate due to how small they are. Other than that, the Garage Stop remote provides effective control over your garage door. While it may not win a beauty contest, it gets the job done, offering good value without a lot of fuss.
What we liked:
Easy to program
Includes visor clip
Batteries included
User-friendly
What we didn't like:
Not aesthetically pleasing
Tiny print instructions
#5 – OTLEER Garage Door Opener Remote with Keychain
Key features:
Compact keychain-type design
Slide cover protection
Vibrant color-coded learn button
Supports 4 max devices
The OTLEER Garage Door Opener Remote with Keychain is our final pick, and it's a nifty device designed for those who want both functionality and style. Crafted to be a perfect replacement for LiftMaster, Chamberlain, and Craftsman garage door openers, this compact remote ensures your garage access needs are met with the utmost efficiency. In our tests, pairing the remote was easy. These keychain-type remotes come in a convenient 2-pack, and they can be paired up within minutes.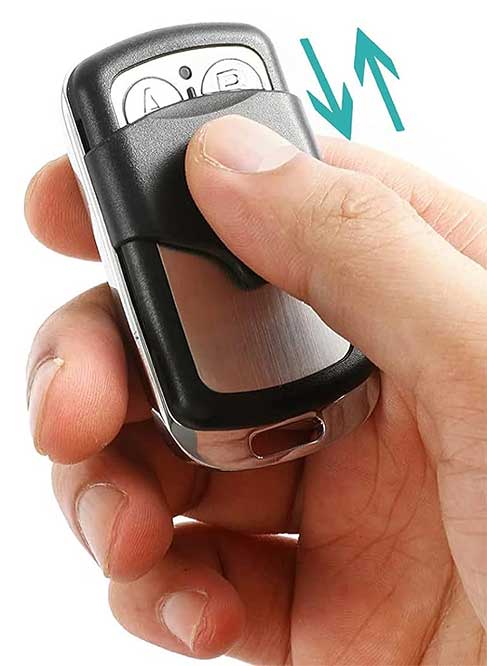 You get near-immediate access for multiple family members. Their compatibility extends to several garage door openers such as AccessMaster and Raynor, and of course, they replace the 893LM 893MAX G953EV-P2 Remote. The vibrant color-coded learn buttons not only add a dash of flair but also enhance usability. However, we must stress that it's important to note the compatibility constraints; the unit does not work with Linear, Genie, Overhead Door, and some Craftsman Series, among others. So you'll definitely want to check OTLEER's list before purchasing.
But if yours is compatible, this remote is worth checking out. It comes equipped with some thoughtful design elements, such as a slide cover to protect the buttons and a keychain-type style. Its small dimensions (2.56 x 1.42 x 0.59 inches) and weight (1.59 ounces) make it a perfect addition to your keychain without it being cumbersome. The plastic material offers a lightweight feel, while the included lithium metal battery ensures you're not searching for power at the eleventh hour.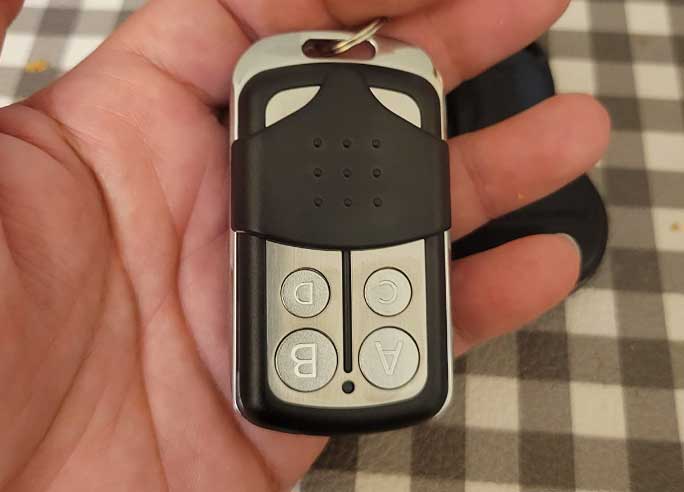 Even better, this is one of the more attractive garage door remotes we've seen. The compatibility restrictions may limit its appeal, but if it works with your model and you're tired of the bland, dated look of other garage door remotes, this is one to consider. The convenience, functionality, and aesthetic appeal make it an intriguing addition to any modern garage.
What we liked:
Easy to pair and use
Stylish appearance
Lightweight and portable
Battery included
What we didn't like:
Limited compatibility
Potential battery issues
Universal Garage Door Remotes FAQs
Can I use a universal garage door remote with any brand of garage door opener?
While universal remotes are designed to be compatible with various brands, it is essential to check the specific compatibility list of the remote you're considering. Not all universal remotes will work with every garage door opener model or brand.
How difficult is it to program a universal garage door remote?
Most come with comprehensive instructions that guide you through the programming process. Some even include video tutorials. While it might seem intimidating at first, closely following the instructions usually makes the process smooth, as we found out first-hand.
Can a universal garage door remote control multiple doors?
Yes, some offer the ability to control multiple doors, even from different brands. It's a feature that varies among models, so it's wise to check the product specifications if this is a crucial requirement for you.
Final Verdict
Our top picks are indeed the best of the best, delivering universal performance and universal adoration. Solidremote's Visor-Clip Universal Garage Door Remote was chosen for its extensive compatibility range, offering an easy-to-use solution for various brands. The Genie Universal Garage Door Opener Remote earned its spot through its reputable brand backing and versatility, while the GONAT Universal Garage Door Opener Remote stands out for its ability to control multiple doors.
We selected the Garage Stop Universal Garage Door Opener Remote for its user-friendly design and the OTLEER Garage Door Opener Remote with Keychain for its unique style and keychain convenience. It's clear that each of these remotes represents a solid choice in the field. What's more, each one caters to specific needs and preferences. Which one is right for you?