EXCITRUS Wireless Charger
Pros
Charges three devices simultaneously.
Sturdy all-metal build.
Supports 15W wireless fast charging.
Attractive, elegant design.
Cons
Only works with magnet-safe smartphones.
Two of three charging surfaces are low-wattage only.
Nowadays, we use our smartphones for a lot more than just staying in touch. We use them for banking, for ordering food, and for enjoying streaming media. And if you're a workout enthusiast, you probably pair your phone with a smart watch for your fitness app. Add to that a pair of wireless headphones, and you're not just looking at a smartphone. You're looking at three different devices, all of which are used together. This is great news if you want to get the most out of your phone and apps. But when it comes time to charge, you're not just charging your phone. You've also got to charge your earbuds and watch.
This has traditionally meant using three different charging cables, which could be a headache. You needed a charger with three ports, and you had cables all over your desk. That's messy and inconvenient, and it's a big reason why many people are switching to wireless charging. Wireless charging is a bit slower than modern wired charging. But it has the major advantage of not requiring any wires. You just set your device on the charging pad and walk away. Even so, you still have the problem of needing multiple chargers. How are you supposed to charge all of your devices in a timely manner?
The EXCITRUS Wireless Charger Stand tackles that problem head-on. Instead of a single wireless charging pad, it has three of them built into one system. It's specifically designed to charge a phone, earbuds, and smart watch simultaneously. It's also magnetic, which is a feature designed to cater to the latest magnetized smartphones. But what does this mean for you and your devices? To find out, we're going to have to dig deeper into its various features and functions. We'll talk about the maximum charging speed, the total wattage, and the safety features. We'll also discuss what types of phones you can expect to charge with it. After we've looked at these and other aspects of the design, we'll be ready to deliver a fair verdict. Let's get started, and see what we discover!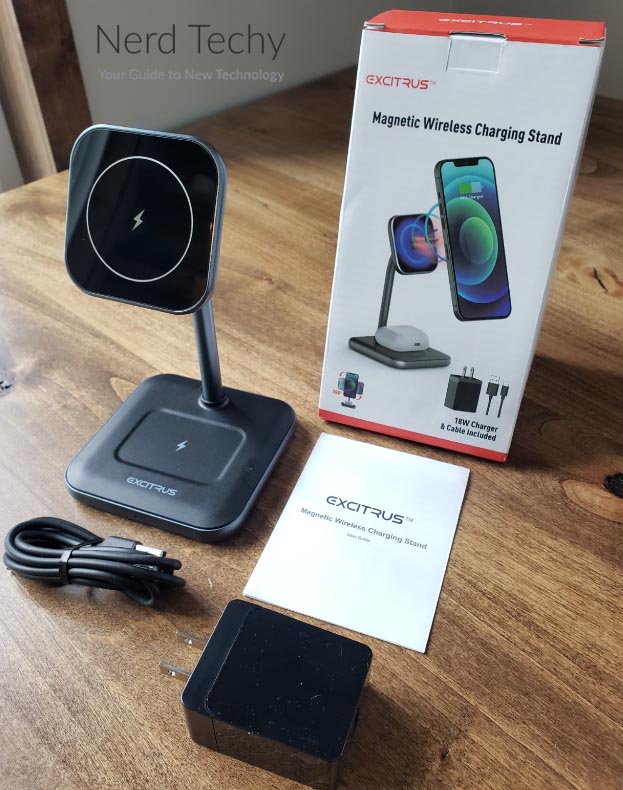 Overall Design
The EXCITRUS Wireless Charger Stand has a slick black design that fits with most modern décor. It has a dull matte finish, and it's constructed from a metal alloy for added strength. This isn't some cheap plastic charger. It's tough and durable, so it won't break just because you knocked it off your desk. The main base measures about four inches to a side, and it's about half an inch thick. The corners are slightly curved, and the sides are a charcoal grey, which creates an attractive color contrast. On the back, there's a USB Type-C power input port, along with a USB Type-A output port. The top surface functions as a wireless charging pad.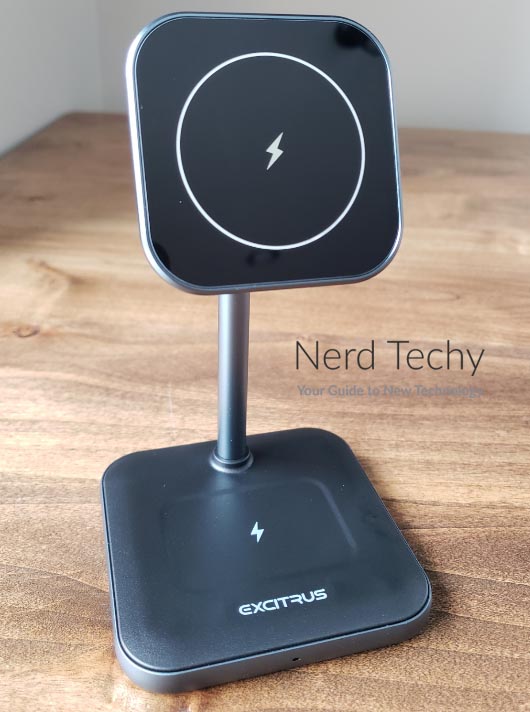 A vertical arm extends up from the back of the top surface. The arm is tubular in profile, and arches slightly towards the front as it gets to the top. It supports the upper magnetized charging pad, which has a square shape. Other than being smaller and magnetized, the upper pad looks much like the base. It's black, with a charcoal grey border around the sides. There's also an LED light ring built into the charging surface. This serves no practical purpose, but it lights up while you're charging, creating a glow behind your smartphone.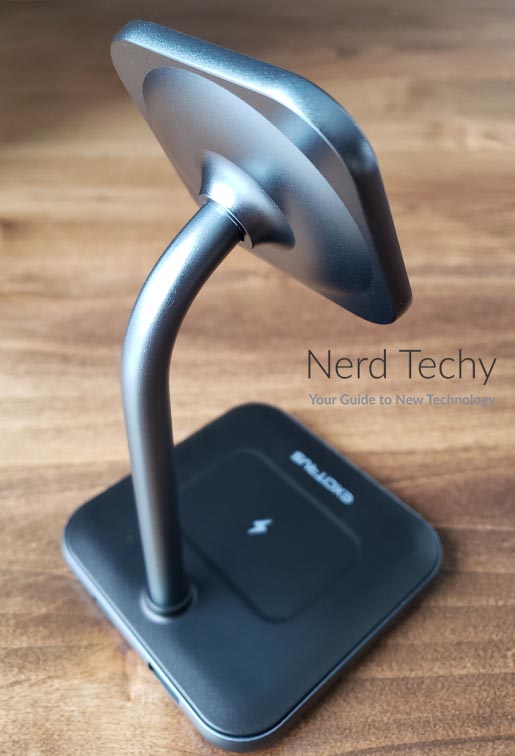 The smart watch charging pad is a separate dongle. Unlike the rest of the kit, it's white in color. It's also round, which is another contrast with the aesthetic of the main charger. It consists of a small plastic charging pad, which is about the size of an Apple Watch. This charging pad has a USB Type-A cord coming out the side, and plugs into the port on the base. As long as the base is plugged in, the smart watch charger will also be active. Just keep in mind that this is a low-wattage pad, and can't be used for a second smartphone.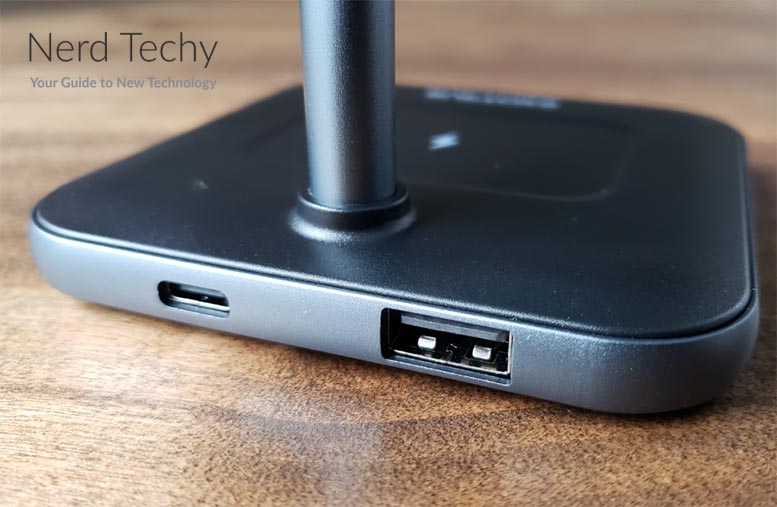 As you can see, the EXCITRUS charger is designed with one thing in mind. It's supposed to charge a phone, earbuds, and smart watch at the same time. But what if you want to charge two phones at once? In that case, you might want a charger with a different design.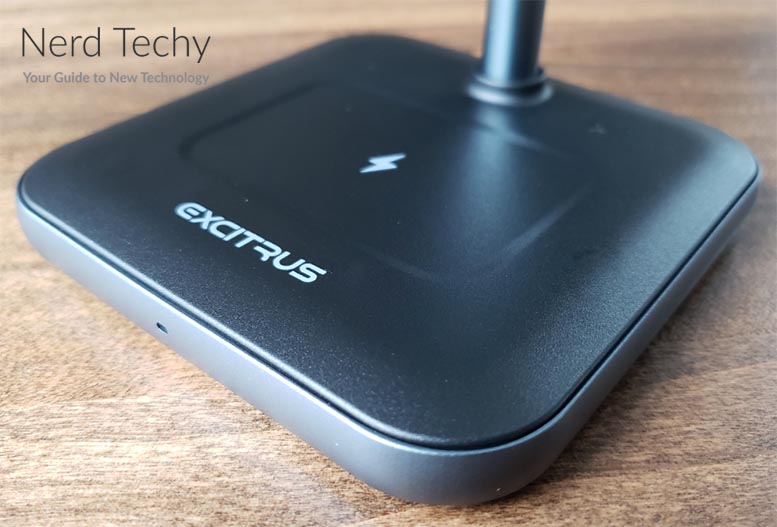 The EXCITRUS charging stand comes with a USB Type-A to Type-C cable, which is used to provide power. It also includes an 18-watt AC adapter for plugging into. You can also plug into third-party adapters, but they need to provide 18 watts. A standard 12-watt adapter isn't going to be up to the task.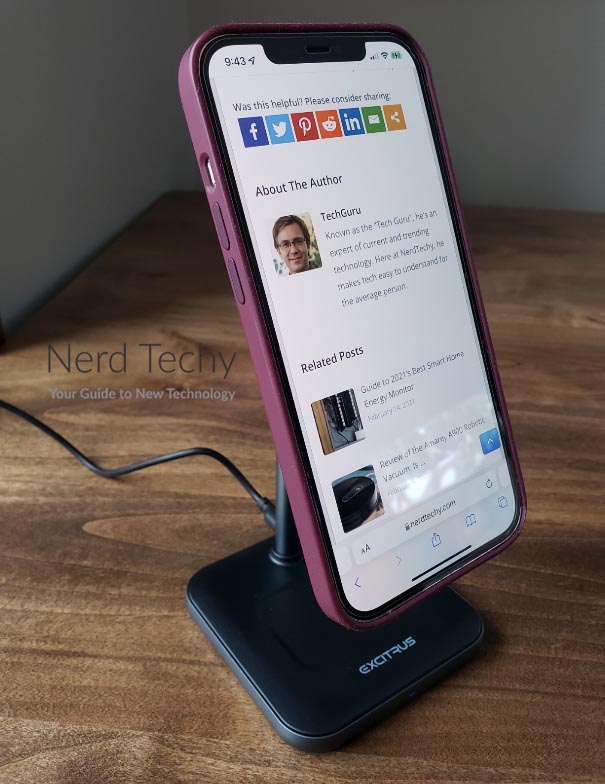 Charging Performance
As you can see, the EXCITRUS Wireless Charger Stand is attractive and well-engineered on the outside. But what kind of charging is it actually capable of? Let's take a look at each of the charging surfaces in turn, and see what we're dealing with.
To begin with, the top magnetic charger is capable of supporting up to 15 watts of wireless fast charging. Keep in mind that this will only work with compatible devices, which is just a few newer Androids. Even the iPhone 12 and 13 have a maximum wireless charging speed of 7.5 watts. So if you're using an iPhone, you'll only get 7.5 watts. That's still faster than a lot of wireless chargers, though. More to the point, it's the highest the iPhone is capable of. And with the iPhone 14 likely to support 15-watt charging, you'll be forward compatible. To be fair, 15-watt charging isn't as fast as QC 3.0 or PD wired charging. But it's the fastest available for a wireless system, so we have no complaints here.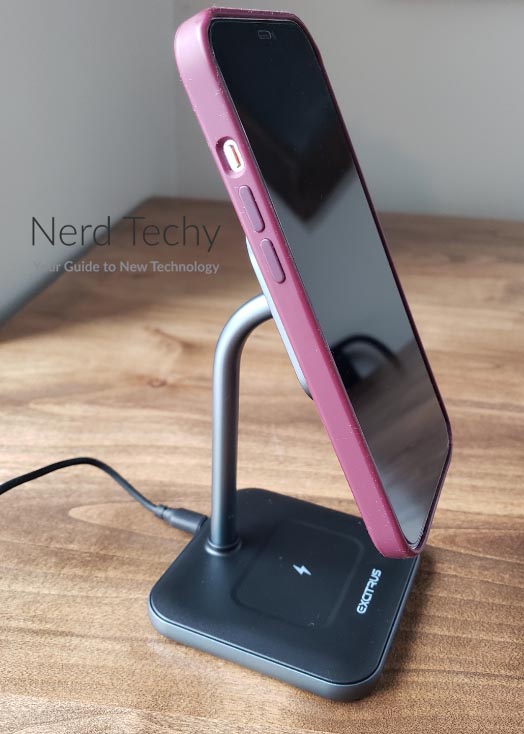 The lower charging pad on the base has a reduced output of 2.5 watts. This is the charging speed for Apple's AirPods 2, so you'll get the maximum charging speed. You'll also get very fast charging on other earbuds that support wireless charging. That said, keep in mind that 2.5 watts is very slow for a smartphone. Yes, a second phone will technically sit on the base, and it will technically charge. But a full-sized smartphone will take 12 hours or more to charge from this tiny trickle of power. If you have no other option, it will work. But for the most part, this surface is really only useful for earbuds and other low-wattage devices.
The watch charging dongle is capable of providing 7.5 watts of power. That's the maximum wireless charging speed for the Apple Watch, so it's all you'll ever need. Alternatively, you can unplug the dongle, and plug in another device to charge at up to 7.5 watts.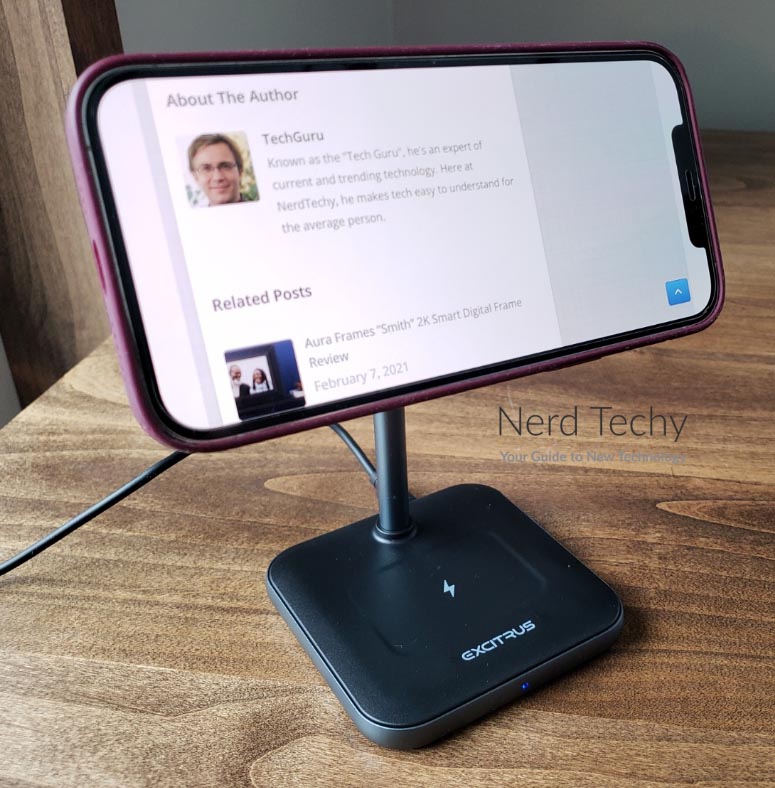 If you've been doing the math so far, you've probably noticed a small problem. If you're charging an iPhone at 7.5 watts, AirPods at 2.5, and a watch at 7.5, everything is fine. You're drawing a total of 17.5 watts, which is less than the total 18 watts provided by the charger. But what happens when you want to charge an Android phone that charges at 15 watts? In that case, you'll have a couple of options. First, you could leave the watch dongle unplugged, and charge at the full 15 watts. Or, you could continue using the dongle, an your phone will charge at 7.5 watts instead. It all depends on what your priorities are.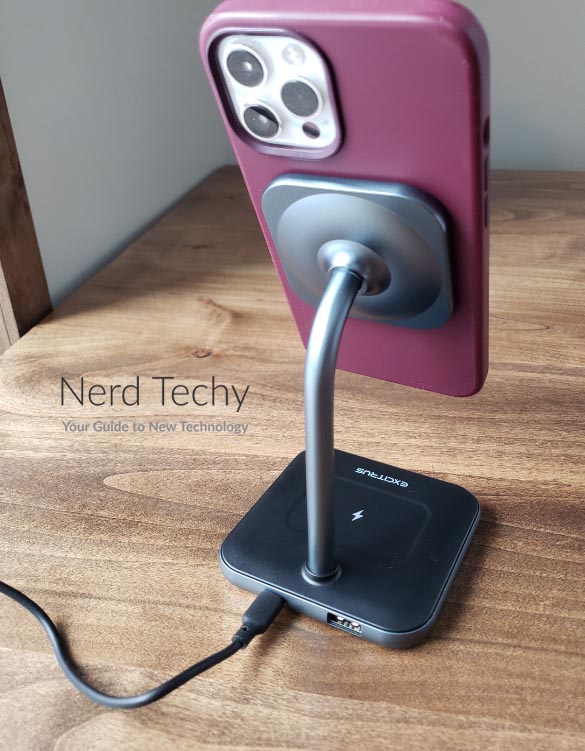 Compatibility and Safety
Probably the EXCITRUS charger's most attractive feature is the magnetic charging pad. Because it's magnetized, you don't have to worry about your phone getting knocked off. It's safe and secure, even if you're tapping at your screen or adjusting your volume. And because of the way the pad is angled, you can easily use the charger as a stand. This isn't possible when your charging pad is laying flat on your desk. Another benefit of a magnetic pad is that you can easily rotate the phone the way you need it. Whether you want portrait or landscape mode, it makes no difference. This is a benefit you won't see on many wireless chargers.
With all of that being said, the magnetic charging plate has a major drawback. It only works with compatible phones. This won't be an issue if you use the iPhone 12 or 13. They already have metal backs that are designed to work with MagSafe chargers. You can even charge them inside the case without any issues. If you're using an earlier iPhone, you'll have to buy a MagSafe case. This case has a charging ring built into the back that's designed specifically for a magnetized charger. As for Android phones, you'll most likely need an aftermarket case. That said, there are so many Android models that your best bet is to check your phone's documentation. If your phone isn't compatible, the best case scenario is that it falls off the pad. In the worst case, your phone could become damaged.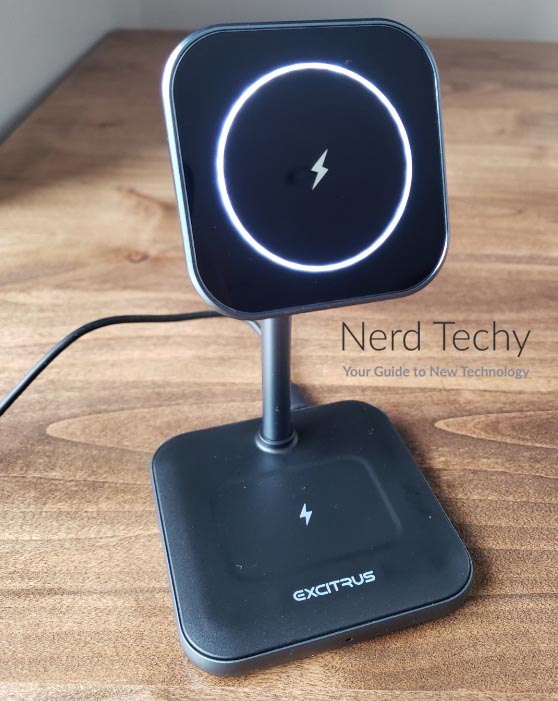 Final Verdict
As you can see, the EXCITRUS Wireless Charger Stand has a lot going for it. It will charge your phone, earbuds, and smart watch simultaneously and at maximum speed. It's tough and durable, with a magnetized charging pad that holds your phone at the angle you want. Provided you have a compatible phone, it's an excellent choice.