In this article, we look at five of the best Apple CarPlay wireless adapters in 2022-2023 and how they might take your driving, convenience and productivity to the next level.
If you own an iPhone and drive, Apple CarPlay is a powerful tool that makes your commute both convenient and more safe.
Note: At no extra cost to you, we may earn a commission for purchases using our links. Learn more.
Released in March 2014 in select makes and models, it quickly became one of the most demanded features in new vehicles of every make and model. Providing a car display version of your iPhone interface, it lets you access core features such as GPS, music, phone calls, messaging and Siri – all integrated into your car's speakers and on-board controls.
However, until recently it was only a wired feature. This meant plugging your phone into a lightning cable each time you got into the car. It's not a deal breaker but it can be frustrating and inconvenient.
It's for this reason so many people have celebrated the release of wireless Apple CarPlay. The good news is that you don't have to buy a brand new car to go wireless. You don't need to replace your existing head unit and reconfigure your center console either. Thanks to CarPlay wireless adapters, you can make any car with CarPlay into a wireless one.
What is an Apple CarPlay Wireless Adapter?
Plugging into your car's USB port, these devices leverage the WiFi and Bluetooth on your phone and serves as a receiver for your car. When you enter and turn on your vehicle, the CarPlay adapter will connect to your phone.
There are a lot of options on the market and it's hard to determine which one is worth your time and money. To help with this, we've tapped our team of experts to compile a list of 5 of the best Apple CarPlay adapters on the market.
We've made our decision based on several criteria including:
Ease of Use: Adapters must be easy to set up and have features that are simple to access and navigate.
Connectivity & Reliability: We made sure the adapters we've chosen provide great reliability, providing a solid, uninterrupted connection every time. There's a major difference among CarPlay adapters in this area so we made this a priority in our analysis.
Startup Time: How long does it take between turning on your car to having your iPhone automatically connect to the adapter? We've included picks that keep this startup time to a minimum so you can stop waiting around and get to driving.
Aesthetics: Adapters will be a prominent fixture on your center console. We looked for variations that were sleek, unobtrusive and minimal in their design.
Compatibility: Not all adapters work with all versions of iOS. We looked for products that offered the widest support for different versions and that were quick to add new ones shortly after release.
As you can see, there are a lot of factors that make a good CarPlay wireless adapter. If you still need help determining which is the best for you, stick around to the end of this roundup for some final thoughts that can help make the process easier. Let's get into it.
Best Overall: Ottocast U2-X Pro Wireless CarPlay Adapter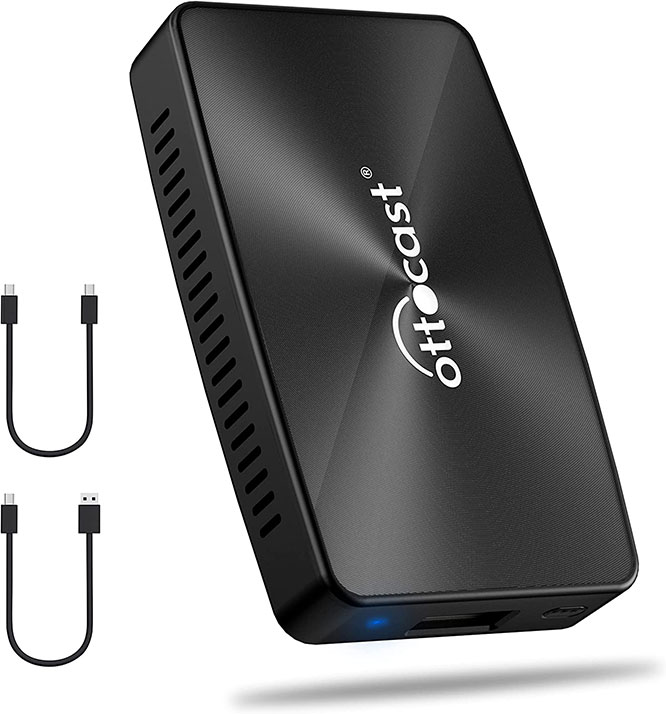 Key Features:
Bluetooth Connectivity.
Works for both Android Auto and CarPlay.
Compatible with 2016 or newer makes and models.
Fast Charging.
Ultra Low Latency.
Interactive User Interface.
Quick Disconnect Button.
Manage Multiple Smartphone Devices.
Auto-Connection.
This latest model from Ottocast takes the best overall spot in decisive fashion. The U2-X Pro is a powerful combination of performance, versatility and connectivity. Although it carries a premium price tag, the features and value more than justify it.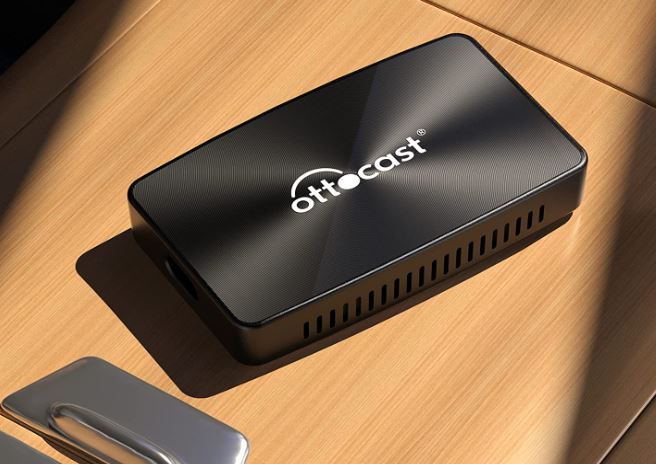 While other adapters are limited in the number of devices you can connect, the U2-X Pro allows you to link several devices while giving you a spot on the interface to manage those connections. This model is also dual compatible meaning you can connect either an Android or an Apple device to use either Android Auto or CarPlay. It's one of the few products on the market that gives you access for both. No need to pay for two different adapters and swap them out depending on who the driver is.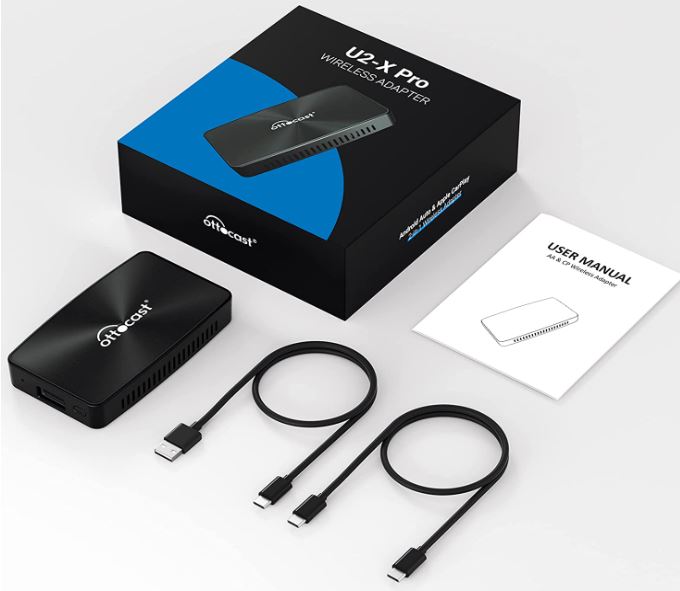 The initial setup is extremely simple. Many users can get up and running inside of ten minutes. When it comes to auto-connecting after starting the car, the U2-X Pro achieves one of the fastest connect times on the market allowing you to get back into the GPS or music as fast as possible. We could not be more impressed by this version of the Ottocast.
What We Liked:
Fast auto connect time (5-8 seconds).
Easy initial setup.
Handles both Android Auto and CarPlay.
Intuitive Interface.
Manual auto-disconnect button.
What We Didn't Like:
One of the most expensive on the market.
Best Runner-Up: Ottocast U2-AIR Wireless CarPlay Adapter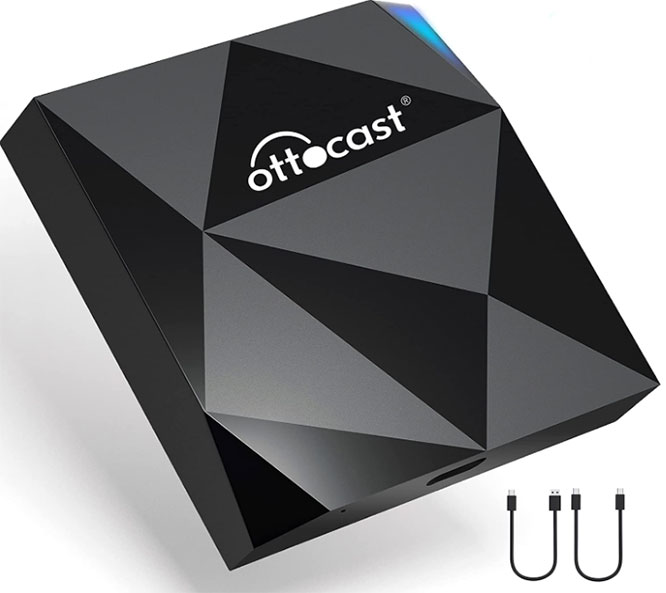 Key Features:
WiFi connectivity.
Compatible with model years 2016 and newer.
Weighs 4.5oz.
4.33" x 3.94" x 1.57".
The Ottocast U2-AIR gives the X Pro a run for its money for a multitude of reasons. Of any dongle on the market, the U2-AIR is one of the fastest. When tested on a Mercedes GLE350, startup speed clocked in at a blistering 7 seconds from startup. That's significantly faster than most competitors who can take as long as 22 seconds to get running.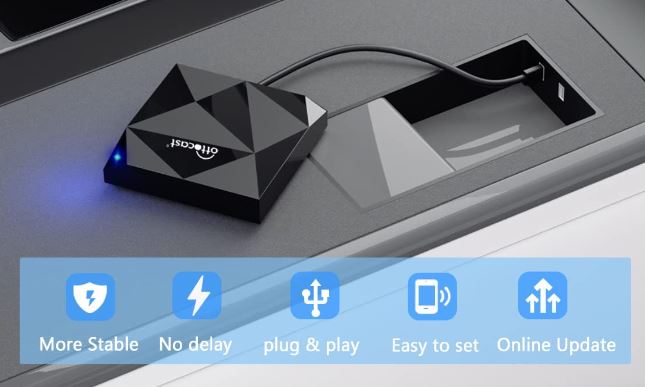 Initial setup is decently easy to get done as long as you follow the provided instructions. From there, we noticed that the U2-AIR had no problems discovering and connecting to our iPhones. This is due to the snappy 5Ghz WiFi module.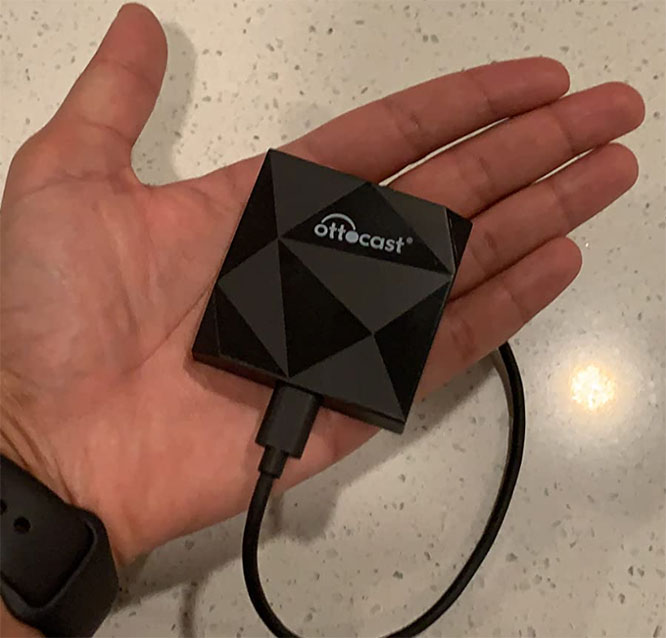 Signal quality was fantastic. Music is pristine and uninterrupted and lag time is minimal. It's compatible with all CarPlay friendly buttons on the vehicle as well so you can still use volume and skip buttons on things like your steering wheel. Overall, the U2-AIR is a pricey option but we feel strongly that the value holds up the price point.
What We Liked:
Fast 7 second startup time.
Compact design stays out of the way.
5Ghz WiFi keeps things fast and lag free.
What We Didn't Like:
Only compatible with cars 2016 and newer.
Initial setup can take time.
Best Alternative: Hieha Wireless CarPlay Adapter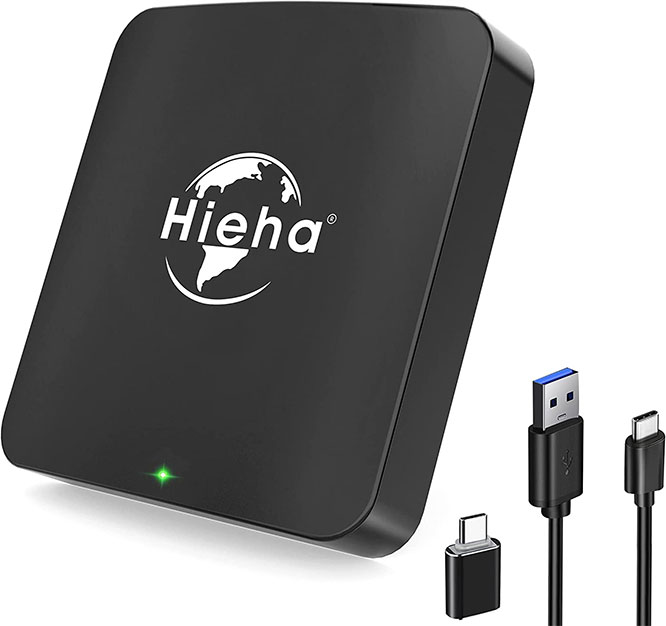 Key Features:
Bluetooth and WiFi connectivity.
USB Type C and USB Type A.
2016 and Newer Models.
Siri Compatible.
The Hieha Wireless CarPlay Adapter tops our list as the best alternative because of its unique approach to wireless Apple CarPlay. This product focuses on two aspects and refines them to the point of near perfection. First is its simple installation process. Other products on the market can be complicated to set up.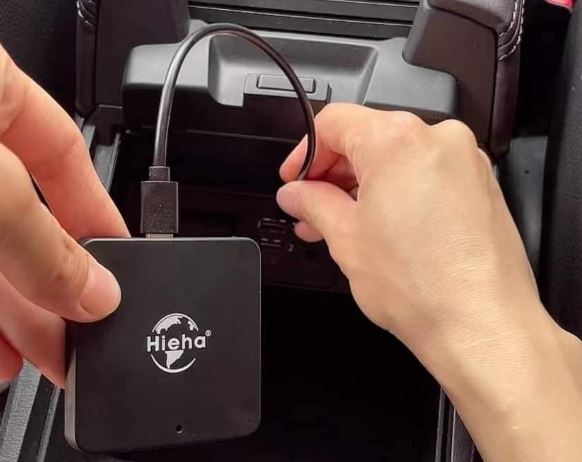 Most users report being able to run through Hieha's initial setup within a few minutes with little trouble. Second is this unit's ability to detect and connect to your phone quickly. While other dongles run a 5.5Ghz WiFi module, Hieha's clocks in at 5.8Ghz. It may not seem like much but it translates to major savings in startup time from the point of turning on your car and accessing CarPlay.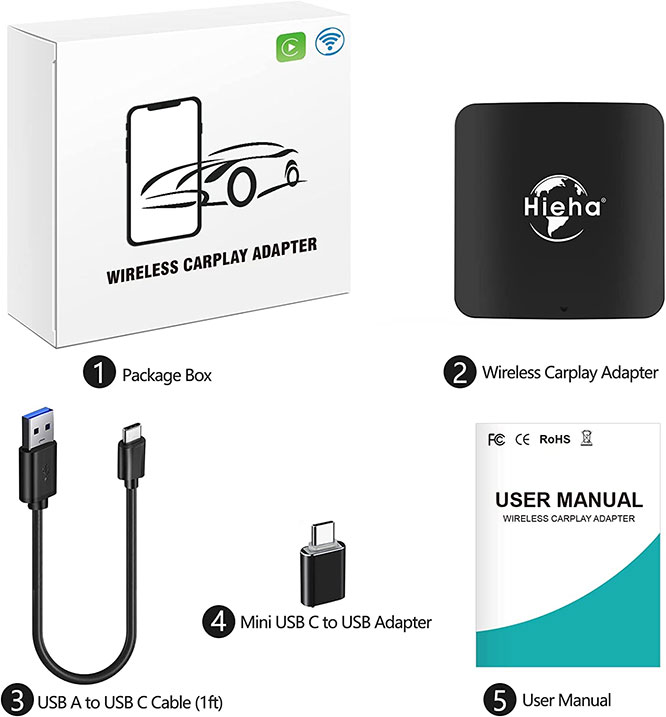 We really appreciate the responsive customer care we received with the Hieha Wireless CarPlay Adapter. Most manufacturers are slow to respond to your questions or support requests. Hieha got back to us within hours every time which is important especially for non-tech savvy people that might run into issues with installation.
What We Liked:
Easy initial setup.
5Ghz WiFi for faster connection.
Regular online upgrades.
Responsive customer service.
Solid connection.
Great sound and no noticeable lag.
What We Didn't Like:
Premium price point.
Online updates can be challenging to implement.
Boxy form factor.
Most Popular: CarlinKit 3.0 Wireless CarPlay Adapter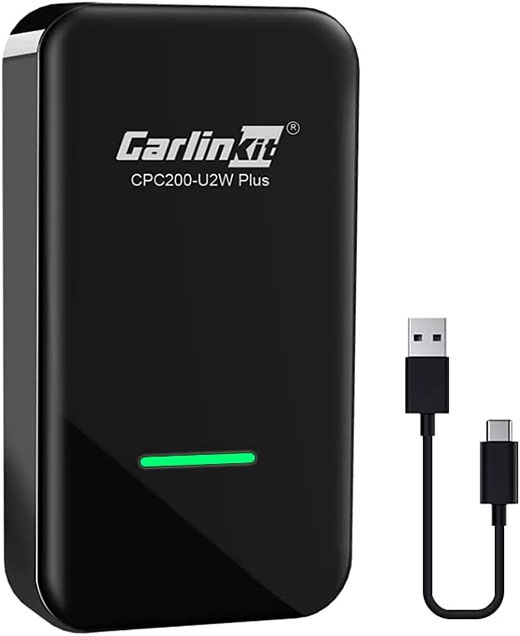 Key Features:
Bluetooth and WiFi Connectivity.
Includes Dashboard Mount.
5-10 Second Connect Time.
Compatible with iPhone 5 to 13 Pro Max.
1 Year Warranty.
Of all the models we reviewed, the CarlinKit 3.0 tops our list as the most popular among consumers. Based on what we've seen from users and our own testing, it wins this honor because of its unique mix of functionality, aesthetics and versatility.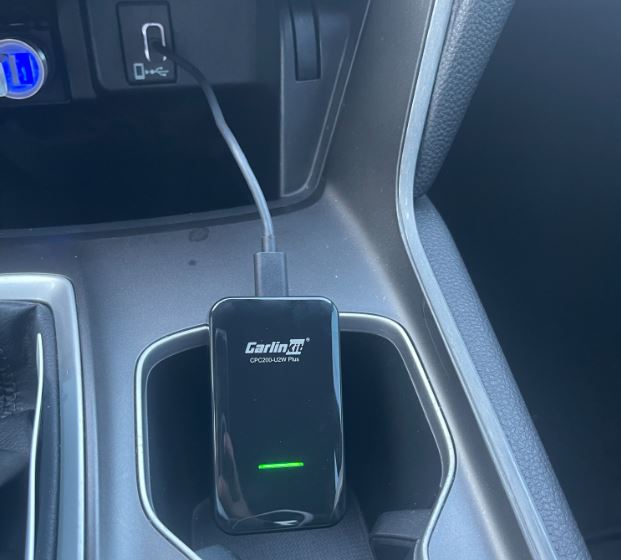 Most dongles only support the five most recent models of iPhone. The CarlinKit 3.0 supports iPhones as early as version 5 which is unheard of. It also supports a wide range of early model Apple CarPlay-compatible makes and models. It's small form factor and black exterior allow it to blend seamlessly into the center console.
The auto-connect speed really impressed us. According to the product description, connection usually happens in a quick 5-10 seconds. Based on user reviews, many were experiencing sub-five second startup times which is one of the fastest on the market. This feature alone makes the price worth it especially for drivers that need to get in and out of their vehicles a lot throughout the day.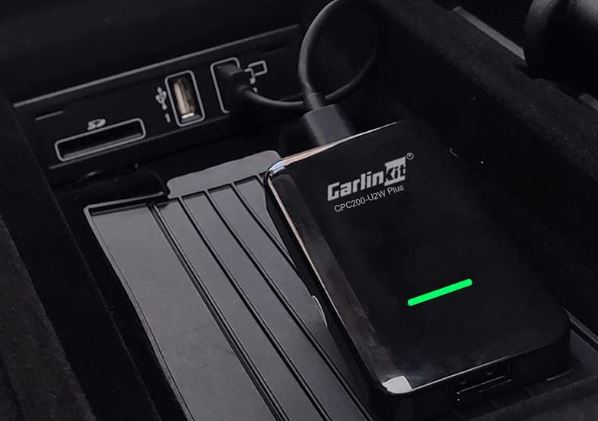 The CarlinKit 3.0 is ideal for people who work in delivery capacities like DoorDash, UberEATS and others which require getting in and out of cars while also needing access to guided directions without having to plug their phones in every single time.
What We Liked:
Extremely fast auto connect speeds.
Small form factor.
Easy initial setup.
Compatible with lots of iPhone models.
High-quality materials.
What We Didn't Like:
Expensive.
Technical support can be slow to respond.
Best Budget: Teeran CarPlay Wireless Adapter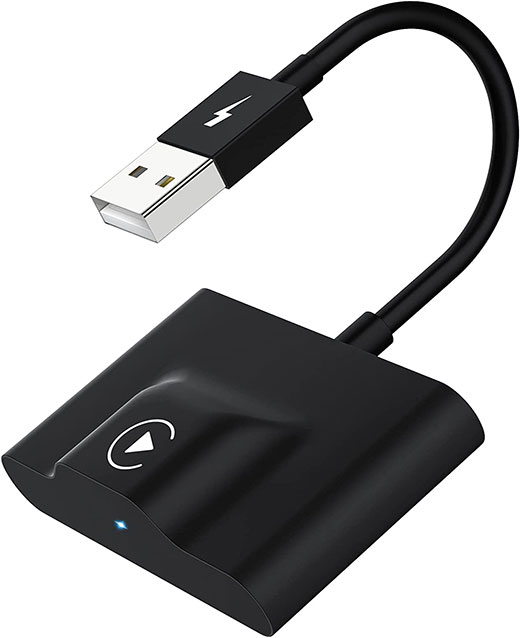 Key Features:
Bluetooth and WiFi Connectivity.
Supports 2015 and Newer Car Models.
USB and USB Type C Compatible.
Weighs 1.44 Ounces.
At nearly half the price of other CarPlay Wireless adapters on this list, the Teeran is a solid choice for users that want to gain wireless CarPlay without going overboard on the budget. Keep in mind that while it does all the basics really well, some compromises are inevitable at this price.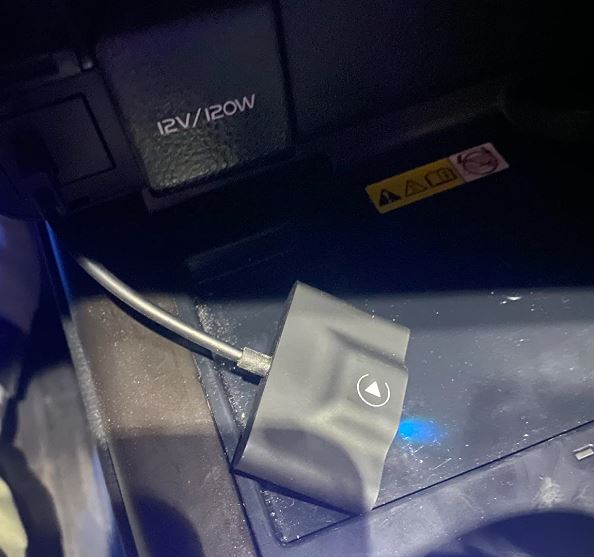 The Teeran adapter works on most cars as old as 2015 and offers a simple universal initial installation process. To use this adapter, your iPhone must be updated to iOS 10 or higher. We found that the onboard WiFi did a great job at discovering the iPhone and connecting to it. The only tradeoff we found was in auto-connection speed. We found it to be in the 12-18 second range which while not a deal breaker, is significantly longer than our other wireless CarPlay adapters on this list.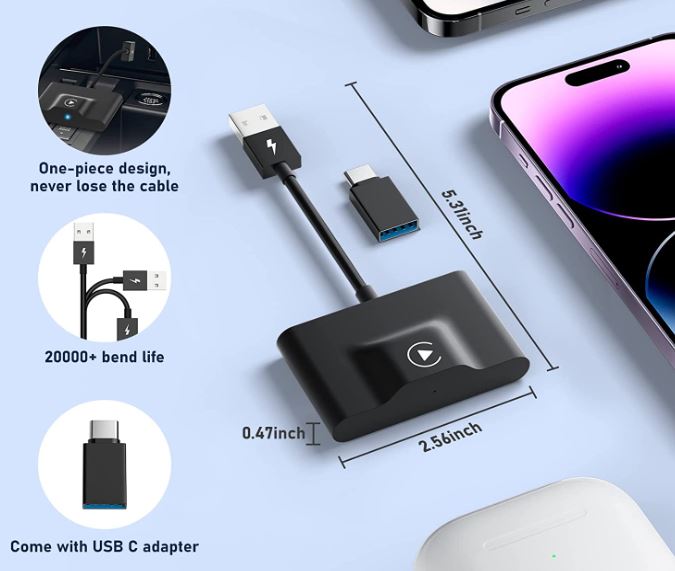 With that said, once the connection is made, the signal is strong and presents with very little lag. You're still able to use the car's buttons to control your iPhone which is a big plus. Overall, we feel that the small quirks dim compared to the amazing savings by going with an adapter like the Teeran.
What We Liked:
Universal startup installation.
Small form factor.
Strong feed once connected.
Great price.
What We Didn't Like:
Long auto-connect time.
Form factor would not be considered aesthetic.
Final Thoughts on the Best Wireless Carplay Adapter
Our roundup includes a range of different wireless CarPlay adapters to meet various needs. For the best overall user experience and value, you cannot go wrong with the U2-X Pro from Ottocoast. The U2-AIR wireless adapter comes in a close second with its incredibly fast auto-connect speed and quality signal.
Both the Hieha and the CarlinKit 3.0 provide unique approaches to CarPlay that make them powerhouses for connectivity and signal transmission. If you're looking for a budget option, the best value we've seen is in the Teeran CarPlay wireless adapter. It's inexpensive but for the most part, still gets the job done.
When making your decision, be sure to factor in your personal lifestyle and preferences. For example, if you are a mixed Android and Apple household, consider the U2-X Pro for its dual compatibility. If you are all Apple but have to manage GPS, Spotify and text messaging at the same time, going with the CarlinKit 3.0's 5.8Ghz bandwidth may be the best option.
Please consider sharing:
Note: At no extra cost to you, we may earn a commission for purchases using our links. Learn more.