USB is something of a paradox. Short for "universal serial bus," it was meant to be a single replacement for myriad older standards. But it's hardly universal. With USB Type-A, Type-C, Micro USB, Type-B, and other oddball formats, you still need multiple cables. Moreover, with wireless data transfer getting faster by the day, USB use for data transfer has declined. Meanwhile, USB is regularly used for a purpose its original designers never intended: delivering power.
Early versions of USB were designed for data transfer only. There wasn't even an official voltage rating! But by their very nature, coiled copper wires are capable of transferring electricity. In the case of USB 1.0, that was about 1.5 volts, but it was enough to power very small devices. Manufacturers took advantage almost immediately, and USB's designers took notice. Later versions of USB have been designed to deliver more and more power. First, you could power a USB desk fan. Next, you could charge your smartphone. Nowadays, you can run a laptop, an external hard drive, and other mid-sized devices directly from USB.
The downside? Now there's one more thing you need to diagnose. If you're having power issues in your home, for instance, you could use a clamp-on multimeter to diagnose the problem. And if you're having issues with USB, you'll need a USB voltage meter for diagnosis.
We're about to review three of the best USB-C and USB-A power testers currently available. We'll start with the Klein Tools ET920. This is an all-in-one USB Type-C and Type-A tester, with a beefy, professional-grade design. We'll follow up with the MakerHawk Type-C USB Meter Tester. This is a very compact device, about the size of a thumb drive, and is either for Type-C or Type-A. Finally, we'll look at the Flight-Sky Type-C USB Tester. This tester has a gorgeous color LCD display, which makes it easier to read. Which one is the best choice for you? Let's dig a little deeper, and find out.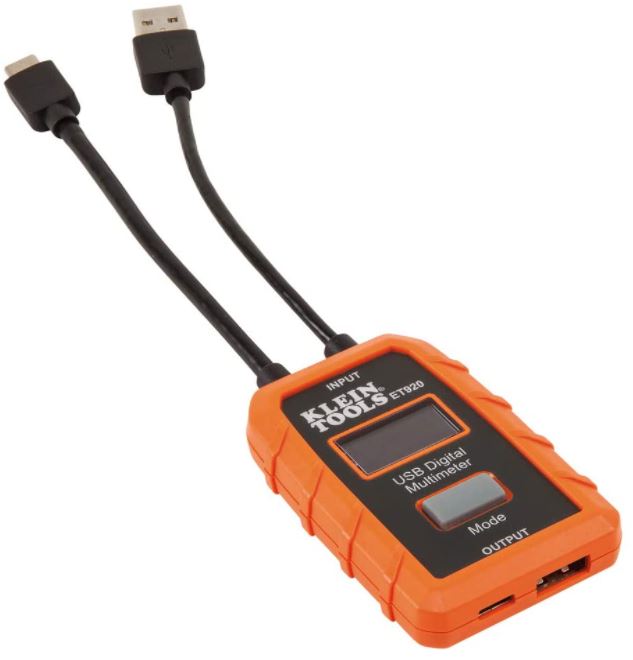 Klein Tools ET920
Klein Tools is a tried and true manufacturer that makes a variety of measuring and testing equipment. They make everything from low-tech tape measures to advanced digital circuit breaker finders. So we weren't surprised that their name came up quite often when searching for the best USB power testers. The Klein Tools ET920 is a rugged testing tool that consists of a handheld unit with a pair of pigtail cords. The unit itself is high-visibility orange, with ribbed sides that are easy to hold onto. It's roughly the size of a deck of cards, so it's easy to carry with you just about anywhere. At the same time, the rugged design just screams "professional grade."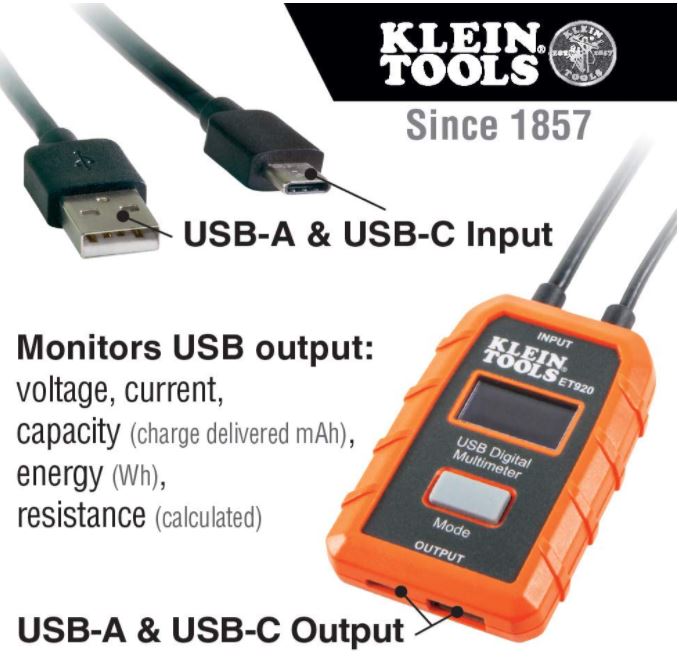 The front of the ET920 has an LCD display, with a simple black and white readout. It's fairly basic, in that you can only view one reading at a time. On the other hand, this means you get large print, which makes the screen very easy to read. Furthermore, you can easily switch between measurements by tapping the large Mode button just below the screen.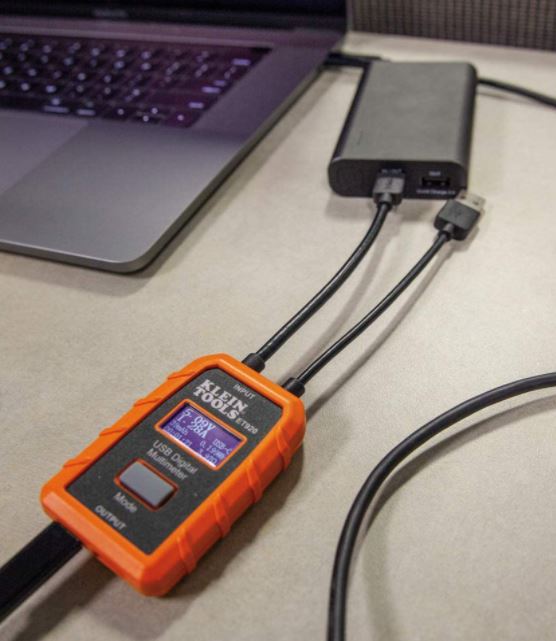 Above the screen, at the top of the unit, you'll find the two pigtail cords. These are about three inches in length, and extend vertically from the housing. The one on the left has a USB Type-C tip, while the one on the right is a standard USB Type-A. The output ports are located at the bottom of the device. Here, you'll find a USB Type-C and Type-A port, on the left and the right respectively. Keep in mind that while the ET920 can read either USB Type-C or Type-A, it can't read both. If you connect to both sides of the tester at once, your only reward will be an error screen.
Klein Tools backs their voltage meter with a 12-month manufacturer's warranty. This protects you from any defects in materials or workmanship. If you do run into trouble, simply contact Klein Tools for a full refund or a free replacement.
Functions and Accuracy
The ET920 isn't merely professional grade on the outside. It also provides some of the best testing performance that money can buy. For one thing, it can take a variety of reading types. It can measure voltage, current (amps), resistance, charge delivered, and even power bank capacity. But it doesn't just take these readings. It can store up to 10 readings in memory for later recall. Even better, it can monitor up to 1,000 hours continuously, and track minimum and maximum numbers. This means you can leave it in place for nearly six weeks and have data for the entire time period.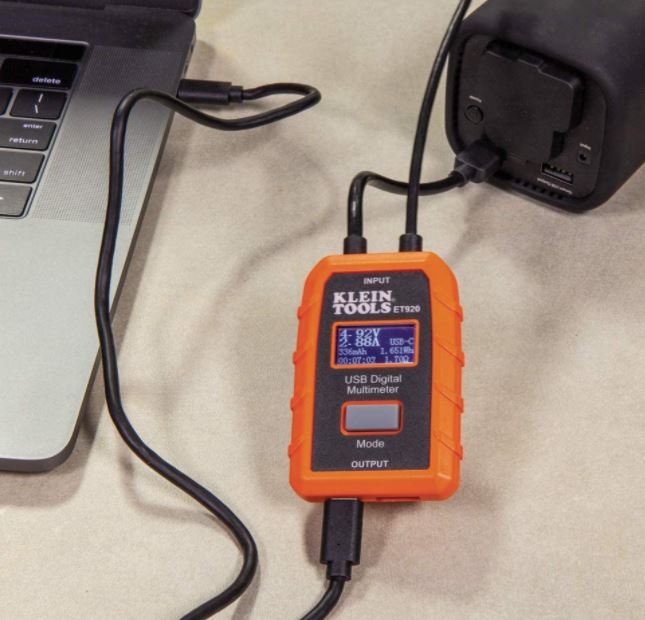 In terms of reading range, you can test more or less any USB connection. On the USB Type-A side, you can detect current from 3 to 20 volts, and between 0.05 and 3 amps. On the Type-C side, the minimum numbers are the same, but the tester can handle up to 5 amps. Why this much? 20 volts at 5 amps is 100 watts of power, the maximum for USB Power Delivery (PD). At this time, there's no USB port on earth that supports more than that. Meanwhile, the very low minimum of 0.05 amps exists for diagnostic purposes. After all, you're presumably testing a USB connection because it doesn't work properly. The lower the minimum reading, the better.
Best of all, the circuitry is protected by a voltage and current overload detection system. If for some reason a power surge delivers excess current, the supply will be cut off. It won't ruin your tester.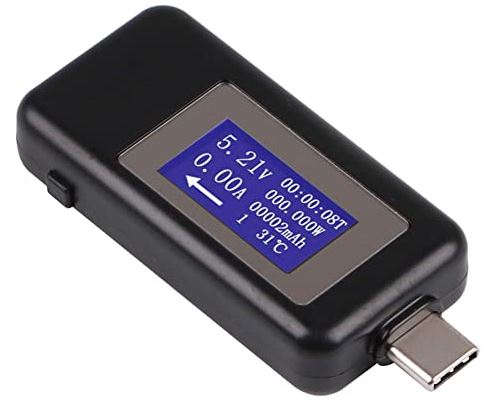 MakerHawk Type-C USB Meter Tester
The MakerHawk Type-C USB Meter Tester is an entirely different machine, at least on the outside. Instead of being built like a traditional voltmeter, it looks like a USB thumb drive. This also makes sense, when you think about it. After all, it's not as if a voltage tester has to be enormous, or even palm-sized. That said, the small size has a definite drawback. Simply put, there's only room for a single USB tip and a single USB port on the other side. So you'll have to choose between USB Type-C and Type-A. We reviewed the Type-C version, but the Type-A version is similar in most respects. Incidentally, there's also a more complicated Bluetooth variant which we didn't review.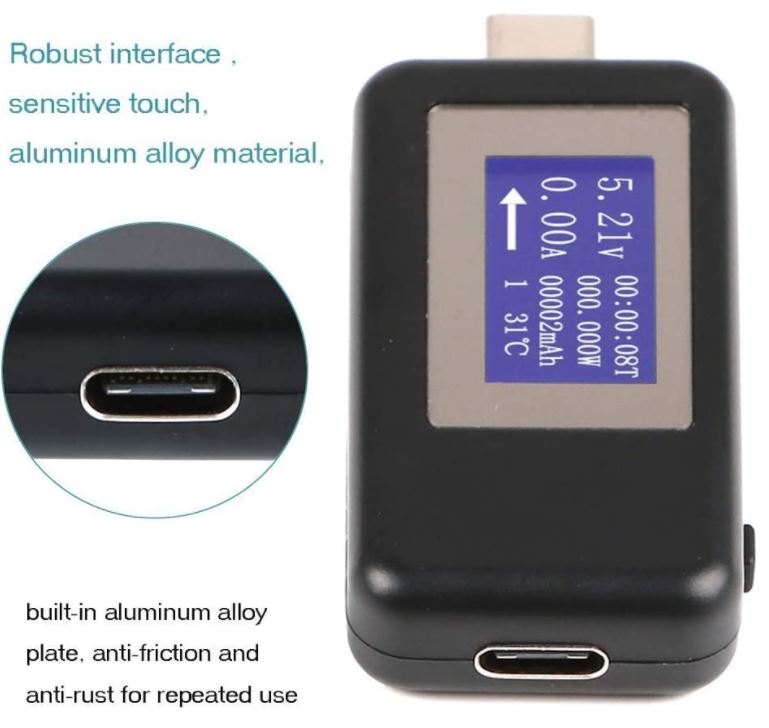 The shell is matte black plastic, with rounded corners and smooth edges. It doesn't hold fingerprints, and it's both comfortable and easy to carry in your pocket. While being carried, the USB Type-C plug is protected by a white rubber cover. This keeps dirt and debris from getting inside, and helps stop it from getting bent or dinged. The tester is controlled by a single black button on the side, which performs all the necessary functions.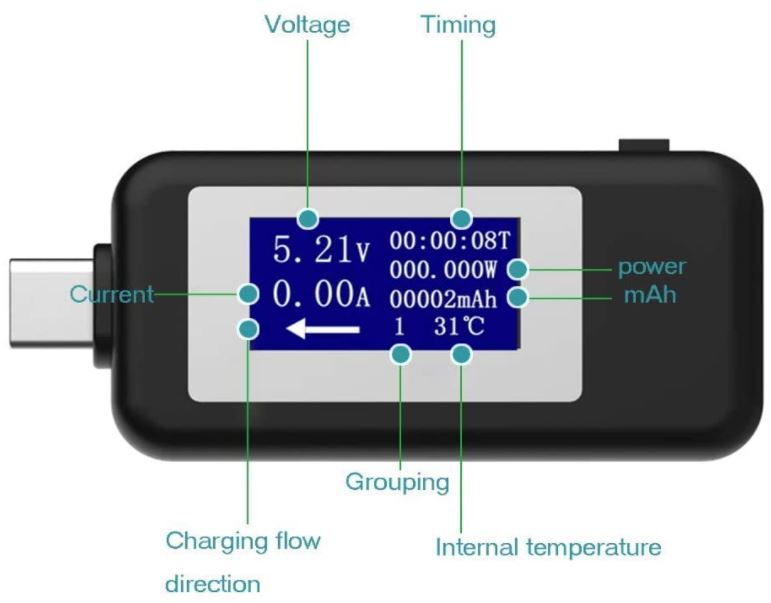 The display is compact, a necessity on such a small device. It's nice and sharp and easy to read. However, the print is fairly small, with a lot of information displayed simultaneously. If you normally need reading glasses, you'll want to put them on when you're using the MakerHawk tester.
Functions and Accuracy
The MakerHawk has a wide testing range. It can test anywhere from 4 to 30 volts, at a current of 0 to 5.1 amps. This actually gives you better performance for testing overvoltage than for testing undervoltage. Whether or not that's a good thing or a bad thing depends entirely on what you need. If your devices aren't getting enough power, you may be disappointed. Admittedly, with an amp sensor that goes all the way to zero, this is unlikely. But a floor of 4 volts is still a tad high. On the other hand, 30 volts is way more than you should ever need. But if one of your devices is delivering excessive current, you'll be able to tell.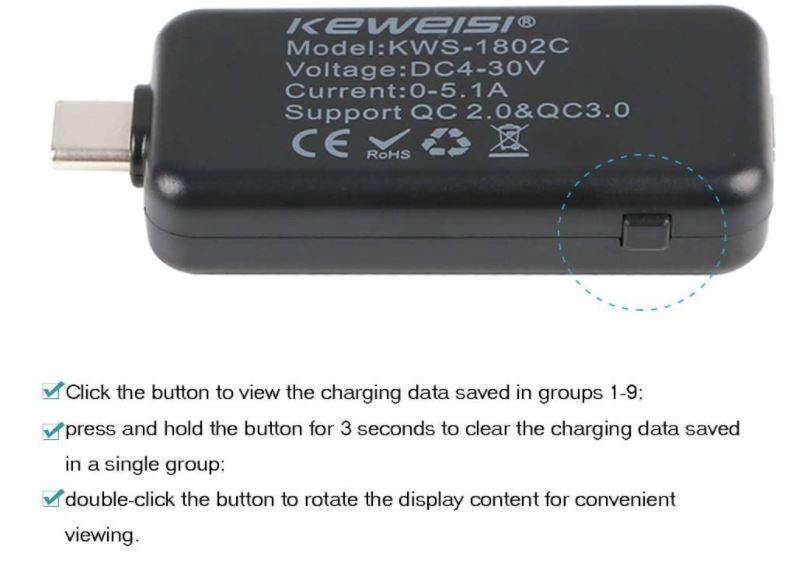 That said, there's a significant limitation: you can only detect up to 65 total watts. That's far less than the maximum for PD power delivery. If you had a 30-volt current, you'd only be able to detect a little over 2 amps! In other words, this is a poor choice for working on high-wattage USB systems like laptop chargers. Another area where the MakerHawk falls short of the Klein Tools tester is when it comes to memory. It can store up to 9 groups of data, which isn't bad at all. However, its memory function is limited to 99 hours. This is far less than the MakerHawk's 1,000-hour maximum.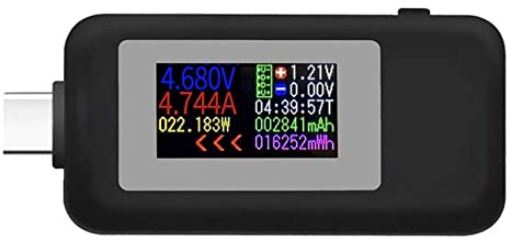 Flight-Sky Type-C USB Tester
The Flight-Sky Type-C USB Tester is another thumb drive-style tester that plugs directly into a USB port. It's available with USB Type-C or Type-A tips. As before, we reviewed the Type-C variant, but the Type-A version is similar in most respects. The Type-C version is available in black or white, with an ABS plastic shell. It has a smooth finish and rounded profile, similar to the MakerHawk. It also has a nearly-identical control scheme, with a single button on the side for operation.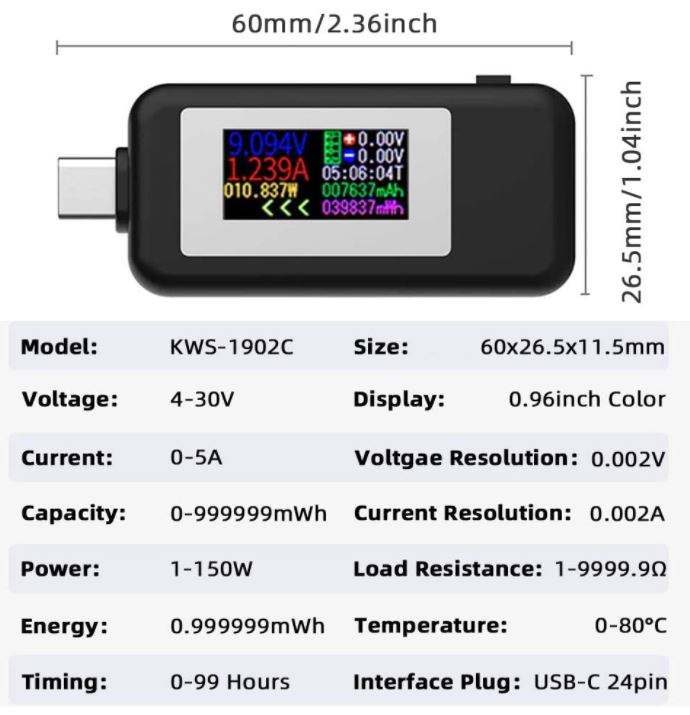 The main difference here is the display, which is full color instead of cream on blue. Strictly speaking, this doesn't make it any easier to read the lettering. Like the MakerHawk, it still has small numbers on a small screen. But each piece of data is a different color. This makes it easier to tell what's what, and simpler to read at a glance. Moreover, it has a wide viewing angle, so you don't have to be staring at it straight-on.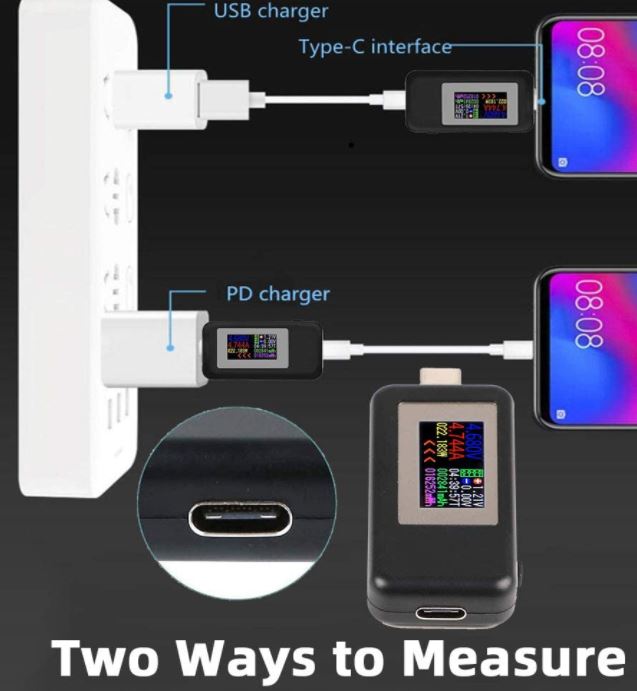 Functions and Accuracy
The Flight-Sky Type-C USB Tester has a wide testing range, between 4 and 30 volts. This is wider than the range USB offers, at least in theory. But as with the MakerHawk, it reads better when detecting overvoltage than undervoltage. Still, the performance is quite good, at a resolution of 0.2 volts. The current resolution is even better, at a miniscule 0.002 amps. There's not much practical purpose for this, but it's better to be too sensitive than not sensitive enough. You can also detect up to 5 amps of current. This gives a power range of 0 to 150 watts. Yes, that's more than USB can deliver, but it's good for overcurrent detection.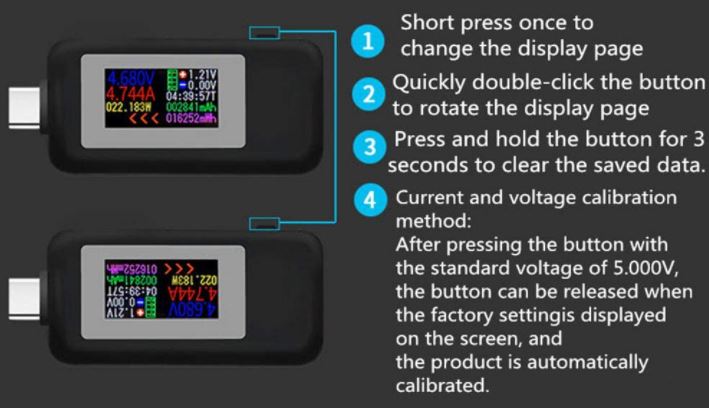 The memory mode can track data for up to 99 hours. Not only that, but it stores data when it's not plugged in. This power-off memory allows you to recall stored measurements for later use. Finally, you can even measure the capacity of batteries and power banks, in mAh.
Final Verdict
As you can see, each of these USB testers has its own benefits and drawbacks. Here's a quick summary of what we've learned. We started by reviewing the Klein Tools ET920. This is the most impressive of the bunch, with a rugged build and an all-in-one design.
It works with both USB Type-A and Type-C, so you don't need multiple testers for multiple systems. Moreover, it covers all voltages, from near-zero all the way up to 5-volt, 20-amp PD systems. The downside is that it costs more than our other two offerings. But the ET920 takes the place of two voltage meters, and provides excellent quality at the same time. If you need to test both Type-A and Type-C cables, there is no other choice. Buy this voltage meter.
Things get a little different if you only need to test USB Type-C or Type-A and not the other. In that case, the MakerHawk Type-C USB Meter Tester is a good choice for lower-wattage systems. It can easily detect overvoltage and overcurrent. That said, it doesn't perform very well on PD power systems. With a detection range that maxes out at 65 watts, it's simply not powerful enough.
The Flight-Sky Type-C USB Tester is similar in most respects to the MakerHawk. However, it covers a wider range of voltages and wattages, and it's more sensitive. It also sports an attractive, easy-to-read, full-color LCD display.