Nowadays, we rely on our phones for many tasks in our day to day lives. Yes, we use them for calling and texting. But we use them for all kinds of other things, as well. Take your banking app, for example. You can use it to check your balance or even deposit checks, all without leaving your home.
GPS apps, meanwhile, help you navigate without paying for an expensive GPS unit. And streaming apps have replaced CDs and MP3s as the preferred method for listening to music. No matter who you are, you probably have your cell phone on you whenever you're not in the shower.
At the same time, we sometimes need access to other sources of data. Let's say you want to play a game, and it's saved on a USB flash drive. How do you connect that ordinary USB drive to your smartphone or tablet? One solution is to use an OTG cable. An OTG cable (short for "on-the-go") is a little cable that's designed to accept a USB Type-A plug.
That way, you can connect a typical thumb drive to your computer. This is similar to using a USB adapter, but with some advantages. For one thing, some OTG cables can also be used for charging. For another thing, an OTG cable isn't rigid, and is harder to damage.
We're about to review four of the best USB OTG cables available online. These are short, tiny cables that are made to be carried in your pocket. The idea is to be able to connect your devices with ease, without carrying around a long, cumbersome cable. But besides their length, each of these cables has something different to bring to the table.
To find out which one is ideal, we'll have to take a close look at each one, and examine their features. We'll talk about the quality of construction, and how they're put together. We'll talk about their charging power, and how much data transfer they're capable of. And of course, we'll have to look at chargers that work with different types of phones.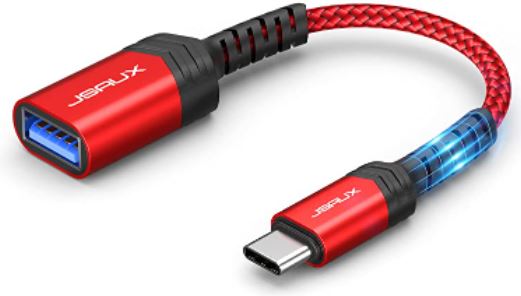 JSAUX USB-C to USB-A Female OTG Cable
The JSAUX USB-C to USB-A Female OTG Cable is a short, 6-inch cable. It begins at one end with a USB Type-C plug. The plug can be red, blue, or grey depending on the main color of the unit. But all colors have a black rubber back end that makes it easier to grab onto. The other end terminates in a female USB Type-A port, where you plug in your USB drive.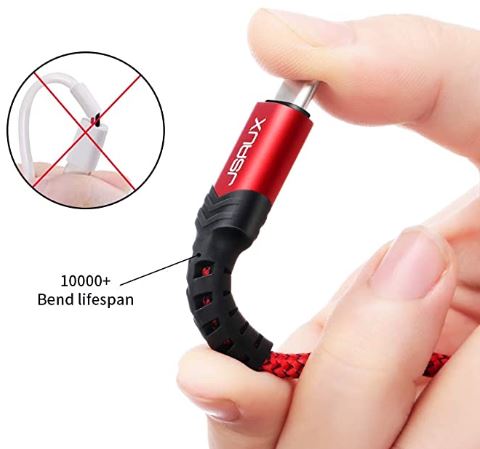 The cable itself seems very durable, with a dense nylon weave protecting it from damage. This same weave also helps to prevent tangling. Like the tips, this weave can also come in red, blue, or grey. It's very durable, and is rated to withstand up to 10,000 bends. As we mentioned, that's more or less the gold standard for cable durability.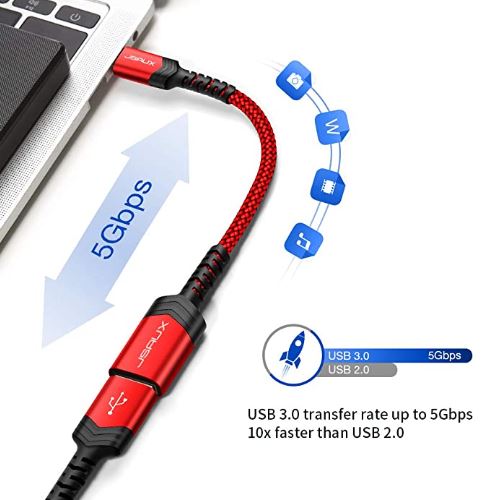 This is a high-speed cable, capable of data transfer rates as fast as 5Gbps. This makes it ideal for gaming, or for watching high-definition video. It can be used to transfer a large video file in only a few seconds. This cable technically transfers some power, but only a standard 12 watts. It can connect to most external hard drives, for example. But other than that, there's really no practical reason for the JSAUX cable to transfer power to begin with.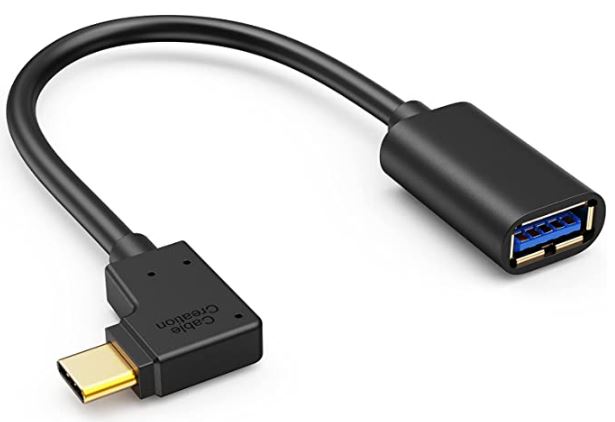 CableCreation USB-C to USB-A OTG Cable
The CableCreation USB-C to USB-A OTG Cable is similar in many respects to the last one. It's 6 inches long, and it connects a female Type-A port to a male Type-C plug. But the wire itself is very different. To begin with, it can be ordered with a black rubber insulation, or with a grey nylon weave. Both seem fairly durable, with lightly-reinforced joints near the tips. Then again, there's no official bend rating on either of them.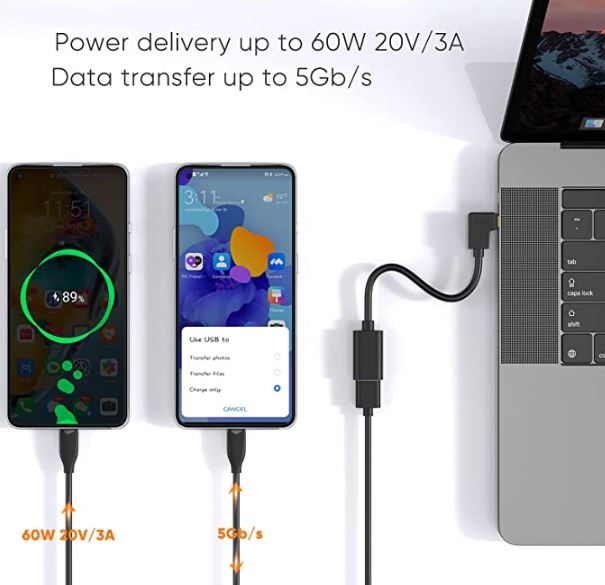 You can buy the cable as a standalone unit, or in a two-pack. For some reason, the two-pack is only available with the grey nylon version. Similarly, there's a variant with a 90-degree tip, which is only available with the black rubber insulation.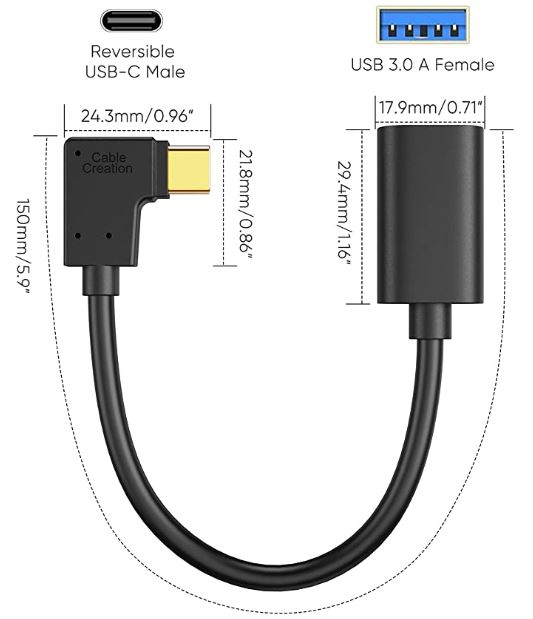 For data transfer, you can get speeds up to 5Gbps. That's the same speed as the JSAUX cable, so we won't belabor the benefits. But you also get up to 60 watts of charging power. That's a lot of power for an on-the-go cable, and it's not entirely clear why you'd need it. The only thing we could think of is if you wanted to use this as a makeshift charging adapter.
If you like the idea of a powerful USB charging cable with a 90-degree tip, there are other options. Check out our list of the best right-angle USB-C charge cables. These will do what you're looking for, and they're tailor-made for the purpose.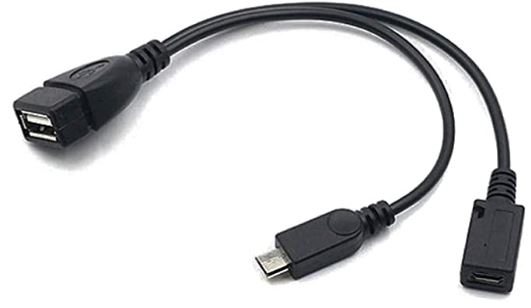 AuviPal 2-in-1 Micro USB to USB Adapter
The AuviPal 2-in-1 Micro USB to USB Adapter is the most unique option on our list. As we mentioned at the outset, most OTG cables aren't designed for charging your phone. But what if you want to use your external data source while you're charging? This cable answers that question.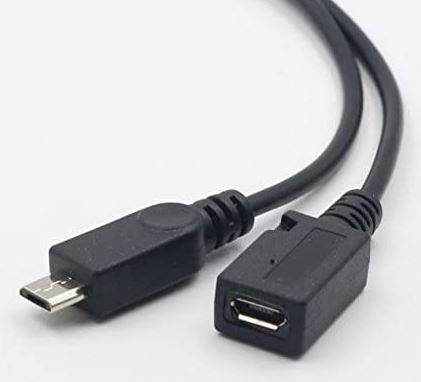 The cable has a split design, with a female USB Type-A port at the junction of the two wires. One wire terminates in a male Mini USB plug, while the other ends in a female Mini USB port. You can plug your thumb drive into the Type-A drive, and plug the male end into your phone.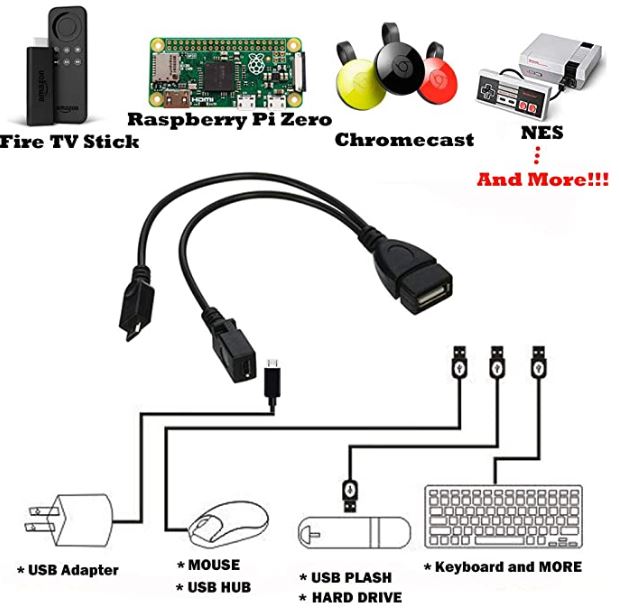 Then, just plug your phone charger into the Mini USB port on the other end. You'll be charging your phone and accessing your data at the same time! Both wires are six inches long, and are made from good quality rubber. There's also a larger version, which has a fob on one end with three USB Type-A ports. If you ever wanted a USB hub for your phone, now you've got one.
The AuviPal adapter uses the USB 2.0 data transmission standard, with a transfer rate of 480Mbps. That's not terribly fast, but it's fast enough for playing most games. For charging, you'll be able to draw a standard 12 watts. Note that the USB Type-A port is not designed to support charging.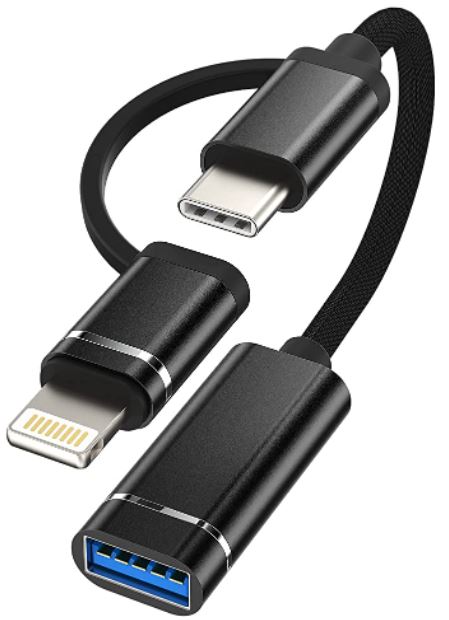 zoyuzan OTG Cable
The zoyuzan OTG Cable is another 6-inch cable, with a tight black nylon weave. It has a USB Type-C plug on the male end, with a USB Type-A port on the female end. Attached to the side is a Lightning to Type-C adapter, which hangs on a tether. This adapter can be used to connect to your iPhone.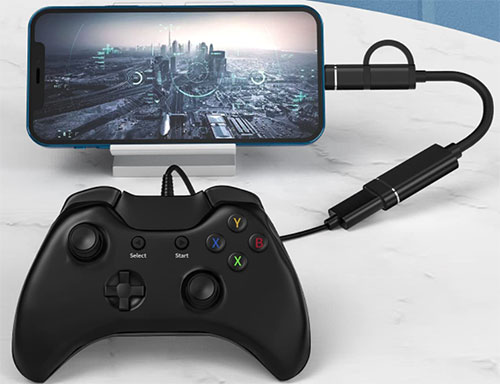 This cable provides 480Mbps of data transfer, and can deliver 12 watts of power. That will be just fine for any Apple user. However, Android users will find that 480Mbps comes up short compared to what they're used to. On the plus side, the design is very durable. Zoyuzan even backs it up with a 60-day no-questions-asked guarantee, and a 12-month warranty.
What Makes a Good USB Cable?
So, why would you choose one OTG cable over another? There are several different factors to consider. That said, there are some things that should be first and foremost in your mind when you're making your selection. Here are a few things to account for.
Plug Type
The number one most important thing to do is to choose a cable that's compatible with your phone. This is pretty straightforward, but we should make sure we've got all our terms straight. Android phones charge either via USB Type-C or Micro USB. Micro USB is an older format, which is trapezoidal and only goes in in one direction. USB Type-C, on the other hand, is a newer format, and can plug in in either direction. iPhones charge via a Lightning connection, which is loosely based on USB, but uses a proprietary plug.
Another thing to consider is the orientation of the plug. A straight plug is the normal default, but you can also choose a charger with a 90-degree plug. These have a lower profile, and can be harder to damage. As another alternative, you can even find cables with 180-degree, U-shaped tips.
Design Quality
A USB cable isn't exactly a major investment. It's not like you're buying a car or a house. But you still don't want one that's going to fail on you the moment you need it most. For example, most smartphones come with a free cable. These are usually cheap, with poorly-engineered tips and cheap insulation. They'll work just fine for a while, but when you bend them enough times, they fail completely. A beefier cable with a TPE or nylon weave sleeve is a much better way to go. That way, your OTG cable will come through for you every time.
Fortunately, some manufacturers put their cables through a standard series of tests. If the listed rating is at least 5,000 bends, you're looking at a good cable. If it's rated for 10,000 or more, you're incredibly fortunate. That said, you won't find this information on most cables, so you have to eyeball things.
Charging Power and Data Transfer
When you're choosing a charging cable, it's important to know how quickly it will charge your phone. This isn't entirely dependent on the cable. Your phone will have a maximum charge wattage, and your power supply may be limited. But a good quality cable is an essential part of the package.
The charging speed will vary depending on the phone. iPhones have a maximum charge power of 18 watts, which is what's provided by a Lightning cable. Android phones are all over the place. The ones that charge on Mini USB use 12-watt power (5V, 2.4A). But if they use USB Type-C, 12 watts is the bare minimum. Even an ordinary USB 3.0 connection will deliver 15 watts. If the cable supports the Power Delivery (PD) protocol, that could go as high as 100. Of course, no smartphone will draw anywhere near that much power. But if you want a cable for a larger laptop, 100 watts of capacity isn't bad.
Data transfer rates are even more of a concern with an OTG cable. After all, only some of them support charging, but all of them are designed for data transfer. So, what kind of transfer rates should you be expecting? The old USB 2.0 transfer rate is 480Mbps, which is what Micro USB provides. Lightning is based on the same standard, so you'll get the same 480Mbps speed. USB Type-C can transfer up to 10Mbps, provided you have the right cable.
Which USB OTG Cable is Best?
As you can see, these are all high-quality cables. But which one is right for you? To begin with, it mostly depends on what type of phone you have.
For USB Type-C Android phones, you can use the JSAUX USB-C to USB-A Female OTG Cable. It's the only cable we looked at that comes with an actual, published durability rating. It's also capable of an impressive 5Gbps transfer rate. If you need blazing-fast file transfers, you need look no further.
Another good USB Type-C option is the CableCreation USB-C to USB-A OTG Cable. It comes in different variants, whether you prefer a nylon cable or one that's plain black. We particularly liked the version with the low-profile, 90-degree tip. That tip does a great job of keeping the cable out of the way while you're gaming.
The AuviPal 2-in-1 Micro USB to USB Adapter has a truly unique design. It only works with Micro USB phones, but it allows you to charge while you're using your thumb drive. This is a great value for many frustrated phone users.
The zoyuzan OTG Cable is our top choice for Apple users. It has a slick design, and the 12-month warranty gives us some reassurance as to its durability. That said, while it can be used for USB Type-C, it's not ideal for that purpose. You'll get much better performance with a dedicated Type-C cable.
Meet Derek, "TechGuru," a 34-year-old technology enthusiast with a deep passion for tech innovations. With extensive experience, he specializes in gaming hardware and software, and has expertise in gadgets, custom PCs, and audio.
Besides writing about tech and reviewing new products, Derek enjoys traveling, hiking, and photography. Committed to keeping up with the latest industry trends, he aims to guide readers in making informed tech decisions.