In a world full of electronic devices, keeping them all charged can be a tedious task. But what if there was a way to simplify it all with a single tool?
Enter magnetic USB charging cables. These innovative accessories not only offer a single cable solution for your charging needs but also come with a variety of features that make them stand out from the crowd. To help with your decision, we rounded up the following top picks:
In the reviews that follow, we'll go in-depth with each of these products, exploring their key features, benefits, and drawbacks to help you make an informed decision for your charging needs.
1. Magnilink 360 PRO Magnetic Charging Cable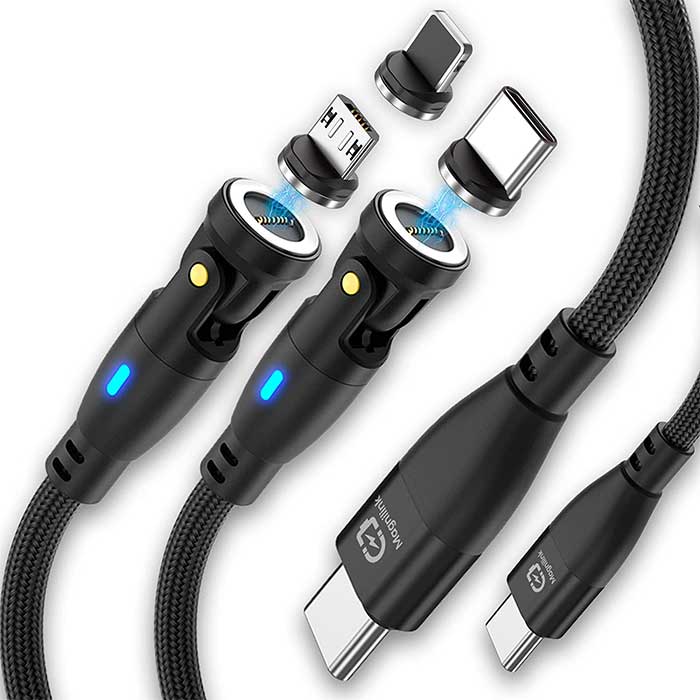 Key features:
Robust nylon braided construction
3-in-1 magnetic connectors (USB-C, Micro, Lightning)
100W USB Power Delivery technology
Seamless charging and data transfer
The Magnilink 360 PRO is a must-have in the world of charging cables. As a 3-in-1 magnetic charging system, it can seamlessly charge all your devices. This is achievable thanks to its USB-C, micro USB, and Lightning-compatible magnetic connectors. The Ultra Magnet 2.0 cable feature securely holds your devices while charging, ensuring that connection and disconnection are effortless.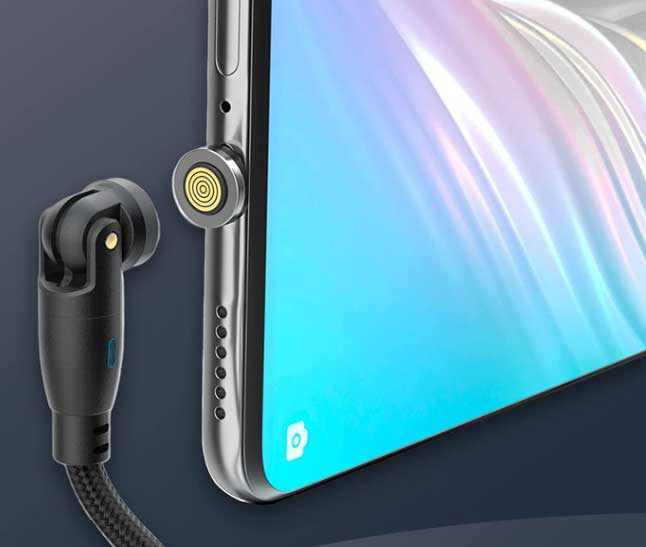 A standout feature is its 100-watt charging capacity, courtesy of the USB Power Delivery technology. This means it not only charges all your devices swiftly but does so without compromising on power. In addition, it is more than just a charging cable – it doubles as a data transfer conduit, syncing your phone with your laptop or car's infotainment system effortlessly.
Each pack contains two Magnilink 360 PRO cables – one 3.3-footer and one 6.6-footer. You also get three magnetic connectors, two clip-on tip holders, and a USB-C to USB-A adapter. The 180-degree rotating head design ensures the cables adapt to any environment, eradicating the inconvenience of tangled cords.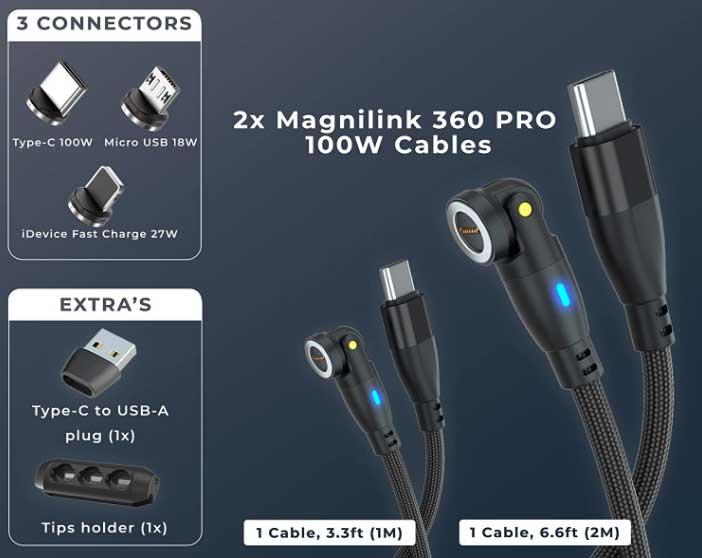 The Magnilink 360 PRO truly embodies versatility and convenience in charging technology. The braided nylon design is a feature not consistently seen across the other listed products. Its 100-watt power delivery is shared by the Statik 360 Pro and CNakdDG but surpasses the 18-watt from the NetDot and the 2.4-amp from the A.S Gen2.
This cable's 3-in-1 connectors give it an edge over some of its counterparts, as it supports a range of devices similar to the NetDot and A.S Gen2. The two cables included in the package provide flexibility in terms of usage, something that is also seen in the CNakdDG. One drawback is its lack of a wireless charging option, but that's a feature not commonly seen in the other models, either.
What we liked:
Lightweight and conveniently sized
Ultra Magnet 2.0 for secure hold
Swift data syncing with multiple devices
Two cables of different lengths in pack
What we didn't like:
Only one set of charging heads
No wireless charging option
2. NetDot 3in1 Fast Charging Magnetic Charging Cable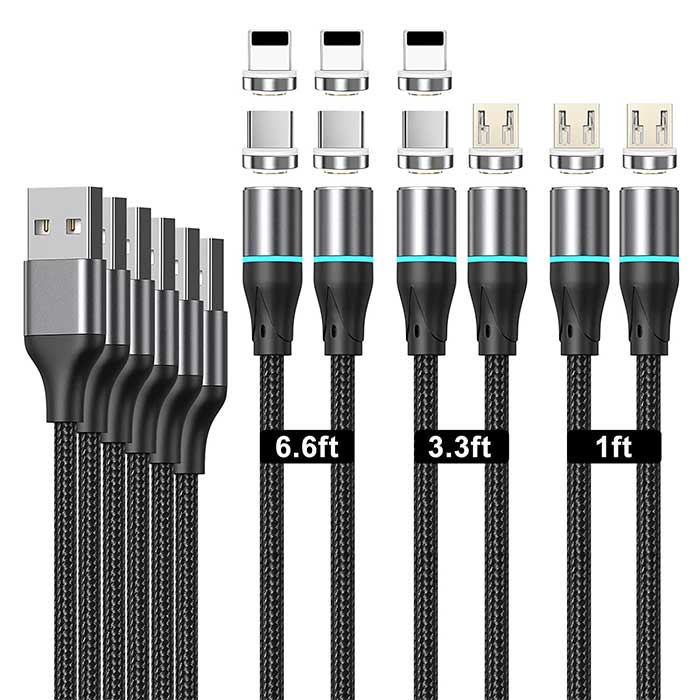 Key features:
3-in-1 detachable connector system
Secure magnetic attachment
18W fast charging capability
Protective design for device ports
The NetDot 3in1 offers versatile connectivity and efficient performance in a user-friendly design. Boasting a unique tri-connector system, this cable can fast charge USB-C, micro USB, and Lightning-compatible devices. The interchangeable connectors mean a single cable can adapt to multiple devices, facilitating a streamlined charging station.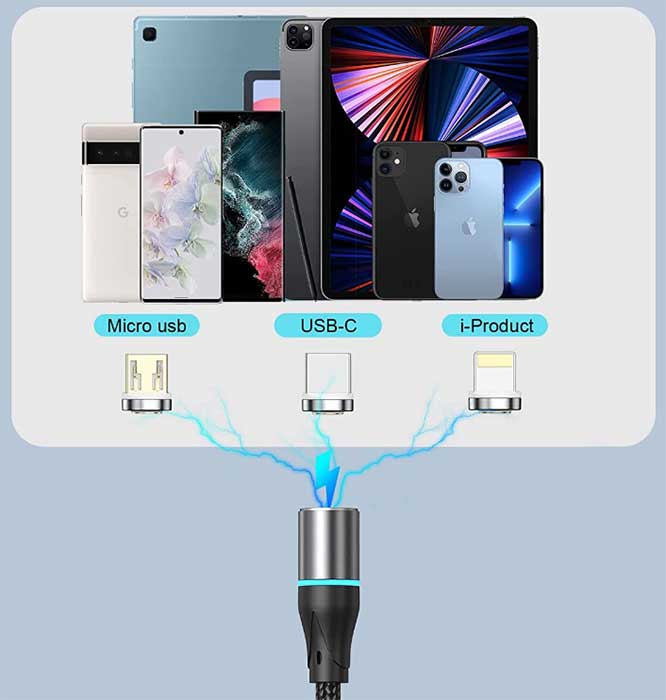 A key feature that stands out is the magnetic coupling, which allows users to leave the connector in their devices and easily attach the cord for charging. This eliminates fumbling for ports or the right cable, especially in low visibility situations, such as during a car drive.
In addition to the compact form factor, the cable's performance is noteworthy. It provides up to 18-watt fast charging when paired with a 9-volt/2-amp power delivery charger. Plus, the strong magnetic attraction ensures a secure connection, minimizing accidental disconnections during usage.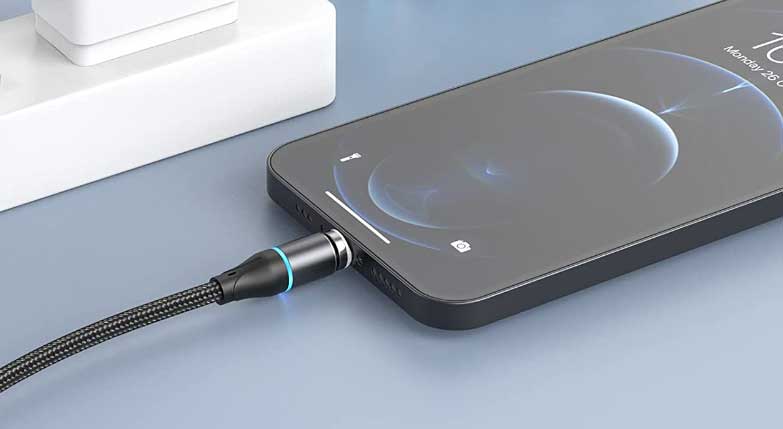 From a durability standpoint, the NetDot offers protection for device ports by reducing strain during connect/disconnect cycles. It also serves as an effective dust barrier. This six-pack set is complete with three types of magnetic connectors for each cable type, providing excellent value.
While the 3-in-1 detachable connector system is similar to the Magnilink 360 PRO and A.S Gen2, it falls short in terms of power delivery compared to the Magnilink 360 PRO, Statik 360 Pro, and CNakdDG.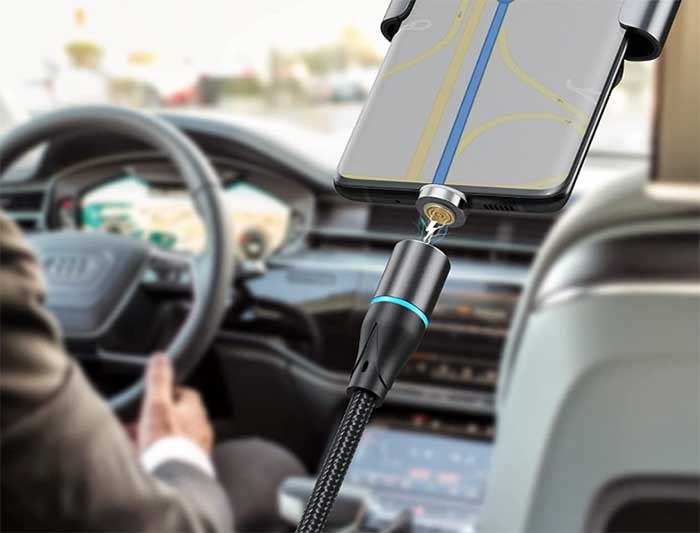 That said, the protective design for its device ports is a shared advantage with the Statik 360 Pro and A.S Gen2. The NetDot 3in1 magnetic attachment feature makes it easy to use, although its strong magnets might be too much for some users, a concern not commonly reported for the other cables.
What we liked:
Versatile and adaptable
No need to switch cables
Fast and efficient charging
Protects device ports from dust
What we didn't like:
Not compatible with App CarPlay or Android Auto
Magnets may be too strong for some users
3. Statik 360 Pro Magnetic Charging Cable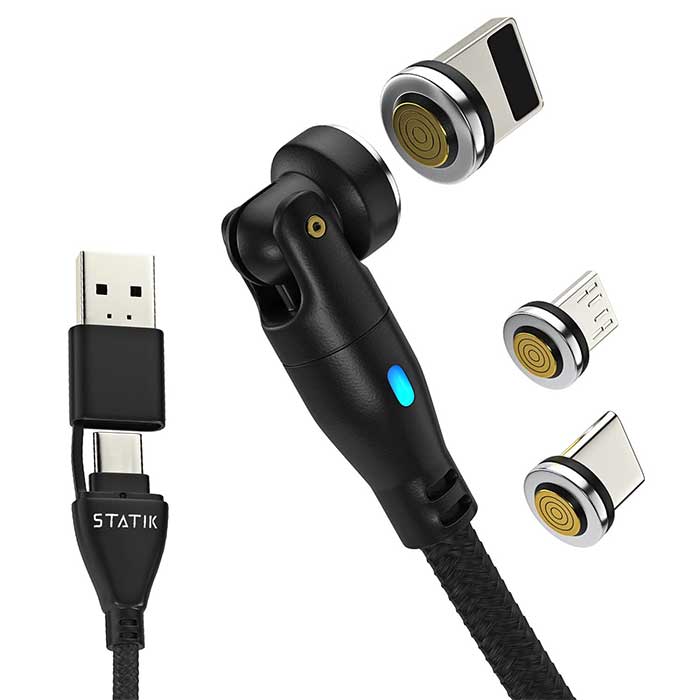 Key features:
100W BlitzCharge for rapid power delivery
Fast 480MB/s data transfer capability
Universal charging with Type-C and micro USB tips
360-degree rotating magnetic tips for port protection
The Statik 360 Pro Magnetic Charging Cable is a comprehensive solution for your various devices, offering not only power but also data transfer capabilities. This 6-foot cable is well-optimized for mobility.
The unique BlitzCharge Technology boasts a 100-watt fast charging capacity, offering rapid power delivery for laptops, smartphones, and other gadgets. Additionally, it integrates a fast data transfer feature, effortlessly handling 480MB/s. This actually outpaces most WiFi connections, so it's ideal for multimedia tasks like music streaming or running GPS navigation.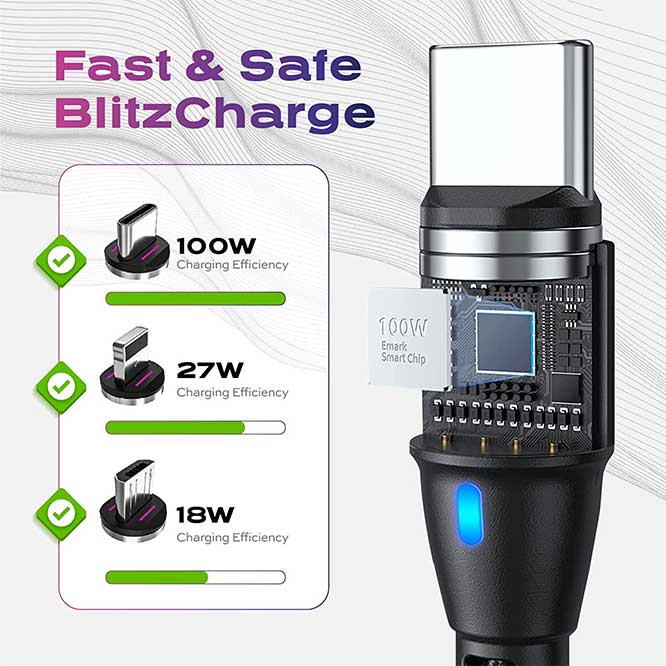 More than just a one-device cable, it houses multiple magnetic tips: you get USB Type-C, micro USB, and Lightning. It's a universal charging solution that should accommodate most of your modern devices.
What's more, it's compatible with Android Auto and Apple CarPlay. But that's not all you can look forward to – the unit's magnetic connection is twice as robust as average, ensuring a secure attachment that won't detach unexpectedly (an issue we run into frequently with typical magnetic charging cables).
Protecting your device's power port is an added bonus. The magnetic tips of this cable rotate 360 degrees, reducing wear from dust, accidental yanks, or surges. This feature extends your device's lifespan, preventing costly repairs or replacements.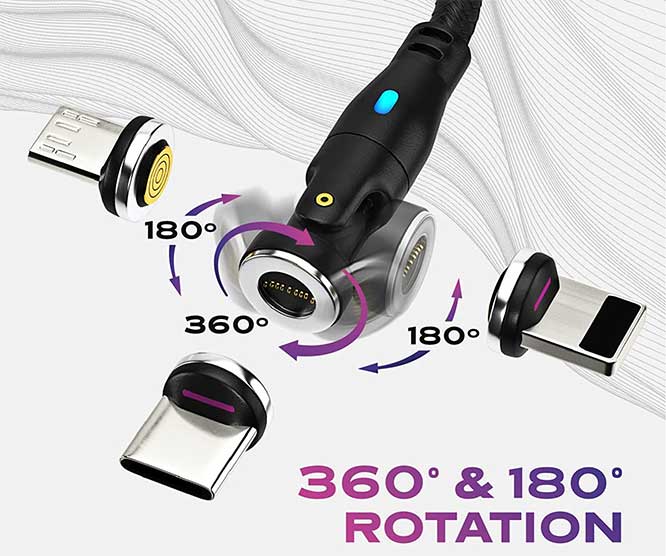 Comparatively, Statik's 360 Pro shares its 100-watt power delivery capability with Magnilink's 360 PRO, as well as CNakdDG. These units clearly overshadow the NetDot and A.S Gen2 in terms of rapid power delivery.
Moreover, its multi-device compatibility with Type-C and micro USB tips is similar to the offerings of Magnilink's 360 PRO and NetDot. Still, it stands out with its 360-degree rotating magnetic tips for port protection, a unique feature among these cables. However, the cable length may be short for some, which is a drawback not often mentioned with the other models.
What we liked:
Super speedy charging power
Twice stronger magnetic connection
Protects device's power port from damage
Superb for multimedia tasks
What we didn't like:
Cable length may be short for some
Multiple tips might be confusing to manage
4. A.S Gen2 USB Magnetic Charging Cable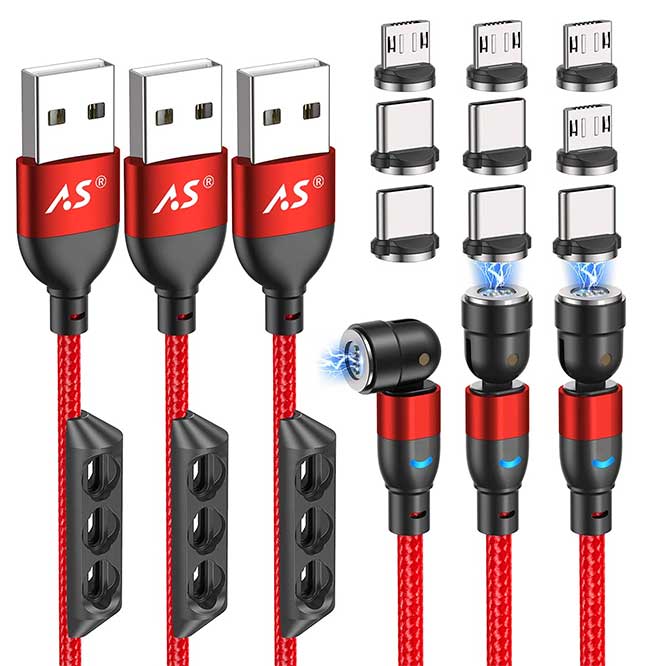 Key features:
540-degree rotation and LED design
2.4A fast charge and data transfer
Durable and dustproof magnetic tip
Universal compatibility
From A.S comes the Gen2, a USB magnetic charging cable that delivers convenience and durability in one package. One of the first things we noticed was the ability to achieve 540-degree rotation and LED lighting. Both lend to its flexibility and ease of use and prove handy during nighttime use or while driving, requiring minimal assistance.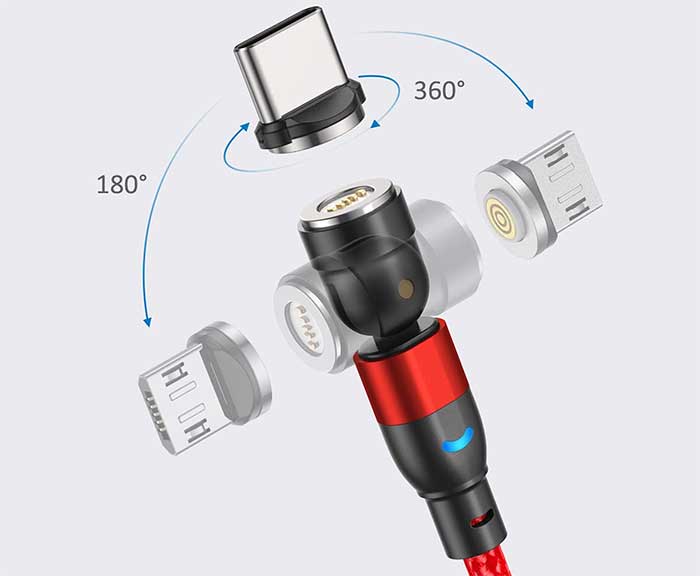 You're also afforded fast charging at 2.4-amp. And with data transfer and protection against overheating, this is an efficient tool that easily accommodates most modern devices. Plus, the nylon-braided, high-endurance cable can resist over 5,000 bends, ensuring a prolonged lifespan. There's also a unique dustproof magnetic tip design, furthering its longevity, with a unique dustproof assistant built right in.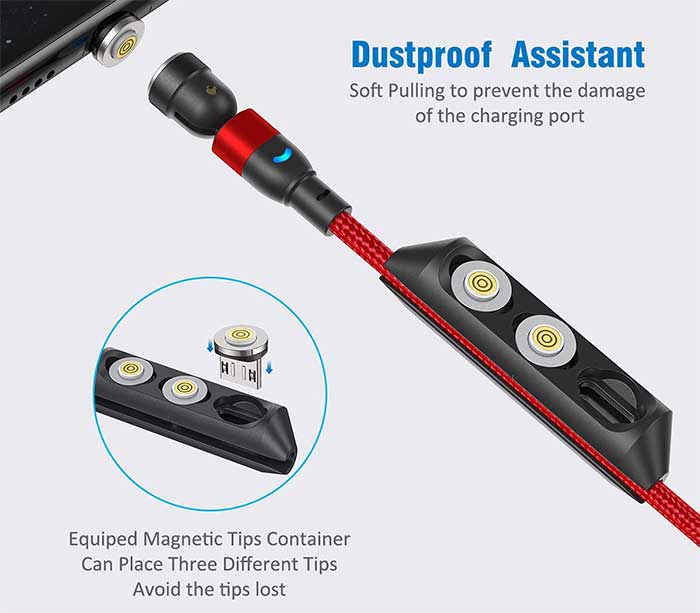 The cable facilitates one-handed operation with its robust magnetic attraction, a blessing while multitasking. Notably, the cable isn't compatible with magnetic adapter tips with a 1- or 9-point connection. Still, its universal compatibility caters to diverse devices, supporting micro USB, USB-C, and Lightning connectors. The set includes three magnetic cables, an assortment of magnetic tips, and a handy removal tool.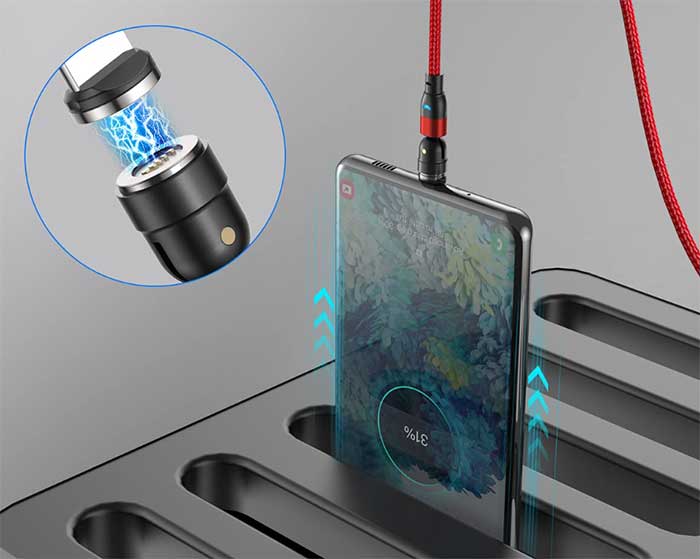 The aforementioned 540-degree rotation and LED lighting features distinguish the Gen2 from the others. Although its fast charge of 2.4-amp is less powerful than the Magnilink 360 PRO, Statik 360 Pro, and CNakdDG, it still delivers efficiency. And like the Magnilink 360 PRO, NetDot, and Statik 360 Pro, it also supports multiple device types. However, it lacks compatibility with Apple Car Play and Android Auto, unlike the Statik 360 Pro.
What we liked:
One-handed operation
Nylon-braided cable
Includes 3 magnetic tips
Lots of versatility
What we didn't like:
Not compatible with 1/9-point adapters
Does not support Apple Car Play/Android Auto
5. CNakdDG Magnetic Charging Cable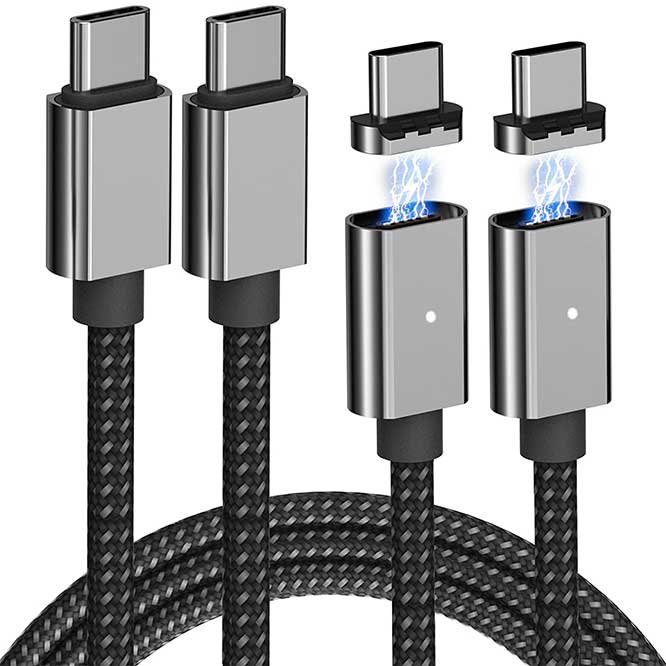 Key features:
100W PD fast charging
480Mbps data transfer
Magnetic connection
Safety certified
Tested in diverse conditions, the CNakdDG's 100W magnetic fast charging cable definitely impressed us. The pair of cables (one 5-footer and one 6.6-footer) offer up to 100-watt PD (USB-Power Delivery) fast charging technology. As such, it caters to a wide range of USB-C devices, from MacBook Pros to Galaxy S22.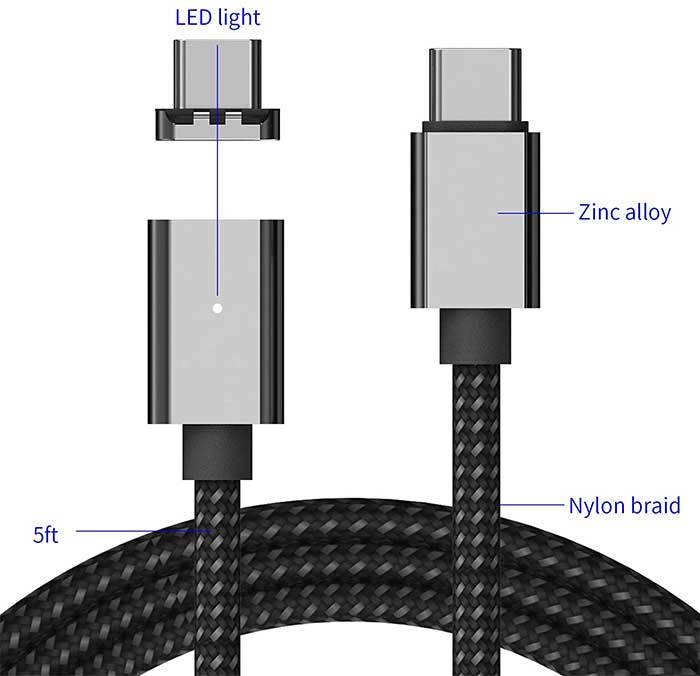 It comes equipped with 10 gold-plated pins. Thus, the cables promise data transfer rates as high as 480Mbps. Additionally, their magnetic feature facilitates easy, one-handed operation. Even in dim conditions, the unit's LED indicator aids in successful, swift connection. It's an excellent fit for long road trips, as you can easily attach connections without having to take your eyes off the road.
Safety is another highlight. With certifications complying with the necessary standards, there's little to worry about regarding the cables' quality or any risk of short circuit or over-current charging. We like that it has a braided structure, too, which serves to enhance durability. What's more, there's also an in-package inclusion of two USB-C magnetic tips. It's a convenient touch that should allow most consumers to use it right out of the box.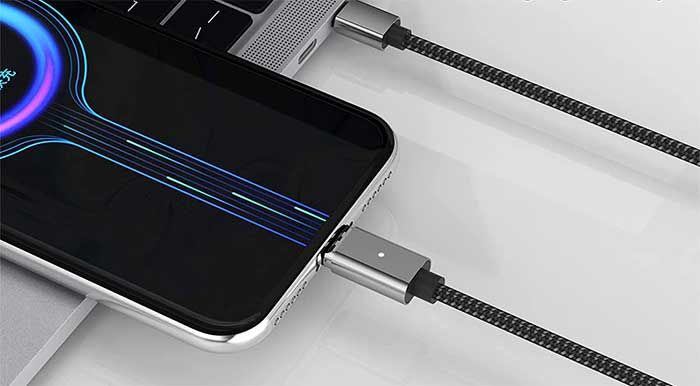 As with Magnilink's 360 PRO and Statik's 360 Pro, CNakdDG's cable offers 100-watt fast charging, making it a powerful option among the five. Its data transfer speed matches that of the Statik 360 Pro but surpasses the others. It also facilitates easy operation with its magnetic connection, but this feature is also shared by the other models. This cable is exclusively for USB-C devices, though, which limits its compatibility compared to the other products listed. But if USB-C is all you use, CNakdDG gets the nod.
What we liked:
Incredibly fast charging
Strong data transfer rate
Very easy to use
Comes with magnetic tips
What we didn't like:
Connections can come loose
Limited to USB-C devices
Magnetic USB Charging Cable FAQs
What exactly is a magnetic USB charging cable?
A magnetic USB charging cable is a device charging tool that connects to your device using a magnetic tip. The tip is usually left in the charging port of the device, and the cable snaps into place magnetically when brought close to the tip.
Can magnetic USB charging cables transfer data?
Yes, many magnetic USB charging cables can transfer data. Please be aware, though, that the data transfer speed may vary from one product to another.
Are magnetic USB charging cables compatible with all devices?
Most come with multiple connectors like Lightning (for Apple devices), micro USB, and USB-C to ensure compatibility with a wide range of devices.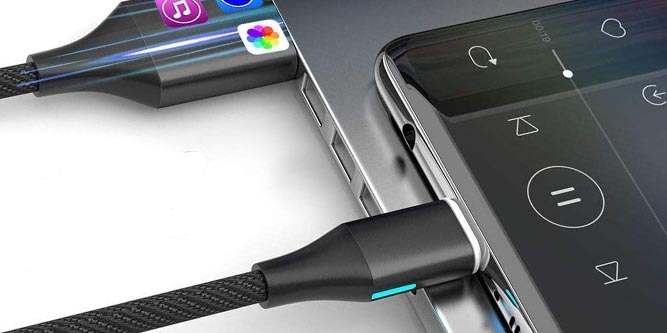 Final Verdict
Which is the right cable for you? The Magnilink 360 PRO earns high marks for its exceptional versatility and power delivery, while NetDot's 3in1 cable impressed us with its tri-connector system.
For those demanding fast charging, Statik's 360 Pro shines with its 100-watt BlitzCharge. The A.S Gen2 delivers a solid performance with its 540-degree rotation and LED lighting, and CNakdDG's Magnetic Charging Cable is another speedy solution with its 100-watt PD fast charging and 480Mbps data transfer.
Each magnetic charging cable listed here brings something unique to the table. Whether it's versatility, power delivery, data transfer capability, or universal compatibility, you can select the one that best suits your needs.