As recently as 20 years ago, USB was a little-used cable designed for electronics enthusiasts. At first, USB was strictly designed for data transfer. Indeed, that's where it gets its name. USB is short for "universal serial bus", a replacement for the multiple incompatible serial formats that preceded it. Great idea, right? The main problem with earlier USB protocols was that they didn't deliver much power. They were good for data transfer, but that's about it. If you needed to power your devices, you needed another power source. Newer USB formats have improved upon this, with significantly better power delivery.
Fast forward to 2020, and USB is ubiquitous. Pick an electronic device of your choice, and odds are about 90 percent that it's charged via USB. Your smartphone, your tablet, even the Nintendo Switch, are all powered with a USB cable. In fact, we've reviewed several USB products in the past, including USB chargers and power banks. On the other hand, this improved power delivery has come with its own set of problems. Specifically, the "universal" standard is no longer universal. There are now multiple standards, including USB Type-A, USB Type-C, and Micro USB. And that's just mentioning the major formats.
As a result, it's virtually impossible to use a single USB cable for all of your charging needs. No matter what cable you choose, it's not going to work for every purpose. One solution to this problem is to use a magnetic charging cable. By providing you with multiple magnetic tips, they allow you to charge almost any device.
Today, we're going to look at four different magnetic charging cables. First up is the Magnilink Magnetic Charging Cable "Discovery Pack". This is a generous 4 pack of magnetic charging cables with 12 different tips and some very enticing features. Next up is the NetDot Magnetic Charging Cable. This is a relatively short cable with an anti-twist design for the sheath. After that, we'll look at the TOPK USB Magnetic Cable. This cable sports more tip options than most, including a 90-degree tip for maximum compatibility. Finally, we'll examine the Digital Ant Gen-X Magnetic Charging Cable. This is an extra fast 3-amp option that allows you to charge faster than most. So, which one is the best? We're going to need to look closer at all three, and examine their features. Once we've done that, we'll be ready to render a final verdict. Let's get started!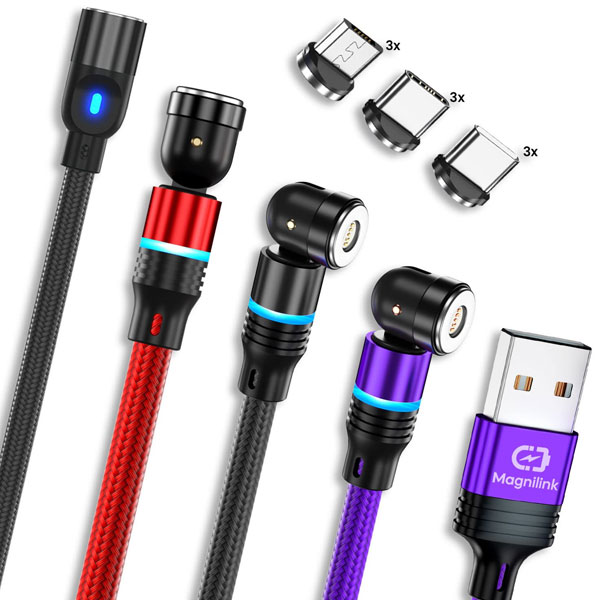 Magnilink Magnetic Charging Cable (Discovery Pack)
Sold as a pack of 4, the Magnilink Magnetic Charging Cables provide some of the best features in terms of versatility, charging power and durability. Each "discovery pack" contains a variety of four cables and 12 individual magnetic tips; 3 tips each for USB-C, micro USB and iDevices (Lightning). In addition, they've included an easy-lift tip remover, desk cable organizer and two clip-on tips holders in each pack.
The first cable they've included is a black colored 3.3 ft. nylon-braided Magnilink MAXX cable. It's the shortest of the bundle and has a fixed "head" that doesn't swivel, unlike the other three cables in the set. Next, you get 3 Magnilink 360 MAXX cables that all come in its longest version: 6.6ft. The cables are made with strong braided nylon and feature a « 360 degree » head that can swivel both laterally and vertically for full rotation and easy to use.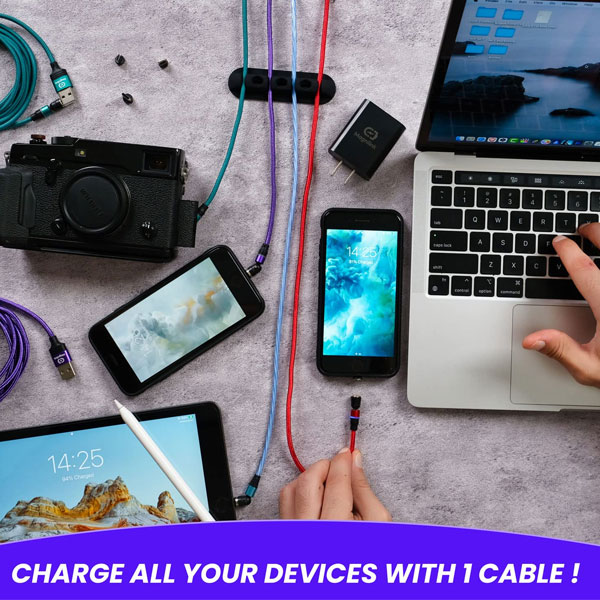 Each Magnilink cable is fully interchangeable with either of the magnetic heads for USB-C, micro USB and/or Apple device (Lightning) charging. You can easily swap out tips without much effort, but the included tip remover tool can come in handy if you happen to have some trouble. Keep in mind that the small tips may not work well for some rugged, bulky cases, however, in our experience, it worked perfectly fine with our Otter Box commuter-series case that we have on our iPhone and Galaxy S9+.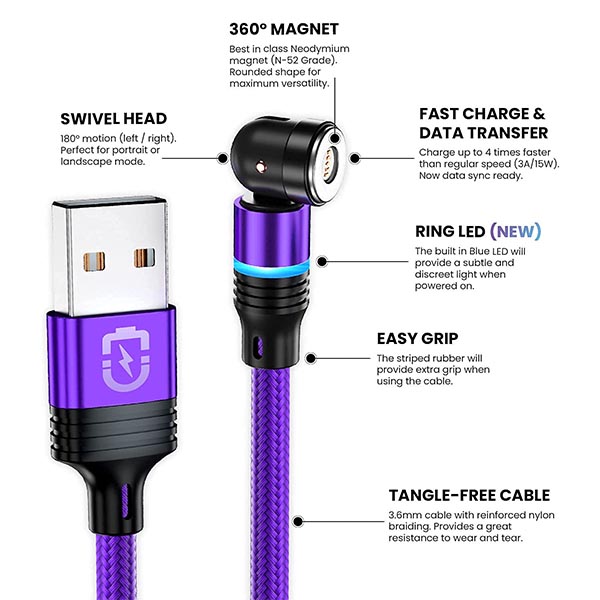 The 3.0A (18w) charging speed is ideal for those who don't want to compromise time and want the most efficient way to quickly top-off your battery or transfer large files. Since these cables are fully compatible with virtually any and all USB devices, you can rest assured knowing that they'll work well with any new or older, somewhat outdated devices.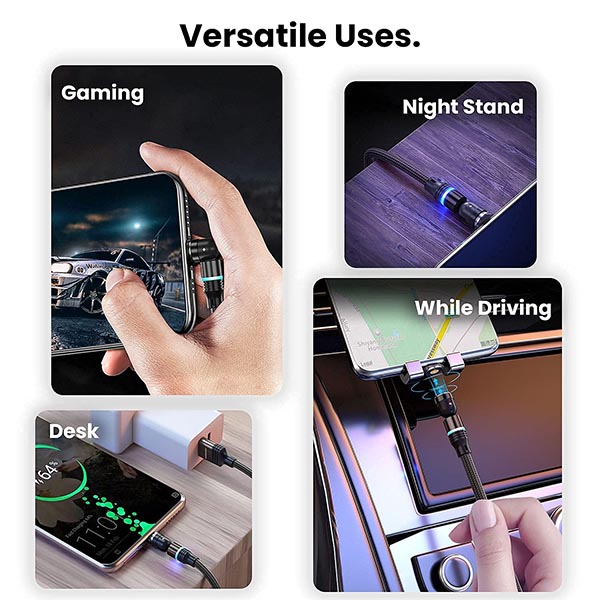 We're big fans of the swiveling 360 rotating design and the overall build-quality of the connectors and cables. Each part seems to be manufactured very well with longevity and versatility set as a top-priority. We love how Magnilink included a small LED near each magnetic end of the cables, giving you clear indication that connection is successful and currently charging. What's even better is that you can leave the tip inside of your device's charging port so all you'll need to do is magnetically attach the cable when you need a charge; gone are the days of manually plugging in your charging cable each and every time. In addition, since the magnets are N-52 grade, you're assured the strongest and most-reliable connection possible.
Best of all, every Magnilink component and all of the products in each Discovery Pack are fully covered for 1 year under a generous warranty. Additionally, there's a 30-day return policy that guarantees you'll be happy with your purchase right from the start.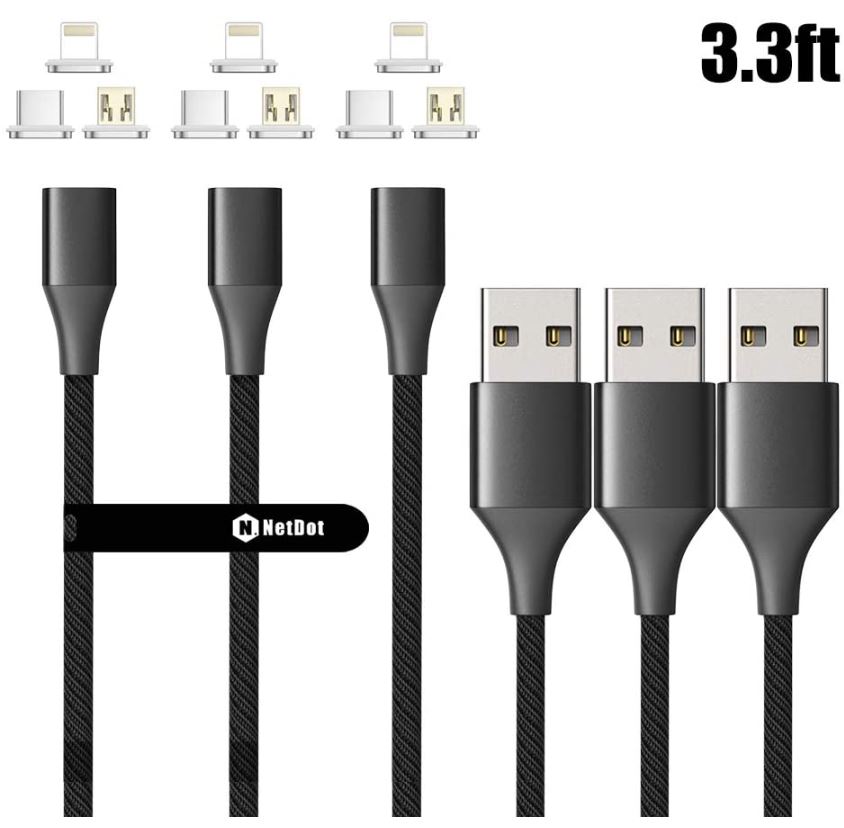 NetDot Magnetic Charging Cable
The NetDot Magnetic Charging Cable is a universal cable that comes in multiple options. First off, you can buy it in a one, two, or three-pack. If you're trying to charge multiple devices and want a plug-and-play option, the three-pack is a great value. Moreover, you also get your choice of style. You can order your NetDot cables in black, grey, or silver. So if you want a cable that matches your device, you've got plenty of options.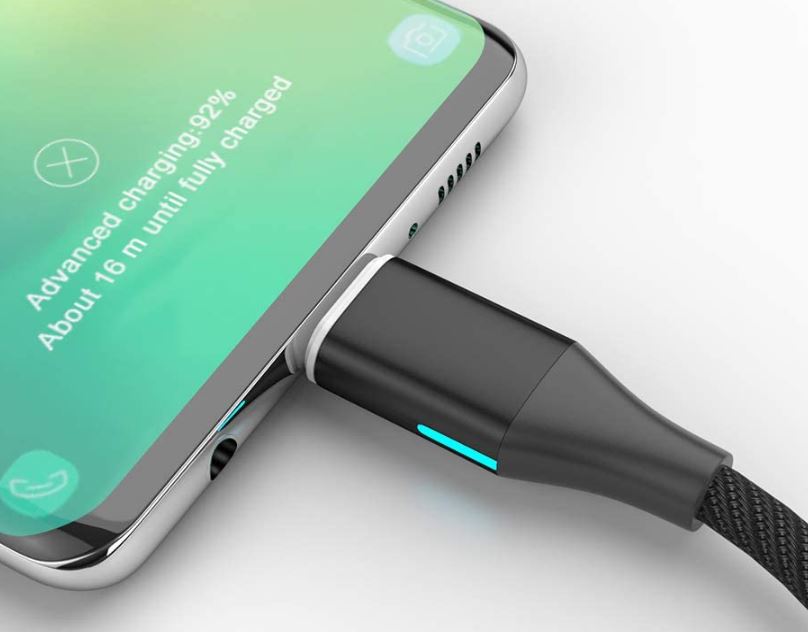 The cable itself is available in 1, 3.3, 5 and 6.6 feet lengths, enough for most everyday charging purposes. It might be short for some uses, but it's good enough for the majority of people. Moreover, it has a very well-engineered design. The insulation has a carbon fiber, anti-twist design. This is a great feature if you're concerned about tangling or kinking. If the cable gets twisted up, it's easy to untangle with just a few twists of your fingers. There's no need to deal with rubbery insulation getting stuck.
Charging performance is also relatively good. The cable delivers 9 volts of power at a rate of two amps. For electrical neophytes, that converts to 18 watts of power delivery. This is enough for standard charging on any modern smartphone. Keep in mind that this isn't the same as quick charging. But it's enough to meet manufacturer specs for standard charging needs. You can charge your iPhone X in about two hours, or your Samsung Galaxy S10 in about the same time. You can also sync your data without any issues.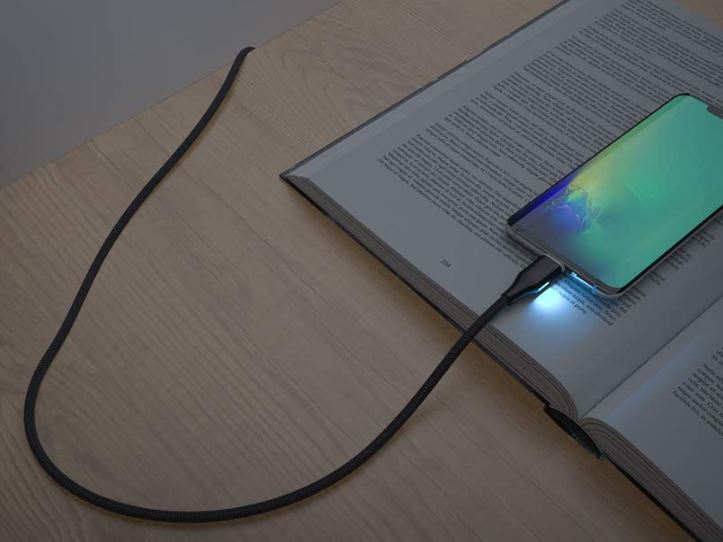 One end of each cable is a standard USB Type-A. This will connect to any PC, laptop, or AC charging block. On the other end, there's a proprietary socket that's designed to fit the cable's tips. It comes with tips for USB Type-C, Micro USB, and Lightning. The first two are useful for most modern smartphones. The last one isn't as commonly-used, but it's still useful for some older electronics. Moreover, the side of the tip assembly sports an LED light. This won't help you charge, but it will help you find your device in the dark. It's advisable to keep one of the tips installed even when the cable is not in use. The reason for this is that it will keep dust from clogging the proprietary connection.
The NetDot cable comes with a one-year manufacturer's warranty. Admittedly, for such an affordable device, this isn't necessarily a major selling point. Still, it's a nice added value, especially given the low price point.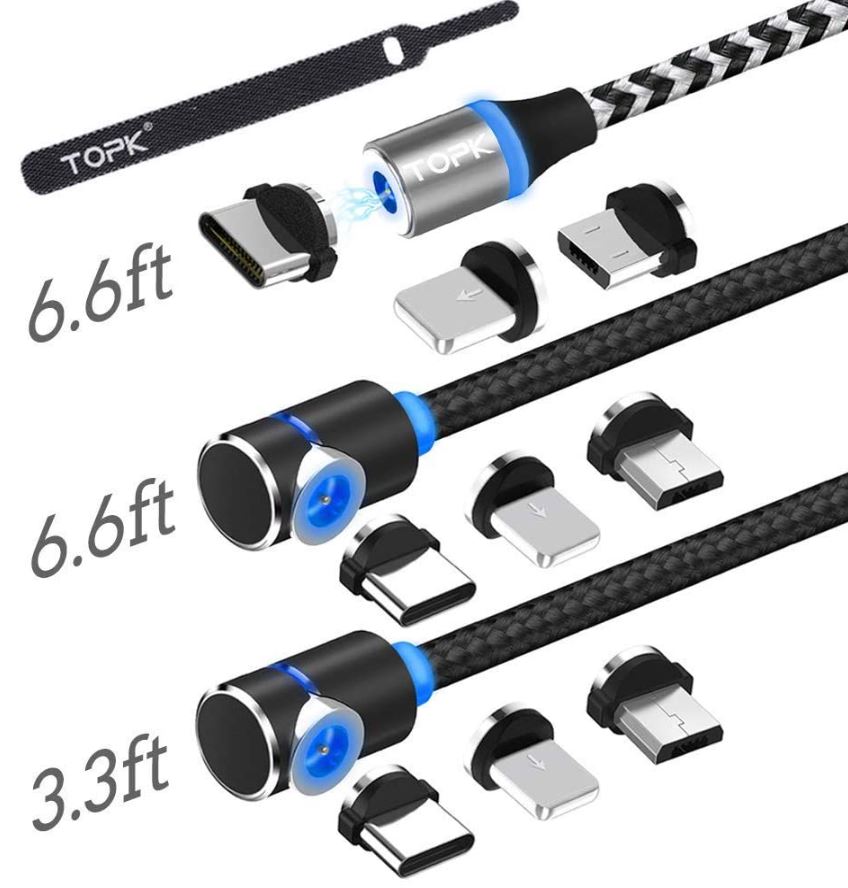 TOPK USB Magnetic Cable
The TOPK USB Magnetic Cable comes in a three-pack, which makes it a great bargain for multiple devices. Moreover, each cable has its own design. The first is a simple 3.3-foot cable. This is useful for phone charging and other less demanding applications. The next is a similar 3.3-foot design, but with a 90-degree tip. This is useful for easy charging, particularly if cable management is an issue. Finally, there's a 6.6-foot cable with a similar 90-degree tip. This allows for longer runs for AC chargers and other long-distance applications.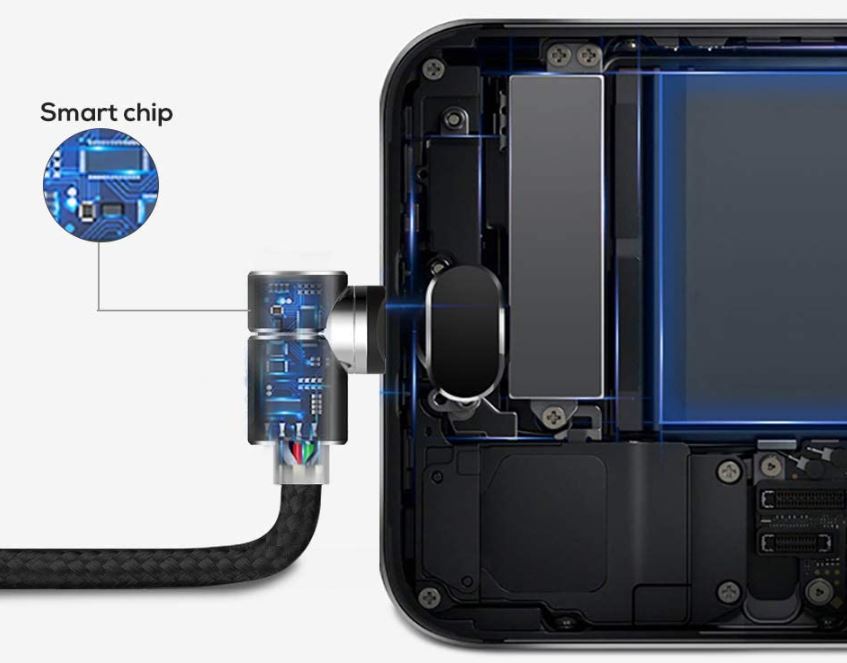 All three cords have a similar proprietary tip. This tip has a round opening, which is magnetized for inserting the different heads. There are Micro USB, Lightning, and USB Type-C tips. Moreover, the tips also function as dust covers. This will ensure that your cables maintain a long life, even if you're using them in dirty areas.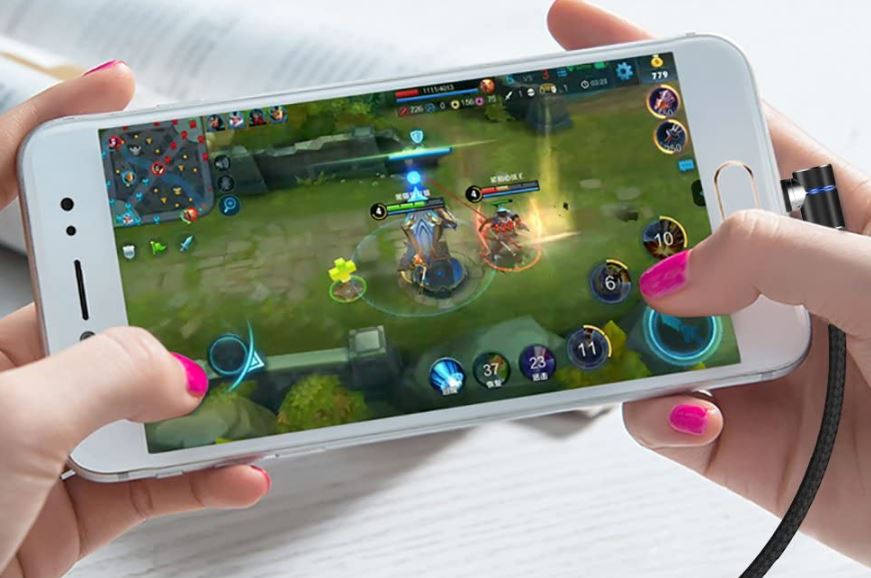 The 90-degree tips will rotate 360 degrees around the end of the wire. As a result, cable management is easy. You don't have to worry about orienting the tips for plugging into your device. At the bottom of each proprietary tip, there's a blue LED ring. This makes for easy visibility, even in a dark environment where finding your plug can be a challenge. The magnets are also very strong. You don't have to worry about your tips coming loose just because the cord got tugged.
When it comes to charging performance, the TOPK USB Magnetic Cable performs reasonably well. It has a maximum power delivery of 5 volts at 2.4 amps. This means you get 12 watts of charging power. As a result, you can charge most modern smartphones in about 2 ½ hours. This isn't incredible, but it's more than good enough for most people's purposes.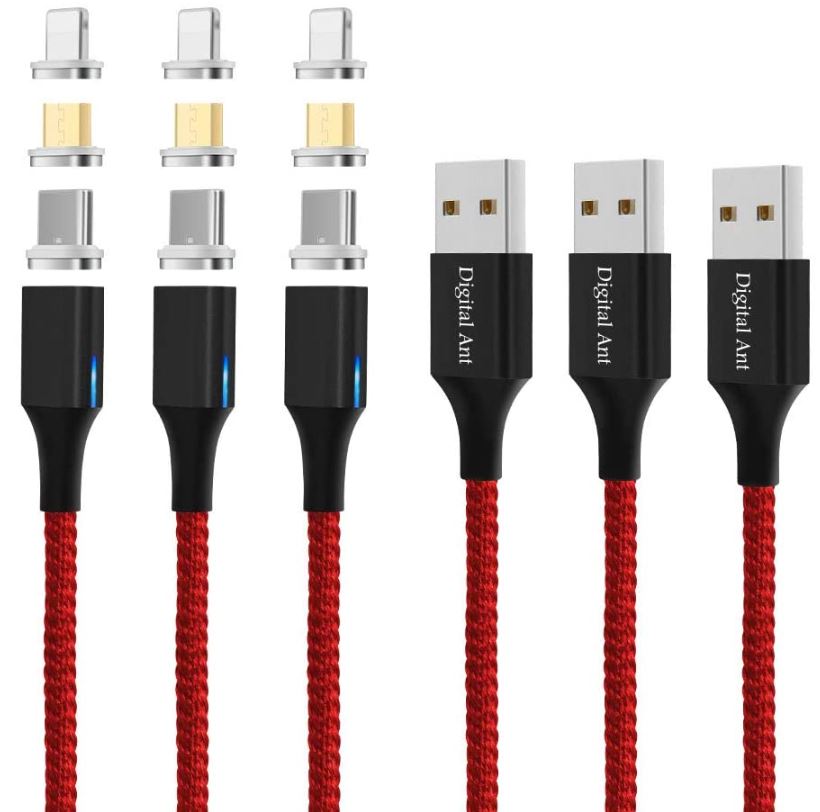 Digital Ant Gen-X Magnetic Charging Cable
The Digital Ant Gen-X Magnetic Charging Cable offers a bit more versatility than the other two options on our list. To begin with, it comes in a one-pack or a three-pack. So if you only need to charge one device, you're covered. Conversely, if you need to mix and match between multiple devices, you've also got plenty of options. Cables are available in red, green, or dark grey, so you can match just about any piece of electronics. 90-degree tips are also available, as are extra plugs for older Mac devices. So no matter what you need, you'll have plenty of options.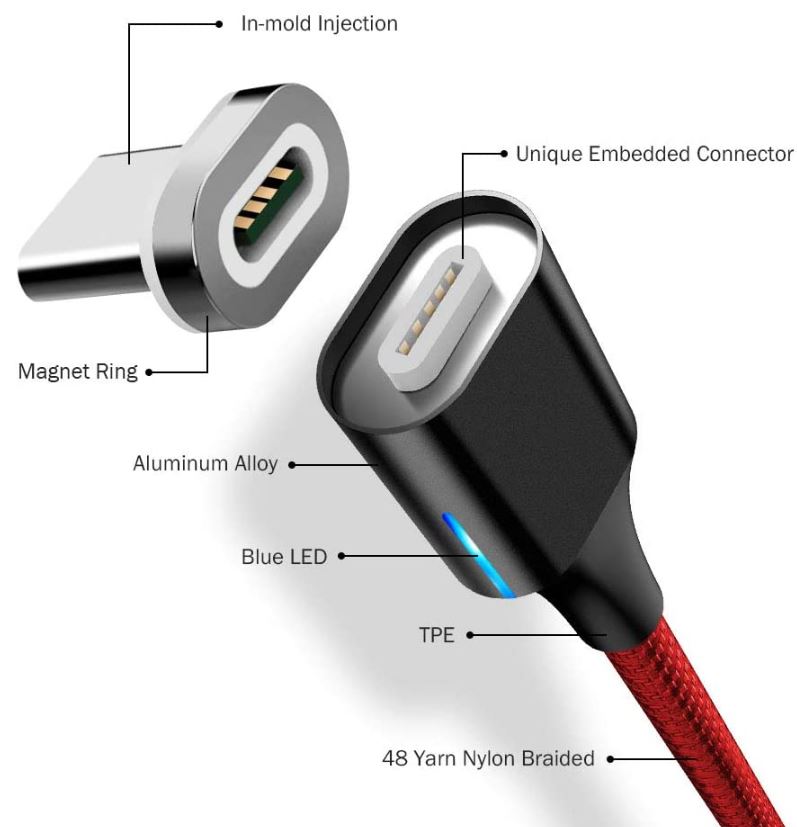 Leaving aside the extra tips, the other cables come with Micro USB, USB Type-C, and Lightning tips. The Micro USB connection is not compatible with Motorola devices, due to Motorola's undersized ports. That said, for any other Micro USB devices, you're going to have full compatibility. The tips mount in an oval-shaped, proprietary port. As with the other options, the tips function as a dust cover. This is a great feature, and it's highly recommended that you use it. It will prevent your cables from getting clogged and failing you in an emergency. Furthermore, the magnets are very strong. A slight tug, or even tripping over the cable, won't easily pull the tips loose from the magnetic port.
The cables are all well-suited for low visibility. On each tip, there's a pair of blue LEDs that ensure that they're easy to find. This makes them a great choice for driving, and even for the visually-impaired. In between the tips, the cables sport a braided nylon shell. This makes them virtually impervious to twisting, and easy to untangle when they do get twisted. No need to worry about them sticking or getting kinked under normal charging demands.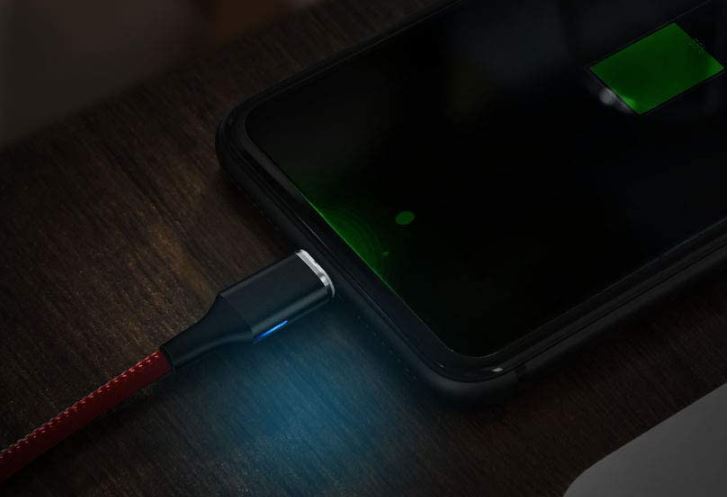 The charging performance is relatively fast, at 3.0 amps. With a 5-volt current, you get a total of 15 watts of power. This is about average for a USB charging cable, enough to charge most smartphones at full power. You also get a maximum data transfer rate of 480 Mbps. This isn't quite the 1Gbps of USB Type-C cables, but keep in mind that the tips are magnetic. You're just not going to get the same performance as a continuous cable. All of this comes with Digital Ant's 180-day manufacturer's warranty. If you have any issues within that time period, simply return your cable for a refund or replacement.
Final Verdict
Which one of these cables is the best? In our opinion, the Magnilink Discovery Pack offers the best features, most value and an incredible amount of durability. The 18w (3.0A) charging ability makes topping off your devices batteries quick and effortless. Since they use N-52 grade magnets, you're getting the strongest holding power and highest quality connection. Additionally, the variety of cables and the generous amount of tips they've included clearly offers the most bang for your buck.
For a decent charging capacity, choose the NetDot Magnetic Charging Cable. This is a powerful charging cable with 18 watts of maximum power. Not only that, but it has a tangle-free design that's easy to use. Our only complaint was the short length, which can be limiting.
The TOPK USB Magnetic Cable offers a little more versatility. It comes in a three-pack, so you have a variety of charging options. The 90-degree tips are particularly well-designed, with a 360-degree swivel that offers plenty of versatility. The value here is great, but the 12-watt charging capacity is a bit limiting.
Finally, we looked at the Digital Ant Gen-X Magnetic Charging Cable. This cable offers the most options of all, with several different packages. The nylon braided cable is very well designed, and the 15-watt charging power is better than most. That said, the price per cable is a bit steeper than our other options.