No matter how much we upgrade our computers, it seems that storage is the one thing we just can't get enough of. It's easy to buy a manufactured external drive, but there are some disadvantages. External drives tend to have a little extra markup, and the manufacturers save money by using a slower speed internal drive. Picking up an external hard drive enclosure can save you money, and give you better performance than other drives on the market. You can pick up a brand new external drive, or re-use one you have laying around.
The important thing is to pick up an external drive enclosure that supports all the latest standards. Some older connectivity options (such as USB 2.0) just aren't up to snuff when it comes to data throughput, so making sure you have a high-quality model means that you won't be bottlenecked. Let's take a look at the four best external hard drive enclosures both in the 3.5" and the 2.5" sizes. First, we'll help you understand what the different features mean, and which hard drives go best with them. Then, we'll help you find the one that's right for you.
StarTech.com USB 3.1 (10 Gbps) Enclosure
We've reviewed countless StarTech.com products. Anytime we need to connect one thing to another, StarTech is one of the first brands we turn to. Their products are typically simple, functional, and always squeeze in a bonus feature of two.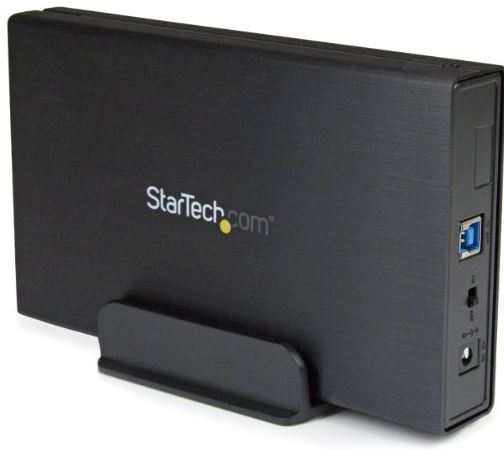 Design
Looking just at the shape, the StarTech.com USB 3.1 (10 Gbps) Enclosure might not seem much different than your typical hard drive enclosure. In essence, it's a large metal box that only extends a few millimeters beyond a standard 3.5" drive, but it's the subtle design elements that prove it's an enclosure designed to the highest standard. There is no weak plastic to be found, the entire thing is made from a high-quality metal. On the main face, the aluminum frame is lightly brushed to give it a smooth, and ever so slightly textured feel. Along that back you've got your typical ports – a type B USB 3.0 port, a power switch, and a power cable.

Compatibility
This enclosure is fully compatible with the latest USB 3.1 standard, and any SATA drive on the market. One of the unique features of this enclosure is its support for UASP. This stands for the USB Attached SCSI Protocol. Although SCSI is a very old protocol, it's an extremely efficient way to transfer data between different storage devices. This means that modern drives will transfer data with less latency, making this a great choice for an external drive you'll be using regularly.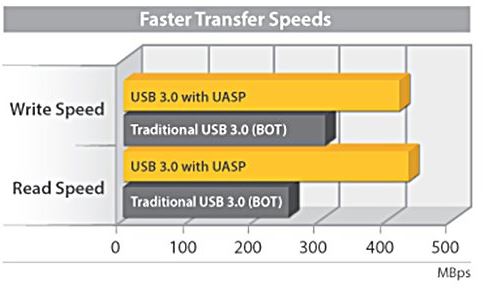 Performance
This is certainly a fast enclosure, but it's essential that you understand the numbers before you set your expectations too high. The 10 Gbps claimed is the maximum throughput possible with USB 3.1, but you're still going to be bottlenecked by SATA III (6 GBPS maximum) and the maximum speed of the drive. The important thing is that even if you buy the fastest SATA drive on the market, this enclosure isn't going to hold you back.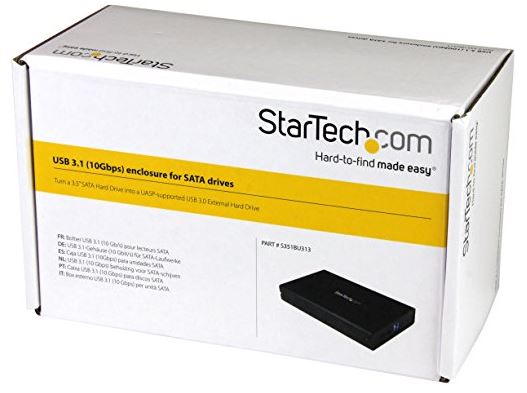 Best For
This drive is best suited for people who want to use a high performance 2.5" SSD or 3.5" HDD and aren't willing to be held back on performance. Using USB 3.1 doesn't actually improve the theoretical bandwidth, but support for the SCSI protocol drastically reduces latency and improves performance for anyone who's performing large file transfer operations. Our recommendation is to use a high speed hard drive with this enclosure. The best option would be the Samsung 850 pro, but if you're after a lot of storage, then the Western Digital Black HDDs are among the fastest on the market.
Sabrent EC-DFLT SATA Lay-Flat Docking Station
Sabrent is another company that focuses on making high quality computer peripherals, many of which are sold white label to brand that you know and love. They're some of the best value on the market, and don't slouch in the performance department.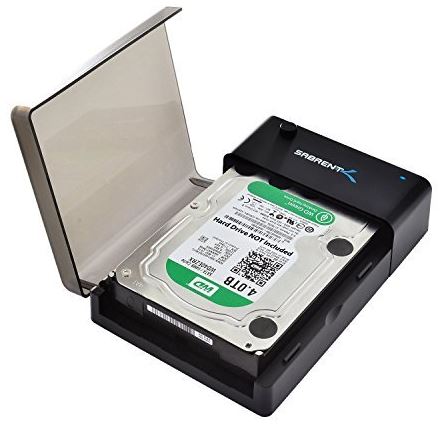 Design
The Sabrent EC-DFLT SATA Lay-Flat Docking Station combines the two most common formats to make something that's suitable for almost all purposes. It's shaped like your typical enclosure, but a large plastic window on the face is hinged, so it's easy for you to add or remove drives. All you have to do is slide a drive in and close the latch, and you're ready to go.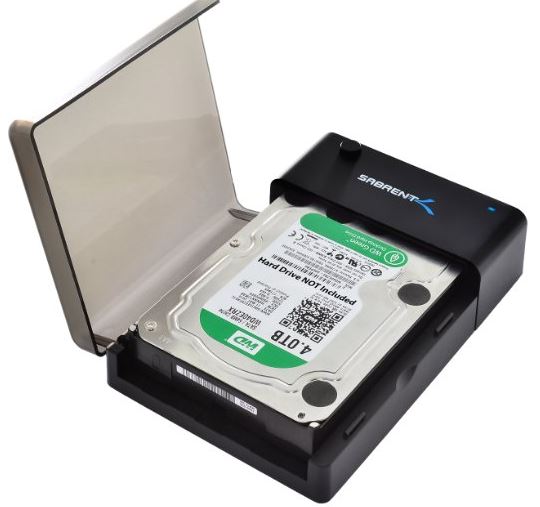 Compatibility
Since UASP didn't come out until USB 3.1, it's rare to find a USB 3.0 enclosure that supports the standard. That being said, there aren't very many benefits to the extra bandwidth supported by USB 3.1, as you'd need a PCIe drive to achieve that kind of bandwidth. The fact that this drive uses USB 3.0 isn't because it's outdated, but because it's intelligently designed to use the best components for the job.
You can use any SATA drive on the market, as SATA III 6 GBPS is the most up-to-date standard available. Although the design works best with 3.5" drives, 2.5" drives work just as well.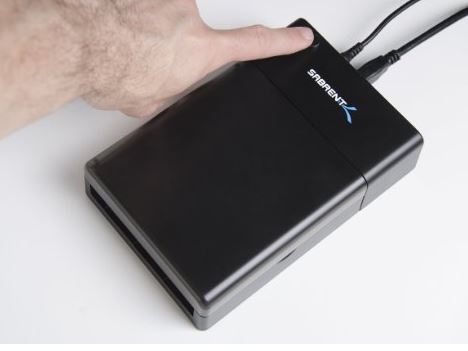 Performance
This enclosure supports SATA III with a maximum theoretical bandwidth of 6GBPS, so you'll be able to get the most out of the majority of drives on the market. With our Samsung 850 pro we were able to get ~500 Mbps read and write, pretty close to the maximum this drive is capable of. If you're sticking with a hard drive, you should be able to get speeds exceeding 100 Mbps, but this all depends on the drive that you choose.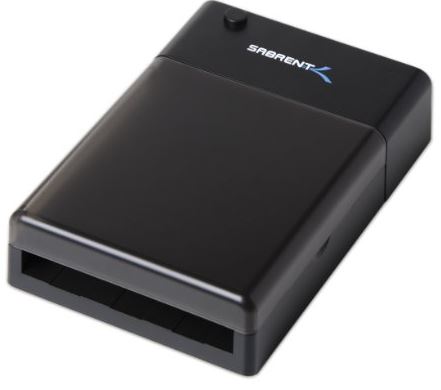 Best For
Because it's so easy to swap drives in and out of this enclosure, it's best for people who need massive amounts of storage, or who will be accessing data from existing drives they already have. You could buy an inexpensive stack of Seagate 2TB drives, label them, and swap them in and out as needed. That being said, you can really use any drives you have laying around.
ORICO "Tool Free" SATA Hard Drive Docking Station
Although they're not the most well-known manufacturer, ORICO has a number of high quality products designed primarily for computer technicians, or anyone who uses their computer in an employment scenario. If you're regularly swapping out drives, This is the first enclosure you'll want to look at.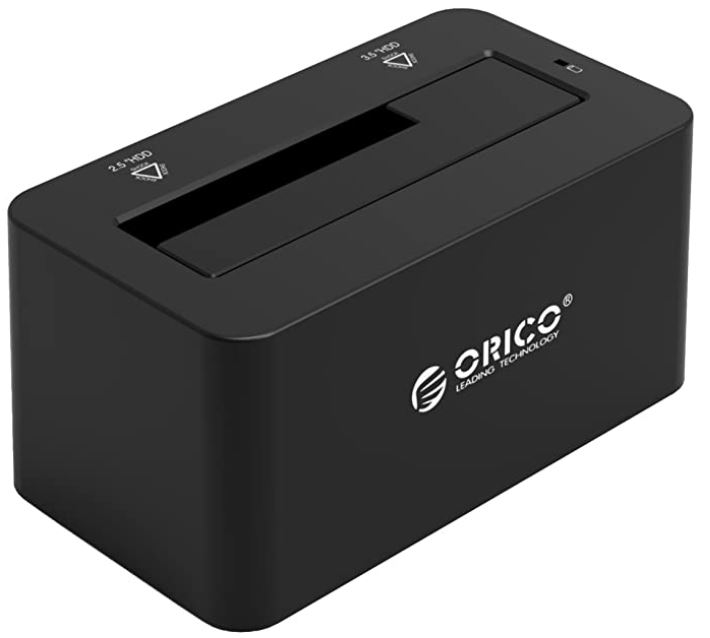 Design
Perhaps enclosure is a bit of an odd way to label the ORICO "Tool Free" SATA Hard Drive Docking Station. The term "docking station" is much more appropriate. If you're concerned with the amount of space something like this will take up on your desk, you'll be happy to know that this is the smallest of the bunch.
When its in use, your drives will be standing up. All you have to do is slide them into the opening on top. If you're using a 2.5" drive, you'll notice that there is already a port open that makes it easy to get your drive in the right spot, the first time. If you're using a 3.5" drive, the entire top port folds down to make room for the larger drive. This is great because no matter what size your drives are, they'll always be held securely in place. Many upright enclosures aren't suited for 2.5" drives as they slide around, so this is the best solution for that problem.
Compatibility
As is to be expected, this docking station is compatible with any SATA III drive with a theoretical maximum throughput of 6 GBPS. There aren't many bells and whistles with this docking station, but if you need access to as many drives as possible this is a good thing. Both USB 3.0 and SATA III are the most common connectivity standards on the market, and both are fully backwards compatible with the previous standard.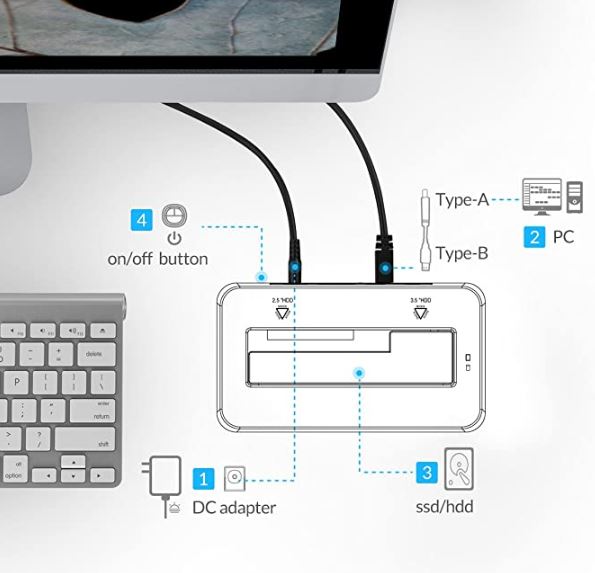 Performance
We tested it with both and SSD and an HDD, and found absolutely no degradation of performance. The one thing you'll need to consider with the USB 3.0 standard is where you are plugging in the drive. As long as it's on its own port, you'll be able to take advantage of the maximum bandwidth possible. But when you're using something like a hub, you're really just sharing the bandwidth of one port with multiple devices. If you really want to push this enclosure to its limit, keep it on a port by itself. Remember, occasionally you might have two USB 3.0 ports on the front of your case, and not realize that they're actually just connected to one output.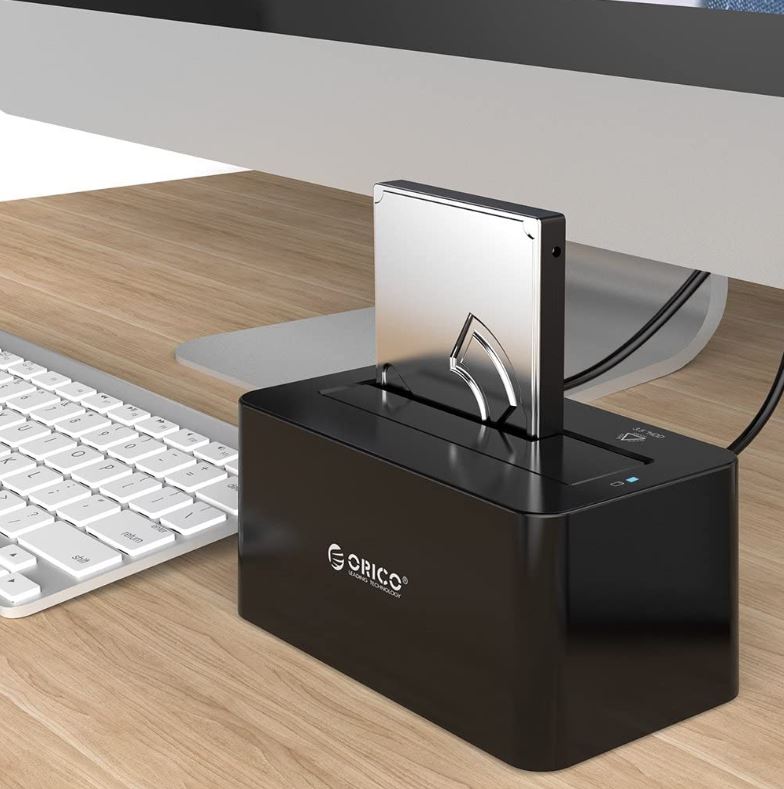 Best For
This docking station is ideally suited for somebody who needs to access a lot of different drives and wants to be sure that it will work with as many drives as possible. If you're buying this docking station, you probably aren't going to be the one making the purchasing decisions on which drive to get. But if you do want to pick one up to be used alongside it, get something with a good balance between storage and performance like the Western Digital Blue Drives.
Inateck USB 3.0 Aluminum HDD External Enclosure
We've taken a look at some of Inateck's products before, and always found that they offered incredible value. If you're still looking to achieve a high level of performance that isn't always possible with a preconfigured external drive, Inateck offers one of the easiest and cheapest ways to do so. The Inateck USB 3.0 Aluminum HDD External Enclosure is a great choice.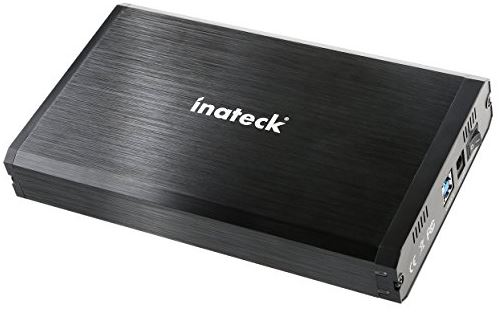 Design
Inateck has clearly taken a lot of time to craft something that looks just as good as it performs – not something you'll often encounter at this price point. The main case is made from a stylish brushed aluminum, although the end caps are still made from plastic to save money. The end result is something that looks like it costs twice what you paid for it. The impressive thing? It also preforms like you paid twice as much for it.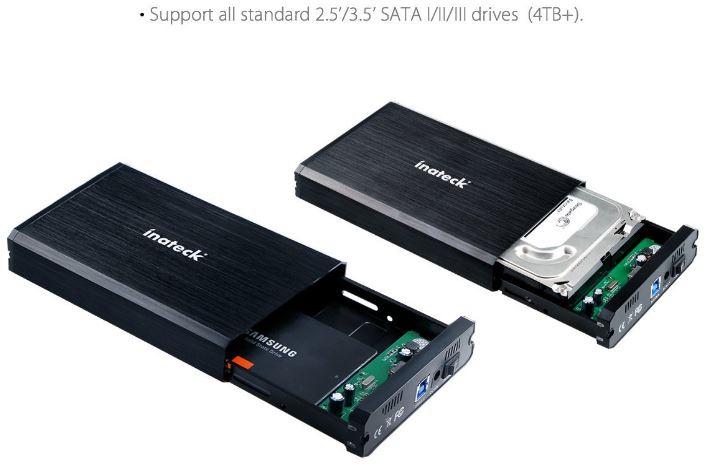 Compatibility
Using the USB 3.0 standard, this external hard drive enclosure is compatible with virtually every computer on the market. It uses the ASM1153E chipset, one that's used in many desktop and laptop computers. This allows the enclosure to be used on virtually any system without any drivers that need to be installed, making it both highly compatible and easy to set up. It also supports UASP, which is best used with SSDs.
This enclosure has been tested and is working with every version of windows from XP to 10, both Linux and android, Mac OSX from 10.3 and higher, and can be used with both USB 1.1 and 2.0 ports.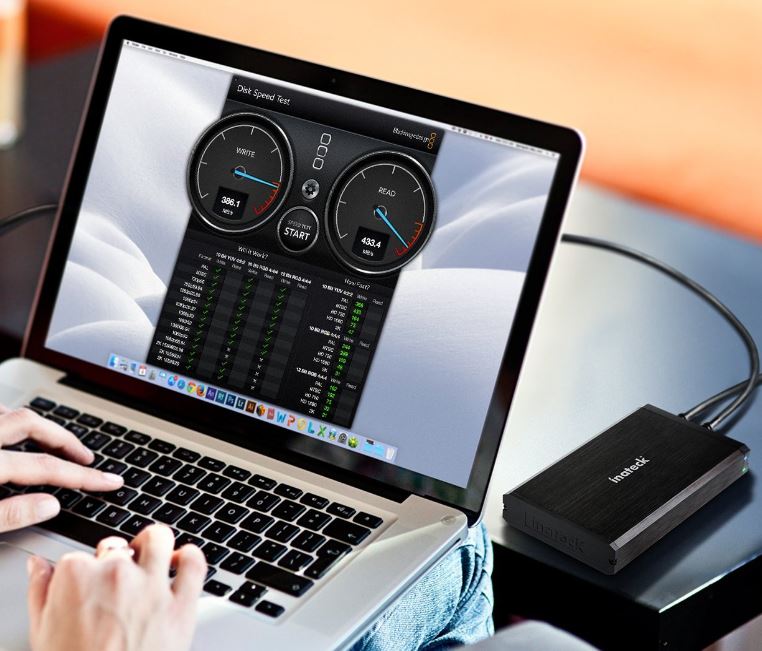 Performance
The combination of SATA III and UASP gives you the best possible performance, outside of a PCI express SSD. When you're using the drive on it's own root hub, you'll see almost no degradation in performance even when using the high speed 500 Mbps SSD drives. The best part is that this enclosure has room to grow. Next year when newer and better drives are hitting the market, you'll be able to slap it into this enclosure and enjoy the same high performance you've always wanted.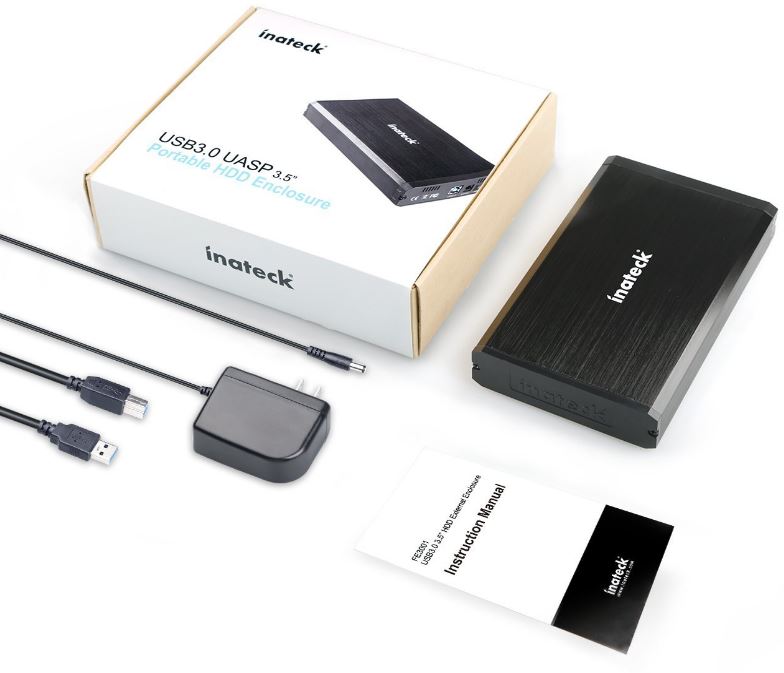 Best For
Due to the design, this enclosure is best for users who want to install a drive and leave it there. For file storage, the Western Digital Caviar Green drive would work great with it, or any SSD could be used to improve performance.
Which SATA Hard Drive Enclosure is Right for Me?
Depending on your needs, any one of these enclosures could work well for you. Personally, we feel that the Inateck Aluminum Enclosure gives the best bang for your buck, offering reasonable durability, decent performance, and stylish looks for a very low price.
If you value performance above all else, you'll definitely want to choose the StarTech.com USB 3.1 Enclosure. Although technology hasn't quite caught up to the impressive performance of this enclosure, you know you'll be getting the best performance possible even as technology evolves.
But both the enclosures we mentioned above are designed to have a drive installed and left in there. If you find yourself regularly changing drives, you'll want something a little different. The Sabrent Docking Station is best for users who have their own array of drives to work with. If you're looking for a docking station that allows you to access other people's drives, consider the ORICO "Tool Free" Docking Station. It's easier to change drives, and it's one of the most compatible models on our list.
Still didn't find something that meets your needs? For some people, an external enclosure isn't the best option. You might be looking for a way to use your drives internally, but swap them out easily. In this case, check out our review of the best hot-swap SATA mobile racks.
Meet Derek, "TechGuru," a 34-year-old technology enthusiast with a deep passion for tech innovations. With extensive experience, he specializes in gaming hardware and software, and has expertise in gadgets, custom PCs, and audio.
Besides writing about tech and reviewing new products, Derek enjoys traveling, hiking, and photography. Committed to keeping up with the latest industry trends, he aims to guide readers in making informed tech decisions.