Sylvox Deck Pro QLED
Pros
Modern, minimal design with a thin bezel.
Wide viewing angle with plenty of brightness.
Easy to use WebOS operating system.
Superior dust and water resistance.
Extremely durable, all-metal exterior construction.
Cons
Smartphone app doesn't work well.
Built-in speakers may sound muffled and rattle at higher volume.
Screen tends to show reflection in direct sunlight.
Outdoor televisions have become increasingly popular in recent years. More and more people are looking to create an immersive and enjoyable entertainment experience in their backyard or patio.
The Sylvox Deck Pro QLED series is marketed as an advanced outdoor television that promises to provide a high-quality viewing experience in any weather condition. With its IP55 waterproof rating, 700 nit brightness, and scratch-resistant aluminum metal construction, it's designed to withstand extreme temperatures, dust and moisture. With specs like that, we were curious to see how it would perform in the real world.
Thankfully, we were able to get our hands on it to put it through the paces. In this review, we'll be inspecting the Deck Pro QLED series. We'll be evaluating things like build quality, picture and sound quality, functionality and overall value. There are a wide range of outdoor TVs on the market, let's see how this model stacks up.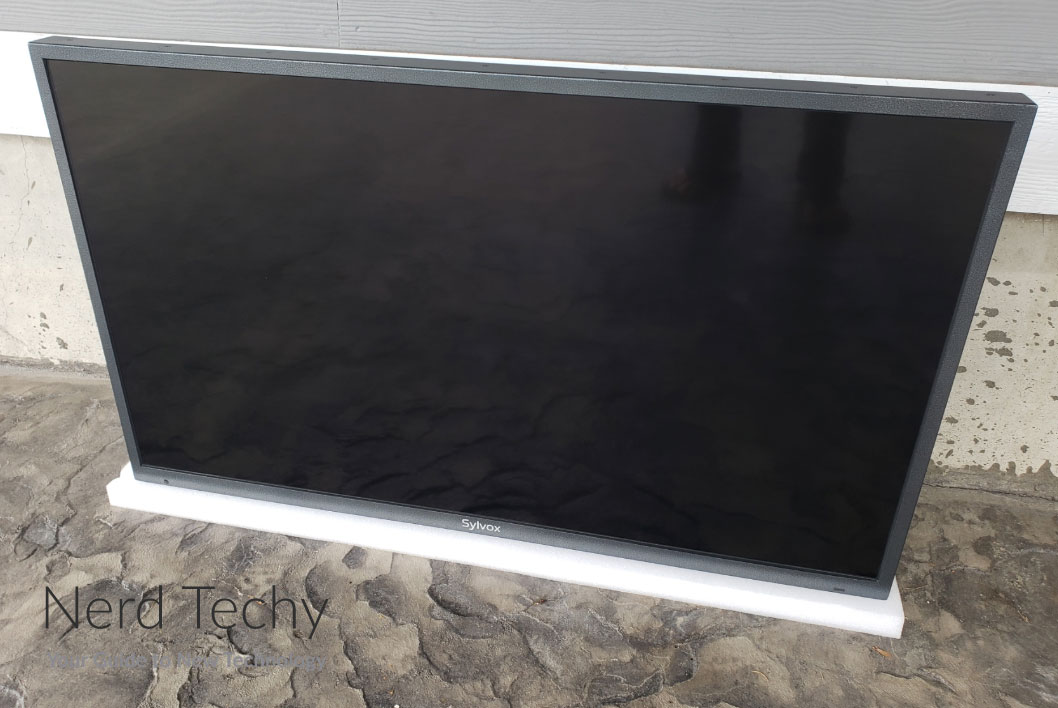 Unboxing and First Impressions
The Sylvox Deck Pro QLED TV is available in 43, 55, 65, 75-inch sizes and can be purchased on their website with or without a mount or an additional sound bar. For this review, we went with the standalone 43-inch option.
Shipping was fast, with the company making good on their promise of between 7 and 10 business days. Packaging is on par with other TVs you would get from a local big box retailer. The outer box it ships in is strong and built well. Plenty of padding and precautions for shipment were obviously taken. Getting it out of the box was easy enough and while keeping everything safe, the packaging wasn't excessive.
Our first impressions of this TV were positive. We'll get into more detail later but the frame and form factor are a good mix of modern and high-end build quality. The box includes screws and gaskets, a power cable, a warranty card, instructions and two remotes with batteries. At the time of this writing, they are even offering a free TV cover with your purchase.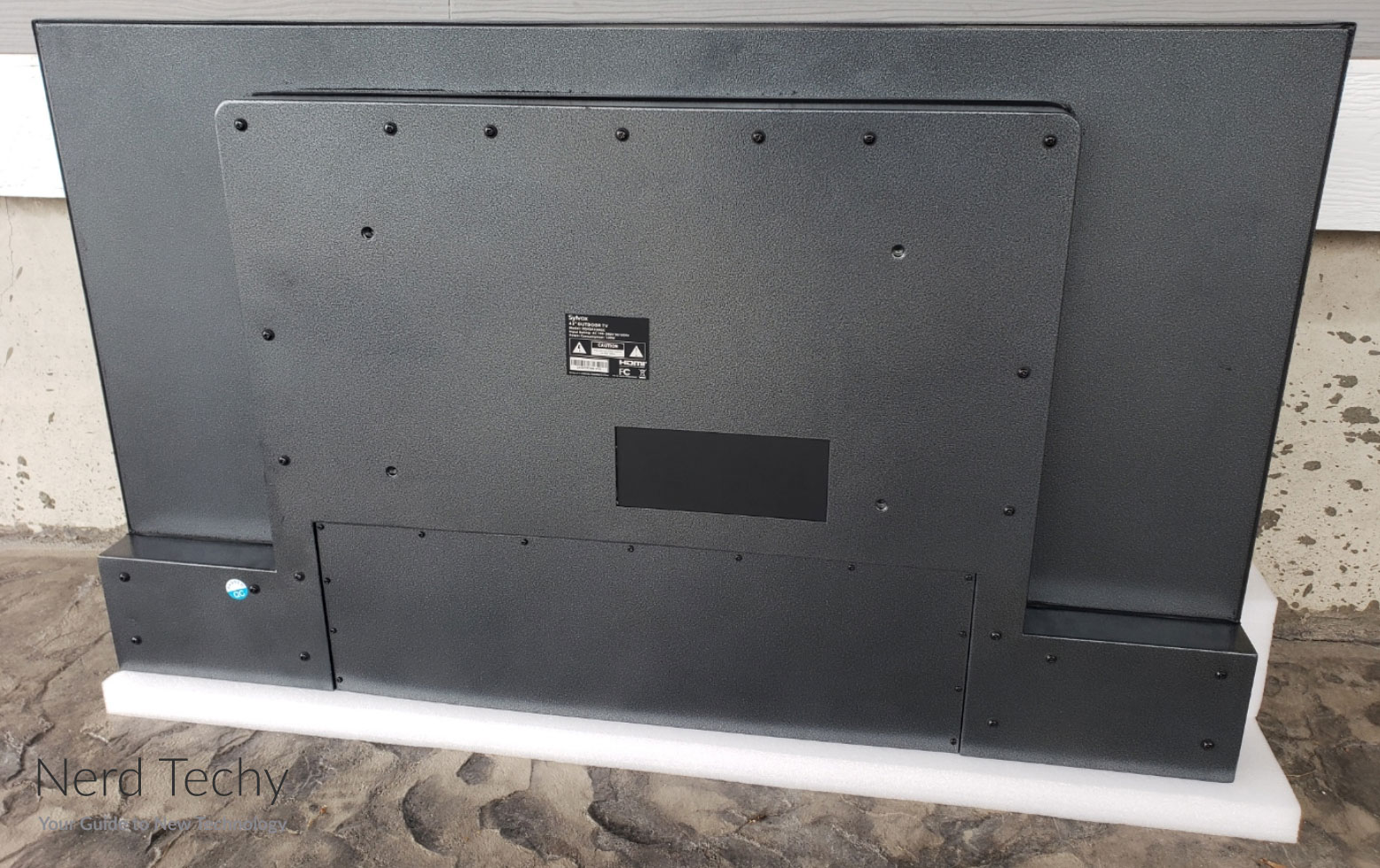 Design and Build Quality
The design is sleek and modern, with a heavy duty, scratch-resistant aluminum metal exterior. Measuring just under 4 inches deep, the relatively minimal form factor allows it to be mounted to the wall without a lot of protrusion, keeping things sleek. The entire exterior is hermetically sealed with metal screws, rubber gaskets and sealant in any cracks. It's obvious that great care went into the weather-proofing.
All of the ports are located underneath a metal panel on the lower back side. It must be removed with a screwdriver in order to plug anything in. Although it's sort-of tedious, it only takes a few minutes to remove the panel. There's an RJ45 Ethernet port, optical out, AV in, USB, coaxial, three HDMI ports and a port to plug-in the power cable. All of the inputs face downward so water won't seem into them at any point. Once a cable is plugged-in, it routes downward and pinches between two tightly sealed pieces of foam, creating a weatherproof seal.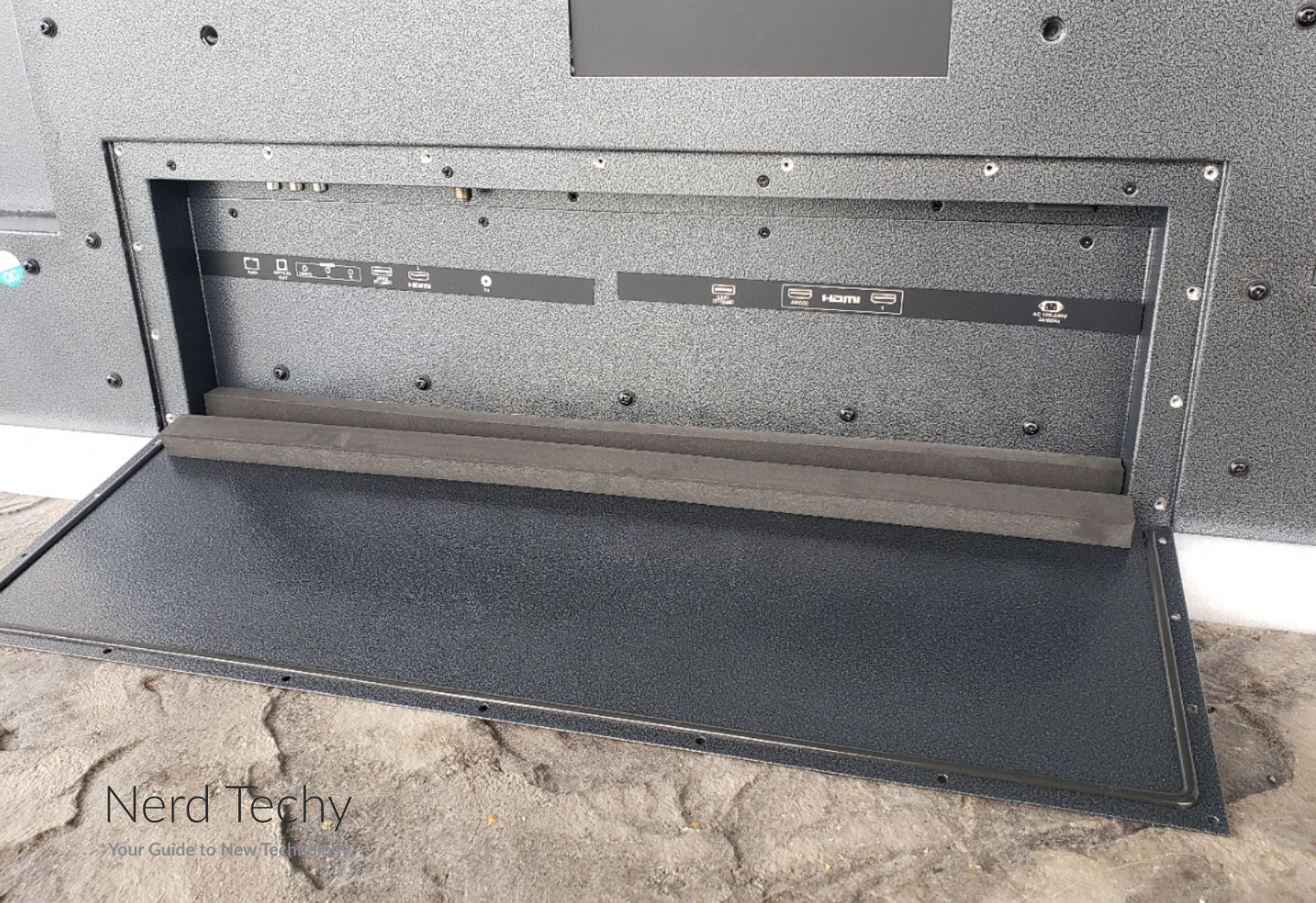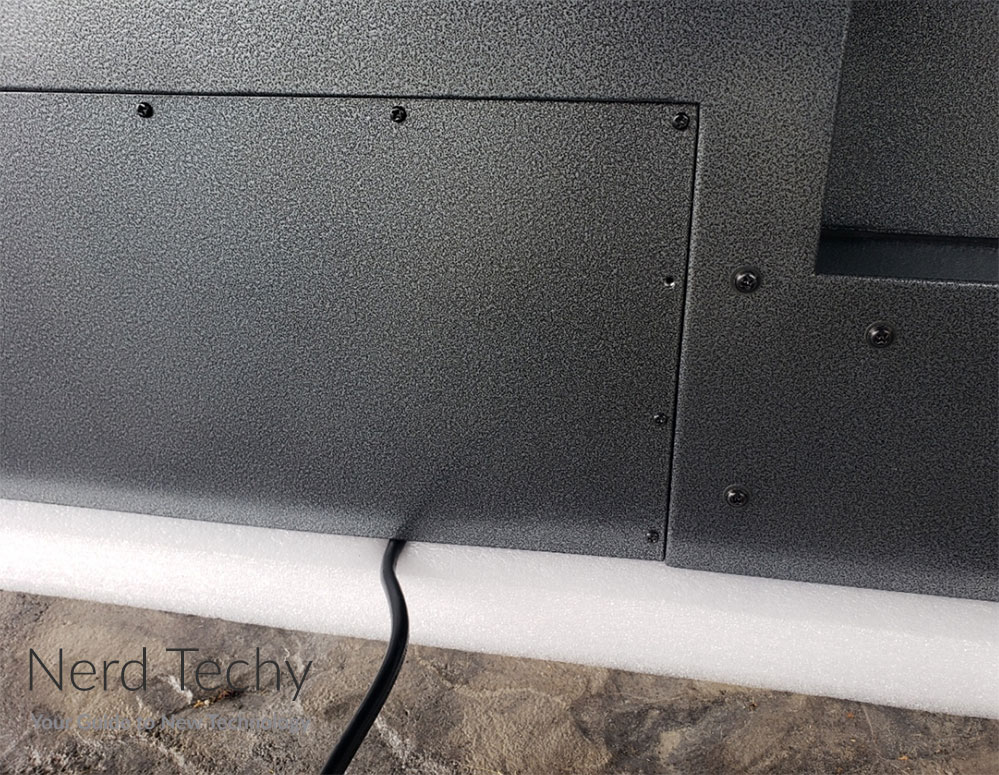 The screen is framed with a small black bezel. One of the things we weren't sure about was how thick the bezel along the bottom of the screen was. Most modern LEDs have moved away from this design choice in favor of a uniform design. That said, once the TV was on, the bezel seemed very minimal and added a great touch to the overall appearance.
Build quality is one of the most important aspects of an outdoor TV. The Sylvox is 99% dustproof and waterproof and can withstand temperatures ranging from -22° to 122°F (-30° to 50°C). Rain, snow, wind and cold/heat have no effect on it. Heat has a major impact on a range of functions including picture brightness. As things get hot, most televisions will auto-dim the brightness to prevent overheating. We noticed very little brightness dampening taking place even in temperatures in excess of 95°F. Additionally, there are internal cooling fans and ventilation slots on each side. This shows that it has very robust heat dissipation, which is great to see with a TV that can be permanently placed outside.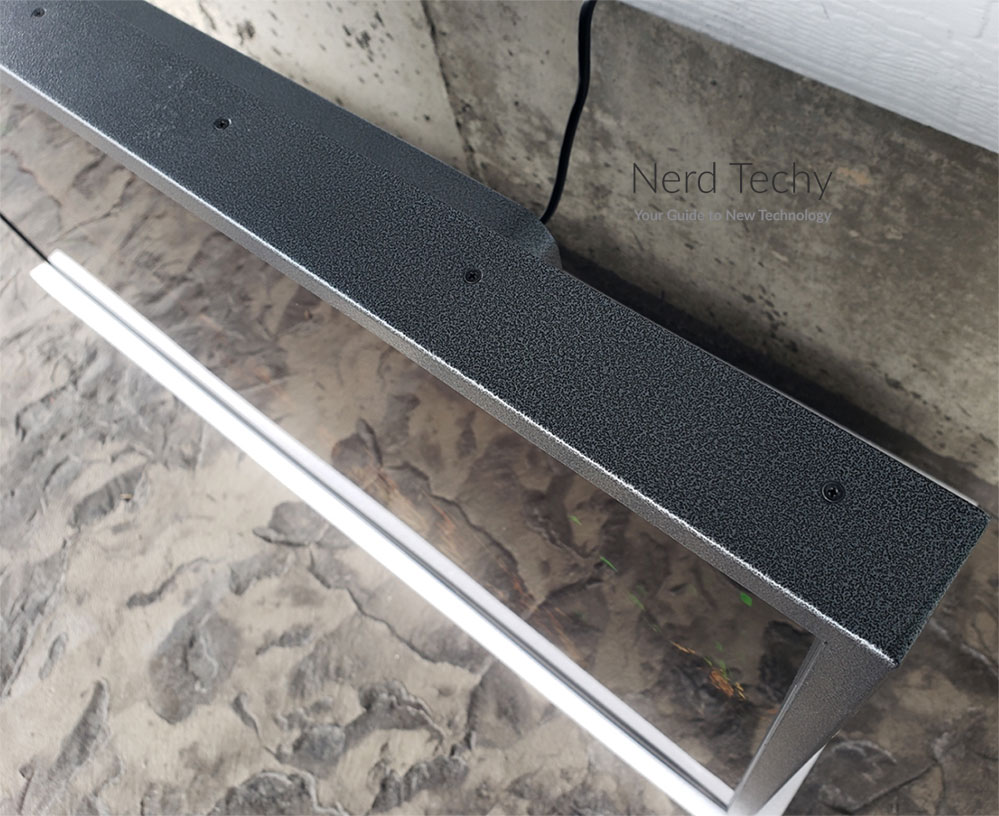 The frame is extremely sturdy, durable and doesn't warp or bend while picked up. While it isn't the most lightweight model on the market, we only needed one person to move it around. However, it is a bit cumbersome. We recommend that you have two people if mounting it to the wall. Compared to other outdoor TVs out there, the Sylvox is well-built, sturdy and carries a minimal design that should match with most outdoor spaces.
Picture Quality
With a 4K UHD resolution, the Sylvox outdoor TV can display ultra-clear and detailed images. At a brightness rating of 700 nits, it's a solid performer and looks just as good as top brands such as Samsung or LG.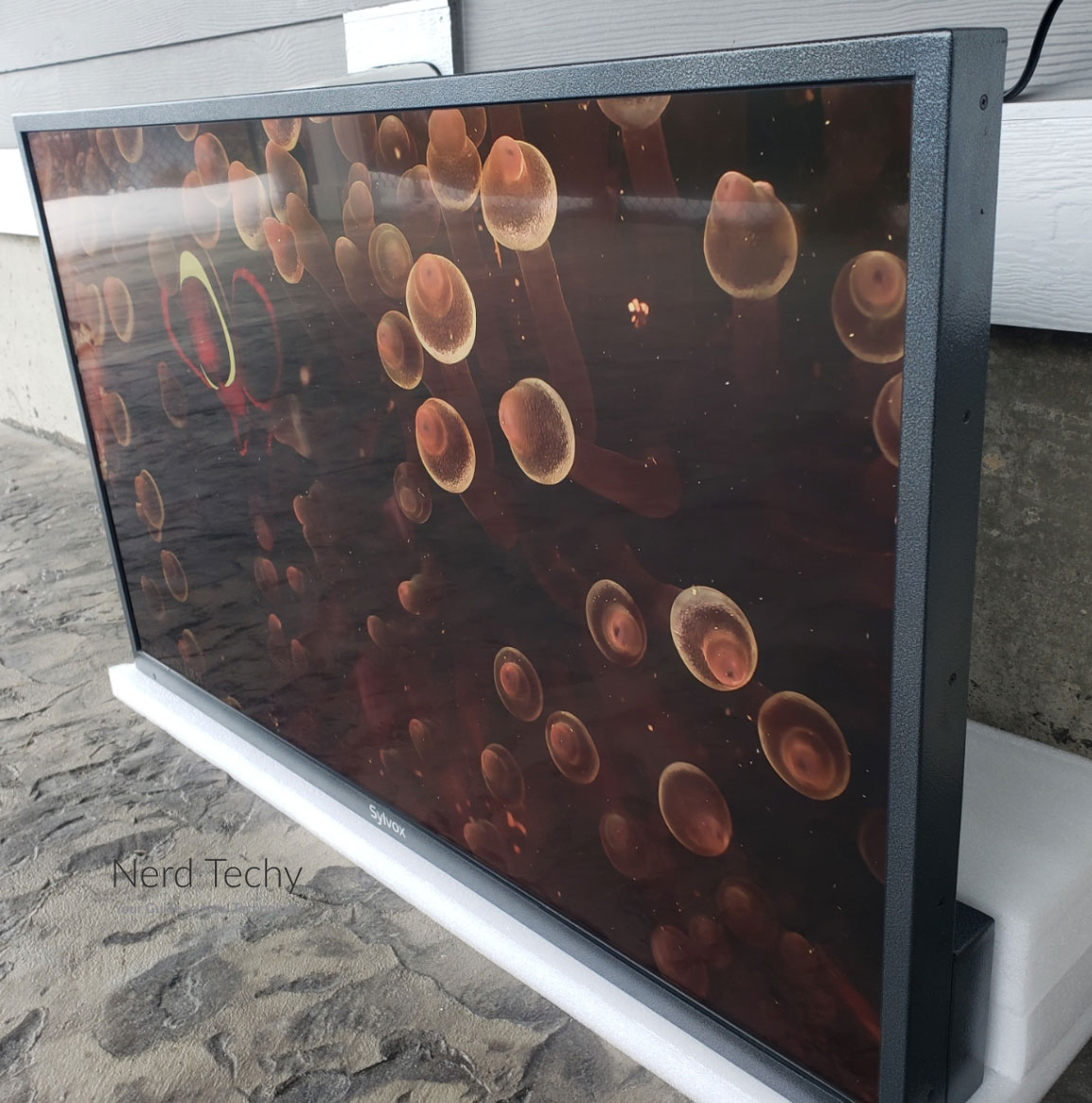 Brightness
Nits are a unit of measurement that refers to the amount of light that is being emitted. Indoor LED TVs average 450 nits. While this is adequate for most living or bedrooms, it can get overpowered in brighter settings. The Sylvox is nearly twice as bright coming in at 700 nits. In our testing, we found it performed much better in partial sun than other standard LED TVs we've used in the past.
Keep in mind that some outdoor TVs on the market go as high as 2,500 nits. On the spectrum of bright to ultra bright outdoor units, the Sylvox would be on the lower end of that range. However, based on our testing, it's a strong contender for outdoor environments with partial or indirect sunlight. Examples would be under an awning or covered porch. It's worth considering, especially if you're trying to keep costs down and avoid the premium pricing of higher nit options.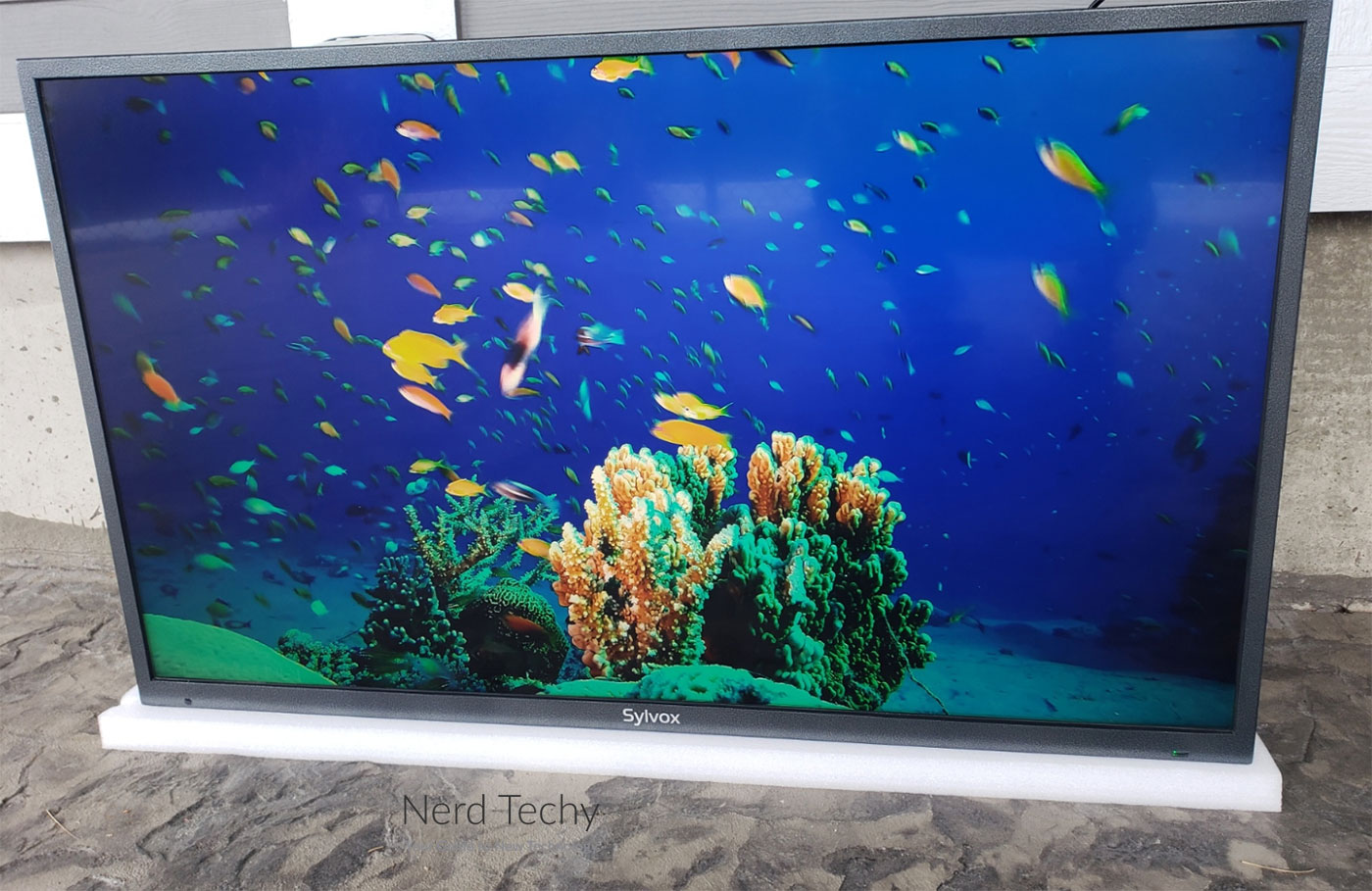 Contrast & Saturation
In terms of color saturation and vibrancy, it seemed to provide the ideal amount. Regardless of if we were playing a YouTube video or a full featured Netflix film, it provided accurate colors, dark blacks and excellent picture quality. In fact, we like is how easy it is to make brightness and saturation adjustments. Since light conditions are always changing, easy adjustments can save a lot of time and hassle. There's a wide range of settings available that let you tweak it to your exact preferences.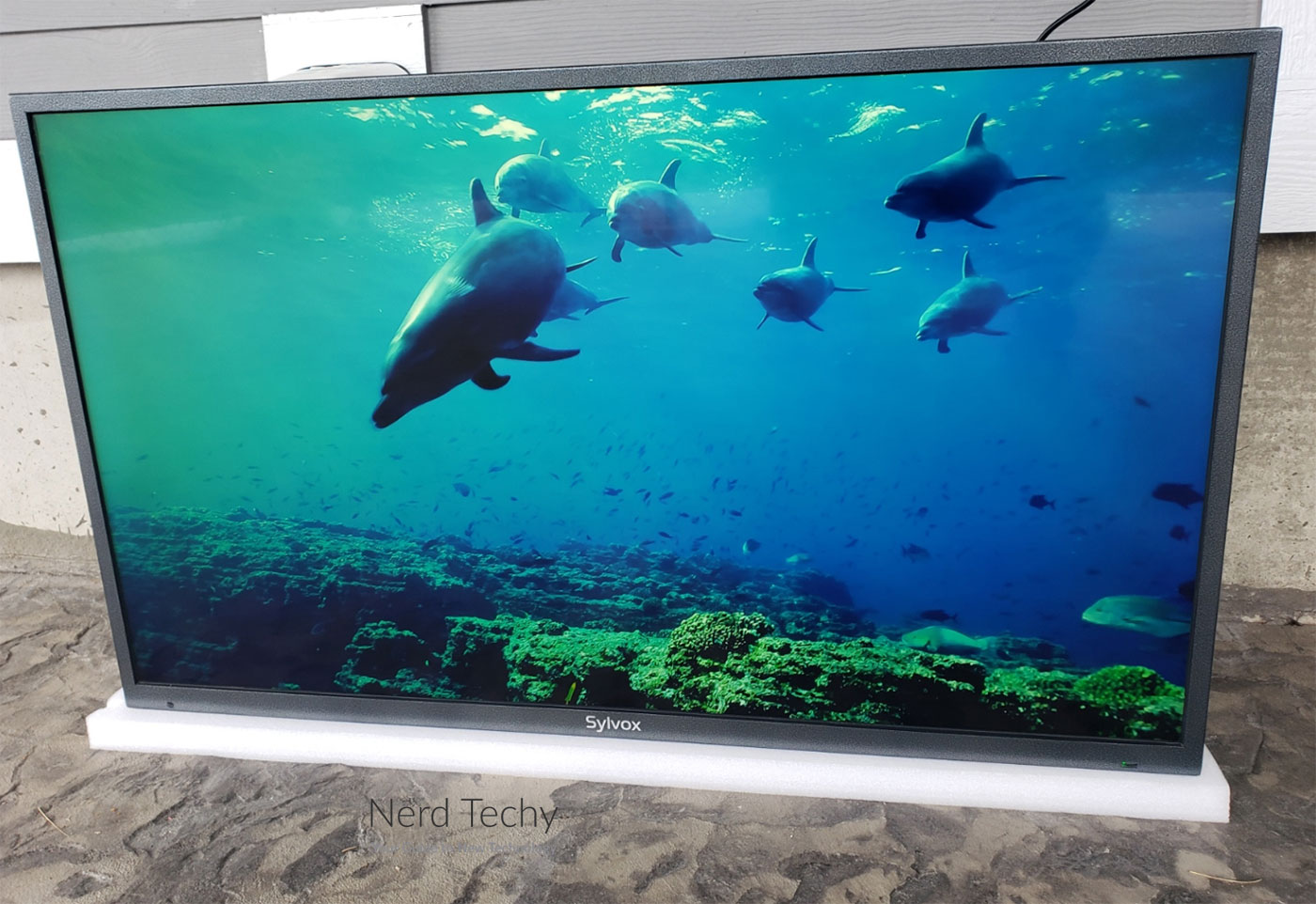 Viewing Angle & Refresh Rate
The Sylvox Outdoor TV has a high viewing angle of 178° and a low response time of 8ms. And with a refresh rate of 60Hz, it ensures a great viewing experience. While the 60Hz may not be ideal for things like gaming, it's a solid performer for nearly everything else. Compared to other outdoor TVs, we found the viewing angle and refresh rates to be right on par with other options that cost several hundred dollars more.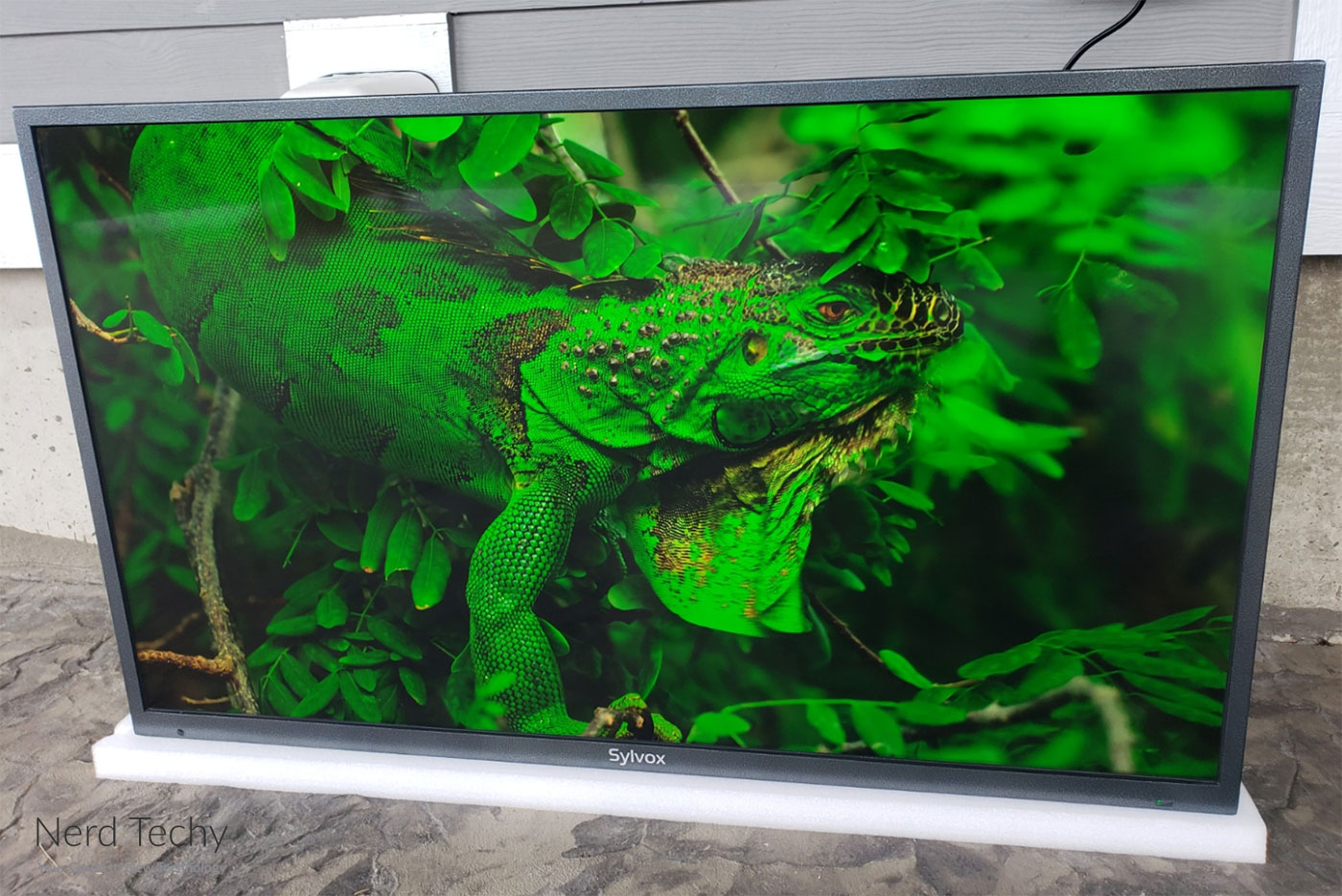 The viewing angle is great, but the glossy screen can tend to show a lot of reflection, depending on the precise environment you place it in. It's not that big of deal, but worth noting.
Sound Quality
The Deck Pro QLED comes with built-in high-volume dual 10W speakers. They provide decent audio quality with a surprisingly wide soundstage. There's also built-in support for DTS and Dolby decoders, making it suitable for different content types.
Sound is an area that most outdoor TVs run into challenges. Dustproof and waterproof hardware can have a significant influence on the quality of the audio. The Sylvox is not immune to this challenge either. The speakers are relatively loud and robust, but they do come across slightly muffled if you're listening to something with an exorbitant amount of mids and lows. In addition, when turned up, they tend to slightly rattle the exterior shell. Not a good thing.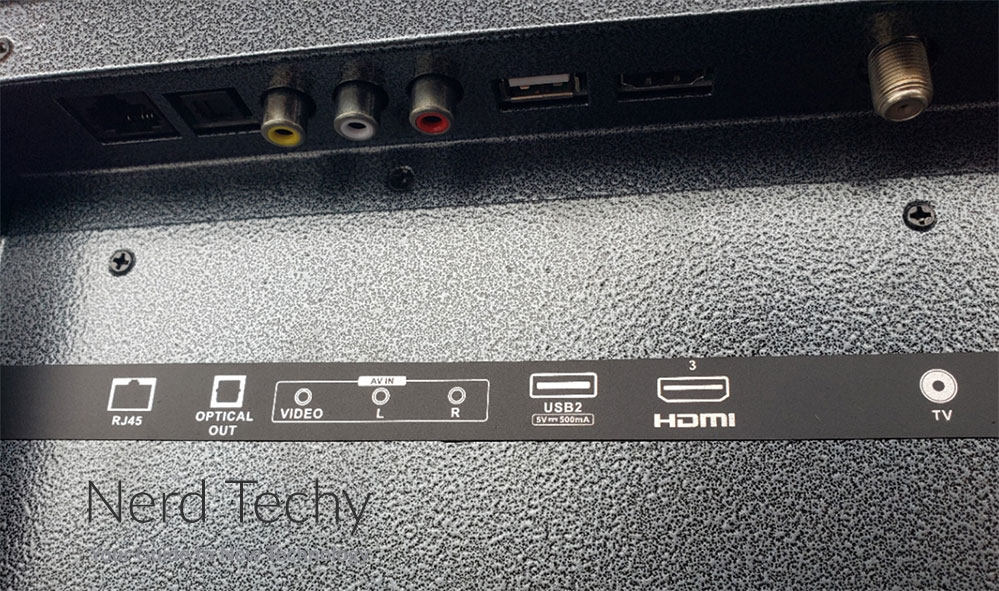 That said, the only time we truly experienced unfavorable sounds was at higher volumes. Regardless, for any TV, we highly recommend using an external sound bar for the best experience possible. There's an optical-audio out port located on the back for this. Truth is, if you're and audiophile, you'll end up integrating this with another sound solution anyways. It also supports Bluetooth audio if you're looking for a wireless option.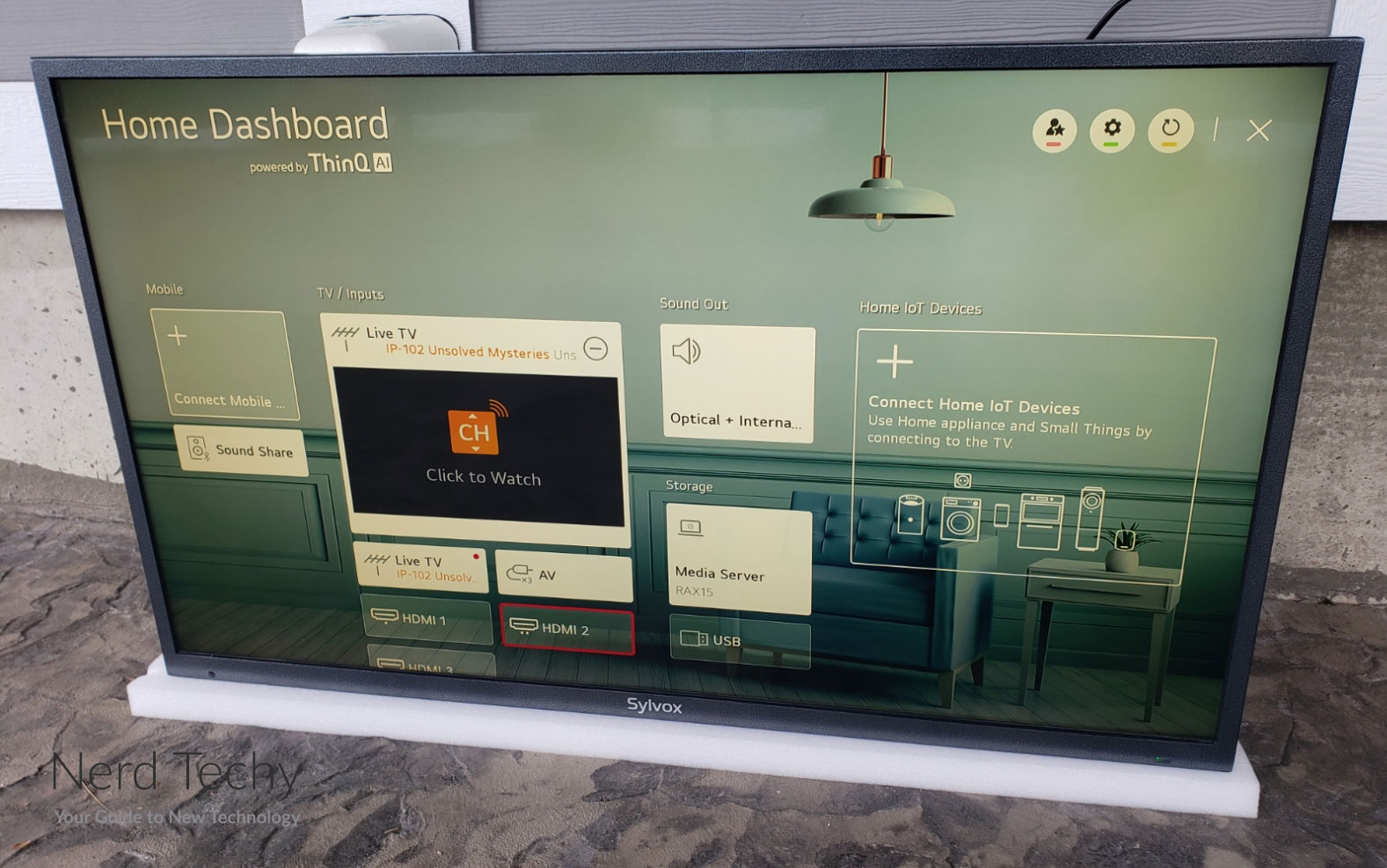 Features and Functionality
The Sylvox is a smart TV, equipped with WebOS built-in. It offers an app catalog of the most popular streaming platforms. There's no need to add a Roku or AppleTV device. Besides Alexa, it comes with its own built in OS assistant. You can control it using an app, through either remote or by voice directly to the TV. We found that the voice assistant did a decent job with basic functions such as searching for TV shows and movies. While you could use it to browse the web, we found it wasn't the most effective or enjoyable experience.
Speaking of the remote, there are two included. One is a bit more standard, while the other has a better form-factor and a scrolling wheel in the center. This remote can be pointed and used as a cursor, or used in a standard manner with the directional buttons.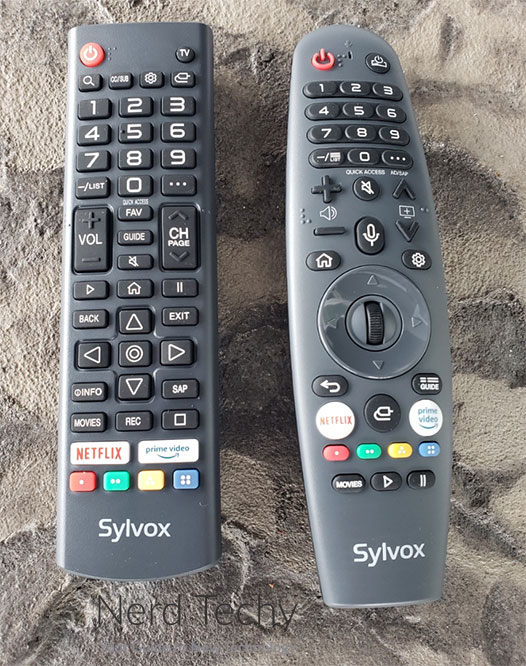 The TV supports screen casting which is a big plus if you like the ability to share content to the screen without having to plug anything in. Another advantage is that you don't need to download any special apps or plugins to use the screen casting feature.
It operates on the Android TV WebOS operating system which allows users to download apps and access a wide range of streaming services. This makes it a great option if you're looking to use the TV with YouTube, Netflix, Hulu, etc. Virtually any and all content is accessible this way.
The integrated WiFi performs very well; it even works with 5GHz networks. Since outdoor TVs are often far away from routers in the home, a strong wireless internet signal is necessary. That said, we had no issues with streaming high definition movies or TV shows. While a lot of it depends on your specific network, the TV didn't have any issues in terms of connectivity.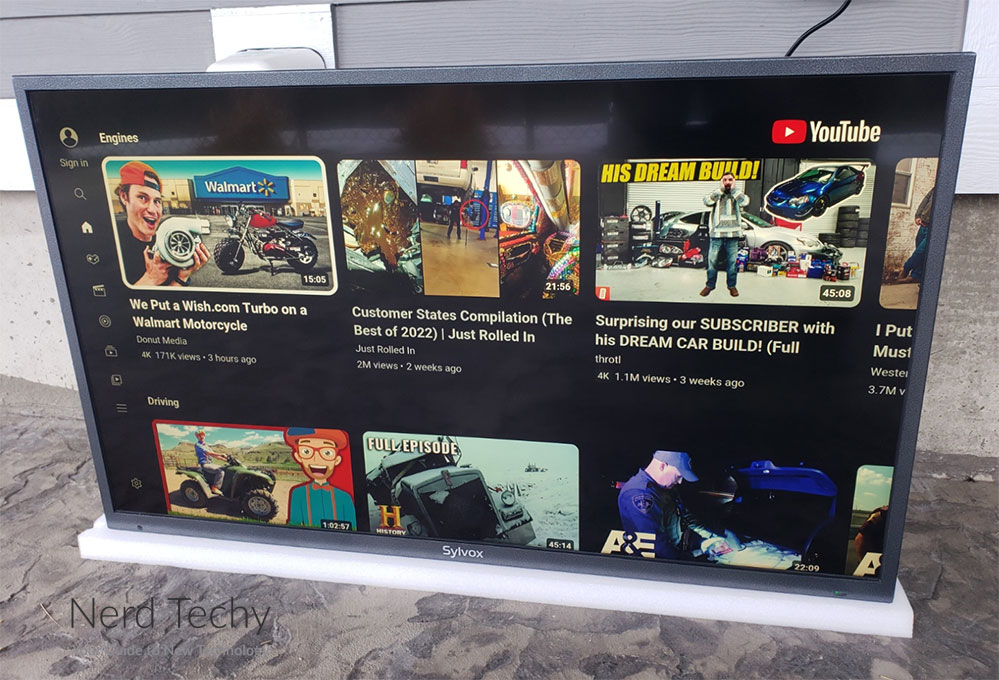 Price, Value and Final Thoughts
In terms of comparison to similar products on the market, the Sylvox Deck Pro Outdoor TV stands out for its advanced QLED display, high brightness and IP55 waterproof rating. We found that it performs all the fundamentals of a standard TV very well but goes above and beyond when it comes to durability. The construction and weatherproofing hard to beat, especially for its price. Best of all, the screen is optimized for high saturation, contrast and brightness suitable for partial sun conditions. It looks great!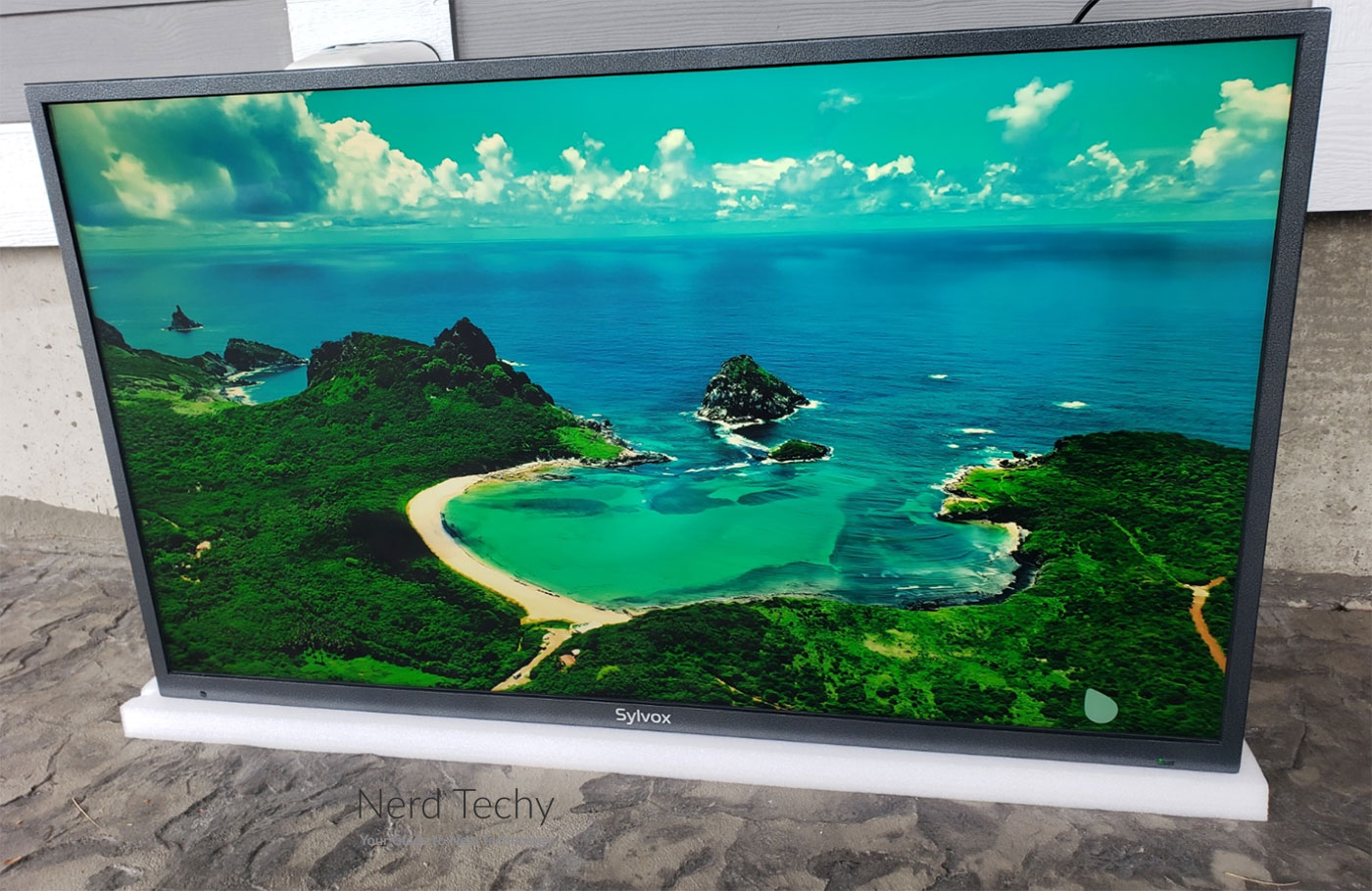 In terms of smart features, the WiFi-connected WebOS interface offers a great way to explore content. We like that it's all pre-installed, built-in and ready to go right out of the box. Considering its brightness, quality materials and features, its $1,399 price-point is competitive. In fact, as of now, it's several hundred dollars cheaper than its closest comp.
A big thing we're wary of with direct to consumer brands is customer support. We were encouraged to see that Sylvox provides a great customer experience. They were easily reachable when we had questions or wanted additional documentation on the unit we tested. Best of all, the TV comes with a one-year warranty, free returns and free shipping.
All in all, the Sylvox outdoor TV is a solid, cost effective option for anyone wanting a high performance outdoor TV for their space. Whether you want to install it in under a porch or out in the open, we feel it delivers exactly what they advertise.
While you could always get an outdoor TV enclosure for your existing TV, having a dedicated outdoor TV like the Sylvox has a host of great benefits.