There are endless things you can do with a hook. Whether for home or commercial purposes, they provide a simple solution for hanging things. Recently, we encountered an awesome new gadget; heavy-duty magnetic hooks. Not only are they actually practical, they're really not too expensive. If you have a metal surface; like your refrigerator, filing cabinet, wall or ceiling, you can quickly attach without any intrusion – no drilling!
However, there's quite a few different varieties available. Searching through Amazon, we found several makes/models with a lot to choose from. Today we're going to outline the best options we found. We'll uncover the pros and cons of each while giving a brief introduction of each one. But first, let's discuss details and/or features that you should look out for.
Magnetic Strength
Often given as a measurement in pounds (lbs), this indicates the actual holding power of the magnet. If you want the most strength, you'll want to look for neodymium or "Earth" magnets. These are the seen as the best kind of magnet available to the common consumer.
Magnetic Safety
Powerful magnets must be used with caution. First and foremost, keep them away from pacemakers, surgical prosthetics and small children. Neodymium magnets are incredibly powerful, meaning that you could easily pinch your fingers if you're not careful. In addition, magnets are known to chip, flake and even shatter if not properly handled. Keep this in mind and take some extra precautions.
Hook Material
Whatever you do, don't go with plastic! The material that the hooks are made of should be metal. Aluminum, nickel or stainless steel are considered ideal, although steel ones will feel a bit heavier or more "solid". Regardless, aluminum is plenty strong, although the hooks may feel a bit lighter.
Clean the Surface
We find that it's quite important to clean the surface between the magnet, before you apply it. If any small debris or specks of dirt get in-between, once stuck, scratches and scuffs could be a potential issue. It's best to take the extra precaution and simply wipe all surfaces clean, especially if you're sticking to an expensive appliance!
Hook Type
Some hooks may have a typical "hook" shape, while others may provide a clip or carabiner. Depending on the purpose, you may even want a magnetic hook that can swivel. Either way, take into consideration the specific use the hook should provide you with.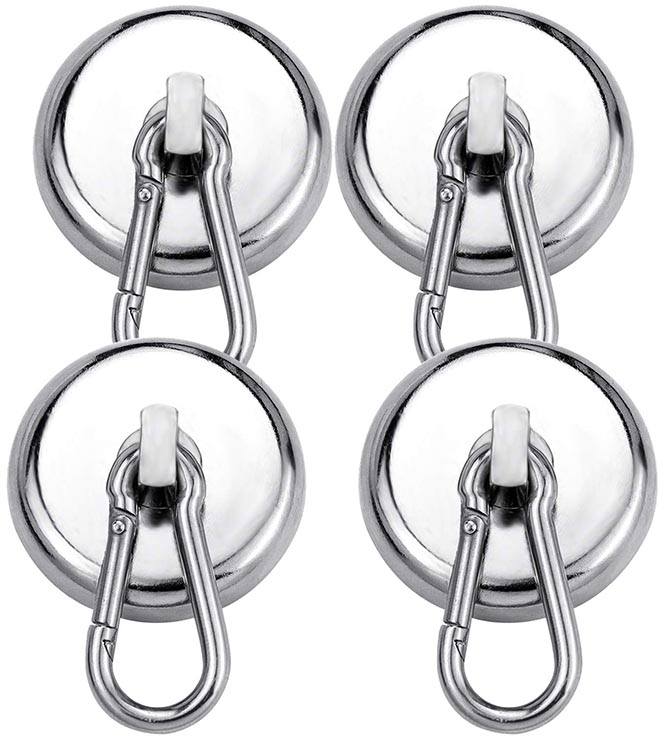 DIYMAG Magnetic Hooks
The DIYMAG Magnetic Hooks are sold in a 4-pack and are highly rated as the top choice in terms of magnetic strength and overall quality. With a 42mm neodymium magnet on the back of each hook, each one is rated for 160 lbs. This is typically more than enough for most purposes. However, it's important to note that this strength rating is reduced by 2/3 if the hooks are used vertically. So if you're hanging one from a flat surface on the wall, you can expect about 50lbs. of strength.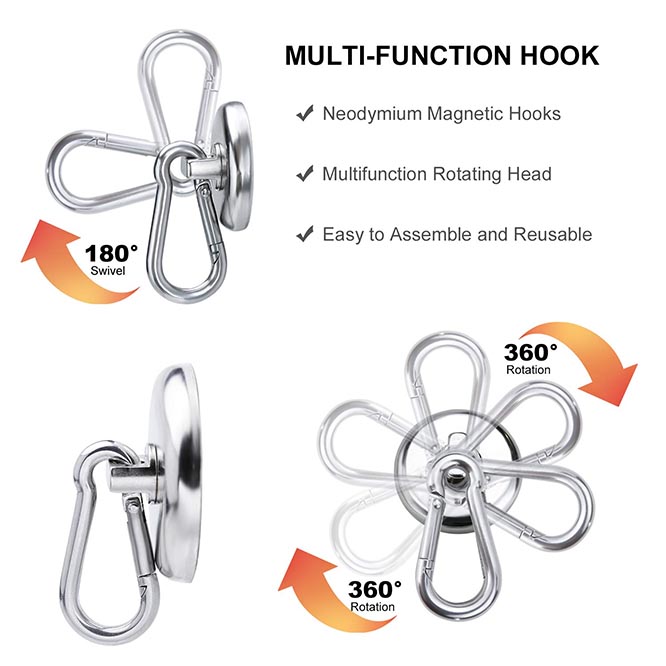 There's a small carabiner, rather than an actual hook. This is useful if you're clipping a loop or requiring a solution that's much more secure than a standard hook. The best thing about the DIYMAG Magnetic Hooks are their swiveling capability. Each one can spin so whatever you have clipped-in can move much more freely. In fact, the base can spin a full 360 degrees while the carbiner can move 180 degrees, up and down.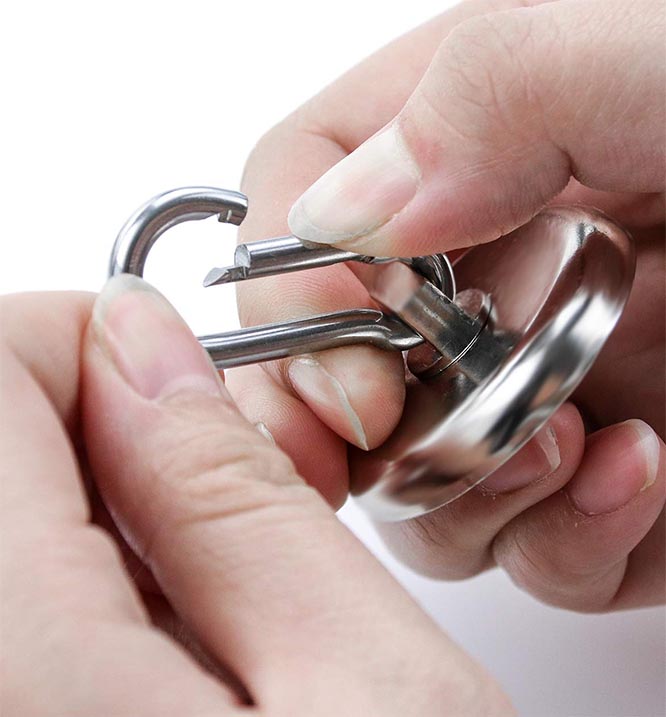 Holding each magnetic hook in your hand, you can tell these were built with a knack for quality. They're heavy, solid and feel well-made. Comprised of stainless steel, they look good, too! Each one is sized just under 2 inches in diameter (roughly 1.7 inches to be accurate), much larger than most may think. Holding one in the palm of a hand will give you an idea of how big these actually are.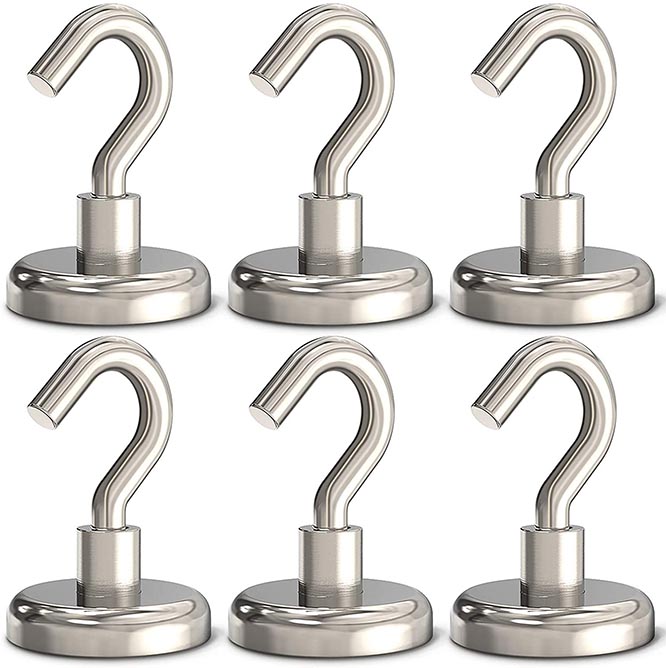 GREATMAG Magnetic Hooks
For a more traditional style of hook, the GREATMAG Magnetic Hooks provide an attractive and versatile solution. Rated for 100 lbs. of strength, the magnetic capabilities aren't quite as good as the DIYMAG hooks, but it'll likely suffice for most scenarios. Comprised of high quality carbon steel inside three layers of nickel, these hooks have a gray-silver tone that looks as good as they are tough. Simply put, they're strong, built-well and carry a detachable design. In fact, the magnetic base is able to unscrew from the hook itself with the use of a threaded connection. Simply unscrew the hook and you're left with a two-piece design that lets you interchange hooks at will, while keeping the magnetic base.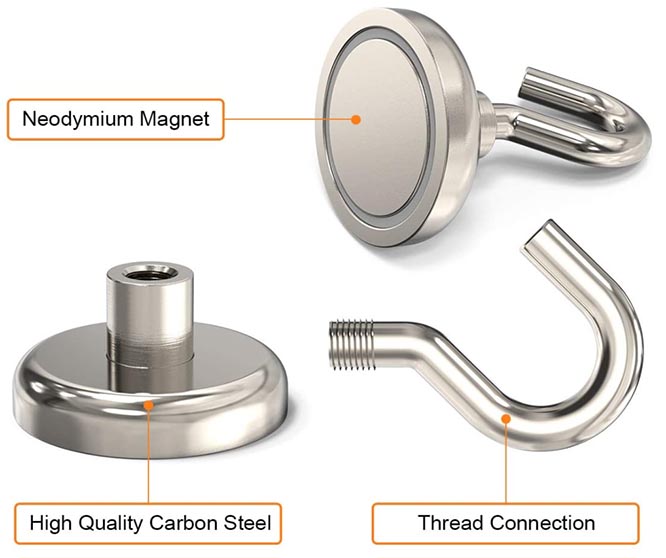 Although the actual strength is dependent on the surface smoothness and magnetic-material thickness that you stick these hooks to, 100 lbs. is what they'll achieve with ideal conditions. For overhead attachment to a smooth flat surface on a ceiling, expect around 100lbs. of strength. However, if you stick the magnetic base to a wall or vertical surface, the strength diminishes down to about 30 lbs.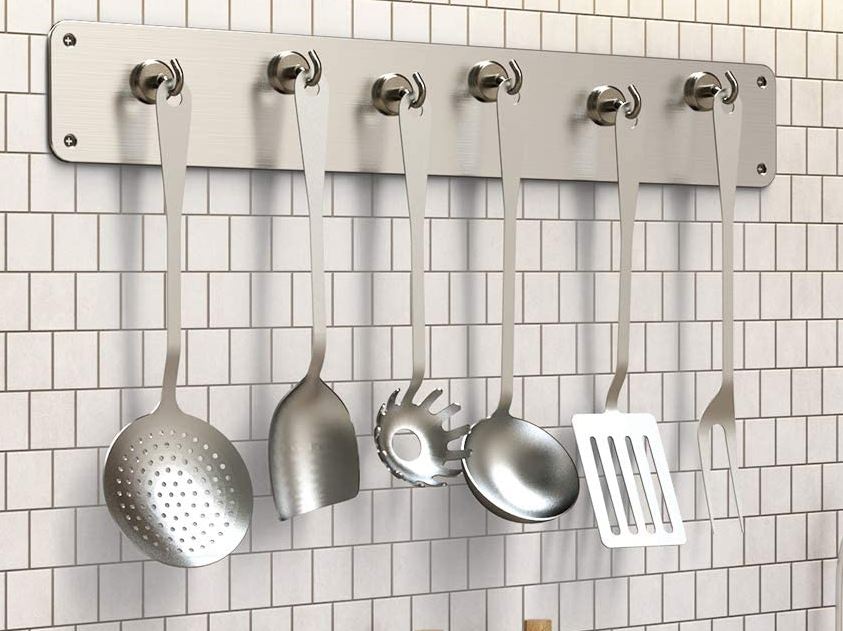 The GREATMAG Magnetic Hooks have a smooth finish that gives a nice look. They're solid, smooth and the right size for most applications. They're somewhat smaller, hence the smaller strength rating, with a base diameter of around 1.5 inches. While they may not be the most powerful available, the brushed nickel finish gives off a stylish and high quality effect that most consumers can appreciate.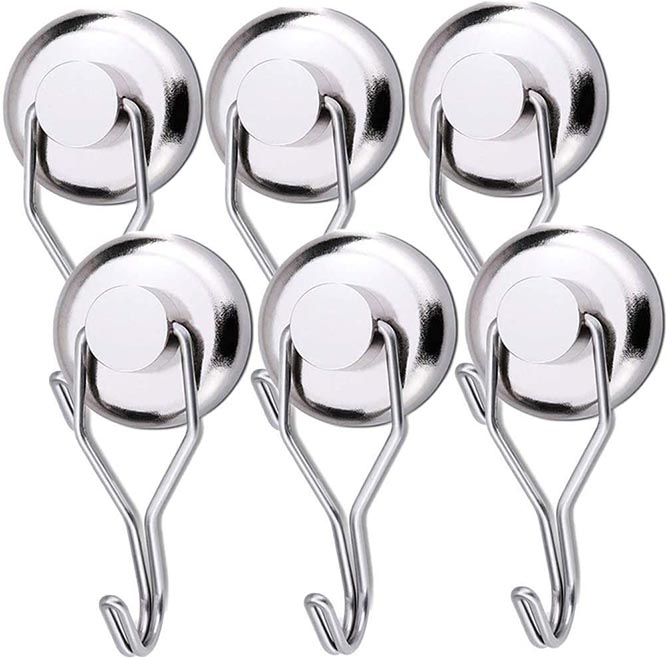 Elefama Magnetic Hooks
Another great option with a unique hook mechanism are the Elefama Magnetic Hooks. Solid in a 6-pack and available in either silver or black, they provide up to 100 lbs. of pulling strength in an ideal scenario. With the same weight rating as the GREATMAG hooks, these are an excellent choice for those who need a larger hook with more versatility. In fact, each hook has the ability to rotate up to 180 degrees in order to swivel back and forth. Unfortunately, they do not rotate like the DIYMAG hooks, but this isn't really that big of deal for most users.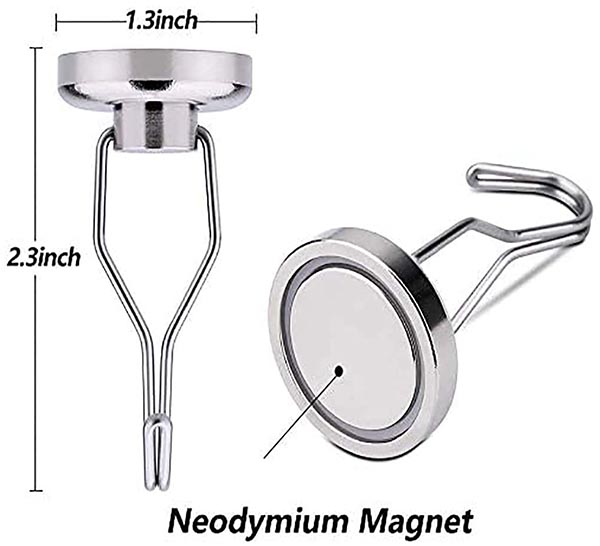 Horizontal hanging strength is rated to 100 lbs. while vertical hanging is rated to around 33 lbs. or one third of the total strength. Like most magnetic hooks, this is simply a case of physics; magnets simply won't hold as well if they're applied at an unfavorable equal angle. However, we feel this is plenty of strength for most applications. While the silver hooks may be a good choice for most applications, the black color is nice for those who need to color match or simply want a bit of variety for outdoor use.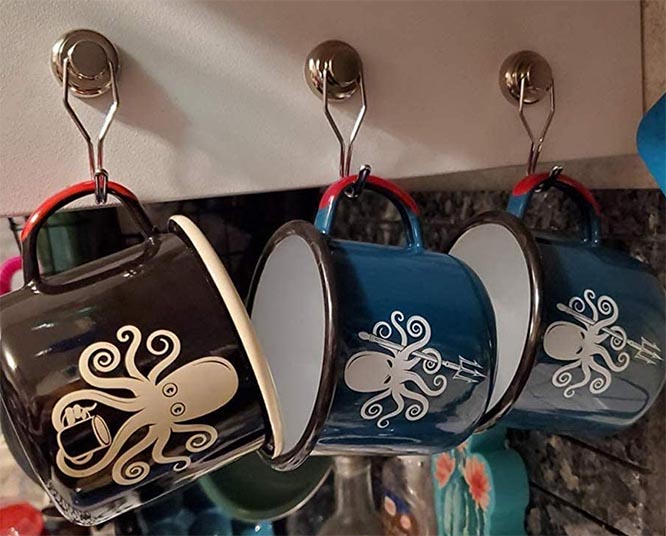 Comprised of alloy steel, the Elefama magnetic hooks feel well built and incredibly sturdy. The base of each one measures about 1.5 inches with each hook reaching about 2.3 inches in length. While each hook isn't removable, the fixed nature of these hooks may be better suited for semi-permanent installation where unthreading the hook simply isn't necessary.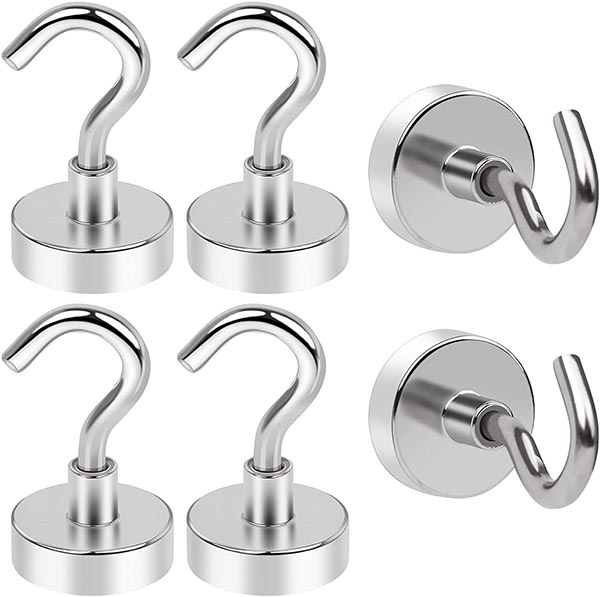 MIKEDE Magnetic Hooks
Let's be honest, not everyone needs the strongest and burliest hook out there. For those, we recommend taking a closer look at the MIKEDE Magnetic Hooks. Although they're only rated for 28 lbs. of strength (diminished to about 9 lbs. if used vertically), these are much smaller than the others we've covered. With a base diameter of around 0.63 inches and with a hook extension length of 1.38 inches, these are more-ideal for in-home use where you need to hang lightweight items such as scissors, spatulas or other utensils.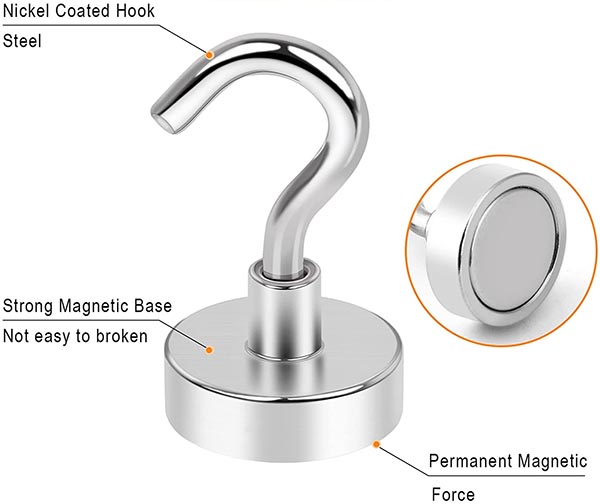 Solid in a variety of quantities, from 6 to 15 packs, and available in either silver or black, they remain very affordable for most applications. Whether you need to hang keys, scissors or a dog leash, the MIKEDE magnetic hooks seem to be well-made. They might be smaller than standard, but they're built out of a steel material, coated in a triple layer of nickel, copper and more nickel. What's left is a smooth, shiny surface that looks great no matter where you put these hooks to use.

Like the GREATMAG hooks, the actual hooks on these are threaded from the base. Meaning, you're able to unscrew the hooks if you feel the need to, leaving the magnetic base as its own separate piece. We feel that the MIKEDE hooks are quite mighty for their size. The magnetic force isn't quite as strong, but this is totally OK for certain situations where overall strength isn't quite as important. The trade-off is better affordability, giving you the freedom to purchase more hooks for the same price you would otherwise end up spending.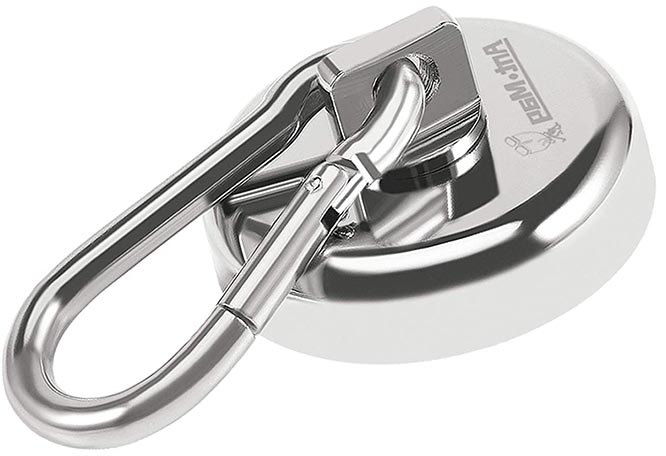 Ant Mag Carabiner Magnetic Hook
Last but certainly not least, we took a closer look at the Ant Mag Carabiner Magnetic Hook. Sold individually, this is the strongest, most powerful magnetic hook available in the consumer market. With a holding-rating of a whopping 440 lbs, this heavy duty magnetic hook is unmatched when it comes to overall strength and quality. Users can expect 440 lbs. of strength when vertically hanging objects and up to 110 lbs. on horizontal hanging applications.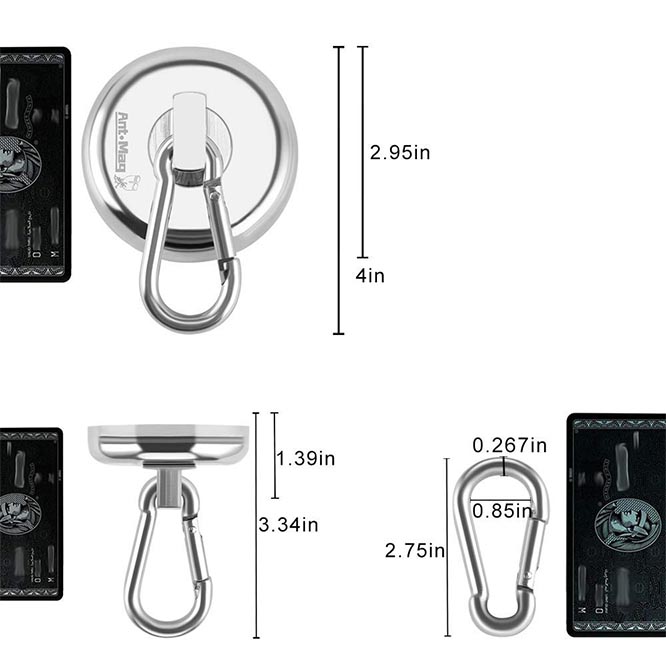 Comprised of solid steel and coated in a layer of nickel, these hooks are as beefy as they come. Each one consists of a magnetic base that swivels a full 360 degrees. There's a loop in each one that securely attaches the included carabiner as needed. With this, the carabiner can flip 180 degrees upward while retaining its ability to have the base fully swivel 360 degrees. This means that you can clip an object, rope, chain or tether and freely move it without much inhibition. In fact, these are exactly similar to the DIYMAG hooks, but much burlier.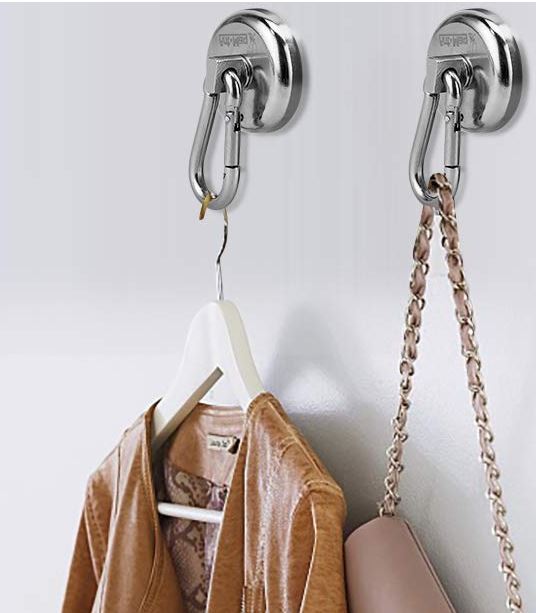 With a base diameter of nearly 3 inches, and a carabiner around 2.75 inches in length, it goes without saying; these hooks are definitely on the larger side. In fact, from a horizontal application, the total length is 4 inches. From a vertical application, the hook/base combo reaches just over 3.3 inches in length.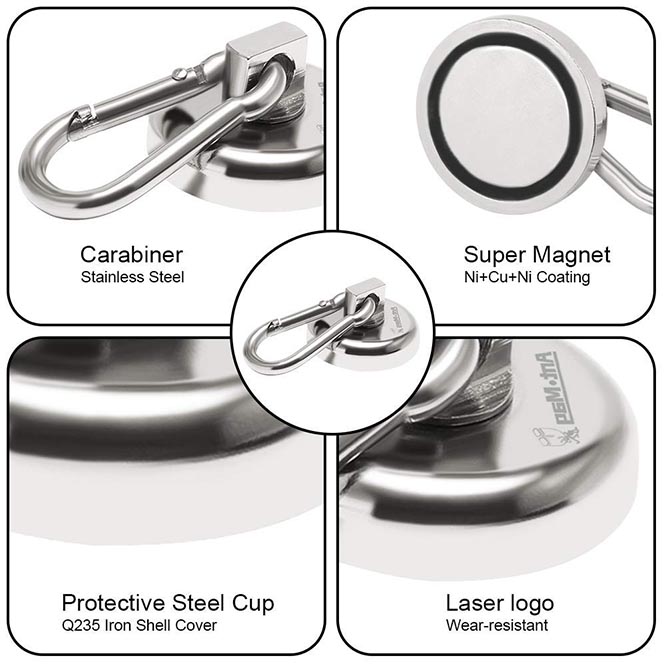 The Ant Mag Carabiner Magnetic Hook is available in several sizes, although the one we've linked to is the largest they offer. If you don't need a hook quite that big, moving down in size to the next level of 330 lbs. or 250 lbs. might be more practical. Best of all, the lower on the size/strength you go, the cheaper it'll end up costing you!
Final Words
As you can see, there's a huge variety of heavy duty magnetic hooks widely available. Let's quickly re-cap to summarize what we encountered.
The DIYMAG Magnetic Hooks are an excellent option for those needing a carabiner clip with over 100 lbs. of strength. They're built well, attractively finished and fully rotatable on more than one axis. Each carabiner can be removed, too. Which is a nice bonus if you'd like a bit of added versatility.
For those looking for a more standard-style of hook, take a glance at the GREATMAG Magnetic Hooks. They're mid-sized and rated for the same strength as the DIYMAG hooks, but sold in a six pack. We love the smooth nickel finish and the ability to unscrew each hook to detach them from the magnetic base.
Next, we took a look at the Elefama Magnetic Hooks. These are a completely different variety with an extended hook that's permanently attached. Each hook swivels up and down to create 180 degrees of fluid movement. While the strength is about the same as the aforementioned, the unique length of the hook can be very useful for specific scenarios.
For those needing a smaller-sized magnetic hook for lightweight applications, we recommend looking into the MIKEDE Magnetic Hooks. They're much smaller than anything else and therefore a bit weaker when it comes to magnetic strength. However, you get a lot more bang for your buck if you choose these; they're priced very affordably and available in a variety of bulk packs.
Last but certainly not least, we examined the Ant Mag Carabiner Magnetic Hook. Sold individually, they're the most expensive of the bunch, but definitely the most heavy duty and strongest currently available. Rated for a whopping 440 lbs, these magnetic hooks are top of the line for those who require unmatched, industrial strength.