Cornhole is a fantastic game to play with your family or friends. Besides providing hours of fun, it can accommodate numerous players making it an ideal choice for large gatherings. One way to keep the fun going is with cornhole LED lights.
Rather than shutting things down or turning on harsh porch lights when it gets dark, you can simply illuminate your cornhole game. There's more than just functional value to LEDs, they can also add a dimension of fun and excitement into the gameplay itself.
Benefits of LEDs for Cornhole
Increased safety: LED lights can help increase safety by illuminating the playing area, reducing the risk of stumbling in the dark.
Long battery life: LED lights are very efficient. With lengthy battery life, you can play multiple games without worry.
Easy to install: They're very easy to install and come with mounting hardware and instructions.
A quick search online can yield a lot of options and not all of them are good. Since these lights are in the middle of the action, they need to withstand the wear and tear of the game. Not all options are up to the task. To help, we've analyzed dozens of LEDs specifically designed for cornhole. We've included several options that cover a range of needs to provide the most comprehensive list possible. Here are some factors that we kept in mind.
Brightness: You want the lights to be bright enough to see the board, but not so bright that they distract players or run through batteries too quickly.
Color: LEDs come in a variety of colors. Some people prefer white lights because they're more neutral, while others opt for colorful lights for a festive atmosphere. There are some options that offer a variety of color modes.
Durability: Cornhole LEDs should be durable enough to withstand the bumps, hits and drops that are associated with an outdoor game. If you intend to keep your cornhole equipment outside, it's important to look for those that are rated for weather-resistance.
Ease of installation: No one wants to spend hours with installation. They should be easy to install with instructions on how to get the best results. Look for lights that come with mounting hardware and simple instructions.
Battery life: Long battery life is an important factor so you can play multiple games without having to replace the batteries too often. Although LED lights are very energy efficient, some perform better than others. This depends on factors like how many LEDs are on the strand and their actual brightness.
Cost: Cost is always an important consideration. Look for lights that offer a good balance of features and affordability. A good way to do this is by choosing a product that covers your most important priorities. Avoid the urge to go with something simply because it has more features.
User experience: It's important to review the experience of real-world users that have put the product to work.
Best Overall: Brightz Cornhole Board Lights Set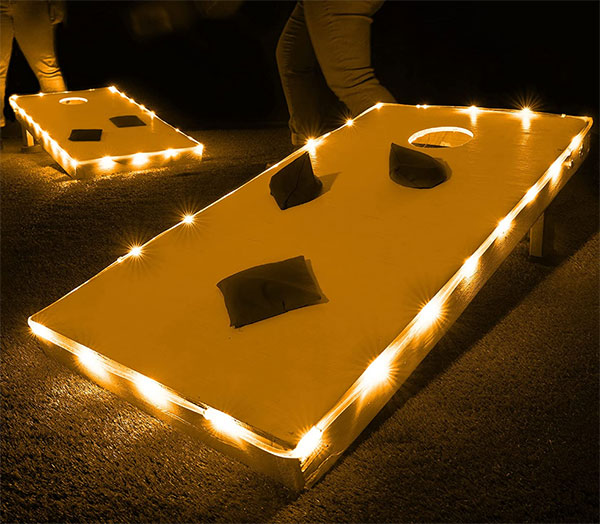 Key Features:
Includes 2 regulation ring and edge lights.
Power source: AA batteries (not included).
Multiple color options to choose from.
Designed for regulation size (3 feet x 2 feet) cornhole frames.
Impact resistant.
Waterproof and anti-shock battery case.
The Brightz Cornhole Board Lights Set is another great choice for those who want to keep the game going after dark. These lights fit two regulation size or smaller sized cornhole boards and can withstand an exorbitant amount of use.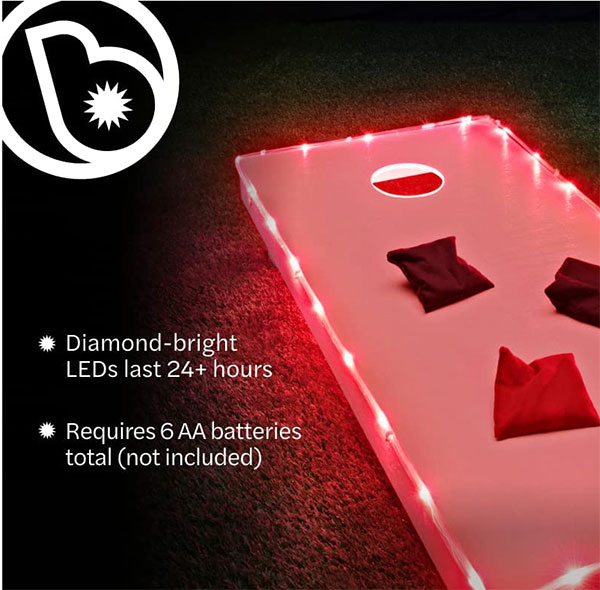 One of the best features is their durability. All the micro-LEDs are covered in a waterproof, tear-resistant tubing that protects against heavy-handed throws, rain and anything in-between. It was the best performer when we ran it through direct impact testing with regulation bean bags. This makes it a great choice for families with players of all different ages and skill levels.
Installation is just as simple as the other models in this article. They include board clips and tiny nails to keep things secure. The impact resistant battery pack attaches under each board, so it won't get in the way. One of the few downsides is the absence of a remote control to turn on and off from a distance. You'll need to lift your cornhole board to make any adjustments.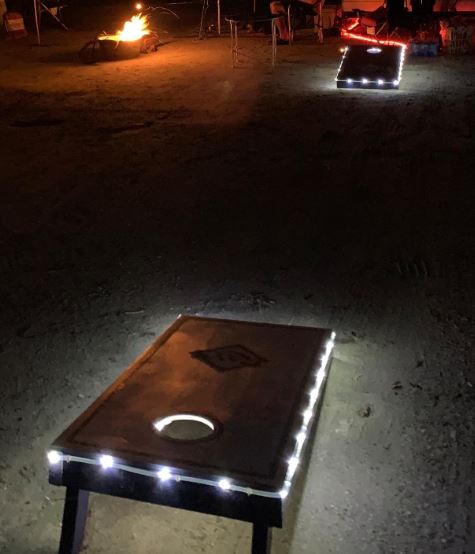 Another important factor to consider is that it only produces one color. At the time of purchase, you'll have a range of colors to choose from. Many home and family users do not find this to be an issue and they appreciate the cost savings. They come in a wide enough variety of colors to match any setup. These Brightz Cornhole Board Lights Set has a 24-hour battery life which is decent overall.
What We Liked:
24 hour battery life.
Easy installation and mounting.
Lights are bright and visible from far distances.
Durable design.
What We Didn't Like:
No remote control.
Cannot change color.
Best for Hole and Board: Waybelive LED Cornhole Lights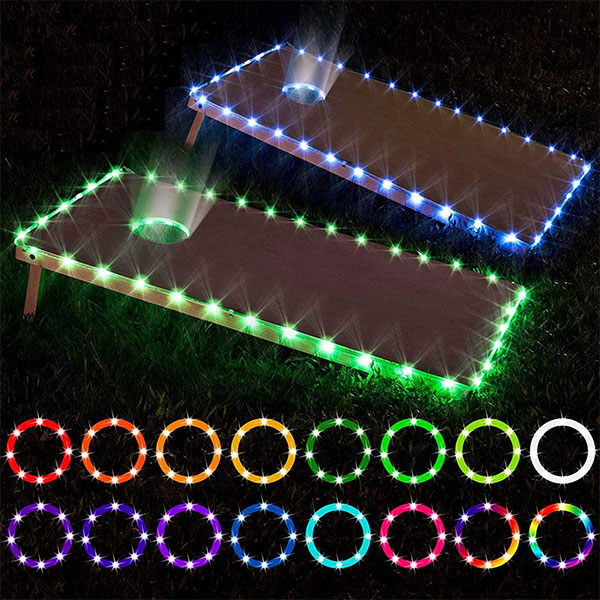 Key Features:
Includes 2 cornhole ring and 2 edge lights.
Power source: AA batteries (not included).
Solid, fade and jump light modes.
Change color using remote control with 4 modes and 16 colors.
Available in either 3′ x 2′ or 4′ x 2′ sizes.
Impact resistant protective tubing.
Waterproof and anti-shock battery case.
The Waybelive LED Cornhole Lights is a solid choice if you're looking to add some excitement to your nighttime play. These lights fit 4 feet and 3 foot boards and provide excellent visibility and illumination in dark conditions.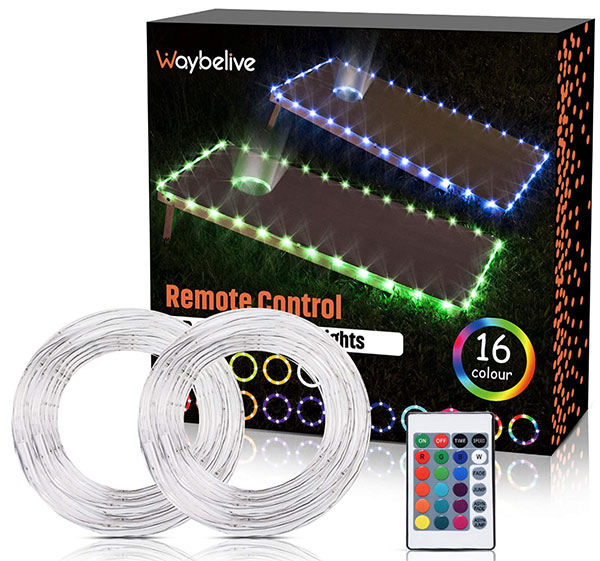 One prominent feature is the ability to change the color using the included remote control. You can choose from 4 modes and 16 colors. This lets you customize them to match a variety of moods. The ability to change colors make it a favorite for event venues that want a way to match the theme of the event being hosted. The remote control has a range of up to 16 feet, which is pretty decent. When we ran it through the paces, the remote was very reliable and we only needed to press the button a few times before it made the changes we desired.
In terms of fit and installation, this kit comes with 2 cornhole rings lights, 2 cornhole edge lights, a remote control, a battery case and cable clips. We found the setup took less than 10 minutes and only required one person.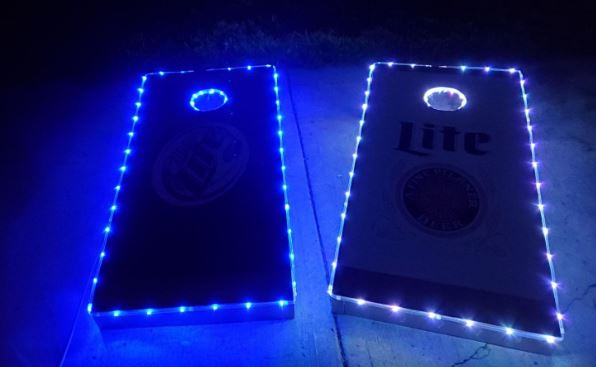 The light performance is fantastic and the combination of the two light strands per board creates a highly visible target. This is an important strength especially if you're not using lit bags. The extra light output lets you see where your bag is thrown, even if it ends up a few feet away from the board itself. Ultimately, this increases the enjoyment of night time cornhole significantly.
The build quality is superb with the LEDs shielded by a protective tubing to withstand impact. In addition, the battery case is fully sealed, so you don't have to worry about unsavory weather. This makes it completely waterproof and highly shock resistant. In terms of battery life, many users report getting an average of 48 hours of continual play on each set of batteries.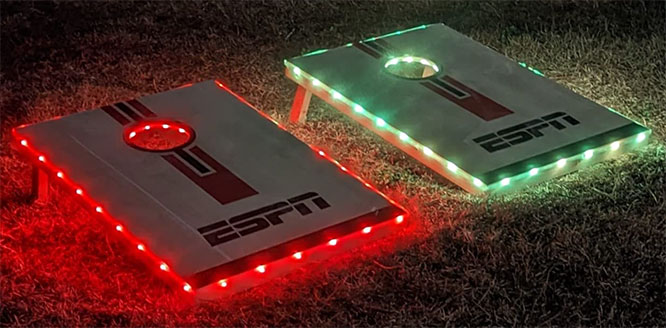 If you have custom shaped cornhole boards, the flexible strip light allows you to bend or shape it freely. Best of all, the included screws fasten firmly to any wooden board with a screwdriver. Overall, the Waybelive LED Cornhole Lights are a solid choice that are highly effective, easy to install and a great option for most people.
What We Liked:
4 color modes and 16 color choices.
Multiple mounting options with hardware included.
Long battery life.
Impact resistant, durable design.
What We Didn't Like:
No rechargeable battery option.
Best Hole-Only Lights: Teamaze Cornhole Lights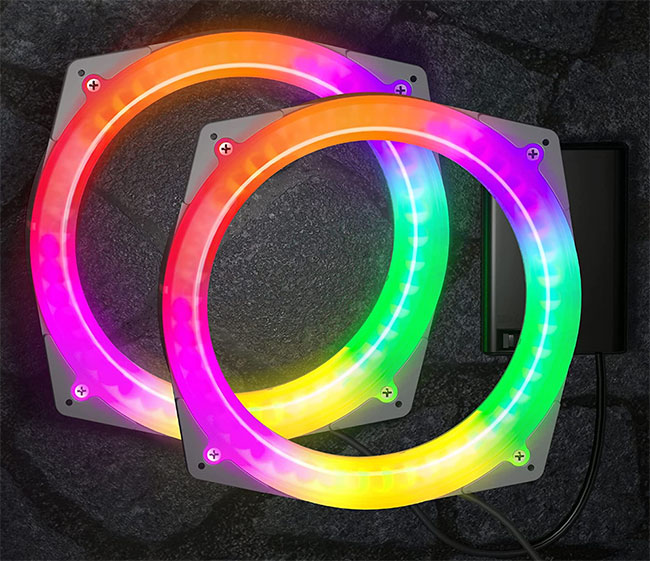 Key Features:
Rings only.
Power source: AAA batteries (not included).
Up to 72 hours of battery life.
Provides light feedback when a bag enters the hold.
Impact resistant.
Installed using included mounting screws.
If you're looking for a cornhole lighting option that illuminates only the hole of the board, the Teamaze Cornhole Lights are the best we've found. Some people feel that the addition of outer board lights can be too distracting for nighttime play. That said, this option is our top choice because of its additional features that help focus and enhance the gaming experience.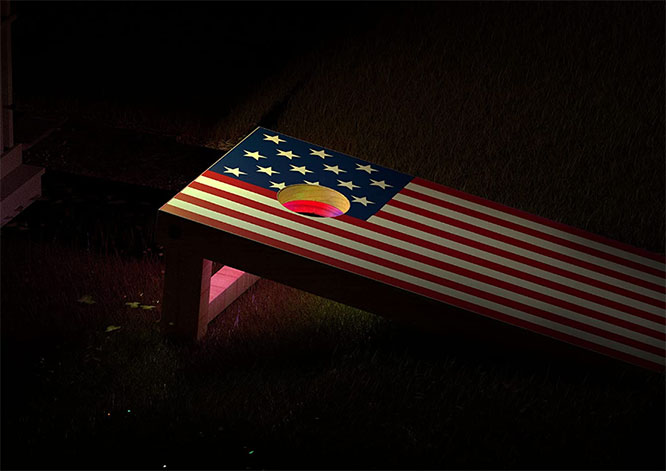 The standout feature is its ability to indicate when someone scores. It does this with three flashes of white light when you land a bag through the hole. Of the few option that offer this feature, the Teamaze performed the best. We didn't witness any false triggers and the light flashes were smooth enough to avoid the strobe effect that's quite unfavorable. All in all, this is a great way to track the score while playing at night.
Concentrating light to a smaller area has a positive effect on overall battery life. Users report getting up to 72 hours of continual use on 3 AAA batteries (not included).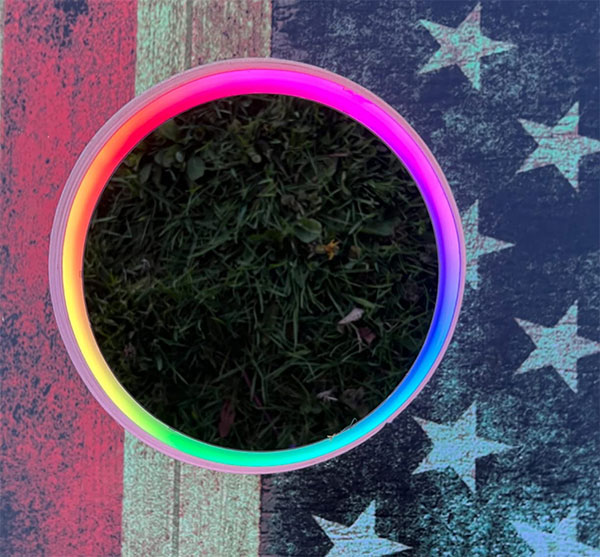 In terms of quality and durability, they're made of protective PC & ABS material to withstand impact, just like our best overall option. The water resistant design is also a nice touch for those who want to leave their cornhole board outside.
Installation is straightforward with just 4 mounting screws. The lights fit any regulation-size hole (6 inches). The battery case is easily attached to the bottom of the board where it's out of the way.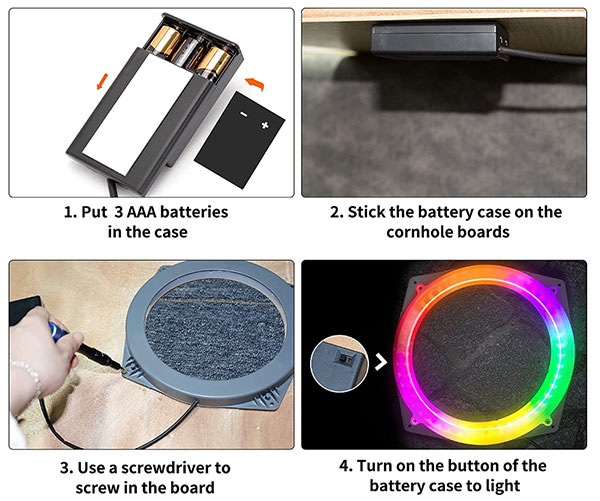 The Teamaze Cornhole Lights are an excellent choice for those who want an option that illuminates only the hole. The light-up scoring feature is honestly one of the coolest things we've seen that really seems to add to the overall enjoyment of night time play.
What We Liked:
Long battery life cuts down on costs over time.
"Bullseye" feature provides instant feedback and helps with keeping score.
Solid construction stands up to impact and weather.
What We Didn't Like:
Best LED Bean Bags: Jerify Light-Up LED Cornhole Bags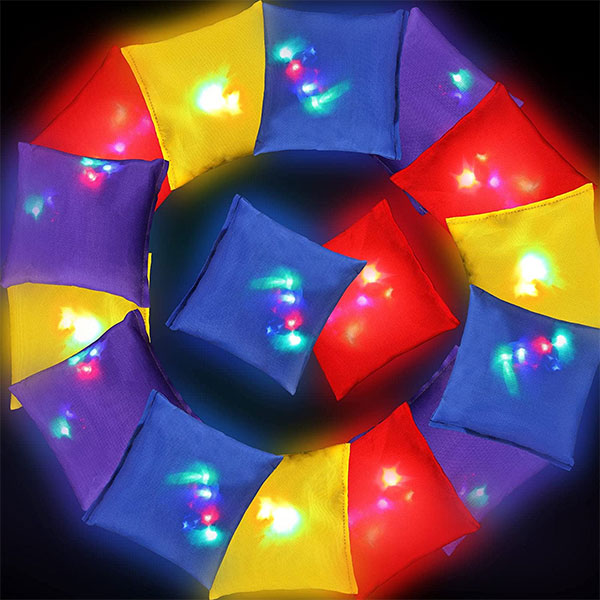 Key Features:
Sold as 16 individual bean bags.
Each measures 4″ x 4″
Each weighs 6.35 ounces.
Replaceable batteries.
Internal on/off button in each bean bag.
Ceramic particle filling.
Polyester exterior material.
Adding LED bean bags is a great way to increase the fun of nighttime cornhole. Rather than relying on a light on the board, an internal LED lights-up each bag for easy reference. Many people pair these bean bags with the Waybelieve lights for an optimal game setup.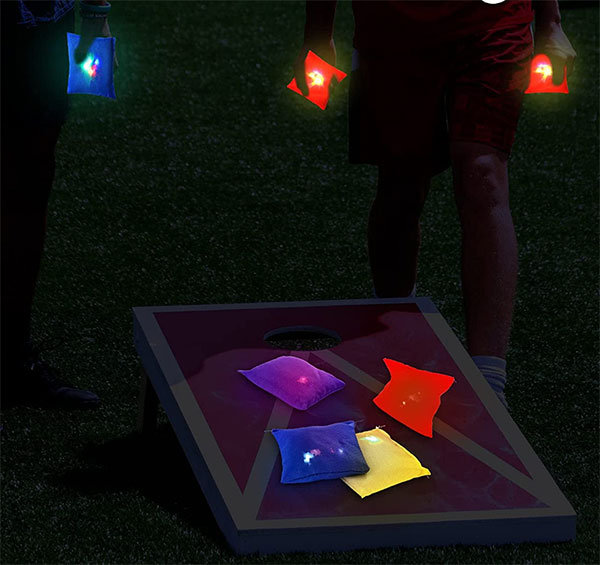 The Jerify Light-Up LED Cornhole Bags come with 16 individual bags. There are 4 pieces per color which is a nice variety for most large group games. It's important to note that these are not glow in the dark bean bags, they actually illuminate. Each one contains its own LED light, which is inside in the inner part of the beanbag. The light can easily be controlled by pressing an internal switch. In addition, each one has its own replaceable battery.
In terms of size, each one measures 4 x 4 inches and weighs in at 6.35 ounces, making them suitable for all ages. The ceramic fill and durable exterior material allows it to stand up to heavy, everyday use.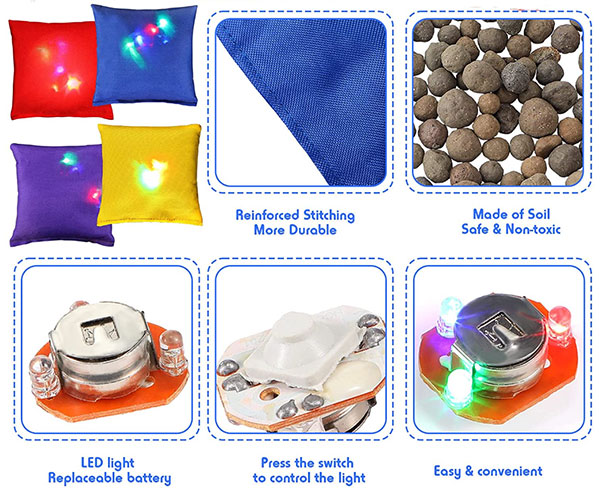 Compared to several other options out there, the quality is right on par. The ceramic particles, with the key ingredient actually being mud, make it an odorless, non-toxic option. Overall, they're a great choice if you're looking to enhance your cornhole gameplay at night.
What We Liked:
Enough bean bags for general game play.
LED lights are long lasting.
Weight and size is ideal for users of all ages.
What We Didn't Like:
Only the bags, nothing else.
Best Budget: BLINNGO Cornhole Ring and Edge Lights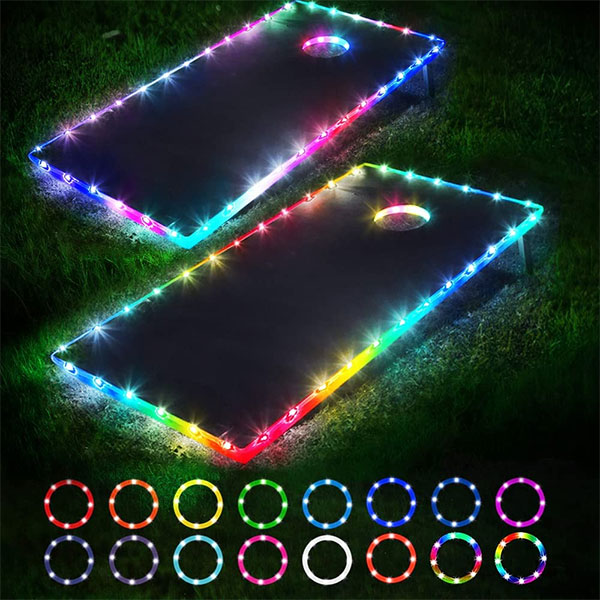 Key Features:
Includes 2 edge and 2 ring lights.
Power source: AAA batteries.
3M adhesive and screws for mounting included.
Up to 72 hours of battery life.
Of the many budget solutions we tested, the BLINNGO Cornhole Ring and Edge Lights offered the best combination of durability, performance and value. The set includes two cornhole ring lights and two cornhole edge lights for well rounded lighting setup.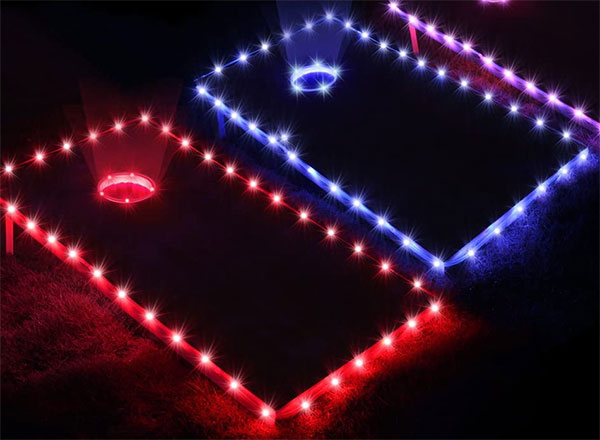 Battery life is extremely solid with many users mention being able to use it up to 72 hours on a single batch of batteries. The ring lights have 8 super bright LED lights while the board edge lights have 35 super bright LED lights. You'll need a total of 10 AAA batteries to completely power two boards.
Installation is simple and the kit includes screws and 3M adhesive to match your mounting preference. There's also easy-to-follow instructions, so you can set up your lighted cornhole game within just a few minutes. Overall, BLINNGO is a good choice to consider if you're looking for an option that doesn't cost much.
What We Liked:
Budget friendly.
Lights both the hole and the board edge.
Long battery life.
Adhesive mounting option is convenient.
What We Didn't Like:
Requires a lot of batteries.