Whether you're hosting a wedding, running a karaoke night, or playing out with your band, good sound is essential. The larger the area, the more important this becomes. When you want to fill a large area with sound, you need plenty of speaker power.
This is particularly true when you're organizing an outdoor event. Sound dissipates much faster outdoors, and you need to turn up the volume to compensate. To be clear, we're not talking about waterproof PA systems. Those will run you a small fortune. We're talking about PA systems that are designed primarily for outdoor use.
Now, a loud speaker is important, but it's not everything. You might be on a patio, for instance, in which case a smaller speaker is acceptable. But for outdoor use, you want a PA system that's rugged and durable. It should be able to withstand bumps and dings, and the rigors of daily use.
You also want to look for the same types of features you'd look for on an indoor PA system. Perhaps most importantly, you need to look at the inputs and controls. What audio sources can you use, and how can you mix and modify your sound? These types of questions don't become less important just because you're going outside.
Selecting the Best Outdoor PA System
We're about to review three of the best outdoor PA systems with Bluetooth on today's market. As we mentioned, we looked for reliable, durable systems with practical controls. But there are a number of differences that we'll also need to consider.
For example, how big are the speakers, and are they easy to move around? How do you set the system up, and what extra components are included? We'll need to look at available audio sources, outputs, and formats. We'll also have to talk about how the controls work, and any bonus features. With all of this, we'll be able to form a complete picture of each system. Let's get started, and see what we learn!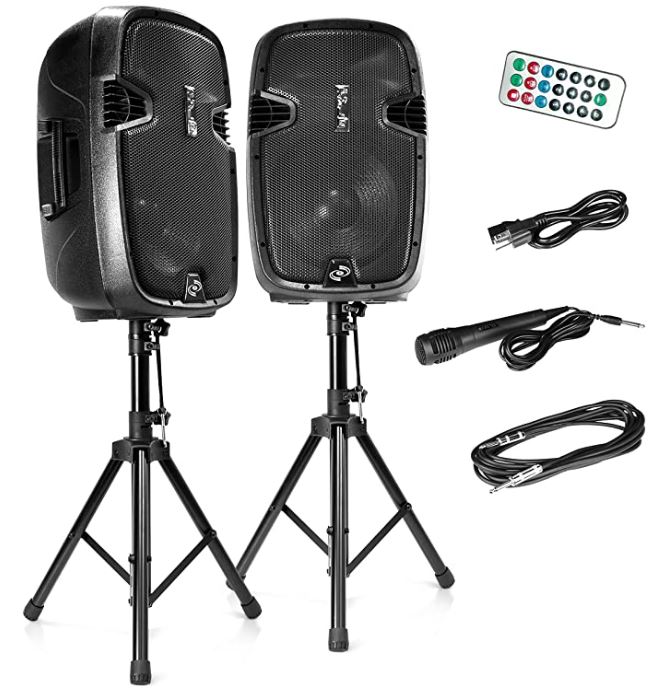 Best Overall: Pyle 1800w Wireless Portable PA Speaker System
The Pyle 1800w Wireless Portable PA Speaker System is a complete kit. There are two speakers, along with a pair of tripods to mount them on. The speakers are big and beefy, with a rugged plastic housing and aluminum speaker covers and frames. Each speaker measures 57.5 inches high, 34 inches thick, and 31 inches wide. They also weigh 33.5 pounds apiece, so they're hefty to move around. Thankfully, there's a carry handle integrated into each speaker, so you have a reliable handhold.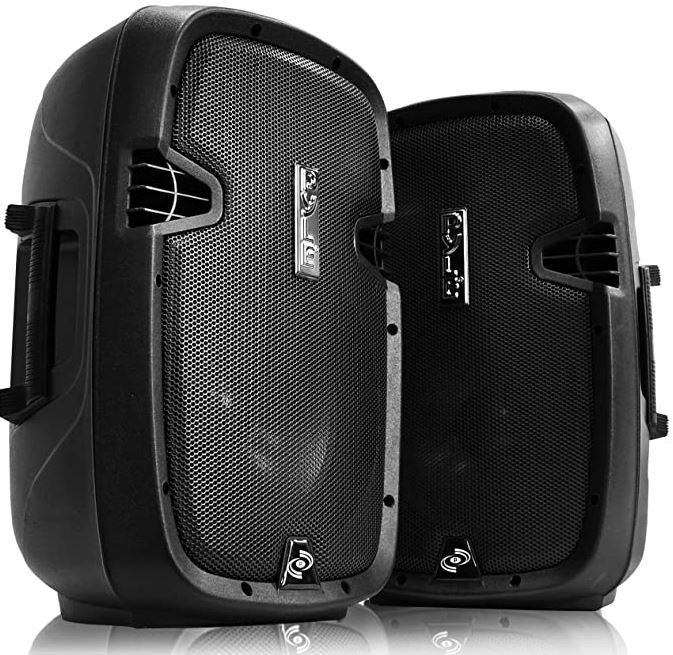 The tripods are made from a rugged aluminum, and each one has a capacity of 100 pounds. That's way more than you need, but it provides an added measure of security. It also means you can use the tripods with other, larger speakers. The 35mm fit is universal, and will work with almost any speaker brand. The vertical rod has a telescoping design, so you can adjust the length. In total, it can be anywhere from 59.1 to 82.7 inches tall.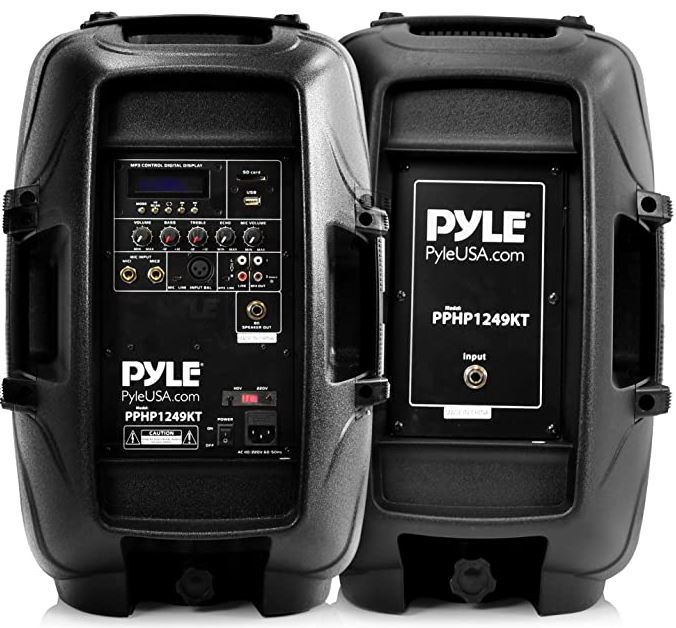 Each speaker has a powerful 12-inch subwoofer in the bottom half. In the top half of each one, there's a 1-inch tweeter. The speakers sport compression drivers, with advanced titanium diaphragms. These diaphragms provide excellent clarity across all audio frequencies, along with a wide dynamic range. The maximum peak wattage of the Pyle system is 1,800 watts. Just as importantly, it has an RMS rating of 900 watts. RMS is short for "root mean square," and it's the maximum continuous wattage. Even 900 watts is pretty loud, and 1,800 peak watts is enough for plenty of volume.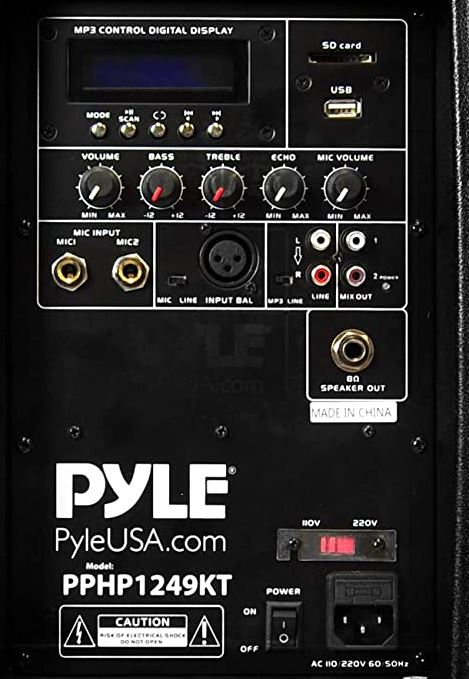 Along with the speakers and tripods, you get a collection of accessories. To begin with, there's a ¼-inch patch cable to run from the main speaker to the secondary speaker. There's a power cable for the main speaker, as well as a wired microphone. You also get a remote control, which has most of the functions available on the control panel. Setup is simple. Assemble the speakers, and run the patch cable from the main speaker to the secondary. Then, plug the main speaker into a power outlet, and you're ready to go. If anything goes wrong, you're covered by a 12-month manufacturer's warranty.
Compatibility and Controls
So, the Pyle PA system puts out plenty of sound, but what can you do with it? To begin with, there are a pair of microphone inputs. The first is an XLR input, and the second is a standard ¼-inch jack. The ¼-inch jack can also be used as a direct input from an instrument or other audio source. You can even wire your audio in from an external mixing board.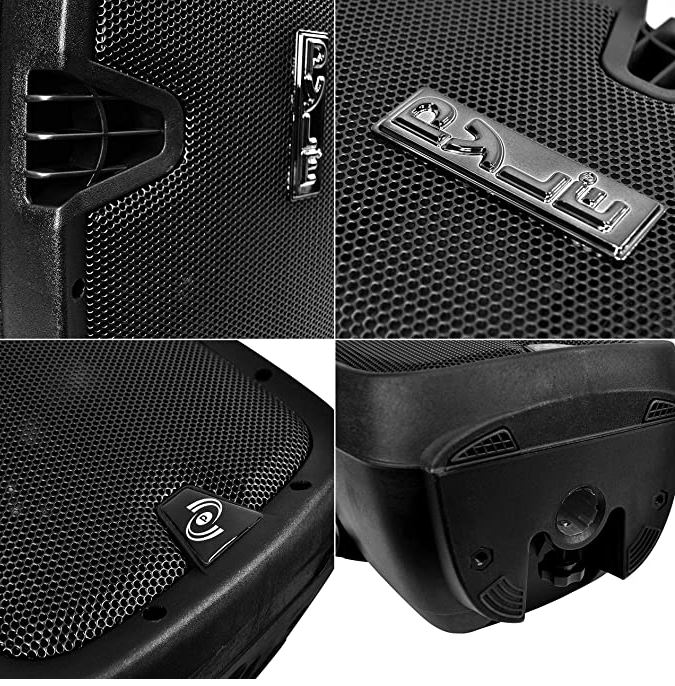 In addition to traditional inputs, you can also play audio from alternate sources. There's a USB port on the back of the housing, which can be used for a flash drive. This allows you to play MP3 or WAV files directly from your thumb drive. There's also an SD card slot, which can be used in the same fashion. Moreover, you can stream audio to the system via Bluetooth. With an impressive 100-foot range, you can connect from across the backyard.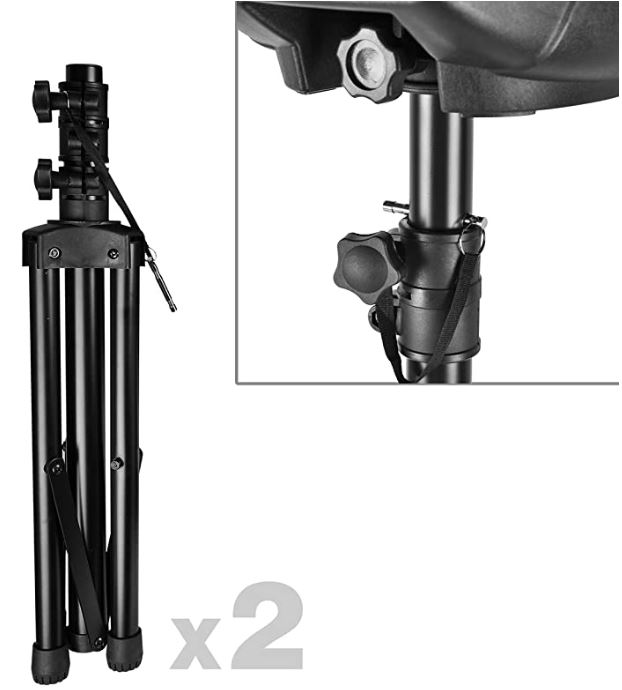 If you want to wire this PA system in with a larger system, you can. There's a set of RCA audio output jacks on the back, as well as a ¼-inch jack. These can be connected to the inputs for a larger venue. For example, you could play live music on an outside patio, and pipe the music inside at the same time.
On the back of the primary speaker, you'll find all the controls you need. To begin with, there's a bright LCD display. This will show your current audio source, or any settings you're currently tweaking. There's a set of control buttons underneath, along with dials to the left. Using the dials, you can adjust the master volume, mic volume, treble, and bass. Using the buttons, you can change audio inputs with just a tap of your finger.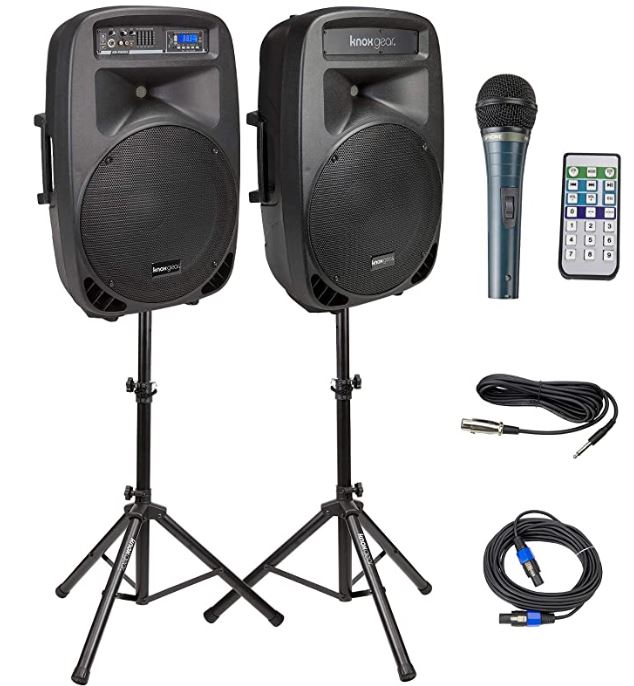 Best Runner-Up: Knox 600 Watt 8 Piece Portable PA System
The Knox 600 Watt 8 Piece Portable PA System is similar, in that it has two speakers and tripods. However, the speakers are a little bit smaller. At 29 inches high, 19 inches wide, and 15 inches deep, they're easier to store and transport. However, they're still fairly heavy, at 39 pounds apiece.
The black housing is slightly bowed, with a metal cover over the huge, 15-inch woofers. The 1-inch tweeters at the top are left open, inside a vintage, flared enclosure. As an added touch, there are built-in color-changing lights inside the woofer mesh. These create a beautiful effect when you're using the system at night.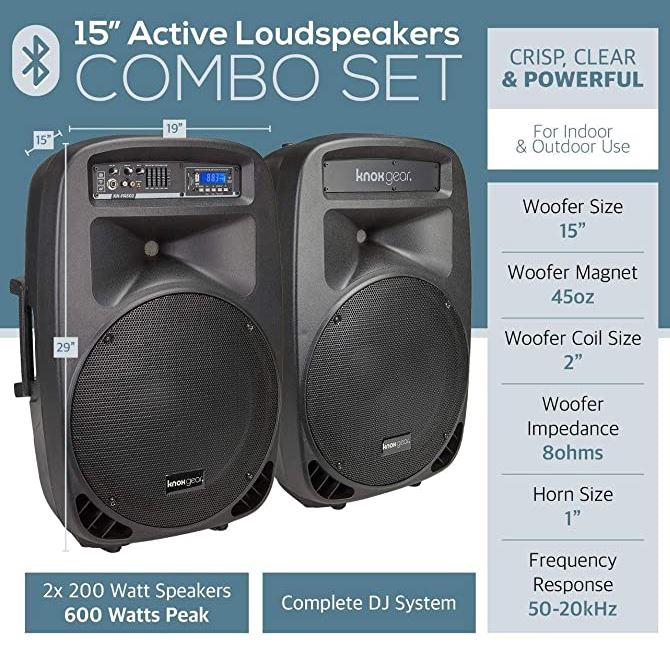 The tripods are telescoping in design, and can adjust between 28 and 45 inches in height. This is a good range for many venues, especially when you count the speaker height. The tripod also has a 35mm diameter, so it's a universal fit.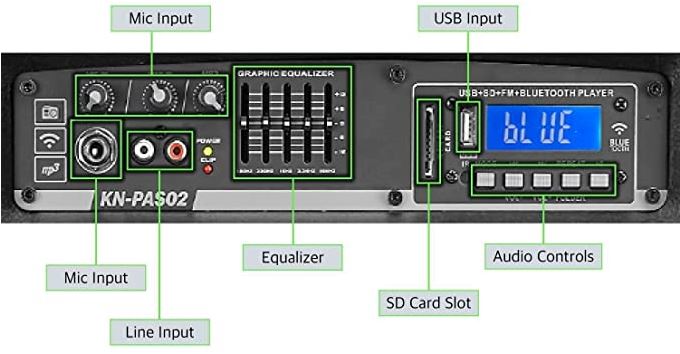 This PA system has a maximum peak draw of 600 watts. This is enough for most larger areas, and it can put out a considerable amount of volume. At 200 watts RMS, it can maintain a reasonably loud volume indefinitely. The audio is rich and full, with good response across all frequencies.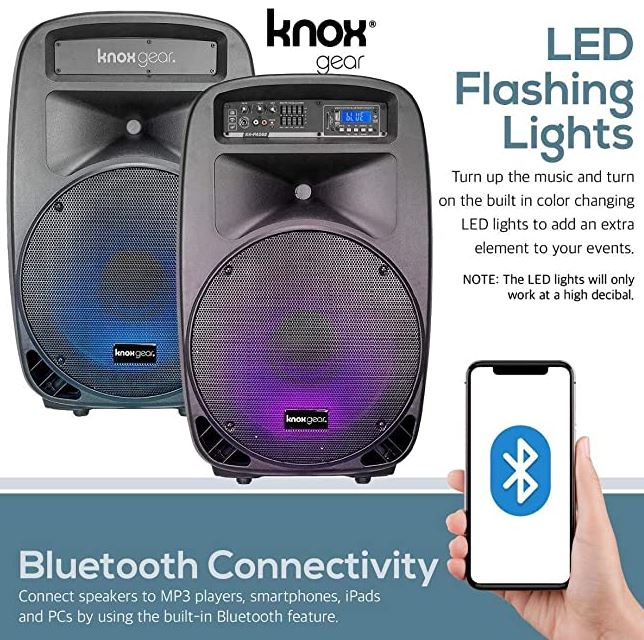 The kit comes with all the extras you need to get started. There's a handheld dynamic mic, with an XLR to 14-inch connection cable. There's also an XLR to XLR cable for connecting the main and secondary speakers. As with the last system we looked at, you also get a remote and a power cable for the main speaker. All of this is covered by a 12-month manufacturer's warranty.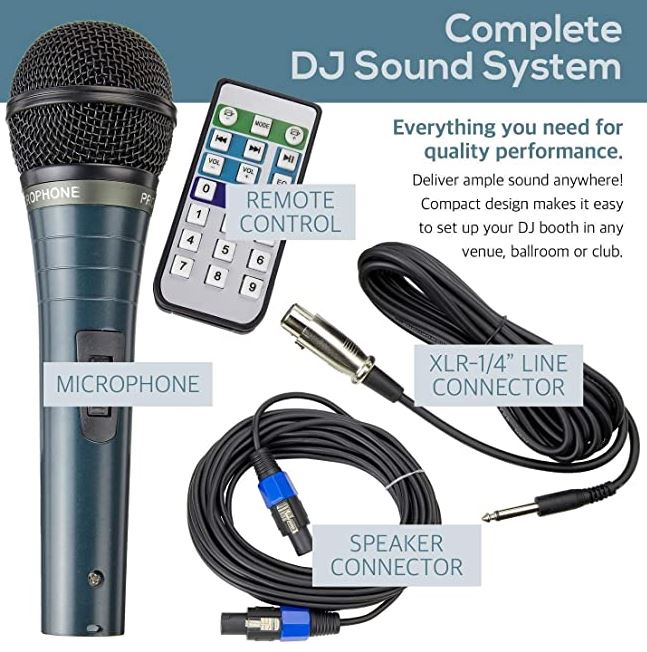 Compatibility and Controls
The Knox 600's controls are located at the top front of the main speaker. There, you'll see an LCD display, along with control buttons and a mic gain dial. There's also a 5-band EQ. This is great for fine-tuning your audio, and getting the exact sound you want.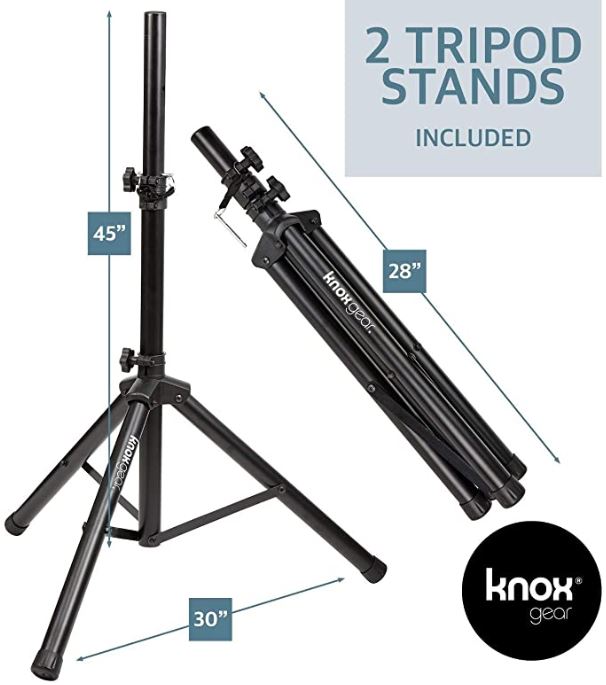 In the same area, you'll find the audio input ports. There's a ¼-inch jack for your microphone, or for any other audio source. There's a red and white pair of inputs for line audio as well. And just like the last PA system, there are SD card and USB port slots. However, you can't play back WAV files. You'll only be able to play back MP3 files.
For wireless audio inputs, you get a straightforward Bluetooth connection. However, the Knox PA system also doubles as an FM radio. Using the built-in tuner, you can listen to any channel you listen to in your car.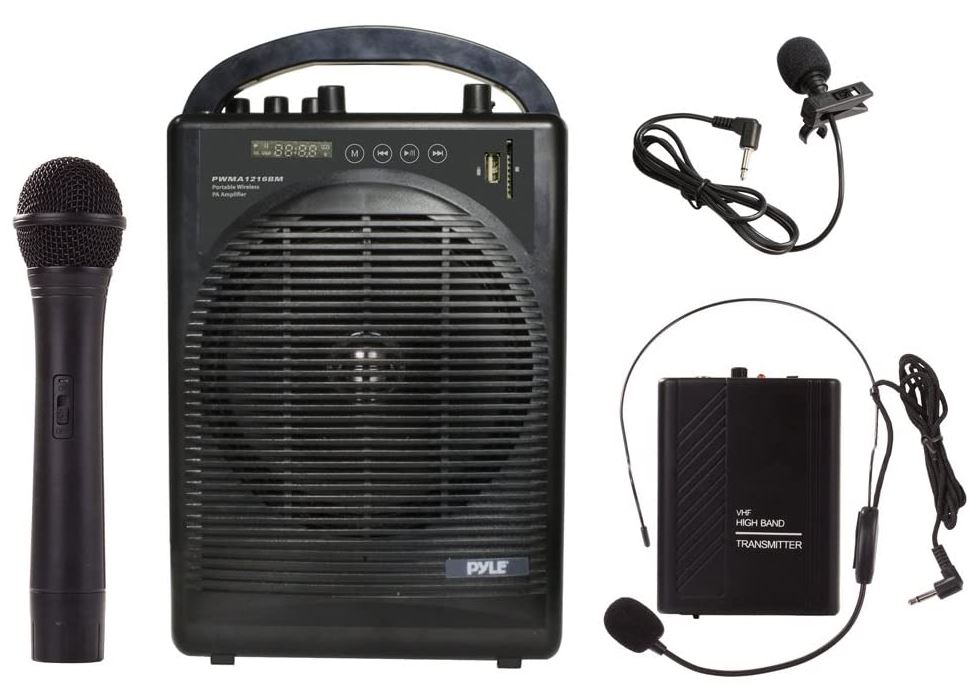 Best Alternative: Pyle Portable Outdoor PA System
The Pyle Portable Outdoor PA System is a single speaker, not a two-speaker set. As a result, it's far more portable, suitable for events that need to be set up and taken down quickly. It's also exceptionally portable. The plastic housing measures just 11.6 inches high, 7.2 inches wide, and 4.3 inches thick. And it tips the scales at just six pounds, so it's easy to carry with the built-in carrying handle.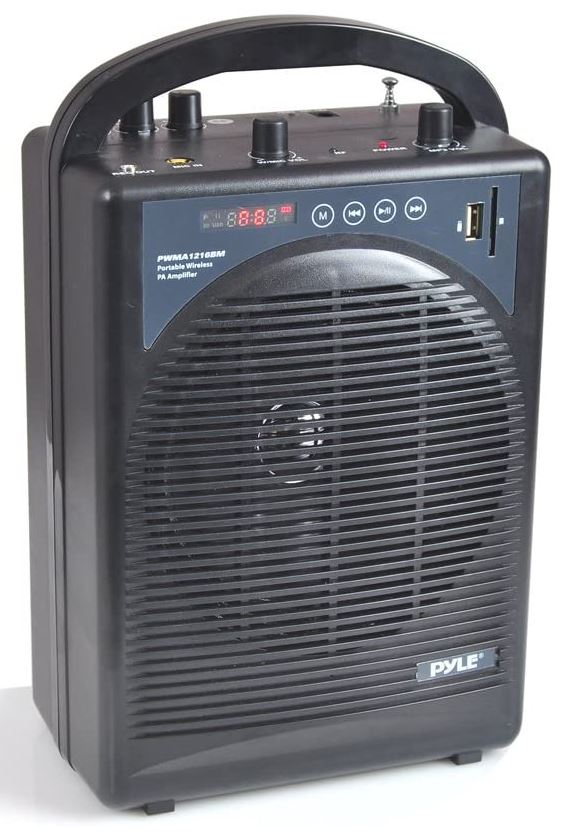 For setup, you have a couple of different options. First, you can run it on the built-in rechargeable battery. This can last up to 10 hours on a single charge, depending on your usage. Or, you can plug it into a wall outlet, and use it more or less indefinitely. You can also charge in your car, with the automotive charger. It has a 60-watt speaker. And while Pyle doesn't mention its RMS rating, it's capable of a reasonably loud volume. It won't be as loud as the other systems, but for a more modest gathering, it's more than enough. And if you need more volume, there's a 3.5mm aux port on top for outputting sound to a bigger speaker.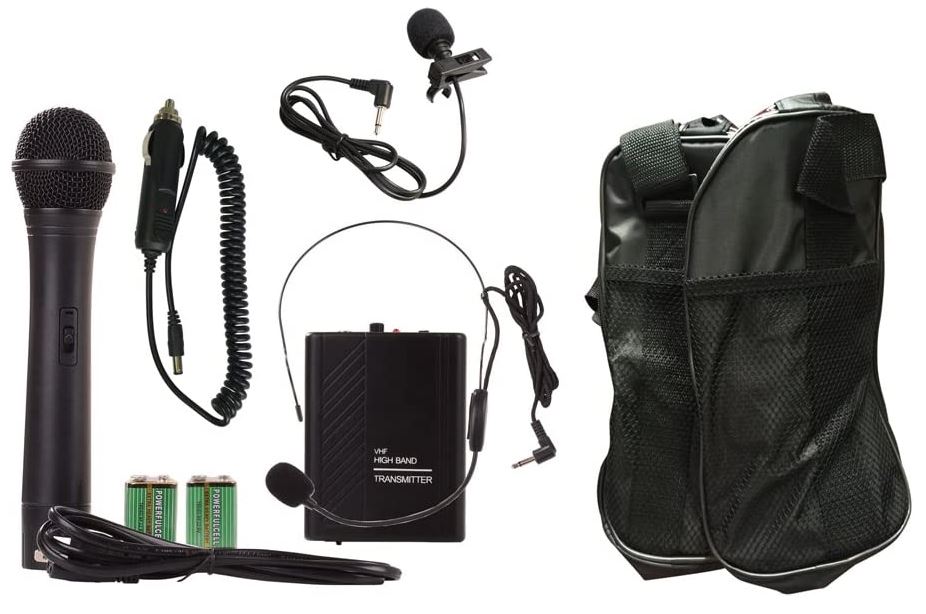 The kit includes a handheld wireless microphone, along with a belt-worn transmitter. This transmitter can be paired with either a lapel mic or a headset, both of which are also included. You even get the batteries you need for the mic and the transmitter. And as with the last two systems we looked at, you're protected by a 12-month warranty.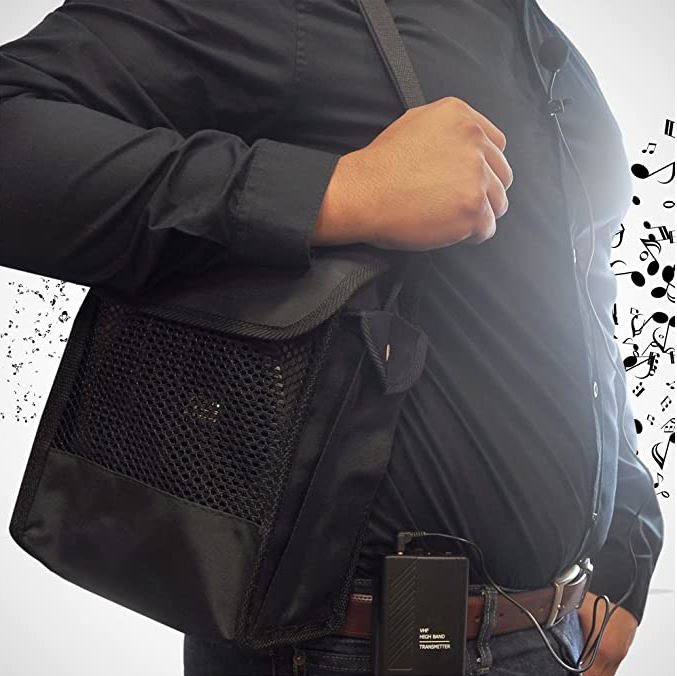 Compatibility and Controls
The Pyle Portable Outdoor PA System is designed to be used for karaoke. There's only one wired audio input, which is a standard ¼-inch audio jack. This is meant for your music track, while one of the mics can be used to sing. The mic and the transmitter both have a range of 25 to 50 feet, depending on any interference. Keep in mind that you should only use one at a time. If you use more than one mic, there will be static.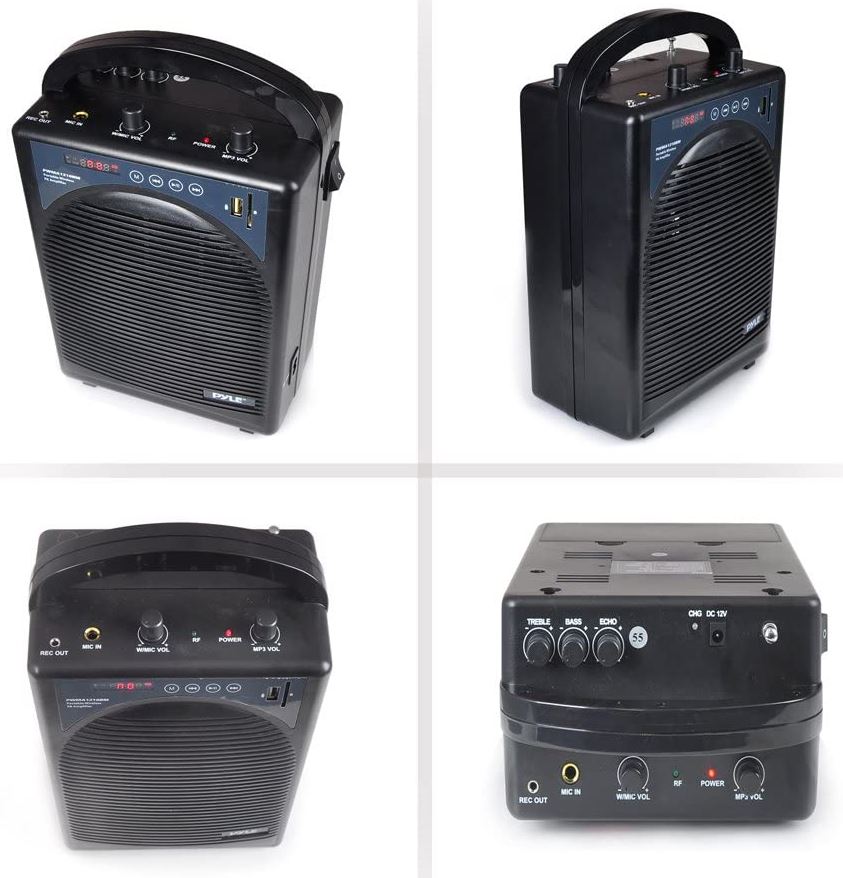 In addition to the wired input, you can play audio via Bluetooth, out to a range of 30 feet. You can also play audio tracks from a thumb drive or SD card. The controls are perfect for karaoke. You can adjust the mic and MP3 volumes separately, to get a good balance. You can also change the bass, treble, and reverb.
Which is the Best Outdoor PA System for You?
All three of these outdoor PA systems have a lot to bring to the table. But which one is the right one for you? Let's go over what we've learned. We started out by reviewing the Pyle 1800w Wireless Portable PA Speaker System. This is the biggest of the bunch, with the most wattage by far. It's great for very large venues, or for any time you want to crank out a ton of sound. It can accept audio from many sources, and wire into a larger overall system. If sheer volume is your number one concern, look no further.
The Knox 600 Watt 8 Piece Portable PA System is a slightly smaller system, but with a similar design. It's more affordable as well as more portable, albeit without quite the same level of volume. That said, the audio quality is pretty good, and the FM radio function is a nice bonus feature.
The Pyle Portable Outdoor PA System is nowhere near as powerful as the other two. That said, it's perfect for karaoke, and includes a full set of wireless mics. It's also exceptionally lightweight and portable, perfect for a DJ on the go. If you need portability more than huge sound, you're looking at a solid option.