As an educator, student or drafting professional, the last thing you want is to have a bunch of pencils that have gone dull. It can be a frustration and a hassle.
It's important to make sure you have a high-quality pencil sharpener so you can get back to work without delay. As a common problem, most students still come to class without one or have their own sharpener that's simply ineffective.
Manual pencil sharpeners are hard to use and can create more of a mess than they're good for. Also, gripping the pencil to use a manual sharpener can often end up breaking the lead within.
It's why so many teachers have decided to invest in a high-quality pencil sharpener that the entire class can use. However, at-home or consumer grade devices are not going to stand up to the wear and tear of a busy classroom environment. Students tend to be rough with equipment which can dull a low-quality sharpener in a short amount of time, costing more headache in the long run.
When it comes to the classroom, educators are better off investing in a heavy-duty electric pencil sharpener that's available to everyone. Heavy-duty electric sharpeners won't need to be replaced as often. Ultimately, they save issues and get the job done faster. From the quality of their components to their warranty, choosing a heavy-duty sharpener is a superior option.
While we're placing a huge emphasis on how great they are in classroom settings, there are a growing number of people that are choosing to purchase one for their homes as well. Believe it or not, there are over a hundred options when it comes to choose from. The amount of products can be overwhelming to sift through. To help make the process easier, we've compiled this in-depth article on the best heavy duty pencil sharpeners currently available.
How We Selected the Best Heavy-Duty Electric Pencil Sharpeners
After polling a selection of teachers, students and professionals that use pencils regularly, our team evaluated dozens of options to come up with the list below. While there are different types of sharpeners on this list, they all embody most, if not all the following criteria.
Build Quality: Sturdy components are good but how they're put together is crucial. Many of the sharpeners we examined had good components, but were assembled poorly, which translated to poor overall quality. The products featured in this article come from brands that have demonstrated a commitment to quality craftsmanship.
Durability and Longevity: We sifted through dozens of user reviews that included long-term feedback. A main purpose of a heavy duty electric pencil sharpener is for it to last. We made sure that we included options that stood the test of time in real-world situations.
Output: Not all units are capable of the same quality sharpening. We looked for sharpeners that got the job done with minimal fidgeting on our end.
Capacity: Sharpening a pencil can produce a tremendous amount of waste. We took into account the amount of shavings each device could hold to reduce the number of trips to the wastebasket.
Best Overall: Westcott Electric iPoint Evolution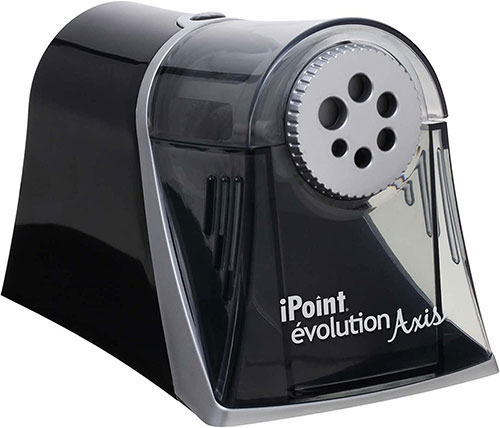 Key Features:
6.5 x 9.06 x 6.1 inches.
Helical 10-Blade Technology.
Low Noise Rating.
Auto-Stop Feature.
Accommodates Multiple Sizes.
Easy Empty Reservoir.
The Westcott Electric iPoint Evolution is our choice for the best overall heavy-duty electric pencil sharpener. It was designed to stand up to the rigors of an office or classroom and take on a tremendous sharpening volume.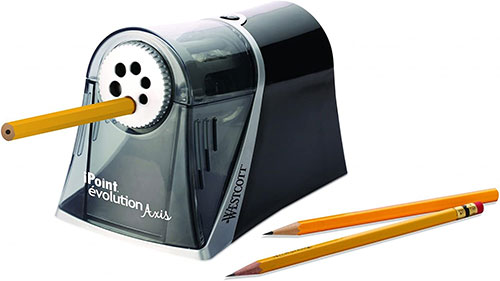 Despite its compact design, it has a high capacity waste reservoir that keeps trips to the trash less than other models. In fact, some users report not having to empty it for several weeks.
When it comes to the Westcott, the sharpening blade itself is a thing of beauty. It's an extremely efficient helical 10-blade sharpener that produces an incredible tip. Running it through dozens of pencils, the consistent results impressed our team every single time. Another thing you'll notice is that it's much quieter than traditional consumer-grade electric pencil sharpeners. The number of blades are much more efficient at grinding, resulting in less noise.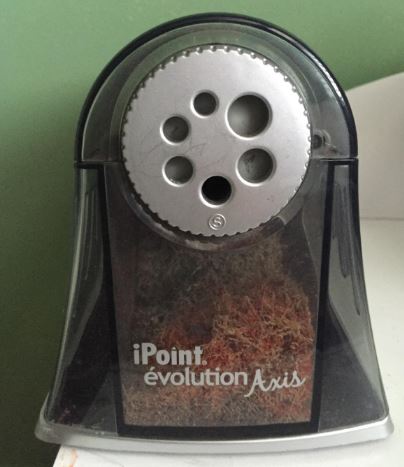 Additional features like auto-stop help reduce excess waste by preventing over sharpening. Once a pencil reaches its pre-determined ideal point, the sharpener will automatically shut off. This is great, especially if it's being used by younger children.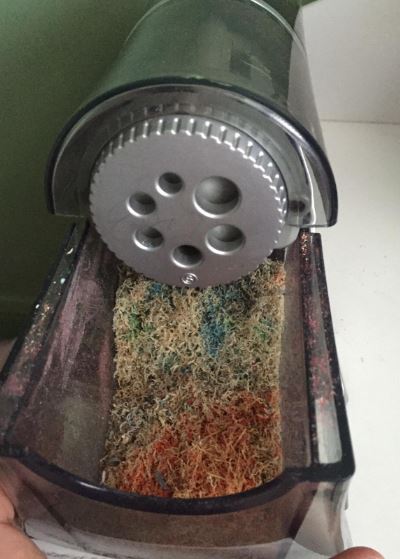 A multi-hole dial helps this sharpener accommodate all the popular pencil sizes with ease. You can expect to get a sharp pencil in under ten seconds. The construction of the iPoint Evolution is incredibly solid. Some teachers report their sharpener still going strong even after averaging over 35 sharpenings a day during the school year.
For all of these reasons, we're confident in naming the Westcott iPoint Evolution as the best overall.
What We Liked:
Low noise.
Ten blade design produces a superior tip.
Auto-stop feature prevents over sharpening.
High capacity bin.
What We Didn't Like:
Best Runner-Up: Bostitch Office QuietSharp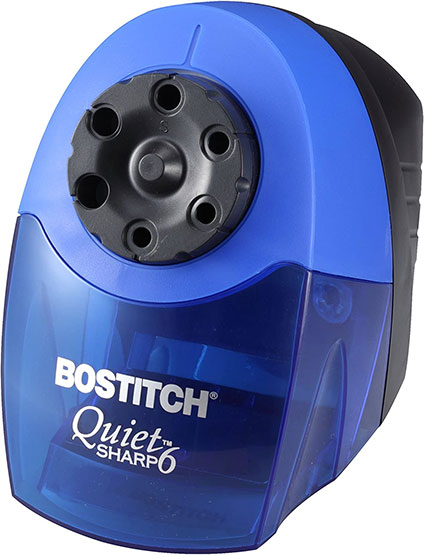 Key Features:
10.63 x 6.13 x 9 inches.
Proprietary "Quiet" Mechanism.
Stall Free Motor.
Tamper-Proof Safety Switch.
Multi-Diameter Selector.
7 Year Warranty.
The Bostitch Office QuietSharp came in as a close second to the Westcott. The iPoint got the slight edge due to the tremendous track record Westcott has in this industry. Also, because it was slightly easier to use for younger people. That said, the QuietSharp is an incredible pencil sharpener that exceeds all other sharpeners in a variety of ways.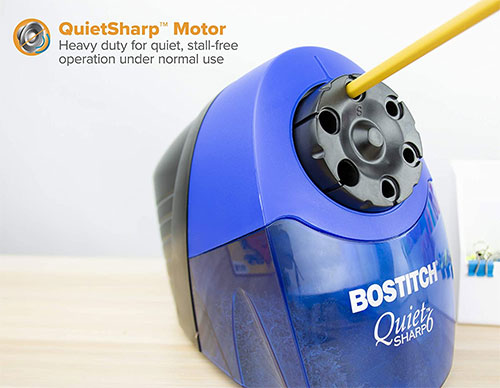 With an average sharpening time of less than 4 seconds, the Bostitch is one of the fastest on the market. In fact, it's over 70% faster at sharpening compared to most other options.
It comes with the name "QuietSharp" honestly. This sharpener is incredibly quiet due to its proprietary "quiet" mechanism. It allows for continuous operation at low volumes to limit distractions.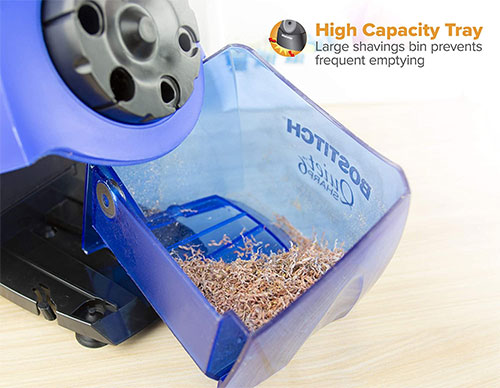 Bostitch's quiet noise operation goes beyond pure volume. Somehow they were able to optimize the blades to sharpen while producing noise that was lower in pitch than the traditional high squealing characteristic of other sharpeners. The result is, the majority of the noise blends into the background more easily.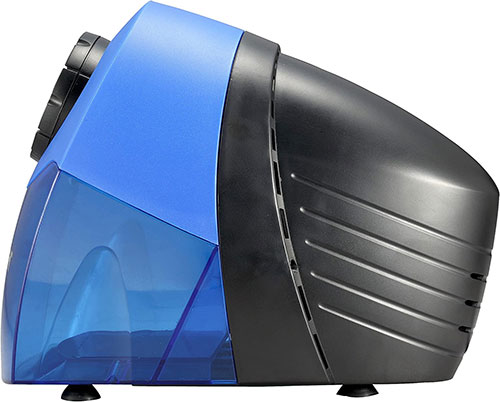 Features like a tamper-proof safety switch and tip saver technology round out this amazing heavy duty sharpener. It's comfortable to use in both large classrooms and busy homes. The QuietSharp ranks high on our list as a close second-place.
What We Liked:
High visibility blue color.
Extremely quiet.
Superior sharpening ability.
Tamper-proof switch.
Auto-shutoff.
What We Didn't Like:
Smaller shaving reservoir than others.
Best Alternative: LINKYO Class-Pro Electric Pencil Sharpener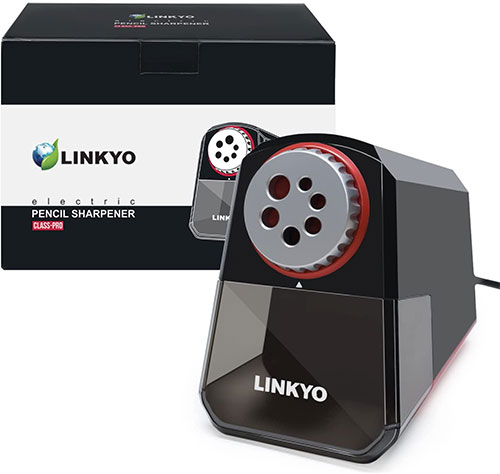 Key Features:
8.14 x 4.05 x 5.7 inches.
Auto-Stop Feature.
Handles 6 Different Pencil Sizes.
Dual Ultra Helical Steel Cutter.
The LINKYO Class-Pro was a pleasure to test. It refines the traditional heavy-duty form factor and turns it into something that is as visually appealing as it is powerful. The combination of black and red with the shape of the shavings box gives it a minimalist, sleek feel.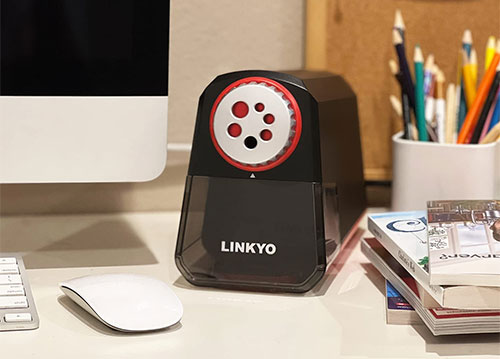 The size adjustment dial is very smooth while staying in place during sharpening. Internally, the dual ultra helical steel cutter blades did a fantastic job producing a high-quality pencil tip over and over again.
This machine sharpens extremely fast. We were able to take a dull pencil to full sharpness in less than two seconds. We want to point out that the extra power of this unit does increases the amount of noise. It may not be a big deal for some but it's worth pointing out.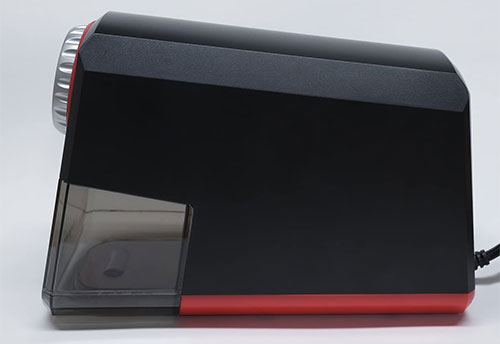 We also appreciate the size of the shaving reservoir. We were able to pack several dozen pencils-worth of shavings before needing to dump it out which was impressive. Overall, the Class-Pro gets our vote for the best alternative to the other top choices.
What We Liked:
2-second sharpening speed.
Sturdy plastic construction.
High capacity reservoir.
What We Didn't Like:
Can be louder than other options.
Best 2nd Alternative: AFMAT Heavy Duty Electric Pencil Sharpener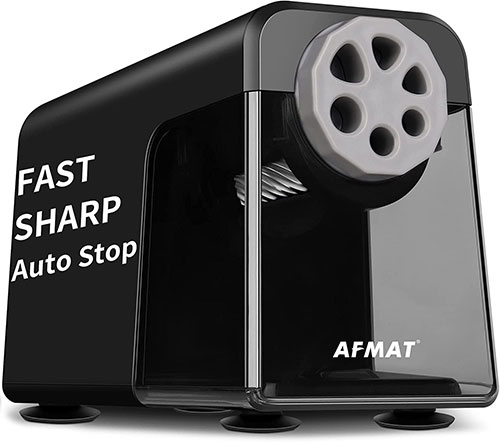 Key Features:
8.9 x 5.87 x 4.29 inches.
6 Hole Size Dial.
Rated to Sharpen 7,000 Times.
Helical Blade.
Auto-Stop Feature.
Non-Slip Feet.
As far as looks go, the AFMAT Heavy-Duty Electric Pencil Sharpener is a show-stopper. Where a lot of other sharpeners look more like toys, this model has a minimalistic, utilitarian look. It may communicate to younger users that this is not a toy and thus should be handled with care.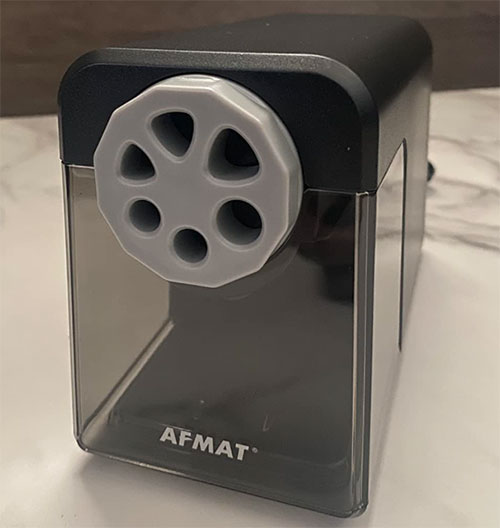 The AFMAT comes with non-slip feet which fixes an issue that a lot of sharpeners have of moving all over the table when in use. We found that they formed a slight suction effect, which provides excellent stability.
Looking at the inside, the AFMAT comes with an industrial-grade helical blade that's rated to last for up to 7,000 cycles. This is dramatically higher than most sharpeners which are rated for only a quarter of that. In some third-party tests, the motor and blade in the AFMAT were able to sharpen 500 pencils continuously without stopping to cool down.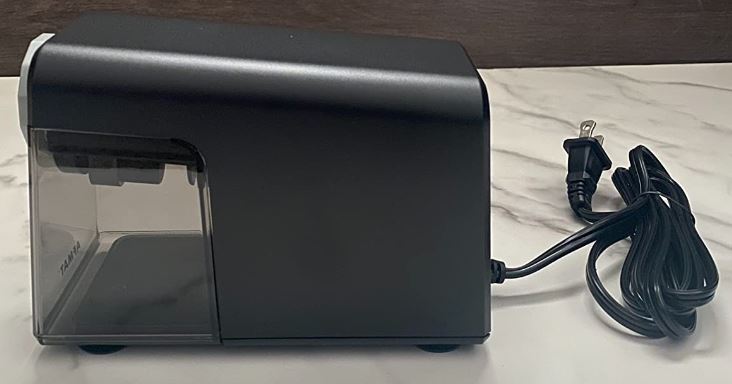 The high-capacity shavings bin is designed so you can easily see where the waste levels are before it becomes an issue. Since this model emphasizes performance above all else, it tends to run louder than others that focus on low noise. It's good to keep that in mind if you intend to use this in a quiet setting.
What We Liked:
Rated for over 7000 rounds.
Can sharpen up to 500 pencils consecutively.
Non-slip feet suction cups.
Minimal design.
What We Didn't Like:
Best Budget: X-Acto Pencil Sharpener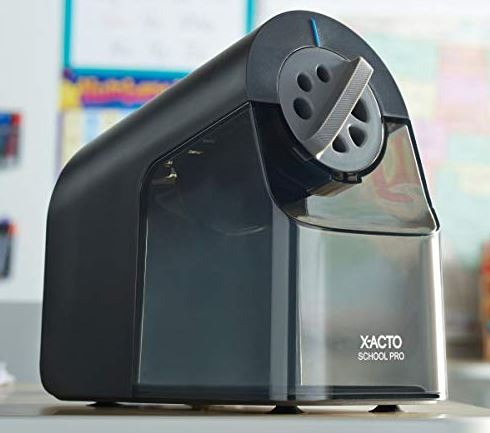 Key Features:
6.5 x 9.75 x 9.25 inches.
Break Resistant.
Over-sharpening Auto-Stop.
Six-Size Dial.
Works with Color Pencils.
Offering great performance at a reasonable price point is a major reason why this is one of the most popular heavy-duty electric pencil sharpeners in classrooms across America. The X-Acto SchoolPro features break-resistant sharpening technology that truly helps reduce lead breakage.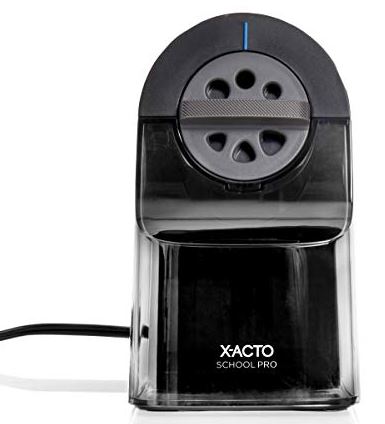 Teachers love this unit because it includes some thoughtful safety features that make their jobs easier. A fly-away cutter prevents over sharpening by stopping the moment the pencil reaches its ideal sharpness. The SafeStart motor stops shaving if the waste bin is not in place. Ultimately, this greatly reduces the chance of injury.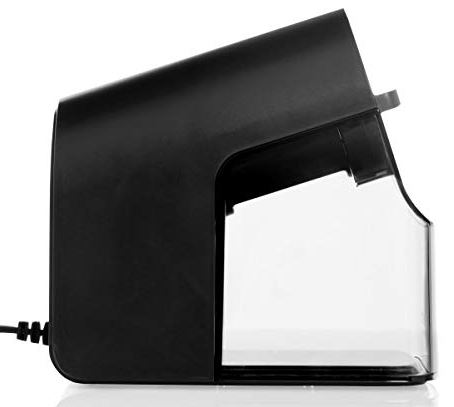 Compatible with color pencils, it's a great all-purpose sharpener that's extremely durable. At this price point, it's an ideal option for many people. However, we want to point out that there are a few trade offs with a unit like this. Sharpening speed is much slower compared to other models and it can be extremely noisy. Overall, we feel the value of this sharpener makes it the best budget option.
What We Liked:
Large capacity waste bin
Great price
Works with color pencils
Has a range of safety features
What We Didn't Like:
What to Consider When Choosing the Best Heavy Duty Pencil Sharpener
While none of these sharpeners will break the bank, choosing to buy a heavy-duty electric sharpener is still an investment. If you're an educator, you want to make sure you're choosing one that'll serve your students the best. Keeping some of these considerations at the forefront of your mind may help.
Assess Your Current Needs: Gauging the average number of pencils that need to get sharpened on a weekly basis will give you a good baseline of what kind of sharpener you'll need. If you're needing to process more than thirty-five pencils per day, you may want to consider something like the LINKYO that can sharpen pencils in under two seconds.
Types of Pencils: You'll want to make sure that the sharpener you choose will accommodate the size and kind of pencils you need sharpened.
Age of Users: If the majority of the users are going to be young, it might be a good idea to go with something that isn't overpowered. But if it's going to be used by adults, going all in on performance may be the best choice.
Meet Derek, "TechGuru," a 34-year-old technology enthusiast with a deep passion for tech innovations. With extensive experience, he specializes in gaming hardware and software, and has expertise in gadgets, custom PCs, and audio.
Besides writing about tech and reviewing new products, Derek enjoys traveling, hiking, and photography. Committed to keeping up with the latest industry trends, he aims to guide readers in making informed tech decisions.