Finding a decent set of wireless earbuds can be difficult. This isn't because of a shortage. In fact, the opposite is the case. It seems like every startup electronics company tries to make a pair of earbuds.
This makes sense, if you think about it. Earbuds are relatively inexpensive and easy to manufacture compare to most other products. So there's a low barrier to entry, even for a smaller firm.
Some of these new manufacturers are making good earbuds. Others… not so much. Instead of getting distracted by no-name brands, it's best to stick with manufacturers who have established a track record. That's no guarantee of top-quality buds. But at least it maximizes your odds that the earbuds will be well-designed.
In that spirit, we're about to review the new SoundPEATS Air3 Deluxe HS. These earbuds are designed first and foremost for audio quality, and it's obvious from the moment you put them on. But how well do they perform in other areas, and how do all of their features stack up in the aggregate? We're about to take a much closer look at these earbuds, and see if they're worth the investment. Let's begin!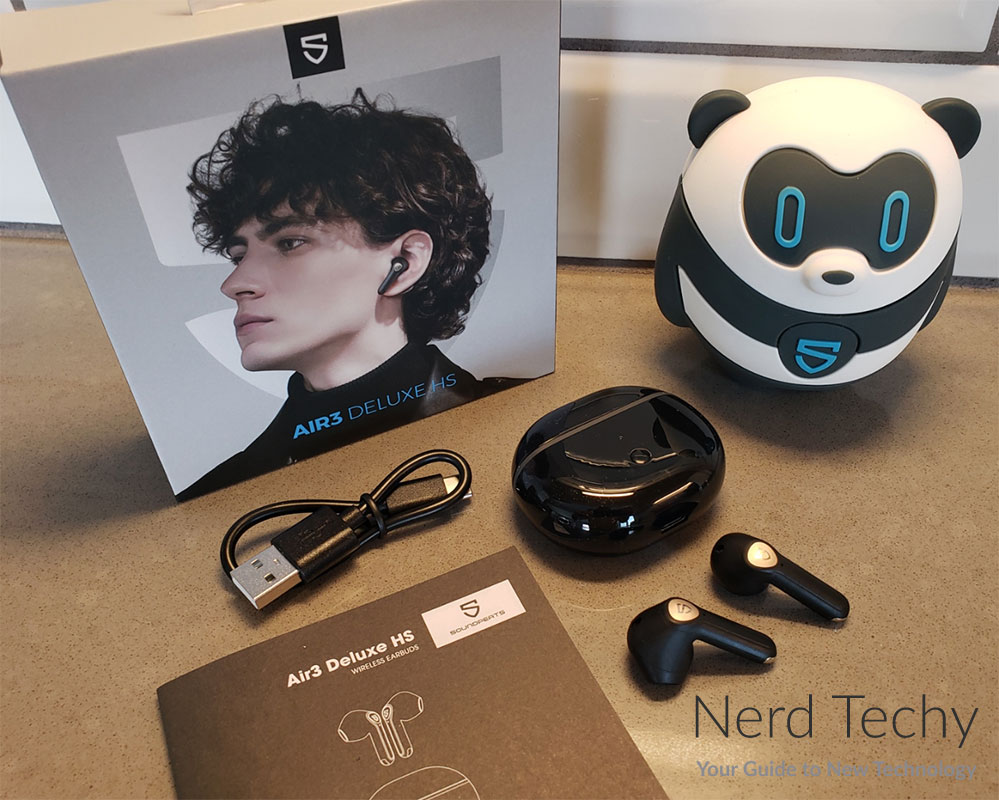 Overall Design
The SoundPEATS Air3 Deluxe HS wireless earbuds have an AirPod-style design. Instead of the battery being enclosed in the main shell, there's a pair of studs that protrude downwards. These serve to make the buds bottom-heavy, and helps to keep them secure in your ears.
The shells are entirely gloss black, with an easy-to-clean finish. The only exception is a pair of shield-shaped SoundPEATS logos that have a faux copper finish. These areas serve as soft touch buttons to control your phone or other audio source. Among other things, you can answer and end phone calls. You can play or pause your music, or turn the earbuds on and off. You can also adjust the volume, skip tracks, and activate your phone's voice assistant. That way, you can access more advanced controls through Siri or Google Assistant.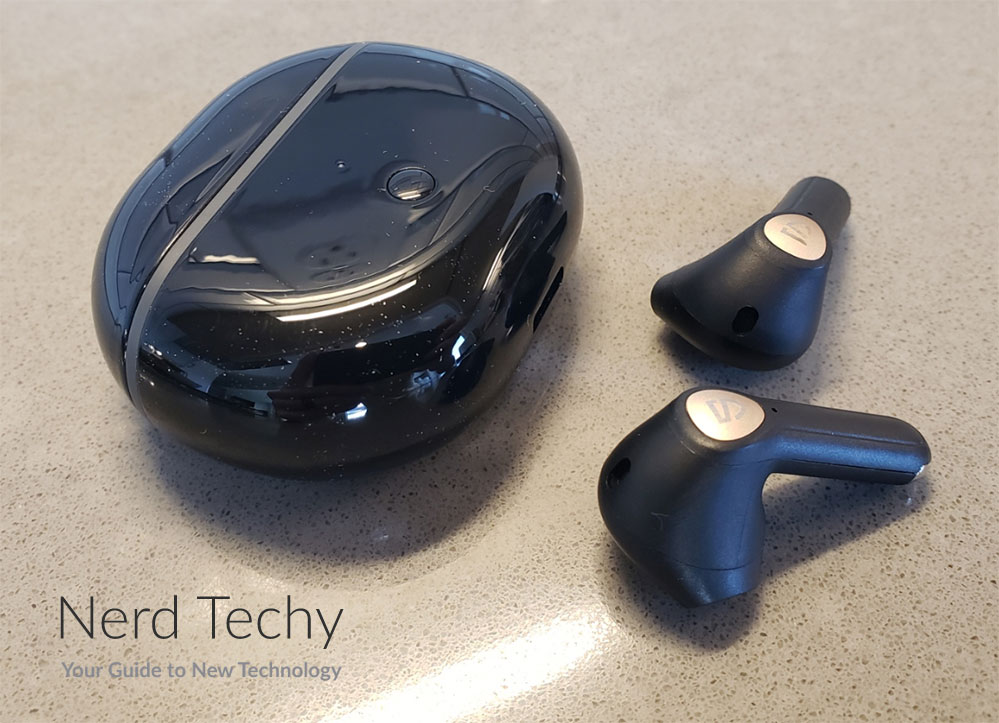 The earbud case has an oval shape, with a flat bottom that allows it to sit on a desk or table. There's a USB Type-C port in the bottom, and a USB Type-A to Type-C charging cable is included. It's a bit short, but that's par for the course with modern earbuds. Inside the case is a pair of molded wells, where the buds snap easily into place for charging.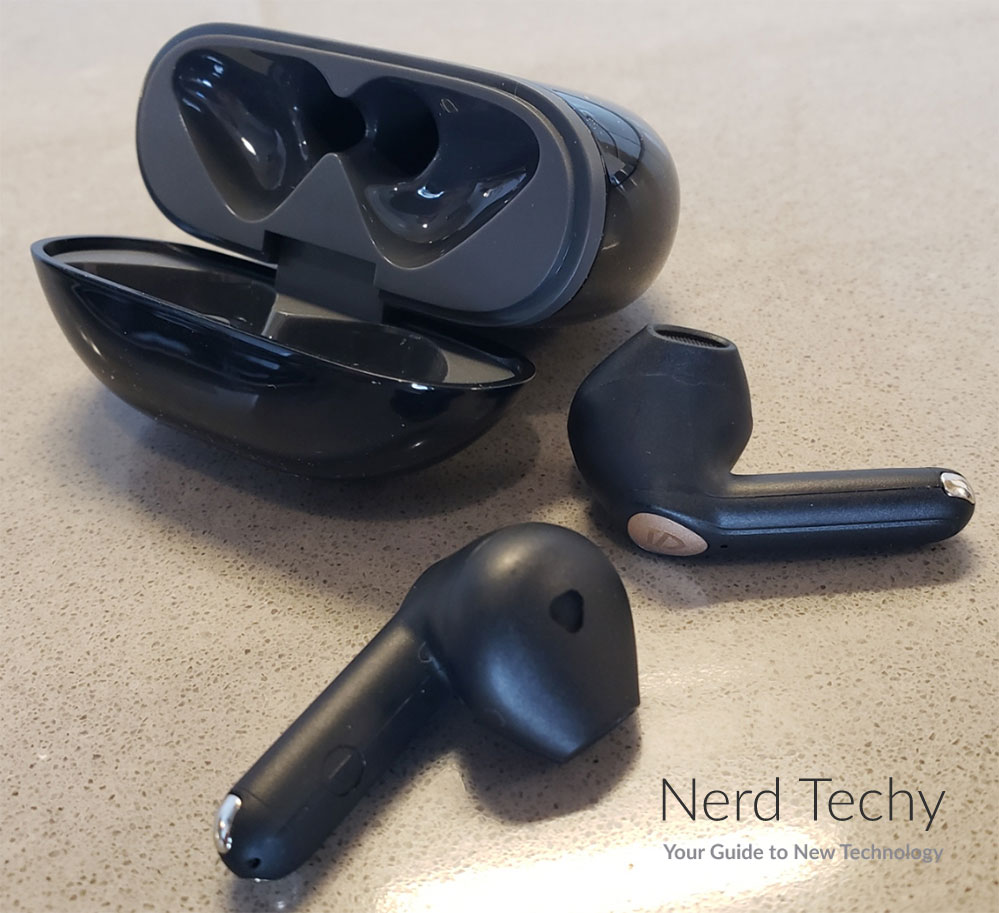 The lid has a clamshell-style design with a copper-colored hinge that matches the buttons on the buds. Unfortunately, SoundPEATS chose to use a glossy black plastic for the rest of the case. This glossy material attracts fingerprints like flies to flypaper. Handle it a few times, and it will be all smudged up. The charging light also only tells you whether or not the case is charging. It gives you no information as to the status of the actual earbuds.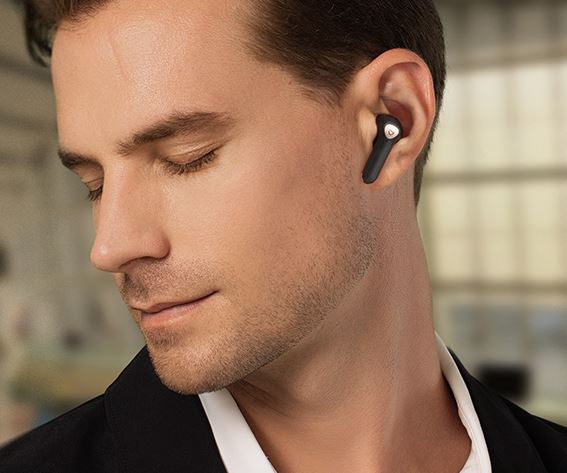 Fit and Comfort
The Air3 Deluxe HS buds are made of smooth, solid plastic. There's no silicone at the tips, which means they don't have quite the same retention as silicone-tipped buds. As a result, they're not ideal for forms of exercise where you're jumping or bouncing around. Then again, the retention is still pretty decent. And despite the solid material, the ergonomic shape makes them surprisingly comfortable to wear.
Along the same lines, silicone ear tips block out noise in the surrounding environment. This passive noise isolation is a feature many people look for. And in many cases, it can be nearly as effective as an active noise cancellation system. But not having noise isolation isn't necessarily a bad thing. There are situations where you want to be aware of what's going on around you. It all depends on what you're doing.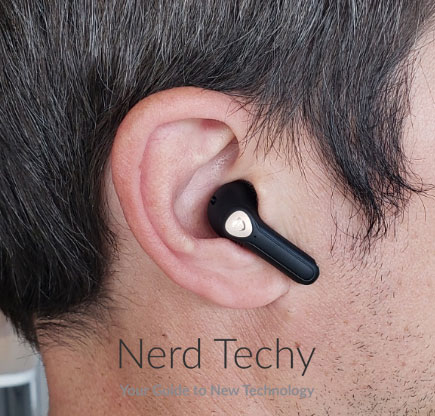 If you prefer silicone-tipped earbuds, there are plenty of good option. Take the SoundPEATS Life, for example. They have similar audio quality and battery life, so they're roughly equivalent from a technical perspective. They ship with comfortable silicone ear tips, although they also have higher latency.
Pairing
These earbuds pair with your smartphone using the Bluetooth 5.2 protocol. This is a newer Bluetooth version, with significant upgrades compared to Bluetooth 5.0 or 4.2. Perhaps the most important feature is the reduced latency. When you're gaming, there's simply no comparison. You'll even notice a difference when watching movies, with the audio in perfect synch with the video.
Another major benefit of Bluetooth 5.2 is the improved signal stability. Bluetooth audio is notorious for cutting in and out at the slightest provocation. With this version, that's far less of a concern.
Finally, Bluetooth 5.2 allows for more audio bit depth. You can listen to HD audio, which is a boon for audiophiles. There's no need to be limited to a standard 128kbps MP3 file.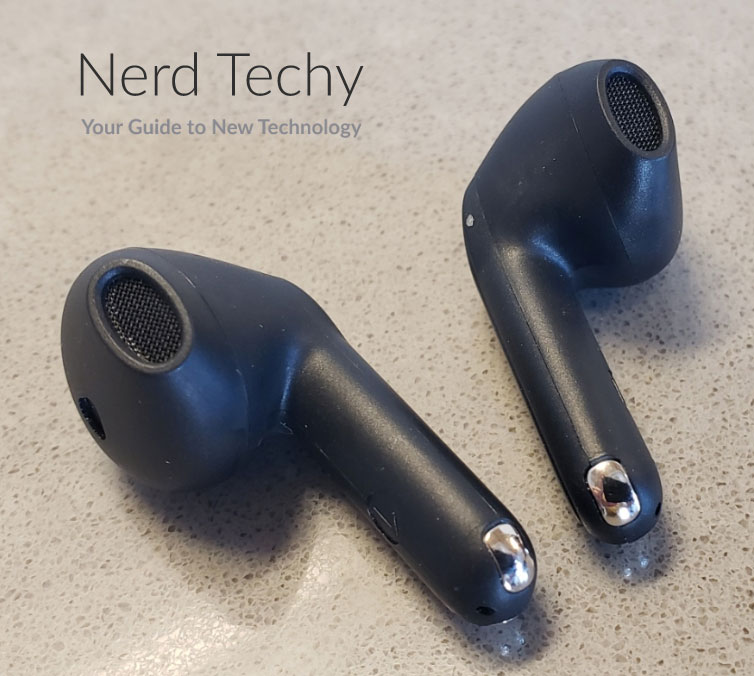 SoundPEATS further boosts your potential audio quality by utilizing the LDAC codec. This is a newer codec developed by Sony, and it's designed to make the AptX codec obsolete. The LDAC codec uses an advanced hybrid encoding system that allows for absurd levels of compression. Forget about 128kbps, 256kbps, or even 320kbps. These earbuds can support a bitrate of up to 990kbps. That's equivalent to 24 bit, 96KHz. It's not quite studio-quality, but it's as close as we've seen from a pair of wireless buds.
If you don't need that high of a bitrate, the standard Air3 Deluxe may be a better choice. They have a lot in common, with equally low latency and similar drivers. But they also work in mono mode, albeit without the benefit of the LDAC codec.
Battery Performance
The batteries in the Air3 Deluxe HS earbuds are rated for five hours of listening. In most cases, manufacturer ratings are pretty accurate at 50% volume. We're sorry to say that isn't the case here. In reality, you can expect between 3 and 3 ½ hours per charge. That's pretty disappointing. You'll have enough to get through a workout or mow the lawn. But if you want to spend all afternoon gaming, you'll need some earbuds with more robust batteries.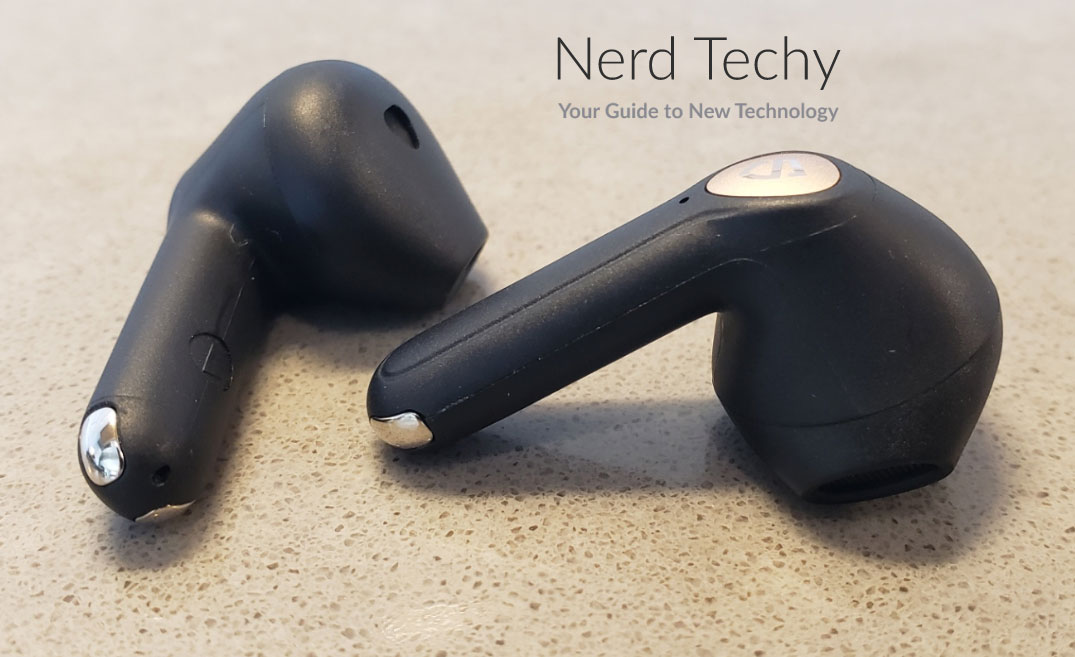 On the plus side, the charging case provides three additional charges. That's enough to provide up to 20 hours of listening according to the official ratings. In practice, you're looking at 12 to 14 hours in total. That's good enough for a weekend trip. But for any kind of long excursion, you'll need a charger and the charging cable.
If you want more battery life, consider the SoundPEATS Air3 Pro may be more your speed. They provide up to 6 hours of battery life per charge, which is a significant upgrade. Even with active noise cancellation active, they last up to 4 hours. The silicone ear tips are comfortable, and they offer very low latency. On the downside, the call and audio quality isn't as good.
Audio Quality
The Air3 Deluxe HS comes with a pair of impressive 14.2mm drivers. That's significantly larger than the average earbud, where 8mm to 9mm is the norm. As a result, these earbuds can put out a lot more sound. Even at medium volume, you'll find that your music is more than loud enough for many scenarios. You may never even use maximum volume, which is all the better for conserving your limited battery life.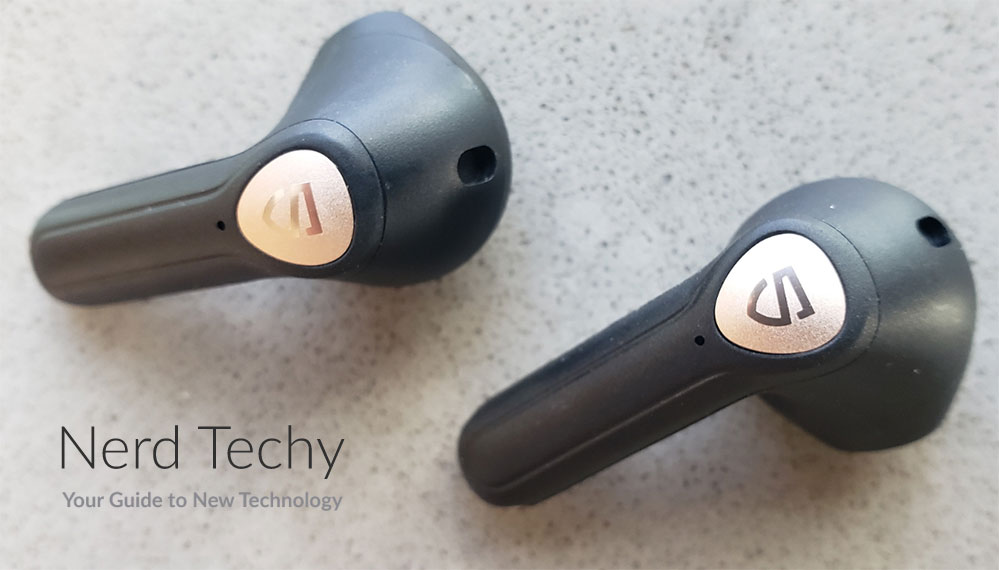 But volume alone isn't everything. You also want your music to sound good. In that regard, these earbuds deliver in spades. To begin with, they have an ultra-wide frequency response. They're capable of producing frequencies from 2Hz all the way up to 40KHz. This represents the entire range of human hearing, so nothing gets left out of your audio.
When we talk about mid-priced earbuds, we're usually making an apples-to-apples comparison. In this case, there's no need. The sound is objectively good. The only reason we didn't give it a "10" was the inherent limitations of wireless technology. Bass, trebles, and middle frequencies all sound superb. The soundstage is broad, and it really feels like the band is in the room with you. Without a wired pair of headphones, it will be difficult to do better.
Call quality is also very good. The buds sport a set of four microphones, all of which pick up your voice from different angles. The CVC 8.0 chipset then goes to work filtering out background noise. In total, this system reduces 80% of background noise during calls. You won't notice the difference, but the person talking to you will.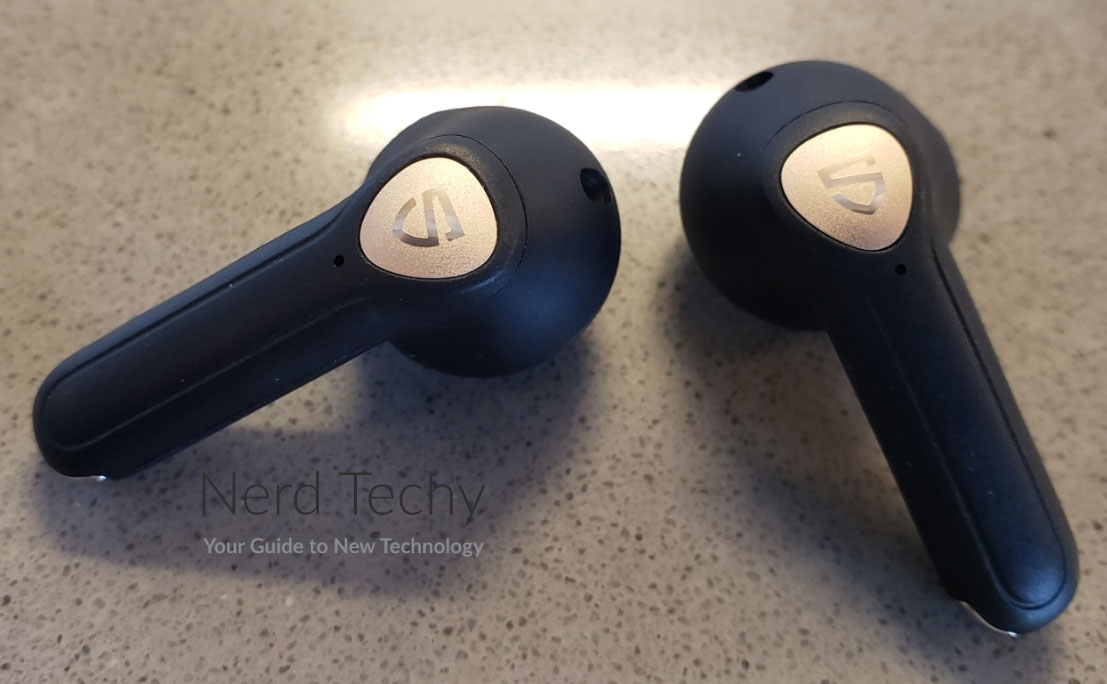 Extra Features
The Air3 Deluxe HS earbuds feature an in-ear detection function. When you remove them, your music will automatically pause. Put them back in, and it will automatically resume. This eliminates the need to pause your music manually for short social interactions.
In addition, you can download the SoundPEATS app to your phone and take even more control. With the app, you can turn in-ear detection on and off. You can also disable your touch controls, upgrade your firmware, or activate game mode. This is a special mode that reduces the latency even further to 60ms, albeit at the expense of some quality.
The app even allows you to set your own personalized EQ, with a multi-band interface that provides a ton of flexibility. That's way better than a simple bass boost function or a bunch of presets.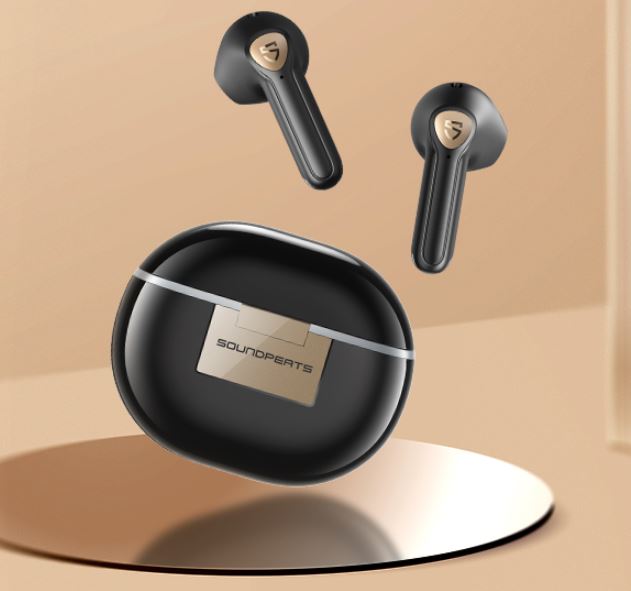 Final Verdict
The SoundPEATS Air3 Deluxe HS are the perfect example of a company going all-in on certain features. These are mid-priced earbuds, and SoundPEATS clearly decided to put their money into the drivers.
On the one hand, other features suffered. The charging case collects fingerprint magnets and doesn't even tell you when your buds are charging. The battery life is nowhere near what we'd expect from even a basic pair of earbuds.
On the other hand, the audio is simply amazing. If you're looking for great sound quality at a reasonable price, you're looking at a great set of buds. They also work well for phone calls. And while the app is optional, it opens up advanced features that most earbuds don't offer.