HDMI cables are a near-universal standard for home video. Whether you're watching cable TV or Blu-Ray or playing your game console, you're using HDMI. For the most part, HDMI cables do a great job. Today's cables are capable of transmitting 4K video.
You can use an Audio Return Channel (ARC) to use a single cable to send audio in both directions. This allows for seamless wiring when you're using a soundbar, controller, and TV-based streaming app. There are other types of video cables out there. But with this many features, it's easy to understand why HDMI is so ubiquitous.
That said, HDMI cables have one major drawback: the cables – more specifically, cable management. In many situations, this is a small concern. For example, you might have a TV on your wall with a game console underneath it. You've got a single HDMI cable and a couple of power cables – no cable management required.
But let's say you're dealing with something more complex. Maybe you have a Blu-Ray player in one room, connected to a TV. But you also want to connect it to a TV in the next room. In that case, you'd have an HDMI cable running around your floor, or tacked along the top of the wall. That's not very attractive.
An HDMI wall plate is the ideal solution. You install one behind the TV or monitor you want to connect to. Then, you install another one by the device you want to play video from. You run a cable inside the wall, connecting the backs of the two wall plates. Then you simply plug your devices into the two plates. The connecting cable is concealed behind your drywall, so it all looks very clean.
Choosing the Best HDMI Wall Plate
We're about to review three of the best HDMI wall plates available on today's market. All of them are easy to install, and can be used with some existing wall plates. They also have similar capabilities, although we'll have more to say on that in a minute. Finally, all of them are reasonably-priced.
That said, each of these wall plates has its own unique features that we'll have to go over. For one thing, how do you install them? We'll also have to talk about the number of ports, and how many wall plates come in a pack. They also have different connection styles; some have pigtails, others don't. Once we've given them all a thorough examination, we'll be able to render our verdict. Let's get started!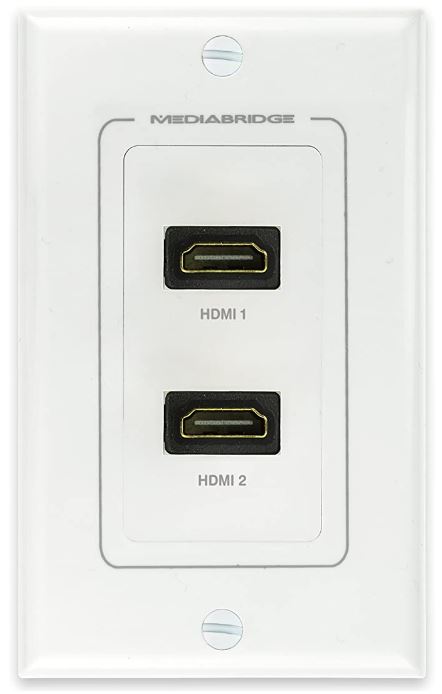 Mediabridge HDMI Wall Plate
The Mediabridge HDMI Wall Plate is a standard-sized wall plate. It measures 4.5 inches tall, with a width of 2.75 inches, and it's made from a glossy white plastic. If you already have white wall plates in your house, it will blend right in. Even if you don't, it's pretty unobtrusive.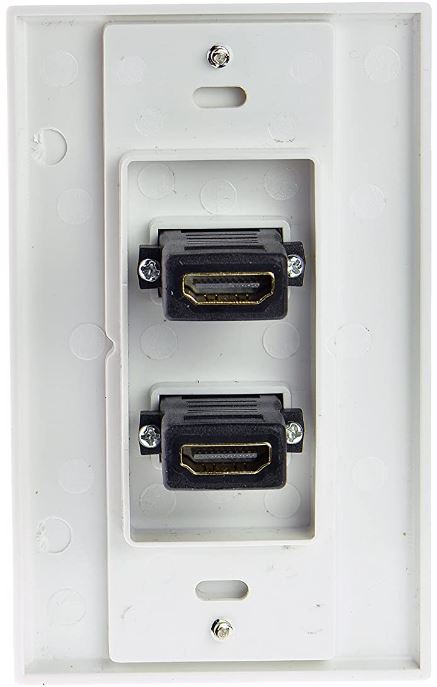 In the front of the wall plate is a pair of HDMI ports, one over the other. Each one is labeled, so you know which one is which. You won't get your wires crossed if one of your wall plates is installed horizontally. Speaking of which, make sure to order two. This is just a single wall plate, and you'll presumably want one for both rooms.
On the back side, there's a pair of one-inch black plugs that extend from the back of the HDMI ports. Each one has a female HDMI port on the back, to which you connect your cables. There's no pigtail, which can be good or bad depending on your situation.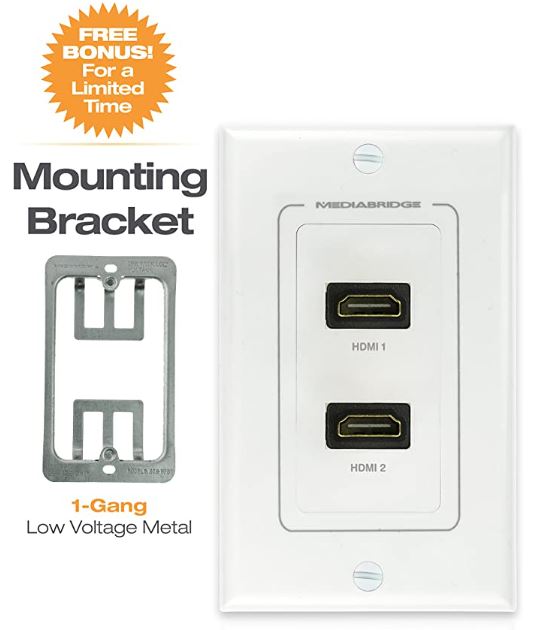 The kit includes a metal mounting bracket, which can be used to attach it to your wall. This fits in the same size cutout as a standard 1-gang outlet, which makes installation very easy. Strictly speaking, a bracket isn't necessary. This isn't a power outlet, and you don't need to worry about current isolation. But using the bracket is more stable than screwing the plate directly to your wall.
The middle section of the wall plate where the HDMI ports are located is removable. You can unscrew it from the back of the plate, and install it in a wall plate designed for a rocker switch. This makes it easy to install alongside an existing power outlet or light switch.
Capabilities
The Mediabridge wall plate supports all of the latest USB functions. It's capable of transferring 4K video. It supports UHD, 3D, and 48-bit color. It also has an Audio Return Channel (ARC). This feature allows your cable to send audio in both directions.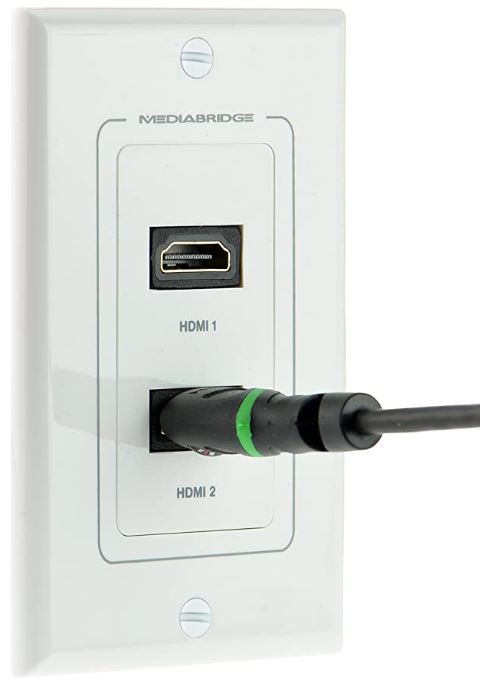 For example, let's say you have a Blu-Ray player and a soundbar connected to your TV via a media controller. When you're using the Blu-Ray player, the audio will go to the controller, then to the soundbar. But what if you're watching Netflix on your TV? In that case, turning on the ARC function would let your TV send audio to your controller.
All of that being said, this is just a pass-through connector built into a wall plate. If there's a limiting factor, it's going to be your cables. But if something does go wrong, you'll be protected. Mediabridge backs their wall plate with a 12-month manufacturer's warranty.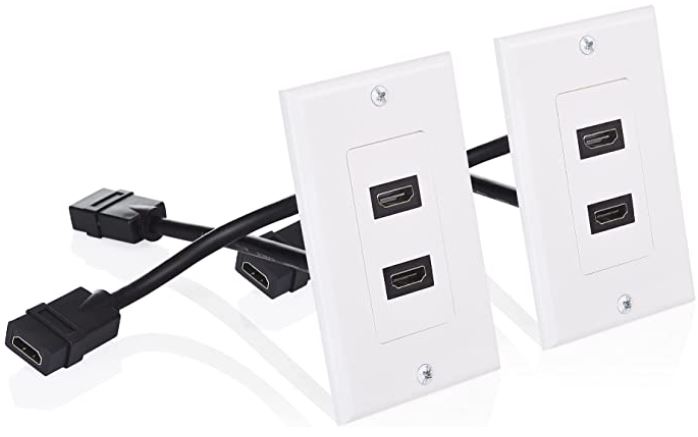 Cable Matters HDMI Wall Plate
Cable Matters is a brand we've dealt with before. Not long ago, we reviewed their HDMI Over Ethernet Extender. It's designed to extend your HDMI range with an Ethernet cable, even for hundreds of feet. All in all, it does a solid job, and we were excited to check out their wall plate.
The Cable Matters HDMI Wall Plate comes in a two-pack. The plates are a glossy white, and will mesh well with most home décor. You can order two different versions. The first comes with a single HDMI port, while the other has a dual-port design. There's no writing on the surface, which normally isn't an issue. But if one of your wall plates is horizontal, you'll have to play close attention to the port orientation.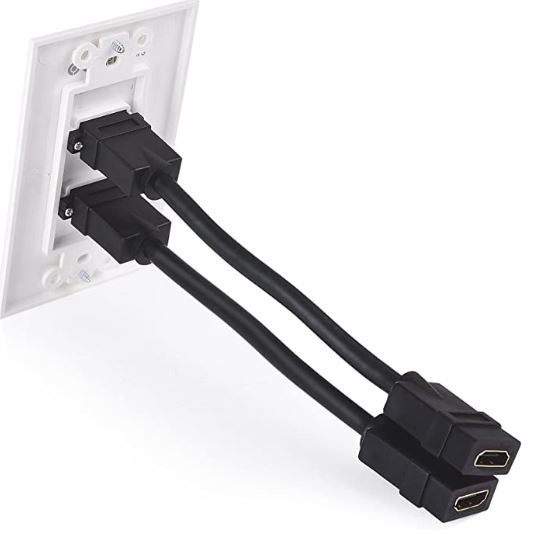 On the back side of the plate, a 4-inch HDMI pigtail extends from the back of each port. This gives you a bit of flexibility, so you can connect to a cable coming from any direction. However, if you already have slack in your connecting cable, the pigtail can just be unwanted excess. As with the Mediabridge plate, a lot depends on your exact situation.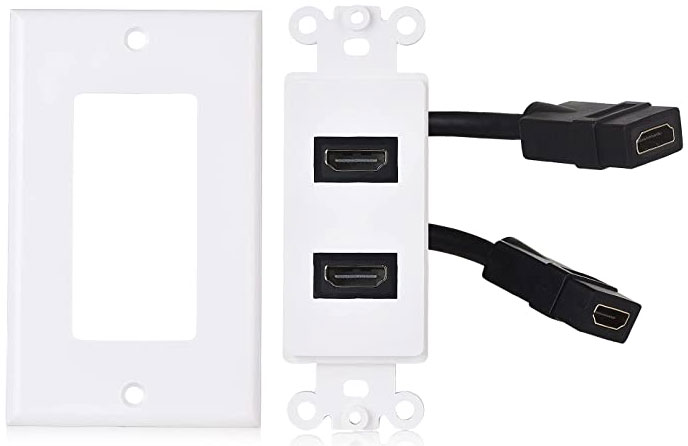 The kit includes a set of screws, so the plate can be mounted to your drywall. The middle section is also removable, just like the last plate. If you want to use it in an existing wall plate, you can.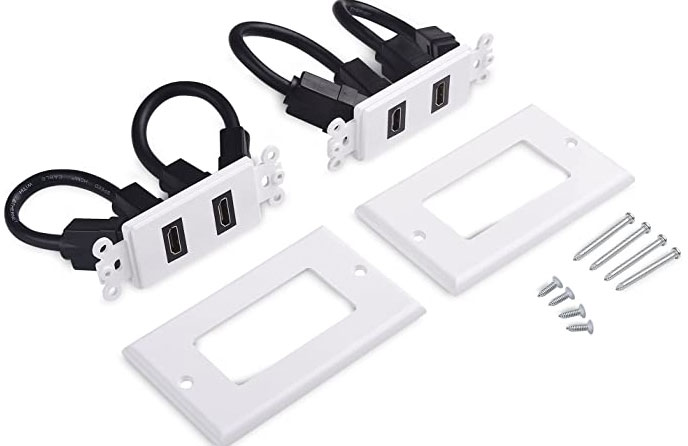 Capabilities
The Cable Matters wall plate supports 4K UHD video. Even if you want to watch high-quality Blu-Ray videos, you can. It supports 48-bit color, 32-channel audio, and Dolby True HD 7.1 surround sound. And with full support for ARC, it's easy to connect to your preferred audio output.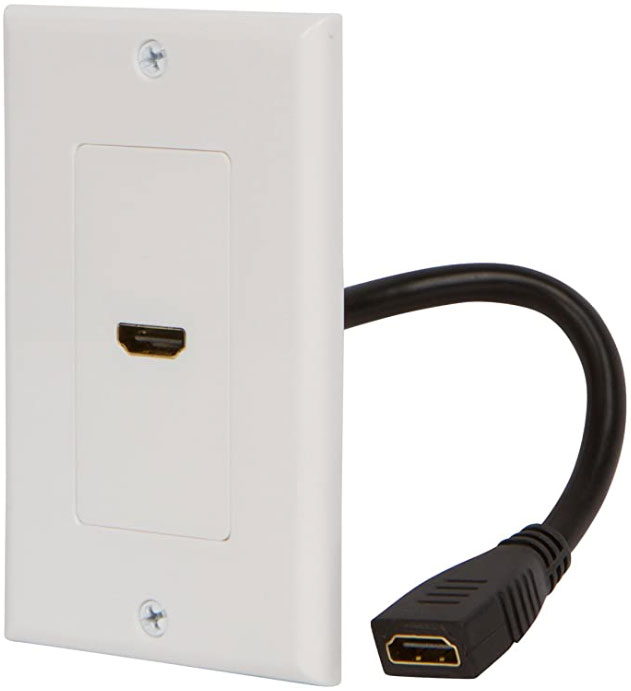 Buyer's Point HDMI Wall Plate
The Buyer's Point HDMI Wall Plate is a gloss white wall plate with a single HDMI port. It can be ordered in several different packages. You can order a single plate if you want to, or you can order a pair. You can also order a 5-, 10-, 25-, or 100-pack. If you're trying to outfit a larger building the multi-packs provide a much better value.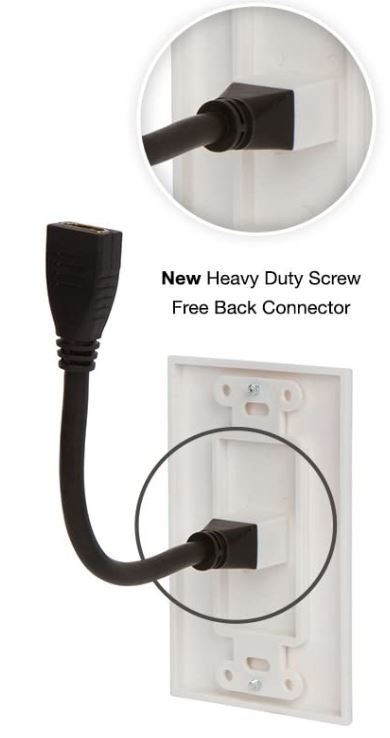 Each wall plate has a six-inch HDMI pigtail on the back. Much like the one on the Cable Matters wall plate, this makes installation easier under many circumstances. However, the extra two inches makes it even easier to work with. The kit includes all the screws you need for installation. And like the others, the middle portion can be removed for use with an existing rocker switch plate.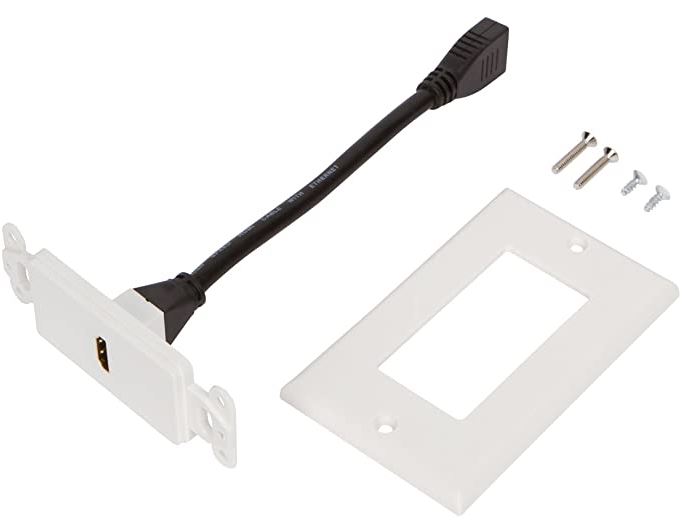 Capabilities
The Buyer's Point wall plate supports HDMI 2.0, which is the latest version. This includes all the bells and whistles you might expect, including ARC support. Needless to say, sending full 4K video is no issue. That said, length is a real limiting factor. If your 4K signal isn't working, consider installing an HDMI signal booster.
How Long Can I Run My HDMI Cable?
As we keep saying, there's a limit to how far you can run an HDMI cable. But how far is it? It's actually kind of complicated, and you should check out our complete guide on the maximum HDMI cable length for a full explanation.
The reason it's complicated is that HDMI is a standard, not a type of cable. Think of an extension cord you use for power. They can all deliver 110 volts of power. But a lighter-gauge cord will only be able to supply that much current over a shorter distance.
Something similar happens with HDMI cables. A lighter cable will meet the HDMI standard over a shorter distance. Meanwhile, a heavier cable will meet it for a longer distance. At the moment, the longest functional cables run for 50 feet.
When you're installing your wall plate, make sure to use the heaviest-gauge HDMI cable you can. This includes the shorter cables from your devices to the wall. This will give you the best shot of having enough range.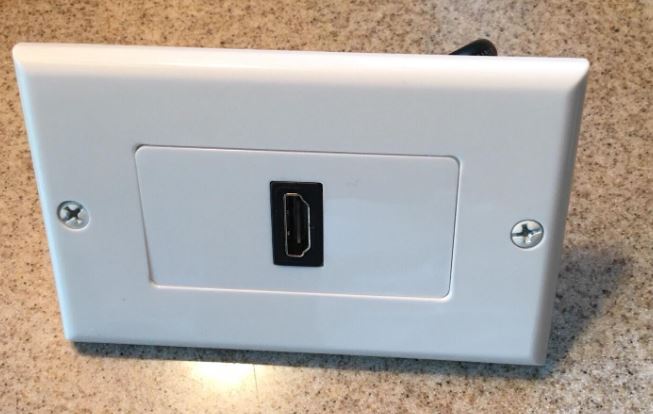 Final Verdict
As you can see, all three of these wall plates have their own unique quirks. But which one is the ideal choice for your needs? Let's cover what we've discussed.
We began by looking at the Mediabridge HDMI Wall Plate. This is a single two-port plate that can install just about anywhere. We particularly appreciated the metal bracket, which makes it incredibly easy to mount. Just make sure to order two, unless you already have another wall plate already.
Next, we examined the Cable Matters HDMI Wall Plate. This one comes in a two-pack, so you don't have to order anything extra. You also get a choice of single- or dual-port plates, so you're not forced into a dual-port design. Meanwhile, the four-inch pigtails give you a bit more flexibility during installation.
Finally, we reviewed the Buyer's Point HDMI Wall Plate. This is a single-port plate that can be ordered in many different quantities. Between that and the long, six-inch pigtail, it's a great choice for large buildings. The only drawback is that there's no dual-port option.