Whether you're enjoying the latest Blu-Ray or a gaming session on your PS4, an HDMI cable is one of the core components in your multimedia system. HDMI cables are all virtually universal, with a single cord supplying both video and audio for a large variety of formats. Unfortunately, the one downside to universal cable is that they have universal problems. No matter how you're enjoying your content, there is a limit to how far HDMI data can be transmitted. The theoretical limit is 50 feet, and it's incredibly rare to find an HDMI cable over 25 feet.
The solution is to use an HDMI extender. These devices convert the signal to something that can sustain the high bandwidth required over a longer distance. One of the most accessible transmission methods is using serial communication over Cat 5, 6 or 7 Ethernet cable. Ethernet cable is the backbone of the internet, and years of development has allowed this technology to transmit data over a very long range.
Cat 5, 6, and 7 cable all looks the same on the outside, but there is some significant internal differences between them. The higher than number, the more twists there are in the cabling. The reason they do this is because of inductive capacitance. Basically, any electric signal travelling down a cable creates a magnetic field around it. Since Ethernet cable is essentially a large bundle of wires, this magnet field can induce a magnetic field that counteracts the actual signal. This gets worse over distance, and is the primary reason why cables have a maximum distance. But when you twist the wire, magnetic interference can essentially be cancelled out.
With this in mind, what these extenders do is convert the Ethernet signal to a proprietary one that can be transmitted over Ethernet. On the other end of the cable, you'll place a second extender that converts the signal back to HDMI. The end result is a totally lossless signal that is fully compatible with all HDMI compliant devices.
But not all extenders are created alike. We'll be taking a look at the three best extenders on the market. We'll help you understand the differences between them, and find the one that's right for you.
J-Tech Digital HDMI Extender
Although they have a number of HDMI extenders on the market, their single cable CAT5 extender has consistently proven to have the best bang-for-your-buck technology on the market. It's available in several packages, ranging from the simple to the advanced. This allows you to choose the model that best suits your needs, without breaking the bank.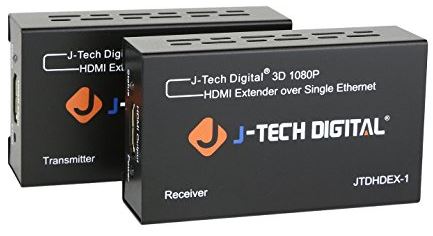 Video Technology
The J-Tech Digital HDMI Extender is fully certified for HDMI V1.3. This means that it has a maximum bandwidth of 10.2 Gbps, allowing it to support several modern features. You can use it with 36-bit color content, commonly referred to has HDR. It also supports audio transmission, up to and including Dolby DTS 7.1 surround sound. As is to be expected, it's fully backwards compatible with the HDMI 1.2 standard, which most video technologies use.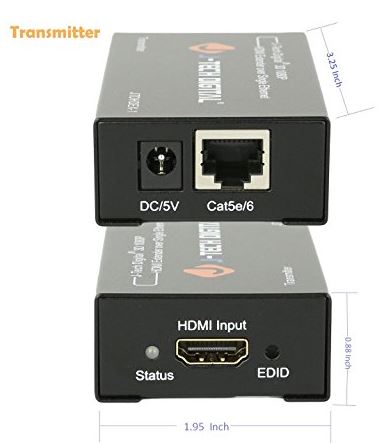 Range
There are two different models available. The standard model supports up to 200 feet of extension – nearly four times that of the original HDMI standard. If that isn't enough for you, you can purchase the upgraded version which supports up to 400 feet of transmission.
One important thing to note is that the transmission distance is measured between the two extenders. There are many extenders on the market that advertise a certain range, but this includes the HDMI cables that connect to it. If 200 feet isn't enough for you, you can easily add two six foot HDMI cables on each extender and expand an additional 12 feet.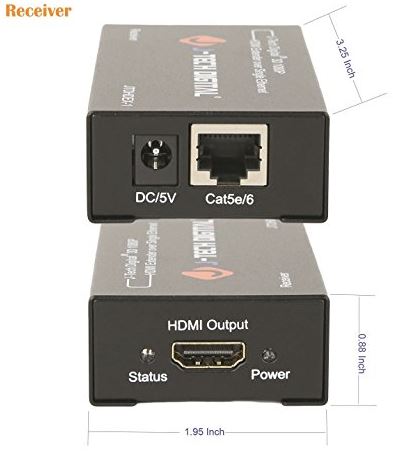 Features
The one disadvantage of using extenders is your remotes. The infrared receiver is still located on your video source, and it's going to be hard to use the remote when that's 200 feet away. J-Tech does make a model that includes IR ports on each extender. This means that you simply point your remote at the terminus extender, and the signal will be transported back along with your video signal.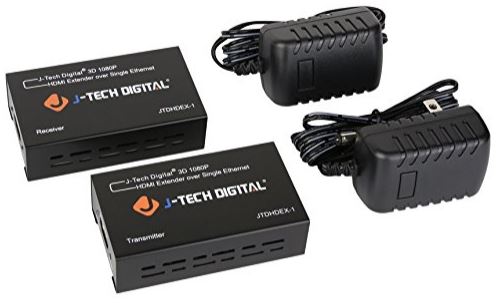 Requirements
For shorter ranges and standard video, you can use any old Cat 5 cable. But if you're looking to use more advanced features like 7.1 channel audio, you'll want to use Cat 6 cable. When you're pushing the limits of this device, it's worthwhile to get a high quality Ethernet cable. J-Tech makes their own ***150 foot Ethernet Cable that is guaranteed to work with all features, and it's worth considering if you don't already have one available.
Cable Matters HDMI Extender
If you're looking for something a little more fully featured than the previous model, this Cable Matters HDMI extender might be the one for you. It comes bundled with a number of features that are generally sold as extras, making it an all-inclusive extender.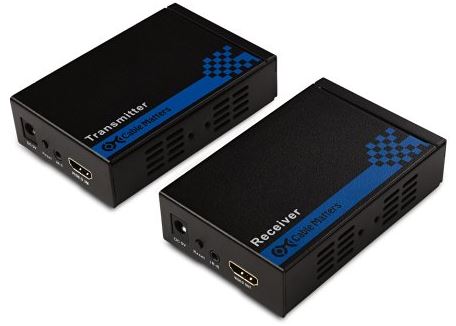 Video Technology
Although there are a few extra networking features, the Cable Matters HDMI Extender is designed for use with a standard 1080p signal. It's fully backwards compatible with 1080i, 720p, and standard definition video signals, making it a great choice for movie watching or gaming.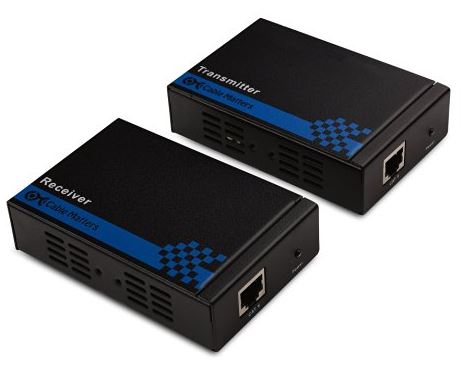 Range
This extender requires only a single cable, and provides a whopping 300 feet of total range. With the included six foot cables, your total range is 312 feet, more than enough for even the longest distances. This range is possible thanks to the included AC adapters. Both the transmission and reception units need to be connected to 120V AC, which allows for the higher transmission power of longer ranges.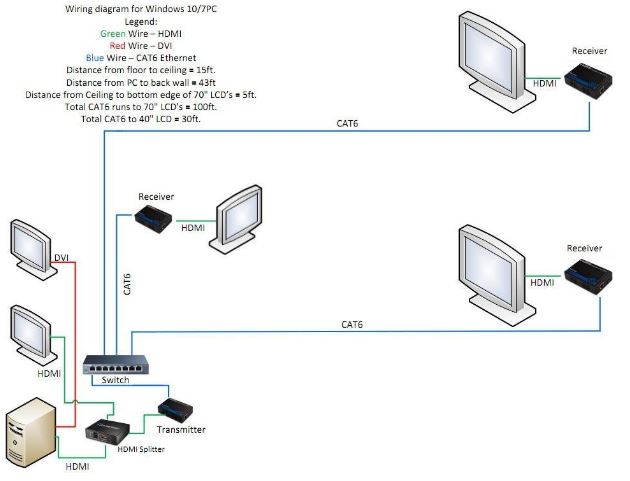 Features
There are a few basic features included that we were happy to see. IR extenders allow your infrared remote controls to work seamlessly, as if you had moved the video source directly to where your display is. The internal adjustment chipset allows for automatic tweaking of the video signal. With most extenders that have a range in excess of 300 feet, this is something you have to do manually. The fact that it's built right in means that you don't need a lot of technical expertise to get it set up and running.
But the main feature of this extender comes from its networking ability. This is useful if you already have an Ethernet network set up. You can connect it one of two ways. Either you can go through an unmanaged switch like the TP-Link 5 port Ethernet Switch. It's important that the switch does not have any QOS service installed, as the ultra-high bandwidth used by this extender can often trigger devices to delay the signal. Alternately, you can use the HDMI over IP function to transmit data through a standard router. This saves you from having to run any additional cables, instead using the network that is already in place.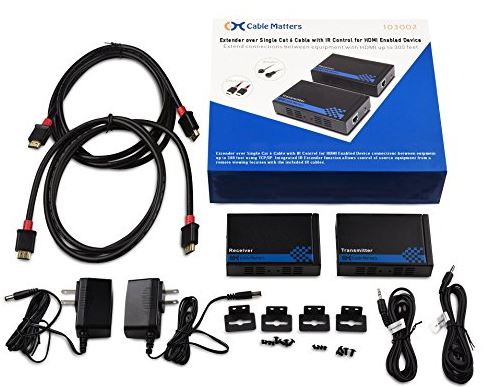 Requirements
This isn't your standard extender, and it needs a beefy network to run. Whether you're connecting to an existing network or using a direct cable, it's essential that you use CAT 6 Ethernet cable. Technically speaking, CAT 5 cable will work. But you won't be able to get the full rated range of the extender.
AV Access HDMI Extender
If you're interested in watching 4K video, AV Access' latest HDMI extender is just the thing you need. Featuring the latest in signal processing technology, this is capable of handling video that most other HDMI extenders cannot come close to.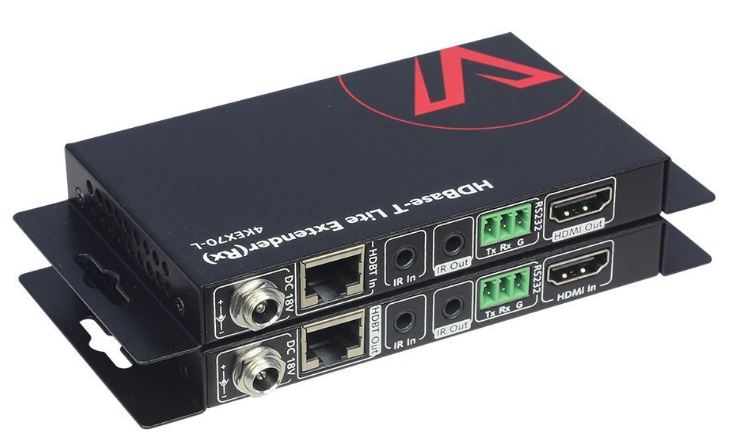 Video Technology
The AV Access HDMI Extender uses a technology called HD base T (a play on words for 10baseT, a popular networking technology) to extend the limits of what is normally possible with Cat 6 and 7 cable. You can stream 4K resolution video at 60 frames per second. If you're using 3D or HDR content, this is also fully compatible.
With support for Dolby pass through and uncompressed PCM audio, this extender has everything it needs to be completely HDCP 1.4 compliant. The reason for this is because the data is sent totally uncompressed. Copy protection software means that the standard compression used with most HDMI extenders can no longer apply, so AV access had to push the limits of technology to make this work.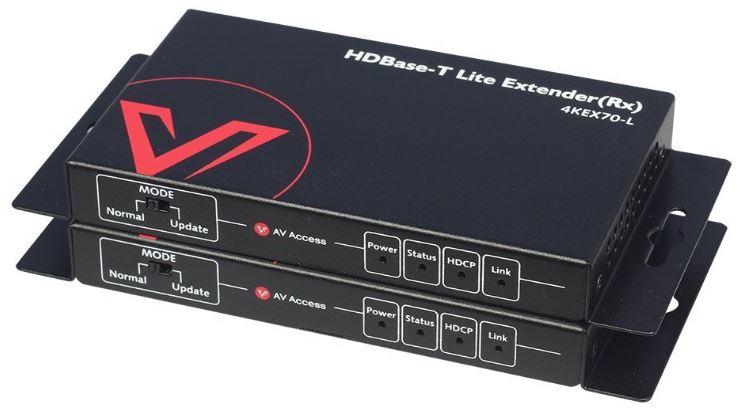 Range
Because of the massive bandwidth required for 4K content, the total range depends a lot on what type of media you are streaming. With standard 1080p content, you can get 197 feet of range. If you're streaming 4K content, this range drops to about 130 feet. Considering that HDMI cables themselves have a reduced range with 4K media, this is still quite impressive.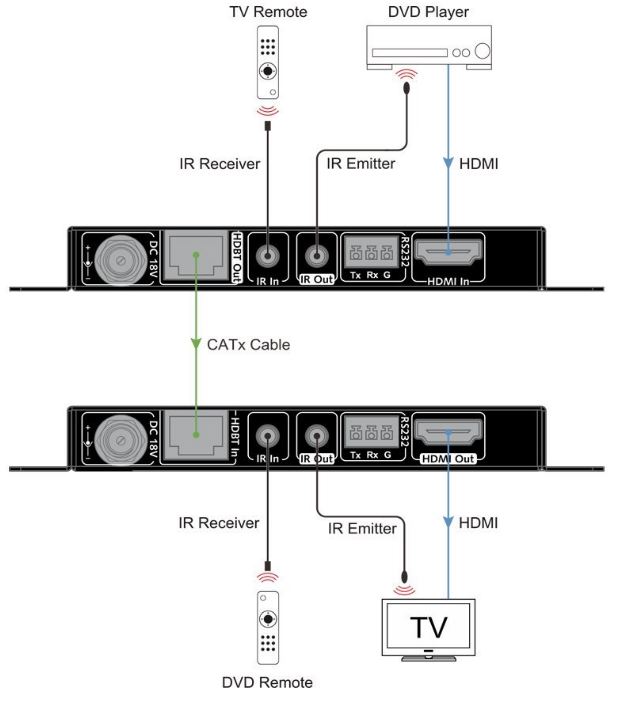 Features
This HDMI Extender is much easier to set up than the competition thanks to its support for PoE, or power over Ethernet. The transmitting part of the extender needs to be connected to AC power, but it is then converted to DC and transmitted along with your video signal. This is great for people who are mounting the receiver in an awkward location, as the only cable you'll need to connect is the HDMI cable.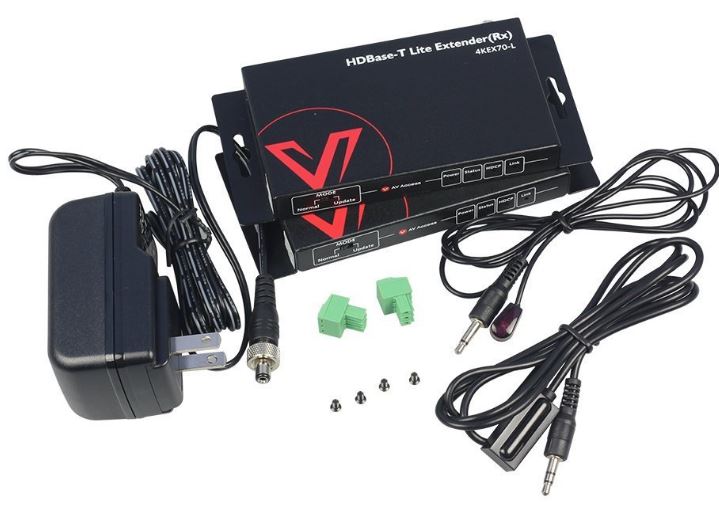 Requirements
Because of the huge bandwidth required, you're best off going with the highest quality Ethernet cable you can find. 4K content with HDR requires Cat 7 cabling. If you're only doing 1080p, you can get away with cat 6. And for shorter ranges, you may be able to use Cat 5e.
Which HDMI Extender is Right for Me?
While all of these are great HDMI extenders, they are all intended for different purposes. Those of you looking to hook up a remote projector or display for use with 1080p content will be satisfied with the J-Tech Digital HDMI Extender. This model is simple in design, but provides some of the best range on the market.
If you're using this extender in a commercial environment or already have an Ethernet network in place, you should spend a few extra bucks on the Cable Matters HDMI Extender. This extender supports HDMI over IP, allowing the signal to pass through a router or switch. The premium you pay for this technology will pay for itself by saving you the cost of buying a new cable, not to mention the time that would be required to install such a cable.
If you're watching 4K content, the AV Access HDMI Extender is one of the best models on the market. It's one of the only choices available for streaming 4K content over Cat 7 cable, and the fact that it's fully HDCP 1.4 compliant means that you will never have any compatibility problems. The only additional thing you'll need to purchase is a 4K compatible HDMI cable, if you don't already have one.
Don't have an Ethernet cable laying around? All of these extenders require high quality cables if you want to realize the full benefits of this technology. We'd recommend the Jadaol Network Ethernet Cable. Not only is it made from the highest quality components, but it's flat design makes it easy to tuck the cable away where it's unlikely to get snagged on anything.
Not interested in running wires? We've already done a roundup of the best wireless HDMI extenders. These extenders use similar technology, but can save you tons of time and money pulling cable by allowing it to be transmitted over the air.
Meet Derek, "TechGuru," a 34-year-old technology enthusiast with a deep passion for tech innovations. With extensive experience, he specializes in gaming hardware and software, and has expertise in gadgets, custom PCs, and audio.
Besides writing about tech and reviewing new products, Derek enjoys traveling, hiking, and photography. Committed to keeping up with the latest industry trends, he aims to guide readers in making informed tech decisions.