There are a million and one flash drives on the market today, and sometimes we never know which one to pick. Many of us use these "memory sticks" on a daily basis, and can be found carrying them around wherever we go. If we're storing important information on them, then we really can't afford a failure.
Have you ever been caught in an unexpected downpour? Ever accidentally dropped something down a flight of stairs? Imagine if that was your flash drive. You may have just lost that presentation for work, or some of your financial documents. If your data is important, you should probably consider getting a rugged and waterproof flash drive. Before you try to scroll through hundreds of different flash drives, take a look at our reviews of the three best models that you can buy today.
Corsair Flash Survivor Stealth
If you ever see a list of the "best" flash drives that doesn't have Corsair on it, they're not really the best. This company has been manufacturing memory, both volatile and solid state, for a very long time. They're a premium brand, and their customers expect the best, so we expect to see good things from this drive.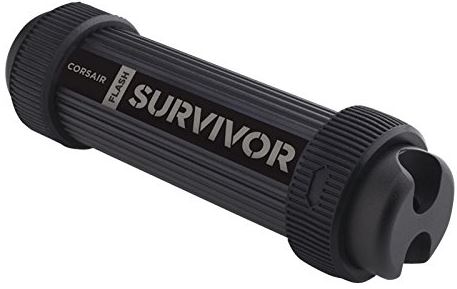 First Look
What may be one of the most durable drives on the market, the Corsair Flash Survivor Stealth is one cool looking drive. It's going to cost you a few dollars more than the competition, but if you're really worried about durability then it's probably worth the money. The drive comes in 16, 32, 64, 128, and 256 GB sizes.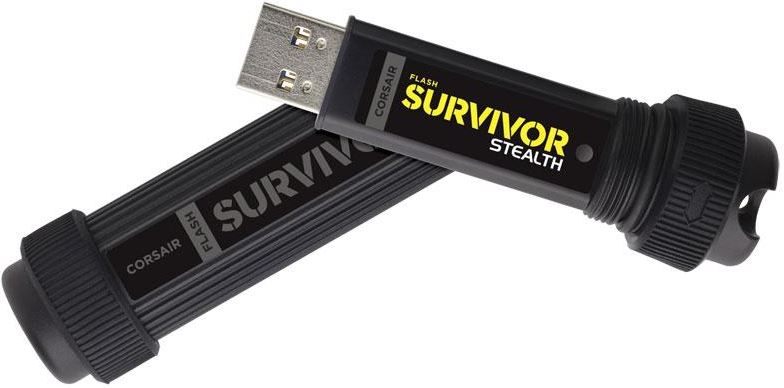 Design
The Survivor Stealth is one of the most unique looking flash drives on the market. Instead of using a simple cap to protect itself from the elements, it uses a beefy looking sleeve that covers the entire drive. With two large rubber bumpers on each site, this metal drive looks a little more like something you'd be given in a war rather than a storage device. Of course, all of this durability means that it's a little larger that most drives on the market. To open the drive, you need to unscrew the cap. It takes about 3 turns before it pops off, exposing the flash drive itself. Surprisingly, you can actually pull the drive out of the enclosure pretty easily, exposing the bare circuit. There is probably no harm in doing this, but we'd recommend you try to keep in from coming out of the metal sleeve.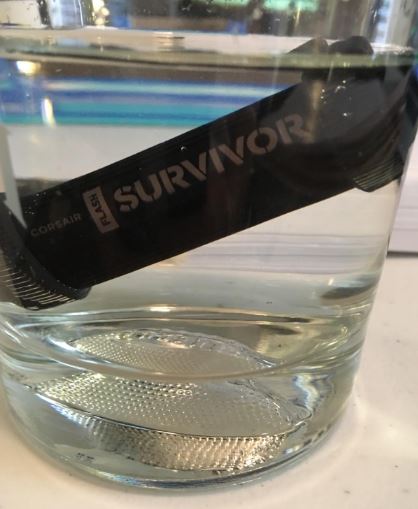 Durability
Is this flash drive as bomb proof as they say? It sure looks like it. According to Corsair, the drive can be submerged in water up to 200 meters. We aren't scuba divers, so we couldn't test that exact value. But we can tell you that it will survive in a tub of water overnight with no problems at all. As for physical damage? Despite our best efforts, we weren't able to do much harm to this drive. We tried throwing it down stairs, into walls, and even the road. Other than a few nicks and scratches, it worked fine. We hit it with a hammer, stomped on it, and even ran it over with a car. It's not as pretty as it used to be, but the drive works perfectly.
It's important to know that this drive is only durable with the cap on, and screwed shut. If you're tempted to chuck it in your pocket without sealing it, keep in mind that it will lose its durability.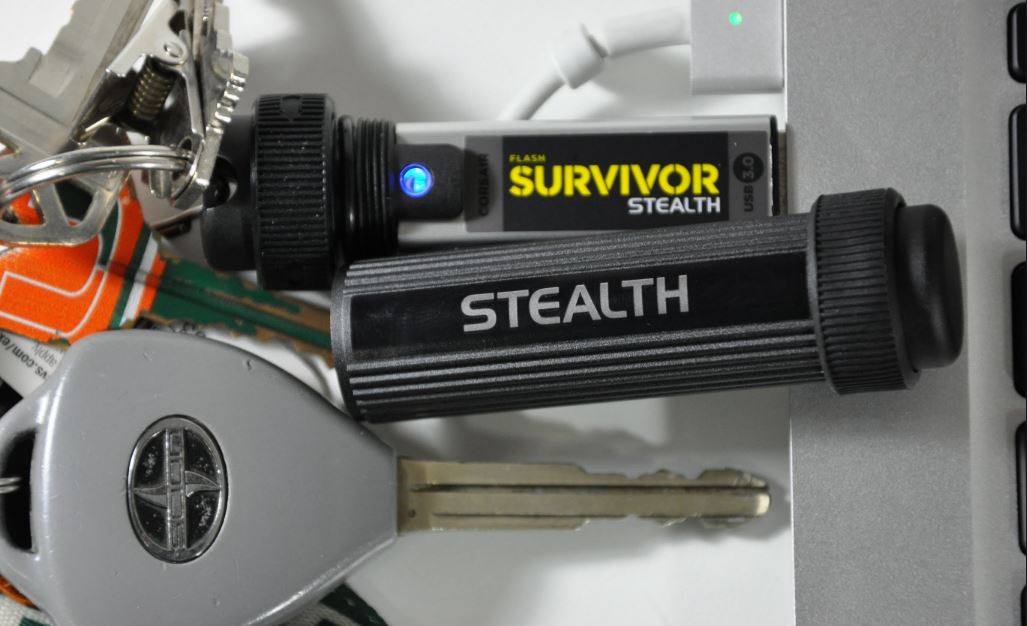 Speed
Using CrystalDiskMark, we tested a few different functions of the drive. Sequential read speeds were 179.7 MB/s while write came in at 87.15. Since it's a sequential measurement, this represents the fastest theoretical transfer rate. Still, it's pretty impressive. We also tested it with a 4K QD32 benchmark, allowing us to estimate the read speeds in the most challenging conditions. At 19.72 MB/s, this drive is certainly one of the faster ones on the market.
Samsung BAR Plus USB Flash Drive
You can't really shop for any consumer electronics without coming across a Samsung product. Despite the fact that their business spans a massive range, they still manage to ensure that virtually everything they release is of high quality. It's available in 32, 64, 128 and 256 GB sizes, but the best thing is the price. Despite being one of the few waterproof drives, it's still priced as if it was a standard drive.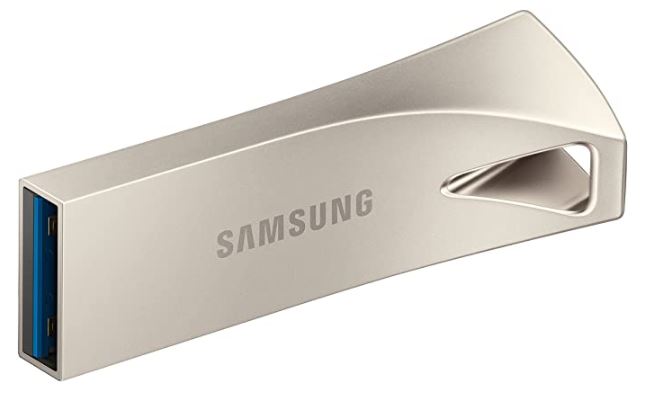 Design
If you're not into the military grade look, here's a drive on the opposite end of the scale. The Samsung BAR Plus USB Flash Drive is made from a solid piece of metal, giving it a very sleek and professional look. Unlike drives which have the USB plug sticking out the front of the case, this drives case is more of an extension from the plug. With a choice between silver and black, it's got an executive look to it that will stand out from the crowd. Do you spend a lot of time on the go? It's very easy to carry around thanks to the included key ring, and has a nice compact form factor that won't feel awkward in your pockets.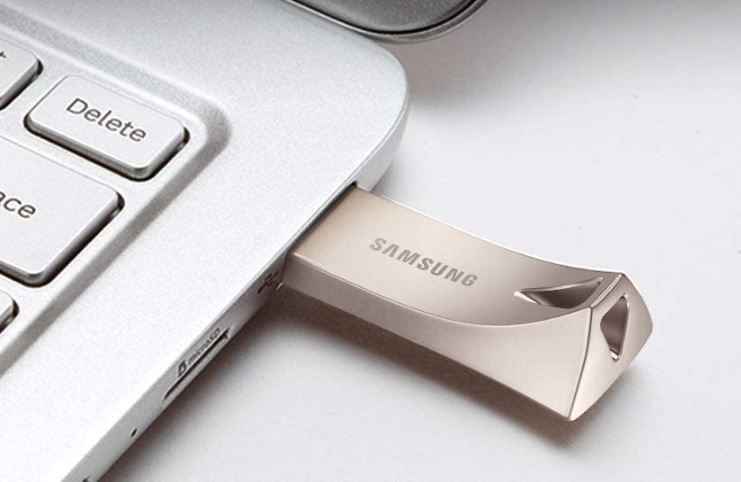 Durability
This drive is advertised as being waterproof, magnet proof, temperature proof, and X-Ray proof. Every single flash drive on the market is technically magnet proof, meaning that you won't lose any data if it's exposed to a magnetic field. Since all the metal bits are made from aluminum, the drive itself won't be attracted to a magnetic field. As for physical durability, we found it to be impressively built.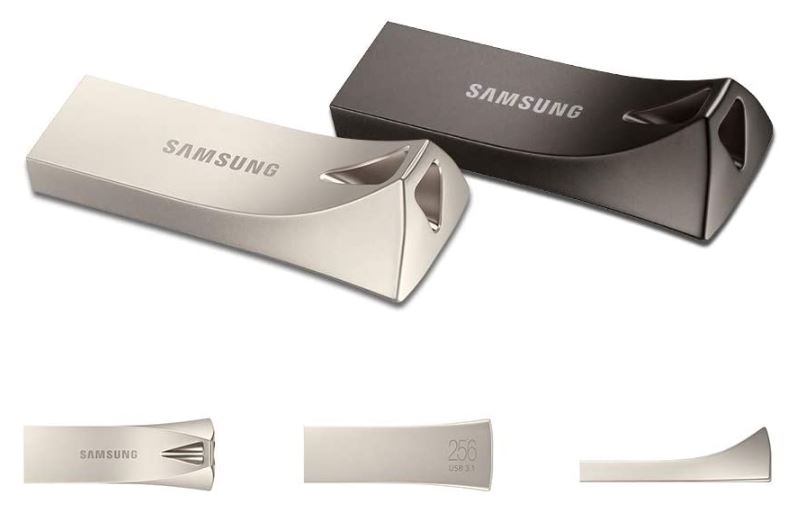 Simply looking at it, you'd think that the case was more of a design element rather than a durability one. But after dropping it, stomping on it, and running it over, we found that it was totally fine. The only disadvantage is that the front of the drive is exposed. While the Corsair drive can take a blow with a hammer, hitting this drive on the plug could bend or deform it. This means that it wouldn't fit back into your USB port, rendering it useless. Aside from that single weak spot, this is still one of the most durable drives on the market.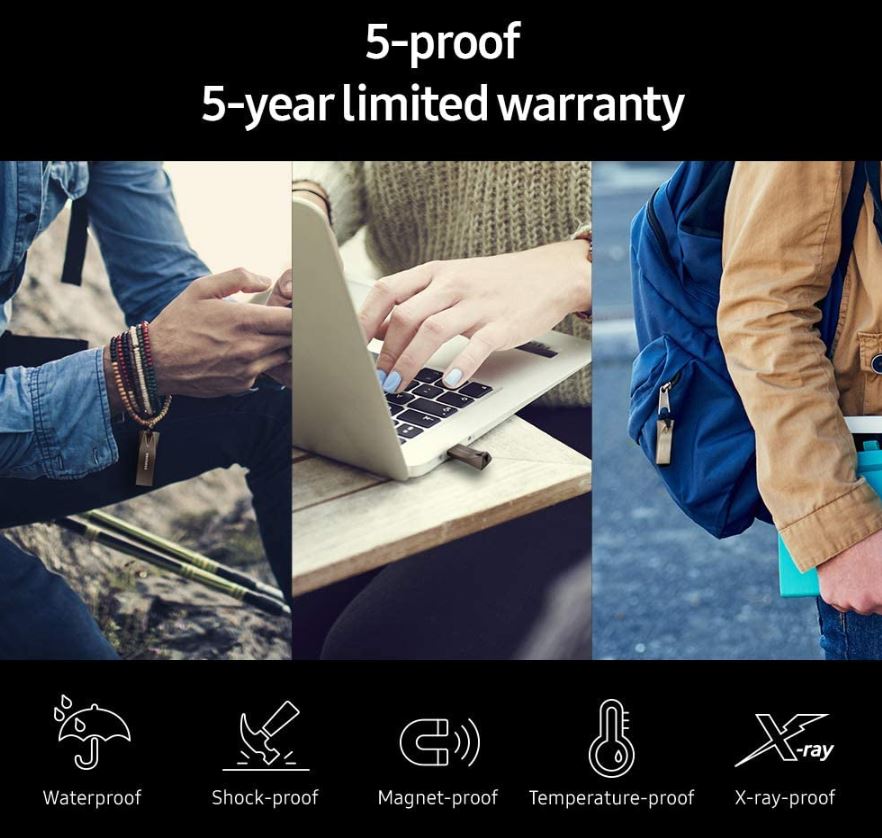 Speed
Once we fired up the benchmark, we found some pleasing results. Sequential speeds cap out at around 116 MB/s read and 92.38 Mb/s write. 4K QD32 speeds were surprisingly low, at 4.4 MB/s and 1.9 MB/s. To double check, we threw about 10 GB of movies from our computer onto the drive. In the real world, write speed averaged 68 MB/s. So it's certainly a little faster than your average flash drive, but not the fastest on the market. The low QD32 benchmarks indicate that this drive is not the best for random access. If you're simply copying files back and forth, you won't have any problems. But the drive is not ideal for running live applications off of.
GorillaDrive 3.0 Ruggedized
Some companies want to be good at everything. GorillaDrive would rather be great at one thing. Their entire business focuses on flash drives, so we certainly expect this one to impress.
First Look
The GorillaDrive 3.0 Ruggedized is a pretty solid looking unit, composed primarily from rubber. It's designed a little more along the lines of your typical flash drive, with a removable cap and rear mounted loop. It's pretty compact, reasonably affordable, and impressively built. It only comes in 64GB, but in our opinion that's the sweet spot for storage these days.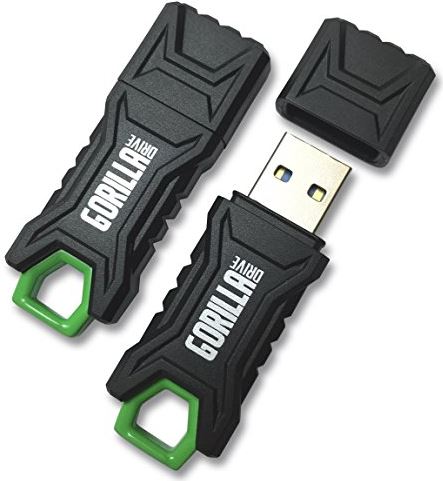 Design
The GorillaDrive 3.0 certainly has an aggressive look to it, much like many of the gaming products on sale today. While virtually the entire drive is wrapped up in rubber, it's got some aggressive angles and beveling that highlight its durability. Despite being reasonably compact, the rubber is impressively thick. There are ridges cut into the side of the drive, making it easy to remove or insert it into a USB port. Despite the few unique design elements, the drive appears pretty standard. Many people will appreciate the inclusion of a rubber cap, as it can prevent dirt from getting in the port. These are easy to lose, but fortunately GorillaDrive designed it so the cap will clip onto the back of the drive, keeping it safe and sound.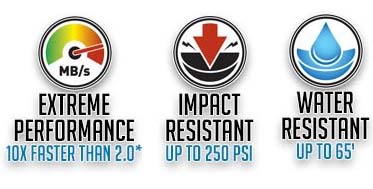 Durability
The marketing department certainly didn't embellish any facts with this one. When they say it's durable, they really mean it. Throwing it around didn't even make a scratch, and the rubberized case meant that it was a little bouncy. Even after running it over with a car and hitting it with a hammer, we barely had a mark aside from a few nicks in the rubber.
Leaving it in water overnight didn't have any effect. If your drive does happen to get wet, make sure that you get all the water out of the USB plug before you put it into your computer. This drive might be waterproof, but your PC probably isn't.
GorillaDrive says that it's heat resistant up to 225 degrees Fahrenheit. We considered burning it, until we realized that the flame from a lighter is over 1000 degrees. Throwing it in the oven at 225 seemed to have no effect. Since it's not fireproof, the heat resistance probably isn't very useful in real life. Beyond having it fall into boiling water, we couldn't think of any other situation where it would apply.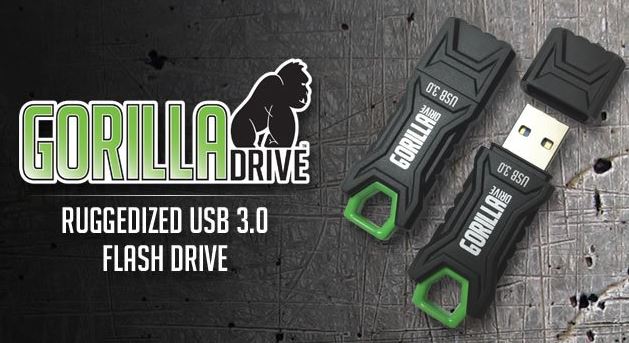 Speed
Testing sequential transfer rates, we were able to get a read speed of 87 MB/s and a write of 74 MB/s. Like the Samsung, our 4K QD32 performance was quite low. When transferring a real file, we saw an average of 63 MB/s. While this isn't the fastest drive on the list, it's pretty standard for a USB 3.0 drive. Unless you're going to be doing a lot of transfers, you probably won't need anything faster.
So, Which Rugged Waterproof Flash Drive Should I Get?
People use flash drives for any number of reasons. Some just need to occasionally move files from place to place, while others rely on them for important daily matters. Some may only use a few PDF files here and there, while others are moving huge volumes of data on a daily basis. We need to take all of these into consideration before we can choose the right drive for you.
The Corsair Flash Survivor Stealth is the most durable drive on the list. Technically, it's more like a little case with a flash drive inside. However, it can withstand more potential damage than anything we've seen. It also happens to be the fastest drive on this list, providing users with incredible transfer rates. The only disadvantage of this drive is that it's a little bit of a process to get it out of its case. If you don't need the extreme durability or the extreme speed, you're just going to become frustrated with having to unscrew it all the time.
The Samsung BAR Plus USB Flash Drive is the most compact and stylish of the bunch. It has slightly above average transfer rates, especially when dealing with large files. While most rugged drives are bigger than your standard flash drive, the Samsung is almost a little smaller. If you're just looking for a simple flash drive that offers additional protection from daily activity, look no further than the Samsung BAR Plus.
The GorillaDrive 3.0 Ruggedized is the best balance between durability and ease of use. It's almost as durable as the corsair, allowing it to stand up to everything except the most extreme types of damage. It's easy to use, easy to carry around, and just generally simplistic. Whether you're a construction worker or avid outdoorsman, this drive is excellent middle ground for anyone who doesn't need extreme speed or durability.