Whether working remotely or in the office, a growing number of individuals realize just how important it is to optimize their work space. From the lighting to stationary, it's essential to make your workspace enjoyable and effective. One of the most impactful ways to optimize your desk is to purchase a genuine leather desk mat. It might not seem like much, but it makes a world of difference.
You might wonder, why should I use a desk mat? It turns out that there are a ton of reasons including:
Protection From Scratches – Prevents the accumulation of micro scratches and damage caused by writing utensils and a computer mouse.
Improved Ergonomics – Soft spring back from a leather desk mat helps to prevent forearm and wrist fatigue during prolonged typing or writing.
Better Organization – Gives a visual border to your desk to help eliminate clutter.
Superior Work Surface – Prevents wear and tear to your keyboard and mouse that also improves mouse tracking and ease of writing.
Elegant, Low-Profile Features – Things like wireless charging and hidden storage help add inconspicuous functionality to your desk.
Aesthetics – A genuine leather desk pad can enhance the look of your work space tremendously.
There are no shortage of options for genuine leather desk mats. To help in your search, we've compiled a list of the best genuine leather desk mats and pads currently on the market. If you need help to figure out the best mat for you, stick around to the end for tips on what to look for.
Best Overall: Harber London Leather Desk Mat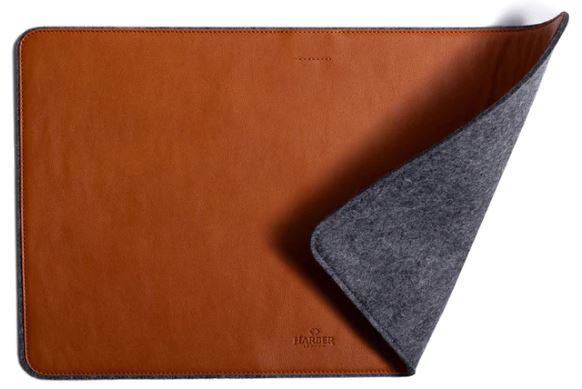 Key Features:
100% Full grain leather.
Hand-made.
Multiple underside material options. (Depending on desired use.)
Excellent cable management.
Cruelty free.
1 year warranty.
Generous return policy.
When it comes to luxurious materials, nothing compares to 100% cruelty free full grain leather. It's one of the main reasons the Harber London Leather Desk Mat tops our list as the best overall leather mat on the market. Even though other brands use similar materials, the leather treatment and hand craftsmanship that goes into the Harber London is in a league of its own.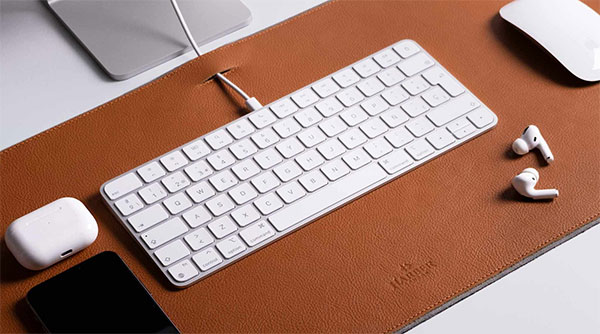 A major advantage reviewers bring up repeatedly is how much less fatigued their wrists and forearms are when using the Harber London leather desk mat for extended periods of time. Specifically, users that suffered from carpal tunnel syndrome or joint pain say they could work for longer periods of time using this mat.
One reason you opt for a leather mat is because of the lovely patina it forms in response to prolonged use. It's an incredible way to infuse character and a unique touch to your workplace. Cruelty-free leather and non-toxic treatment and dyes means it's extremely safe to put in contact with your skin for prolonged periods of time.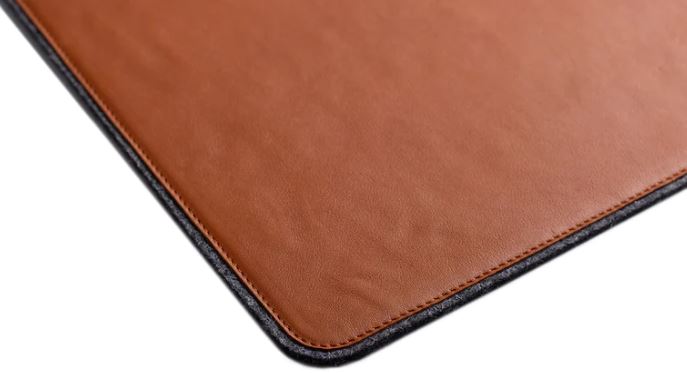 Nothing destroys a desk's visual aesthetics like wires protruding from every direction. Harber London has incorporated a discreet cut-through cable pass into their mat allowing the look of your workspace to be clutter free. The result is a perfect balance between form and function. From craftsmanship to functionality, the Harber London leather desk mat will provide years of enjoyable use.
What We Like:
Quality hand craftsmanship.
Using cruelty free leather.
Color is on-trend yet timeless.
Multiple base materials to customize experience.
What We Don't Like:
Relatively high price point.
Sells out easily.
Best Runner-Up: Dacasso Chocolate Brown Leather Desk Pad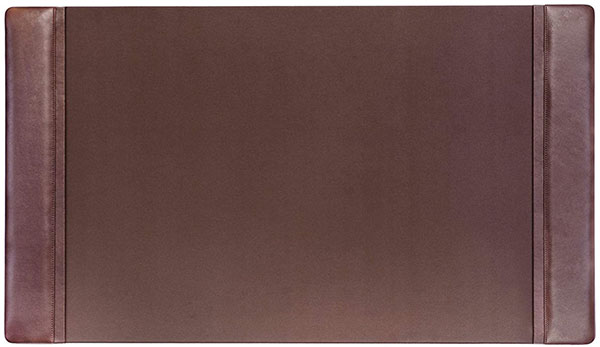 Key Features:
Top grain leather.
Hand crafted.
Velveteen backing.
One-year warranty.
34″ x 20″ dimensions.
Coming in at a close second is the Dacasso Chocolate Brown Leather Desk Pad. This leather mat is designed for individuals that enjoy a thicker amount of padding through the use of a velveteen backing. Including functional side rails provides an enhanced tactile feedback experience. They also prevent writing utensils from rolling off of the desk.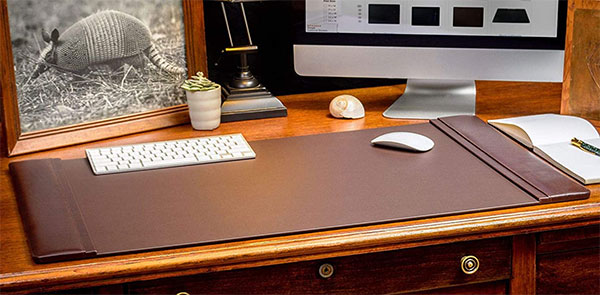 The first thing you'll notice is the incredible attention to detail in the craftsmanship. Each stitch is perfectly spaced and void of imperfections. This translates to a visually appealing, functional desk accessory. The Dacasso has the edge over Harber London with shipping. Dacasso customers normally get their order within two to three days.
What We Like:
Large size.
Excellent craftsmanship.
Side rails.
Luxurious velveteen padding.
What We Don't Like:
Color is more traditional, may not work with modern aesthetics.
Higher price point.
Best High-End: Dacasso Classic Black Leather Desk Pad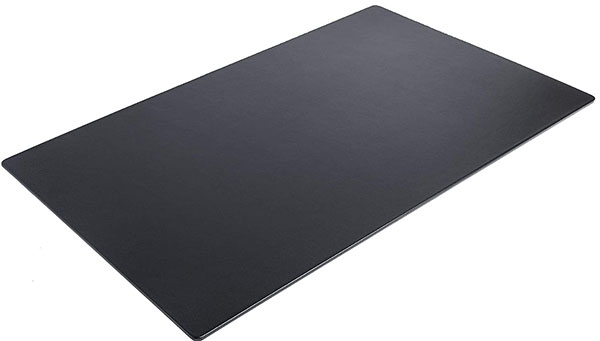 Key Features:
Wrapped edge design.
Protective felt bottom.
38″ x 24″ dimensions.
Ideal for writing.
Scratch and water resistant.
Rated for laptop use.
The Dacasso Classic Black Leather Desk Pad is luxurious in all the right ways. From its oversized dimensions to sleek wrapped-edge design, this leather desk mat is an incredibly modern take on an office classic. With quality materials, the leather is both strong and supple, providing a superior feel whether you're scrolling with a mouse or writing on a pad of paper. It is an absolute pleasure to use.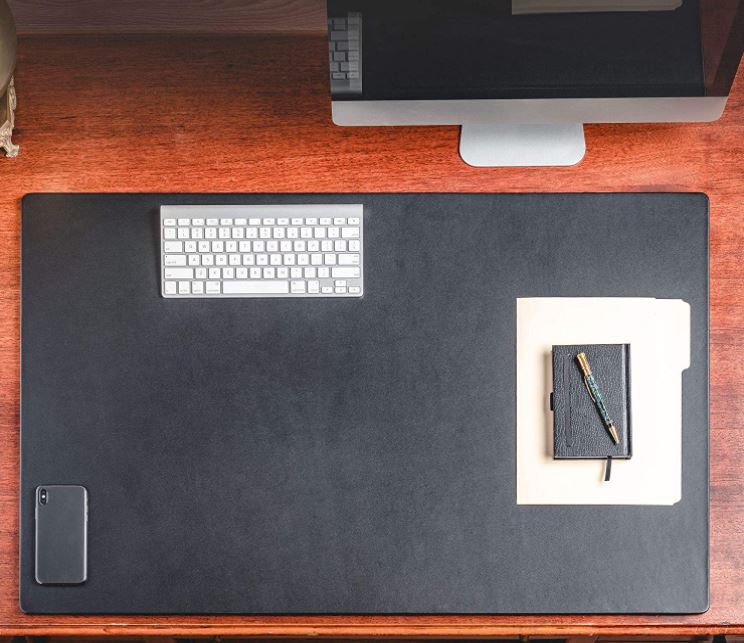 To help keep things from sliding, the Dacasso is one of the thickest, heaviest mats currently on the market. A lot of reviewers raved about its ability to take a major beating without affecting its appearance. If you are a heavy writer or move your mouse around a lot, this mat would be a great option.
One thing to keep in mind is that its clean edges and shade of black may clash with more traditional desks and furniture. To help make sure it complements the rest of your office, Dacasso offers a convenient satisfaction policy that makes returns and exchanges a breeze.
What We Like:
Large size.
High-quality leather.
Thick padding.
Ideal for writing.
Wrapped edge design or a modern aesthetic.
What We Don't Like:
Extremely heavy.
Expensive.
Best Alternative: Niaiu Full Grain Leather Desk Pad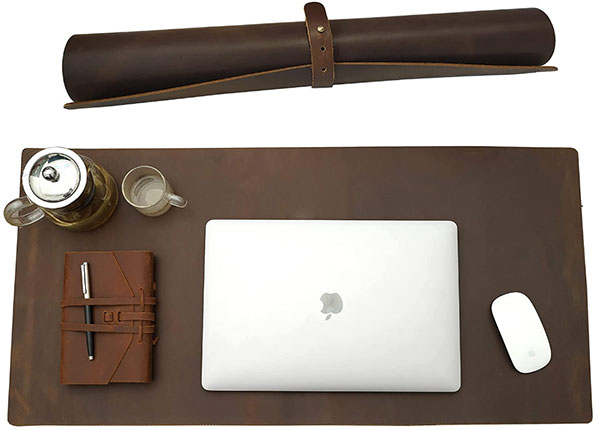 Key Features:
Full grain leather.
36″ x 17″ dimensions.
Dark brown.
One-year warranty.
This Niaiu desk pad is made with a single piece of full grain leather. Our team was impressed by the quality of the materials and how it's expertly assembled. It boasts unique, wide dimensions that make it a great alternative for users that need a wider layout to accommodate activities like writing or sketching.
In fact, many reviewers rave about its superior comfort and padding for writing. The combination of thickness and soft material work in concert to produce a low fatigue environment for both wrists and forearms.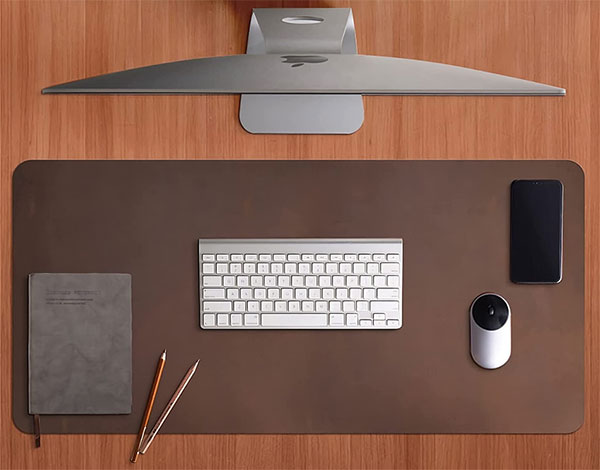 The thick, supple leather of the Niaiu makes it easily foldable and transportable, something you aren't able to do with other mats in this roundup. This feature makes it a splendid companion if you work remotely or from multiple locations.
What We Like:
Beautiful brown color.
Minimalist, modern aesthetic.
Extremely durable yet soft leather.
Foldable and transportable.
Great price point.
What We Don't Like:
Slight color variation.
Some report durability issues under heavy use.
Best Budget: ELIZO Leather Desk Pad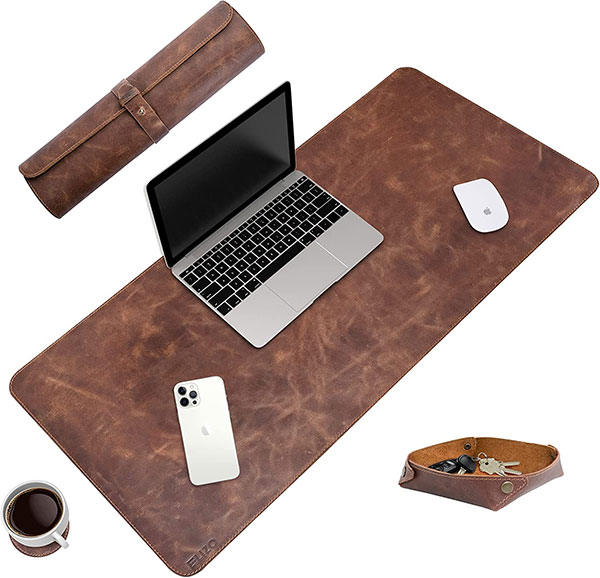 Key Features:
3 millimeter thickness.
31″ x 15.6″ dimension.
Chestnut color leather.
Includes leather tray.
One-year warranty.
Finding a budget friendly leather desk mat can be a tall order. There are a lot of inferior options on the market that will try to compromise the quality of their leather or workmanship in order to keep costs down. After going through dozens of budget options, the ELIZO leather desk pad emerged as the clear winner.
This mat achieves superior pricing by refining its manufacturing processes and incorporating sizing and alternative cuts of leather that allow an outstanding balance between value and quality. While it's an incredible option, you will notice a difference primarily in how the leather is treated and colored.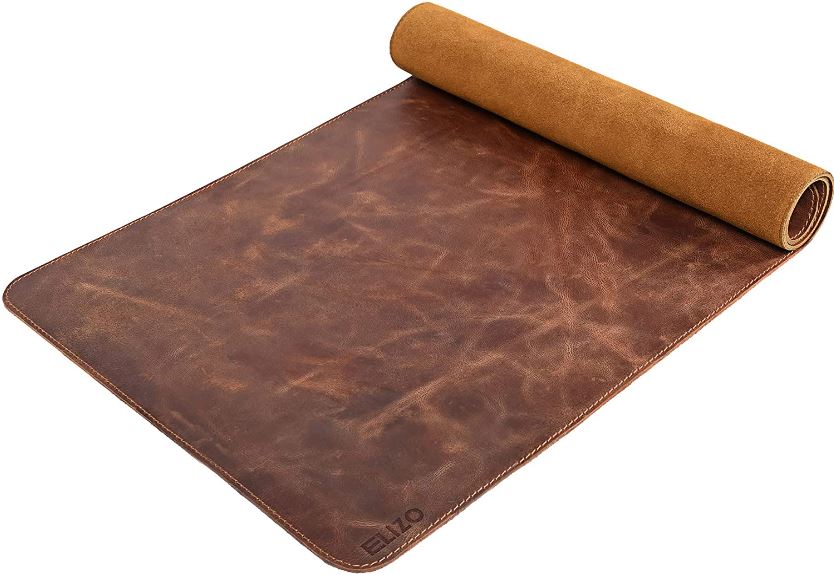 Although still a high-quality leather, the ELIZO uses a patterned color to help draw attention away from any color/shade variances that may be present in the leather. Don't let the competitive price fool you. This budget friendly leather mat has dozens of five star reviews attesting to its comfort and extreme durability.
We also found a tremendous use for the included leather tray. It did a great job helping to corral small paper clips, loose change and whatever little things that would have otherwise cluttered our desk space. Overall, we could not be more impressed with the ELIZO leather desk pad as the best budget option.
What We Like:
Thickest leather at this price point.
Budget friendly.
Extremely soft.
Added leather tray coaster.
Great satisfaction policy.
What We Don't Like:
Color and pattern may not be for everybody.
Some report rough edges.
How to Choose The Best Leather Desk Mat
Choosing the right leather mat doesn't have to be difficult or expensive. As long as you are specific about what your needs are, you can select a mat that enhances your desk's functionality and enjoyment. Here are a few considerations to keep in mind.
Materials
Not all leather is created equal. You'll want to make sure that the materials used are top quality to ensure years of use. When looking at descriptions, only opt for mats that have high grade leather. When you receive it in the mail, note the smell, how it feels (avoid anything that feels like plastic or wax), stitching and edges.
Expected or Most Frequent Use
How you intend to use your desk mat will play a major factor on which mat is best for you. For those that do a lot of computer and mouse work, opting for a heavier mat with a larger footprint may be the best option. For individuals that do a lot of writing, consider a thicker mat that has ample padding.
Warranty
With leather products, defects or problems with craftsmanship may not be clear immediately. It's important to only purchase mats from respected manufacturers with robust warranty policies that have you covered, even if it takes a while to find defects. Be sure to check the reviews for any brands that make it difficult to process returns. Avoid those.
Budget
You don't have to break the bank to get a quality leather desk mat. In fact, the budget friendly option featured in this roundup outranked many mats that were twice as expensive.
Color
The color of the product you receive may differ from the product photos. To help avoid disappointment and wasted time, be sure to have a look at reviewer submitted photos to get a more rounded view of the actual color of your leather mat.
Which Genuine Leather Desk Pad is Best?
A genuine leather desk mat can be one of the best additions to your office setup. Beyond aesthetics, it does wonders for your comfort, forearm/wrist health and protecting your desk, keyboard and mouse.
Of the dozens of mats we put through the paces, our best overall choice was the Harber London leather desk mat. With that said, the race for the best overall was so tight, we had to include the Dacasso Chocolate Brown leather desk mat as a close runner-up.
The Decasso Classic Black was by far the most high-end of the mats we tested. Its wrapped edge design gave it a level of sophistication that was only exceeded by its modern design. The Niaiu Full Grain Leather desk pad topped our list as the best alternative because of its unique leather choice and portability.
Although you cannot go wrong with any of the mats on this list, our discovery of the ELIZO leather desk pad as the best budget option was a real celebration. After wading through countless poor quality alternatives, the high end leather and expert craftsmanship blew away us in this budget friendly product.
Regardless of which mat you choose on this list, we feel confident you'll enjoy your genuine leather desk mat for years to come.