Nobody likes running wires through their home. And when the most elegant solution to a problem involves you tearing down or drilling through a wall, it's reasonable to start looking for alternatives. That's where HDMI transmitters come in.
Being able to transmit high resolution video signals isn't rocket science, but there is room for error. If you don't know a few things about HDMI transmitters and receivers, it's easy to end up with equipment that only half-serves your needs, or to grossly overpay when a less expensive kit would be adequate.
Choosing a Wireless HDMI Transmitter and Receiver
There are a dozen different technologies for transmitting or receiving wireless signals. Like with so many things in life, selecting the right one depends entirely on your intended purpose. In most cases, people choosing HDMI transmitters and receivers are setting up home theaters, or facilitating AV equipment for their business. The good news is that those kind of transmitters are some of the least expensive and easiest to use, but you'll still have to pay attention to matching the capabilities of the kit to your own needs.
Video Quality and Resolution
Many types of HDMI transmitters and receivers do great when they're sitting right across from each other. But with every obstacle you put in their path, you may find performance issues seemingly spring out of nowhere. That's particularly true for anyone planning on using the 5GHz band instead of the more common 2.4 GHz band.
Finding the right connectivity distance for your own setup is an important step to ensure you don't end up having to down-toggle towards 720p due to performance issues. And you'll want to know you get similar performance from lower levels of resolution. You don't want the color integrity of your image to go to hell if you ever decide to toggle down towards 720p.
Line of Sight Problems
Some of the earliest HDMI transmitters and receivers had essentially the same problems as ordinary television remotes, including nightmarish line of sight issues. A properly select transmitter can guarantee greater signal strength, although a little testing may be required. If you think you only need 100 feet of connectivity but there's a massive concrete wall between the transmitter and receiver, you'll actually want a more resilient signal seemingly appropriate for a much larger space.
Equipment Size
Whether you take the HDMI transmitter and receiver on the go, or you're storing it away in your living room, you don't want the equipment to feel like hauling around a laptop. A great transmitter will only weigh a handful of ounces, and may be lighter than your phone. With a smaller design like that, you can generally hide-away the transmitter almost anywhere. At the very least, you should know the transmitter and receiver will fit in the spaces you're working in.
Latency & Signal
Latency is a measure of the time it takes for your signal to be processed. More is less, in a literal way. For really great latency, you want your HDMI transmitter and receiver to work at around 1ms. Those numbers seem small, but they translate into giant performance issues. They're often the culprit behind what causes people to run into video buffering and equally annoying delays.
If an HDMI transmitter doesn't specifically say it has uncompressed transmission, you shouldn't expect that feature to be present. Compression allows manufacturers to build much less expensive equipment, but can take a serious toll on the quality of your video, especially when viewing from greater distances.
Additionally, you want to be assured the transmitter uses dynamic frequency selection, which allows it will automatically search for the lowest interference frequency channel. It's a feature that can minimize static, buzzing, and similar symptoms of data congestion.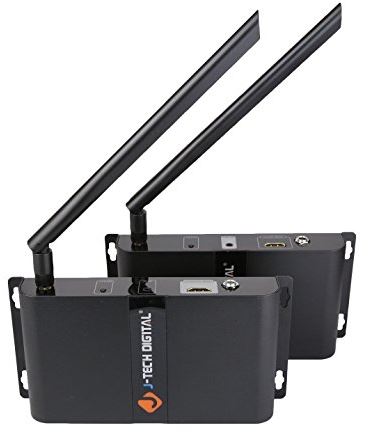 JTech Digital HDbitT Series
The JTech Digital HDbitT series is a fairly ordinary pair composed of one transmitter and receiver. Although it doesn't look like cutting edge equipment, the HDbitT can provide 4K content over as much as 660 feet of connectivity. People using less than 660 feet will end up with stronger signals through ceilings, walls, and an ultimately better picture in the process. Above all, distances like these make it easy to keep home theater devices tucked out of your way, while making flexible wireless A/V fixes a breeze.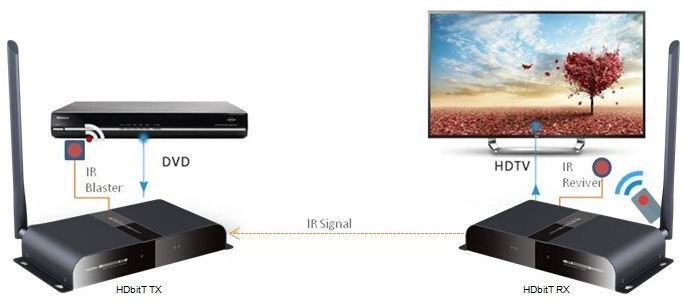 Build & Design
Physically speaking, the JTech Digital HDbitT Series looks like an ordinary data router. The black exterior is crafted into a compact 6.7 x 3.8-inch base. With the antenna down, the height of the Jtech Digital HDbitT Series transmitter is scarcely greater than 2-inches. But the height profile shoots up to 8.2-inches when you stand up the two antenna on both sides of the device.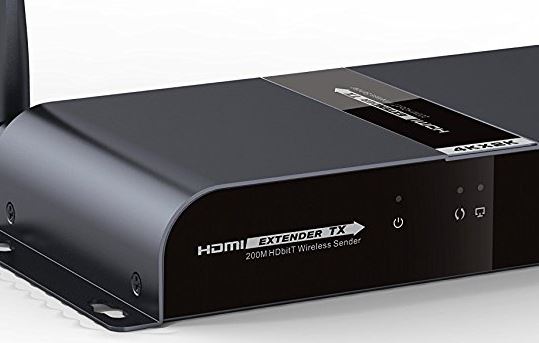 Features and Video Support
The HDbitT series supports IR pass-through, which is useful for connecting remotes. Like most television remotes, these remotes will need line of sight with the receiver or transmitter with which you're trying to communicate. But they allow you to quickly consolidate all your AV gear, from optical disc players to computers and televisions.
From a technical standpoint, it's worth noting that when you're broadcasting at 4K, the signal is capped at 30Hz. That means you can only send 30FPS while using 4K. Having 30FPS is more than adequate for watching movies and TV shows, but won't be adequate for some types of gaming. Fortunately, gamers can down-toggle the resolution to 1080p and enjoy content at 60Hz, which is much more amenable to gaming.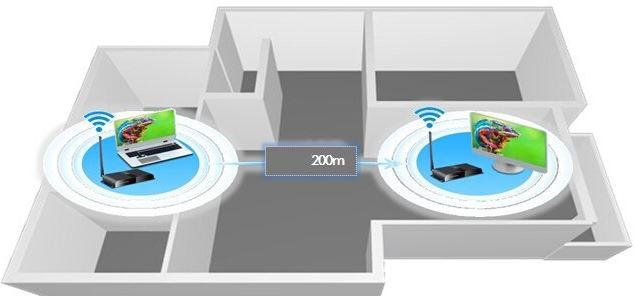 Other Considerations
The HDbitT series includes a pair of IR cables, power adapters, and the transmitter and receiver. Beyond the basics, you may want to know that JTech Digital HDbitT doesn't use WHDI technology, which is one of the more common means of transmitting and receiving these types of signals. Instead, JTech uses its own proprietary technology, which is largely what provides their incredible 600+ feet of connectivity.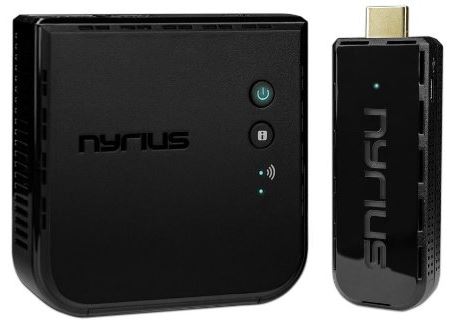 Nyrius ARIES Pro NPCS600
The Nyrius ARIES Pro NPCS600 isn't intended to broadcast signals through a mansion. It offers up to 100 feet of connectivity, depending on the line of sight between the receiver and transmitter, which is far more appropriate to small homes and small businesses. With walls and other interference between the transmitter and receiver, the effective range of the nPCS600 can quickly become closer to 75-feet. So for a smaller space, the NPCS600 is a perfect fit.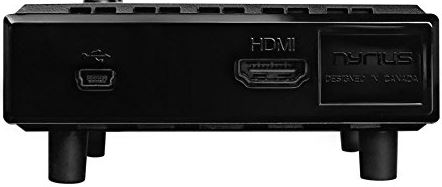 Build & Design
The ARIES Pro NPCS600 transmitter uses a highly compact design that's roughly the same size as a USB flash drive. That small size makes it ideal for carrying in laptops, UAV drones, or otherwise transmitting data through USB-powered devices. The receiver is scarcely three times larger, sitting at a mere 3.7 x 3.8 x 1.1-inches. The Pro NPCS600 uses a plug and play design, so there's essentially no installation process, and no cabling you have to deal with.
Along the top of the receiver you'll find only two simple buttons for easy operation, and two LEDS to inform you about the status of the signal. You won't have to dig through user manuals to work that one out. And along the backside of the receiver, things don't get any more complicated. You'll find only one HDMI throughput and a single USB port.

Features and Video Support
One area the ARIES Pro NPCS600 excels compared to similarly priced units is its audio compression. Every manufacturer in the world will be quick to draw your attention to their great 1080p support, while neglecting to mention underperforming audio. The NPCS600 retains excellent audio relative to other wireless HDMI transmitters and receivers in this price range.
Of course, the video holds its own as well. Neither gets bogged down with latency while streaming, which is really what the NPCS600 was built to facilitate. Beyond the basics, the NPSS600 also supports 3D content. And here too, you don't find issues with latency, even when playing this more challenging content.
One more thing to note is how the NPCS600 allows you to stream from essentially any device. You can use your PC, a drone, a DSLR camera, a projector, a computer monitor, and essentially any other type of device with a USB port. Whether you're using a drone or not, the sky is the limit.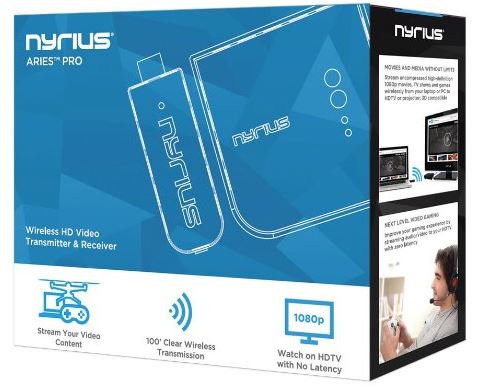 Other Considerations
The ARIES Pro NPCS600 includes the necessary AC power adapter, a five foot HDMI cable, a USB charging cable, a fistful of screws and anchors to put feet on the receiver, and a quick start guide you won't end up needing. Those additional anchors can be used to help make the ARIES Pro receiver wall mountable. And while the ARIES Pro was made to be simple to use, they do nevertheless include lifetime customer support.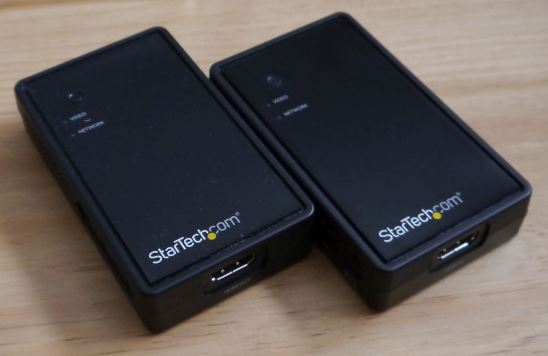 StarTech.com HDMI over Wireless Extender
StarTech has a rather large selection of low-range wireless extenders, and they all share a number of common features. This particular extended is the best of the bunch, pushing out to 165 feet of connectivity while remaining highly portable. Star Tech kits support 1080p content, and seem built almost entirely to help people avoid the pain of having to run long wires or drill through walls to setup their home AV equipment.

Build & Design
StarTech's extenders look incredibly non-descript, each build as a simple black box with no onboard buttons. On the bottom end, you'll find the HDMI-out port, clearly labeled. On the front face of the receiver, you'll notice two LEDs to indicate the video and network status of your connection. And on the topside, an IR in port, a DC power port, and a USB power connection.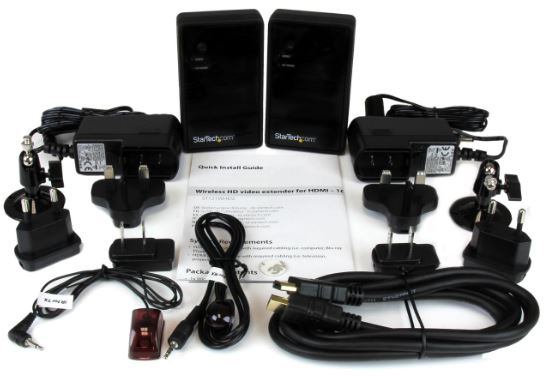 Features and Video Support
Like with J-Tech, the StarTech wireless HDMI extender can also extend infrared signals, which allow you to control your video through a remote. And similarly, the easy-to-install brackets can help stick each end of the Star Tech kit out of your way. Within the StarTech kit you'll find an IR blaster and receiver, a pair of mounting brackets, a universal power adapter for international use, the transmitter/receiver combo, and an HDMI cable.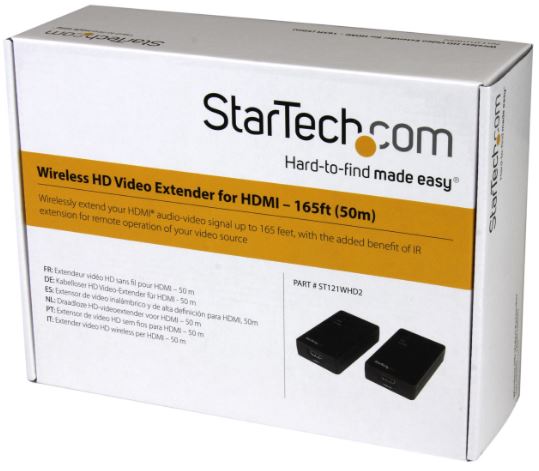 Other Considerations
All in all, StarTech keeps their kit easy to use, and quick to setup. Properly installed, it won't force you to have yet another black box conspicuously sticking out in your living room. And if you're not dealing with a bunch of heavy obstacles between you and your signal, the shorter range provided by these transmitters can offer some pretty high savings.
Choosing Between Three Great HDMI Transmitter and Receiver
If you're trying to carry a signal over great distances, your best choice is the J-Tech Digital HDbitT Series Wireless HDMI extender. Apart from its two massive antennas, the J-Tech transmitter is quite portable, intuitive, and easy to setup. The 660 feet of connectivity makes this a great choice for people who want uncompromising signal quality, and a great choice for taking 4K content wireless. Even if you're not trying to move your signal from one building to another, the J-Tech can be your best bet, especially if you're transmitting through heavy signal-reducing materials.
If you're looking for a relatively simple solution, like bringing a wireless signal from one room in an average sized home to another, then the Nyrius ARIES Pro is your best choice. The transmitter is small enough to stick inside a drone, and versatile enough to work with everything from cameras to game consoles. Its only limiting factor is the 100-foot range of connectivity, making this transmitter receiver combination very powerful, but also rather specific to who it can serve.
Finally, the StarTech kit is a great for professional use, like setting up a digital display around a school, or extending a video signal to areas where drilling isn't going to work. It's medium-sized 165-foot range places it in the middle between the J-Tech transmitter and the Nyrius ARIES Pro. Whether you've got significant disruptions between your signal or not, StarTech is a good choice for anyone working inside a smaller space.