Since the early 2000's we've been going wireless. The first major change in wireless technology came when consumer grade 802.11 networks hit the market. The fact that we could have high bandwidth internet over the air was revolutionary, but it was nothing compared to 3G. Now, we could access any piece of information we wanted no matter where in the world we were.
But this wireless technology is only possible thanks to compression. When you're streaming a Netflix movie, you're only really transferring a few hundred kilobytes per second. Your computer is dynamically decompressing the data, and streaming it to your monitor or TV. That $4 HDMI cable you're using to watch TV can actually transfer data at a rate of up to 18 Gbps. Attempting to compress this data would either seriously degrade the quality, or require a very powerful processor. Until recently, this technology just wasn't possible.
Today, we're just starting to cross the threshold where Wireless HDMI is possible. As long as you're buying a late model receiver and transmitter, you can get some seriously impressive video quality. We're going to take a look at the three best 1080p wireless HDMI transmitters. Then, we'll help you choose the ones that are right for you.
JTech Digital HDbitT Series
Jtech Digital is a manufacturer that specializes in taking embedded systems and turning them into complete, ready to use electronics for the home and business market. They're extremely efficient. When wireless HDMI processors first came available to manufacturers, they were one of the first to release a ready to use product. The HDbitT is a second-generation solution, fixing a few minor issues found with the first one. We're big fans of waiting until a product matures before you invest, so this latest solution is the first one we wanted to test.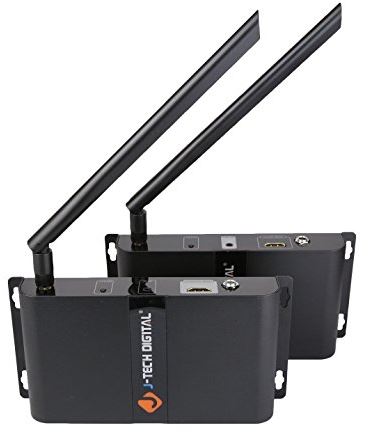 Design
Since this is something that you'll be hiding behind your AV equipment, the design of the JTech Digital HDbitT Series is strictly utilitarian. One of the things we like about it is the handy mounting points. The flat bars extending from the side have eyelet ports mounted into them that make it easy to install or remove. All you have to do is put four screws into the wall, and leave them sticking out a quarter inch or so. You can then feed the screws through the large part of the hole, and let the unit drop. The head of the screw won't fit out the top, so it will be secured in place. Beyond that, the design is simple. You've got a large wireless antenna, your HDMI input, a connector for an infrared receiver, a reset button, and a power connector.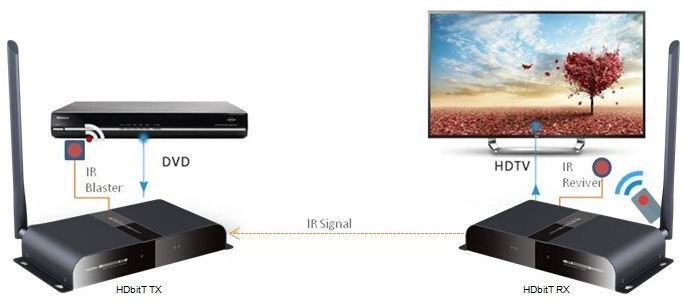 Video Capability
This J-Tech wireless HDMI transmitter is capable of broadcasting ultra HD, with a maximum resolution of 4K by 2K. Many transmitters are only capable of 3860 vertical lines, putting them a little shy of true 4K but still within the "ultra HD" category. Fortunately, this model is capable of the highest resolution at 30 frames per second.
Video Lag
Most HDMI transmitters are capable of transmitting video with virtually zero loss. This is possible through a compression system. This works through a buffer. The transmitter receives the video, loads a little of it into memory, and repackages it as an encoded format. The disadvantage is that it introduces lag into the system. The lag is very reasonable, despite the fact that this is one of the most advanced systems on the market.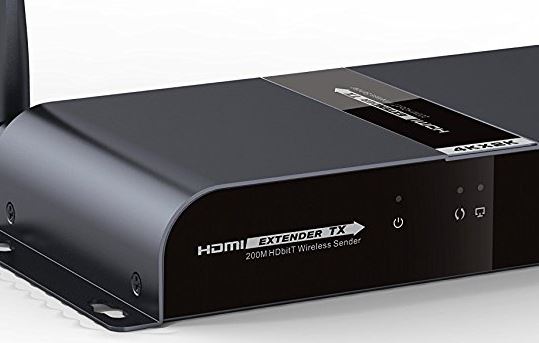 In total, you're looking at 0.3 seconds for 1080p content or 0.5 seconds for 4K or 3D content. There are only two downsides to this system. The first is that it's not suitable for live streaming, so video production users will need to look elsewhere. The second is that you need to make sure that the audio is transmitted along with the video. Every modern HDMI system supports this. If you're using optical out, you'll just need to change a quick setting on your video playback system to get it set up correctly.
Range
The antennas on this video transmission system are much longer than the ones you're used to seeing on a wireless router. But this allows for a much longer range. The manufacturer advertises a range of 660 feet or 200 meters. In our tests, this is a conservative estimate. Within this range, you're able to get a perfectly stable connection with no issues at all. If you really want to push it a little further, you can do so. But be warned that this can introduce some additional lag or, in extreme cases, degrade the video quality down to 1080p.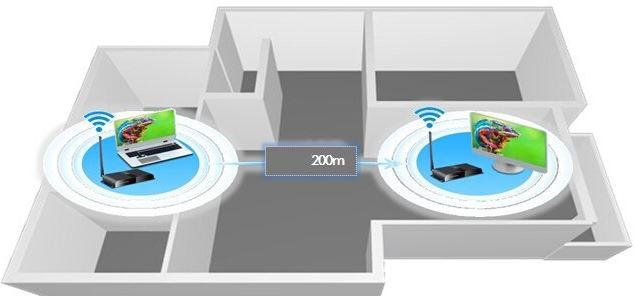 Additional Features
There are a few other key features that make this wireless HDMI transmitter worthwhile. One of our favorites is the ability to extend your infrared signal. For example, let's say that you use an infrared remote to control your Blu ray player. If it's off in another room, your remote isn't going to work. You can simply plug in an infrared receiver to the wireless HDMI extender, and it will be re-broadcasted to your video source. This is a commonly overlooked feature that can have a drastic impact on it's functionality.
Nyrius ARIES Pro
Nyrius is a company that specializes in wireless equipment. They've got everything from Wi-Fi smart light bulbs to home networking equipment. Their experience in this area makes them a great contender in the Wireless HDMI extender marketplace, so we had to put their system to the test to see how it performed.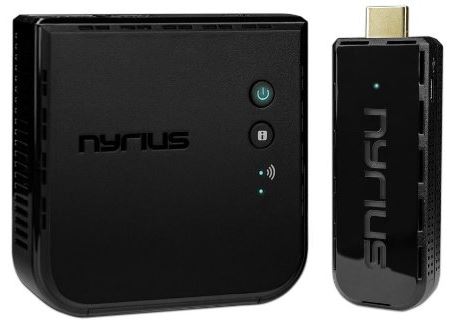 Design
Looking a little like an Android TV box, the Nyrius ARIES Pro is designed to sit next to your television like any of your other AV components. That being said, it's extremely compact. The transmitter is no bigger than an Apple TV, and the receiver is shaped a little more like an Android TV stick.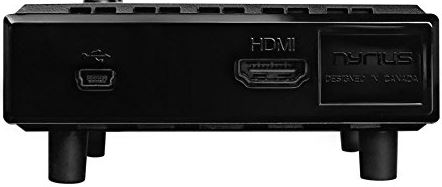 Getting it up and running is very simple. You set up the transmitter near your source, and plug in an HDMI cable. Lights on the top will indicate that the power is turned on. The two blue LEDs below report the signal quality. The top one with the wireless logo next to it indicate that the device is broadcasting, and the bottom one indicates that there is an active connection with the receiver. This isn't showing you that it's currently broadcasting video, but that the receiver is powered on and has good signal strength.
Video Capability
The ARIES Pro can handle 1080p video, both 3D and non-3D. Like many others, it's completely uncompressed. This is important as it means that the copy protection signal isn't stripped from your video like some other models. This is essential for use with Blu-Ray movies or some Netflix content. Unfortunately, 4K content isn't support and cannot be downscaled.

Video Lag
This is one of the few wireless HDMI transmitters that has absolutely zero lag. This makes it perfect for use in real-time applications like video production, or drone use. Although it doesn't support 4K video, it's still one of the latest generation products. It's not actually recompressing the video at all, just using a wireless protocol to send the raw, unmodified HDMI data over the air in real time. This means that it has superior compatibility with all situations – not something we can say about many transmitters.
Range
When you're sending raw data, there is not a lot of room for error. In total, you're getting a maximum of 100 feet of range. This is perfect for use in live video or with drones, since you'll just want to take video from an external camera and send it to your control station. It's also great for watching a Blu-Ray in your bedroom when the player is downstairs in the living room.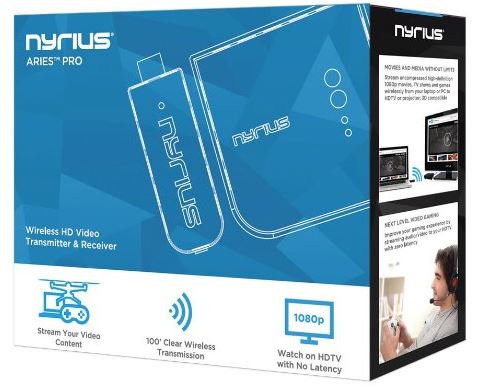 Additional Features
The bonus feature they've included with this system is compatibility with the HDSLR standard. Many video DSLRs have HDMI, but there is a separate protocol that bypasses the encryption system. This allows it to transmit without any lag, something you wouldn't get without specialized equipment.
StarTech.com HDMI over Wireless Extender
We've reviewed countless StarTech products. Typically, they're the first choice for cables. But their wireless HDMI transmitter is a natural progression of the cable business. We've always considered them one of our go-to brands when it comes to cheap and reliable hardware, so we were excited to see what they've come up with.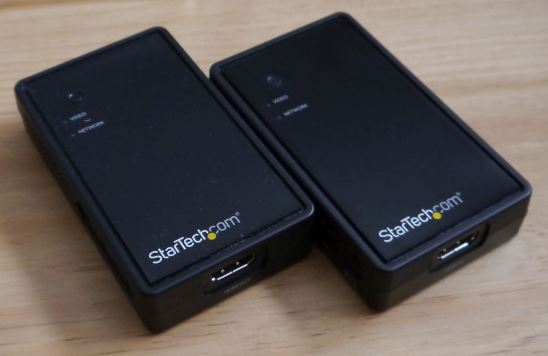 Design
You really can't get simpler than the StarTech.com HDMI over Wireless Extender. The kit includes two identical boxes. The only difference between the two the label on the front. One says "video out," and the other says "video in." The boxes are the shape of a deck of cards, just a little smaller. There is a very small StarTech.com logo on the front, and two LED indication lights. One shows that there is an active video signal, and the other that there is a connection between the two.

Video Capability
To keep the design simple, StarTech.com made their HDMI extender compatible with 1080p only. It's not so much designed for home theater applications as much as it is designed for use with computers (both Mac and PC) and video game consoles.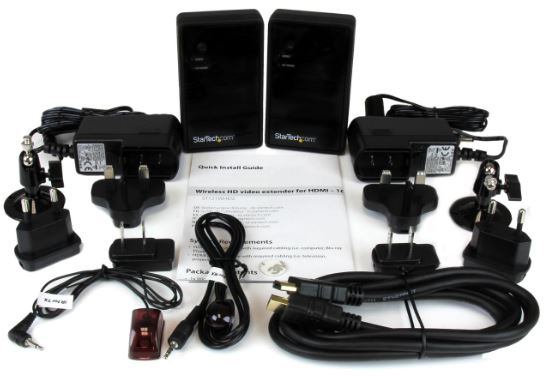 Video Lag
Like other latest generation products, this wireless HDMI system doesn't introduce any lag at all. This is something that gamers will appreciate, as we all know that every millisecond counts.
Range
With a boosted transmission signal, this set of Wireless HDMI extenders allows for a total range of 165 feet for 50 meters. In our tests, we found that the signal was extremely strong even when going through walls or up a couple floors. If you live in a concrete building or apartment, we might recommend that you expect the range to drop by 10 or 20 percent. But in a standard stick-built house, their estimate is more than conservative.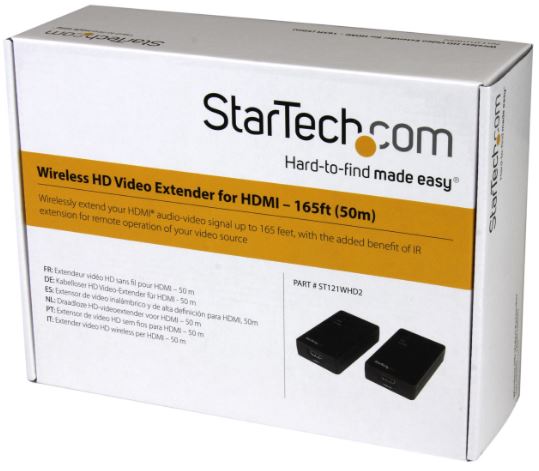 Additional Features
The case on this wireless HDMI extender is the most rugged of the bunch, making it perfectly suited for use in industrial environments or harsh conditions. It's the only one we'd recommend for use in a busy environment.
Which One Should I Choose?
All of these Wireless HDMI transmitters are high quality, but each of them serves a slightly different purpose. If you're looking to transmit 4K content, the J-Tech Digital HDbitT Series is your best bet. It's got by far the longest range, and supports the highest quality possible.
But that unit may be overkill for most users. For A/V applications, the Nyrius ARIES Pro is more than adequate. It only does 1080p, but it manages to broadcast it in real time with absolutely zero lag. It's compatible with almost every video source on the market, and supports 3D video.
For PC use, the StarTech.com HDMI over Wireless Extender is the best option. You won't need technology like 3D video, but you'll absolutely appreciate the fact that you can use it over a much larger range.