Working on electronics can be rewarding, but it can also be a pain. Instead of dealing with large, easily-visible screws, you're often working with some of the world's tiniest fasteners. We're not sure who was sadistic enough to invent a #0000 Philips driver. And let's not even start talking about all the dozens of tiny unique fasteners that are only used for niche purposes.
A good electric precision screwdriver set can get you through your repairs and upgrades with minimal fuss. This is especially true if you're working on large projects with dozens or hundreds of screws. Without an electric driver, you'll end up giving yourself cramps. A good set should also have a wide variety of driver bits. That way, you can work on many different types of electronics.
We're about to review four of the best electric precision screwdriver sets that we could get our hands on. Each of these sets has a number of features and benefits to discuss, but here's the short version:
Of course, we're going to need to look a lot closer to get a full understanding of each of these sets. After that, we'll have enough information to deliver a verdict. Let's get right into it.
Best Overall: ARROWMAX Pro Plus Cordless Precision Screwdriver Set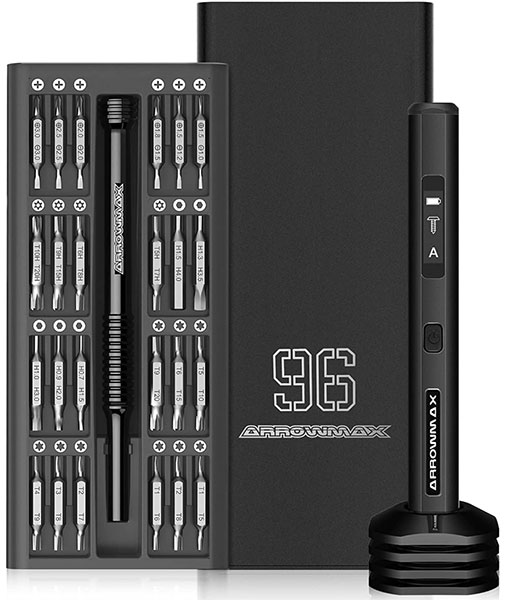 Key features:
96 bits.
5 torque settings.
500mAh battery.
Also includes a manual screwdriver.
The ARROWMAX Pro Plus Cordless Precision Screwdriver Set has several components. The main electrical driver has a black aluminum housing. It's about 10 inches long, with an oblong form factor that's easy to grip. On the front is a power button, along with additional controls. There's also an LCD display that shows your current settings. Around the tip, you'll notice a set of four white LED diodes. These illuminate your work area while you're using the driver. There's also a round, donut-shaped stand that holds the driver when it's not in use.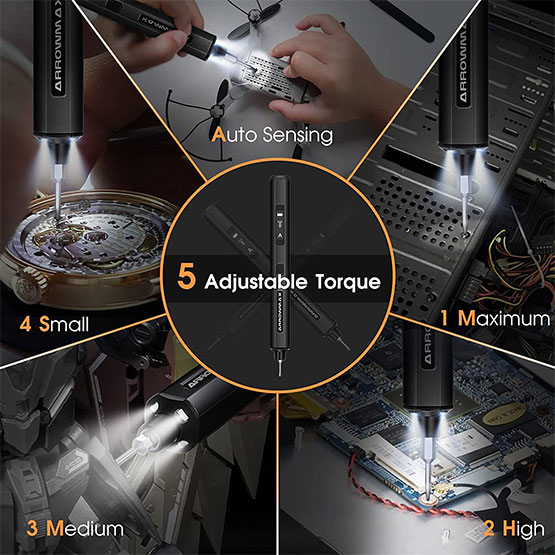 The Pro Plus has five torque settings, ranging from 0.049 to 0.2 Newton-meters (N.m). This is enough for working on most electronics, but it's not enough to break loose stuck screws. The weak motor is by design, though. It's not strong enough to damage circuit boards or other delicate parts. And at 200 rotations per minute, it gets jobs done quickly. It also runs in forward or reverse with just a twist of your wrist. This makes it intuitive to use.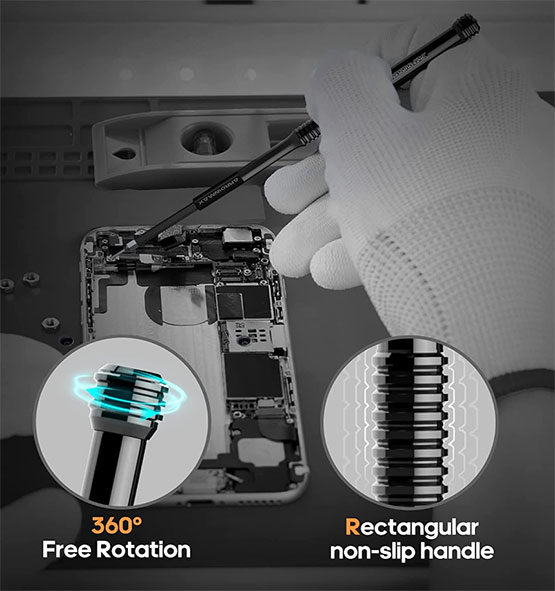 If you need a little more torque, you can switch over to the manual screwdriver. This driver is made from tough steel, with a mostly round profile and a ribbed grip. It will provide up to 3N.m of torque before a ratcheting mechanism kicks in to prevent over-tightening. That's more than enough torque for working on precision jobs.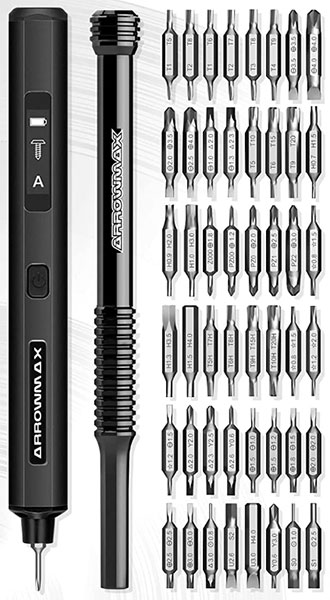 The kit includes a pair of large flat trays with a set of 96 stainless steel bits. In addition to several Philips and standard sizes, there are many others. You get Torx, Torx security, and hex bits. There are also oddball bits like triangles, 5-pointed stars, and Nintendo's Y-shaped fastener. There's even a selection of various tiny drivers for glasses.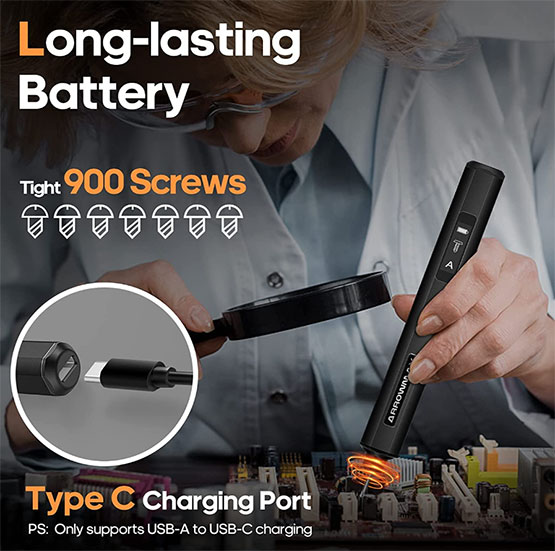 The driver's internal battery has a capacity of 500mAh. ARROWMAX advertises that that's enough for about 900 screws, but a lot depends on your usage. The harder the motor has to work, the faster the battery will drain and vice-versa. A USB Type-C charge cable is included in the package.
Along with everything else, you get a magnetic mat. This is a convenient way to keep your screws and bits from wandering off while you're working.
What we liked:
High-quality construction.
Wide variety of screw bits.
Long-lasting battery.
Manual backup screwdriver.
What we didn't like:
Low maximum torque setting.
Hex drivers aren't as precise as they could be.
Best Runner-Up: Fanttik Mini Electric Screwdriver Set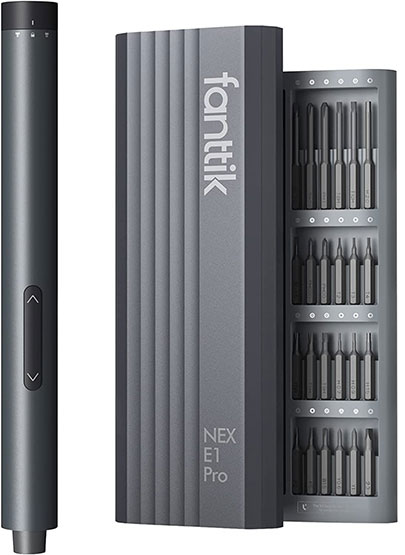 Key features:
24 bits.
2 torque settings.
350mAh battery.
Doubles as a manual screwdriver.
Magnetized case.
The Fanttik Mini Electric Screwdriver Set includes a long, slim driver with a grey cylindrical housing. It's engineered from aluminum, and is both corrosion-resistant and tough enough to handle abuse. On the side is a set of rubber arrow buttons, which change the motor between forward and reverse modes.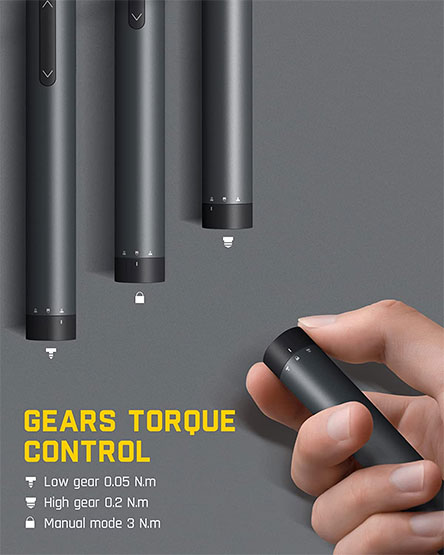 The same driver doubles as a manual driver. By twisting a black cap at the base, you can adjust between two electrical torque settings: 0.05N.m and 0.2N.m. You can also go into manual mode, where the torque limit is 3N.m. This is more or less identical to the ARROWMAX driver, but with only a single driver instead of two.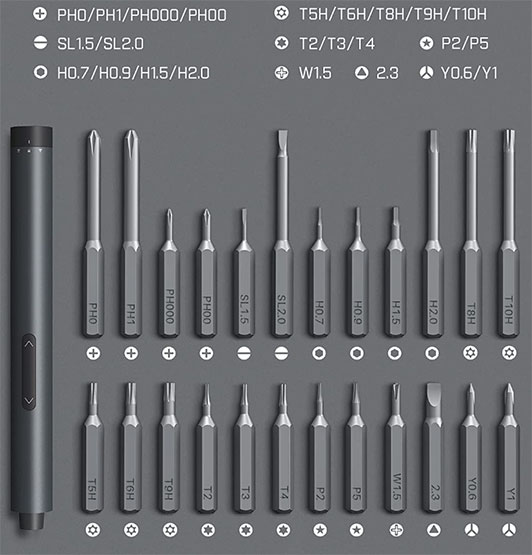 With 24 bits, the selection is somewhat limited. That said, the bits are very precise and well-manufactured, and won't strip out easily. You get a set of Philips screws ranging from 000 to 1, and a pair of standard bits. You also get a small selection of Torx and hex bits, along with Nintendo Y-shaped bits. Some bits are longer to accommodate greater working distances.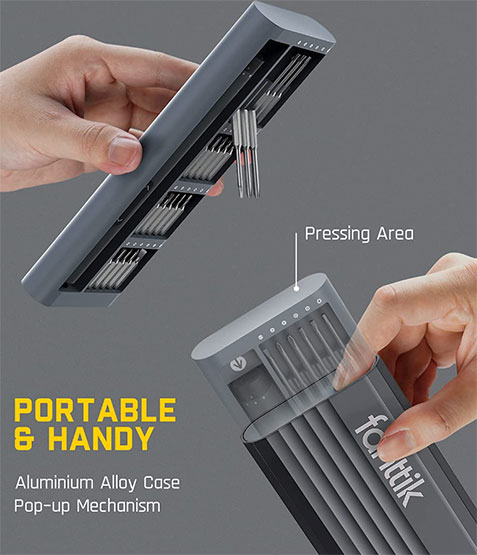 The bits all come in a magnetic case that retains them to keep them from falling out. The case has a tough aluminum alloy cover that slides over it like a sleeve, fully protecting the insides. At the end is a magnetized pad where you can set a bit down to keep it in place. The driver itself is also magnetized, which makes it very easy to hang onto all your screws.
The internal battery has a capacity of 350mAh. That's sufficient for around 2 hours of use, or approximately 400 screws. Recharging takes less than an hour via USB Type-C.
Fanttik is a popular manufacturer of electronic devices. We recently reviewed their Fanttik Evo 300, a lightweight portable power station. It can charge nine devices simultaneously, and impressed us with its performance. So when we saw that Fanttik makes an electric screwdriver, we wanted to take a look.
What we liked:
Good construction quality.
Magnetic case makes it hard to lose your bits.
Simple, straightforward operation.
Doubles as a manual screwdriver.
What we didn't like:
Low maximum torque setting.
No built-in LED lights.
Best Alternative: POWERGIANT Mini Electric Screwdriver Set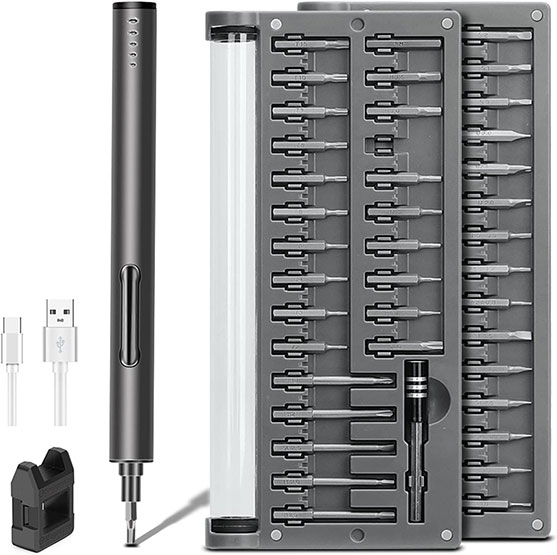 Key features:
55 bits.
1 torque setting.
260mAh battery.
Doubles as a manual screwdriver.
The POWERGIANT Mini Electric Screwdriver Set has a cylindrical grey aluminum driver. It's reasonably tough, with a matte grip that's easy to hold onto. There's a set of forward and reverse buttons on the side to control the driver's direction. Towards the back, you'll see a row of five green lights that indicate the current battery level. At the tip is a set of three white LEDs that illuminate your working area.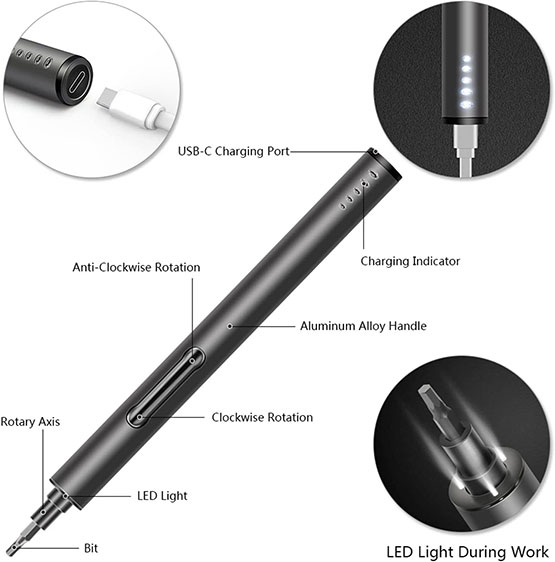 There's a single automated driving mode that ranges from 0.25N.m to 0.35N.m. It will start out low, then ramp up when it feels resistance. This makes it easier to break loose stuck screws, but it's also slightly slower than our other options. The tip rotates 150 times per minute rather than a faster 200.
The battery has a capacity of 260mAh. That's enough for around 2 hours of operation, depending on how hard you're working it. It charges via a Micro USB port in the back of the driver, and fully charges in less than 40 minutes.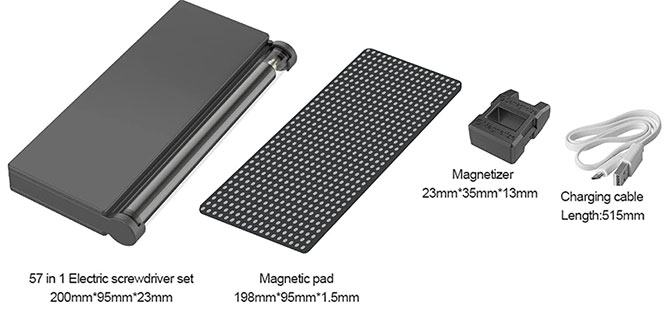 We were particularly impressed by the storage case. It's made from tough plastic, with magnetized panels on either side that remain securely in place. Under these panels, you'll find a selection of 55 driver bits. At one edge is a cylindrical tube where you can load the driver in from one end.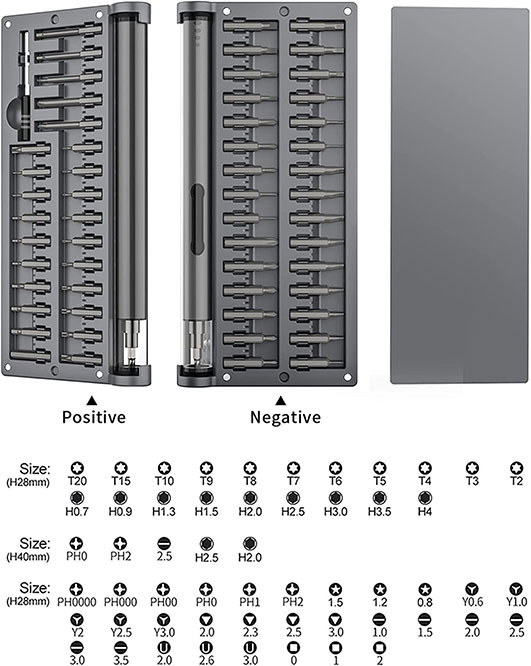 The driver selection is pretty extensive. You get Philips drivers from 0000 to 2, many standard drivers, and Torx T2 to T20. There are also square and hex drivers, along with a Y-shaped driver for Nintendo products. On top of all this, there's also a short extension rod that can be used to work in hard-to-reach places.
POWERGIANT backs this screwdriver with a 12-month manufacturer's warranty. You also get a 30-day no-questions-asked return window. This gives you an opportunity to send it back if it doesn't meet your expectations.
What we liked:
Unique magnetic case design.
Good selection of screw bits.
Automatic and manual operating modes.
Includes an extension rod.
What we didn't like:
Relatively slow operation.
Only one torque setting.
Best Budget: ORIA Electric Screwdriver Set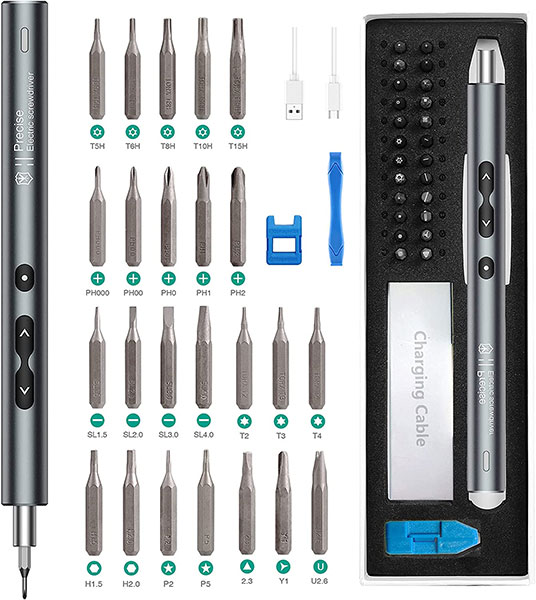 Key features:
24 bits.
1 torque setting.
350mAh battery.
Includes a magnetizer/demagnetizer.
The ORIA Electric Screwdriver Set's main driver is constructed from durable, corrosion-resistant aluminum. It's available in three colors: silver, black, or blue.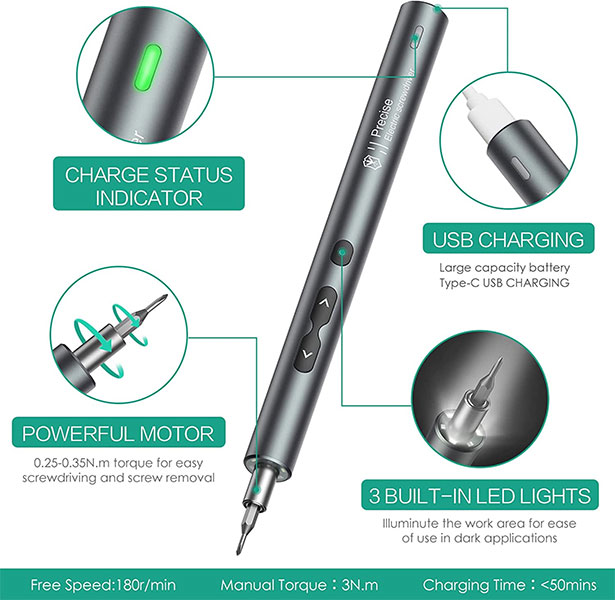 The matte finish is easy to grip, while a set of three LEDs at the front make it easy to see what you're doing. There's a pair of black forward and reverse buttons on the shaft, along with a separate light control button. A USB Type-C charging port is located in the back, with a charging status indicator LED on the side.
This affordable screwdriver only has a single torque setting. Like the last one, it ranges from 0.25N.m to 0.35N.m depending on the amount of resistance. However, it's also very quiet. It's only about as loud as an electric toothbrush, so it won't bother other people in your environment.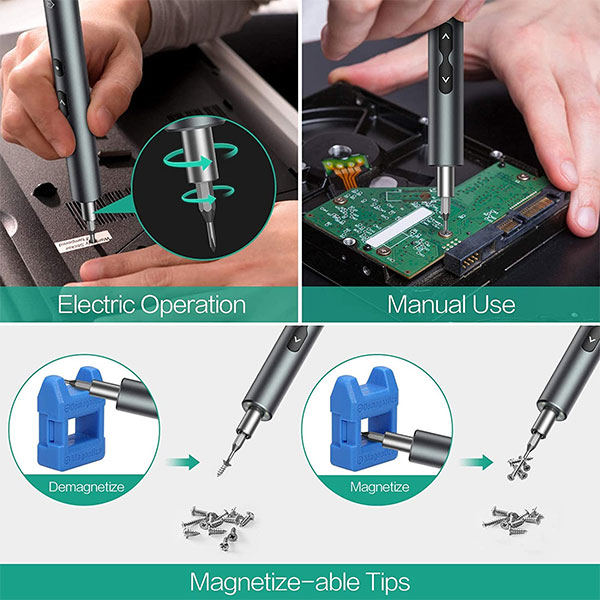 The carrying case is just the white cardboard box with a foam inset that it comes in. But it does have little cutouts for your driver, bits, charging cable, and accessories. These accessories include a plastic pry tool, as well as a magnetizer/demagnetizer for your bits.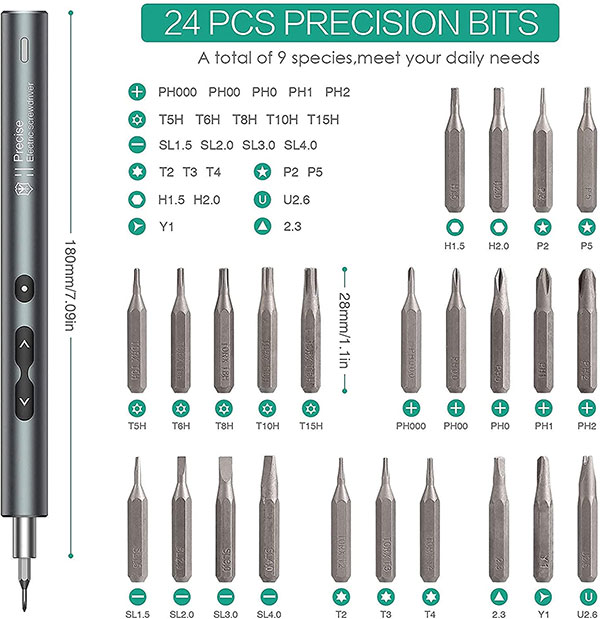 There are 24 bits in total, including Philips sizes 0000 to 2 and four standard sizes. There's also an assortment of Torx bits from T2 to T15, a pair of hex bits, and a Y-shaped Nintendo bit. That's not too shabby for a small kit.
The 350mAh internal battery will run for around 2 hours depending on your usage. When plugged into a USB power supply, it will fully charge in a little over 45 minutes.
What we liked:
Separate driver and LED controls.
Includes a pry tool and magnetizer/demagnetizer.
Quiet operation.
Very affordable.
What we didn't like:
Only one torque setting.
Cheap case.
Final Verdict
These are all great electric precision screwdriver sets. But which one is the best of the bunch? Let's go over what we've learned today and highlight some of the most important things.
We began by looking at the ARROWMAX Pro Plus Cordless Precision Screwdriver Set. With 96 bits, this set has the most drivers of all of our options, including some obscure ones. The battery capacity is enough to get through even a large project without running out of juice. Meanwhile, it's easy to switch between forward and reverse, and the manual driver is as tough as nails.
Next up on our list was the Fanttik Mini Electric Screwdriver Set. This set has only 24 bits, but they're well-engineered and won't strip like cheaper bits will. It also has an impressive magnetized case that keeps all of your bits retained. We particularly liked the simple control knob, which makes changing your settings a breeze.
Third, we checked out the POWERGIANT Mini Electric Screwdriver Set. This set comes with 55 bits, including a good selection of Philips and Torx drivers. It also comes with an extension rod, along with an impressive magnetized case. And with up to 0.35N.m of torque, it's also reasonably powerful.
Finally, we reviewed the ORIA Electric Screwdriver Set. This is a more barebones set, with only 24 bits and only one torque setting. Then again, it's also very affordable, and the bit selection is well thought-out. We also liked the quiet motor and the nifty magnetizer/demagnetizer.