Fanttik EVO 300
Pros
Lightweight and portable with a built-in handle.
Charges 9 devices simultaneously.
Multiple methods of re-charging.
Vented sides look amazing.
Water resistant exterior.
Cons
Display can be hard to read in broad daylight.
Internal fans can be loud when under load.
Screen attracts fingerprints.
When your power goes out, it's a big deal. Maybe you work from home and you need to run your router and laptop. Maybe you use a medical device like a CPAP machine that you need to take care of your health. And if you're in a power outage, you're going to need a way to charge your smartphone. A reliable power station is a great solution to that problem.
A portable power station is also great for campers, or even for your backyard patio. You can keep your phone charged, or top up your drone battery without leaving the great outdoors. That's the kind of freedom you couldn't get a few years ago. And if your original source of charging power is green, you're not increasing your carbon footprint. That's right in line with the "leave no trace" ethos.
Note: At no extra cost to you, we may earn a commission for purchases using our links. Learn more.
We're about to review the Fanttik EVO 300 Portable Power Station. This power station is designed to be as portable as possible, with a compact form factor that's easy to transport. But there are a whole slew of features that make up a good power station. To give this one a real evaluation, we'll need to dig deeper into all of its features. Let's see what it has to offer!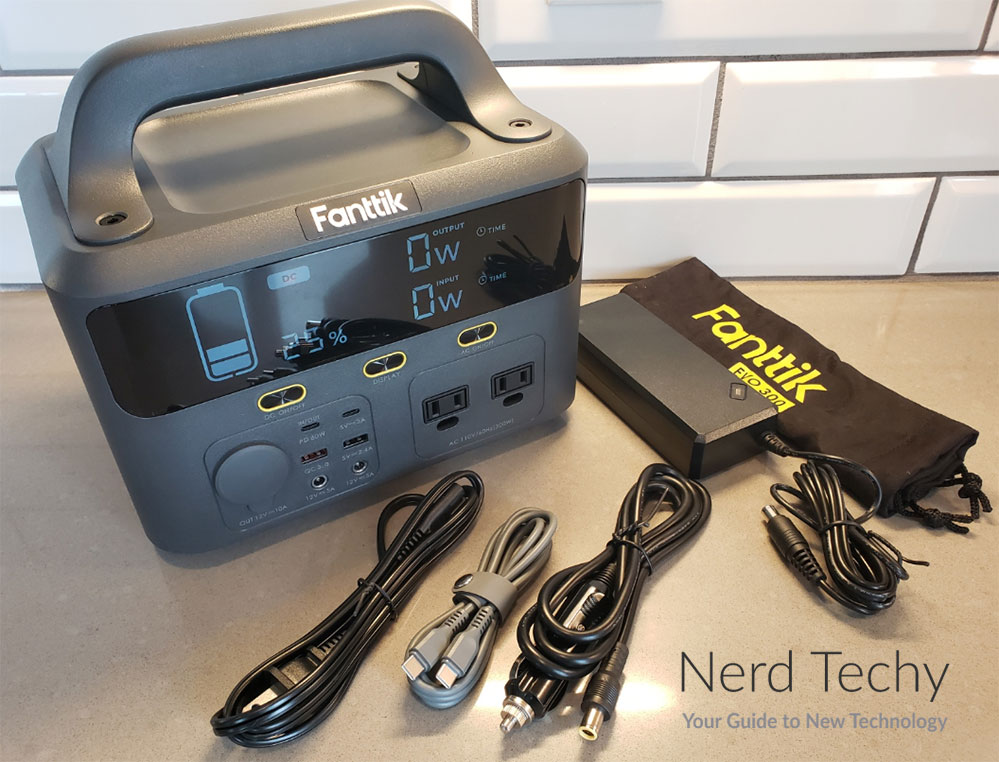 Design and Durability
The Fanttik EVO 300 is constructed from a rugged black plastic. It's roughly rectangular, with rounded corners and a beveled top edge. It also has a matte finish, which makes it easy to keep clean.
The overall size is 9.84 inches wide, 8.85 inches tall, and 6.69 inches deep, and weighs just 8.8 pounds. It also has a wide handle across the top that makes it easy to carry in one hand. Meanwhile, you'll notice a set of large yellow rubber feet on the bottom. These keep it from scratching delicate surfaces, as well as preventing it from sliding around.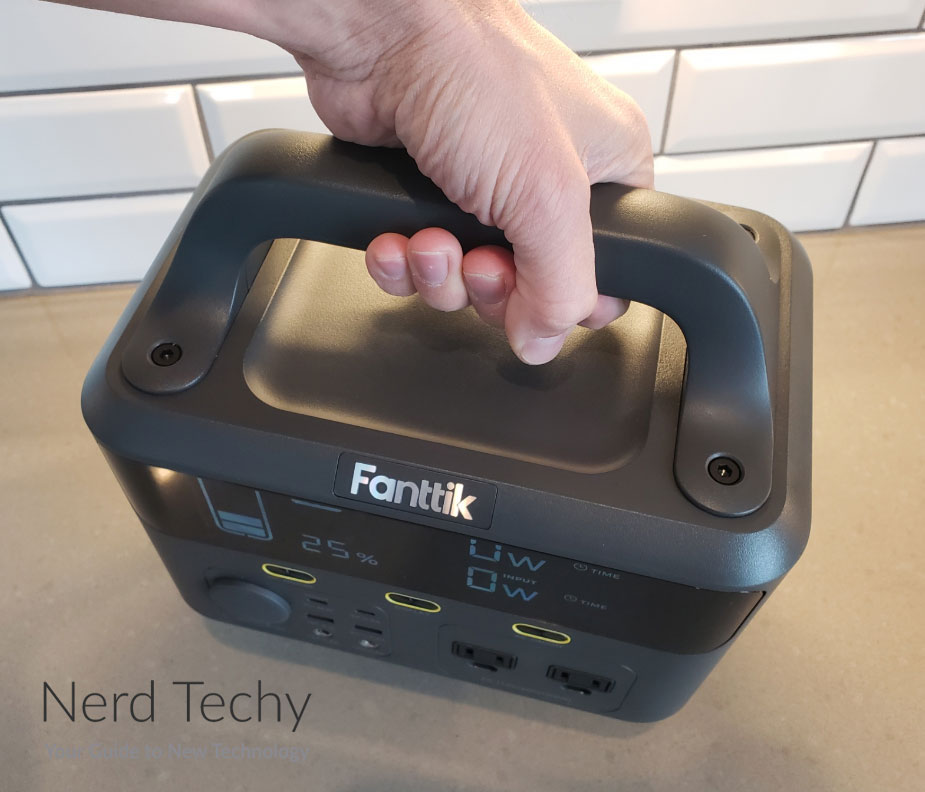 The sides of the housing are vented, with large holes in the outer black plastic. An inner yellow metal grille has smaller holes, but still allow for good air flow. The cooling system seems to work well, and we didn't have any issues with overheating. That said, the fans are a bit loud, and they run most of the time. This can get annoying if you're trying to sleep.
The weather-resistance rating of IP65 was particularly impressive. Most power stations aren't weather-resistant, which can be problematic if you leave one outside. We're not saying you should actually use it in the rain – that wouldn't be safe. But if it's sitting outside your tent, a little bit of rain won't hurt it.
One other feature worth noting is the light bar on the back. We liked this location, since it doesn't shine in your face when you're looking at the front display. The high setting is also fairly bright, suitable for illuminating a small patio.
Ports and Display
On the front of the housing, the most striking feature is the large, 7-inch LCD display. In most situations, it's very easy to make out everything on the screen. But the dark smoked cover is a bit too opaque. In bright sunlight, the screen can be difficult to make out. Additionally, it tends to attract fingerprints, so you may find yourself wiping it clean quite often. However, it definitely looks great in dim lighting.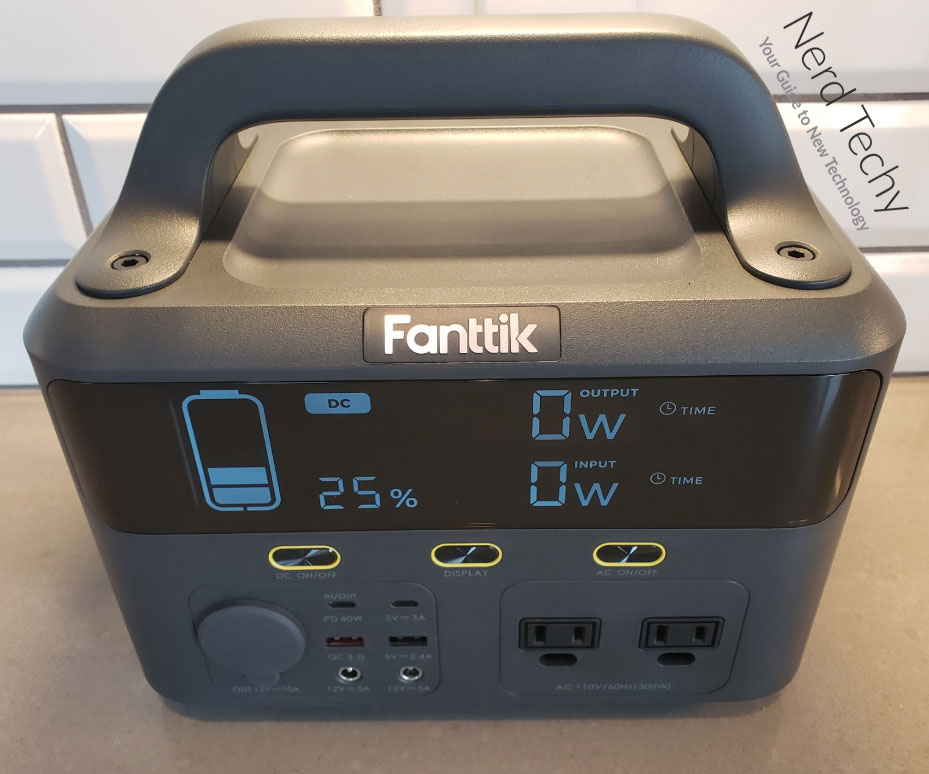 On the left side of the screen is a visual battery with five bars, along with a percentage readout. Inside of this, at the center-left, is an empty space. If there's something a failure or safety shutoff, a warning light will appear here. This can be due to anything from excessive temperature or a short-circuit in one of your devices. At the center right, you'll see your output wattage, with your input wattage underneath it. To the far right, in smaller numbers, you'll see your estimated remaining operating time. This can go up or down as you plug and unplug devices.
All of your power supply ports are located beneath the display. DC power supplies are split to the left, with AC outlets to the right. Between the screen and the ports is a row of three buttons. The left and right buttons control the corresponding outlet groups. The one in the middle turns the screen on and off. That way, you can save power by only turning on the features you need.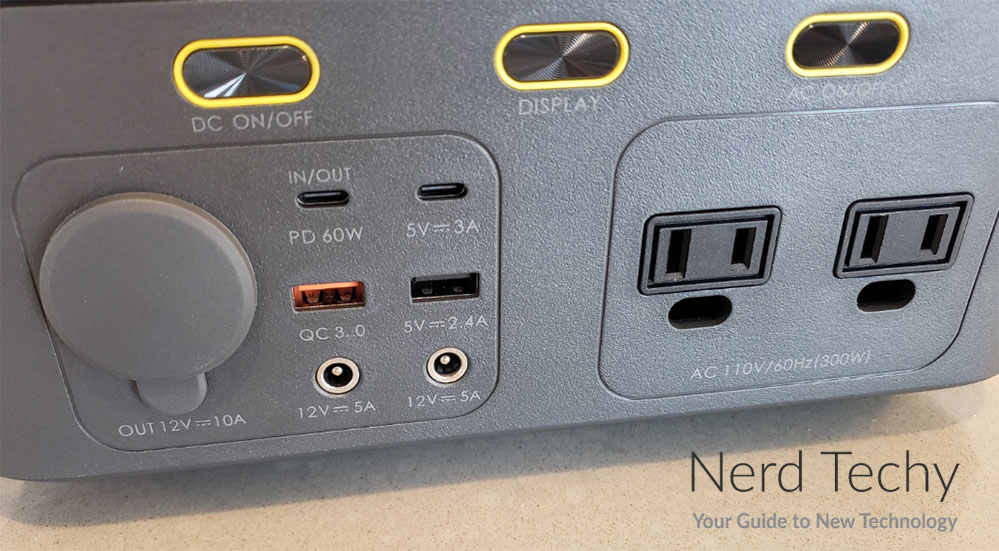 The single DC automotive port is located at the bottom left, with a pair of barrel-style DC port next to it. Above the barrel-style DC ports, there are two USB Type-A ports. The one on the left has an orange inner tab, and provides QC power. The one to the right is an ordinary USB port, with a black inner tab. Above these are a pair of USB Type-C ports.
Both AC outlets have enough space around them for power blocks or oddly-shaped plugs. They're also both grounded and polarized for safety.
On the back, next to the LED light bar, you'll find the power input ports. The top port is used for the adapter for the AC and DC automotive chargers. The bottom one is a standard solar power input.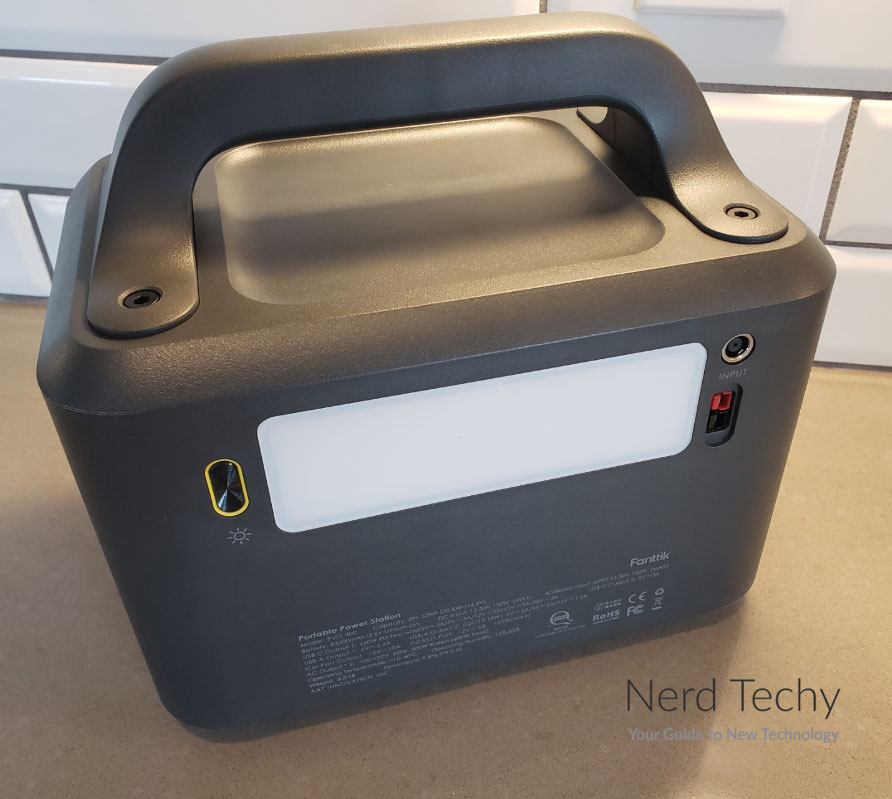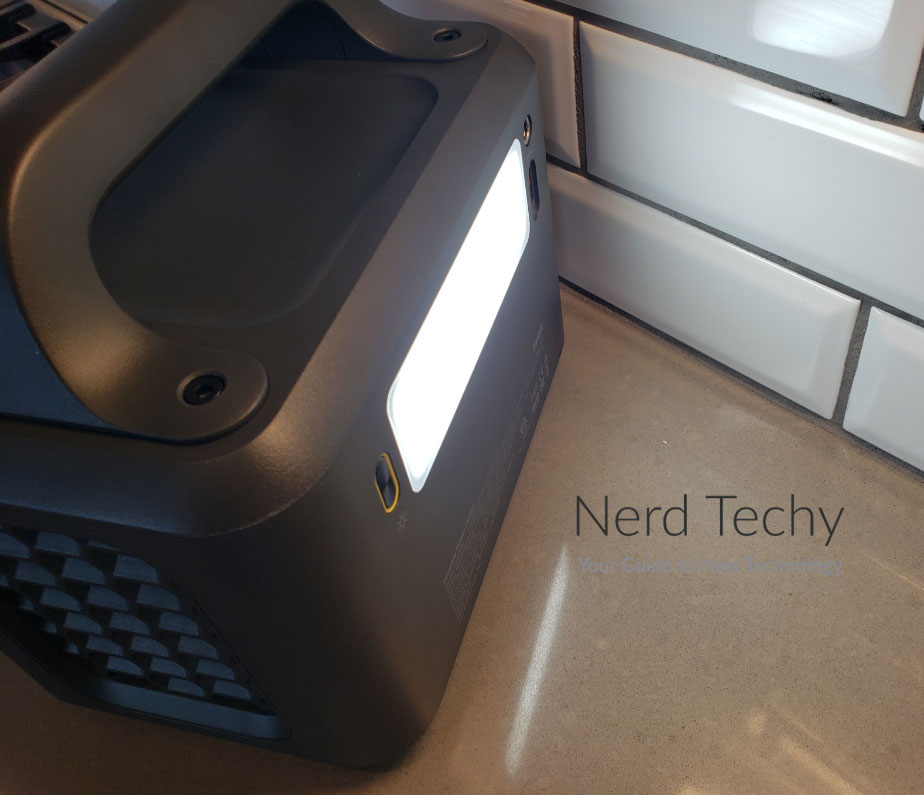 Battery Capacity and Recharging
The EVO 300 has a battery capacity of 299 watt-hours (Wh). That's not as much as we've seen on some more high-capacity power stations. But keeping in mind the small size, we were very happy with how much use we could get out of it. The battery is enough to charge an iPhone 14 27 times, or a MacBook Air 5 times. It can even charge a MacBook Pro 16" a little less than three full times.
As for recharging, you'll have a few different options. The most efficient method is to combine the AC charger with a USB Type-C cable. Plug the Type-C cable from the left port into a 60-watt charging block. This will provide a combined 150 watts of power, which will fully charge the battery in around three hours. You'll get an 80% charge within about two hours.
Alternatively you can charge from your wall outlet or your car outlet alone. In that case, the battery will fully charge in around four hours.
Another alternative is to use a 100-watt solar panel. You can use any panel, although Fanttik recommends using theirs, which is sold separately. Using this method, the battery will charge in as little as 3.5 hours, although it can take six or more hours. It all depends on a variety of factors, such as season, panel angle, location, etc. The EVO 300 itself is already very efficient, with a smart MPPT controller.
The kit includes everything you need for non-solar charging. There's an AC power adapter, which includes a large in-line power supply block. There's also an automotive charging cable, as well as a 60-watt USB Type-C to Type-C cable. You even get a Fanttik-branded drawstring bag for carrying all the chargers.
If you need capacity more than anything else, check out the LIPOWER MARS 1000 Pro. It has a whopping 1,120Wh of battery capacity, along with an exceptionally rugged design. On the downside, it's also fairly big and bulky.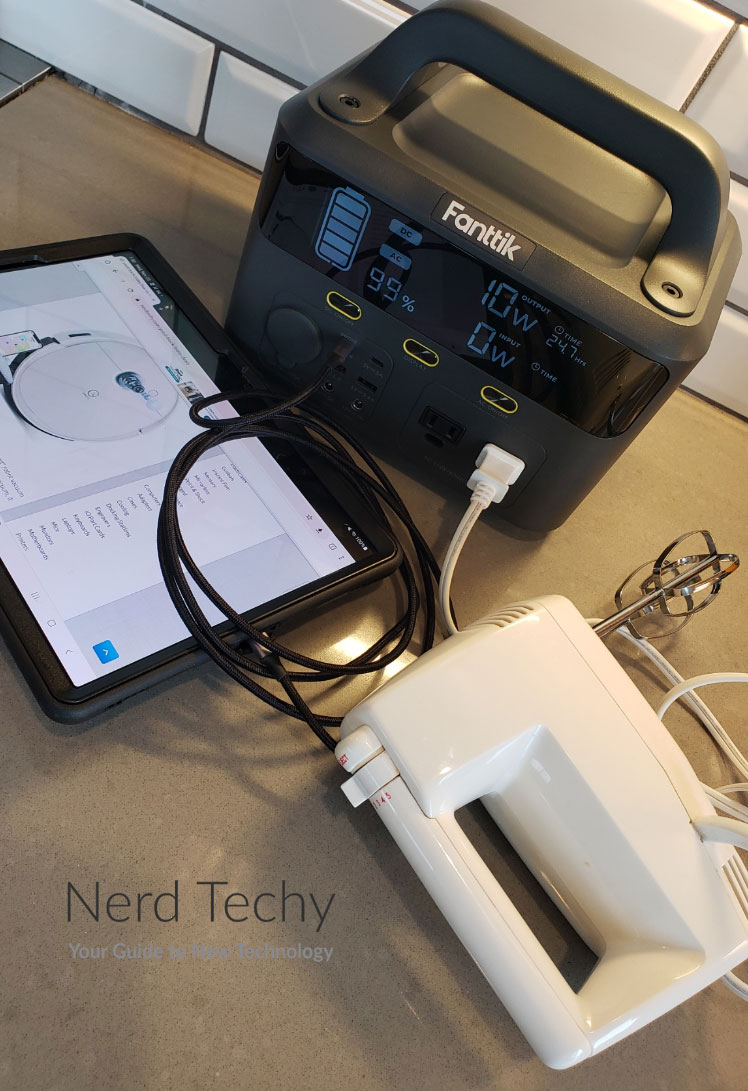 Charging Capabilities
The EVO 300 can deliver a maximum of 300 watts total across all ports and outlets. That said, it's capable of delivering up to 600 watts of surge power. This is essential for coolers and other compressor-driven devices which spike in wattage when the compressor kicks in.
In theory, you can deliver all 300 watts of power to a single AC port. This is enough to run a small compressor and fill your tires. However, Fanttik does not recommend drawing more than 100 watts on one outlet for an extended period.
The left USB Type-C port delivers 60 watts of PD power. That's sufficient to run most laptops while they're charging. It will also get you the maximum charging rate on any USB Type-C smartphone or tablet. The left USB Type-C port delivers 15 watts, which is slightly more than regular USB. The USB Type-A QC port actually delivers more than this at 18 watts, which will maximize your Lightning charge speed. The other USB port delivers a standard 12 watts.
If you need a higher maximum wattage, consider the EcoFlow Delta 2. It boasts 1,800 watts of maximum power output, with an incredible 2,700 watts of surge power. It can also power up to 12 devices at once, but it's heavier and more expensive.
Safety and Extras
The EVO 300 comes with several safety features that are worth mentioning. It provides protection from overcharging, over-voltage, overcurrent, overcharging, and under-voltage. There's also a built-in thermostat that keeps the circuitry cool. And if it gets too hot or too cold for safe operation, it will automatically shut down.
In addition, the AC power outlets provide pure sine wave power. This power is safe for delicate electronics like CPAP machines. It's a great benefit compared to many inverters, which can damage your devices. The system also supports pass-through power in an emergency. We wouldn't recommend this on a regular basis, though, since it will shorten the battery life.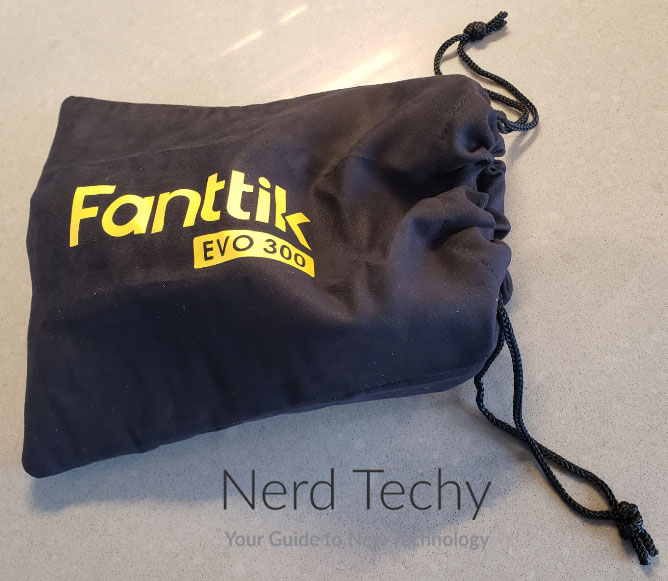 As an added bonus, they've included a nifty little carrying pouch for all the required cables you may need. Fanttik also provides a 12-month manufacturer's warranty against any defects in parts or labor. On top of this, you get a 30-day no-questions-asked return window. You can send it back for a refund for any reason, even if you just didn't like it.
While you're planning for emergencies, take a look at the Fanttik T8 Apex. It's a portable jump starter that can even start large pickups and small delivery vans. It also doubles as a 20,000mAh USB power bank, and charges in just 90 minutes.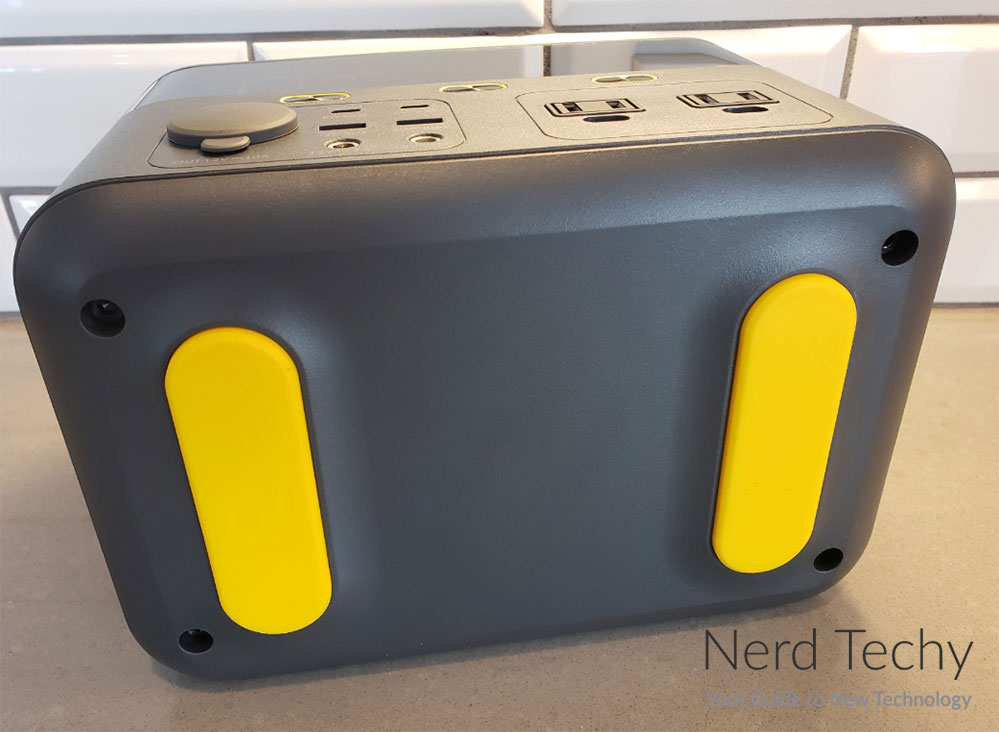 Final Verdict
The Fanttik EVO 300 is the perfect choice if you need a compact, lightweight power station. It's easy to take with you on the go, and won't weigh you down if you have to carry it a long distance. It's visually beautiful, with a large, easy to read display and high quality finishes throughout.
The battery and charging capabilities aren't what you'd get from a beefier power station. But that's not the point here. For the size, you're getting incredible performance, along with all the safety features you need.
Please consider sharing:
Note: At no extra cost to you, we may earn a commission for purchases using our links. Learn more.