There are few things as frustrating as having a malfunctioning network cable. Just one wire or cable that's experiencing difficulty can wreak havoc on the entire system. This is often referred to as a break in continuity.
When it comes to a network using ethernet, things can get even more complicated since they're actually made up of several components. If one or a combination of them go bad, fixing the issue can be quite difficult.
What is an Ethernet Network Cable?
An Ethernet cable is a type of network cable that's used to connect networks. These cables deliver data between a network of devices such as PCs, routers, modems and switches. They're made with tiny strands of copper and have eight pins in the plugs that terminate both ends.
What Causes Ethernet Cables to Malfunction?
There can be problems that arise which can cut off or severely impede data transmission. It could be an issue with a defective cable or a problem with one of the connectors on either end. In many cases, poorly functioning network cables are a result of one or several of the pins on the dying or becoming loose.
It's why having a high-quality network cable tester is so important. Having one can drastically reduce the number of headaches and frustration involved with finding the issue and then diagnosing the root cause. The good news is that repairing Ethernet cables isn't difficult as long as you know what the problem is. Ultimately, a high-quality network cable tester can be a great help.
What is a Network Cable Tester?
Network cable testers give you a simple way to test the functionality of a network cable. Therefore, you can isolate the source of any problems so they can be addressed in a timely manner. These handheld devices transmit a signal through the plugged-in Ethernet connector and through the cable to monitor its path to give you a visual indication of what's going on .
The one thing you'll notice is an abundance of choices on the market. It's important to note that all cable testers are not created equal. Today we're going to introduce and outline five worthwhile options for best network cable testers currently available.
How We Chose the Best Cable Testers
In order to make the best choices for this article, our team leveraged their expertise while using the following criteria. In order to make it on this list, these products needed to meet these standards and exceed them in most cases.
Build Quality: Especially for professional work environments, it's important that your network cable tester is comprised of quality materials that can protect the cables you plan on testing and take a beating in the process.
Accuracy: The whole purpose of a tester is to be able to get an accurate reading on the health of a network cable. In addition to that, it should be extremely accurate in pinpointing the source of any potential issues.
Value: The cost of a good-quality network cable tester can be very high. While it's true that you get what you pay for, we want to make sure that every product featured on this list delivers tremendous value that justifies the price.
Ease-of-Use: Whether you're a professional or a homeowner that just wants to make the internet run faster, a network tester needs to be easy to use. We've excluded network cable testers that were excessively complex without a legitimate reason.
Best Overall: NetAlly LinkSprinter 300 Network Tester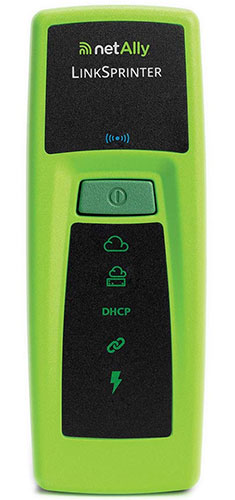 Key Features:
Includes WiFi and distance to cable fault indicators.
Provides detailed test results to your smartphone or tablet.
Deep insights functionality for complex scenarios.
Team collaboration tools.
The NetAlly LinkSprinter 300 is our pick for the best overall for a number of reasons including its enterprise-level diagnostic features. It's important to note that this is not a basic cable network tester. The majority of other testers on the market operate off of LED light indicators or displays to communicate issues with a cable. The LinkSprinter does things differently by providing deep analytics, directly to your mobile device. Look at it as a tool that does most of the heavy lifting for you, automatically.
This tester lets you discover the nearest switch name and port information to verify things like speed and connectivity. If you're running Power-Over-Ethernet (PoE), this unit is also able to test voltage from power sourcing equipment (PSE).
Running tests and viewing test results take place in the application on your mobile device. Within the app, you can select what tests you would like to run and initiate them via a WiFi connection with its built-in hotspot. Once the results are tabulated, you'll see the data clearly on your mobile device. This eliminates the need to decipher what certain flashing LEDs mean or to extrapolate data from numbers on an LCD screen. Although those methods are great, NetAlly saves considerable time running through an intuitive setup like this.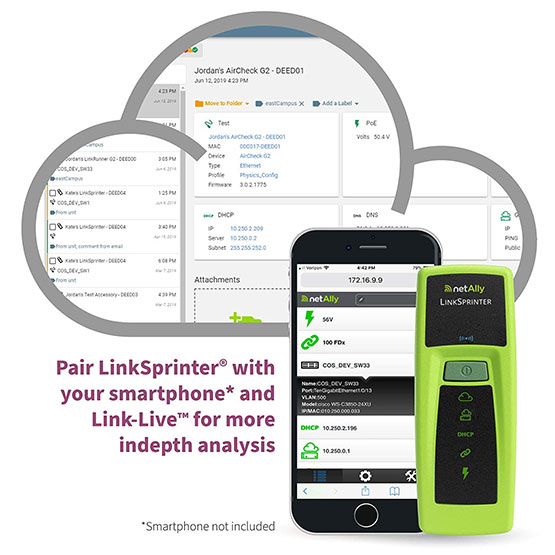 According to user reports, this device identifies errors at an average of ten seconds. The auto-tester function runs a battery of tests like measuring PoE voltage, performing a switch test, and confirming the DHCP server is running and responsive. It can also verify gateway/router, cloud reachability, and internal IP service.
The ability to initiate all these tests with a couple taps of your screen can save a lot of time and extra work. It stores all of your data from previous tests so that you can reference it later. This is not common for more analog network cable testers. This is helpful if you're working with a team or need to share data to consult with others. All of this can be handled with the Link-Live cloud service which is completely free to use.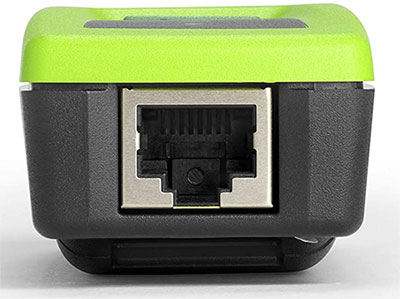 The NetAlly Link Sprinter 300 is surely one of the best network testers right now. However, its built-in, industrial-grade features mean that there's a steeper learning curve involved. If you need advanced tools, the ability to share and have access to deep diagnostics, this is an incredible option. But if you're a layman that only needs to run basic tests on short-run network cables, it may be a bit overpowered.
You get what you pay for and the price for this particular unit is much higher than other network testers on this market. With that said, its rich feature set and cloud/mobile based software make it worthy of the investment in our opinion.
What We Liked:
Auto-test feature triggers a series of tests.
Mobile app interface for simple control.
Cloud service allows you to store and share test results.
Does most of the heavy lifting for you.
Easy to read on-board light indicators.
Built-in mobile hotspot.
What We Didn't Like:
Quite expensive.
Steep learning curve for entry level users.
Best Runner-Up: Klein Tools LAN Scout Jr. 2 Ethernet Cable Tester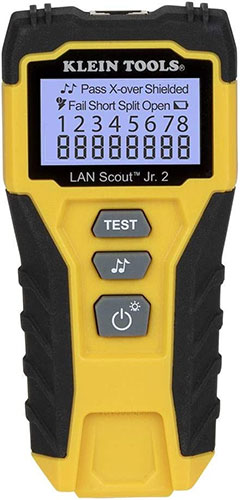 Key Features:
Large backlit LCD screen.
Three button operation
Delivers tone on single, wire pair or all 8 conducer wires.
The best runner up on our list comes from Klein Tools, a company that has a track record spanning over six generations. They've been leaders in the diagnostics and information technology space for decades. The LAN Scout Jr. 2 is a highly accurate tester that proved to be incredibly reliable during real world tests.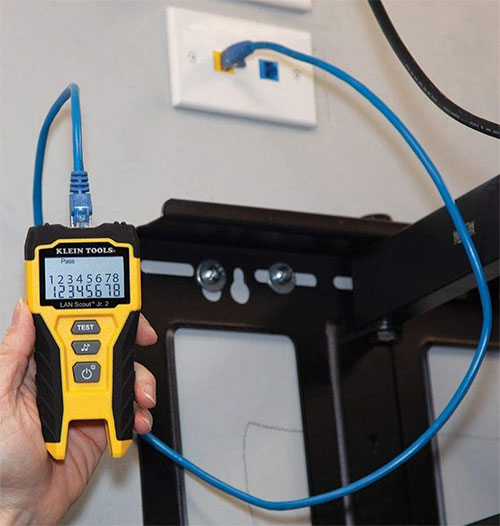 It allows you to test CAT5e, CAT6A and patch cords that terminate with RJ45 connectors. As an added value, it also comes with a tone generator that can output multiple frequencies. A large backlit display lets you clearly see test results even in darker environments, including server rooms. It doesn't require any special batteries, running on two standard AAA batteries, which come included.
Control of the tester centers around three main buttons that allow you to toggle and select which tests to perform or what information to display. After using it, we were impressed by how intuitive the three-button approach was. We had little difficulty navigating and running tests.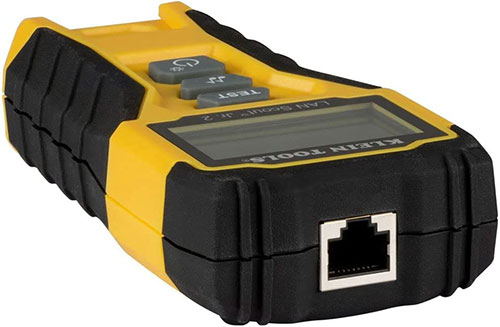 At a significantly lower price-point than the NetAlly, it's a worthy addition as the best runner-up. It's simple, basic, and easy to use. All-around, an excellent pick.
What We Liked:
Extremely effective on CAT5e, CAT6, RJ45 and patch cords.
Accurate visual wire mapping.
Unlike many competitors, tone works for wire, wire pair or all 8 conductor wires.
Backlit screen for low-light situations.
Intuitive, manual three-button interface.
Auto power off feature saves battery.
Slip-resistant grip helps in humid conditions.
What We Didn't Like:
Does not provide data about distance of the cable fault location.
Best Budget: Klein Tools VDV526-100 Network Cable Tester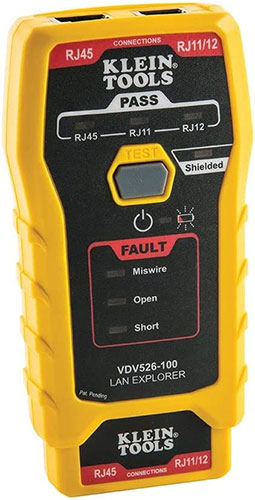 Key Features:
Single button operation.
Diagnoses pass, miswire, open-fault, short-fault and shield.
Included test remote attaches to the tester body.
Auto power-off feature.
For homeowners that don't moonlight as an IT professional, our pick for best budget network cable may be the best option. The Klein Tools VDV526-100 is a simplified model that maintains the accuracy and speed that's associated with other Klein Tools models.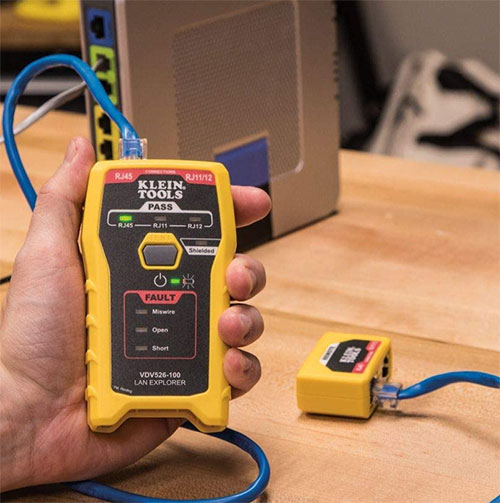 It comes with a single button to quickly turn on the device and run tests. This model employs the use of a tester remote. One end of the cable you're testing goes into it and the other plugs directly into the remote. The VDV526-100 will quickly test your cable for the entire range of faults and visually communicate to you using the LEDs on the front.
Our tests revealed that this budget model returned the same readings as models that were five times the price. As accurate as it is, be aware that at this price point, its versatility is going to be quite limited. It does the basics, nothing more and nothing less. But it does them exceptionally well.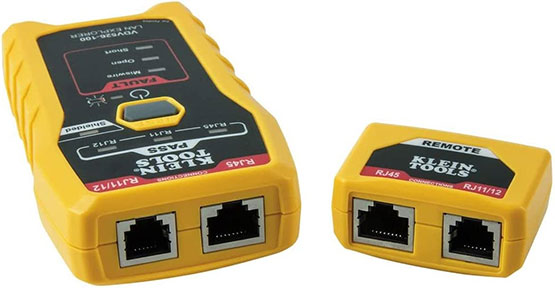 The Klein Tools VDV526-100 is best for those who don't want to spend a lot but still want decent functionality. For personal use on small networks, this tool will perform great. Best of all, it doesn't cost an arm and a leg!
What We Liked:
No-fuss single button operation.
Fast LED response.
Compact size is easy to carry around.
Auto-shutoff extends battery life.
Tester remote attaches to the tester body to prevent getting lost.
What We Didn't Like:
Limited features, ideal for personal use.
Lacks a tone generator.
Best Mid-Range: Fluke MicroScanner2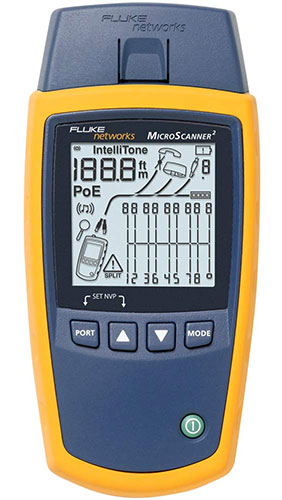 Key Features:
Oversized backlit display.
4 test modes at once.
Rugged rubber grips.
Provides wire mapping capabilities.
While some may balk at the price, with some network cable testers costing over five times more, this is indeed considered a mid-range tester unit. There are an abundance of options in this category but after testing dozens of units, the Fluke MicroScanner2 emerged as the clear-cut winner. Fluke is well-known for their high-quality and long standing reputation. This unit is a prime example of that.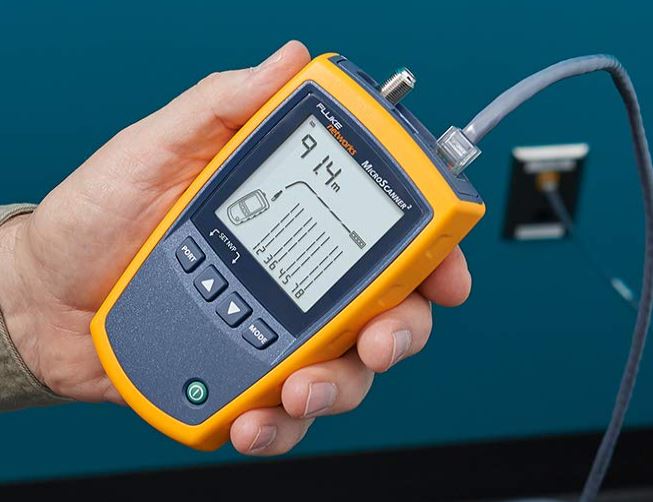 Higher-priced testers provide a wider variety of cables you can test which can be critical in a professional settings. They also provide more detailed information beyond what faults are occurring. The combination of all of these things can speed up the troubleshooting process significantly.
With the MicroScanner2, the approach to visual wire mapping is extremely clear to read, even showing you the type of device that's on the terminating end. In fact, the oversized screen can show you 4 test modes simultaneously. There's a graphical wire map, pair lengths, distance to fault with TDR and cable ID with far end device recognition.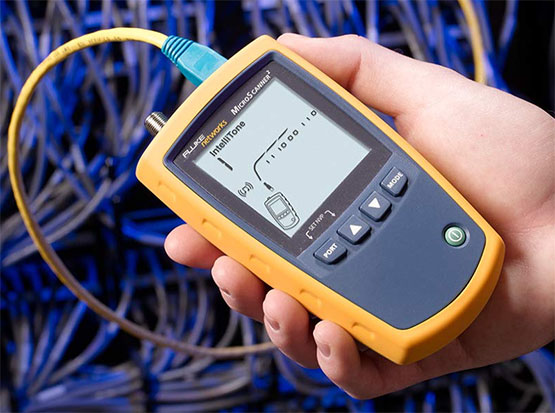 A major feature that this device has is the ability to detect the distance where a fault is occurring. While it might not be 100% accurate, we found that it was correct to within a couple of feet.
It's rugged design, powerful and intuitive features and accuracy make it an ideal pick in this mid-range category. And with the Fluke brand name quality, it's a no-brainer.
What We Liked:
Graphical wire map is clear and easy to read.
Works with a variety of cables including coaxial video cables.
Reports which end of the cable has a problem and reports specific distance to an open connection within the cable.
What We Didn't Like:
Included toning feature is limited.
Best High-End: Fluke Networks LIQ-100 LinkIQ Cable + Network Tester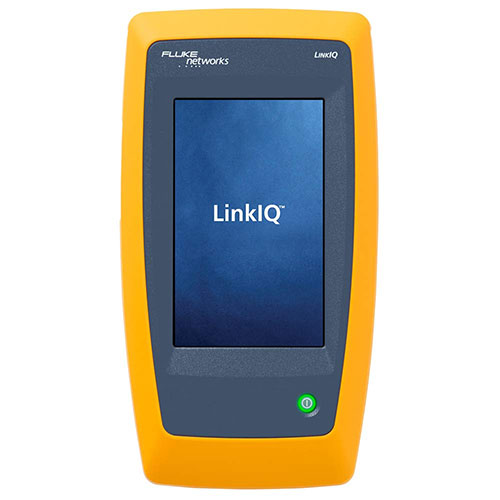 Key Features:
Cable performance testing up to 10G BASE-T through frequency-based measurements.
Includes IPv4 and v6 ping network feature.
Provides nearest switch diagnostics.
Ethernet alliance certified PoE verification.
Provides distance to open short.
Can store results internally and print them using LinkWare PC.
Ideally suited for professionals and pro-consumers, the Fluke LIQ-100 is our pick for the best high-end network cable tester. Overall, this unit provides the ideal mix of high-end features and accuracy for top-tier performance.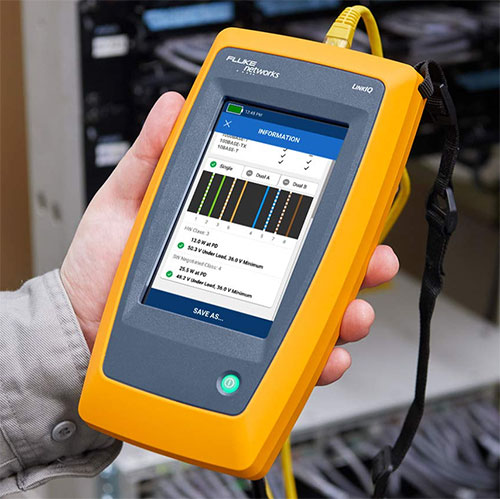 It's able to handle performance testing for cables carrying up to 10GBASE-T. This feature alone makes it the ideal tool for high performance networking environments. It features things like displaying cable length, rendering a wire map and reporting distance to open or short really well. All of the data is stored within the device and can be physically printed using the associated software.
Many professional users report that the Fluke LIQ-100 was able to save large amounts of time, money and labor far beyond the cost of the unit. Although the price-tag is very steep, it's the best of the best that's currently available.
What We Liked:
Powerful network features.
Stores reports.
Accommodates cable performance testing up to 10GBASE-T.
What We Didn't Like:
Very expensive.
Much more complex than average users need.