When you get in your car, you expect it to start up and take you to your destination. So what do you do when you turn the ignition and nothing happens? You get a jump start, of course! But this can be a challenge even for the most prepared motorist. You can have a set of jumper cables ready to go, but you still need a helpful stranger to give you a jump. Either that, or you can call a service like AAA. You'll have to wait for 90 minutes or more, and you'll have to pay a fee. Needless to say, none of these things are attractive options. Ideally, you want a foolproof charging system that will top up your battery on demand.
A dedicated jump starter is capable of doing just that. A jump starter consists of a battery, along with positive and negative cables and alligator clips. You connect it to your car battery, and it fills the same role as the battery on a second car. This lets you jump start your vehicle without assistance. All you need to do is charge your jump starter periodically, and keep it in your trunk. But not all jump starters are equally well-equipped. Some are powerful enough for larger vehicles, while others are only suitable for smaller vehicles. Some have enough capacity to be used as a power bank, while others are for emergency jump starts only.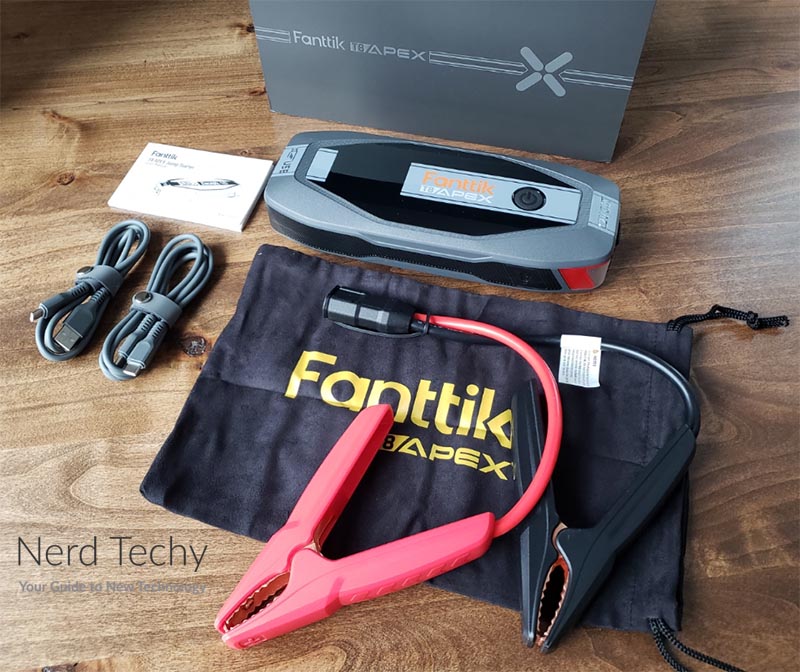 Today, we're going to review the Fanttik T8 APEX Jump Starter. This is a powerful jump starter that can start even very large passenger vehicles. It's also got enough battery power to be used as a power bank. That said, there are a number of other features we need to consider. We need to look at the physical design, portability, and durability. We'll need to look at the specifics of the jump starting function, and what kinds of batteries it works with. Next, we'll need to talk about the extra features, like the power bank and flashlight functions. After we've considered all of those aspects of the design, we'll have a more complete picture. Then, we can sum up what we've learned, and hand over a fair judgement.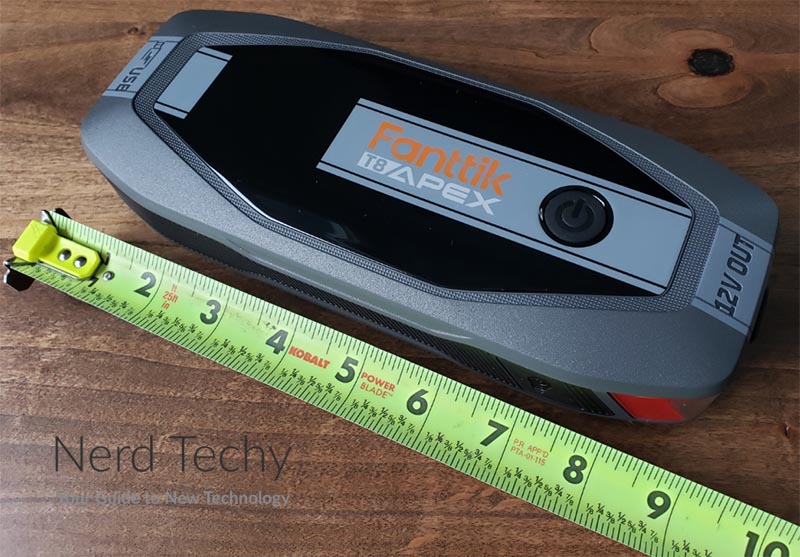 Design & Construction
The Fanttik T8 APEX Jump Starter is a handheld device with a durable plastic housing. Most of the outer surface is dull grey, and it measures 9.21 inches long, 3.74 wide, and 1.77 thick. That's fairly beefy, but it's still the right size to comfortably grip in your hand. A pair of positive and negative lead cables connect to one end. They're removable, with a proprietary rubber plug that's easy to attach and detach. This allows for easy storage, whether you want to leave the leads connected or not. They're only about a foot long, but that's not too big a deal. Since you don't need to reach between two vehicles, cable length is not really a factor.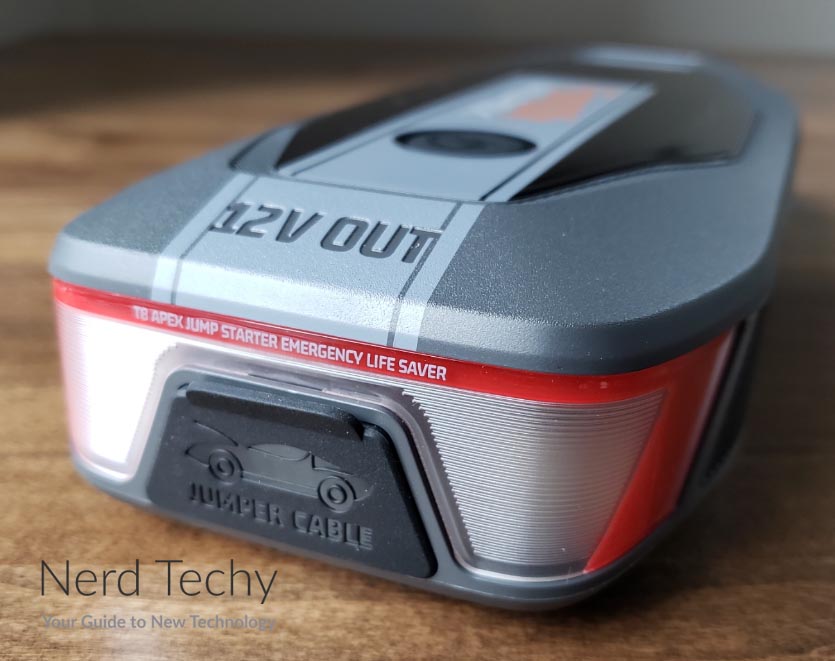 On the front of the housing, there's a large LCD display to one side. At three inches on a diagonal, it's easy to read, and the bright colors also aid with visibility. When the jump starter is powered on, this will show you the current battery level. There are additional indicators to let you know when there's an error, and when you're ready to start the car. There's also a low battery indicator, which alerts you when the car's battery is putting out very low voltage. Next to the display, there's a big, rubbery power button, which is self-explanatory.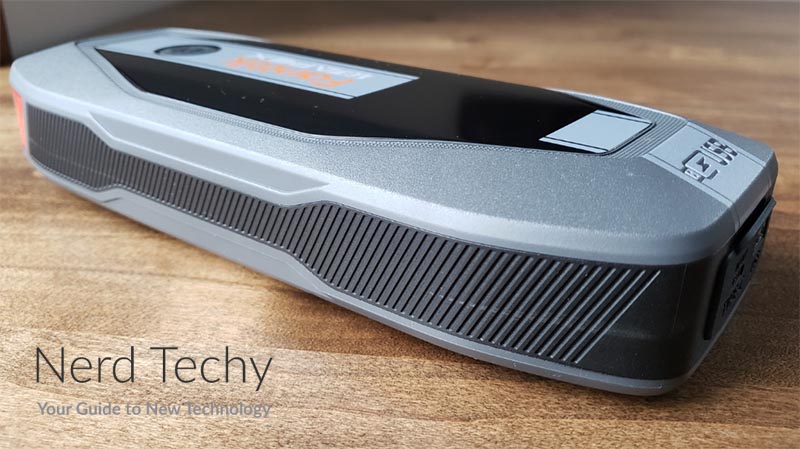 Use code "fanttik40off for a $40 discount when you order the Fanttik T8 APEX from the official website.
To either side of the lead cable input, there are a pair of LED flashlights. These function as a single light, and we'll talk about them more in a minute. On the other end, there's a rubber plug, which can be removed to reveal a pair of USB ports. These can be used for charging the jump starter, or for charging external devices like a smartphone. To keep you connected, the kit includes a USB Type-C to Type-C cable, and a Type-A to Type-A cable. There's also a pair of charging adapters, one for your wall outlet, and one for your car. You even get a microfiber-lined hard carrying case to keep everything together.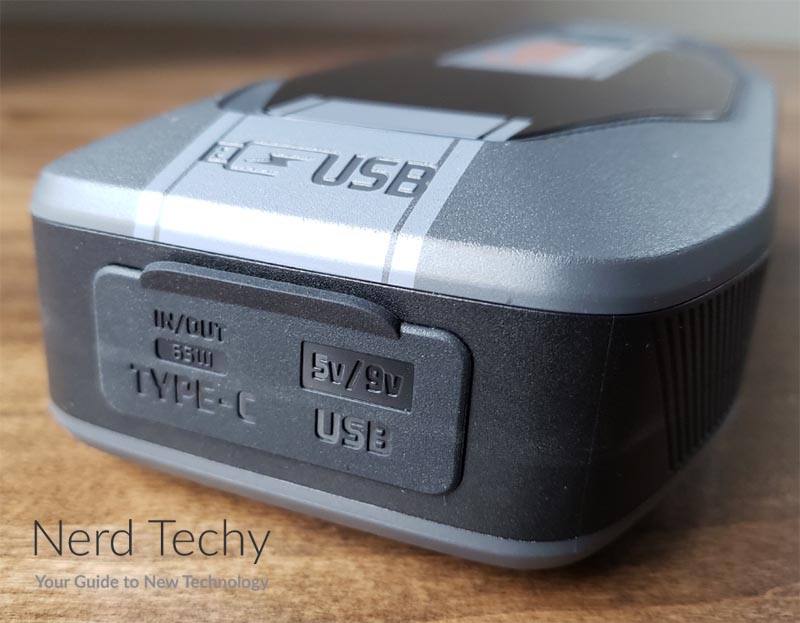 The T8 APEX has a weather-resistance rating of IP65. This might be a bit obscure, so let's break it down. The 6 means that it has the highest possible level of dust-resistance. If for some reason you're using this jump starter on the surface of Mars, the dust won't be a problem. The 5 indicates a rating of splash-resistant. A little bit of moisture or rain isn't going to cause any damage. That's good news if you're jumping your battery in the rain. Environmental resistance is also excellent. The battery is rated to work from -4 to 140 degrees Fahrenheit, which covers almost all reasonable conditions.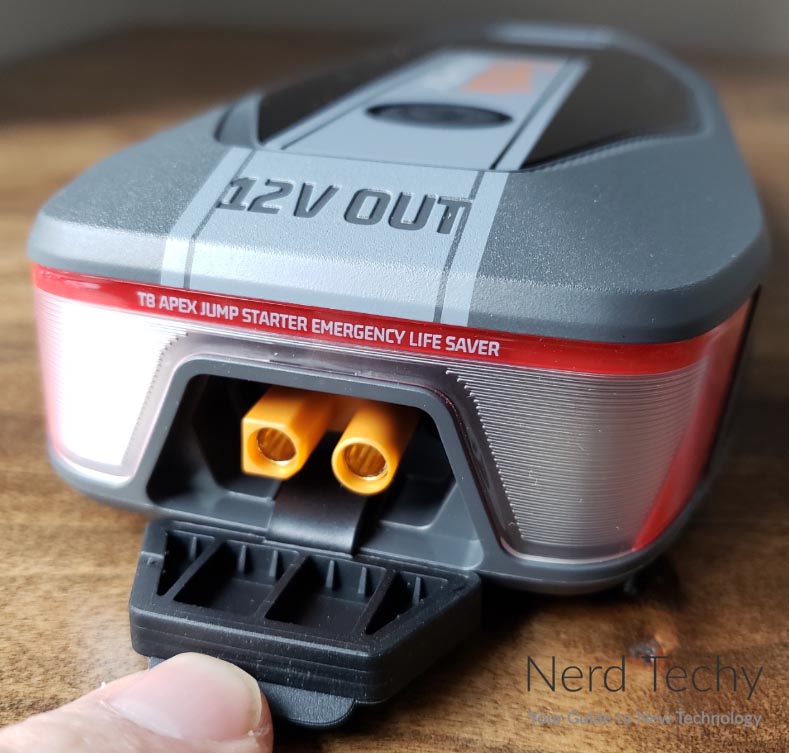 The internal battery itself has a duty rating of 500 cycles. This means that after being charged and discharged 500 times, it will retain 80 percent of its maximum power. How long this takes to happen depends mostly on how hard you push it. That said, Fanttik provides a 24-month manufacturer's warranty, which protects you from premature failure.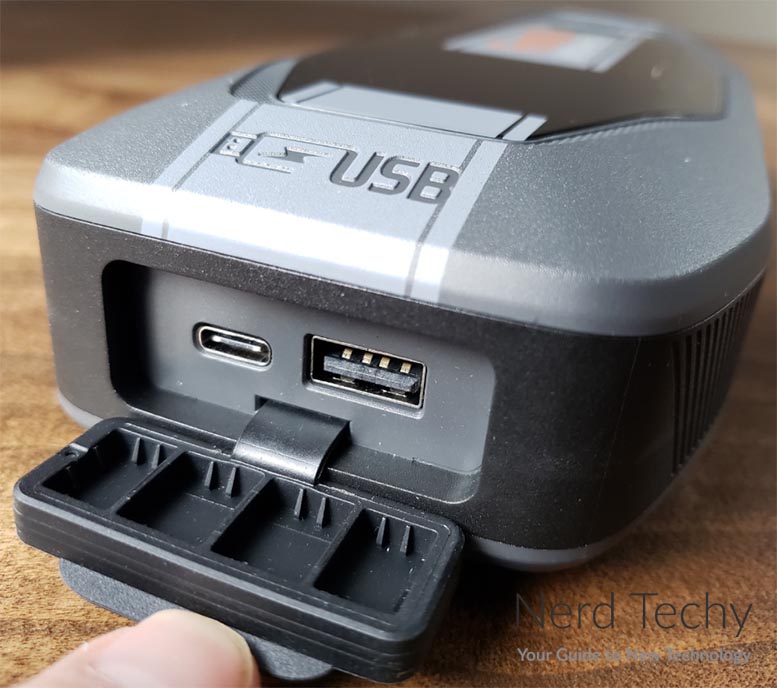 As far as reliability goes, you're looking at a solid performer. If you want something with more extreme reliability, consider the Autowit SuperCap 2. It's a capacitor jump starter, so it will work under conditions where traditional batteries fail. On the downside, it cannot be used as a power bank or a flashlight.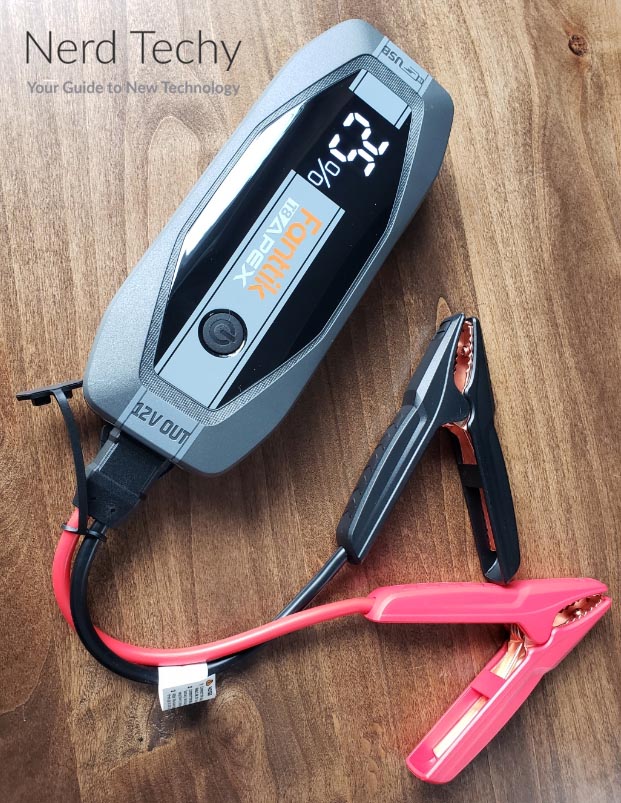 Jump Starter Performance
The T8 APEX is designed to automatically jump start most vehicles. Operation is quick and easy in the majority of cases. You connect the leads to the corresponding leads on your battery, and press the power button. At that point, the screen will light up. Wait until the Start light appears, and you'll know your vehicle is ready to start. Then, just turn the ignition and you should be up and running.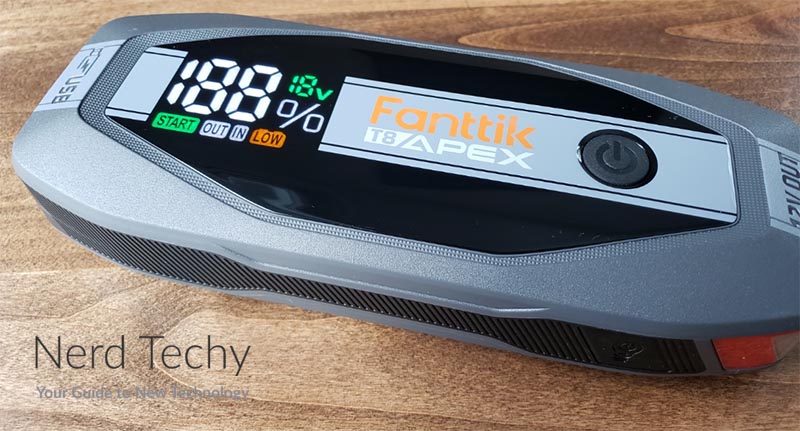 However, the T8 APEX can only detect a minimum current of 2 volts. If it can't detect any current, the Low Battery light will illuminate. This could mean that your battery is totally dead, and cannot be jumped. On the other hand, your battery might still have a little bit of life left in it. To find out, you can perform a manual override. Press the power button on the top and the flashlight button on the side, and hold them down for three seconds. This will begin the jump starting process. When the Start light appears, try to start your car as usual.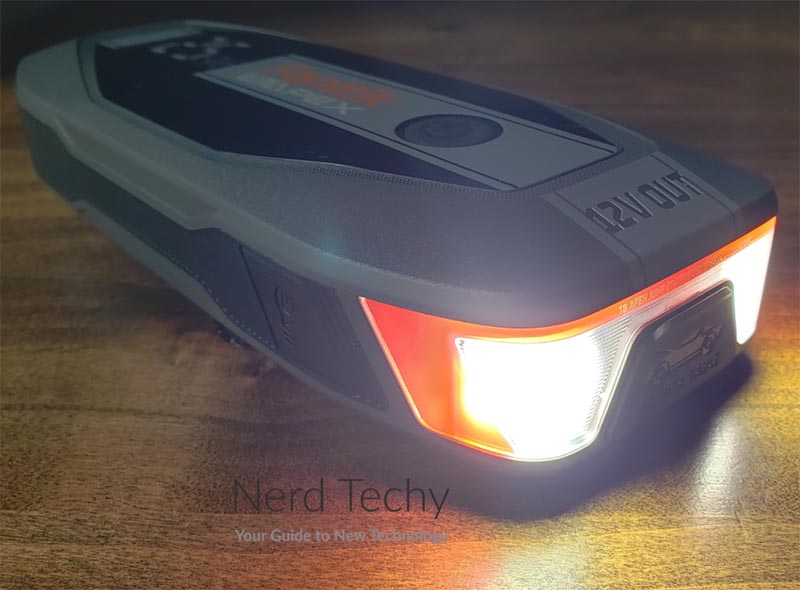 The maximum peak current is 2,000 amps, which is sufficient to start most passenger vehicles. It can start most gas engines up to 8.5 liters. That's the same displacement as the engine on the gas version of the Ford F450. So you can even jump start your heavy duty pickup with no trouble. For diesel vehicles, the T8 APEX can start an engine with a displacement of up to 6.0 liters. That's enough to jump a Ford E350 delivery van. And when fully charged, the 20,000mAh battery has enough capacity for up to 50 jump starts.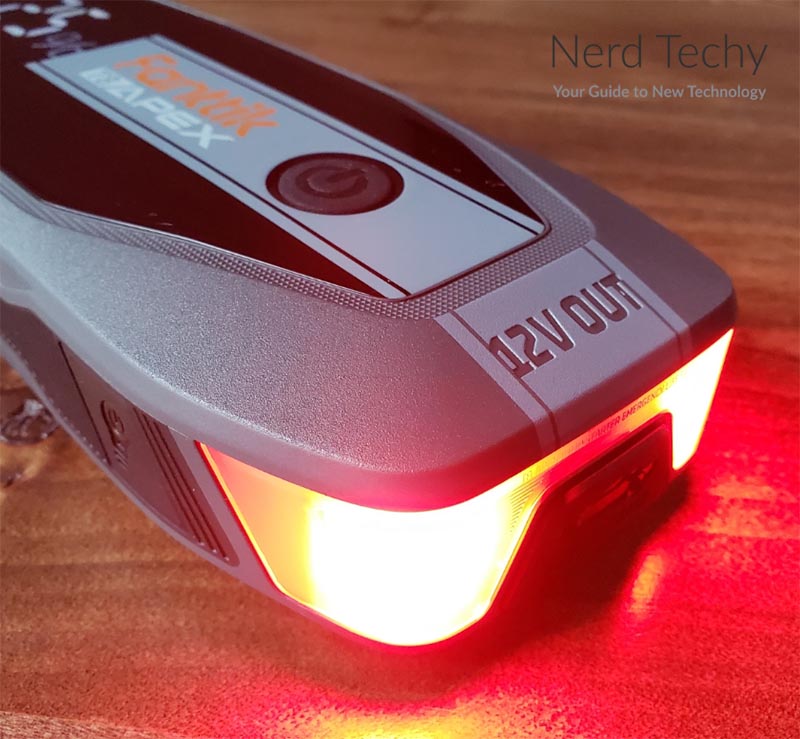 In terms of battery compatibility, the T8 APEX can start any kind of lead-acid battery. It starts Enhanced Flooded, AGM, WET, GEL, and other common technologies. On the downside, it won't jump start lithium batteries, including LiFePO4 batteries. Check under your hood and check your battery before you make any commitments.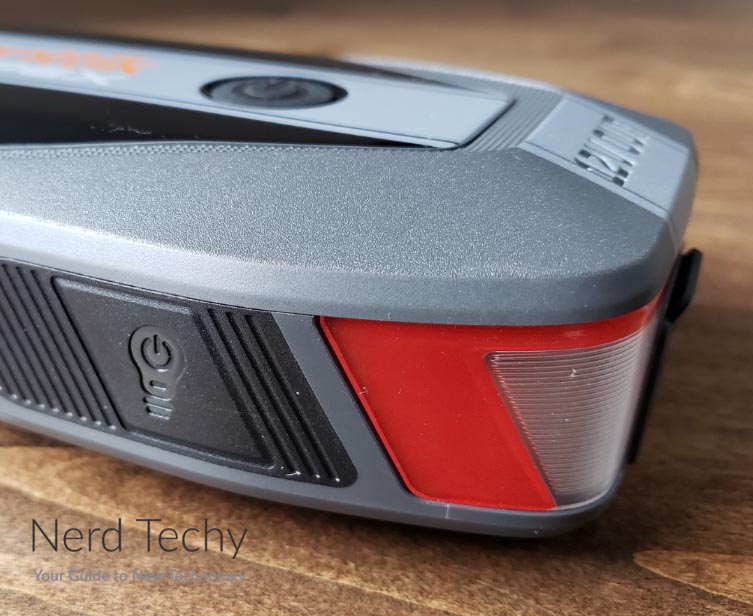 Use code "fanttik40off for a $40 discount when you order the Fanttik T8 APEX from the official website.
The internal battery itself will recharge completely in about 90 minutes. And once it's fully charged, it will retain enough charge for a jump start for about two years. That's only 20 percent of charge, but if you're in a bind, it's sufficient to get your car started. You can also charge to 20 percent in only 10 minutes. If you have another power source, you can quickly get to the point where you can start your car.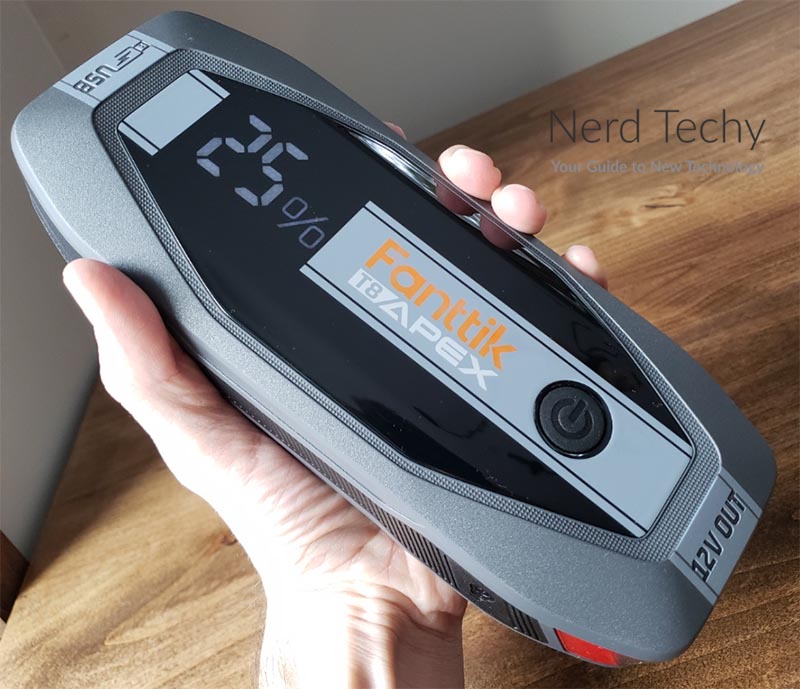 Bonus Features
As we mentioned, the T8 APEX works as a power bank. With 20,000mAh of capacity, it's only moderately powerful. You can charge a laptop once, give or take a little depending on the size. For smartphones, you can expect six to eight recharges, which is enough for emergency use. As an added benefit, the USB ports are capable of delivering 65 watts of power. This allows you to charge laptops and other more powerful devices while they're in use. And thanks to pass-through charging, you can charge another device while you're charging the jump starter.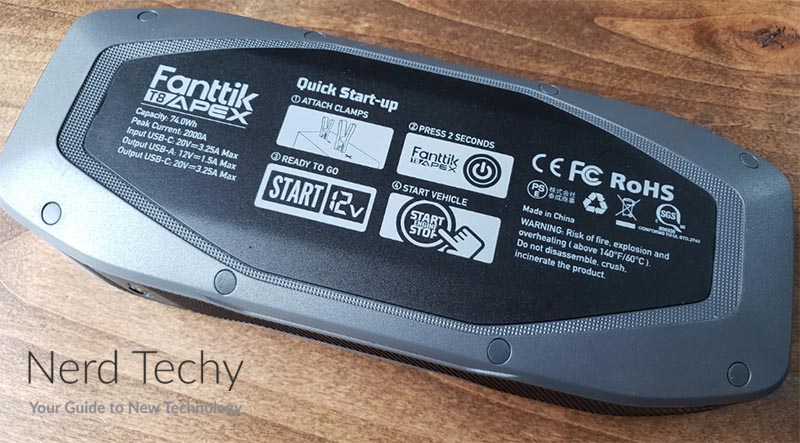 The T8 APEX' LED light is reasonably powerful, but not overwhelming. At 400 lumens, it's sufficient for lighting a small area, or signaling for help in the dark. To this end, there are three different emergency modes: SOS, blink, and strobe. This can help you get out of many potential emergencies. It can also double as a roadside flare if you're broken down on the shoulder.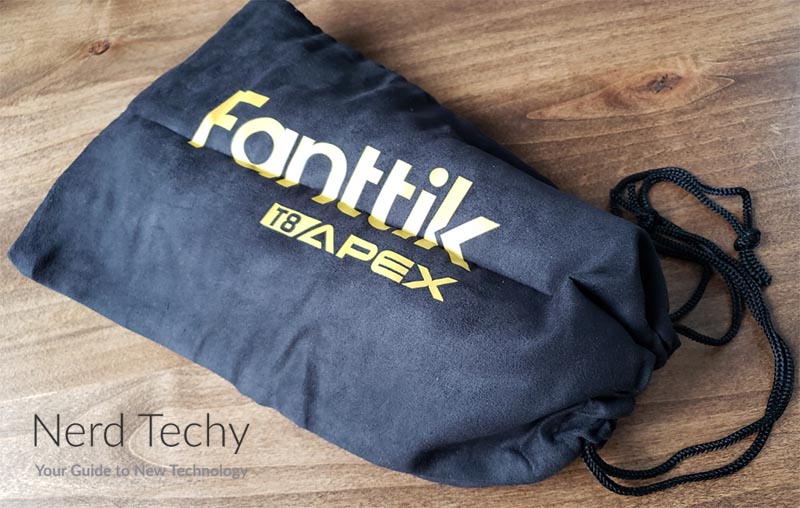 Final Verdict
The Fanttik T8 APEX Jump Starter is a powerful, versatile jump starting device. It's small enough for easy storage, and the internal battery stays charged for up to two years. You can use it as an emergency power bank or signal light, so it's useful in many situations. And with 2,000 amps of power, you can start virtually any vehicle. This is a very well-engineered jump starter.