OUPES 600 Solar Kit
Pros
Powerful and portable.
Charges 8 devices simultaneously.
1,000W maximum surge power.
Comes with its own solar panel.
High quality build and design.
Cons
Not as high capacity as some power stations.
Cooling fan can get loud.
Nowadays, we rely on our electrical devices for many aspects of our lives. Smartphones, tablets, laptops, and other gadgets make our lives more efficient and convenient. Most of the time, you just have to plug into a wall outlet, and your devices will charge. But this isn't always possible. Sometimes, the power goes out for hours or days, and you need an emergency power supply. Or maybe you're camping, and you want to be able to charge your phone and your GoPro. In any of those situations, a solar generator is a great solution.
In many ways, a solar generator is similar to any of the other power stations that we've reviewed. The key difference is that it's designed to charge directly from the sun. This makes it more versatile than an ordinary power station, since you don't need to charge from a wall outlet. When the internal battery runs out, you'll be able to recharge out in a field, or in your backyard. As a result, you can get through a longer power outage, or through a weeklong camping trip. In point of fact, most portable power stations can be modified into a solar generator. All you need to do is buy a compatible solar panel attachment.
But why not just buy a full kit to begin with? The OUPES Solar Generator 600 Kit (Power Station + Solar Panel) is a complete solar generator. You get a power bank with sufficient capacity to power most devices. You also get a collapsible solar panel that's designed specifically to work with the OUPES power bank. This gives you a virtually limitless supply of power, whether you're camping or just need an emergency backup. But how well does it actually perform? What kinds of devices can you charge, and how fast do the solar panels work? To find out, we'll have to take a much closer look at this portable solar generator. Let's begin!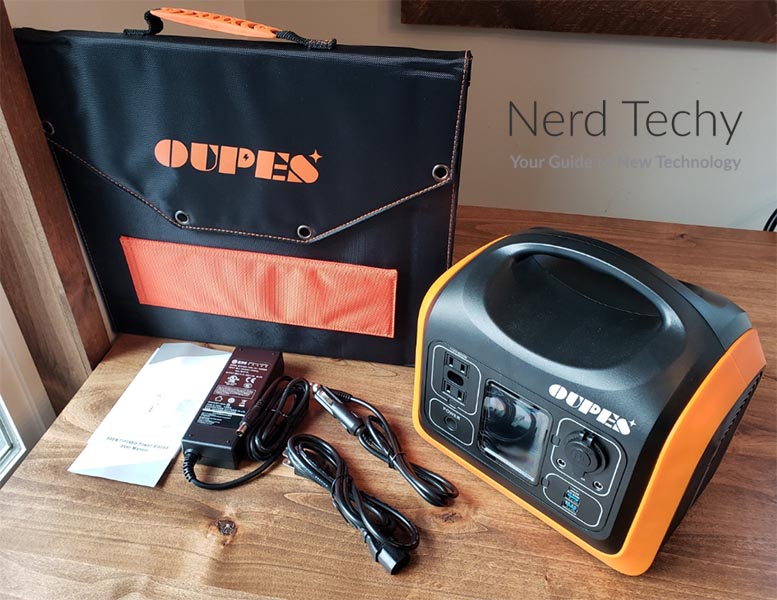 Overall Design
The OUPES Solar Generator 600 Kit, consists of two main components. As you probably guessed, these are the power station and the solar panel. The power station itself has a rugged housing, constructed from orange and black plastic. It's roughly rectangular, with a width of 10.5 inches, a depth of 7.76 inches, and a height of 9.73 inches. Much of this height is due to the molded handle, which arches high over the unit. The handle is shaped to fit in your hand, with ergonomic curves that fit your fingers. At 19.18 pounds, the power station is relatively lightweight and easy to carry. You wouldn't want to take it backpacking, but it's simple enough to carry to and from your car.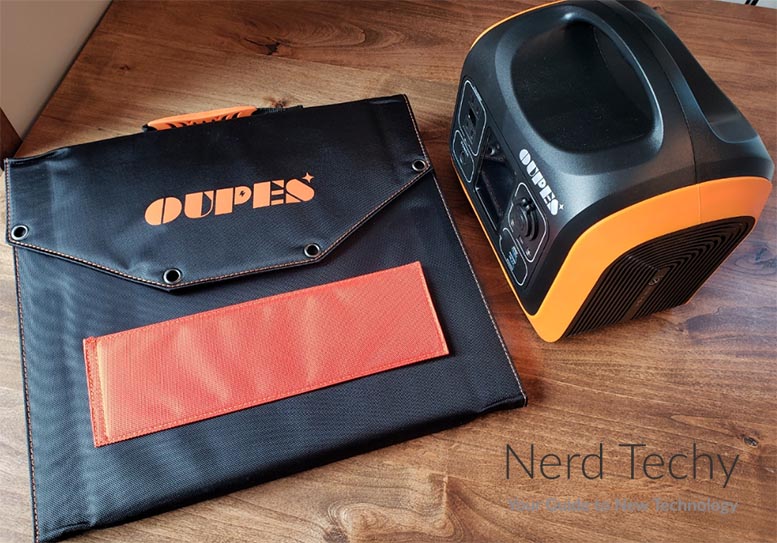 The front, top, back, and sides of the housing are black, while the edges are bordered in orange. The two side panels are vented, which allows air to pass through the inside of the housing. This happens passively when the temperature is cool and wattage is low. When the wattage is high or the temperature is hot, a fan will kick in. This keeps the internal components cool under all but the hottest weather conditions. That said, the fan is relatively loud. If you need a quieter power station, check out the Jackery Explorer 240. It's also compact, and the cooling fan is almost silent. Then again, it doesn't come with a solar panel, and it's not suitable for CPAP users.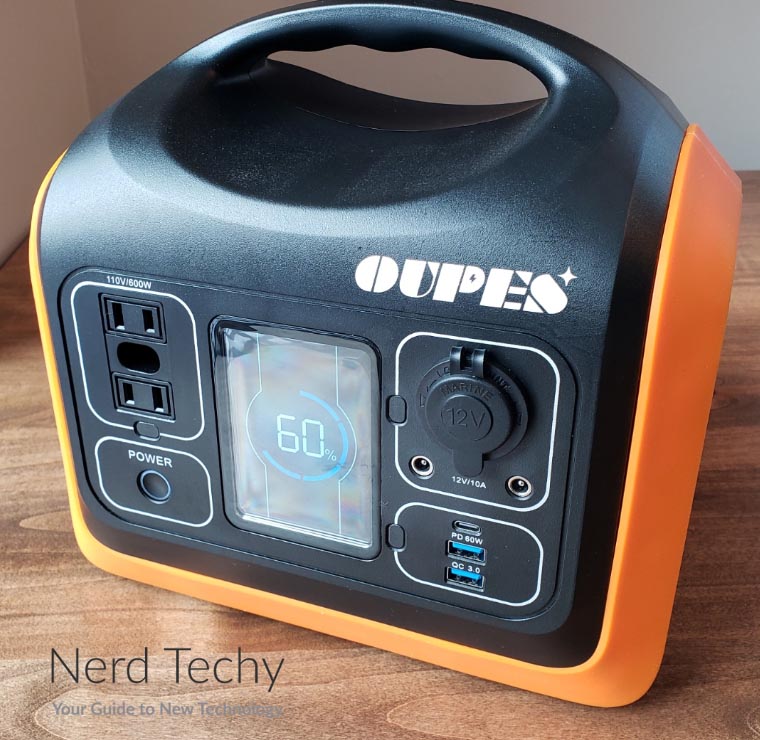 The front panel of the OUPES power station has a bright LED display at the center. At the top, it shows a digital readout of the total wattage being drawn. At the bottom, there's a similar readout, which shows how much wattage the unit is receiving. This lets you know whether you're gaining or losing power during pass-through charging. In between these two readouts, there's a percent display of the current charge level, with a visual ring around it. To both sides, you'll see additional alerts, which let you know which ports are in active use.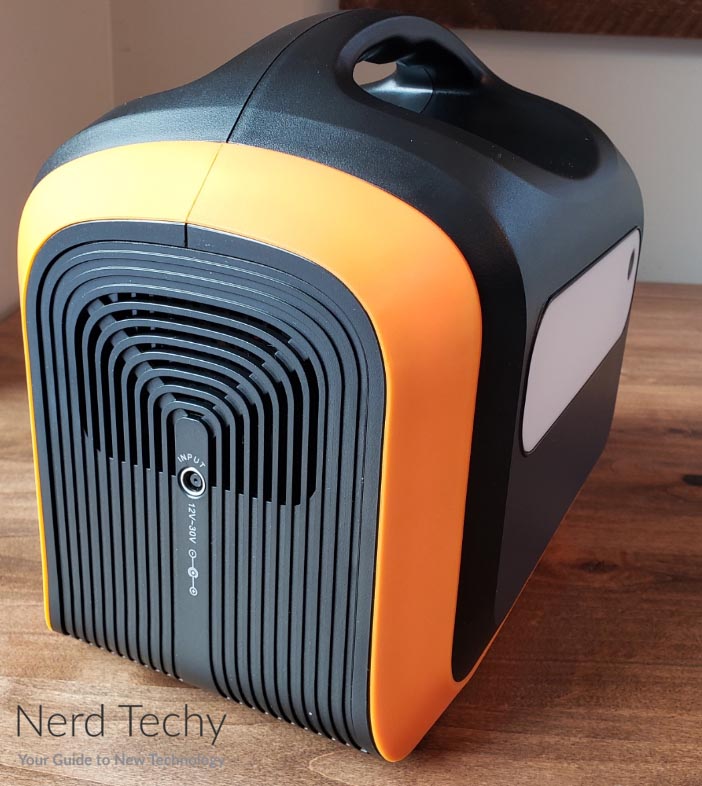 The various charging ports are located to the two sides of the display. To the bottom left, there's a large power button, which activates the power station. To the top left, there's a pair of AC charging outlets. To the top right, there's a single 12-volt DC automotive-style outlet, with two smaller barrel-style DC ports. To the bottom right, there are two USB Type-A ports, and a single USB Type-C port. The three different blocks of ports each have their own power buttons. This lets you turn off ports that aren't in active use, to prevent losing battery charge to "vampire power."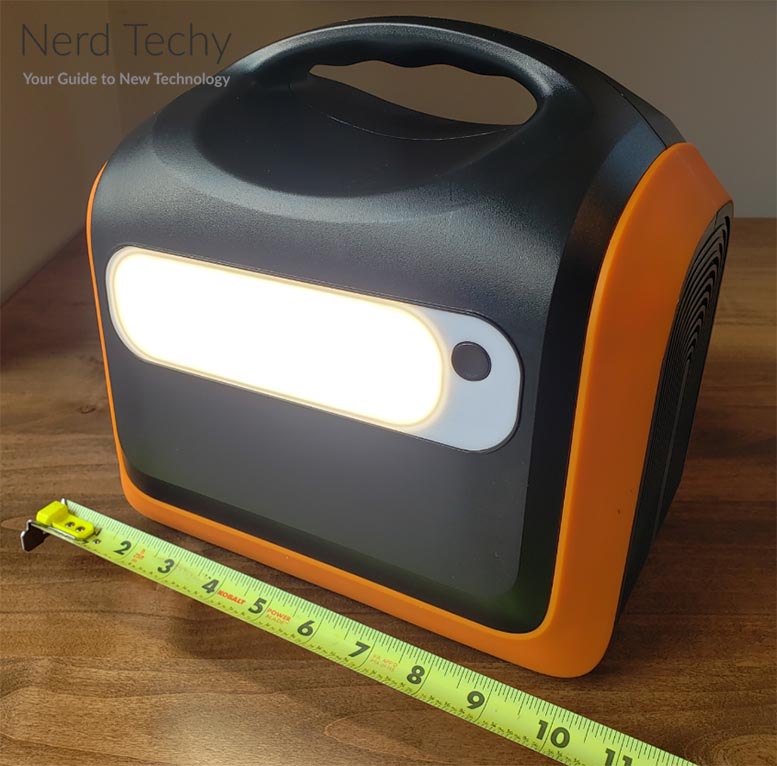 On the back of the housing, there's an LED light panel. This is a 7-watt light, and it's fairly bright on its highest setting. On the lower setting, it's more suitable for reading, or for lighting up a tent. There's also an SOS setting, which is useful for signaling for help.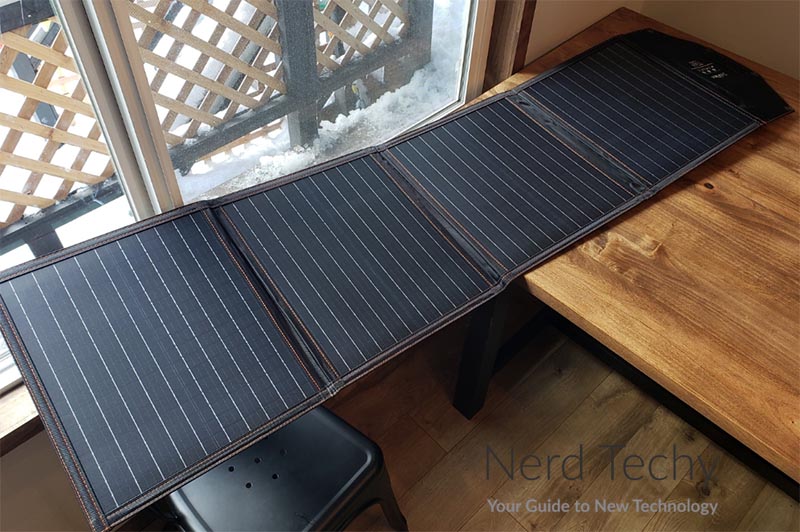 So far, we've discussed the power bank. The solar panel has a similarly-rugged design, with a heavy nylon backing material and grommeted edges. When fully opened up, it stands 16.65 inches tall, with a width of 67.64 inches. The back has four stiff kickstands, which can be adjusted to change the angle. This lets you point the panel directly at the sun under many circumstances. The panel can also be collapsed for easy transport. When it folds up, it's only 16.65 inches wide and 14.5 long. There's even a handle on one side, for easy portability.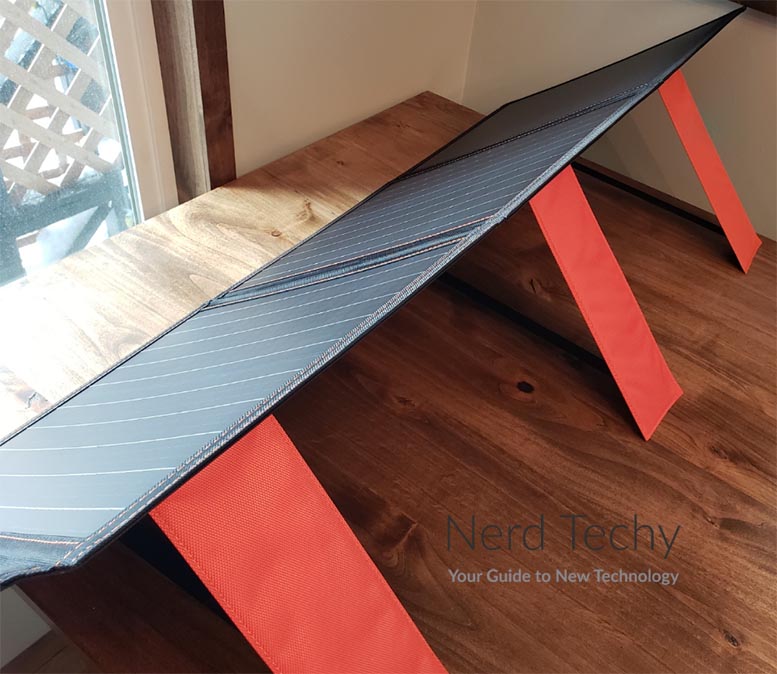 Both the solar panel and the power station are dust- and water-resistant, with a rating of IP65. The 6 indicates the highest possible level of dust resistance. Even in a Texas drought, they'll stand up to the dust. The 5 indicates that they're splash-resistant. They can withstand light rain, and you can easily wipe them down for cleaning.
Use code "OP15OFF" for 15% off the Solar 600 Kit when you order from OUPES Official Website
Battery Performance and Capacity
The OUPES Solar Generator has a capacity of 595.2 Watt-hours, or 186,000mAh. That's a significant amount of juice. It's enough for 50 or more phone charges, depending on your phone model. For laptops, it's enough for around five to eight charges, again depending on the model. For drones, you're looking at around 10 charges, once again depending on the model. You can even run a CPAP machine all night long. That's great news if you're counting on this generator kit as an emergency home backup.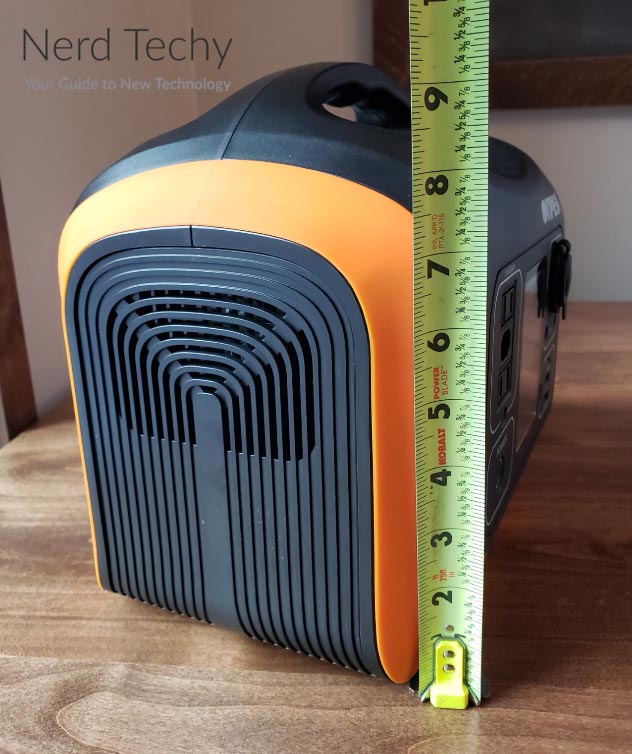 The AC outlets run on a standard North American 110 volts, with a rated maximum output of 600 watts. That's about 40 percent of the output of a standard home wall outlet. However, you can draw up to 1,000 watts of peak power. If you plug in a mini fridge or something else with a compressor, it won't fail when the compressor kicks in. That said, there are a couple of limitations. For one thing, 600 watts is the maximum for the entire power station as well. This means that if you have multiple devices connected, you won't get 600 watts from a single outlet. The other limitation is the battery capacity itself. It's fairly powerful, but if you're running a kettle or griddle, it will only last about half an hour.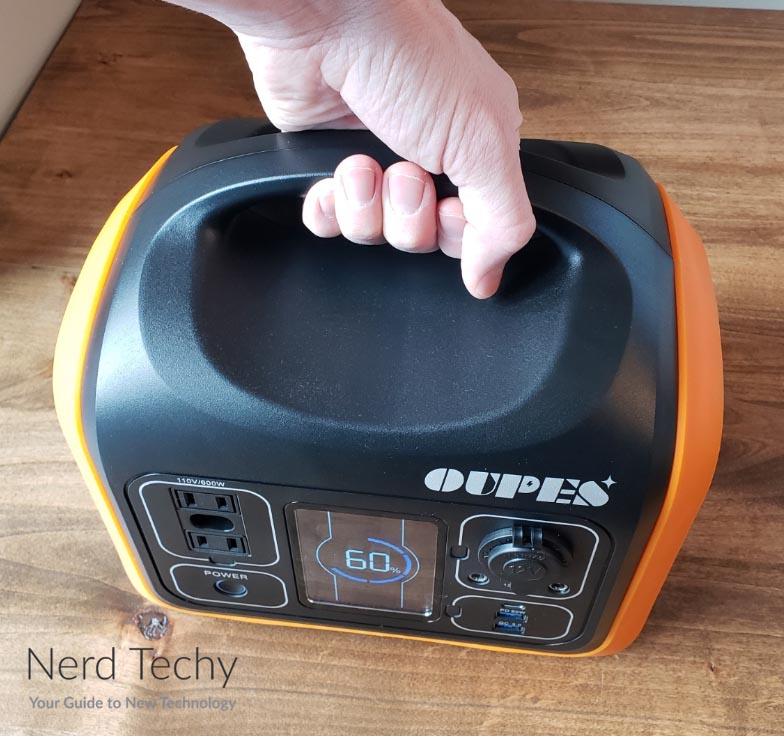 If you need to run higher wattage devices, check out the Oupes 1100W Power Station. It has a similar look and feel, but more outlets and nearly twice the total wattage. Then again, it's bigger and heavier, so it's not quite as easy to carry around.
The OUPES 600 Kit's single USB Type-C port puts out PD power at a rate of up to 60 watts. This is sufficient for the vast majority of PD powered devices. In most cases, you'll get the fastest possible charging speed. The only time you'll run into an issue is if you're trying to play and charge on a very powerful laptop. The two USB Type-A ports are a standard 5 volts, 2.4 amps, for a total of 12 watts. This is what you'll get from the USB ports on most computers, and from most AC adapters. That said, they don't support any type of Quick Charge technology.
All three 12-volt ports deliver 10 amps of power, for a total of 120 watts. This is true both for the large, automotive-style port and the two smaller, barrel-style ports. You'll easily be able to charge your drones and other devices.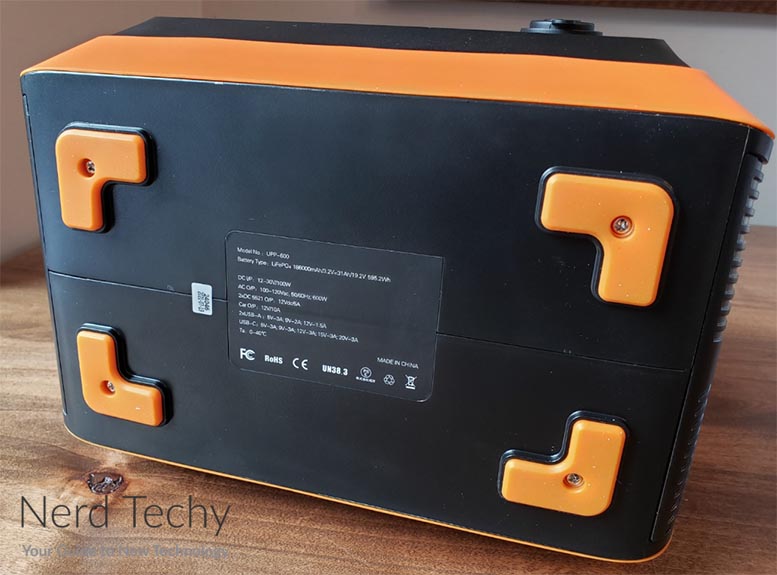 Charging and Safety
There are multiple ways of charging the OUPES Solar Generator 600. The most obvious method is simply to use the solar panel. Using that method, you can fully charge the dead battery in as little as 7.5 hours. That said, this is a highly variable number. If you're not getting a lot of direct sun, solar charging can take a very long time. If you want to get a charge more quickly, you might want to use one of the other methods.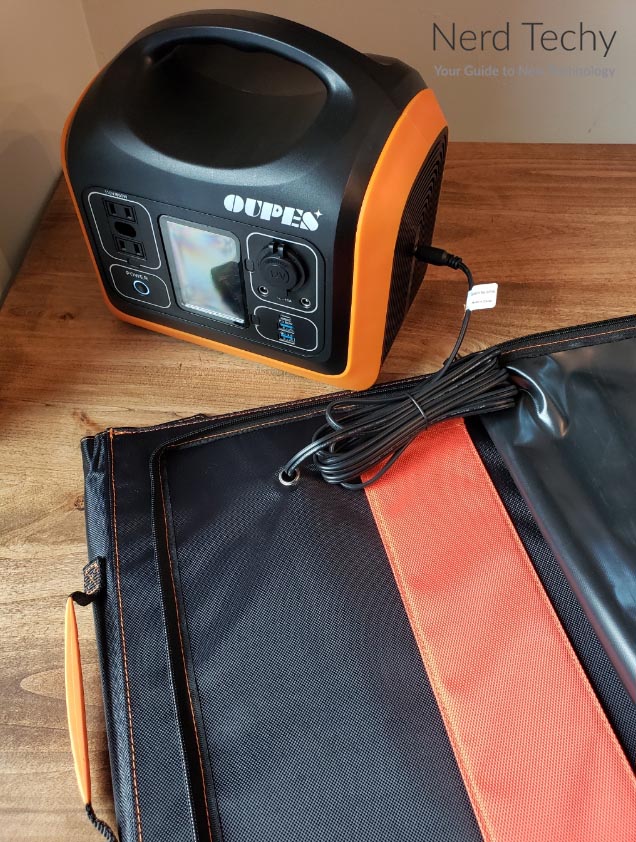 The fastest way of charging is to plug into a wall outlet as well as via the USB Type-C port. Using both in conjunction with a 60-watt PD charger, you'll fully charge in only 3.5 hours. If you're using the wall outlet alone, you'll charge in about 7.5 hours. So it's basically the same as using the solar panel on a sunny day. Using only the USB port will take 12 hours or longer, so it's not ideal. The car charger will take 10.5 hours, which is fine as long as you don't mind leaving your engine running.
This solar generator outputs pure sine wave power. This means it's safe to use with CPAP machines and other sensitive electronics. The power is also regulated to prevent over-voltage or over-current. There's even an internal temperature sensor that shuts things down if the temperature gets too high.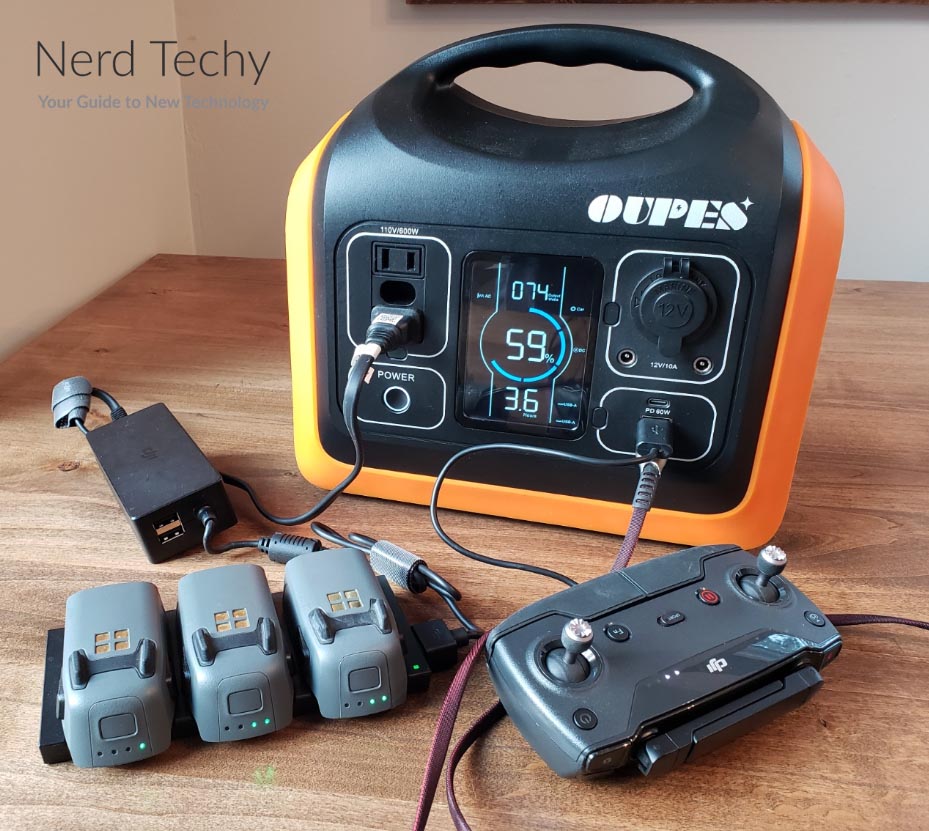 Final Verdict
The OUPES Solar Generator 600 Kit is a complete solar generator. It has both a highly-functional power station and a powerful solar panel. It's capable of charging most devices, with multiple output types. It's weather-resistant, and it's easy to carry around. All in all, it's a solid choice both for home backup and for camping.