In today's world, we rely more than ever on our electronic devices. Not long ago, most people could go for a few hours or days without power, and not really miss it. But nowadays, we use our smartphones, tablets, and laptops for just about everything. Our smartphones alone have apps for just about everything. You can do your banking, order a pizza, and watch a movie, all without getting off the sofa. Even when you're going camping, you might still need some power. You might use a GPS app to find the best fishing spots, or you might be using a drone camera. The point is, our powered devices are everywhere, and it's no fun when you don't have a way to charge.
One solution is to use a portable power station. A portable power station combines a large internal battery with a number of ports for charging. In many respects, it's a lot like a power bank, since it's a secondary power reserve for your devices. However, power banks are typically pocket-sized, and normally only provide USB power. A portable power station is bigger and beefier, and provides more than just USB power. You can also plug in AC-powered devices and 12-volt DC-powered devices. As a result, you can charge more than just your cell phone.
We're about to review the Jackery Explorer 240. This is a small-sized portable power station that's meant for light-duty applications. It has a sturdy, durable design, with an easy-to-read LCD display. It's also easy to charge, whether via wall outlet, car outlet, or a solar panel. That said, there are many other factors to consider when you're choosing a power station. We need to talk about the battery capacity, and how many watts the outlets can deliver. We'll discuss how the control panel works, and how to get the most out of the battery. After we've considered these and other factors, we'll have a complete picture of the power station. Then, we'll render our judgement.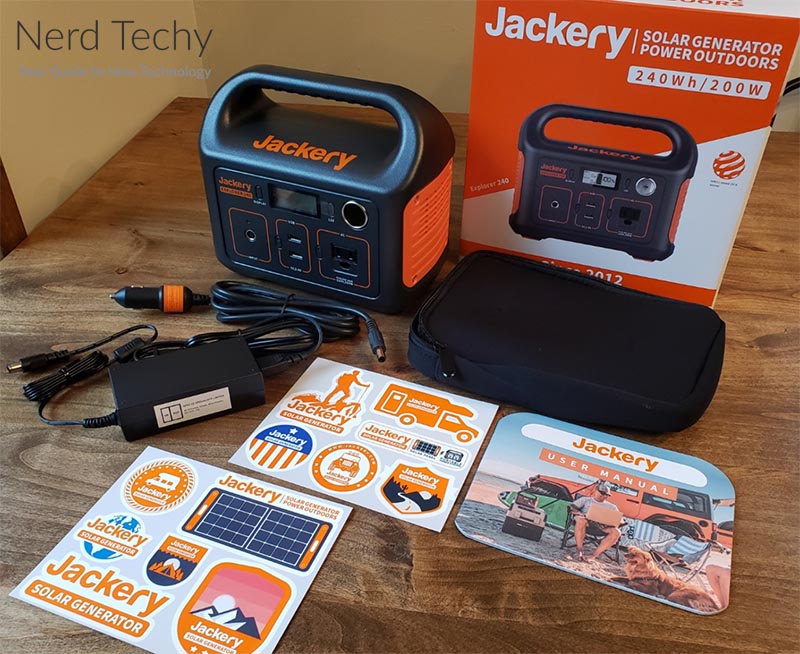 Overall Design
Like most portable power stations, the Jackery Explorer 240 has a roughly rectangular design. It measures 9 inches wide, 5.2 inches deep, and 7.7 inches in height. It actually doesn't seem that tall, though, since much of the height consists of the handle. This handle is slightly curved, with grooves cut into the bottom for a more secure grip. It's constructed from the same plastic as the rest of the housing, and is molded right into the top. The housing material is mostly black, although there are orange accents. These include a bold "Jackery" imprint on the top, as well as the side panels and some front markings. The total weight of the power station is only 6.6 pounds. Even a small child can carry it around with ease.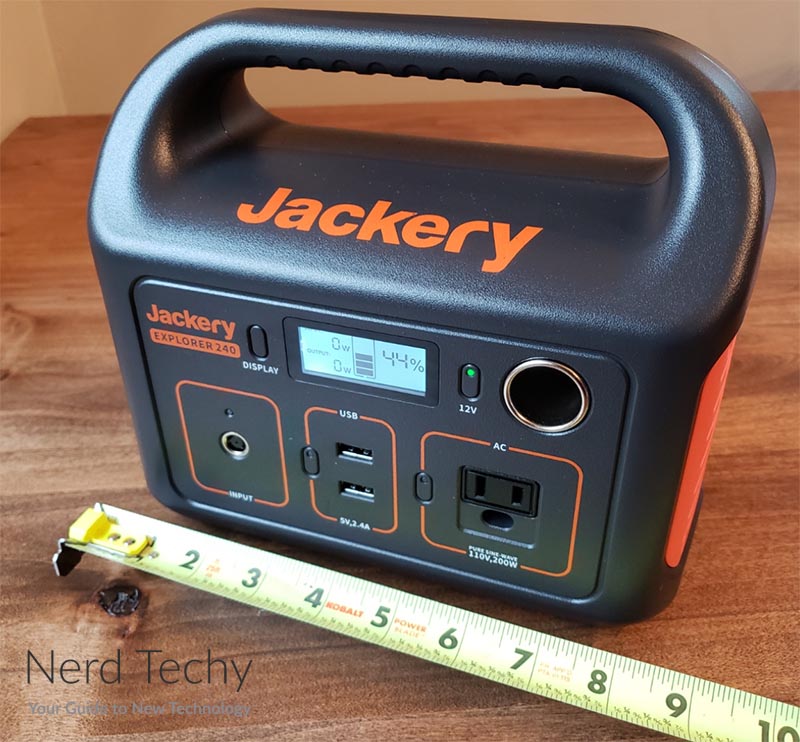 The orange side panels are vented, which allows air to pass through for cooling. This only happens when the internal fan is in operation, which depends on a number of factors. The more power you're drawing and the warmer the environment, the more often the fan will kick in. Even when it's running at full bore, it's not an issue. Unlike many portable power stations, this one is surprisingly quiet. All you'll hear is a soft whir.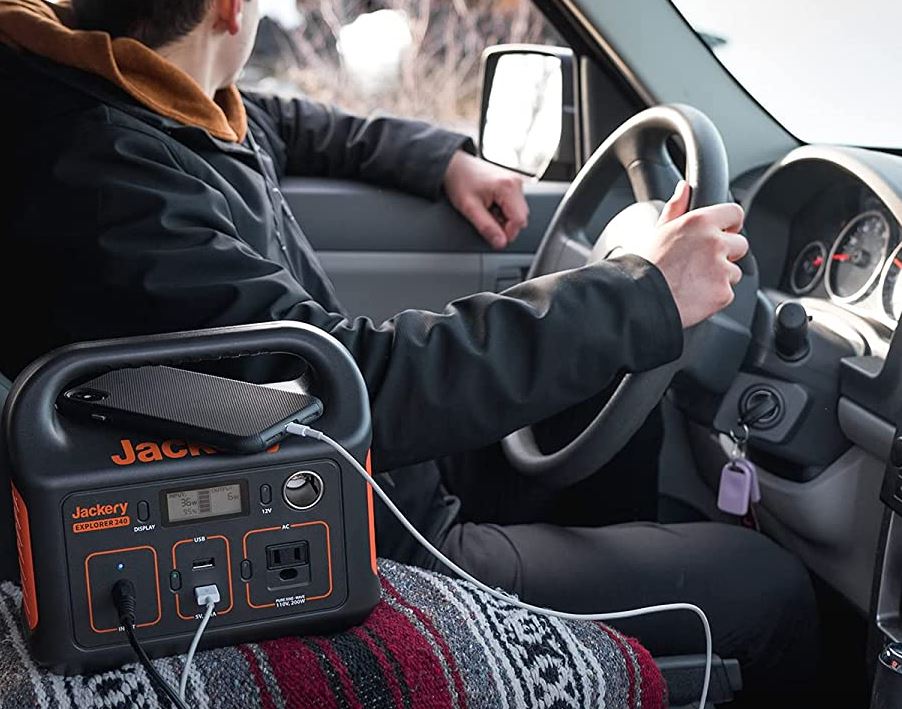 To be fair, this represents somewhat of a tradeoff. There's a fair bit of empty space inside the Explorer 240, which is great for cooling. On the other hand, the Jackery Explorer 300 is a similar size, but has a larger battery and higher maximum wattage. But because there's less room for air flow, the 300's fan is relatively loud.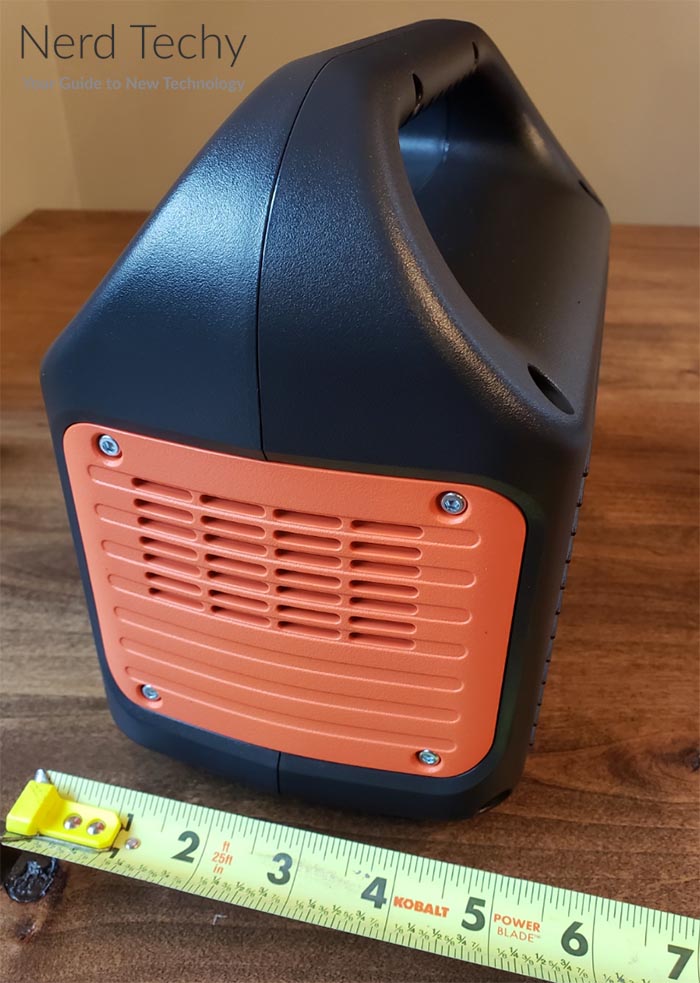 Most relevant features of the Explorer 240 are located on the front panel. At the top center, you'll find an LCD display, which shows you the current system status. The right side of the display consists of a battery meter, with both a percentage and a five-bar display. The left side of the screen shows you the current incoming and outgoing wattage. This lets you know whether or not your battery is charging when you're using pass-through charging. If the incoming wattage is higher than the outgoing, the battery is charging. If the incoming wattage is lower, it's draining.
To the right of the LCD display, there's a single automotive-style 12-volt DC power port. Beneath that, at the bottom right, there's a grounded three-prong AC power port. To the left of that, just beneath the LCD display, there are two USB Type-A ports, stacked vertically. Continuing to the left, at the bottom left corner of the front panel, there's a barrel-style DC charging port. The display, DC, AC, and USB ports all have their own on and off buttons. This allows you to save power when the display or one of your outlets isn't needed. The outlet buttons have built-in LED lights, so you know when they're active or not.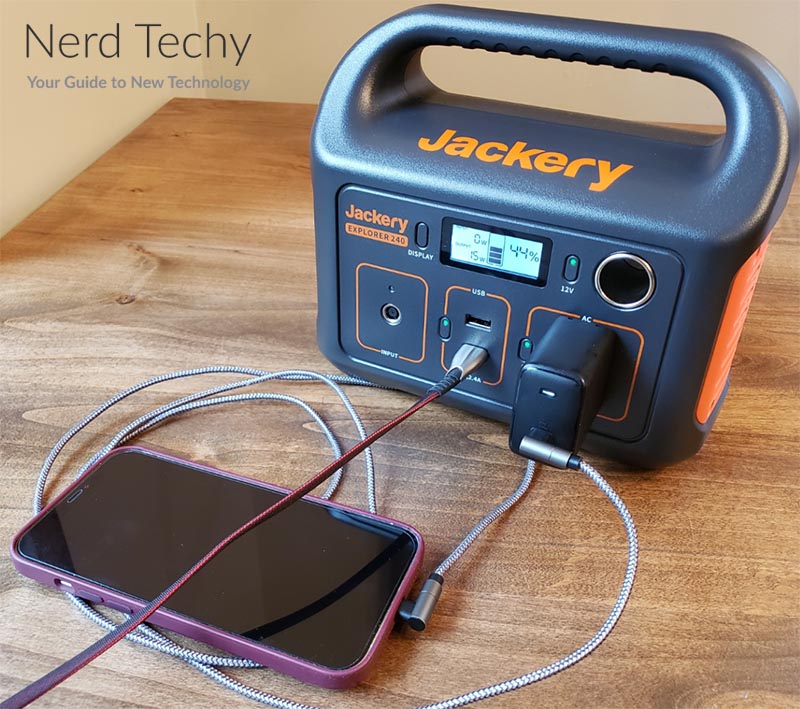 Along with the power station itself, the Explorer 240 kit also includes a pair of charging cables. The first is an AC charging cable, which has a built-in adapter to convert the current to DC. The second is a simple DC charging cable, for plugging into your car's power outlet.
Battery Performance and Capacity
We've talked about the physical design. But the heart and soul of any power station is the internal battery. The "240" in Explorer 240 refers to the battery's 240 Watt-hour internal battery. Watt-hours is a frustrating measurement, because it doesn't tell you how many milliamp-hours (mAh) you're getting. The reason is that it depends on how many volts you're drawing. At 5 volts, which is standard USB power, that's 48,000mAh. At 12 volts, it's a more modest 20,000mAh.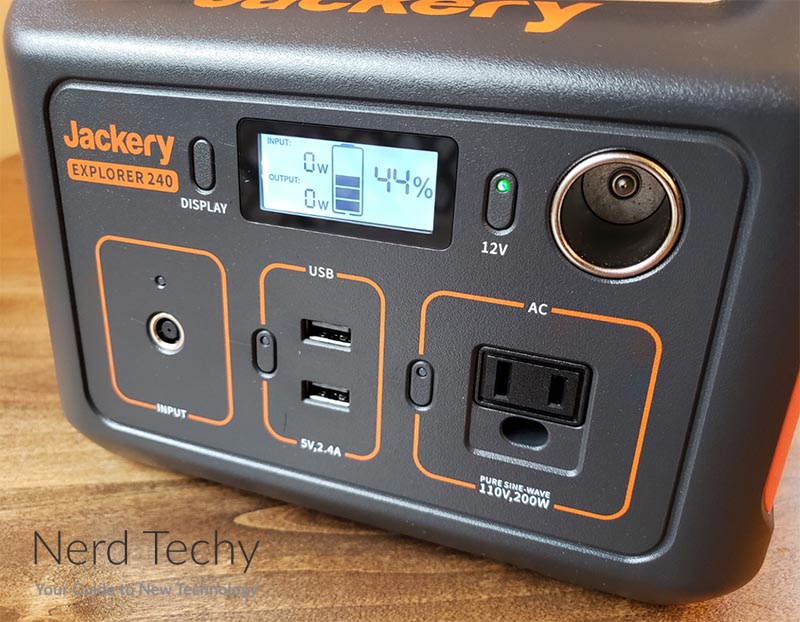 But those are just numbers. What do they mean for your real life battery performance? For smartphones, you can expect between 15 and 20 charges. This largely depends on the battery, and Jackery actually advertises 24 charges. We suppose you could get 24 charges on a smaller, cheaper phone, but 15 to 20 is more reasonable. For tablets, you'll get around five charges. For a mid-sized laptop, you'll get roughly two full charges. Again, these are just general guidelines. It all depends on the individual device and the size of that device's battery.
If you need even more capacity, consider the Jackery Explorer 1000 instead. It has more than four times the charging power, along with multiple AC and USB charging ports. Then again, it's big and bulky, and not nearly as easy to move around.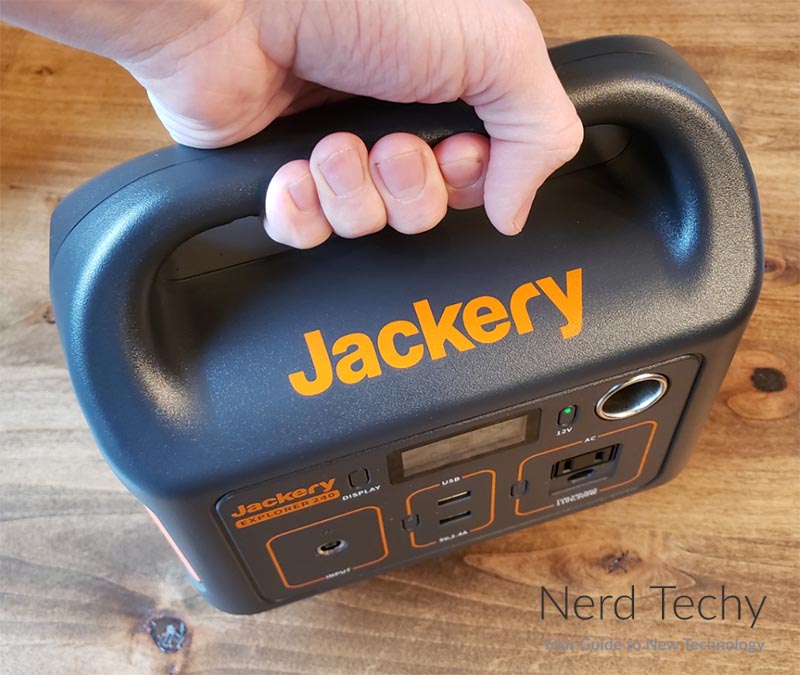 When it comes to recharging, you'll have plenty of options. The fastest method is to use a wall charger, which will have you topped off in less than seven hours. Not only that, but you'll charge all the way to 80 percent in about 3 ½ hours. Charging via the automotive charger takes a bit longer. You'll get to 80 percent in about five hours, and it will take almost another five to get to a full charge.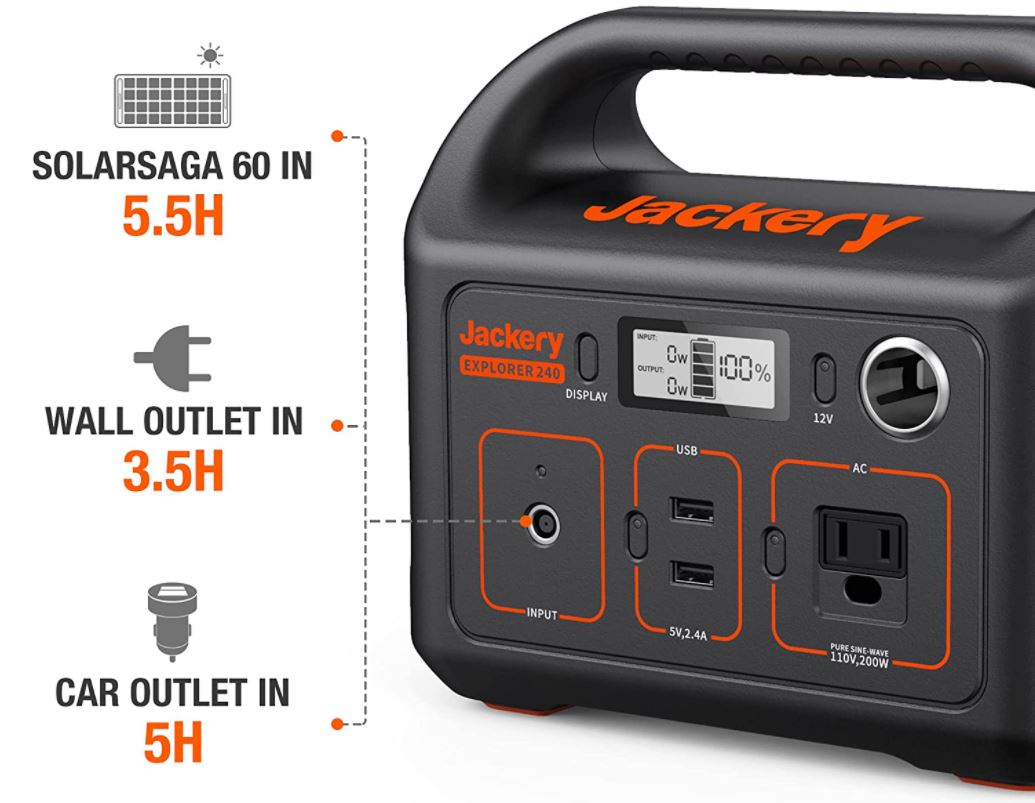 As is often the case, solar charging depends a lot on the weather conditions. If it's cloudy or snowing, you won't get as much juice as you will on a clear day with direct sun. The Explorer 240 can accept a maximum of 42 watts for solar charging. Assuming you're getting the full amount, the battery will charge to 80 percent in about 5 ½ hours. Getting a full charge will take a little more than 10 hours. Again, that's assuming you're getting a full 42 watts. To get the best performance possible, Jackery recommends using their SolarSaga 60 solar panel.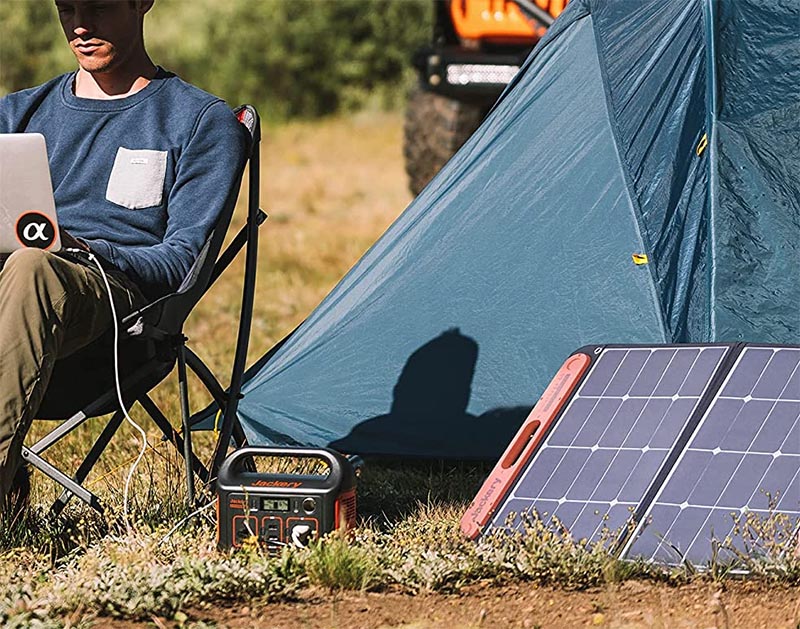 As we alluded to earlier, this power bank supports pass-through charging. So when it's plugged into solar, a car, or a wall outlet, you can still use it to charge your devices.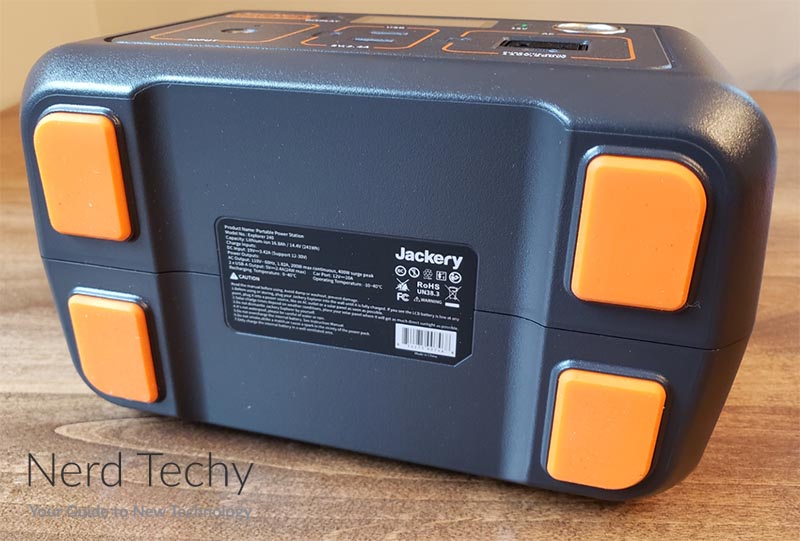 Compatibility and Safety
The Jackery Explorer 240 has four different charging outlets. The first is the pure sine wave AC outlet. "Pure sine wave" means that the current has smooth waves, instead of sharp peaks and valleys. This makes it safe for sensitive electronics, which is not always the case with a power station outlet. The maximum amount of current is 200 watts. This means you won't be able to use higher-wattage devices like griddles or space heaters. That said, the maximum peak power draw is 400 watts, for a brief period. If you plug in a small cooler, the compressor won't cause the outlet to shut down.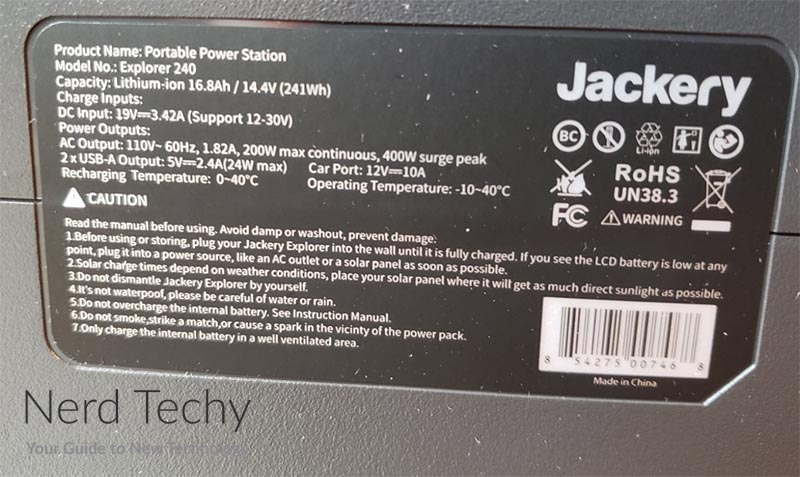 The 12-volt DC automotive outlet is a standard car outlet. The USB ports are also standard, delivering 12 watts of power at 5 volts and 2.4 amps. This is standard for USB outlets, but it's not sufficient for modern fast-charging phones. To be clear, your smartphone will still charge. It just won't be able to take advantage of any fast charging capabilities.
The Explorer 240 has power-saving circuitry that monitors how much power is being drawn. If less than 10 watts are being drawn for more than 12 hours, the power station will shut itself down. This is a great way to keep the battery from draining during weeks in storage. That said, it has a downside if you're a CPAP user. For one-time use, it's fine. But it's not suitable for use as an uninterruptible power source. If you're trying to use it this way, you'll have to manually power it on before bed every night.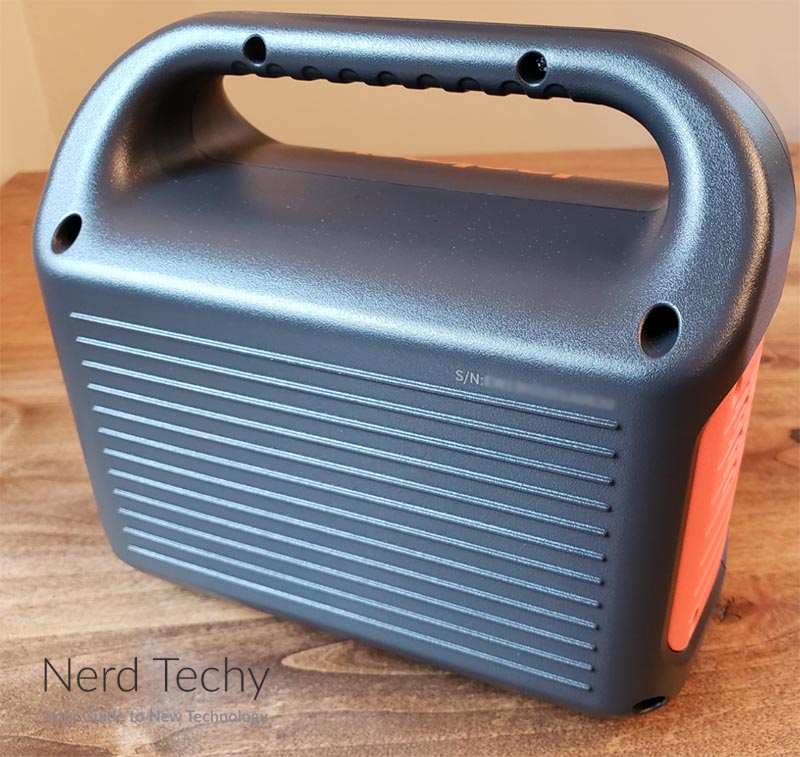 Final Verdict
The Jackery Explorer 240 is a surprisingly versatile little power station. It weighs less than seven pounds, but still supplies USB, AC, and DC automotive power. It sports a helpful LCD display, and it's easy to keep charged. To be fair, it's not as powerful as a larger power station. But for portability, it's tough to do better.