Jackery Explorer 300
Pros
Moderately lightweight yet portable.
Can charge six devices simultaneously.
Pure sine wave AC power.
Fast, easy charging from a variety of sources.
Cons
Fan is louder than we hoped.
Cannot power high-wattage devices.
In today's world, going without your devices for even a few hours can be problematic. Take your smartphone, for example. For one thing, people will start to get worried if they can't get in touch with you. But a phone is about much more than just staying in touch. We use our phones to manage our money, order food, and access social media. We also use them to listen to music, watch videos, and generally stay connected to the world. And a phone is just one of the many devices we rely on. When you're on the go, you might also need to power a laptop, a camera, a drone or another gadget. Point being, it's important to have a way to keep your battery charged.
A portable power station is one way of doing that. With a power station, you have a big, beefy battery, and a bunch of power ports. Then, you can plug in when you're on the road, and top off all your devices. That said, it goes without saying that not all portable power stations are equally well engineered. There's a lot that goes into producing a powerful, yet portable battery. There's also a lot that goes into the surrounding technology, like the ports and charging circuitry. If you're not choosy about what you buy, you could end up with a badly-engineered power station. At best, this means you won't get the performance you expected. At worse, the power station could be defective, or even dangerous.
We're about to review the Jackery Explorer 300. This is a smaller power bank, designed for light-duty devices like smartphones and laptops. It's made to be easy to transport, and it's relatively lightweight. But we need to look at a whole lot more to see if this power bank is worth investing in. We need to look at what you can charge with it, and how quickly the battery itself charges. We need to talk about the total power delivery, as well as the battery capacity. And we also need to look for what safety features are included. After we've looked at all of those factors, we'll be ready to render our verdict. Let's dig in, and see what we uncover!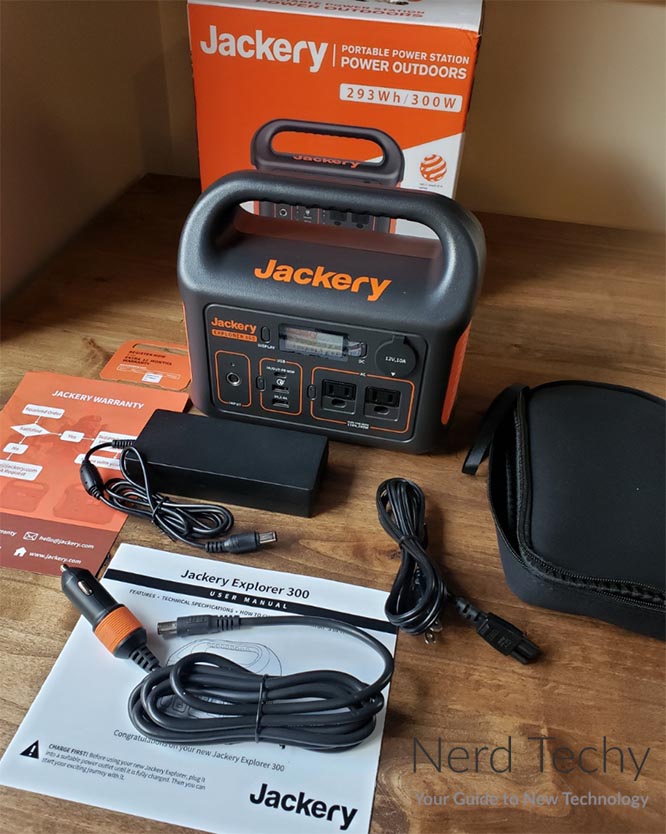 Overall Design
The Jackery Explorer 300 is constructed from a rugged black plastic that's engineered to take a beating. It's rectangular in shape, and measures 9.1 inches wide, 7.8 inches high, and 5.2 inches deep. This is very small for a power bank, but the small size makes it easy to move around. Along the same lines, it's also very lightweight. It weighs only 7 pounds, light enough to carry effortlessly in one hand. The corners are all rounded, so it won't poke or jab you while you're carrying it. Not only that, but there's a molded handle on the top, with a textured underside for a secure grip. There are also orange rubber feet on the bottom, to keep the device from sliding.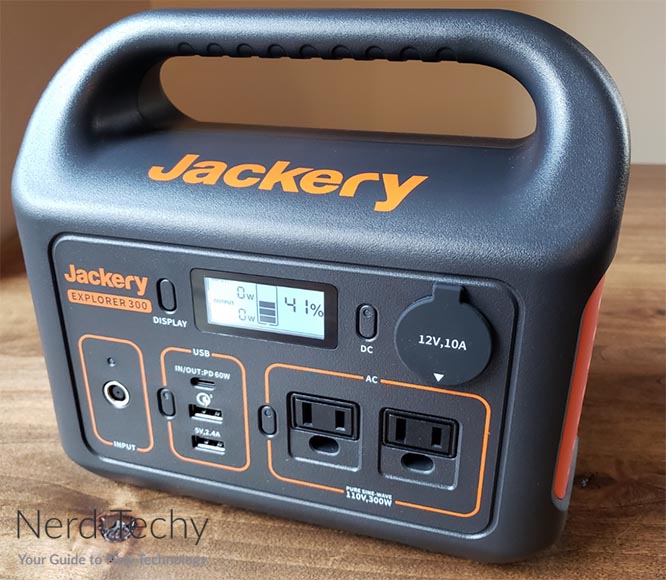 On top of the Explorer 300's housing, there's a bold Jackery imprint printed in bright orange. The side panels are constructed from a similar orange-colored plastic, with vents near the top. These vents are essential for air flow, to keep the unit from overheating. The temperature control system seems to work very well, and the housing remains cool to the touch under heavy load. That said, the fan is a bit louder than you might expect from a power station of this size. It's not horribly loud, but it's loud enough that you'll notice it.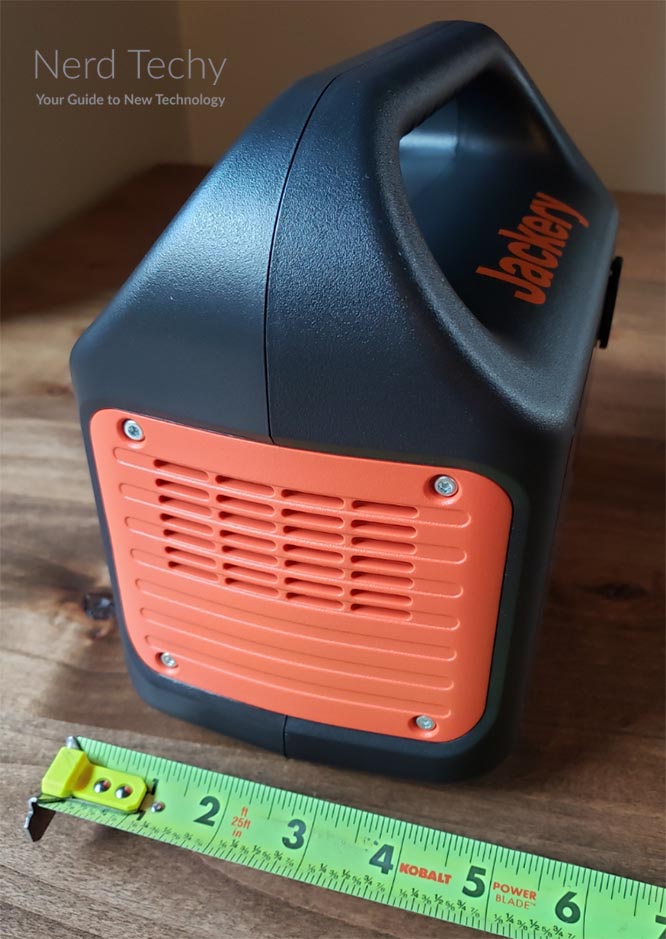 The front panel hosts all the other interesting physical features. To begin with, you have the power ports, which are sorted into various groups. There's a charging input to the left, with the USB ports next in line. To the right, there's a pair of three-prong AC power ports. Above that, you'll find the 12-volt automotive DC power port. Each of these groups has its own on/off button, so you can toggle the ports you're actually using. This will save battery life, so you don't have any slow drain.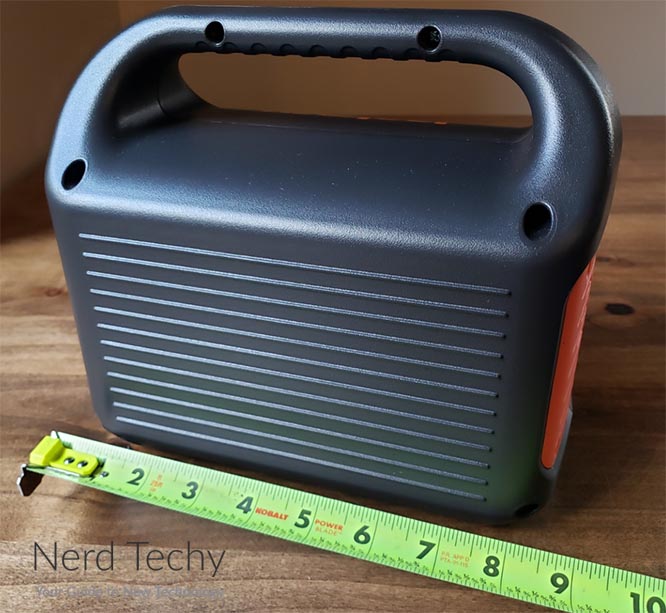 There's also a separate power button for the LCD display, which shows you the charger's current status. You'll see the remaining battery life, both as a percentage and as a five-bar visual battery display. There's also a display for both the incoming and outgoing wattage. You'll always know how much power you're drawing, and how quickly you're charging the battery. This is key for pass-through charging, since you want the incoming wattage to exceed the outgoing.
Also included in the kit are a pair of charging cables. The first is a simple AC adapter, which runs from the charging port to your wall outlet. The second is a car charger cable, which plugs into the same charging port.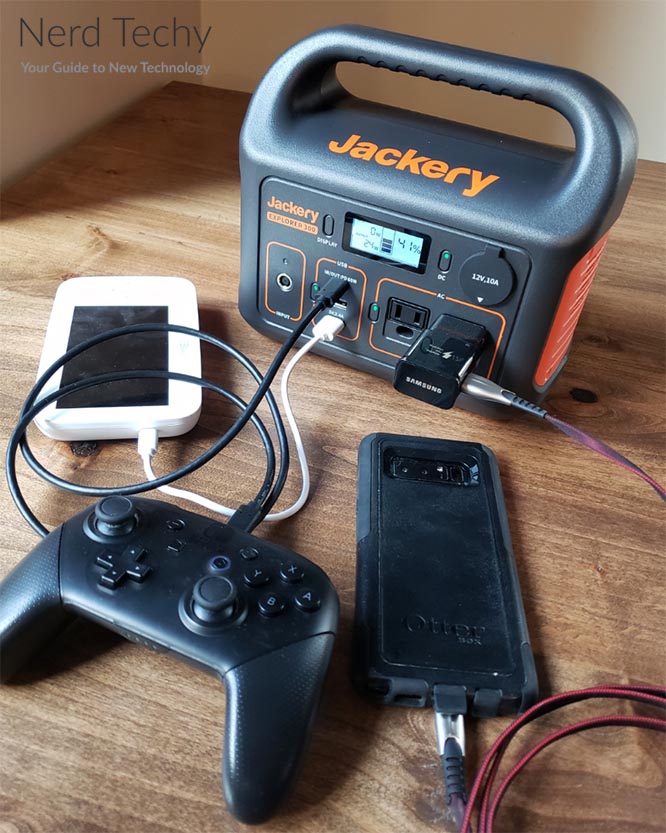 Battery Performance and Capacity
So, we know the Explorer 300 is well-built, but what are its charging capabilities? To begin with, you get the three USB ports. The top port is a USB Type-C, which supports PD power delivery at up to 60 watts. You'll be able to charge powerful Type-C devices, and you can even play and charge on many laptops. Below this, there's a QC 3.0 USB Type-A port. This charges at a rate of 18 watts, which is the maximum possible charging rate for iPhones. Finally, the third USB Type-A port delivers a standard 12 watts. This isn't slow; it's just ordinary USB power like you'd get from a port on your computer. The 12-volt DC outlet is self-explanatory; it works the same as the outlet in your car.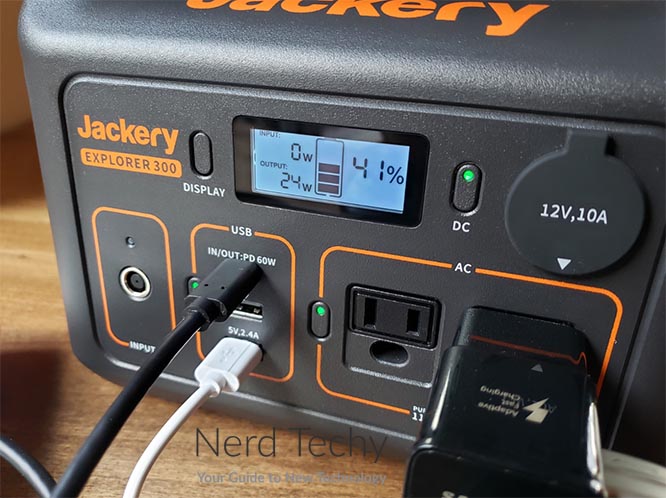 That said, the AC outlets deserve some special discussion. They deliver a standard North American 110 volts of power. However, the maximum wattage is 300 watts, not the 1,500 watts or more you'd get from a wall outlet. This means you won't be able to run high-wattage devices like fridges, kettles, or skillets. Then again, you won't have any issues charging most battery-powered devices. You can even plug in a few laptops at once without maxing out the wattage.
The battery capacity is 293 Watt-hours (Wh), which works out to 58,600mAh. Now, Jackery exaggerates a little bit when they say how many charges you can get. For example, they claim 31 charges for a phone. Now, we're sure there's some tiny phone that can indeed get 31 charges from this battery. But your typical smartphone is going to get more in the neighborhood of 20 charges. With a mid-sized laptop, you'll get about 2 ½ charges. With a typical tablet, you'll get about five. These numbers are rough estimates; it really depends on the exact device you're charging.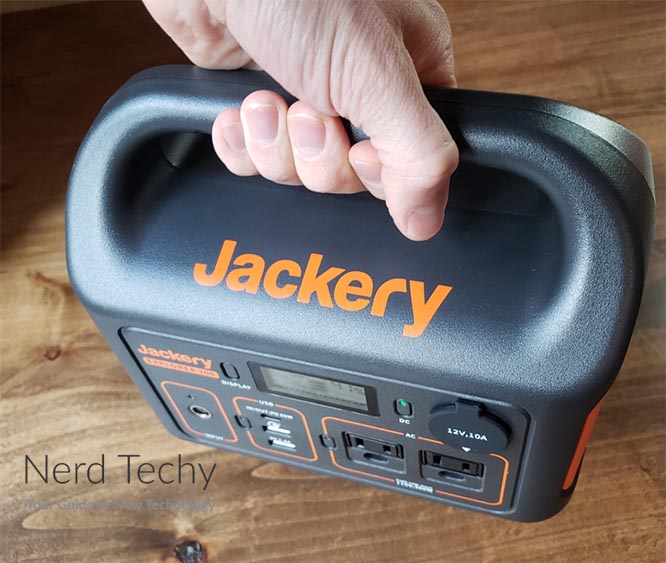 When it comes time to recharge the internal battery, you have a few different options. To begin with, you can plug directly into a wall outlet. When you charge that way, you can expect to get a full charge in around six hours. You can also quick charge to 80% power in about 3 ½ hours. If you want to speed things up, you can pair a USB Type-C PD charger with the regular AC adapter. This will significantly boost your charging speed, and fill the battery to 100% in under four hours. You'll also get a quick charge in about two hours. Using the car charger, you can fully charge in about seven hours, and get to 80% in about 3 ½. It's worth noting that the Explorer 300 also supports solar charging.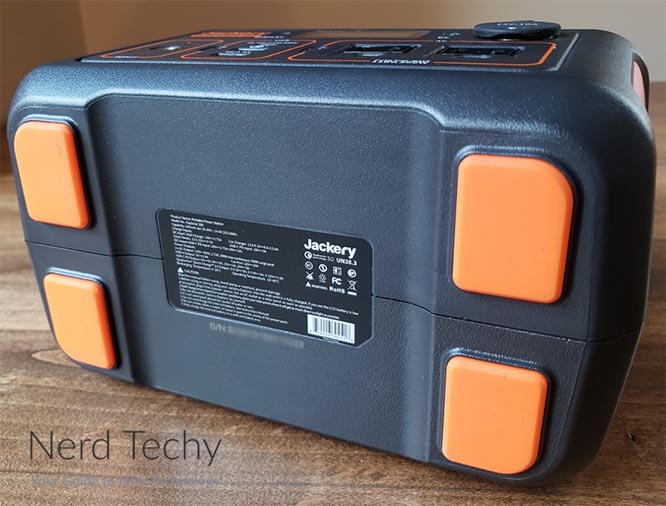 With all of that being said, this is most definitely a light-duty power station. If you need to power high-wattage devices, you're going to need one that delivers a little more juice. In that case, the Jackery Explorer 1000 is just what the doctor ordered. It delivers up to 1,000 total watts, with a power reserve of 200,000mAh, and more charging ports. That said, it's significantly more expensive than the Explorer 300.
Compatibility and Safety
Within its wattage limitations, the Explorer 300 is well-suited for pretty much any device. The AC outlets provide pure sine wave AC power, which is safe for sensitive devices. Many power stations provide what's called modified sine wave, where the wave form has a jagged shape. This can damage some more delicate electronics. Pure sine wave, on the other, is corrected to smooth out the edges, and create a regular, oscillating wave.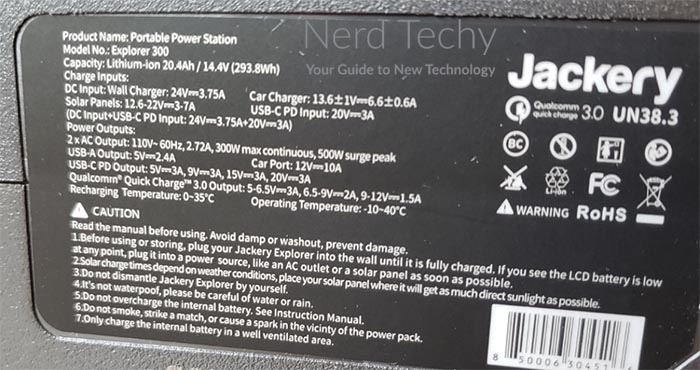 This power station also provides all the safety protections you would expect from a high-quality charger. Overcharge, overcurrent, and over-voltage protection keep your devices' batteries and circuits from burning out. Short circuit protection prevents damage to your device or the power bank from a faulty wire. Over-discharge protection, meanwhile, keeps the internal battery from draining to the point where it's not chargeable. Finally, an internal temperature sensor will shut off the charger if it starts to get too hot. This keeps it from potentially causing a fire.
For similar safety and design, you can turn to the Jackery Explorer 500. With 500 watts of maximum power, it's a bit stronger than the Explorer 300. It's also pricier, though, as well as bigger and heavier.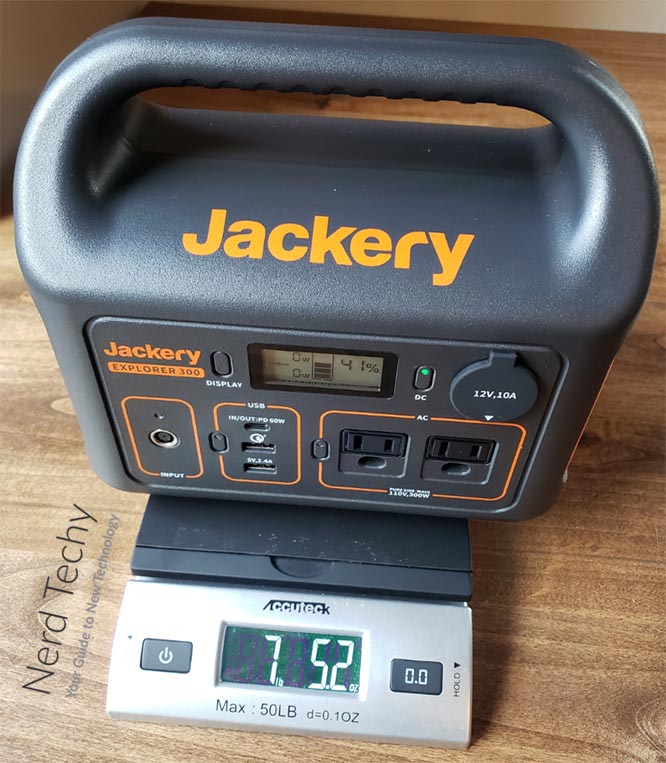 Final Verdict
The Jackery Explorer 300 is a well-engineered power station for what it's designed for. It won't handle powerful devices, but that's not its purpose. Instead, it's meant to keep your small electronics charged when you're on the road. And in that regard, it does a very good job. You get support for up to six devices, with up to 300 watts of charging power. You also get a slick, durable design that's easy to carry around. For the most part, this power station is well worth owning!
Right now is the best time to invest in the Explorer 300. Jackery's Black Friday & Cyber Monday deal is launching on November 22nd and runs until the 29th. Act now to save big!