When you're RVing, you're truly building a home away from home. But RVs are unique in that they present the combined challenges of a home and a vehicle. On the one hand, you expect to have all your creature comforts. You want a warm bed, a functional kitchen, and a toilet that actually flushes. You also want a peaceful, pleasant environment. At the same time, you want everything to be as lightweight as possible. Full-sized home fixtures and furniture can easily drag down your fuel economy. Not only that, but there are size considerations to think of. When installing fixtures, for example, you won't have tons of interstitial space to work with.
Another, related concern is that RVs don't provide 120-volt power. Yes, you can use an inverter to run some kitchen appliances. But for the most part, you need to have special 12-volt versions of everything from TVs to light fixtures. In other words, you can't always get what you need from Home Depot, even when it comes to certain basics. But just because you're shopping in a special market doesn't mean you can't find good quality. For example, there are plenty of LED puck lights you can use to brighten up your RV's interior. That said, you still need to do your research, and make sure a given light will meet your needs.
In that spirit, we're about to review three of the best 12-volt LED puck lights for RVs, boats, or vans. We'll begin with the acegoo RV Boat Recessed Ceiling Lights. This is a flush mount light available with warm or cool white, and a white or bare aluminum frame. Next, we'll talk about the ALOVECO LED RV Lights. These flush mount lights have a shiny aluminum finish, and are also suitable for use in marine applications. Finally, we'll examine the Facon LED RV Puck Lights. These flush mount lights are available in cool or warm white, with a large, 4.5-inch diameter. After we've thoroughly reviewed each of these lights, we'll talk about how they compare. Let's begin!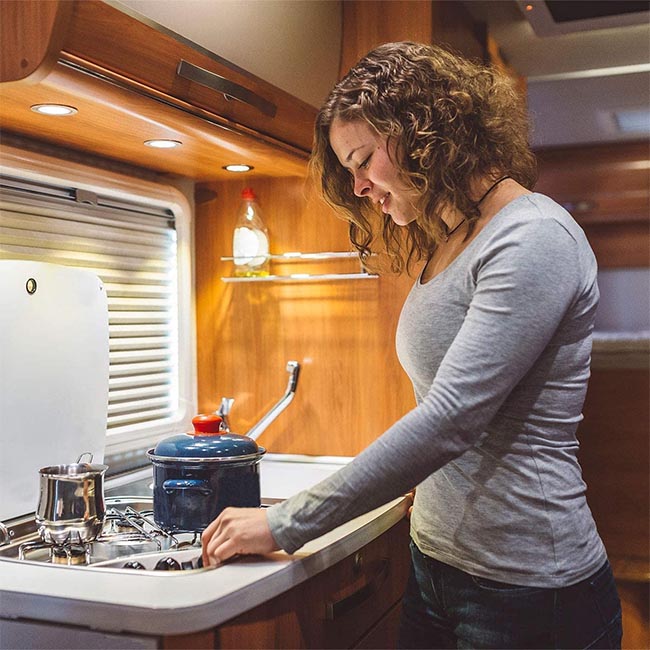 LED Light Basics
Before we get too far into the weeds, let's discuss LED lights in general. What makes one puck light ideal, and another light less so? First of all, you need to know how long-lasting your LEDs are. The industry standard is 50,000 hours of use, or more than five years. If you see less than that, keep on looking for a longer-lasting bulb. Keep in mind, though, that LEDs don't burn out all at once like incandescent bulbs. They fade over time, and are considered "dead" once the light output has dropped to 70 percent of the original.
In terms of the type of light, there are two major considerations. First, you need to think about the color, or "temperature" of the light. White light can be pure white, or have a red or blue tinge to it. Reddish white light is considered a warm white, while blueish white light is considered a cool white. These colors are measured on a Kelvin (K) scale. Anything lower than 3000K is a warm light. Between 3,000 and 4,000K is a general soft white. Above 4000K, and you're in the realm of cool white.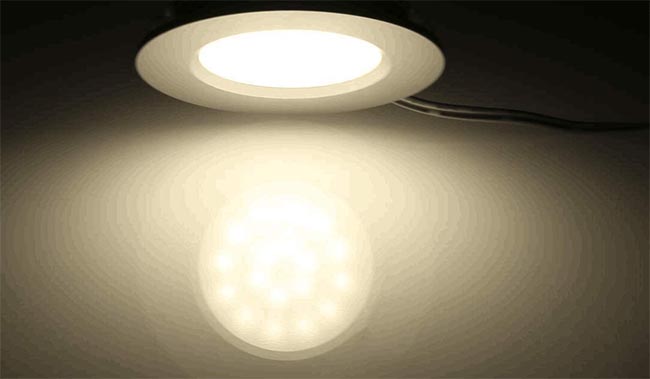 Similarly, think about the brightness. Brightness is measured on a lumen scale, and is different for different types of light. Residential bulbs output between 800 and 1,600 lumens, depending on the wattage. That said, RV bulbs need to light a smaller space, so they don't need to be as bright. For puck lights in particular, you're usually talking about accent lights, so they will be dimmer still. Most RV hockey puck lights will range between 200 and 300 lumens.
One thing to keep in mind when comparing LEDs with traditional lights is their wattage. Traditional incandescent bulbs could range from 60 to 100 watts for room lighting. You might use a 40-watt bulb for accent lighting. However, LED bulbs are around 90% more efficient than incandescents. In other words, a 4-watt LED light will shine as brightly as a traditional 40-watt accent bulb. To help avoid confusion, we've tried to stick with lumens instead of watts, since it's a more accurate measure.
Wiring is another concern. A good set of RV lights will run directly from your RV's 12-volt power source. That said, there are other options for both homes and RVs. For example, you could opt for battery-powered, remote-controlled lights instead. These require almost zero effort to install. Unfortunately, they also require periodic battery changes.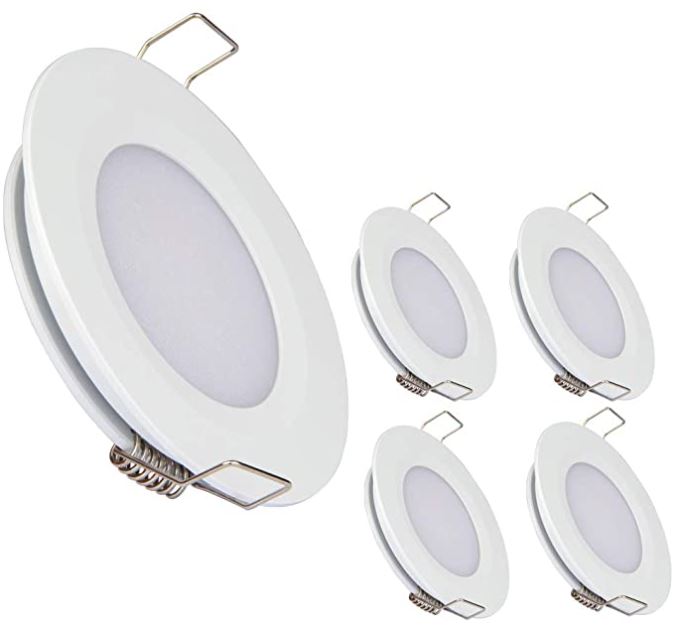 acegoo RV Boat Recessed Ceiling Lights
The acegoo RV Boat Recessed Ceiling Lights are constructed from aluminum. The housing comes in your choice of silver and white, but is lightweight and slim regardless. Not only that, but the aluminum material does an excellent job of dissipating heat. This ensures that the lights don't get overheated with extended use.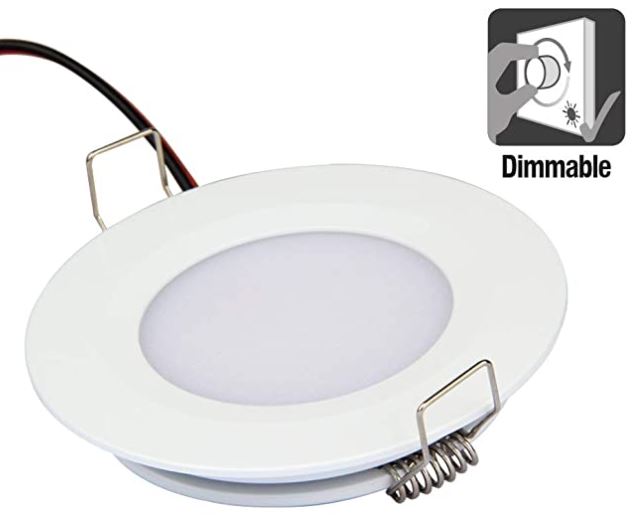 These lights come in a four-pack, and they're designed to be flush mounted. They're ultra-thin, measuring only 0.52 inches from top to bottom. This allows them to be installed even in thin panels where a light might not otherwise fit. The main "puck" portion of the light has a diameter of 2.25 inches. However the faceplate flares out wider, to a diameter of 2.55 inches. Spring-loaded tabs provide some flexibility as far as hole size. You can install into any hole with a diameter between 2.25 and 2.55 inches. That said, if you're cutting your own hole, you'll want to cut one 2.4 inches in diameter. When this isn't practical, a 2.25 or 2.5-inch hole saw will suffice.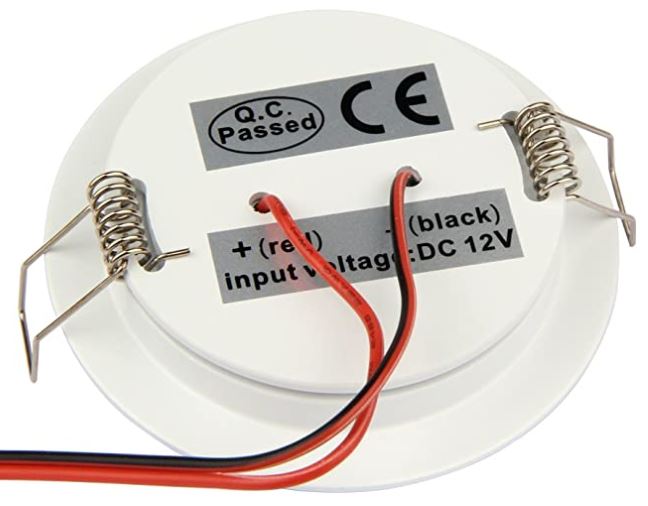 When you order, you get to choose between a 3200K warm white or a 6400K cool white. Both are ideal for atmosphere lighting, with a brightness of 230 lumens. Not only that, but they're dimmable. However, you have to use the acegoo dimmer switch, which is sold separately. The LEDs themselves are rated for 50,000 hours of light, which is around standard for the industry. For reference, that's more than 5 ½ years of continuous operation.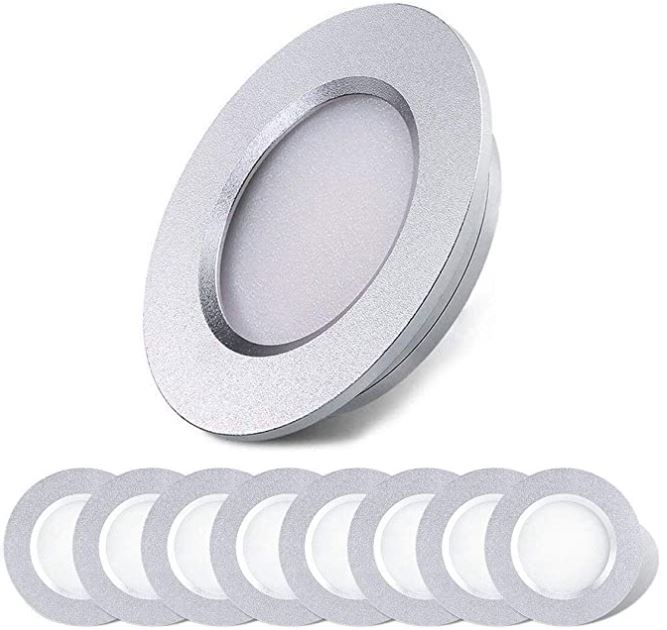 ALOVECO LED RV Lights
The ALOVECO LED RV Lights are also made from aluminum. However, the housing is a bit beefier, with a silvery finish that glitters ever so slightly. It's designed with a narrow diameter of only 2.16 inches. On the other hand, a wide faceplate flares out to 2.75 inches. This gives you plenty of flexibility for installation. Even in a 2.75-inch hole, the stiff retaining tabs will still hold the light firmly in place. Not only that, but the height is only 0.6 inches. That's less than 1/10th of an inch thicker than the acegoo lights!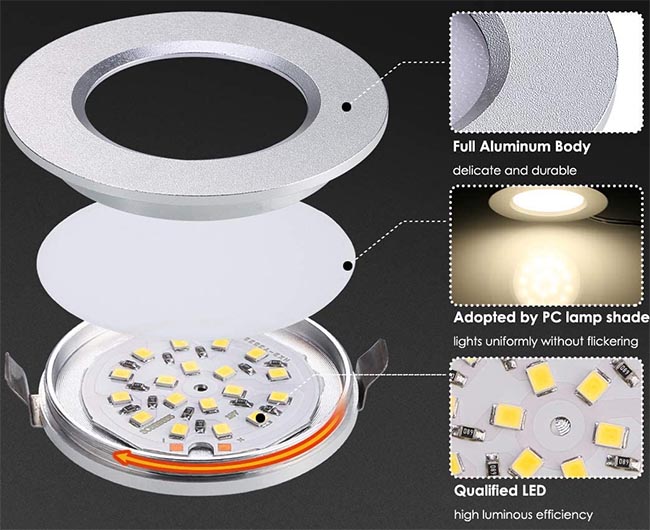 These lights come in an 8-pack for lighting a large area. They're also reasonably bright, at 240 lumens, with a lifetime rating of 50,000 hours. There are two varieties available: 3000K warm white or 4000K cool white. The two are very similar, but there's still a noticeable difference if you have a preference. Along with the eight lights, you get a set of 20 wiring nuts to aid in installation. And everything is covered by an 18-month warranty, so you don't have to worry about premature failure.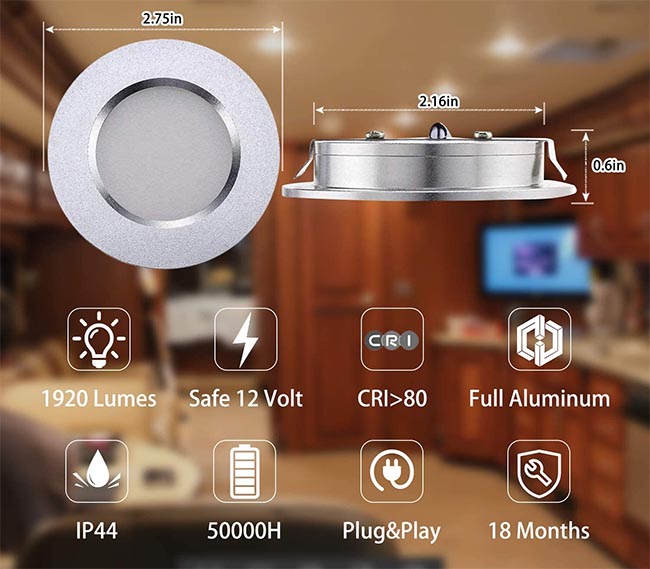 The main thing we noticed about the ALOVECO lights is that they're rated for water-resistance. They come with a rating of IP44, which means they can withstand light moisture or a trickle of water. So if you're worried about the odd splash, they're just fine for installing in a boat. That said, this doesn't mean they're submersion-proof. If you want lights for underwater use, you'll be better served with a quality set of pool lights.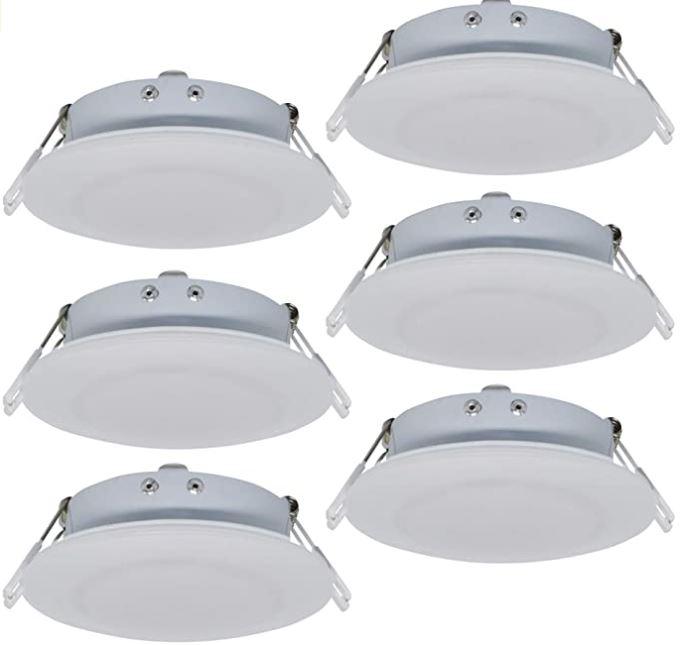 Facon LED RV Puck Lights
Like the last two sets of lights, the Facon LED RV Puck Lights are constructed from aluminum. The housing has a glossy white finish, with spring-loaded side fins for ease of installation. It's built for a flush mount, with a minimum diameter of 3 ¼ inches and a 4 ½-inch faceplate. This makes it capable of installing in a large hole, comparable to where you'd install a home-sized light. On the downside, the lights are a bit thicker, at a full inch. This makes them too fat for installation in some RVs. Warranty protection is adequate, with a term of 12 months.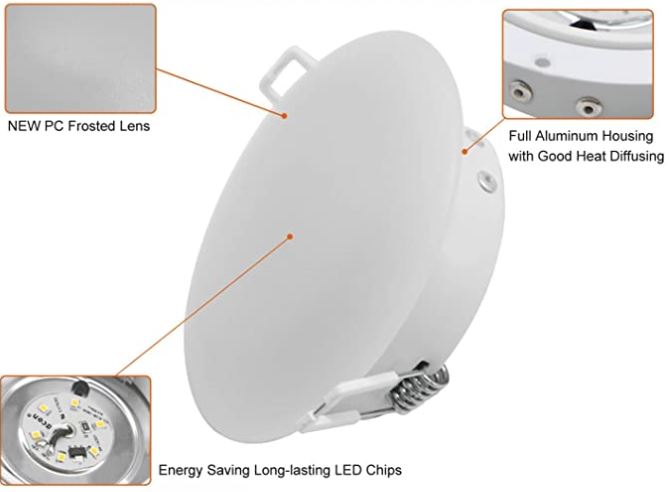 The Facon puck lights come in a 6-pack, and are available in two varieties. The first is a 4000K cool white, and the second is a 3400K warm white. The two look almost identical. Then again, if you're particularly fond of one or the other, you can still tell the difference. There's also the option to buy just a two-pack of the warm white variety. The brightness is the best of all our choices, at 280 lumens. That's more than 20 percent more than the acegoo lights. For all of that, you still get the same industry-standard durability. Each light is rated for a minimum of 50,000 hours of use.
Final Verdict
Each of these RV puck lights has its own strengths and weaknesses. So which one is the best is going to come down to the exact features you need. To begin with, the acegoo RV Boat Recessed Ceiling Lights have the slimmest profile. At only 0.52 inches thick, they'll fit pretty much anywhere. They also have, by far, the coolest cool white, and they're compatible with acegoo's dimmer switch. That said, they're also the least bright of the three.
The ALOVECO LED RV Lights are only slightly thicker, at 0.6 inches. Not only that, but they actually have a smaller minimum hole size and larger maximum hole size. In other words, they're more flexible. They're also water-resistant, so you can be more confident installing them in a boat cabin. On the downside, there's not much difference between the warm and cool whites.
The Facon LED RV Puck Lights are the brightest of the bunch, at 280 lumens. They're also suitable for larger holes, with a maximum diameter of 4 ½ inches. If you want puck lights that are on the larger, brighter side, you'll be very pleased. Then again, the warm and cool whites are nearly identical.