If you own a pool, you're probably already aware that pool lights are one of the hottest trends in décor. When you look at the difference a few lights make to your pool's appearance, it's easy to see why. Not only do lights provide visibility, but they also provide a few other benefits. For instance, lights can accent your home's architecture, or be left on for security purposes.
The good news for you is that the growth in popularity of pool lights has caused the market to grow. As a result, you have a ton of options to choose from. You have underwater lights, overheat spotlights, and floating lights. You have LEDs, fiber optic lights, and halogen bulbs. With all of these choices to consider, it's easy to get confused.
We couldn't possibly narrow all possible pool lights down to a list of three. There are just so many! But if we limit ourselves to LED bulbs, it's a somewhat easier task. In the past, we've reviewed wireless pool thermometers, wireless pool alarms, and even solar pool ionizers. Now, we're going to discuss the best wireless LED pool lights.
Today, we'll be looking at three different options. First, we'll be reviewing the LOFTEK Upgraded Submersible Pool Lights With Remote. This is a set of wall-mounted LEDs that can be conveniently operated with a remote control. Next, we'll be examining the Blufree Floating Pool Lights. These fun, color-changing LEDs come in a star pattern that floats playfully in the water. Finally, we'll check out the Shymery Waterproof LED Tea Lights. As the name implies, these are tea lights. But unlike ordinary tea candles, these waterproof LEDs won't get snuffed out when someone splashes them. Which one of these pool lights is the best of the bunch? Let's find out!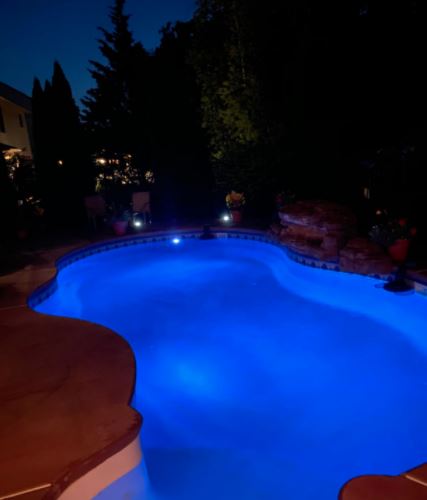 Different Pool Light Options
So, you've decided to buy a set of pool lights. Congratulations! You've got plenty of them to choose from. The downside? Now you have to sift through the options. The first step is choosing what type of light you want to use. We're going to be reviewing LED lights today, but here's an overview of all your options.
LED lights are the most popular light type on today's market. There are two main reasons for this. The first is that they're very energy efficient. You can run an LED bulb for less than 10 percent of the juice needed for an equivalent incandescent bulb. The other reason is the fact that they run very cool. You're not going to burn yourself if you accidentally touch one underwater.
An added bonus of the low energy usage is that LED bulbs run a lot longer on a battery than other bulb types. In addition, a single LED bulb can be built to change between multiple colors. With most other bulb types, you're limited to a single color for each bulb.
Halogen lights are the traditional standard for pool lights, and they're also the most powerful type. Once they've warmed up, they'll illuminate a very large area, so they're idea for larger pools. They can get very hot, though, so they require special housing to keep you from getting burned.
Halogen bulbs are not as energy efficient as LED bulbs, so they're not idea. That said, they remain the best choice for functional lights in bigger pools. But for decorative purposes, they're a poor choice. Not only are they energy hogs, but the color variety is very limited.
Fiber optic lights are an older alternative to LED lights. They provide the same sort of soft, colorful light that's ideal for small accents and decorations. That said, there are still a couple of reasons that LED lights are generally superior. To begin with, fiber optic bulbs send the light through tiny strands, with little light dots on the ends. This is pretty, but it doesn't actually give off a lot of light. It's more of a glow, which makes it a poor choice for illumination.
Another downside of fiber optic bulbs is their durability. Not only do they burn out faster than LEDs, they also drain their batteries faster. This isn't to say that LEDs are always better than fiber optic bulbs. But fiber optics are only useful for niche applications, while LEDs are better for most other purposes.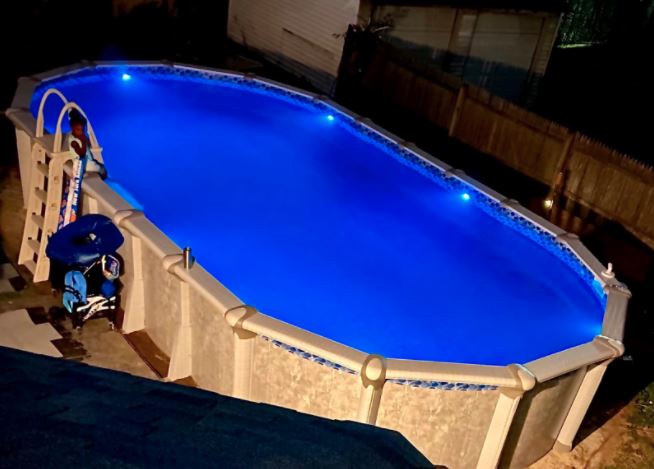 Types of LED Pool Lights
If you've settled on an LED pool light, there are still many options to choose from. Here's a quick summary of the different types of pool lights you can find.
Flush-mounted underwater lights are exactly what they sound like. They're mounted flush with the pool wall. This type of light requires the pool walls to be cut out for installation. As a result, they're almost always installed when the pool is first being poured. That said, new LED lights can replace some older halogen lights. When these lights are installed, they illuminate a large area underwater. Even when they're not used for decoration, they're often installed for safety.
Surface-mounted underwater lights are similar to flush-mounted underwater lights in that they mount on the pool wall. However, they're designed to be installed on the surface of the wall, rather than inside a hole. This makes them more versatile – and easier to install – than underwater lights, especially for existing in-ground pools. They can be functional, decorative, or both, and some can be removed for the winter.
Floating lights are designed to float on the surface of the water. They're available in many colors, and are used either for temporary decoration or as a permanent accent. Because they're not as bright as underwater lights, they're not the best solution for safety. However, they make a beautiful decoration.
Spotlights are generally not used on the pool itself. Instead, they're used to draw attention to some part of your pool or garden. You can light up artisanal wells, fish ponds, arches, and other architectural features. These lights may not sit inside the pool, but they should still be water-resistant so they can withstand rain.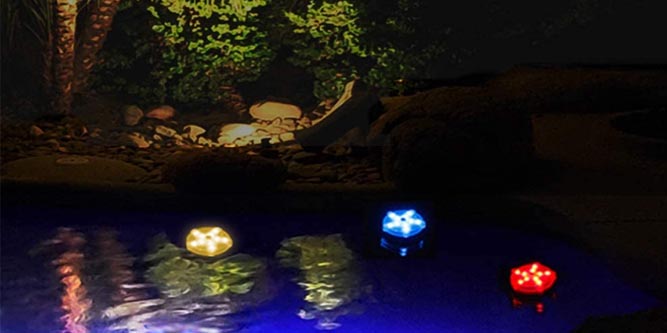 LED Pool Light Features to Consider
In addition to the type of pool light you use, you'll also need to look for extra features. It would be impossible to list every conceivable pool light bonus feature. However, there are a few things you should keep in mind when you're shopping.
Colors and other effects – LED pool lights are generally meant to be decorative. As a result, you should expect them to offer a little bit of fun. For some formal settings, plain white lights might be your best choice. But for other events, you want some lights that can cut loose and have some fun. The more colors and the easier they are to change, the better. Some other LED lights offer blinking, color shifting, and other patterns. These features can offer you even more options, but don't go overboard. Too much blinking can make your guests sick instead of making them smile.
Solar-powered lights – Solar-powered lights are generally limited to outside-the-pool spotlights. For underwater lights, they wouldn't make any sense. Either they're hardwired, in which case the main power source can be replaced with solar, or they're battery operated. For floating lights, a solar panel would detract from the aesthetics. That said, some larger inflatable floating lights do offer solar charging. It's just not common.
Durability and battery life – In the case of most LED pool lights, you're going to be relying on battery power. Battery power varies widely by manufacturer, and brightness. In addition, it can also change depending on the temperature and other factors. In short, it's tough to say what is and isn't "good" battery life. That said, if a battery can't even last through a single evening, you've got a problem. Beyond that, it just depends on the light.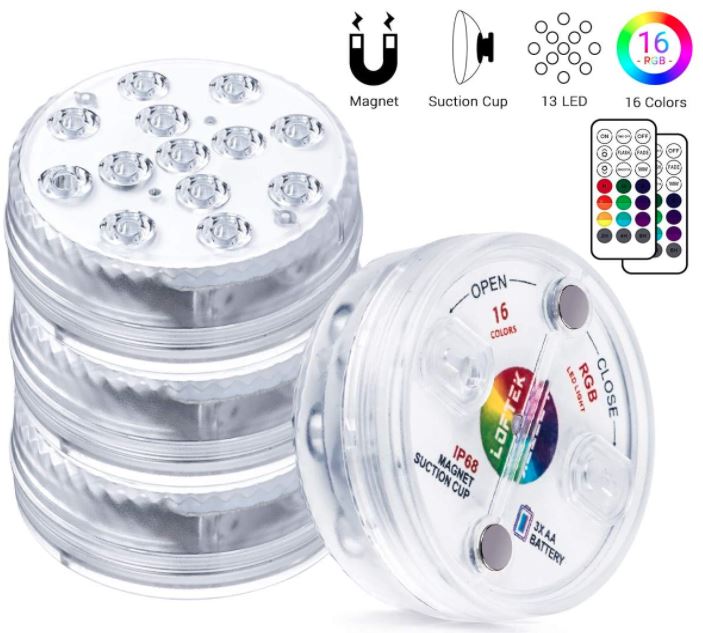 LOFTEK Upgraded Submersible Pool Lights With Remote
The LOFTEK Upgraded Submersible Pool Lights With Remote are a set of hockey puck-sized LED lights. Each light includes 13 LED bulbs, arranged in a circular pattern. With the included remote, you can choose between 16 different colors. You can also adjust the brightness between four settings, and choose flash or fade patterns. You can even automatically cycle between colors, or set an automatic shutoff timer.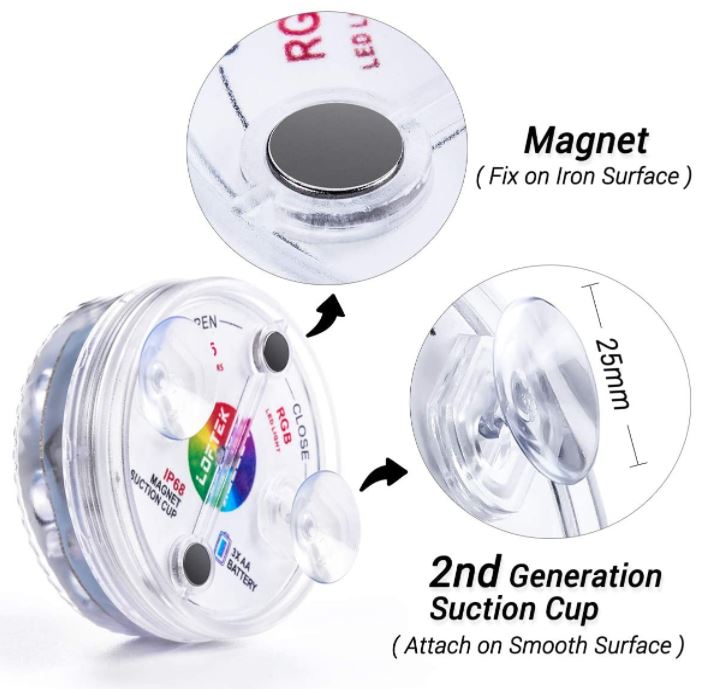 The three AAA batteries are rated to last for 20 hours, although this can vary based on brightness. When the batteries need replacement, they can be replaced by twisting open the light. Once the housing is closed, it's completely waterproof, so submersion is no issue.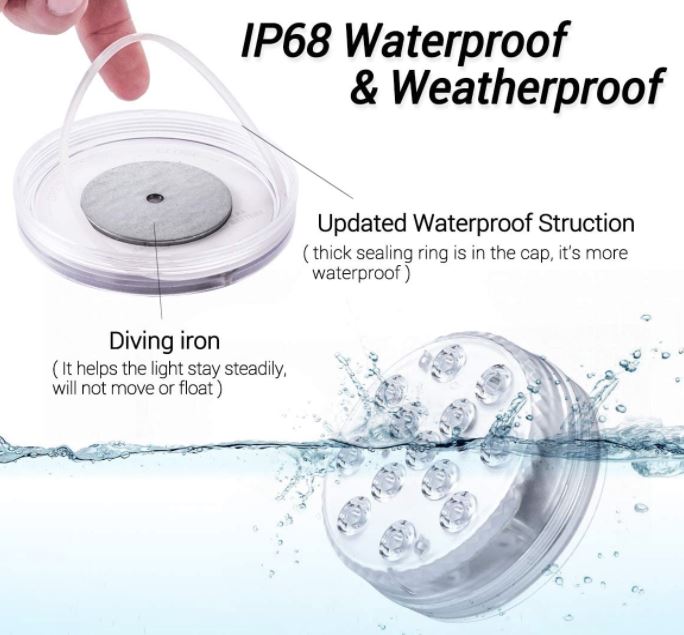 The lights are easy to mount on the inside of your pool wall. For above ground pools and pools with iron hardware, simply use the magnets. These will cling to any conductive surface. Alternatively, the back of each light features a pair of suction cups. These aren't as secure as the magnets, but can be used on almost any pool wall. All of this is protected by LOFTEK's 2-year replacement warranty. If that's not good enough, they also offer a 45-day no-questions-asked money back guarantee. If you don't like your lights, just send them back.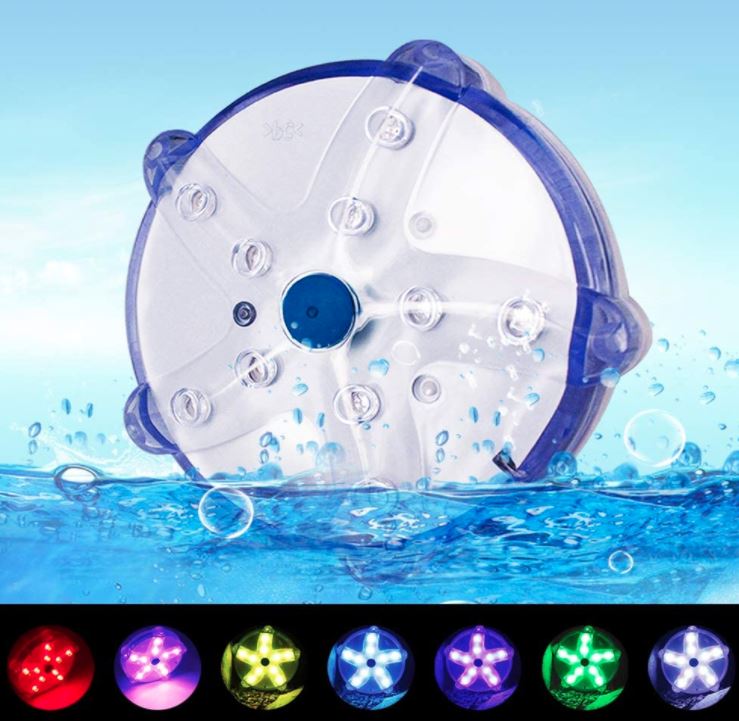 Blufree Floating Pool Lights
The Blufree Floating Pool Lights are more fun and playful than the LOFTEK lights. Instead of mounting on your pool walls, they float on the surface, and bob up and down cheerfully. Each light has 10 individual LED bulbs, which are arranged in a starship pattern. You can choose between seven different colors, or cycle between them for a kaleidoscopic effect. The light comes either individually or as a pair, so illuminating the whole pool is easy.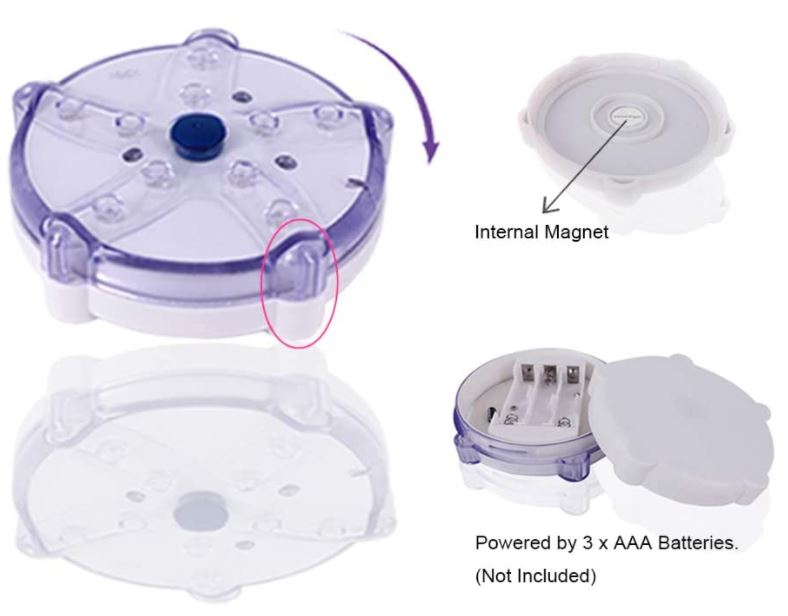 Oddly, the Blufree lights do sport internal magnets for mounting to metal surfaces. Most people won't use this, but it's an interesting feature. Each light takes 3 AAA batteries, which are not included in the package. The exact battery life varies based on conditions, as usual. That said, it will last about a month if you use the light a couple hours a day.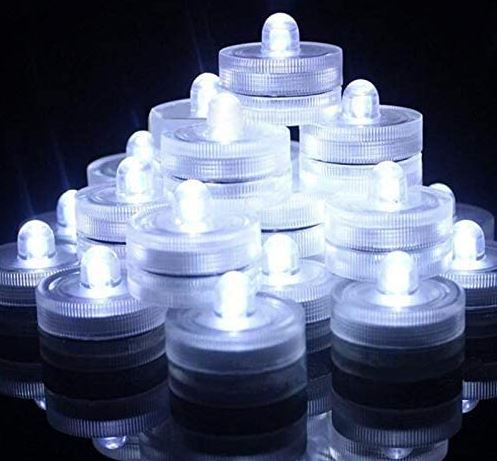 Shymery Waterproof LED Tea Lights
The Shymery Waterproof LED Tea Lights are a bit more understated than the last two options we looked at. They're just simple tea lights, and aren't well suited for any kind of serious illumination. They're also only available in white.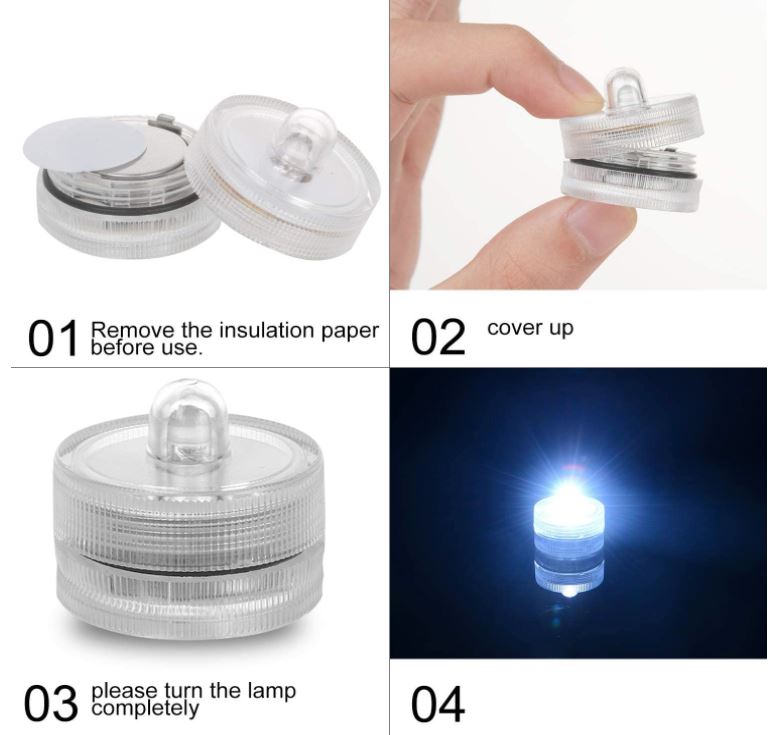 That said, the Shymery lights are quite versatile. For one thing, the white color makes them ideal for formal occasions. Forget about your pool for a second. You could throw some in a bowl of water as part of a centerpiece. You could use them in the tub for a relaxing bath. They make pretty much any situation more romantic, so they're a great choice for couples.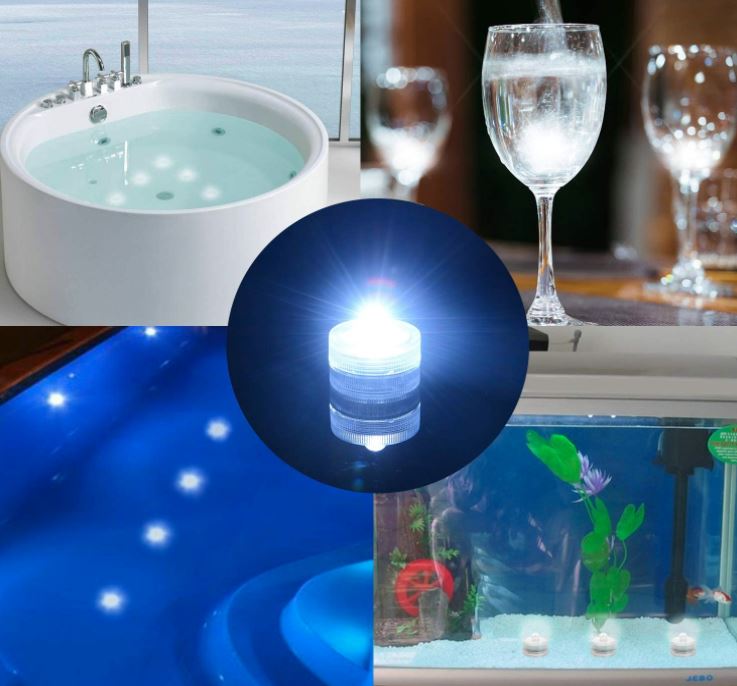 The lights themselves are fully submersible, and run on simple CR2032 watch batteries. Batteries will last for anywhere from 48-64 hours. They actually last a bit longer, but they start to dim considerably. Still, considering the price, you're getting a great deal.
Final Verdict
As you can see, these pool lights are all wildly different. As a result, it's impossible to choose a single "best" light. If you want wall mounted lights, for instance, a set of tea lights isn't going to cut it. Let's recap what we've learned about each of these kits. First, we looked at the LOFTEK Upgraded Submersible Pool Lights With Remote. These are the only lights on our kit that are what you might call traditional pool lights. They mount on the walls of your pool, so you can see the bottom and sides for a night swim. Best of all, they include a remote control for convenient operation.
The Blufree Floating Pool Lights are more of a "fun" option. The playful starship shape and seven color options make them a great choice for kids. The batteries are also easy to change, thanks to the convenient magnetic closures. That said, you're not going to see the bottom with these lights if they're floating in deep water.
The Shymery Waterproof LED Tea Lights are the best choice if you're looking for pure relaxation. In fact, they're just simple tea lights, just as well suited to a bathtub as a swimming pool. But they're great for creating a relaxing or romantic ambiance.
Meet Derek, "TechGuru," a 34-year-old technology enthusiast with a deep passion for tech innovations. With extensive experience, he specializes in gaming hardware and software, and has expertise in gadgets, custom PCs, and audio.
Besides writing about tech and reviewing new products, Derek enjoys traveling, hiking, and photography. Committed to keeping up with the latest industry trends, he aims to guide readers in making informed tech decisions.